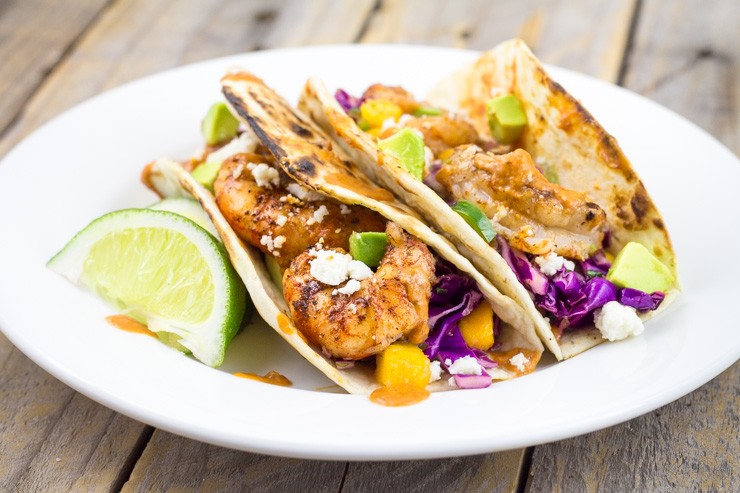 Tacos. Need I say more? Not really. Since I started making these, I have become absolutely addicted to fresh mango. We're throwing together a spicy, sweet, sultry citrus slaw to set off what has become my new go-to taco. That's saying something, y'all.
Mango Slaw Shrimp Tacos — Keep reading for the skinny on these phat tacos.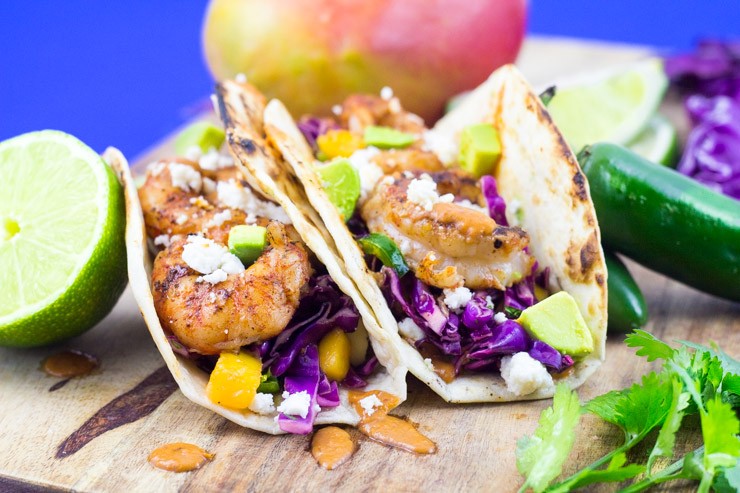 Tuesday morning. You wake up, tumble outta bed, stumble to the kitchen, eventually end up at work and then find yourself debating what's for dinner. Wait. I said it's Tuesday. Obviously you decide on tacos. Taco Tuesday, after all. Everyone has their favorite local handheld hideout. I'm going to suggest something totally asinine… Make your own. *gasp*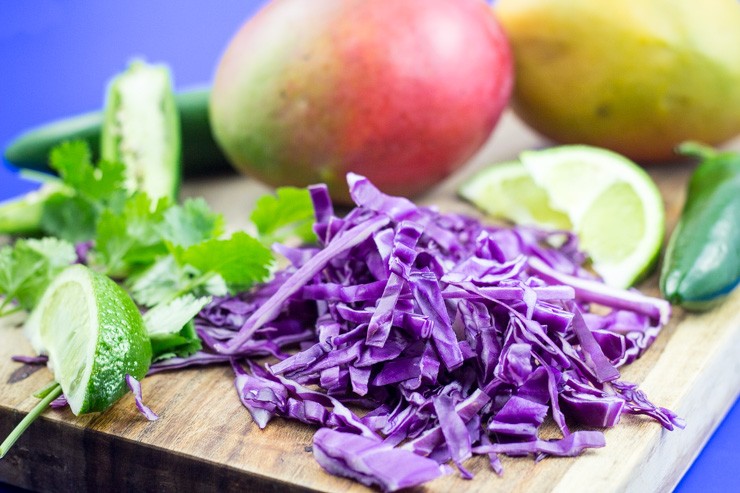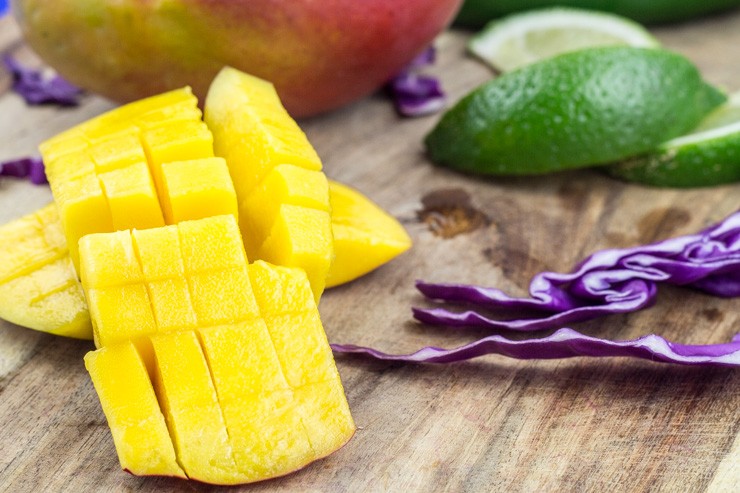 Now… I'm not talking buy a box of those hard shells and some ground beef that you'll boil away. That's all dandy and all, but let's step it up a notch. Taco Tuesday is basically a National holiday, ya know. It demands respect.
By far the king of this taco is the citrus slaw. Go ahead. Stare and drool. All that color! — A blend of red cabbage, beautifully sweet mango, slight bite from jalapeños– all topped with freshly squeezed lime juice. Incredibly simple; ridiculously delectable. I could literally eat this mix on just about anything.
[I plan on trying it on a burger tonight. Follow our Instagram for the resulting eye-candy.]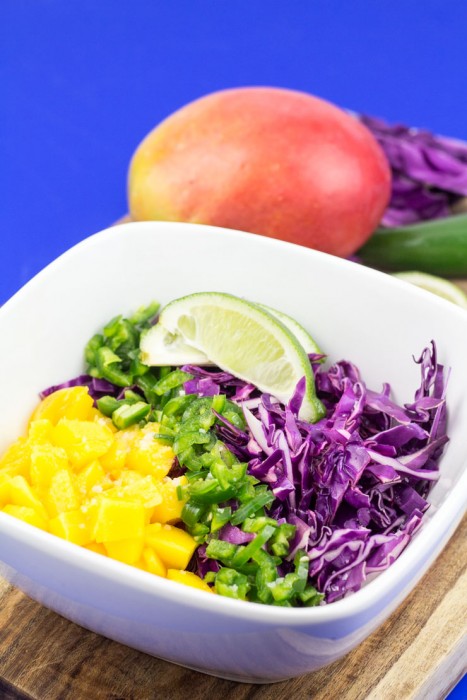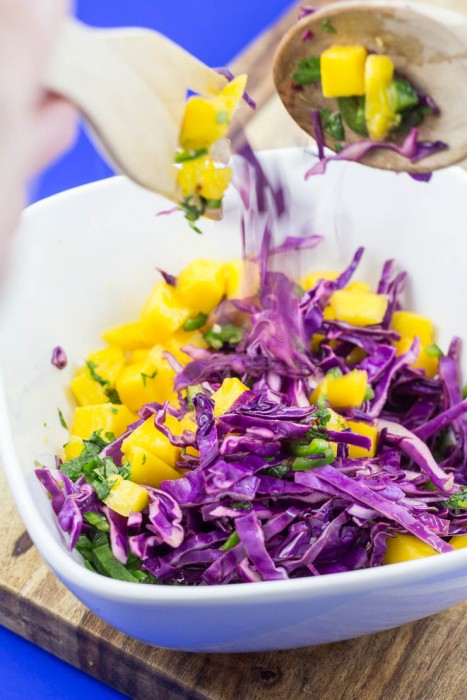 Red cabbage is something that I have sorta avoided for a while. I mean… you can pickle it, braise it, make a salad with it. It just seemed to be a bit… ehhhh to me. Until now.
If you let this slaw rest for a bit while you prepare the rest of the meal (I know you are making the tortillas with our 5-Minute Homemade Tortillas recipe……), the lime juice infiltrates the cabbage like Luke Skywalker did the Death Star. It's a beautiful thing. It doesn't necessarily soften, which is exactly what you want. That crunch balances the soft mango and juicy shrimp. *faints*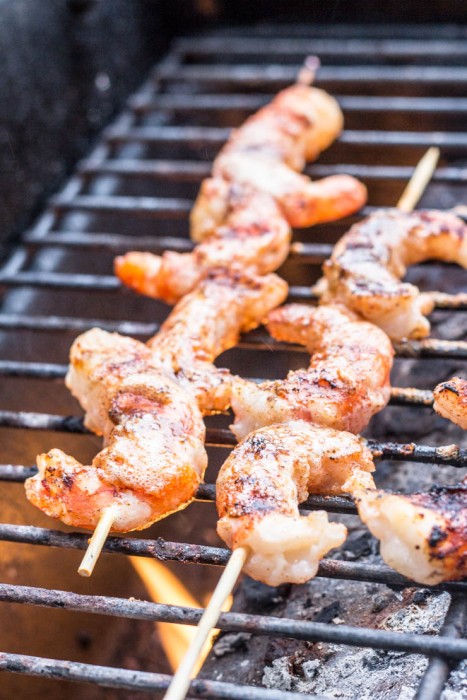 The shrimp! These prawns look like they've been pumping iron at the gym. They are massive. Royal Reds are what I used for this. Honestly, I would use these for every single shrimp dish, if I could. They are a lesser known variety of shrimp from the deepest parts of the ocean. I'm talking like Titanic deep (too soon??). Incredibly tender, these small swimmers have the most rich, pure flavor that I have found in a crustacean.
[Side note: I've made these with grilled chicken, as well. Both are delicious!]
The ones on these skewers were delivered straight from the Gulf region near Pensacola, Florida. If you are ever in that area, stop and get a million pounds to take home. And then give half of them to me for the referral.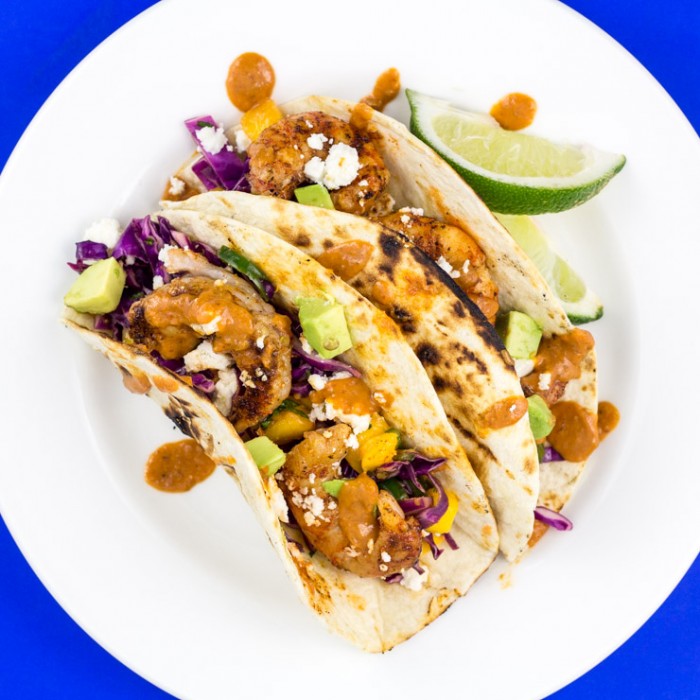 That's really just about it. Super simple. Make the tortillas (ahead of time, even. grill them last minute.), toss the slaw, grill the shrimp. I can personally attest that these so beautifully with the Frozen Peach Basil Daiquiris that we just posted.
Taco party at your house!
Mango Citrus Shrimp Tacos
Mango jalapeño citrus slaw grilled shrimp tacos by SouthernFATTY.com
Ingredients
Mango Citrus Slaw
1 and ½ cups red cabbage, julienned
1 mango, diced
1 jalapeño, seeded & diced
1 large lime, juiced
salt, to taste
Tacos
tortillas (our 5-Minute Homemade Tortillas are great for this!)
shrimp (or chicken)
1 avocado, diced
queso fresco cheese
½ cup sour cream
Sriracha, to taste
Instructions
Combine citrus slaw ingredients in bowl and refrigerate.
For best results, allow this to rest for 30+ minutes.
Grill and season shrimp (or chicken) to taste.
While meat is resting after grilled, grill tortillas. This adds a great amount of texture and flavor.
Assemble tacos-- Slaw, shrimp/chicken, avocado, cheese.
Combine sour cream and Sriracha to top.
Enjoy!
--More on SouthernFATTY.com--
Notes
2015 - SouthernFATTY.com
Show us your favorite taco on
Instagram or Twitter with #SouthernFATTY!