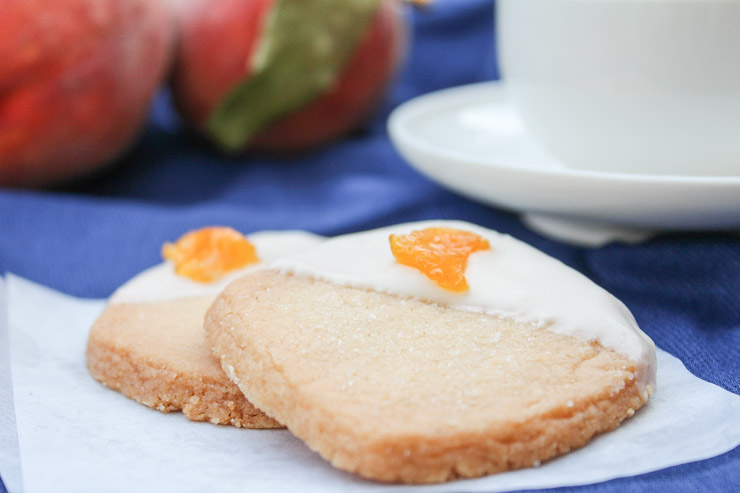 I can't say that I am not the type that enjoys overly sweet desserts and confections. I definitely am. There are a few exceptions to this, and shortbread is one off them. Maybe it's the ridiculous amount of butter that is in them. Maybe the bit of raw sugar that I sprinkle on top. Whatever it is, it's delicious.
Keep reading for our favorite, simple Dipped Shortbread Cookie recipe. And, ya. We are going to dip it (Because… When I dip, you dip, we dip.) in chocolate and add a bit of of a surprise on top.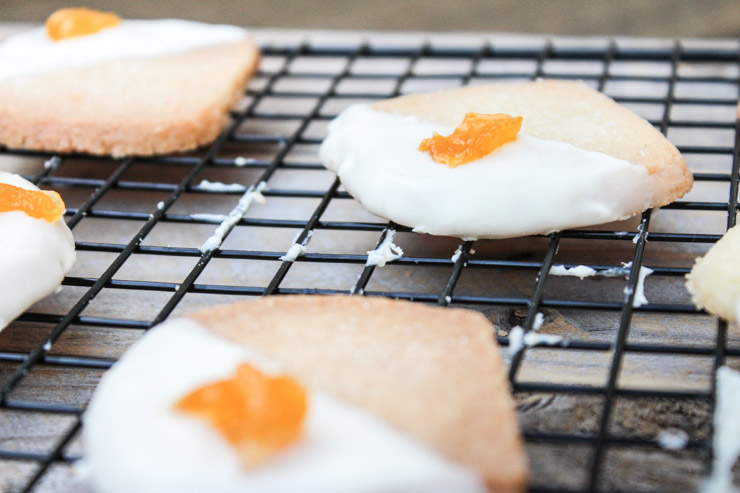 Short and sweet… (get it??). Butter, sugar, more butter, more sugar. That's basically it. I do have to say that since you are using so few ingredients in this recipe, the quality really plays a huge role. Use a good, unsalted (never salted for baking!) butter.
If I were to make these again (let's be honest– I will next week), I would try replacing the sugar for our simple Vanilla Sugar recipe to add a bit of a twist. I can't help but notice that that recipe, if you can even call it that, was the very first post on this little blog back in her baby years all of 9 months ago. *sigh* How they grow up so quickly, right?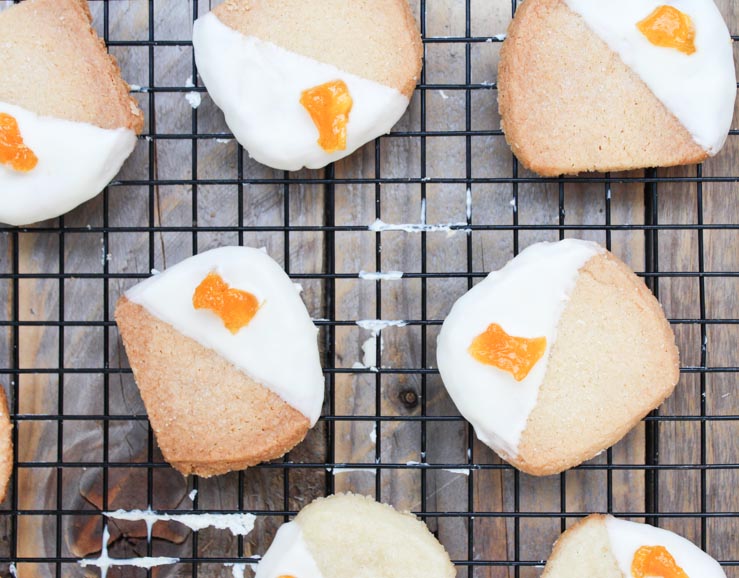 Once you bake and cool these little shortbread delights, let the chocolate skinny dipping begin. I went with a white chocolate dip. Sometimes a double dip. Two is better than one. That's always the motto with sweets.
My little bow tie shaped secret to a perfect shortbread cookie is candied fruit. Not only is it incredibly simple to make, but adds this nice twist (or tie in this case) of flavor to the cookie. I went with candied peach pieces since I happened to have a million of them around the house from making an insane amount of Maple Whiskey Peach Fritters.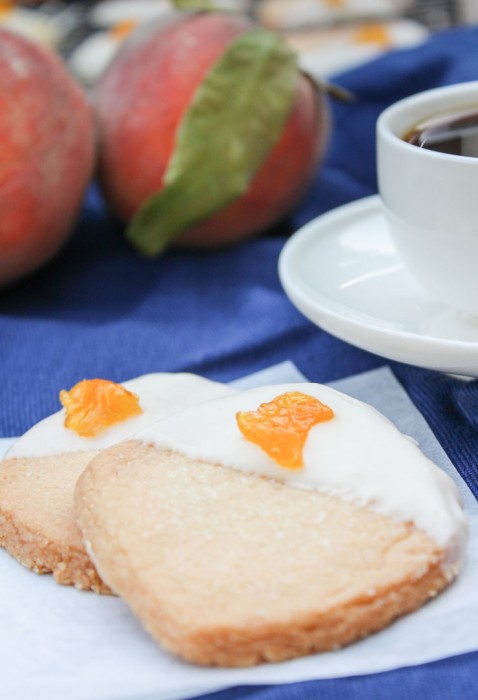 Something sorta interesting to note– I found out when I was recently in London that since legislation in 1921, a true shortbread cookie must contain 51% or more of it's fat content from real butter in the UK. While this technically doesn't apply here in the States, I don't see why you wouldn't give the Brits a nice cheers and add another dollop or ten. For this, England, I salute you.
Dipped Shortbread Cookies
Chocolate Dipped Classic Shortbread Cookies with a Candied Fruit Twist
Ingredients
Cookie Base
22 tablespoons (~ 3 sticks) butter (310 grams), unsalted, softened
2 tablespoons (25 grams) shortening
1 cup (200 grams) sugar, granulated white (Vanilla Sugar is a great option)
1 plus ¼ teaspoon vanilla bean paste (or extract)
3 and ½ cups (440 grams) flour, AP
¼ teaspoon (1.5 grams) salt
finishing sugar, optional but delicious!
Chocolate Glaze
Candied Fruit
candy thermometer (very cheap from Amazon!)
1 peach (or any other fruit, really), sliced into thin slices
1 cup sugar
½ cup water
Instructions
Cookies
Cream butter, sugar, vanilla until just mixed.
Add flour and salt after sifting well to prevent clumping.
Mix on a low speed setting until incorporated into a dough.
On a very lightly floured board, press out to a thick disc, wrap in plastic wrap and chill for 30 minutes in refrigerator.
Preheat oven to 350 F.
After chilled, remove and roll to ½ inch thick dough sheet and cut to desired shape. I used a simple square cookie cutter set that worked great, allowing the dip to over exactly half of the cookie when finishing. The cutters linked here also have a fluted side, which would look great.
Place cookies carefully on a baking mat on a sheet pan.
Sprinkle with finishing sugar, if desired (you know you want to!).
Bake until just golden on the edges, being very careful to not over-bake.
This should take about 20 minutes. Watch them closely near that time.
Remove to cool.
Candied Peaches
Heat sugar and water over medium heat until it reaches a boil.
Add in thinly sliced fruit.
Cook until the sugar solution reaches 235 F on a candy thermometer.
Remove from heat and set burner down to low.
Return to low heat and simmer until fruit is mostly translucent, about 20 minutes.
Remove fruit, strain and cool on rack or baking mat.
When cooled, chop to desired size pieces.
The remaining sugar syrup will be a delicious fruit flavor and can be used for ice cream!
Chocolate Dip
Using candy coating and shortening, microwave in a bowl for 30 seconds.
Stir well.
Microwave additional 15 seconds at a time until melted. Stir very well between. This should only take one or two cycles to melt.
Finishing
Dip the cookies, place a bit of the candied fruit on glaze immediately and return to rack to cool completely.
Enjoy!
Visit SouthernFATTY.com for more recipes and tasty photos.
Notes
2014 - SouthernFATTY.com
One dip, or two? Kidding. We all know the answer!