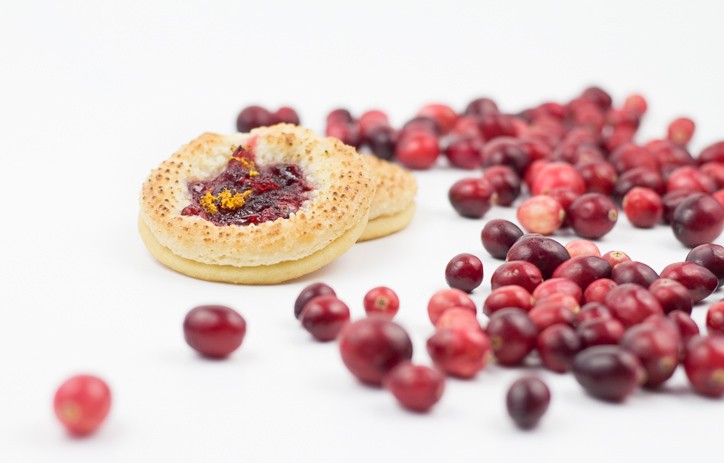 Ahhhhh, Holidays. Parties with great friends, the best music of the year, and an endless supply of baked goods to keep you hyper enough to attend them all. It's that time of year, y'all!
To start things off on the right foot, here is a favorite creation of mine. Buttery shortbread base, simple cranberry filling with a sweet, nutty marzipan ring to hold it all together– Cranberry Marzipan Cookies.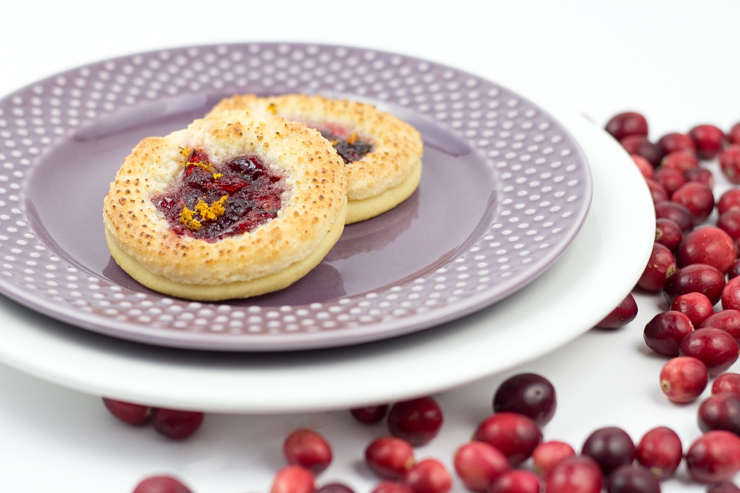 I'm one of those people that like that canned, jelly-like cranberry sauce during the holiday season. Maybe it brings back sweet childhood flashbacks, perhaps I just crave it for the insane amount of sugar in it. Does anyone know if there are actually cranberries in it, anyway? Ah, well. Who cares. It's that time of year, right? The time when you can take your gluttonous self through the buffet line 3 times and nobody will even blink twice about it. Cheers to good friends that don't judge you!
While I may not prefer the whole-berry style of cranberry sauce as much, I do actually enjoy cranberries. The real ones. The bit of tartness and bitterness that is always balanced with a pinch handful of sugar for holiday cooking is just something that you can't beat. It just tastes like the season. I'll show you how I took a simple bunch of cranberries and turned them into a great little party treat.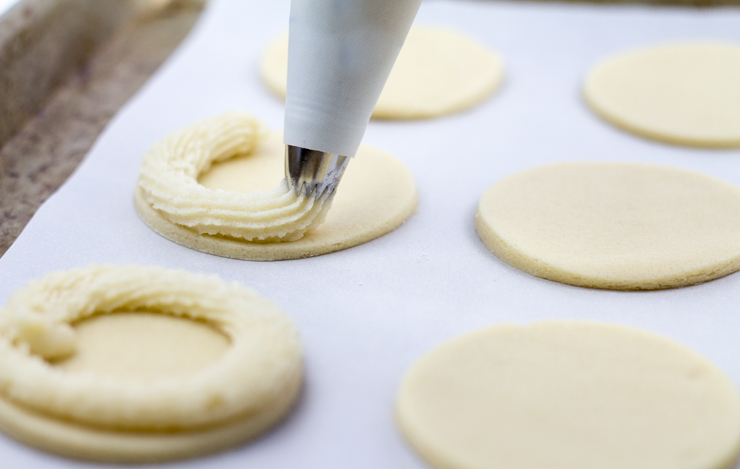 We are going to jump straight back a bit into our Dipped Shortbread Cookies post recipe for the base of these. Not only because of the insane amount of butter in them, but because… well… OK. Because of the delicious, insane amount of butter in them!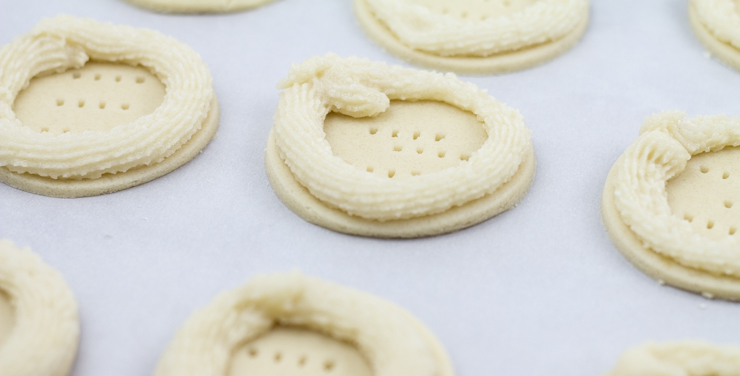 These shortbread cookies will be rolled thinly for the base to hold our perfectly tart and sweet cranberry concoction. A few holes will guarantee it will stay flat and not puff up to spill everything out.
That pretty little pipped ring will hug the impromptu cranberry jam like a family member with an affinity for physical contact. You know the type… Bear hug city. We aren't going to just pipe more of the soft shortbread dough around. We are going to kick it up a bit and use marzipan. If you aren't familiar with marzipan, you should be. Almond gold. Edible almond gold. Edible almond delicious sweet gold. That's basically what it is.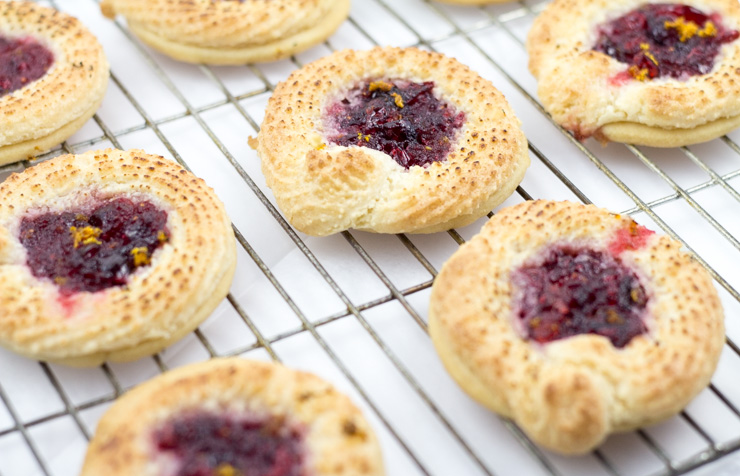 The almond paste based marzipan will give you a pillowy soft, nutty taste with a crispy, almost caramel-like exterior. Combined with the shortbread cookie underneath. Hellooooo Holidays!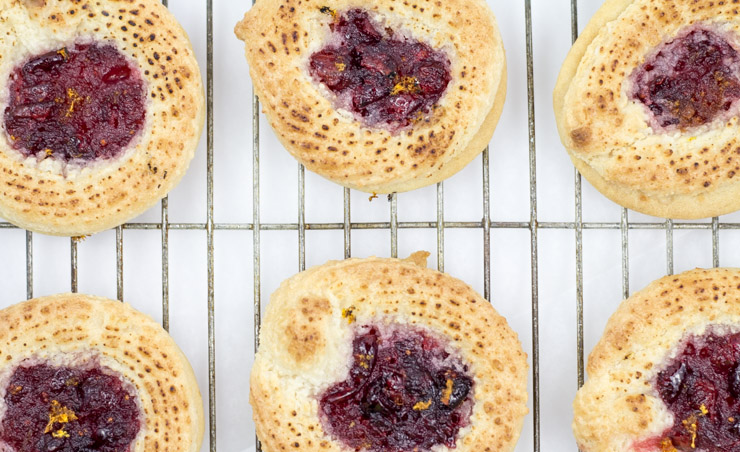 The best in show for this presentation has to be the cranberry filling. It couldn't be any easier to make. Don't pass up those whole berries any longer. They may look a bit bland or intimidating, but they really are quite easy to prepare. A bit of sugar, splash of water, and some fresh orange zest and juice to further balance the bitterness that a raw berry hands you will result in a perfect jam-like filling for these confections.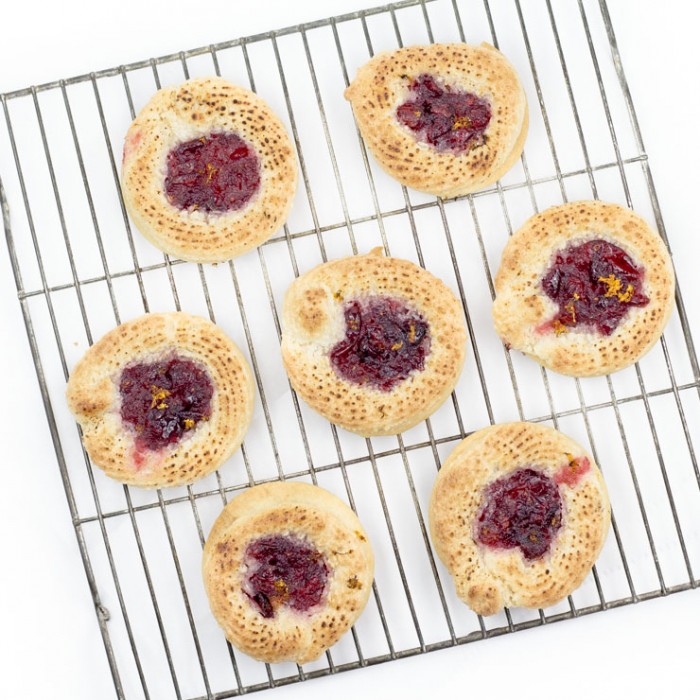 How perfect are these for a holiday dinner or party treat?! Everyone knows that you'll arrive to just sit around forever while everything in the kitchen is finishing up. They can be made well in advance, and I actually even find that they are better after they have completely cooled and sat overnight. The cranberry jam will completely thicken and give a great texture in the center.
Don't let your guests sit around and pick at the turkey before it's time to eat. Hand them some cookies instead. You'll probably earn a better Christmas gift for it.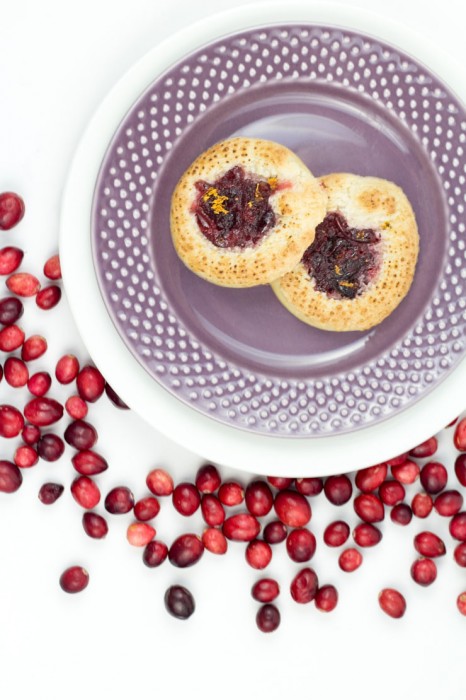 Happy Holidays, y'all. Hope everyone eats lots and lots of delicious bites with the ones you love this season!
Cranberry Marzipan Cookies
Tart and sweet cranberry filled cookies with a soft, buttery shortbread base and nutty, toasted marzipan hug from SouthernFATTY.com. Great cookies for holiday dinners or parties!
Ingredients
Shortbread Cookie Base
2 sticks butter (16 tablespoons or 225 grams), unsalted, softened
1 tablespoon (12 grams) shortening
1 cup (200 grams) sugar, granulated white or Vanilla Sugar is a great option
1 plus ½ teaspoon vanilla bean paste (or extract)
3 and ½ cups (440 grams) flour, AP
¼ teaspoon (~ 1 gram) salt
Marzipan Ring
8 oz almond paste, chopped into pieces
1 and ½ cup powdered sugar
1 egg white, beaten
Cranberry Filling
1 cup cranberries, whole
1 cup sugar
¼ cup water
1-2 tablespoons orange juice, freshly squeezed
orange zest, to finish
Instructions
Shortbread Cookie Base
Cream butter, sugar, vanilla in mixer.
Add flour and salt after sifting well to prevent clumping.
Mix on a low speed setting until incorporated into a dough.
On a very lightly floured board, press out to a thick disc, wrap in plastic wrap and chill for 30 minutes in refrigerator.
Preheat oven to 350 F while chilling.
After chilled, remove and roll to ¼ inch thick dough sheet. Cut with round biscuit cutter.
Place cookies carefully on paper of mat-lined sheet pan.
Dock the dough by punching some holes in it with a fork. (See post images)
Bake at 350 for 6 minutes. They will NOT be browned yet.
[Note: The images in the post show the marzipan ring piped before baking. Mistake. Oops!]
Remove to cool, leaving oven on.
Increase oven temp to 400 F.
Prepare marzipan:
In mixer bowl, add powdered sugar and chopped almond paste.
Mix until fine texture, for a few minutes.
Add egg white and mix until comes together in a dough-like paste.
Place in pastry bag fitted with large star tip.
Pipe rings around cooled shortbread cookie bases.
Place piped cookies in refrigerator to keep cool.
Make the cranberry filling now:
Add cranberries, sugar and water in saucepan.
Over slightly above medium heat, heat until berries break and sauce starts to thicken.
You may help this process along by smashing the berries with a silicone spatula along the way.
Cook until reduced and thickened, about 5-10 minutes.
Remove from heat to cool slightly.
When cooled somewhat, fill cookie rings and immediately bake.
Bake until marzipan is golden. I used a kitchen torch to give a bit of darker texture around the ridges after baking.
Top with a bit of orange zest. Some rough sanding sugar would also be tasty.
Enjoy with family and friends!
These taste even better once they have sat and cooled completely. I prefer them after they have rested overnight, even. Perfect for holiday dinners or parties!
Visit SouthernFATTY.com for more recipes.
Notes
2014 - SouthernFATTY.com
Can you believe Southern FATTY is almost an entire year old?!
Keep an eye out for something HUGE coming up soon!
I would love to hear about your holiday baking —
Leave a note and let me know what you are whipping up!