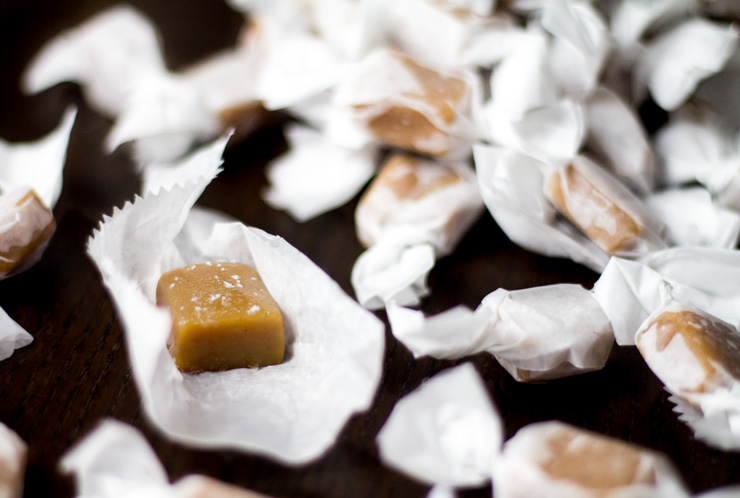 Let's talk caramel. I've seen caramels made with everything from passion fruit to duck fat (SO good!).
For a tasty fall treat, I decided to make some melt-in-your-mouth Honeycrisp Cider Caramels for a tart, but sweet treat.
I've had cider caramels before and while I enjoyed them, I wanted to come up with something a bit more unique. I thought about those flashback sour apple caramel suckers that we would go absolutely crazy for when I was a kid in school. Sour apple caramels? Eh. Sounds pretty good, but just not exactly what I was looking for this time. Table that one for later. I toyed with the idea of different cider types– mulled cider, regular old cider, orange-spiked cider. Then it hit me– I'm going to find something to mimic that tartness from those sour apple caramel suckers with the flavors that I love from a traditional spiced cider.
Honeycrisp apples were the answer to this. If you haven't ever had one of these rubies before, you are missing out. Head off to your market and get some. Stat! Now… I feel like I need to preface this a bit. These things are craaaazy expensive. The last time I bought some, they were $1.50 a piece. Not a pound. I'm talking each. With that disclaimer given, they are worth every penny! These unique hybrid-crossed apples were first invented by a farmer about 20 years ago and they have been a huge hit ever since. He literally took two varieties of apples that he enjoyed and crossed them the good old fashion way. You know… a lady apple meets a guy apple. A stork brings them a delicious honeycrisp apple. Ta daaa!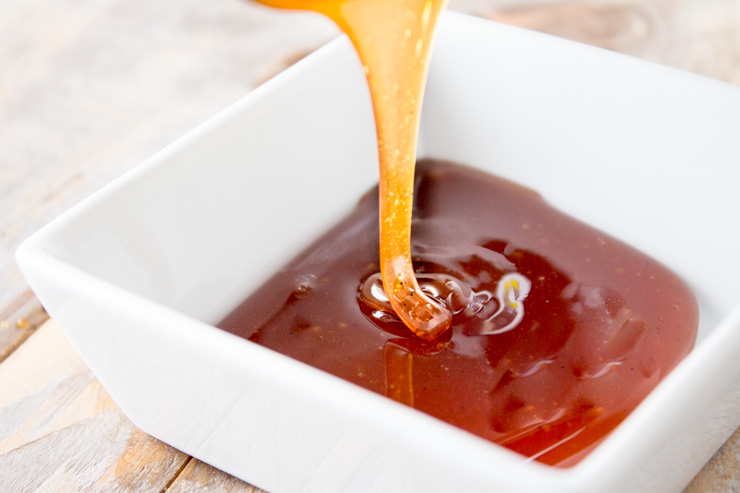 These apples are, without a doubt, going be the star ingredient in this recipe. I am going to show you how I cut corners just a bit to extract all of those flavors. We aren't going to chop up and cook down a ton of apples. We are going to cheat. Trader Joe's has this honeycrisp apple cider that is a pure, unfiltered juice from honeycrisp apples. Nothing else. $3 and you have your entire apple flavoring ready to go. Can't beat that, right? I'll gladly pay $3 to get the juice from these apples that would cost me $1.50 a piece and a sore arm to process. The cider being unfiltered really adds to the overall quality of the caramels in the end, too. You'll see the essence of the apples directly in the sweets. A bit of heat and time and you will have a delicious honeycrisp apple cider reduction. This stuff packs a punch!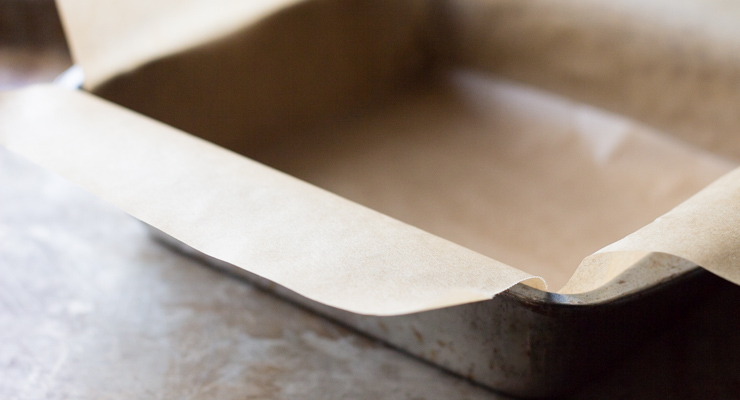 When you are working with hot sugar, one of the keys is to have your mise en place down to an art. This is French for putting everything in place ahead of time. Have everything measured out and ready to go. I can't stress this approach enough. Don't leave that hot, boiling sugar for a moment to go line your pans. You'll regret it. I'm the type that burns everything (at least once) while I am cook. Put enough wine (or that Amaretto Southern) in your glass that you wont need to pause from gazing into the thermometer to go refill it.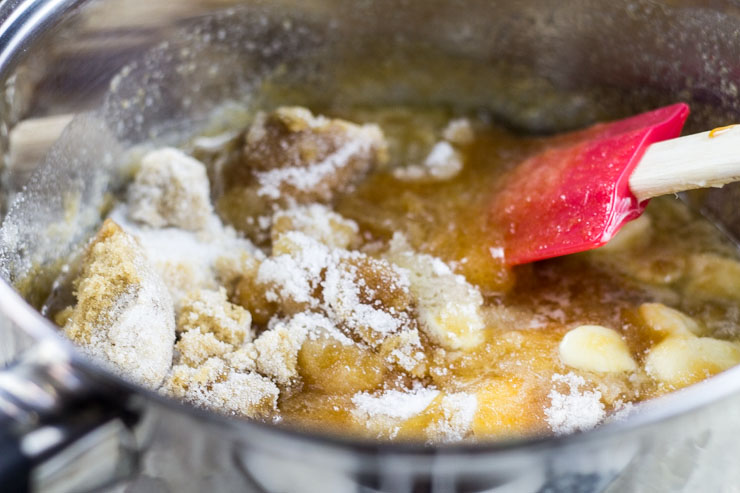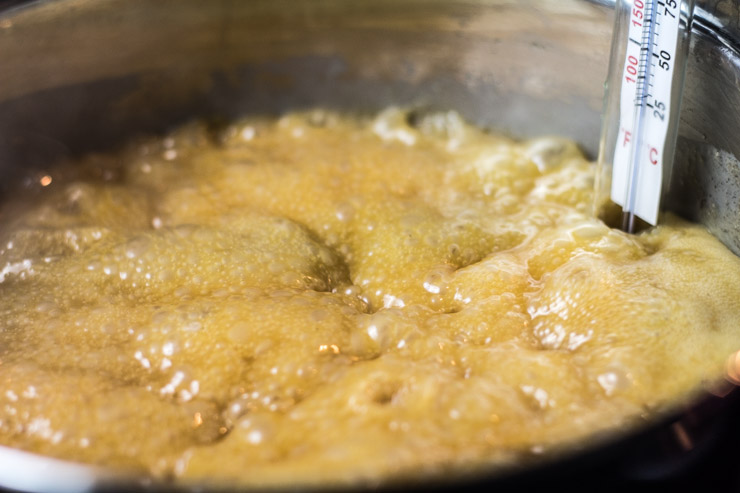 It's all science, yo. That sugar has to get to an exact, known temperature to stay in that soft, not hard, creamy texture. A few degree higher and you'll get caramel hard candies instead. Lower and they wont hold their shape and you'll be forced to use it for ice cream (that's where all confection fails go in my house).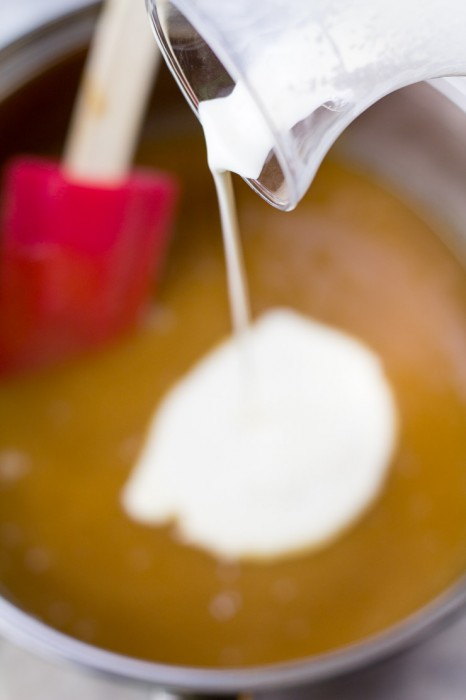 Don't skimp on the ingredients here. Good butter, good cream (don't even think about half-half, etc.), excellent salt to finish. It'll all be worth it in the end. After all, these are tiny little treats that are meant to indulgent. Make it worth your time.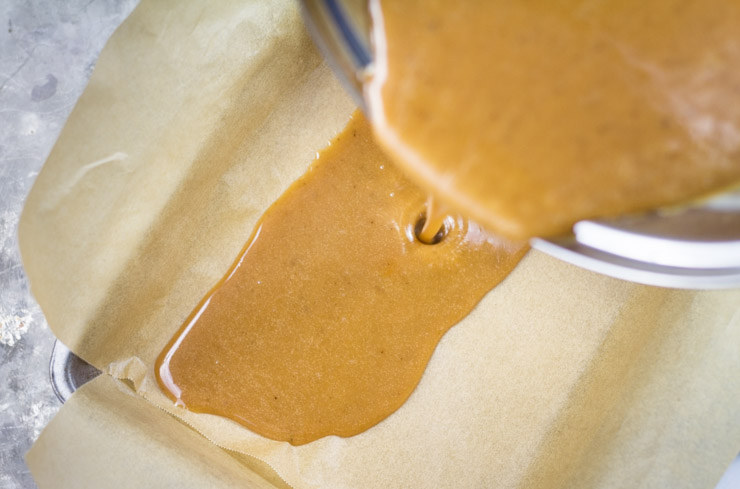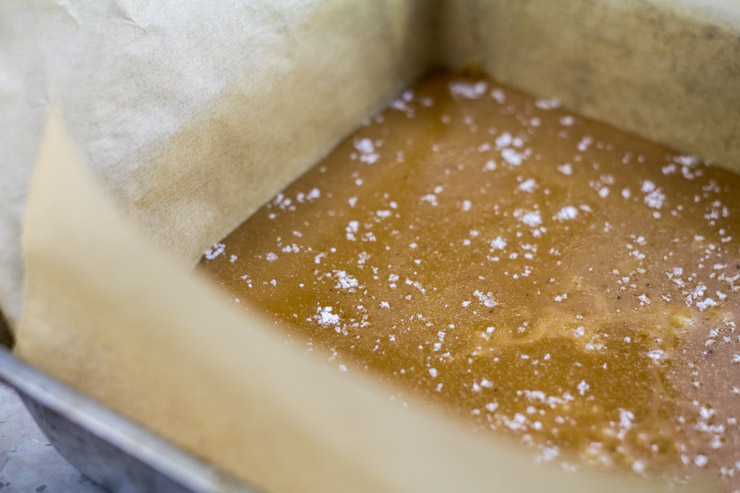 Once that blazing hot caramel is cooled slightly and you have poured it into the pan to set, you can finish it with your favorite salt. I would recommend a good quality flake salt (fleur de sel).The salt isn't just a useless fad. The addition of salts to caramels dates back to old Brittany in France. This north-western region is famous for its rich, sweet confection history. More recently, Pierre Hermé (basically the godfather of the French macaron craze – amazing cookbooks, too!) made salted caramel more recognizable when he exploded in fame with a salted caramel macaron in the 90s. [On a side note, I got to try this exact thing in Paris recently and it. was. amazing.]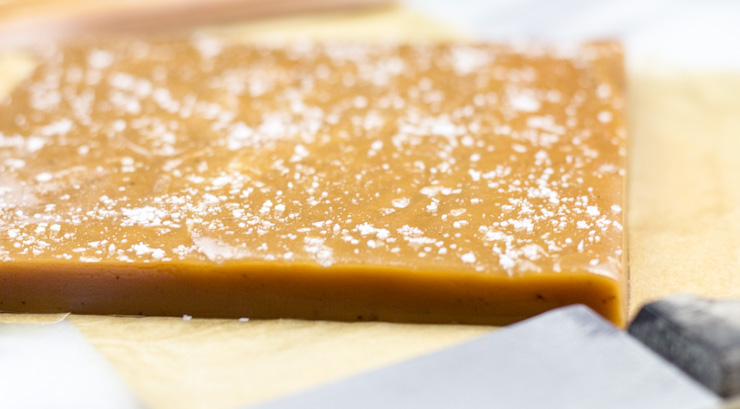 Let's revisit that cider that we reduced to give these caramels their distinctive, delicious tart flavor. Do you see those little specs in the caramel above? That is why unfiltered cider is the best choice for these. Sure, you could use any cider. I promise you that if you have the option, it will be better to pick this one. Those bits of the honeycrisp apples, slowly caramelized and reduced to perfection, will add such amazing bits of excitement to what might be a somewhat bland alternative of a typical caramel.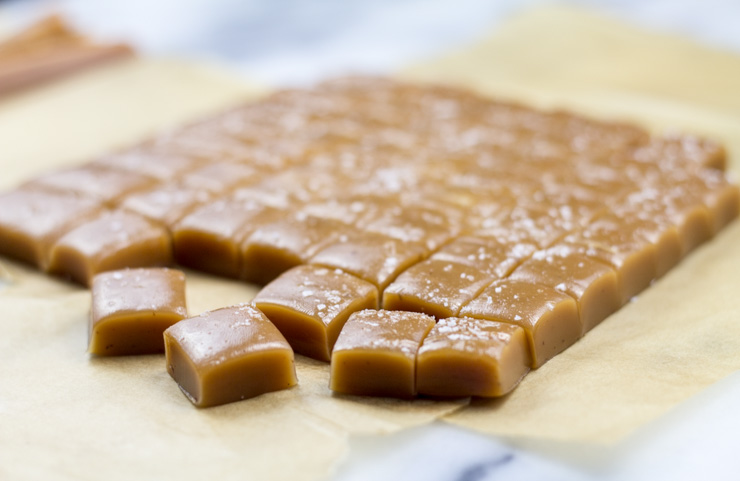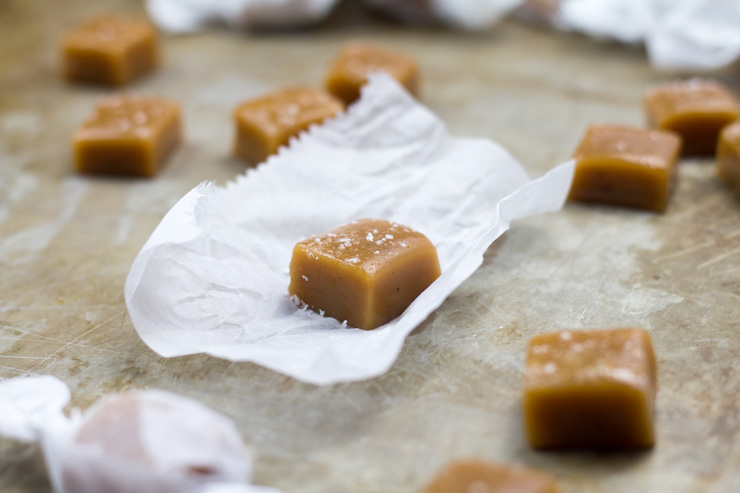 Wrapping these suckers is probably the most time consuming part of the recipe. Now… If you are anything like myself, this process will be a real struggle. You'll eat just about every 5th one. Quality assurance, right? I do have to say that I may have overindulged (is that actually a thing?) a bit with this. These are rich. Like Ri¢hie Ri¢h rich. Probably best enjoyed slowly. I almost felt like I was playing chubby bunny to see how many I could destroy before I finished wrapping them. The more you eat, the less you have to wrap… I would recommend an assembly line of friends. Preferably the ones that for some stupid reason don't enjoy sweets so they don't consume all of the goods. Everyone has a couple of those people around.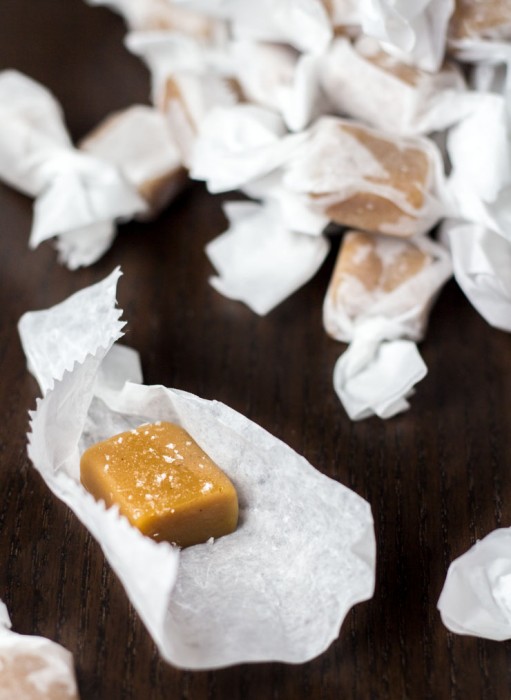 Wrapped and ready, these really would make a great "Hey! I care about you." sorta gift. Just fill some little jars and leave one for the mailman or something. It is that time of year, after all.
Hope everyone is having a great holiday season.
Share and enjoy with some people you care about.  (…or eat them all yourself because I'm sure you are just lovely, too.)
Honeycrisp Cider Caramels
Homemade Honeycrisp Cider Caramels
Ingredients
3 cups honeycrisp cider (Trader Joe's is where I went for this)
¼ teaspoon cinnamon, ground
⅛ teaspoon nutmeg, ground
2 teaspoons salt, flake-style is best!
1 stick butter, unsalted
1 cup sugar, white granulated
¼ cup brown sugar, dark
¼ cup brown sugar, light
½ cup heavy cream
2 tablespoons corn syrup
Instructions
Heat cider in saucepan over medium-high heat. Cook, stirring frequently, until reduced. This will take about an hour-ish. Watch carefully to avoid burning.
During this time, prepare all ingredients to assemble caramels when ready. (cut up butter into pieces, measure all other ingredients and have them ready to mix in)
Line pan with parchment paper (see post picture).
Set the salt aside and add the cinnamon and nutmeg.
Once cider is reduced to about ½ cup or so (very thick), start adding the rest of the ingredients: butter, sugars, corn syrup, cream.
Heat and boil until it reaches exactly 250 F (hard ball phase) and immediately remove from heat.
Stir in the salt/cinnamon mixture.
Pour caramel into prepared pan to cool.
Sprinkle extra salt on top after a few minutes.
Allow to rest for several hours for best result.
Use a buttered/oiled knife to cut into squares. Wrap in waxed paper or these wrap sheets.
Enjoy with friends and family.
Visit SouthernFATTY.com for more!
Do you have a favorite holiday confection that you give out to friends and family? Share it with us all in the comments below!