Cranberry Marzipan Cookies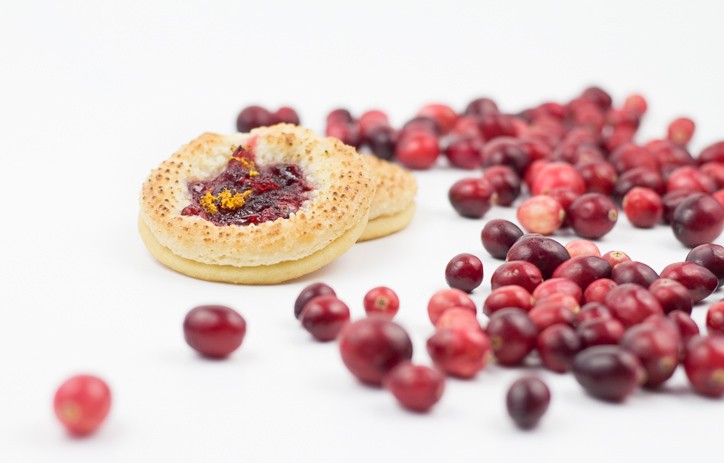 2 sticks butter (16 tablespoons or 225 grams), unsalted, softened
1 tablespoon (12 grams) shortening
1 cup (200 grams) sugar, granulated white or Vanilla Sugar is a great option
1 plus ½ teaspoon vanilla bean paste (or extract)
3 and ½ cups (440 grams) flour, AP
¼ teaspoon (~ 1 gram) salt
8 oz almond paste, chopped into pieces
1 and ½ cup powdered sugar
1 egg white, beaten
1 cup cranberries, whole
1 cup sugar
¼ cup water
1-2 tablespoons orange juice, freshly squeezed
orange zest, to finish
Cream butter, sugar, vanilla in mixer.
Add flour and salt after sifting well to prevent clumping.
Mix on a low speed setting until incorporated into a dough.
On a very lightly floured board, press out to a thick disc, wrap in plastic wrap and chill for 30 minutes in refrigerator.
Preheat oven to 350 F while chilling.
After chilled, remove and roll to ¼ inch thick dough sheet. Cut with round biscuit cutter.
Place cookies carefully on paper of mat-lined sheet pan.
Dock the dough by punching some holes in it with a fork. (See post images)
Bake at 350 for 6 minutes. They will NOT be browned yet.
[Note: The images in the post show the marzipan ring piped before baking. Mistake. Oops!]
Remove to cool, leaving oven on.
Increase oven temp to 400 F.
In mixer bowl, add powdered sugar and chopped almond paste.
Mix until fine texture, for a few minutes.
Add egg white and mix until comes together in a dough-like paste.
Place in pastry bag fitted with large star tip.
Pipe rings around cooled shortbread cookie bases.
Place piped cookies in refrigerator to keep cool.
Add cranberries, sugar and water in saucepan.
Over slightly above medium heat, heat until berries break and sauce starts to thicken.
You may help this process along by smashing the berries with a silicone spatula along the way.
Cook until reduced and thickened, about 5-10 minutes.
Remove from heat to cool slightly.
When cooled somewhat, fill cookie rings and immediately bake.
Bake until marzipan is golden. I used a kitchen torch to give a bit of darker texture around the ridges after baking.
Top with a bit of orange zest. Some rough sanding sugar would also be tasty.
Enjoy with family and friends!
These taste even better once they have sat and cooled completely. I prefer them after they have rested overnight, even. Perfect for holiday dinners or parties!
Visit SouthernFATTY.com for more recipes.
Recipe by
Southern FATTY
at https://www.southernfatty.com/cranberry-marzipan-cookies/