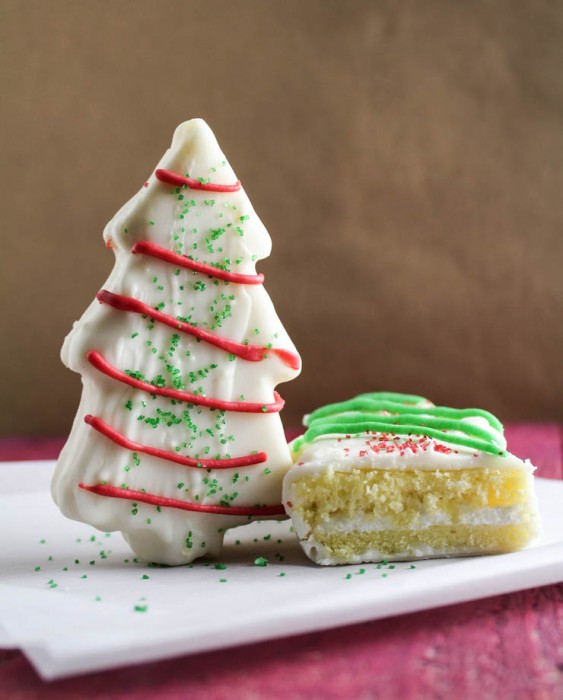 Happy Holidays!
—–
Tiny green sprinkles falling… Fluffy sweet fillings flowing… Peppermint-colored drizzles bouncing.  It's Christmas time!  What could that possibly mean more than boxes and boxes and boxes of Little Debbie Christmas Tree Cakes®?!  These have been around since the 1960s, made still by a family-owned business right here in Tennessee!  I wait all year for these beauties to show up at my local grocery store.  I follow @LittleDebbie on Twitter.   [Feel free to follow @SouthernFATTY while you are visiting!]  She regularly has conversations with me about how many days away the Christmas Tree Cakes® release is.  It's a match made in confection heaven, really.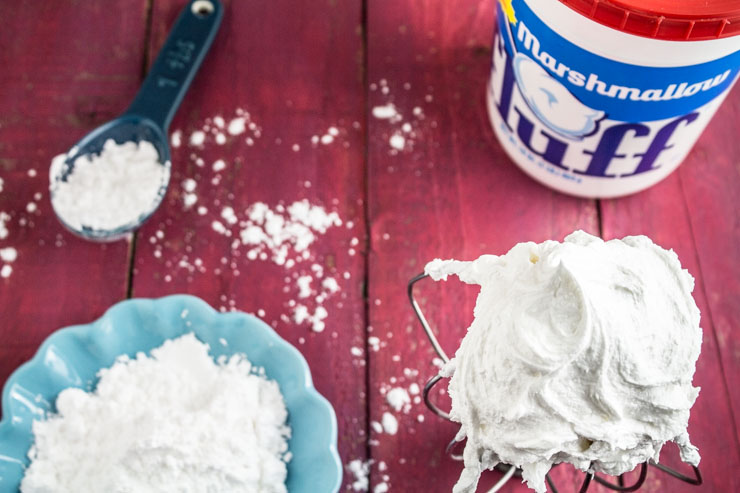 Since it is a freezing cold, slushy, snowy mess outside, there is nothing better to do than go to hockey games!  I am a strong support and fan of our local Nashville Predators, and recently placed a bet with a friend that is for some reason an LA Kings super-fan. Ya… I know… I'm not sure why she would like them either.  BUT, that being said and both of us being baking fanatics, the prize would be a mailed box of one of our favorite creations.  The bet was on!  I didn't even think about what I would make, because obviously I wouldn't need to.  However… The LA Kings cheated their way into a win, and I was stuck with only my tears and a demanding friend with a sweet tooth for victory.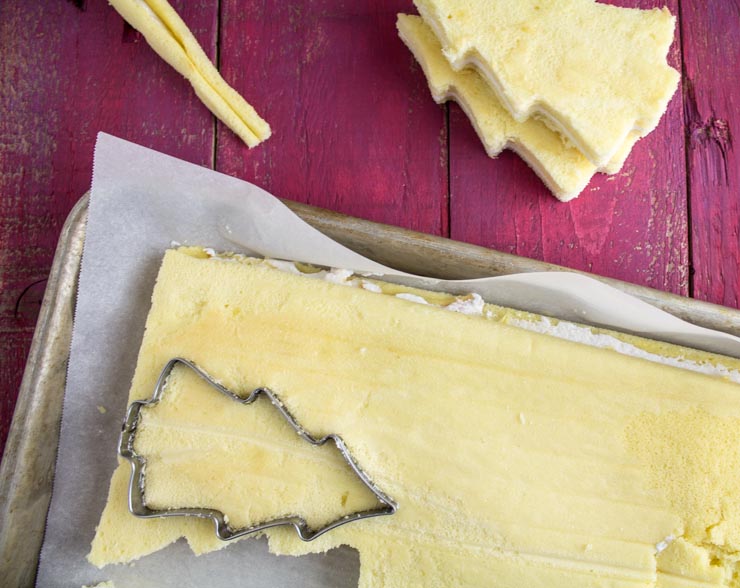 Considering that we both have had multiple extended conversations about our love for Little Debbie Christmas Tree Cakes, I thought that I would venture into making my own tiny trees of joy to send to her for her extremely unexpected win.  I, of course, started very scientifically by picking up…well… let's just say several.  Yes… several boxed of the real thing from the store.  I poked and prodded at each one, analyzing the sprinkles, the thin red ribbons of love that crossed the cakes, the fluffy filling and the base cake.  Cake with some filling and icing.  How difficult could it be, right?  Well……. After three unsuccessful batches (I may possibly be a slight perfectionist), I finally struck Christmas gold!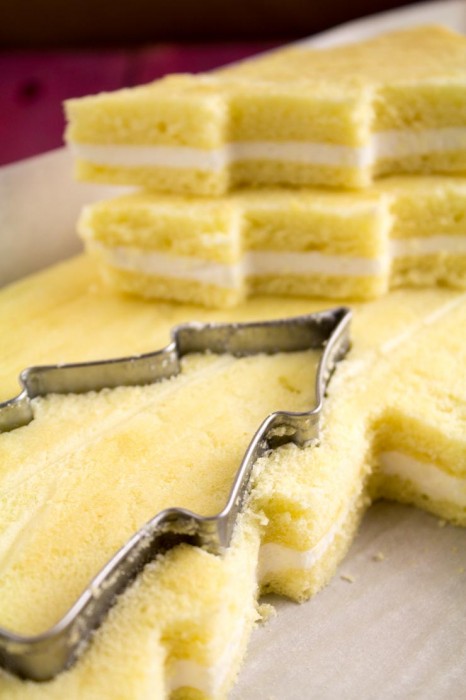 Let's start with the base cake.  You really can use any sturdy yellow cake recipe for this.  I tried both boxed cake mix and homemade from scratch.  The boxed mixes were almost too moist, I think.  The homemade recipe that I am including worked very well for me.  You may notice a bit of added… Christmas joy, perhaps?  I mean, everything tastes better with "…a little Captain in 'em!".  Arrrrrr!  The reason for this is that you really need something to cut that homemade taste and add a bit of artificialness to the cake.  You can leave this out, but I really think it makes all the difference in the replication attempt.  I promise, your cakes [sadly?] won't taste like bar food when you are finished.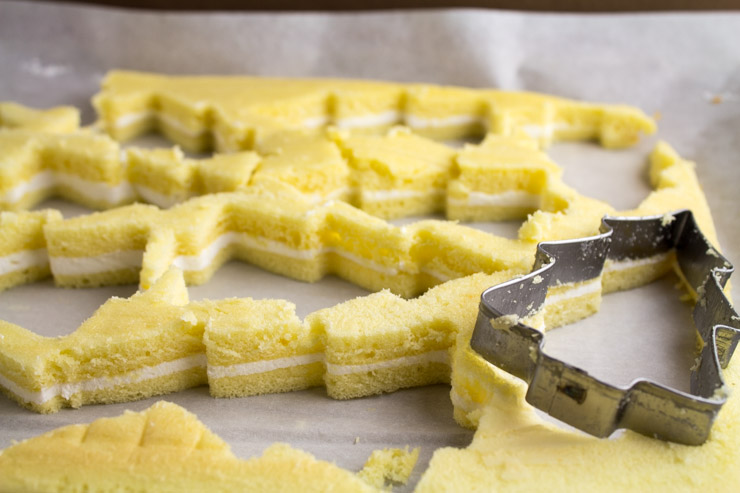 The filling– I tried multiple fillings for the test batches of these cakes.  Some were too grainy, some not fluffy enough.  Using Marshmallow Fluff® was the best option that I found.  It really leaves the filling light, sweet and fluffy at juuuust the right texture to mimic the typical store-bought cakes.  Marshmallow Fluff has been around forever!   Don't be afraid to buy the larger size… We'll show you how to turn it into a great [adult] drink in an upcoming post!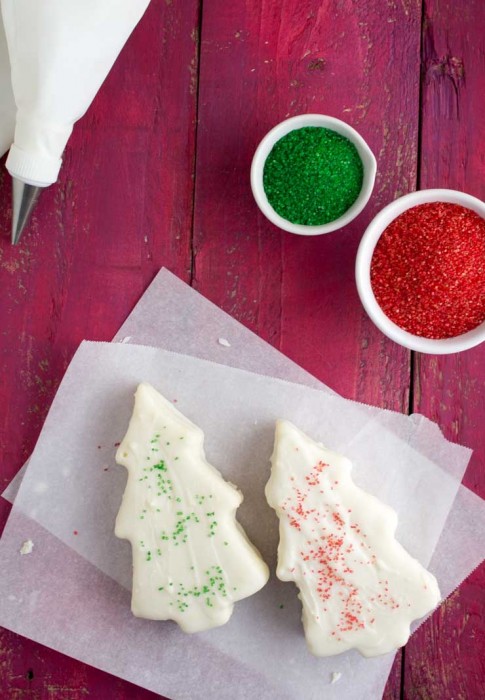 The icing– THIS was the most difficult part to get right for me.  You don't want a glazed finish that will become sticky, so we will rely on good-ol' southern shortening to do the trick.  It's ability to remain solid at room temperature (These would be your saturated fats– the carbon-hydrogen fatty acid arrangement allows it to be sacked closely, remaining solid at room temperature!) is exactly what we need to make that touchable coating.  You want to get a basic sweet vanilla taste (or chocolate if you are swapping for that), and not just a greasy tasteless shortening thing going on.  The easiest way to do this is to pickup some candy coating from any grocery.  You will find it near the chocolate/baking items.  It comes in a molded brick form.  I know… I know.  Stop yelling at me!  While I certainly would encourage tempering your own, for this is just makes things so much easier to buy the ready-made stuff.  Just this time, ok?  I won't tell anyone if you don't.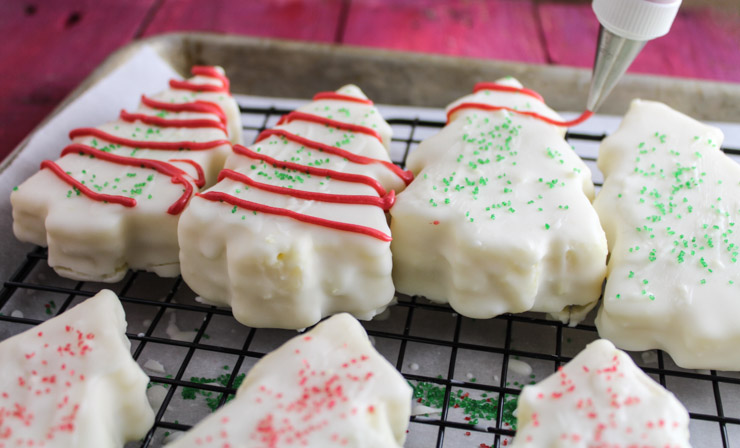 Once you have your cake bases and filling made and cooled, place the more smooth sides of the cakes on the outsides with the filling between.  I used a christmas tree cookie cutter that I was able to find online that is just exactly the correct size, although this is obviously not so important unless you are bitterly completing a detailed lost-bet project such as I am.  I didn't want any room for criticism.  Punch out the cakes into whatever shape you may want them to be.  Eat every single fragment of excess cake.  I even put some in the freezer to later mix in with some homemade ice cream!  Yes.  You read that correctly.  I decided to let these cakes sit in the refrigerator overnight to cool (and it was midnight at this point… I had to cook dinner in between making the cakes).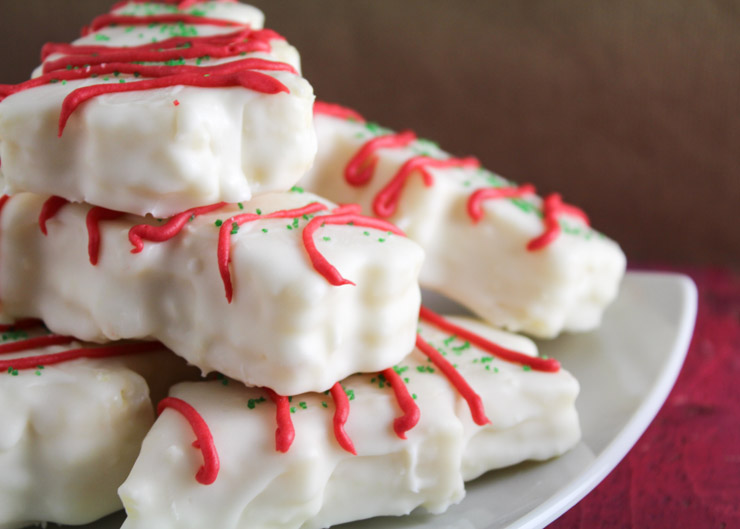 I would recommend throwing them in to cool for 30 minutes or so.  This will make the coating process a bit easier if they aren't as soft.  Make the icing as instructed, dip each cake with a fork and place on a rack to cool.  Repeat as many times as you want for thickness.  I do 2-3 coats to get the solid coating like the store-bought versions, but 2 is certainly enough.  If you are adding some colored glaze ribbons, etc. such as I did for the red tree decorations, so this before the final icing layer has cooled completely so it will blend more smoothly.  [Always] Add your sprinkles, and you're done!  Let them cool completely and they should be juuuust perfect to pick up and eat without a mess.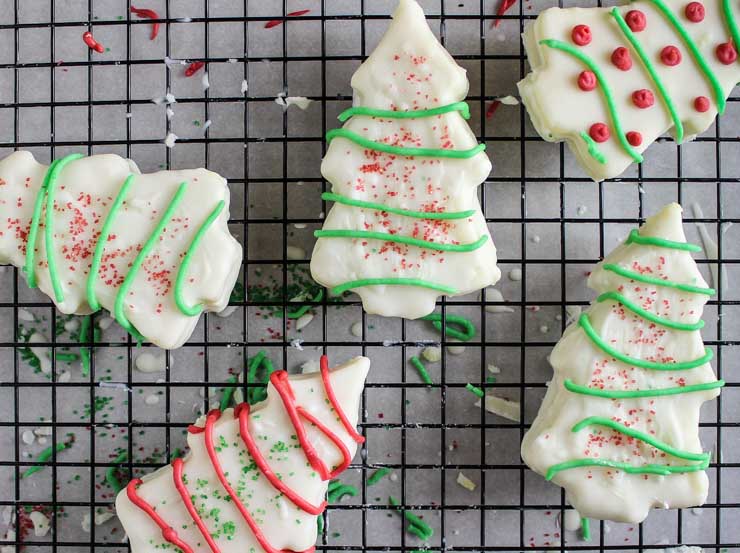 Little Debbie Christmas Tree Snack Cakes and their design are registered trademark of McKee Foods Kingman, Inc.  || htttp://www.LittleDebbie.com
Marshmallow Fluff is a registered trademark of Durkee-Mower Inc. || https://www.marshmallowfluff.com/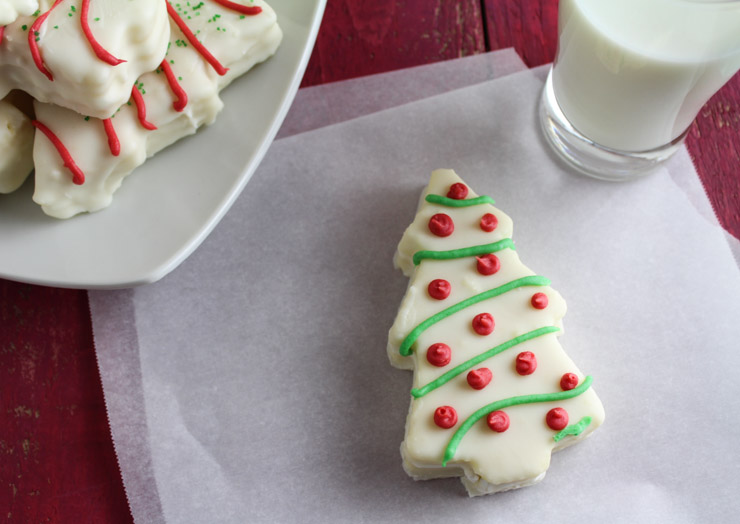 Throw on your ugly Christmas sweater, grab your cakes and go enjoy the holiday season!
Christmas Tree Snack Cakes
Homemade Snack Cakes by SouthernFATTY.com
Ingredients
Cake Base (alternatively, you can use a box mix)
2 C all-purpose flour (sifted, of course)
1½ C white granulated sugar
1 tablespoon baking powder
1 teaspoon salt
½ cup butter, room temp
1 cup milk
2 tablespopons rum (eg: Captain Morgan®)
1 teaspoon vanilla
2 eggs
Filling
1 cup powdered sugar
¼ cup marshmallow cream (eg: Marshmallow Fluff®)
1-2 tablespoons heavy cream (may sub half/half)
1 teaspoon vanilla extract (Clear, if available. Not required, just makes it more white.)
Glaze Icing
½ cup vanilla candy coating (eg: CandyQuick®, found in baking/chocolate area)
½ cup shortening
food coloring (optional, for decorating)
Instructions
Cake Base
Preheat oven to 350 F.
Combine dry ingredients and sift. This prevents lumps in the cake.
Add in mixer with butter, milk, vanilla. Mix until smooth.
Add one egg at a time and mix until combined.
Stir in the rum until combined. If using a box cake mix, still add this. It mimics the store-bought concoction taste of the cakes.
Line two sheet pans (with edges) with parchment paper. Split the batter into the pans and smooth out. It will be thin! Don't worry.
Give the pans a little bang on the counter-top to remove bubbles.
Bake at 350 for ~ 10 minutes. Halfway through, remove quickly and give a strong tap to remove bubbles. Rotate pan and finish baking.
Remove and cool completely.
Filling
Combine all ingredients in mixer until smooth, mixing for 3-5 minutes to incorporate air and make it fluffy.
Glaze/Icing
Combine into non-reactive bowl (glass, etc. - non-metallic).
Place in microwave and heat in 30-second intervals. Stir well after each.
Do this until smooth. Mine took only 2 or 3 30-second cycles.
You can split this glaze into batches and color for decorating, etc. You may need to allow it to cool somewhat before food coloring will mix well (oil in the shortening makes this difficult when too warm).
Make the Cakes
Using a sheet pan on top of the cooled sheet cakes, position them so one is smooth (top) side down on a lined pan. Have the other smooth side up on another lined/slightly buttered pan.
Spread filling on cake with smooth side down. Do this carefully, as to not tear the cake.
Lightly slide the cake with smooth side up on top of this filling-topped cake. You should now have a cake-filling-cake combination.
Chill for ~ 30 minutes. (Optional, but recommended)
Use thick cookie-cutter to punch individual cakes out. Alternatively, cut out squares, etc.
Re-warm the glaze if needed by 15-30 second microwave cycles. It is most easily applied when slightly cooled, not hot.
Dip each individual snake cake into glaze with fork. Remove to cool to parchment-lined pan/rack.
Depending on how thick the coating is, you may choose to repeat this. I coat mine twice.
If placed on a cooling rack, be careful removing the cakes, as they may have stuck to the rack. Press slightly from the bottom.
Decorate the cakes! SPRINKLES! Extra colored glaze can be applied while the cake glaze outter layer is still warm. Otherwise, it will not stick and the decorative glaze will fall off.
Share with friends and enjoy.
Visit SouthernFATTY.com and tell us how it went, or how you created your own variety!
What are your favorite Christmas treats?  Childhood memories like snack cakes that you have or would love to re-create at home?