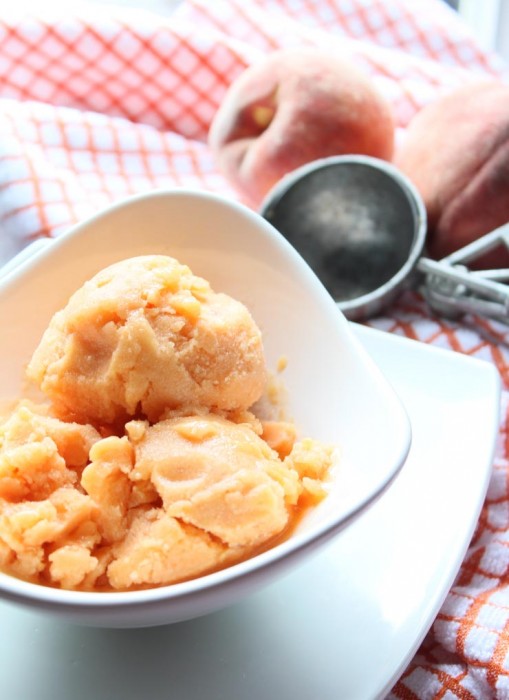 WHAT? Ice cream in this weather?! — YES! I am one of those people that absolutely love ice cream when it's freezing cold and coffee when it's blazing hot out.
This is how I have learned to make a simple, single-serving sorbet with as little as two ingredients. Craving some peach sorbet or ice cream? Maybe blueberry? Strawberry? Oh. Shoot.. It's December. Who cares! Pop out those frozen berries and get to it. This is the most delicious Simple Peach Sorbet you'll ever have.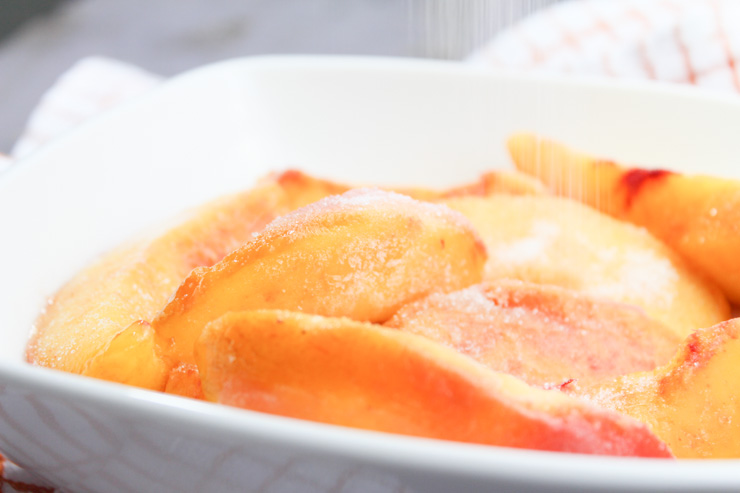 After picking enough peaches to feed an entire Southern shotgun wedding party, I ended up with bags and bags and bags of sliced and frozen fruit in the freezer. I initially cut and placed them on baking sheets until they were frozen and then bagged them up. This way, you can take out individual ones instead of one big bag-shaped block like I always remember doing before I learned that trick. <the more you know!>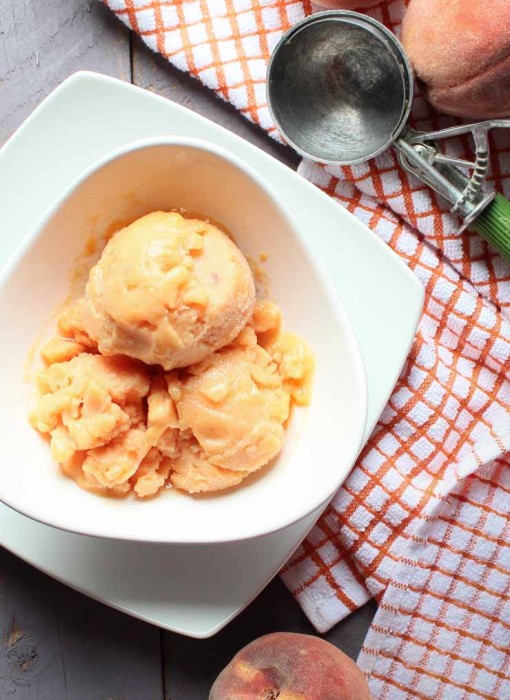 This is going to be such an involved, tough recipe, y'all. Get ready for it. Put those peaches in a bowl. Add some sugar to them. Pop it in the microwave for juuuust a few seconds. Into the processor. Eat. Enjoy. That was SO much more work than driving to the store at midnight to pickup your favorite ice cream. Just don't tell anyone that it's crazy healthy and all…
Now that I think about it, I bet this would work really well using the Peach Simple Syrup as a replacement for the straight sugar. Sorbet is typically made with a sugar syrup, anyway. This gives it that unique, non-dairy crystallization texture that you expect from a quality sorbet. Give it a try and let me know how it goes!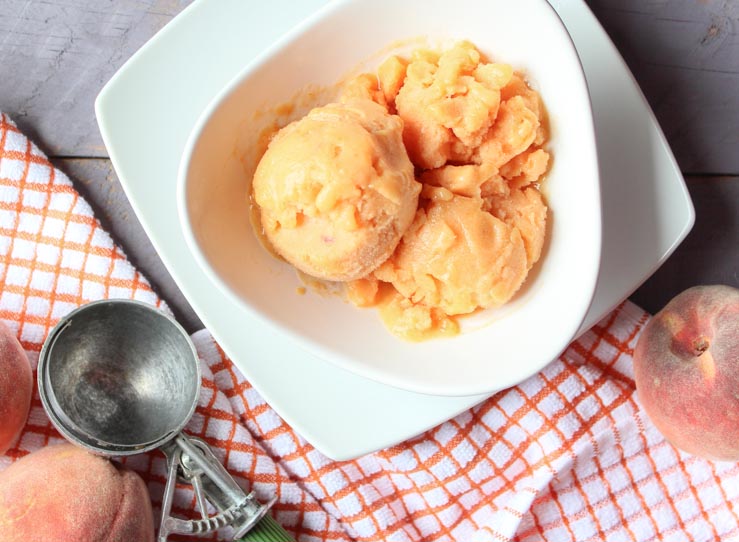 This works just fine with any frozen fruit. I've even tried it with the frozen fruit that you buy in a grocery. It doesn't taste as organic and bright as freshly frozen, home-picked fruit, but still is pretty good!
(While you're at it, use some of those frozen peaches to make some of our Maple Whiskey Peach Fritters!)
Simple Peach Sorbet
Simple, 2-ingredient Simple Peach Sorbet from SouthernFATTY.com
Instructions
Place frozen peaches in a microwave-safe bowl.
Add sugar or syrup.
Microwave for just about 10 seconds. This softens the peaches slightly without losing their cool temp.
Place in food processor and mix until smooth.
Enjoy!
Visit SouthernFATTY.com for more.
Notes
2014 - SouthernFATTY.com