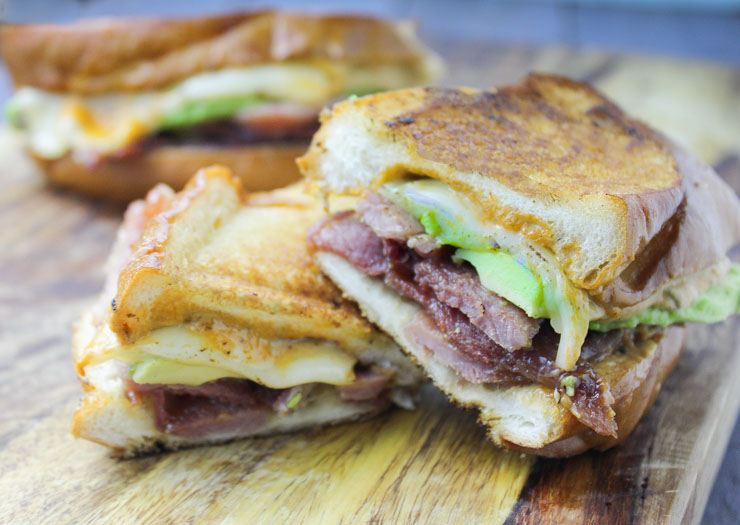 Everyone loves a sandwich. Everyone. There is something comforting about a good ol' PB&J in your lunchbox, a grilled cheese on a Saturday morning with snow flurries (Sorry! I know Summer isn't quite over yet.), pulled pork and a nice cider (a personal fav!).
We'll step it up just a notch with a simple, but delicious Country Ham Melt— Cured country ham, braised in a brown sugar reduction, with peppered avocado, swiss cheese and finished with our spicy Roasted Tomato Pepper Mayo. All between two buttered, thick slices of toasted sweet bread.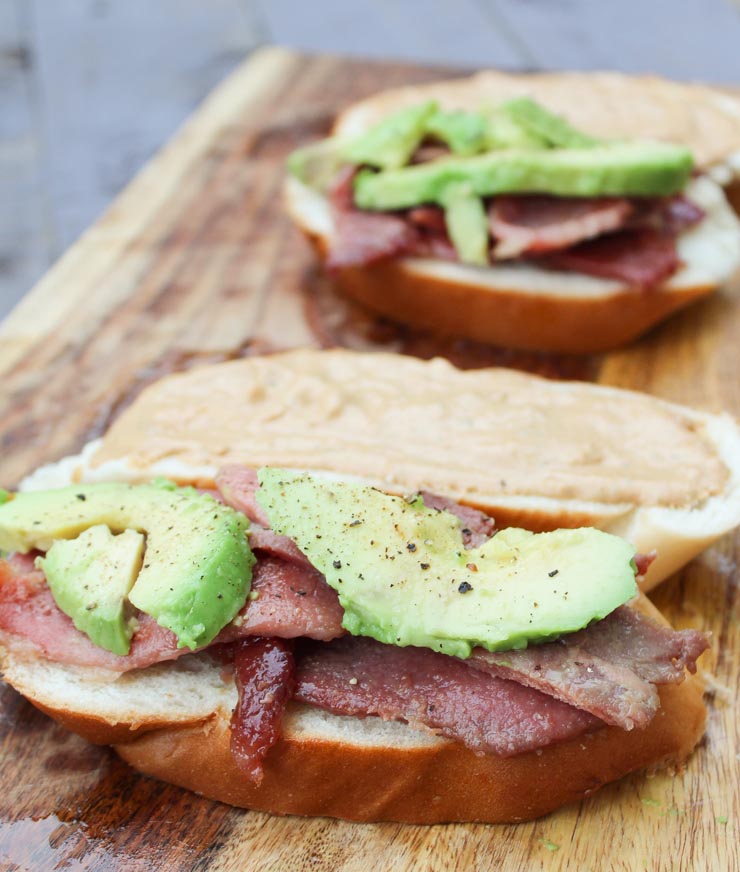 This sandwich was the direct result of an overpopulation of country ham in my house. After making Country Carbonara (about 6 times), I just needed something else to get addicted to. I also had quite a bit of my Roasted Tomato Pepper Mayo sitting around.
I'm telling you, that stuff makes everything better. If I didn't think people would totally judge me, I would probably eat it with a spoon. (read: I do this alone. Often.) This is my jam. But mayo….
[Side note: If you want another manly man's sandwich, check out this Pastrami on Rye from my fellow Nashville blogger pals Lindsay and Taylor over at Love & Olive Oil. Complete with army men!]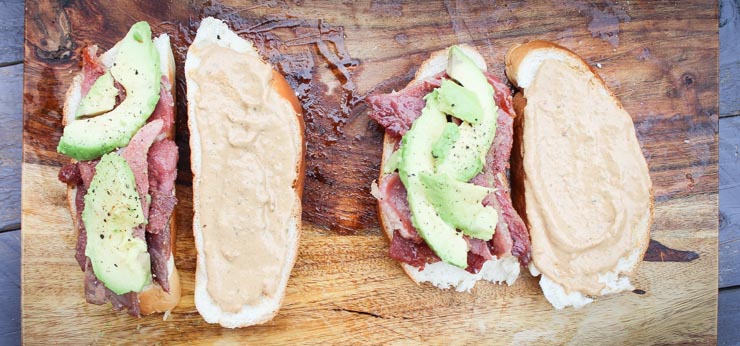 The combination of the sweet country ham (because obviously we are going to braise it in brown sugar syrup), the creamy peppered avocado, cheese and mayo (with a kick) all comes together to become one of my new favorite sandwiches. This sandwich is sure to make ya wanna slap yo' momma! (Never. Ever. actually slap a momma.)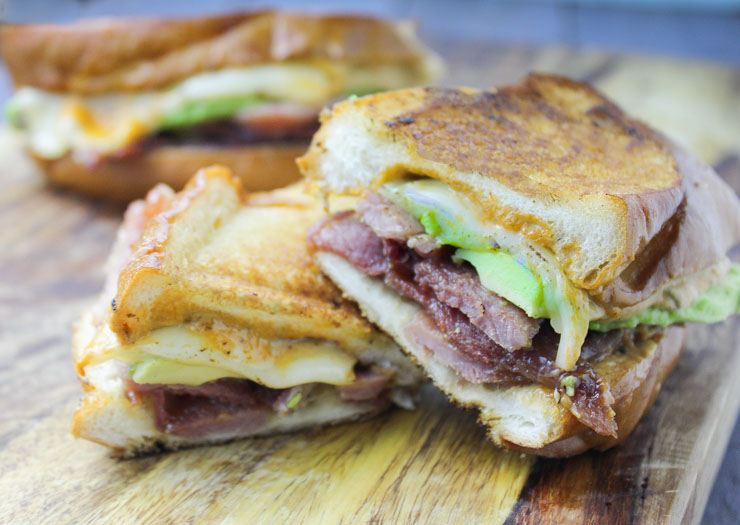 Country Ham Melt
Cured, local country ham balanced with a brown sugar glaze, topped with peppered avocado, cheese and a homemade roasted tomato, poblano pepper and garlic mayo. All between two buttered, golden toasted layers of sweet Italian bread.
Ingredients
1 slice country ham
1 tablespoon brown sugar
¼ cup water
¼ avocado, sliced
fresh ground black pepper
1 slice swiss cheese
½ - 1 tablespoon Roasted Tomato Pepper Mayo
2 slices sweet Italian bread
1 tablespoon butter
Instructions
In pan over medium heat, add country ham slide with brown sugar and water. Cook until reduced and thick- syrup-like.
Remove to cool.
Slice sweet Italian bread on a very wide bias (so you end up with wider pieces than the loaf).
Layer the ingredients between the bread: Country ham, avocado, black pepper, swiss cheese, mayo.
Over medium heat, melt butter and toast sandwich, carefully flipping to toast both sides.
Remove from heat, slice in half and enjoy!
Visit SouthernFATTY.com for more recipes.
Notes
2014 - SouthernFATTY.com
Check out this recipe on Food52 as part of the sandwich contest this week. Leave a nice comment on the page and give us a thumbs up!