Brownie crinkle cookies transformed into a big brownie skilled dessert pizza topped with whipped salted caramel cream and perfectly grilled fresh pineapple. Sweet + rich + tart. It's got it all, and is ready in minutes, inside or out.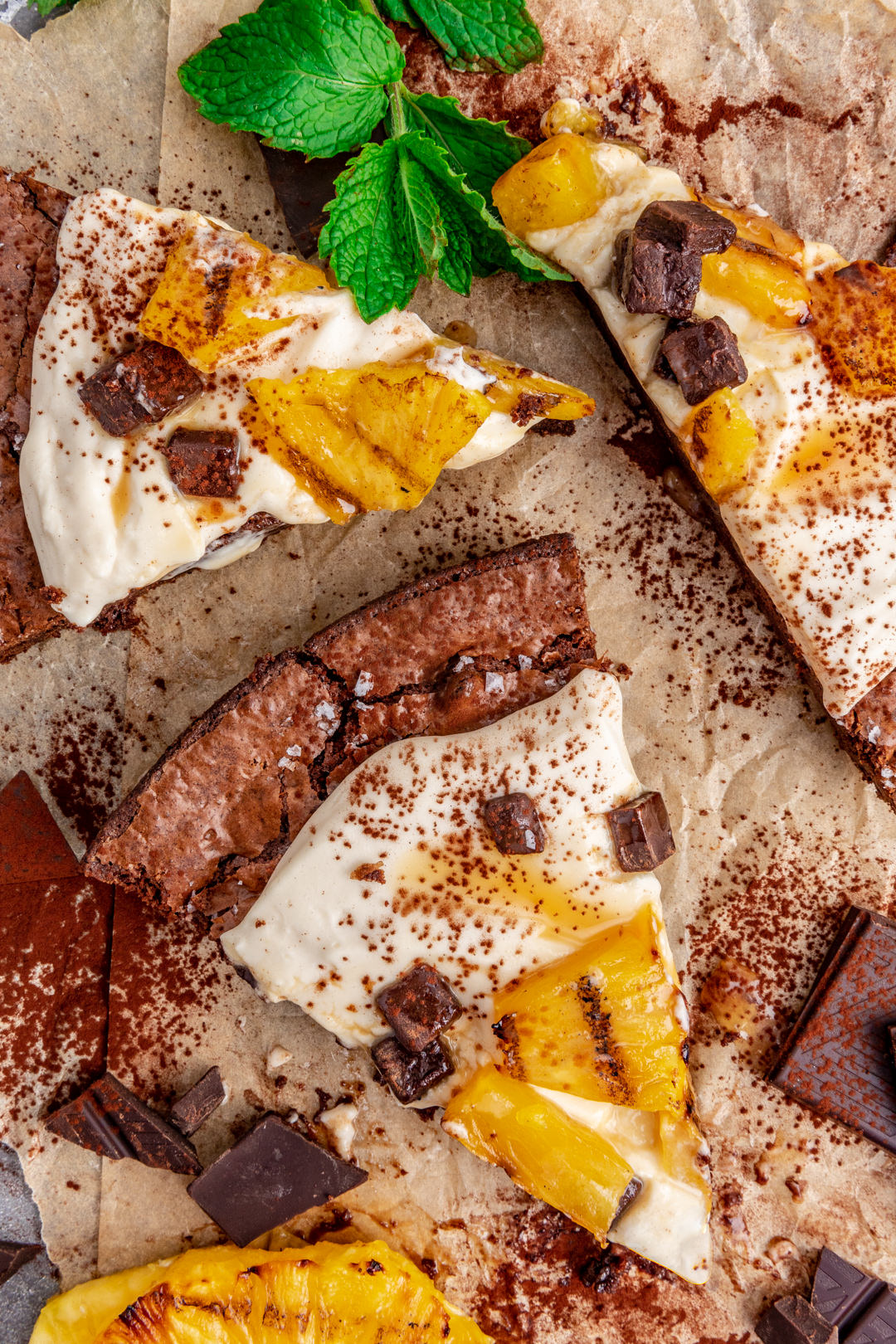 I had big, sunny plans for this dessert, you guys. Transform one of my favorite brownie crinkle-top cookie recipes from my blog into one big skillet sweet — topped with whipped caramel and perfectly char-grilled pineapple. If you've been reading along or following my posts on Instagram, you've seen my recent obsession with grilling desserts.
In comes the rain. That dreaded pop up thunderstorm here in Tennessee. Fear not! With my Kroger bag of goodies in hand, I am bringing this cookout inside. A cook-in. As the revered scholar Missy Elliot would say, "Looks like it's 'bout to rain…".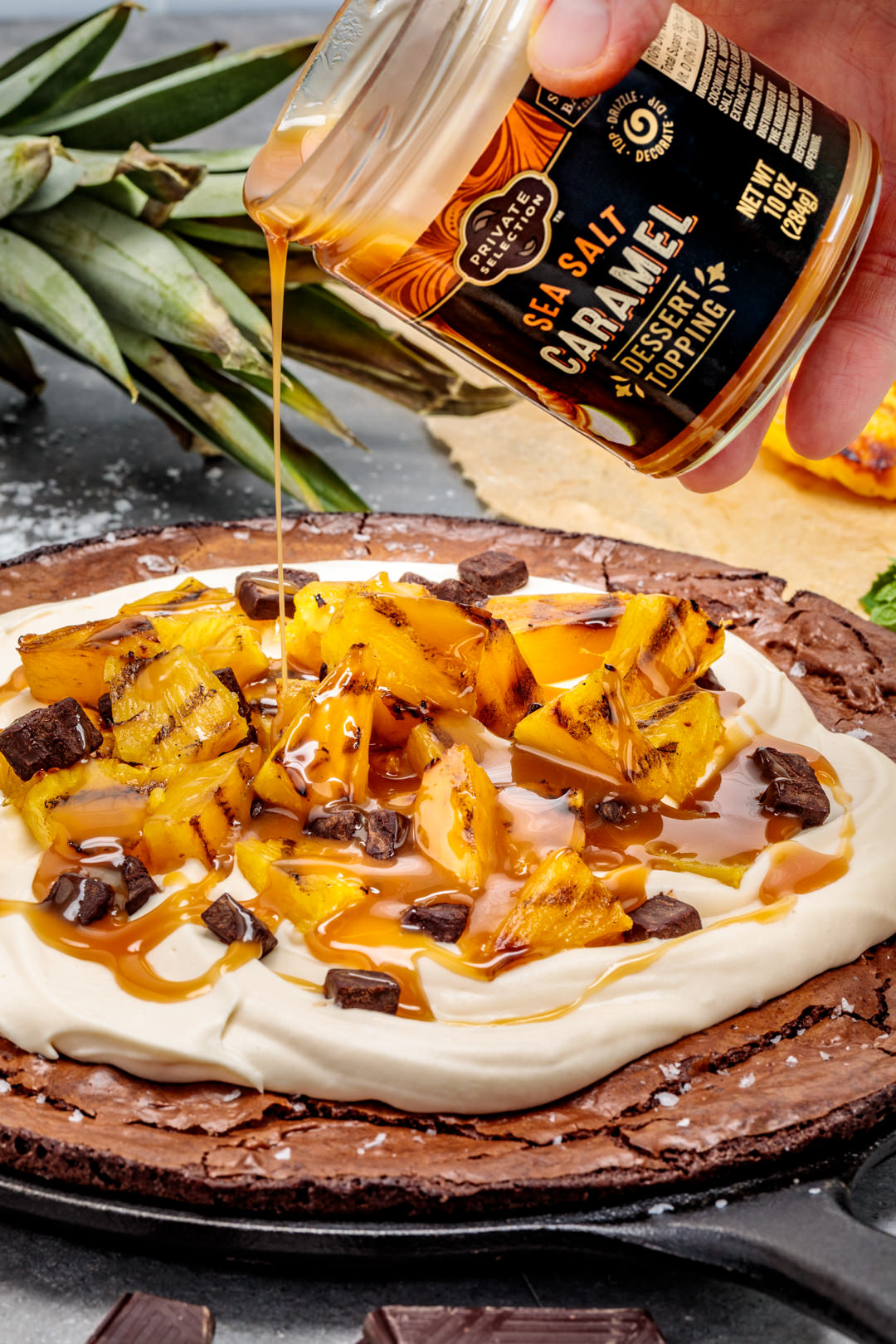 I feel like grilled fruit is underrated these days. Peaches had their time under the grill-lights, but a lot of other fruit has been a bit ignored. Pineapple is a fruit that is absolutely perfect over flames. Grab a whole one from Kroger, or a can of pre-sliced. Both work just fine. Since I am one of those people that love pineapple on pizza (don't @ me, y'all), I had some in my pantry. I was already placing a Kroger Pickup order, so I went ahead and added a couple whole fresh pineapple to my order. A couple hours later (when I managed to get dressed and find a hat to put on), I pulled in to a reserved spot, clicked one button on the app to check-in, and within minutes the order was placed into my car without any contact.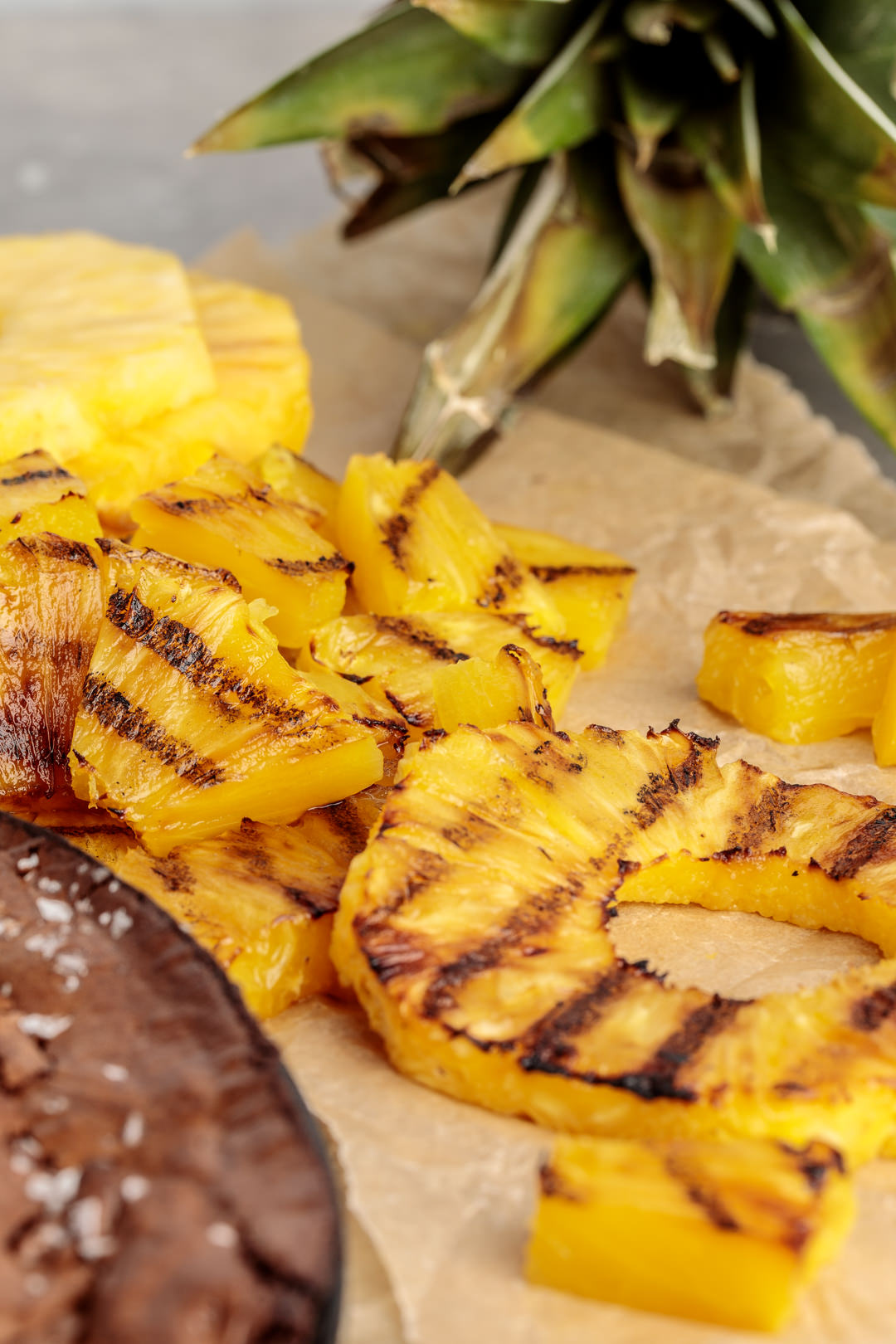 Back home, I chopped one up. Cutting a pineapple can time-consuming, so feel free to use those cans. If you are lucky enough to be able to grill it outdoors, you can keep it as the typical rings so you don't have to worry about it all falling through the grates, or if the cats and dogs are coming down outside, you can go ahead and chop it up before using the built-in grill that you already have in your own kitchen.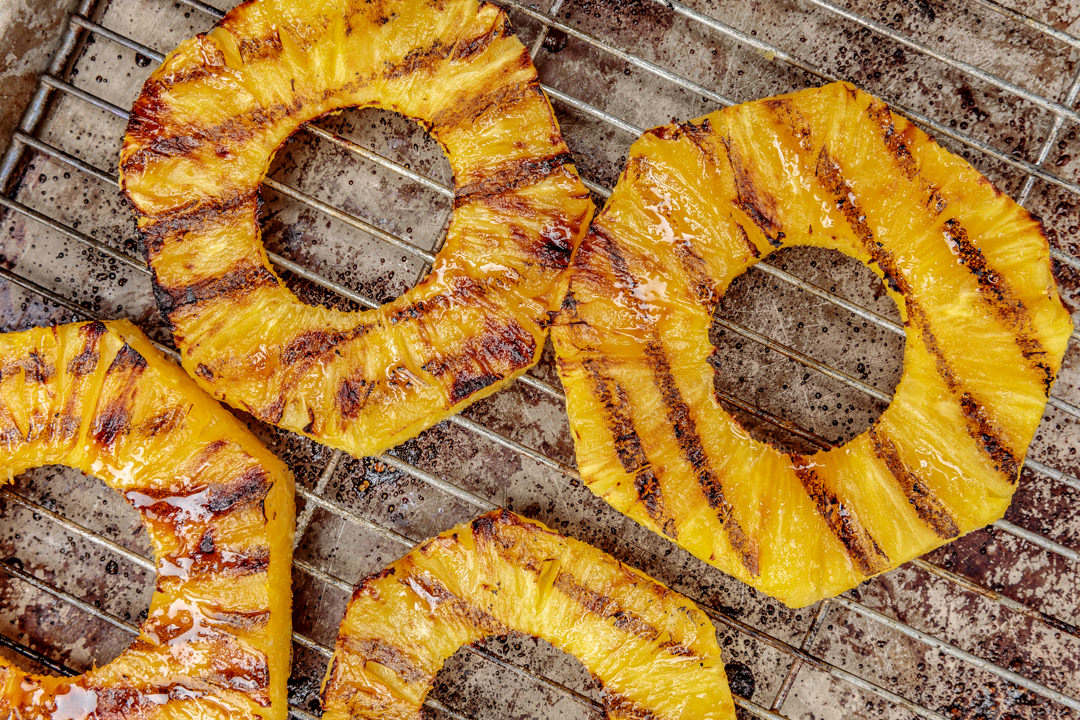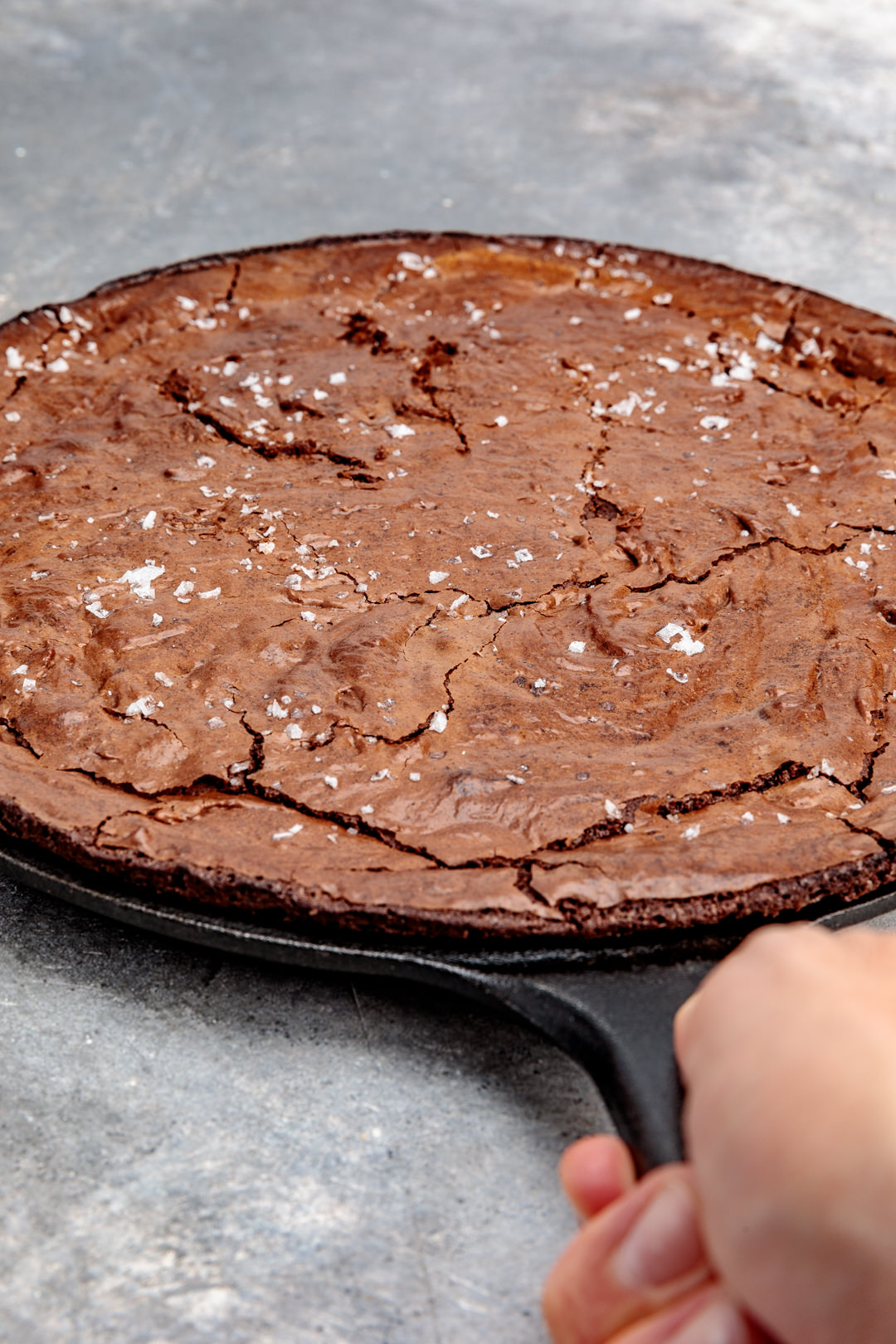 There is this trick that I used to use when I was living on the 6th floor of a condo near downtown Nashville before moving into a house with a backyard. We had a community grilling area, but let's be honest. There are days when the last thing I want to do on a weekend is put on proper pants so I can mosey down to the grills. Or maybe it is too cold, too wet. Whatever the case, this grilling in your kitchen technique is a great one to have in your back pocket.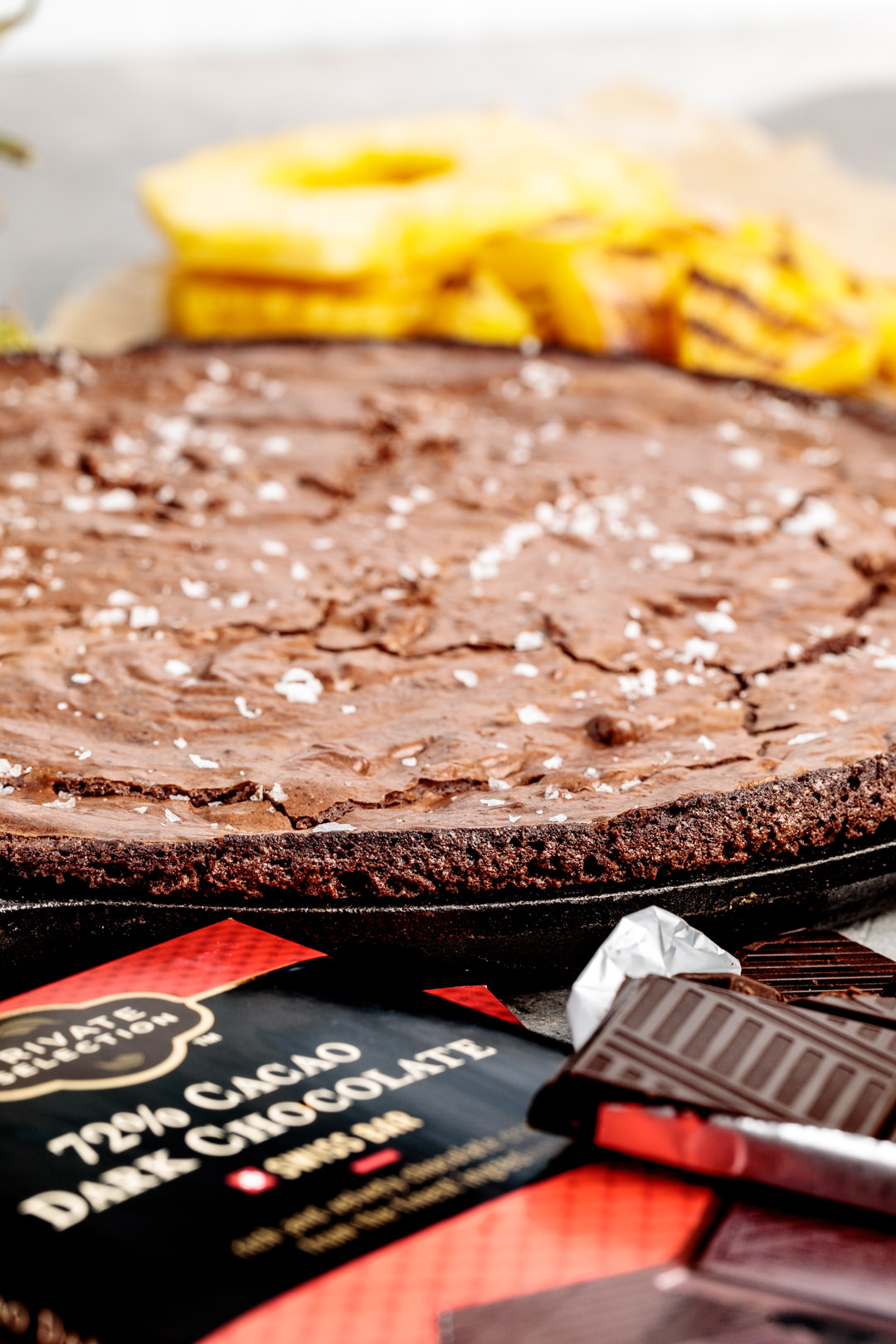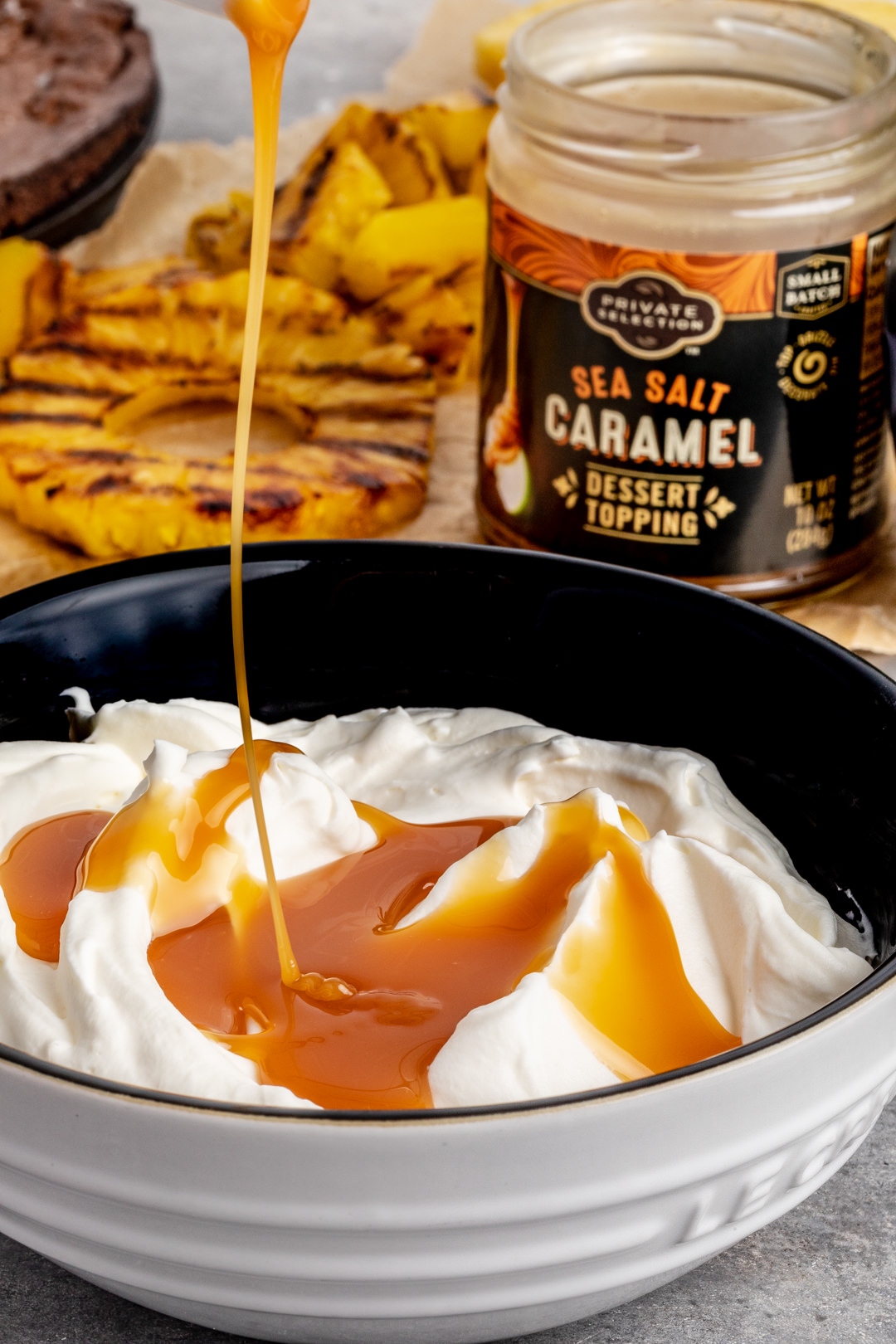 Grilling pans work great, but I have a trick that will also give you some good results in case you don't have one of those in your pantry. You know that broiler that you sometimes use to brown your baked mac-and-cheese, only to burn it every. single. time. Because you were sure you had 30 seconds to make a mad dash to the mailbox or to top off your drink? Just me? Anyway… That broiler does a great job on its own, but it does an even better job with giving that grill-marked char when you combine it with a heat-safe rack.
You could use one of the pan racks that is already in your oven, but unless you are grilling the entire pineapple, you'll need something with smaller grates. You probably have one in that little drawer under the oven already. (Just make sure it is a metal, heat-safe at high temperatures, eg: not coated.)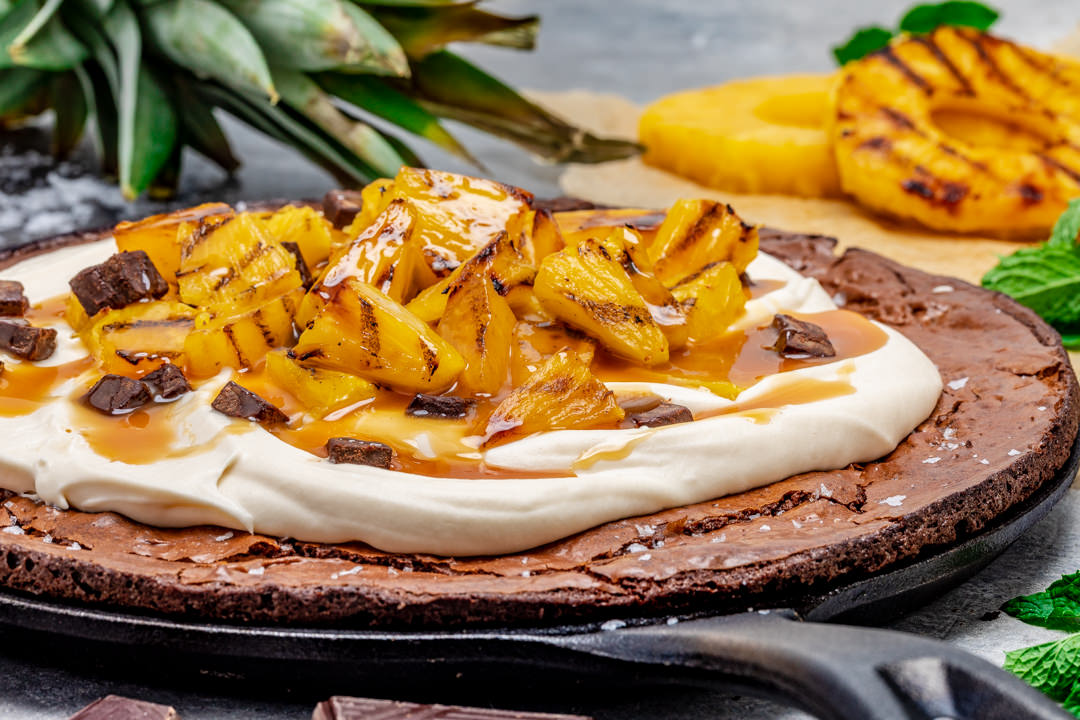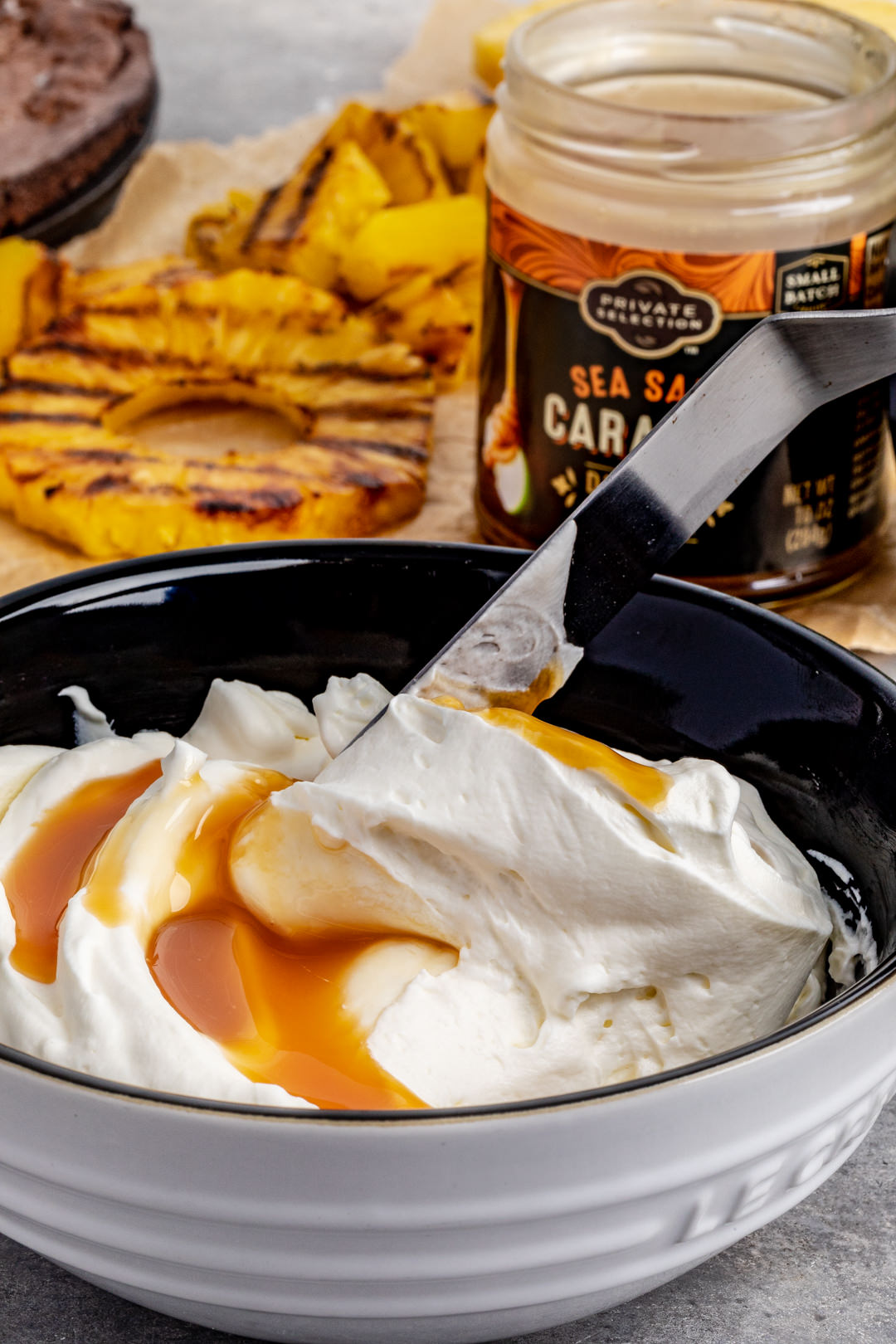 Basically, you heat that bad boy up with the rack on top of a baking sheet. Once it is nice and hot (REALLY hot), you toss on your fruit and watch it go. It's super quick, and works like a charm. Leave the broiler on if you want a good caramelization on the other side as well (you do).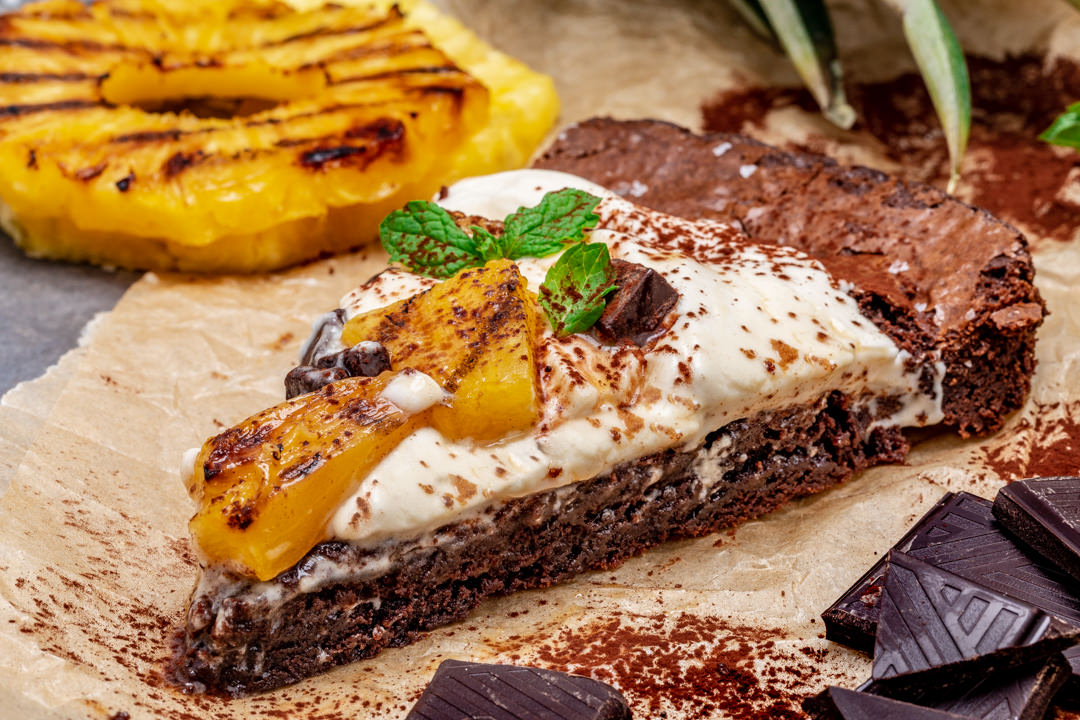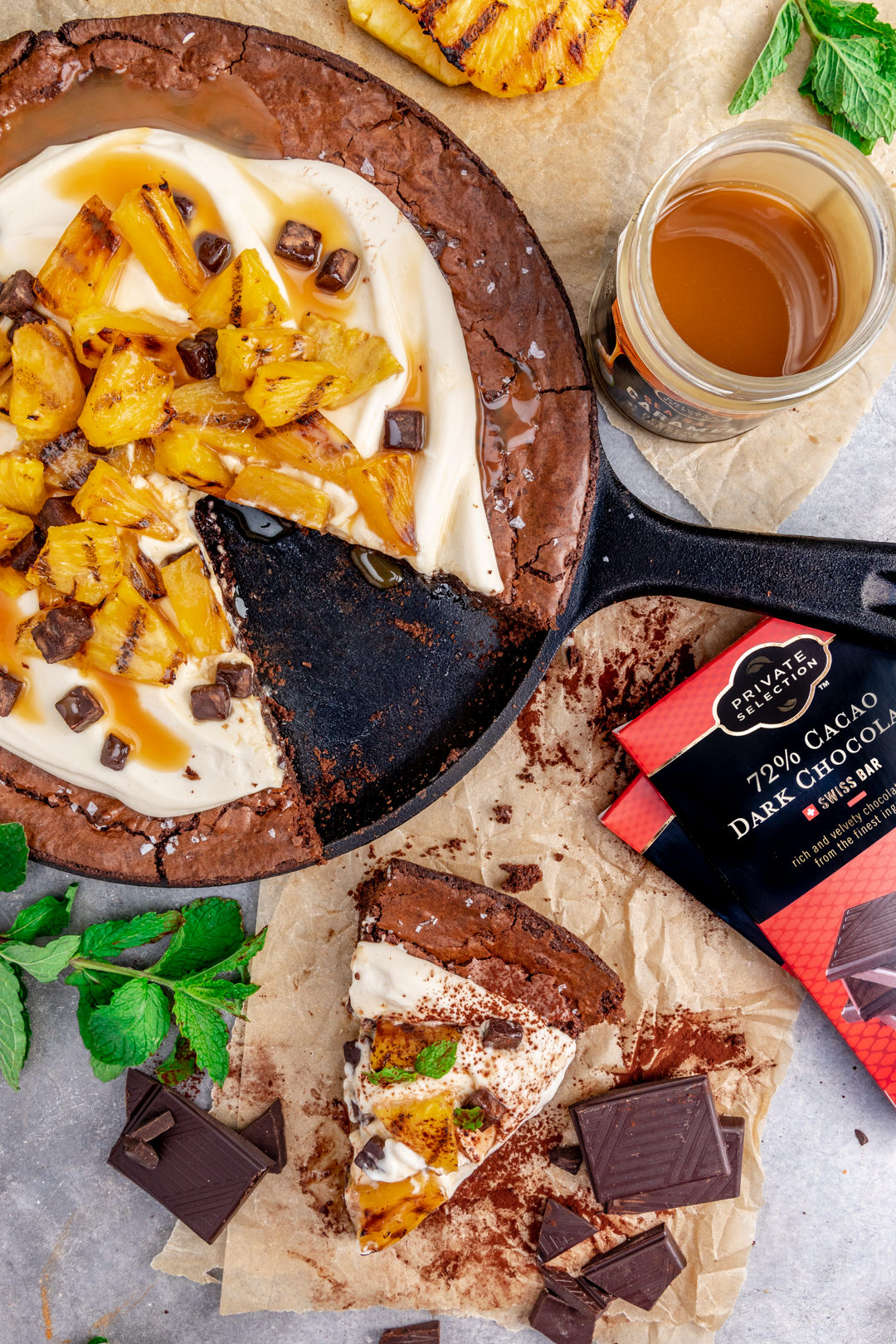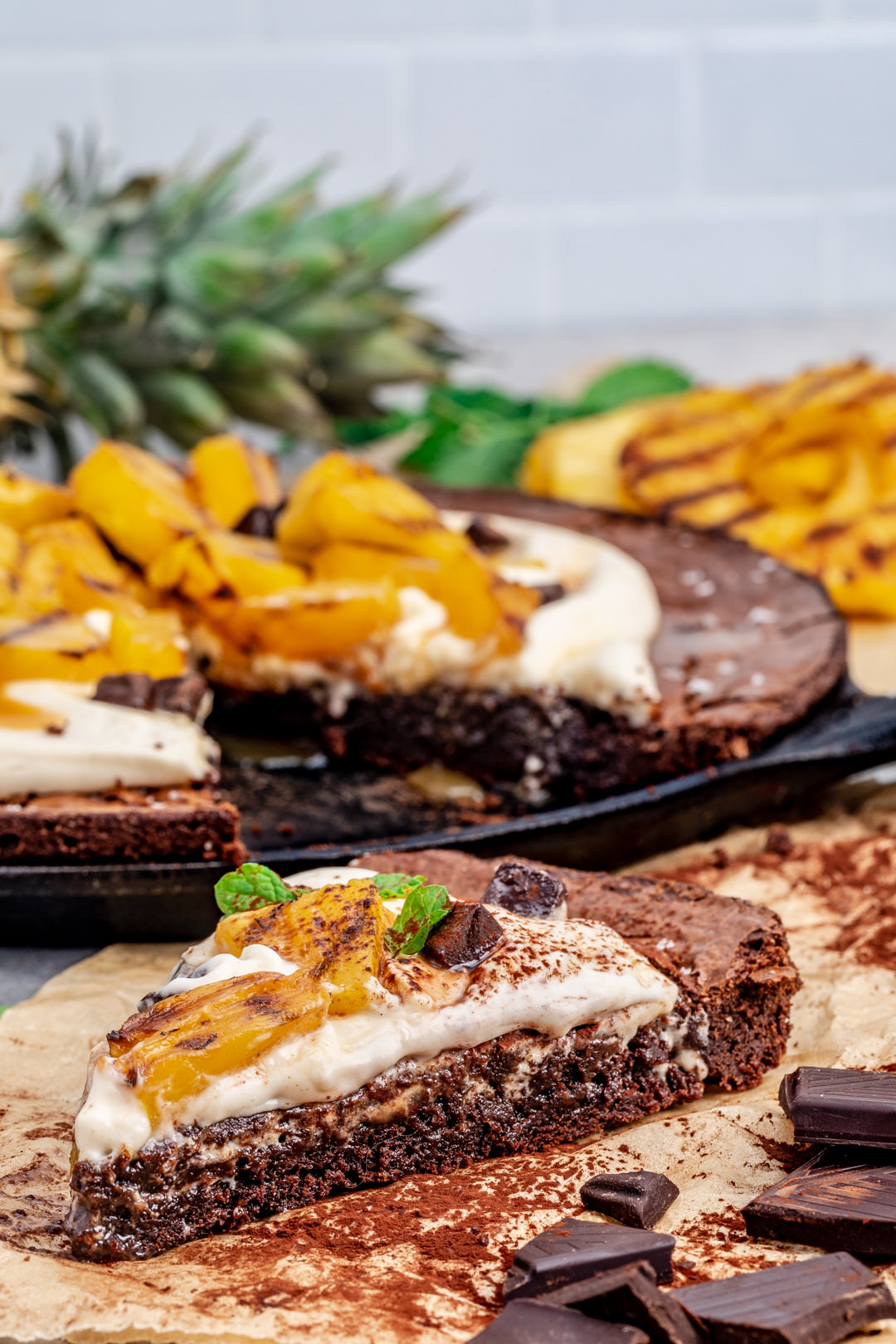 Ok, ok. You have your cheerfully-charred pineapple and bodacious brownie skillet cookie. The first time I made this recipe, I kept it pretty simple with those two elements. It was great like that, but I felt like it needed something to tie everything together. The chocolate brownie base is pretty rich. Pineapple is obviously pretty tart and sweet. Ice cream was my first thought, but let's just say that it's possible that I didn't have any left because I hypothetically ate it for breakfast.
What I did have was Private Selection Salted Caramel Sauce in my bag from my Kroger Pickup. Some unsweetened whipped cream with this caramel sauce folded in was exactly what it needed. Caramel and pineapple — caramel and brownies — caramel and anything, right?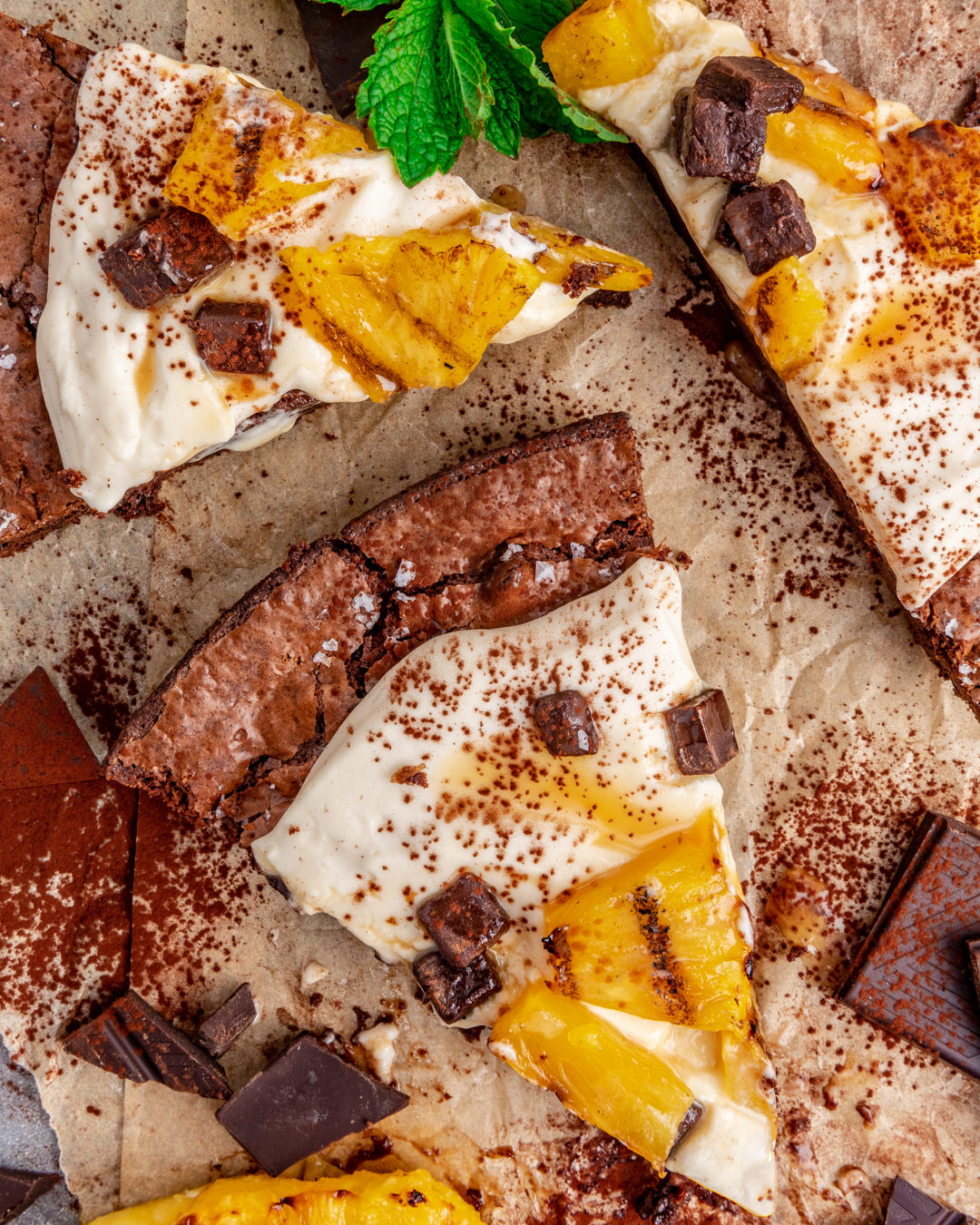 This recipe is one that is definitely going to make several appearances in both my backyard and my kitchen this summer. Swap the grilled pineapple for grilled strawberries, grilled peaches, grilled _________ (fill in the blank with just about anything). Finished with some seriously good Simply Truth Organic Dark Chocolate Chunks, maybe a sprinkle of cocoa powder if you're feelin' fancy. Inside or out, it's a perfect BBQ bash closer.
Shop & add these items to your
Kroger Pickup order here.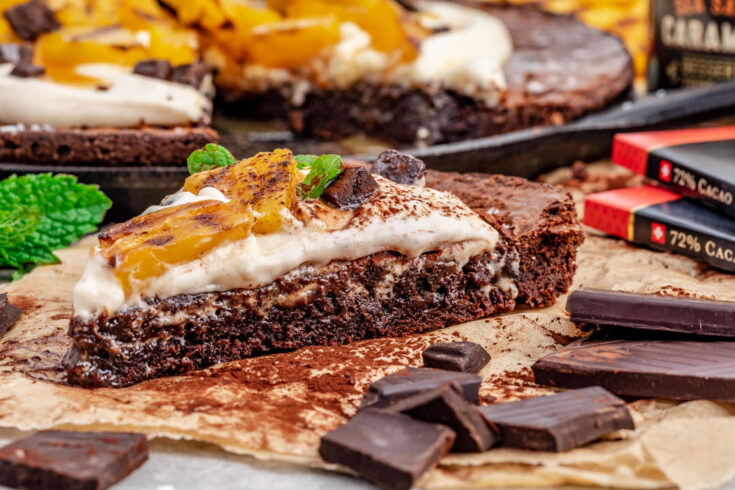 Yield:

8
Brownie Skillet with Grilled Pineapple & Caramel Cream
Brownie crinkle cookies transformed into a big brownie dessert skillet pizza topped with whipped salted caramel cream and perfectly grilled fresh pineapple. Sweet + rich + tart. It's got it all, and is ready in minutes, inside or out. From SouthernFatty.com.
Ingredients
Brownie Skillet Cookie
8 oz / 225 g Private Selection™ 72% Cacao Swiss Dark Chocolate (Kroger)
8 tablespoons / 113 g unsalted butter
3/4 cup / 150 g sugar, white granulated
1/2 cup / 100 g brown sugar
2 eggs, whole large
1 cup plus 3 tablespoons / 150 g flour, all-purpose
3 tbsp / 25 g cocoa powder
1 tsp baking powder
1/4 tsp salt
Salted Caramel Whipped Cream
1 cup heavy cream
4 tablespoons Private Selection™ Sea Salt Caramel Dessert Topping (Kroger)
Grilled Pineapple
1 fresh pineapple, cored and sliced
Instructions
Brownie Skillet
Preheat oven to 350 F.
Generously grease a skillet (8-10 inch) and set aside.
In a large heat safe bowl, combine chocolate and butter.
Place bowl over a saucepan with an inch or two of water over medium-low heat.
Slowly melt and stir the chocolate and butter.
Once melted, remove from heat and set aside.
In a mixer bowl with whisk attached, combine eggs and both of the sugars (white and brown).
Mix at medium speed to cream for exactly 5 minutes. Stop mixing.
Add the melted chocolate to the creamed sugar and mix until just combined. Scrape bowl.
Whisk together the remaining dry ingredients and add to the chocolate/butter. Mix until just combined.
Take care to not overmix.
Immediately portion cookies onto prepared skillet. Gently level with a spatula.
Bake for about 25-30 minutes until edges are crispy and center is cooked through. This timing will vary depending on the type of pan used.
Move to a cooling tray until completely cooled.
Salted Caramel Whipped Cream
Whip cold heavy cream until stiff peaks form.
Gently fold caramel sauce into whipped cream. Keep cool until ready to use.
Grilled Pineapple
If using oven to grill, heat a metal, high heat safe rack on a baking sheet under broiler.
Dry pineapple pieces well.
Very carefully grill pineapple slices. Allow broiler to caramelize the top side while pineapple is charring on rack.
If grilling outdoors, grill until marked as pleased and remove.
Allow pineapple to cool, chop into pieces.
Finish dish by covering brownie with whipped cream and pineapple. Add additional chocolate pieces and cocoa powder, if desired.
Serve room temperature. Enjoy!
Find more recipes at SouthernFatty.com.
Notes
Post made in sponosrship with Kroger.
Nutrition Information:
Yield:
8
Serving Size:
1
Amount Per Serving:
Calories:

301