Perfectly crumbly blueberry cornmeal caramel crumble bars recipe. One bowl crumble dough with an added cornmeal crunch. Layered fresh blueberries, topped with crumbles and a caramel drizzle.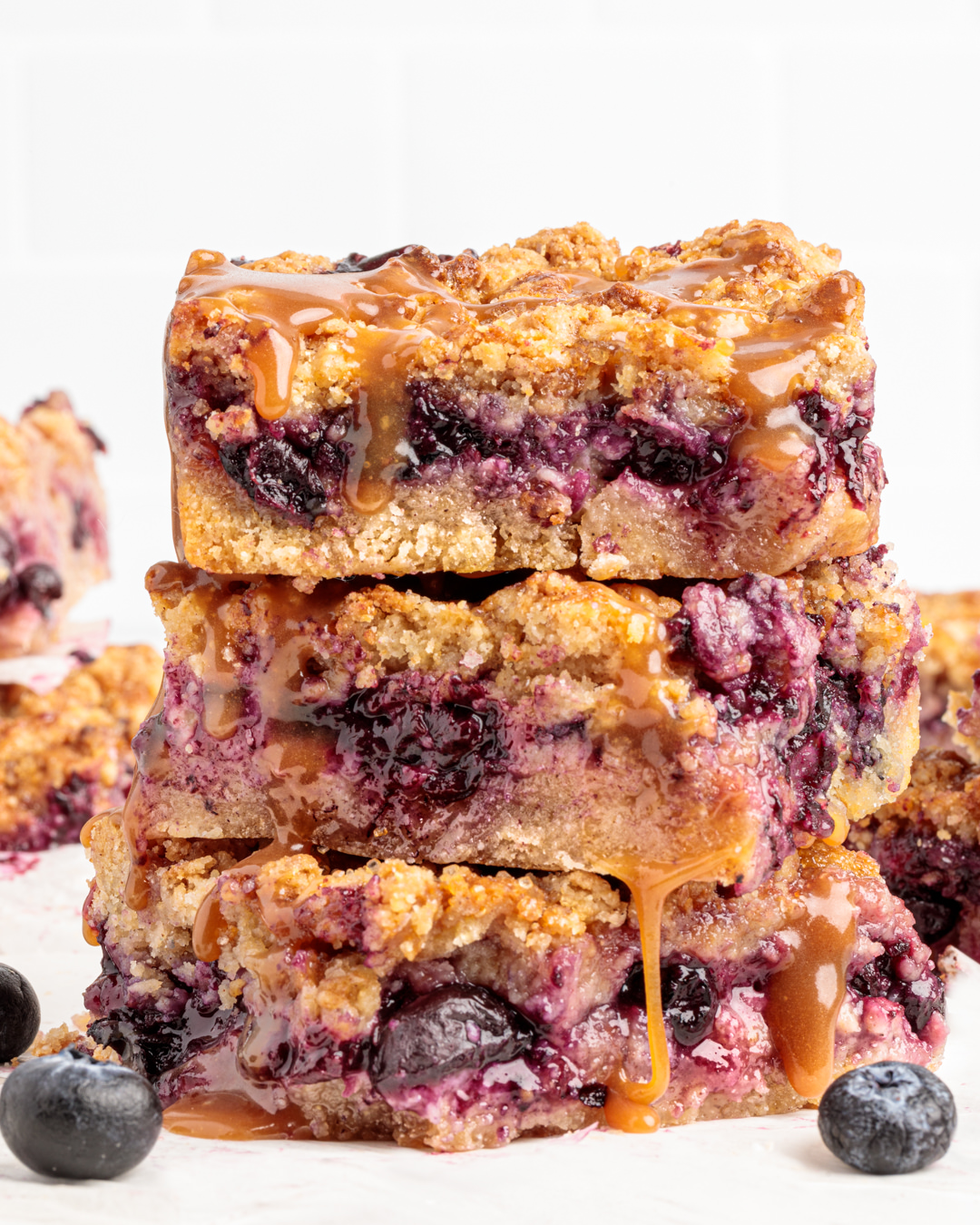 I'm so berry excited to introduce this crumble bar to y'all. Out of pure luck, this was a recipe that I sorta accidentally developed this past week. I was thinking about berry season, with strawberries everywhere here in Tennessee, and blueberries on the horizon, and remembered that I had some of last year's blues in my deep freezer. I wanted to pick-up some (eg: gallons) of fresh berries, so I felt obligated to use up the reserves before hand. Blueberry cornmeal caramel crumble bars were the result, and hot damn — they. are. delicious.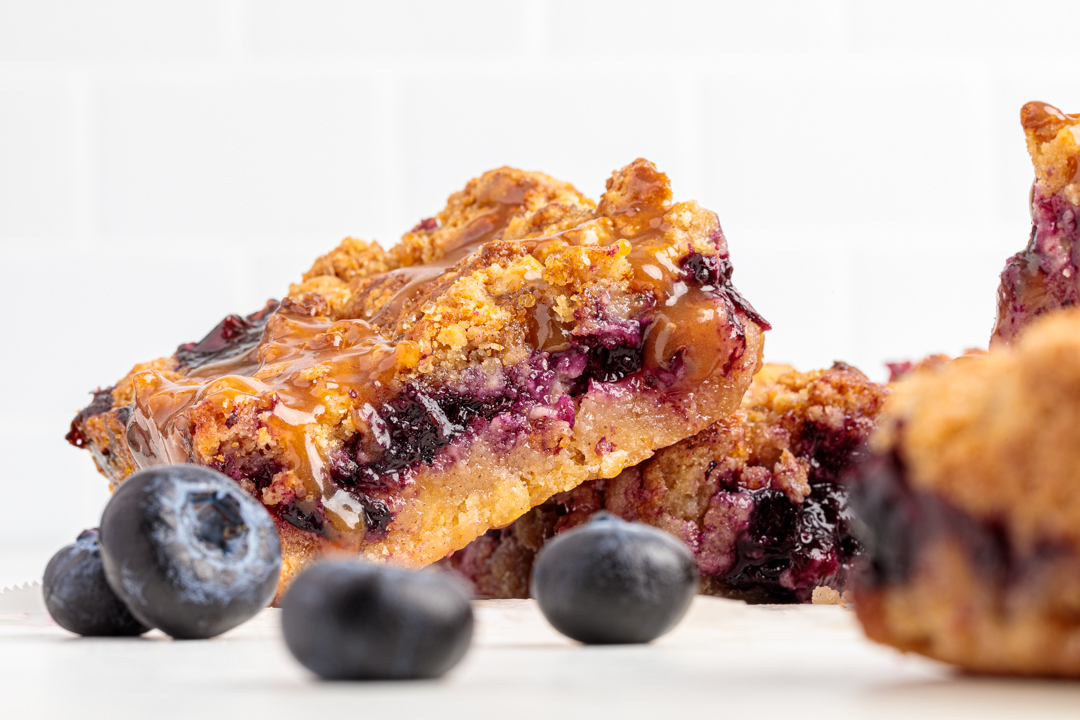 My favorite berries come from a farm just down the road from Nashville, on the banks of the Cumberland River about 45 minutes east of my house. Usually, Lindsay and Taylor (Love & Olive Oil) and I roll out super, super early to arrive at Kelley's Berry Farm to pick our own around 7am before the summer heat is in full melt mode. Once home, after a nap or three, I usually end up eating most of the berries that I pick before I get anywhere close to making the 10+ blog berry-palooza recipes that I had planned on producing. I'm not the best when it comes to control and food that can be eaten immediately. No surprise there, right?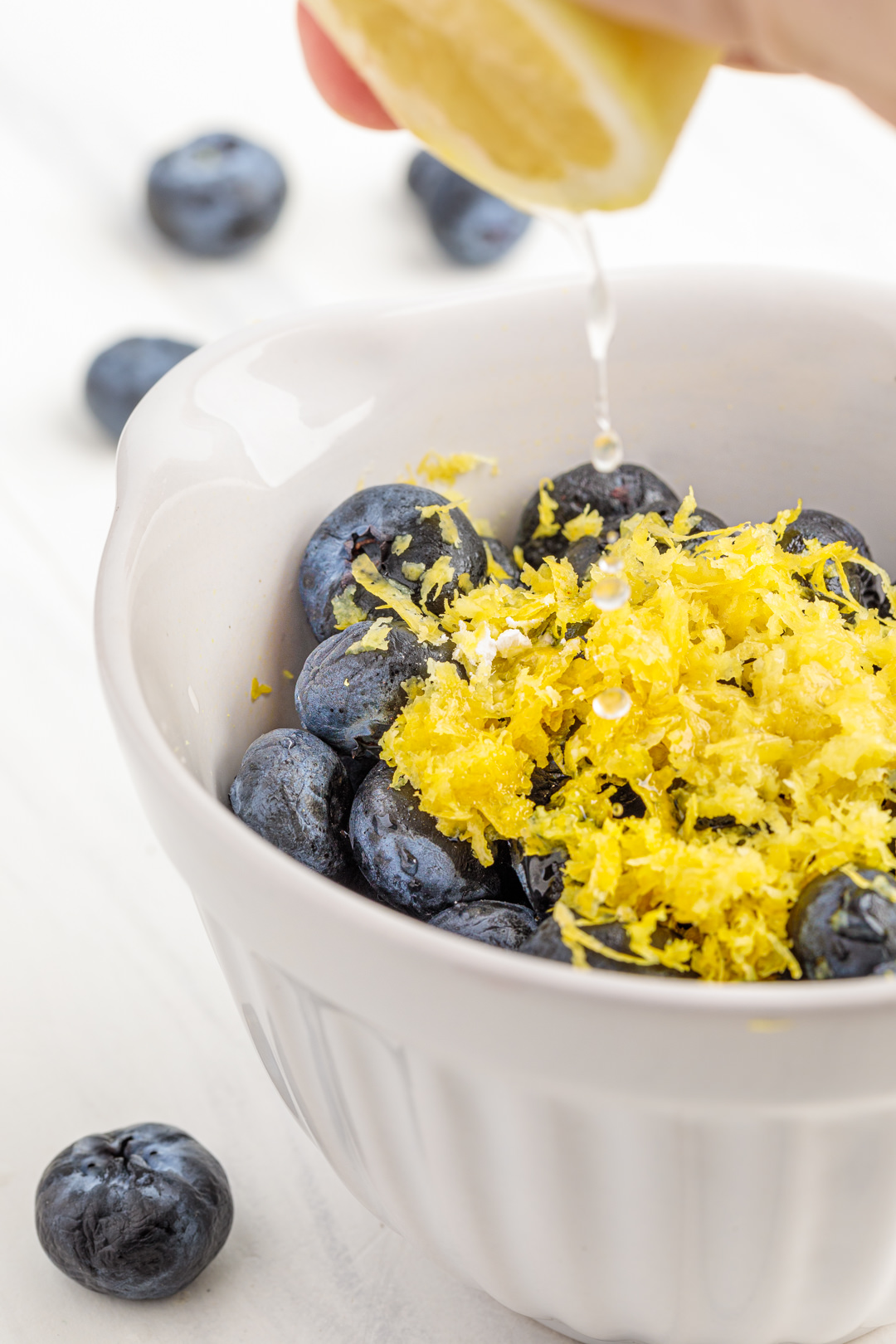 Since I found the coveted last remaining bag of local blueberries, I wanted to try to at least make something with a bit more flare. I've made berry crumble bars (and seriously good blueberry cake donuts) in the past. They are always wonderful, but why not jazz them up a bit to give them the sendoff they deserve? In comes the almost annoyingly alliterative recipe keyword obsession that I have… cornmeal caramel crumble.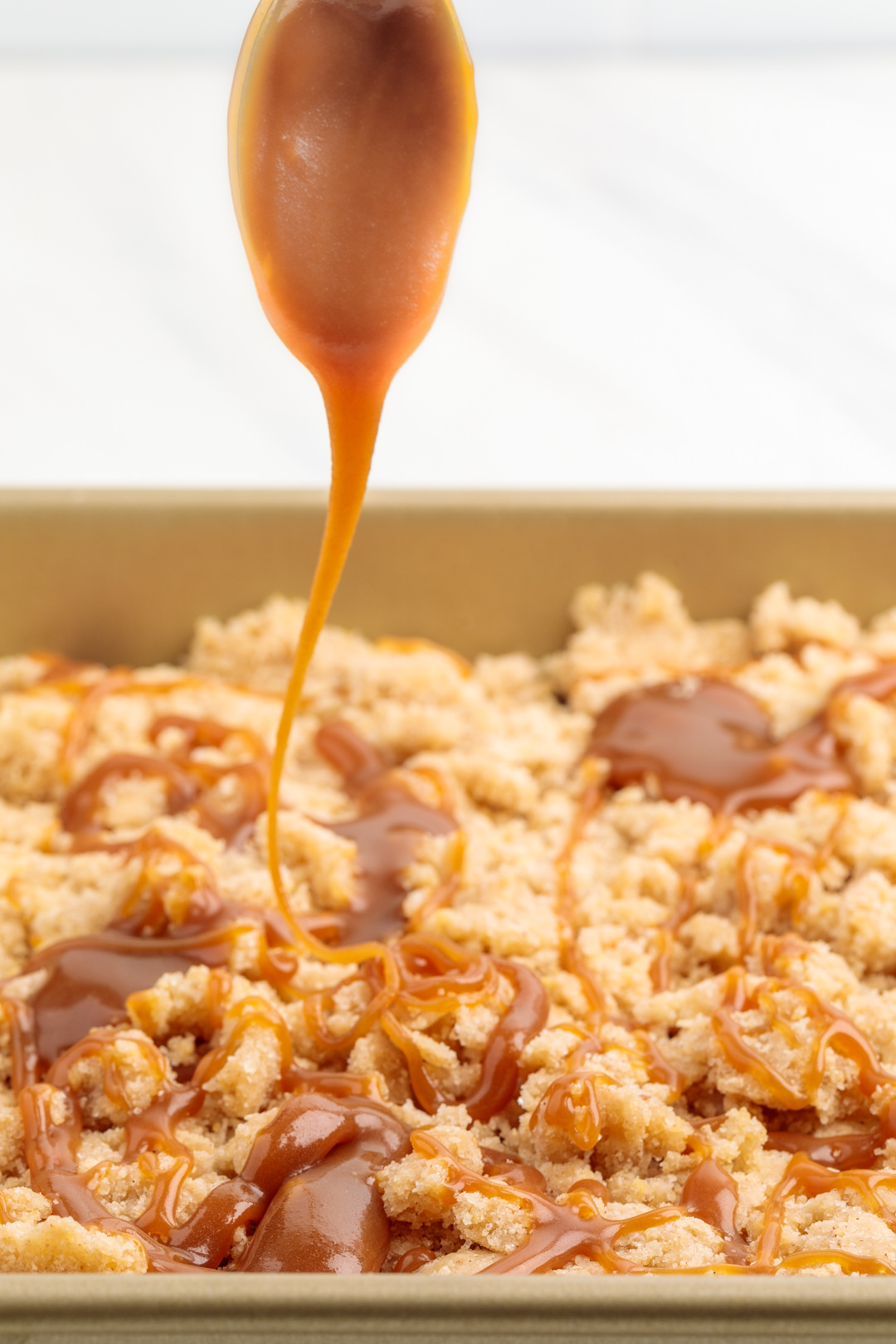 I've been watching a British sitcom called Friday Night Dinner. Basically a family that gets together every Friday night for… dinner. You guessed it. It's a pretty witty comedy. Def recommend that if you enjoy British comedy. Anyway… the dessert at these dinners is almost always a crumble. Crimble, crumble, as they say on the show.
With that repetitive reference in mind, I decided to toss in some cornmeal for some added warmth and richness to the crumble dough. Maybe its just a southern thang, but cornmeal makes everything just taste homemade. Like you actually care about the people you are feeding it too, ya know. (As opposed to feeding people you dislike? I dunno…. You get what I mean.)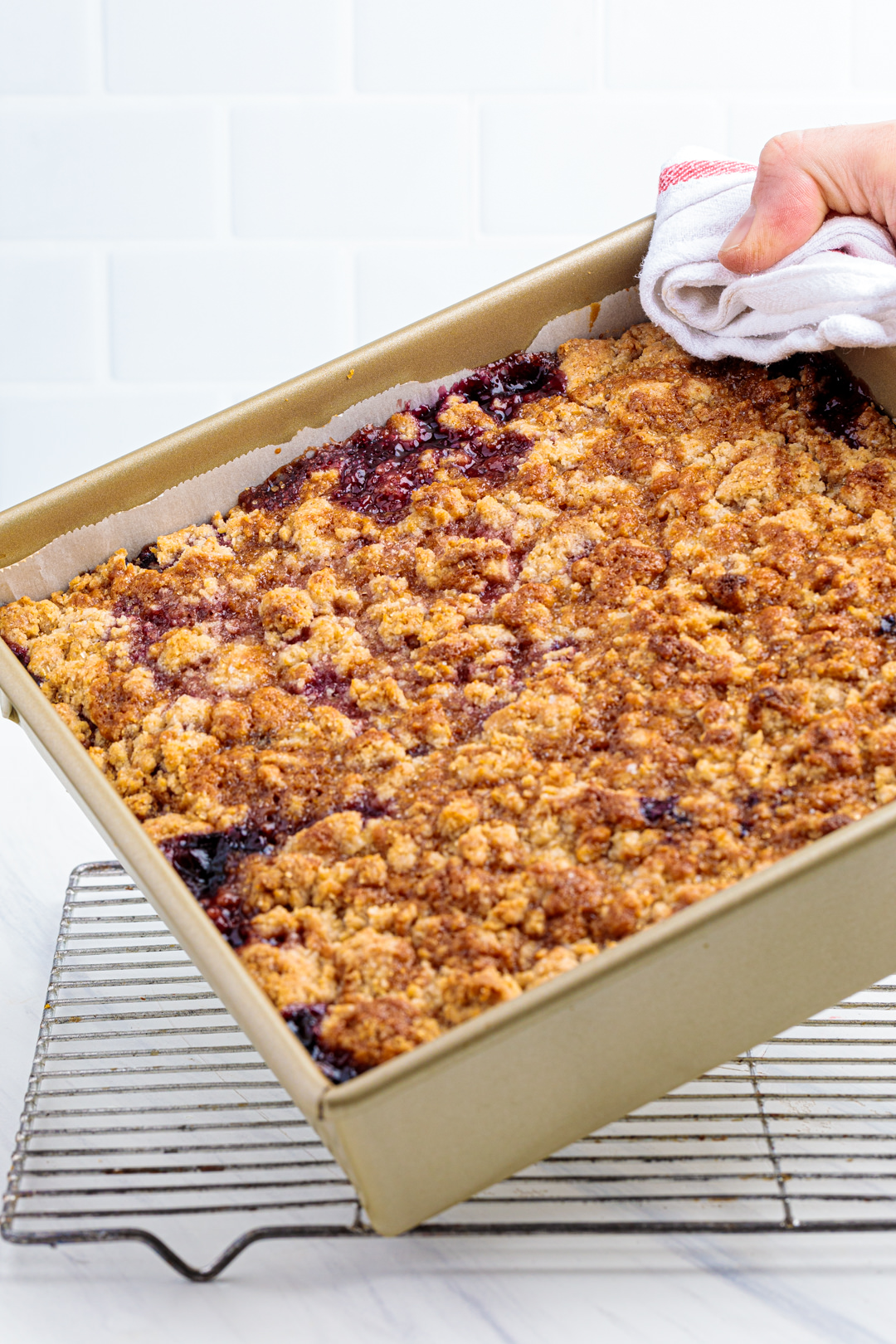 Sometimes, I opt for making a base dough layer and a separate streusel-like crumble topping for these kind of desserts. When I was making these, I just didn't wanna wash another bowl. This is real life, guys. — I made one dough batch and split it between the base and the topping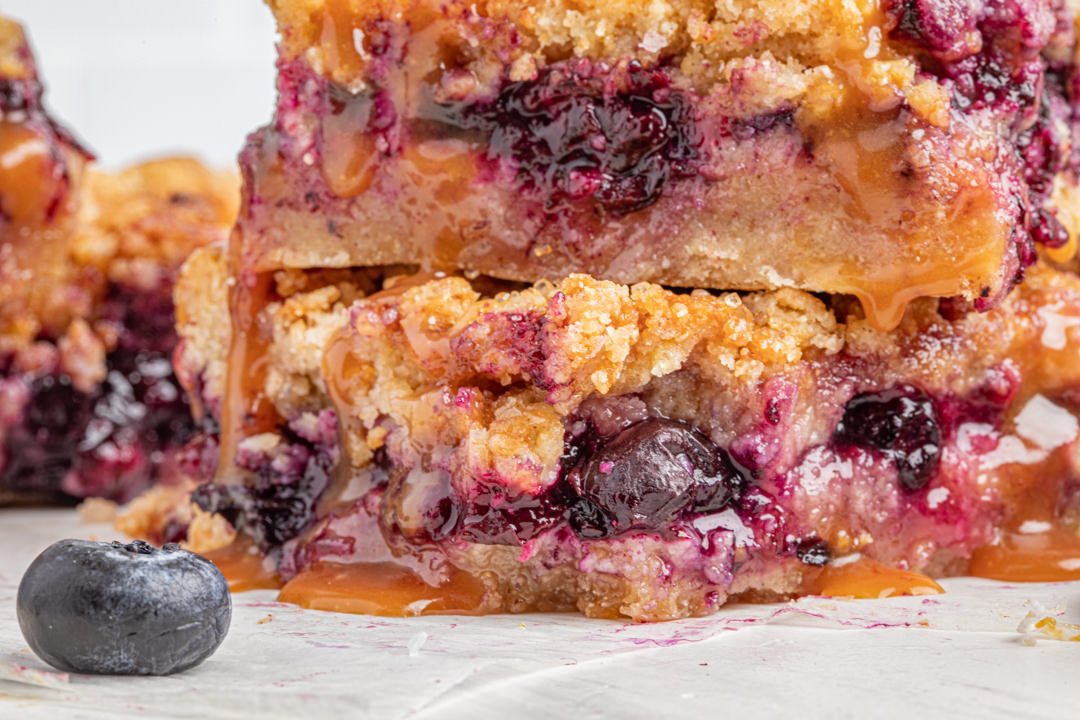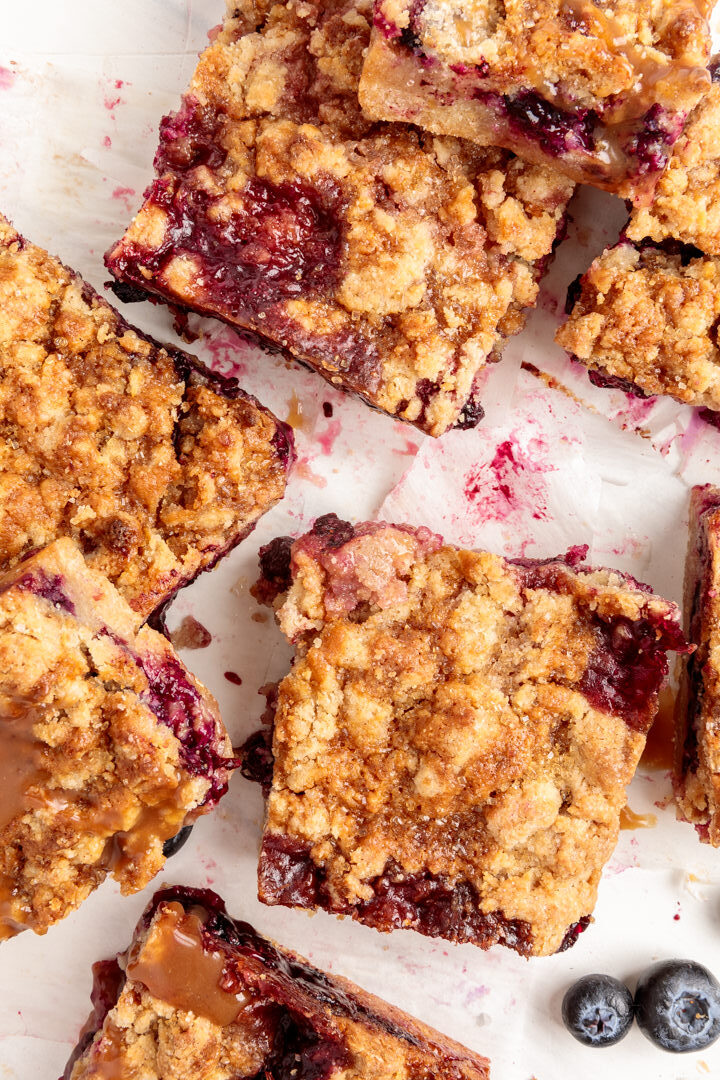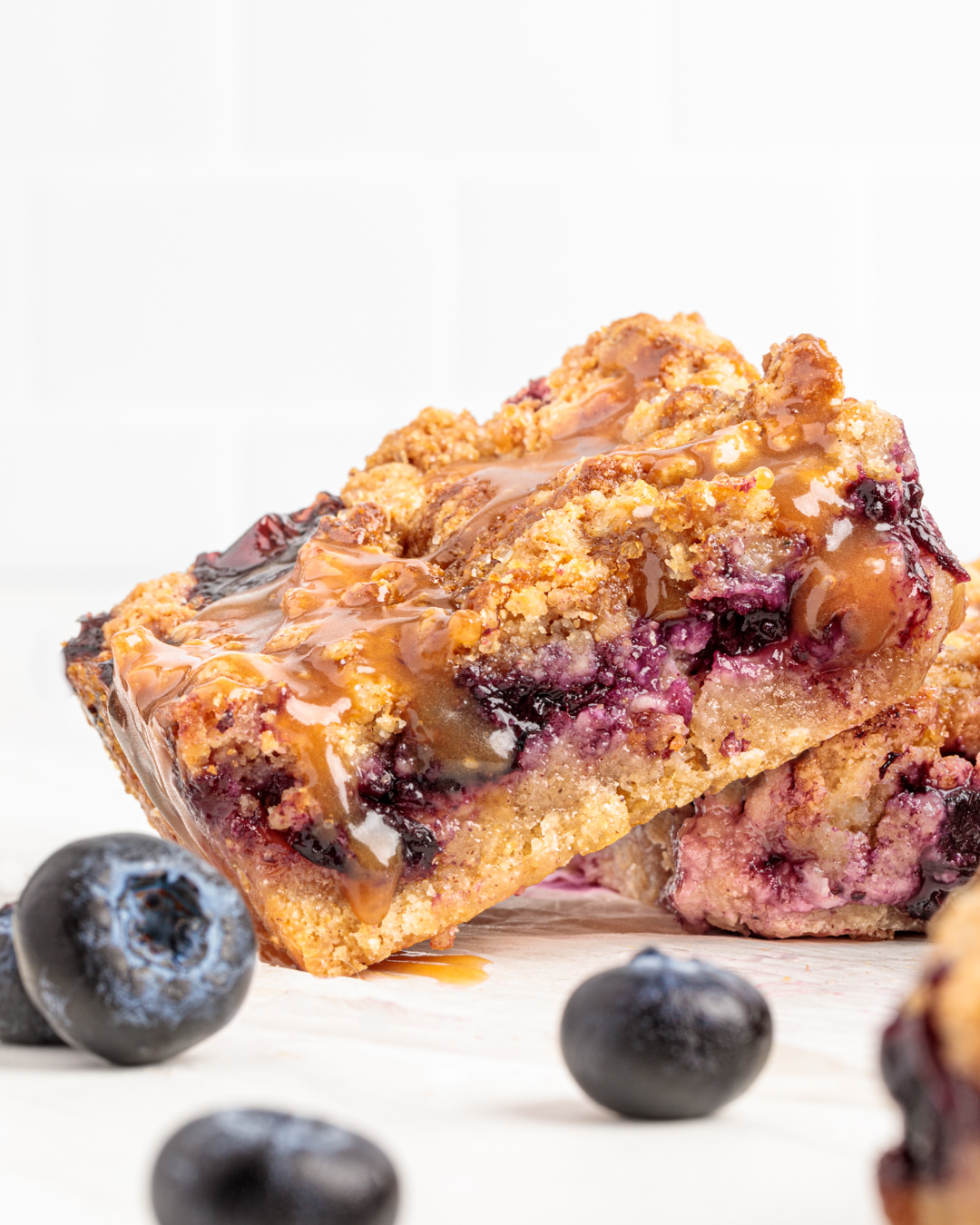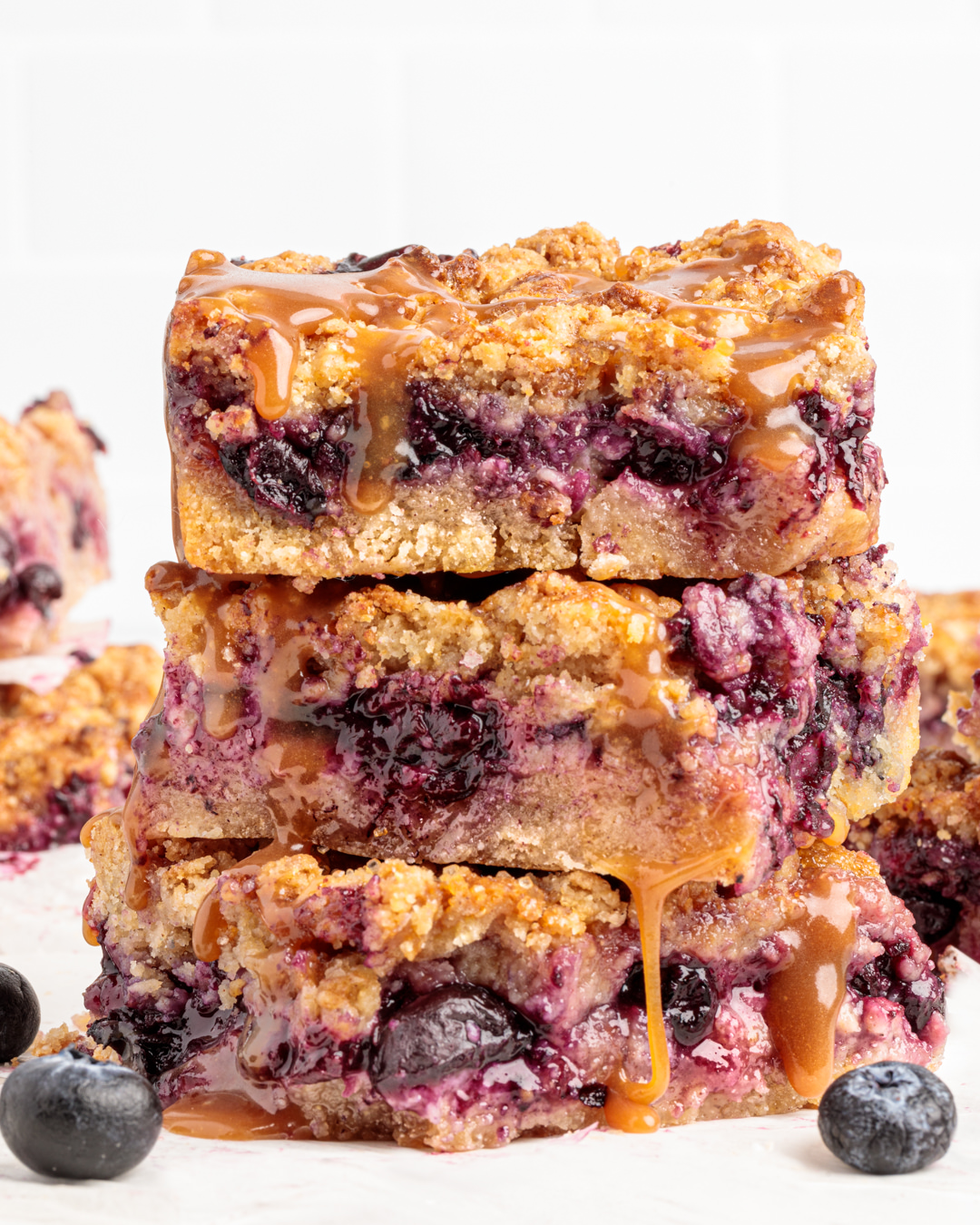 I still wanted the top to have more than just the cookie crumb. In comes caramel. Initially hesitant about caramel and blueberry together, I just went for it. Drizzled plenty of caramel over it all and never looked back. Bourbon caramel, actually. This shouldn't surprise anyone who has ever viewed one of my 3,518 bourbon-infused recipes here on the blog. You can use regular caramel and just send me the side of bourbon. Kthx. — Result? Ahhhhmazing combo!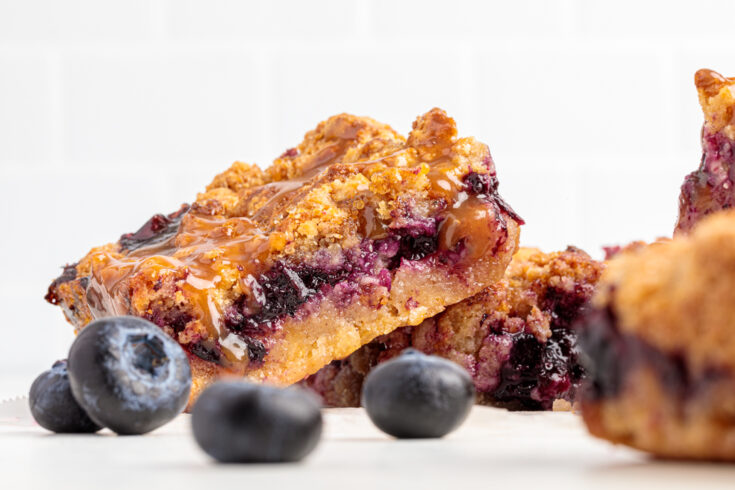 Yield:

16 bars
Blueberry Cornmeal Caramel Crumble Bars
Perfectly crumbly blueberry cornmeal caramel crumble bars recipe. One bowl crumble dough with an added cornmeal crunch. Layered fresh blueberries, topped with crumbles and a caramel drizzle. From SouthernFatty.com
Ingredients
Crumble Base
1 cup (210 g) sugar, granulated
2 1/2 cups (320 g) flour, all-purpose
1/2 cup (75 g) cornmeal
1 teaspoon (5 g) baking powder
1 teaspoon salt
1 teaspoon cinnamon, ground
1/2 teaspoon vanilla powder (optional)
1/4 teaspoon nutmeg, ground
1 (50g) egg, whole, lightly beaten
16 tablespoons (225 g) butter, unsalted, cold
Blueberry Filling
14 oz blueberries, whole, washed
1/2 cup (100 g) sugar, granulated
1 1/2 tablespoons (12 g) cornstarch
1 lemon, juice and zest
Topping
1/2 cup caramel sauce (see instructions below for a recipe if making homemade)
1 tablespoon flaked sea salt
Instructions
Crumble Dough
Pre-heat oven to 350 F.
Prepare a 9x9 pan by lightly greasing and lining with parchment paper. Set aside.
Whisk all dry ingredients together in a large bowl.
Add egg and combine roughly with dry flour mix.
Roughly cut butter into cubes.
Add butter pieces and with a pinching motion, press pieces into the flour to form a rouch dough. Do not overwork. It should remain somewhat crumbly.
Place half of the dough into the prepared pan and gently, but covering the entire bottom, press dough to form the bottom crust layer.
Set unused half aside while you prepare the blueberry filling.
Blueberry Filling
Mix all ingredients together until evenly coated.
Spread evenly over bottom crust in pan.
Finishing
Loosely crumble the remaining dough on top of the fruit layer.
Drizzle caramel sauce over crumble top.
A simple and wonderful caramel sauce recipe can be found on my Fig Caramel Gelato recipe.
Sprinkle with flake sea salt.
Bake in lower half of the oven until golden on top, about 45 minutes.
Cool and enjoy!
Share your photos on social with us by tagging @southernfatty & #southernfatty!
Find more recipes on SouthernFatty.com
Recommended Products
As an Amazon Associate and member of other affiliate programs, I earn from qualifying purchases.
Nutrition Information:
Yield:
16
Serving Size:
1
Amount Per Serving:
Calories:

205
Total Fat:

3g
Saturated Fat:

1g
Trans Fat:

0g
Carbohydrates:

21g
Net Carbohydrates:

21g
Fiber:

3g
Sugar:

8g
Protein:

1g