This post is sponsored by Kingsford but the content and opinions expressed here are my own.
Ohhhh, grilling! That smell. The char flavor. The sizzzzzle. There is something so primal and fundamental to cooking over an open flame. When the warmer days roll in, it's game on for the grill. Although I've been known to fire up my grill in the snow, I find myself in my backyard on a nearly daily basis during summer. Everything tastes better with the smoky wood-fired flavor of a Kingsford Charcoal glowing grill — and I mean everything. Dessert over the coals is a personal fav of mine, and this buttery homemade pound cake, topped with toasted marshmallows, chocolate drizzle, and crunchy cacao nibs is seriously smokin'.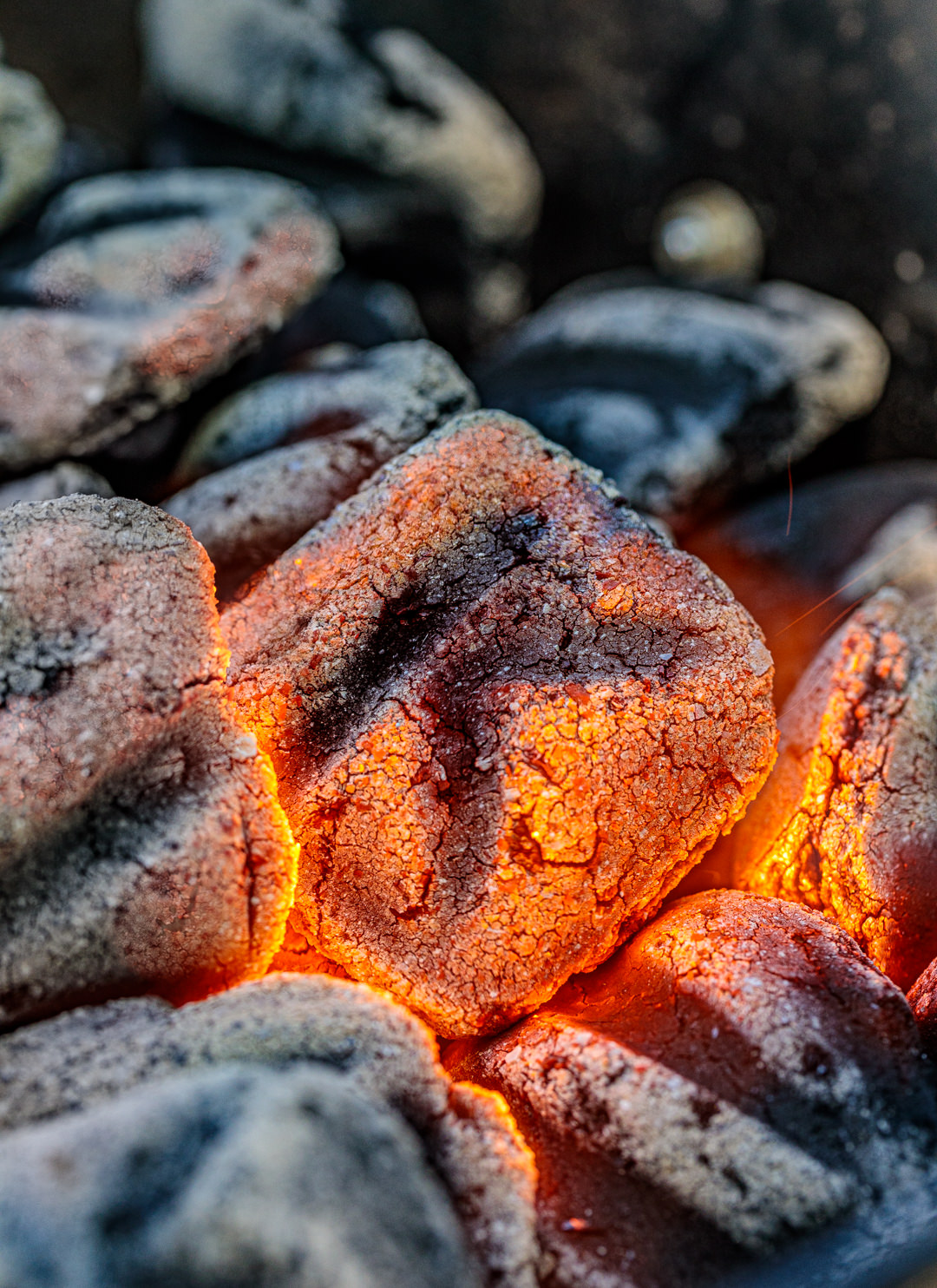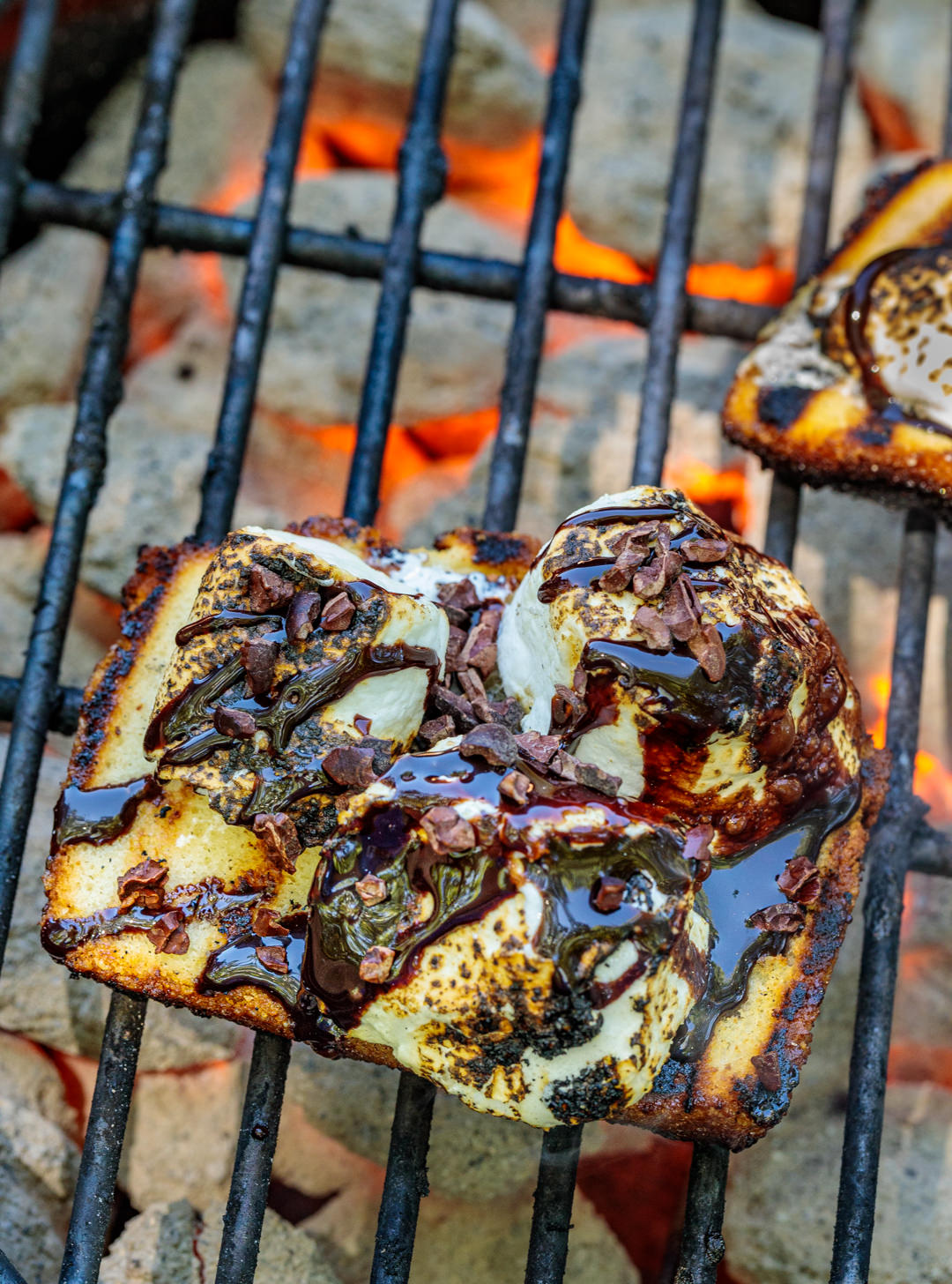 Thinking a bit out of the (oven) box with dessert on the grill is a wonderful way to level up your culinary clout. I've been grilling with Kingsford Charcoal for as long as I can remember. The memories that I have from grilling with Kingsford Charcoal as a family when I was growing up have carried into my own backyard, and for good reason.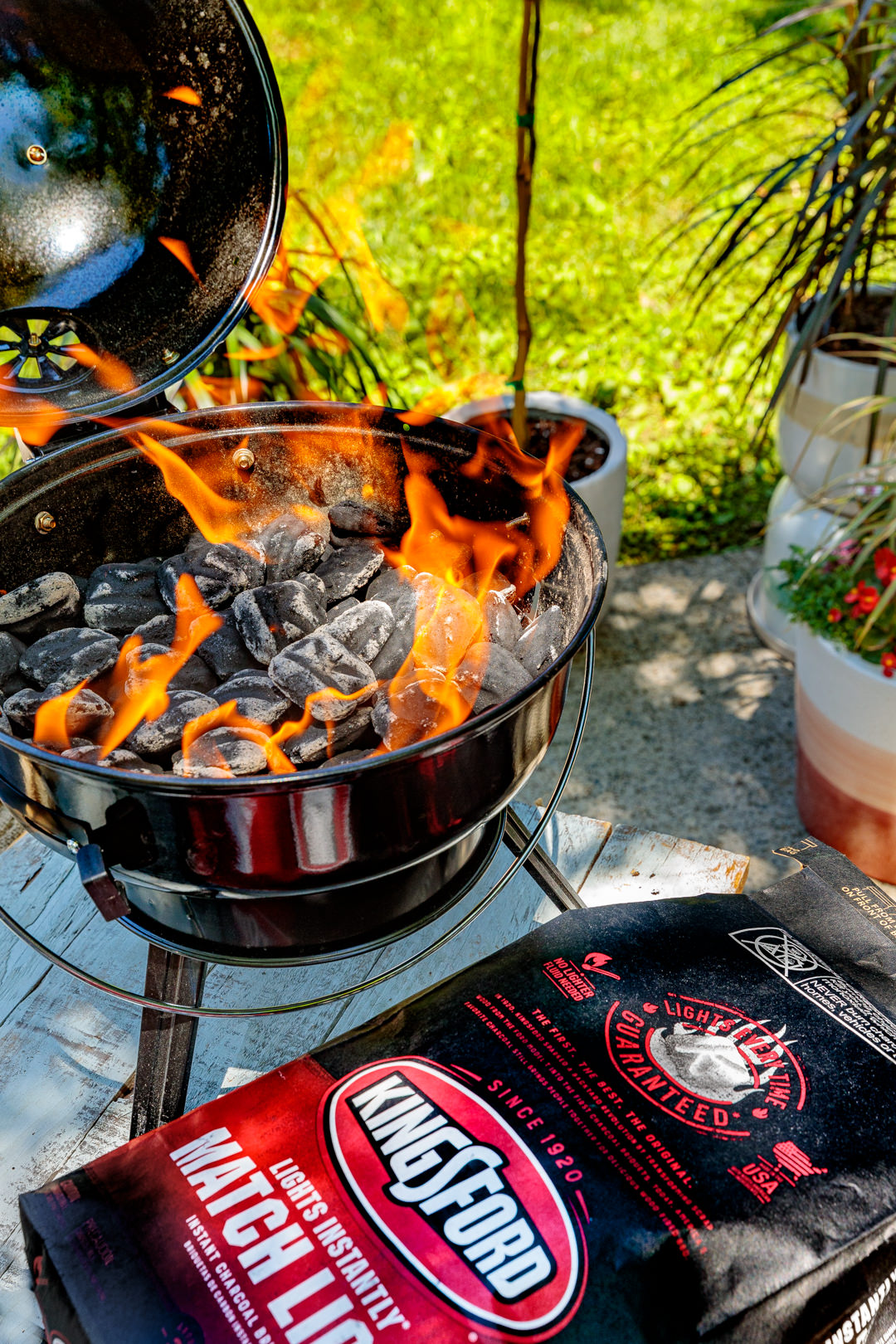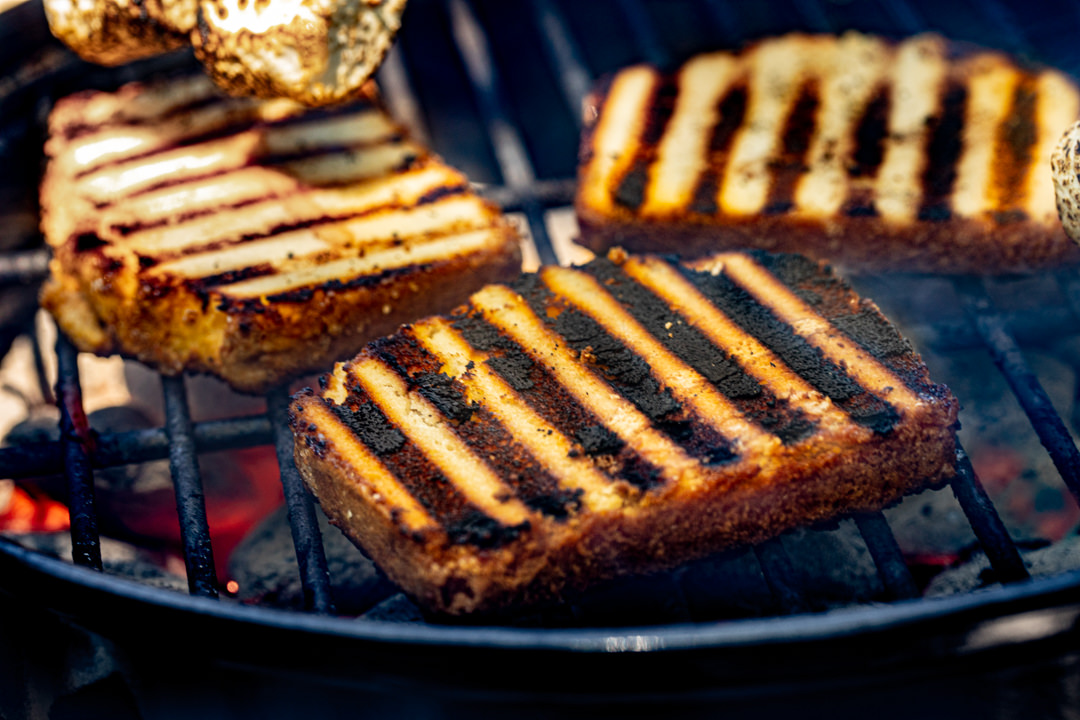 I think of charcoal as an ingredient in whatever I am preparing on the grill. Just like with using the best quality ingredients when you cook and bake, you want the best in authentic BBQ flavor from the fire. Great quality charcoal is incredible versatile, with the ability to slow roast vegetables or kick things up with high heat for an outrageously delicious flatbread pizza. I'm all about taking advantage of the one-stop-shop for all of the courses. [ PS- Grilled limes make for the best margarita, y'all. ]
This pound cake base has been so good to me over the years. It's a brilliant base for soooo many dessert bites. I've topped it with peaches, every berry that you can think of, plenty of bourbon sauces, and have even mixed in sweet corn with the buttermilk for a splendidly southern twist. Can we just take a second to admire that crust? Pound cake is pretty amazing on its own, but when you cover the crust in sugar, something absolutely magical happens. It gets so crispy, adding a bit of a sweet crunch to a less sweet cake. It just adds that extra BAM! that a show-stopper dessert needs.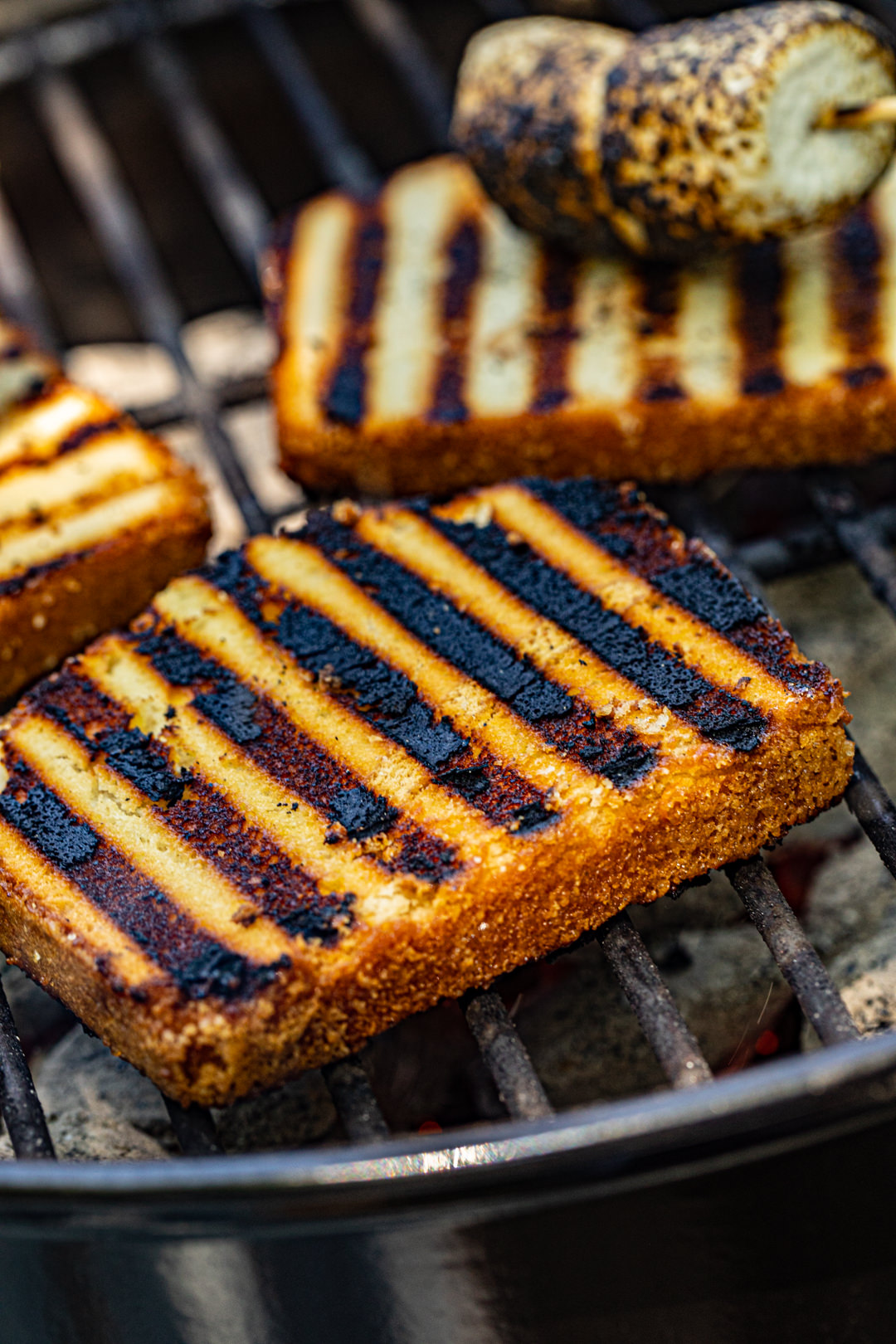 For a great s'mores dessert, you just have to have the smoke. If the rich flavor of the charred pound cake slices, toasted marshmallows, and miles of chocolate drizzle don't scream s'more enough, the graham cracker crumble with the crunch of the cacao nibs (linked below) certainly will. Whipping this dessert up won't force you back inside from your backyard bash. Make the pound cake ahead of time and finish everything after you've enjoyed dinner.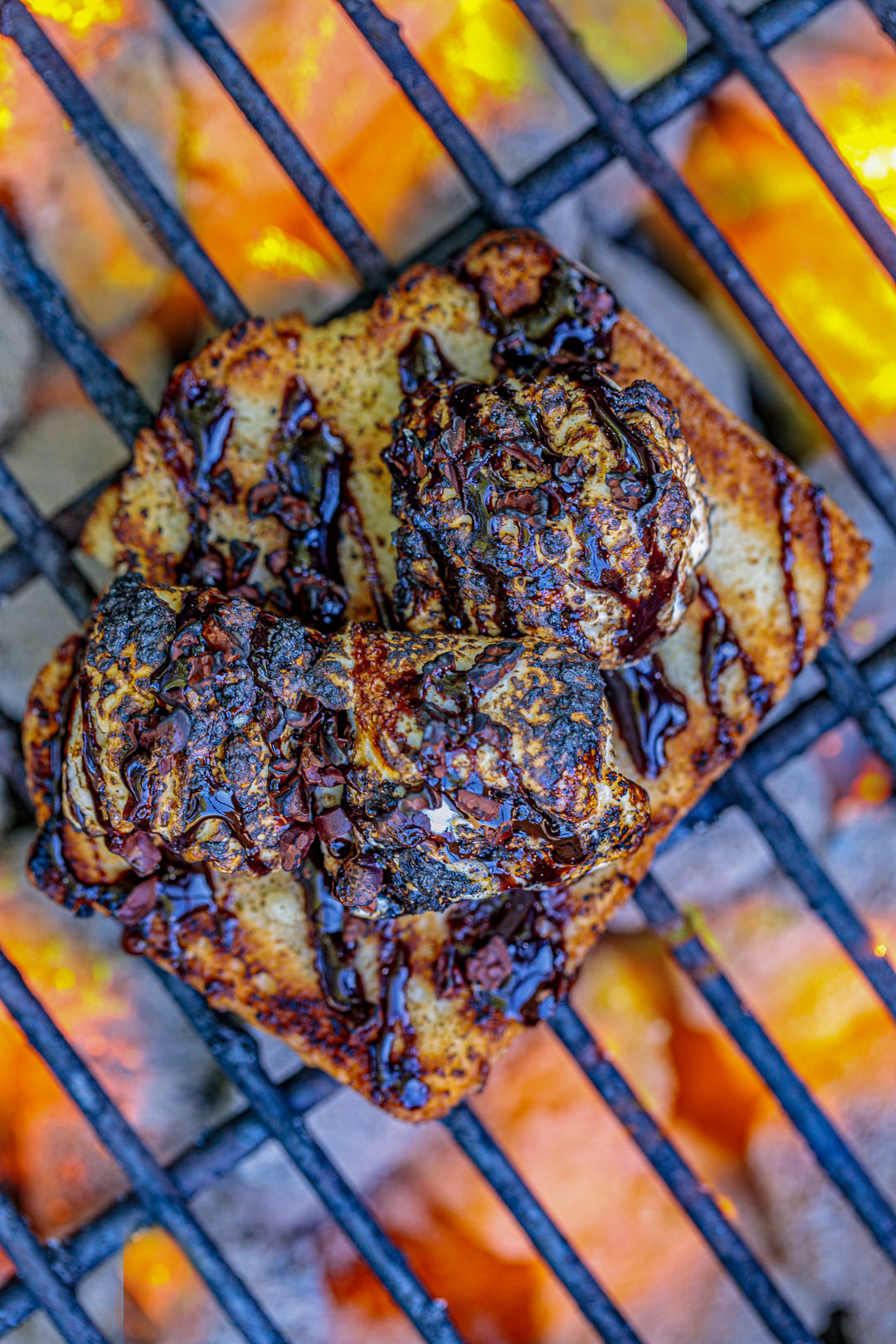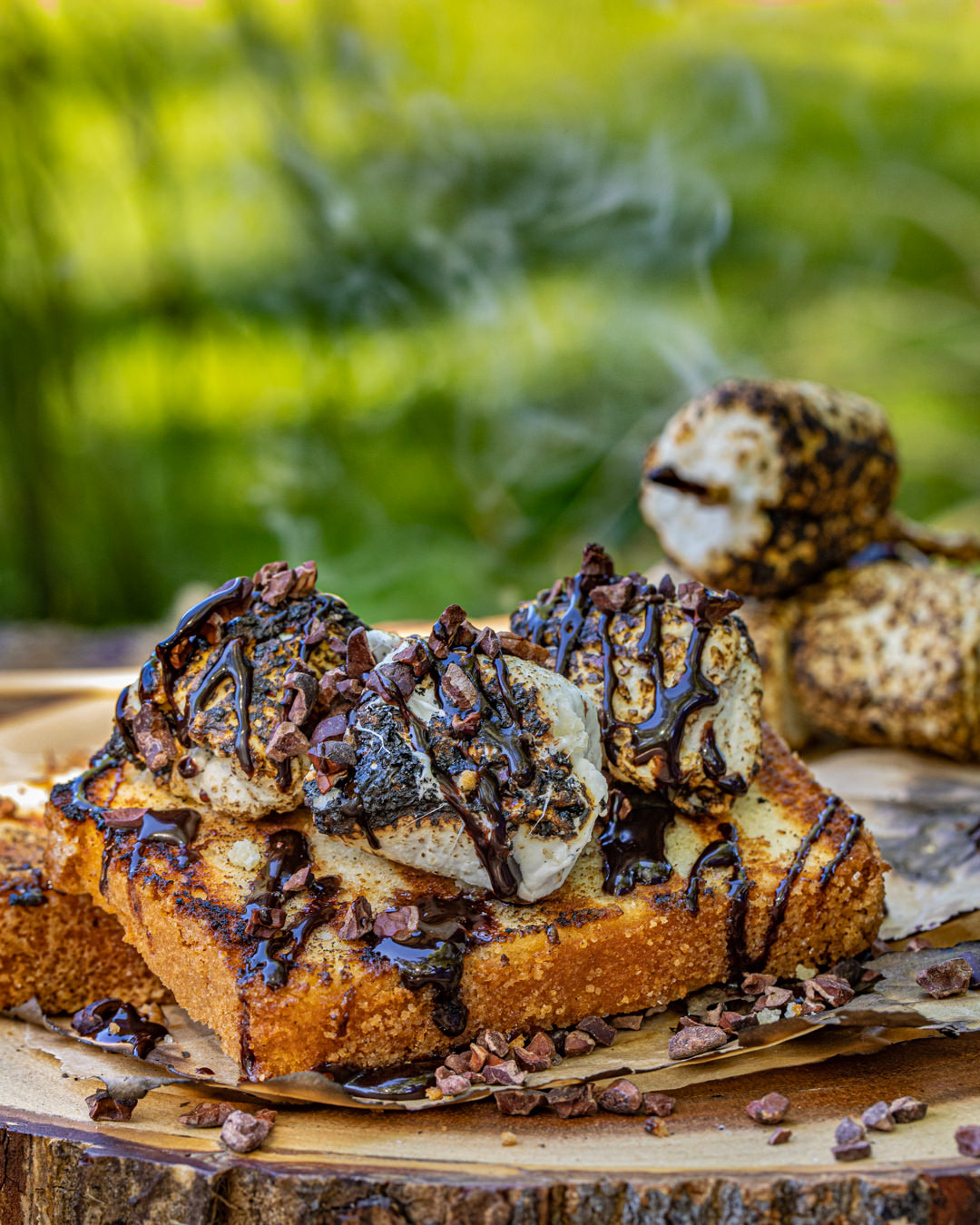 Kingsford Charcoal will keep the grill nice and toasty, waiting patiently for your family to perfectly toast (or burn if you are one of those types) marshmallows and drizzle with plenty of chocolate. You could even setup a s'more station with plenty of toppings. — Bring on the backyard BBQ, y'all.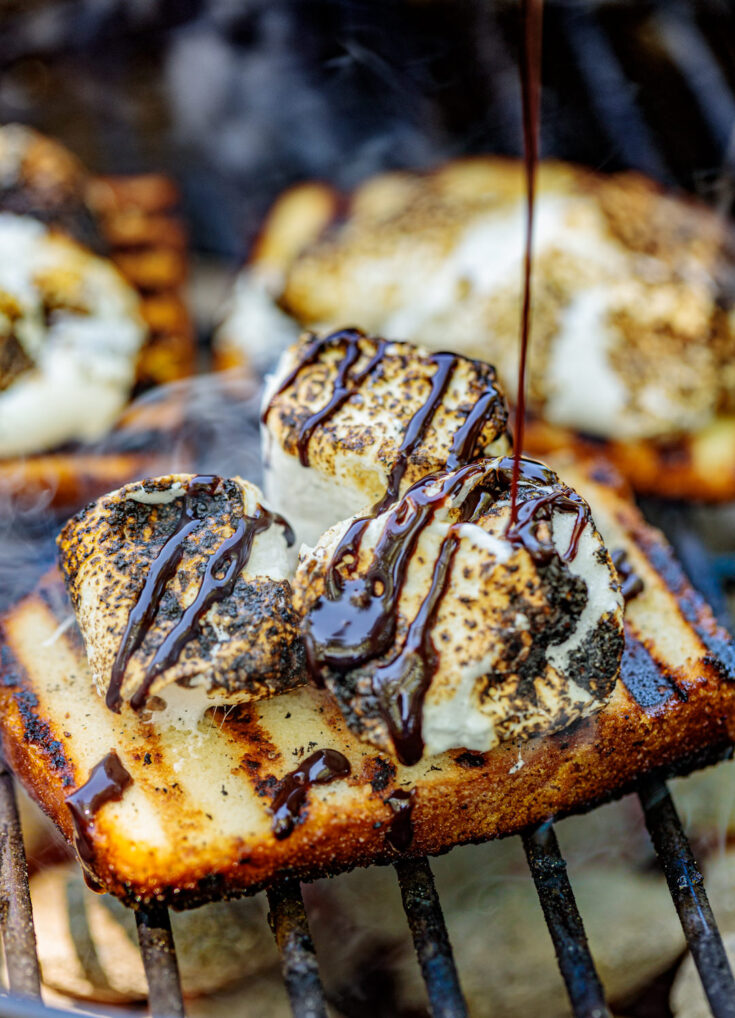 Yield:

8 servings
Grilled S'mores Pound Cake
Sugar-crusted buttery pound cake grilled over charcoal, topped with toasted marshmallows, chocolate sauce, and crunchy cacoa nibs. Recipe from SouthernFatty.com.
Ingredients
Sugar Crusted Pound Cake
1 and 1/2 cups / 180 grams cake flour
1/2 teaspoon baking powder
1/2 teaspoon baking soda
1/2 teaspoon salt
8 tablespoons / 115 grams butter, unsalted, room temperature
1 and 1/4 cups / 250 grams sugar, granulated
3 large / 150 grams eggs, whole
1/2 cup buttermilk, ideally full fat/whole
1 teaspoon vanilla bean paste or extract
2-3 graham crackers
Pan Prep
1 tablespoon butter
1/2 cup / 50 grams sugar, granulated
S'mores
8 ounces / 225 grams marshmallows
1/2 cup / 4 ounces chocolate syrup
1/4 cup / 2 ounces cacao nibs
1 bag Kingsford Charcoal
Instructions
Preheat oven to 325 F.
Whisk dry ingredients for cake together well in a bowl.
In a mixer, cream the butter and sugar together until pale and fluffy, about 3-5 minutes at medium speed.
Continue mixing and add eggs, one at a time, waiting for each to incorporate before adding the next.
Scrape bowl and ensure thoroughly mixed.
Add half of the dry flour and mix.
Follow by the buttermilk. Mix again.
End with the remaining dry flour. Mix just until combined. Do not overmix.
Prepare a loaf pan by rubbing it inside completely with the tablespoon of butter. Coat thoroughly in sugar.
Gently pour in batter to prepared pan. When half is in the pan, place the graham crackers to cover and then pour the rest of the batter.
Bake until knife comes out clean, about 45 minutes.
Cool completely.
Grill slices of pound cake over charcoal grill.
Top with toasted marshmallows, chocolate sauce, and cacoa nibs.
Enjoy! Find more recipe on SouthernFatty.com.
Notes
Sponsored by Kingsford Charcoal.
Recommended Products
As an Amazon Associate and member of other affiliate programs, I earn from qualifying purchases.
Nutrition Information:
Yield:
8
Serving Size:
1
Amount Per Serving:
Calories:

379
Total Fat:

30g
Saturated Fat:

18g
Trans Fat:

0g
Unsaturated Fat:

10g
Cholesterol:

132mg
Sodium:

117mg
Carbohydrates:

26g
Fiber:

1g
Sugar:

18g
Protein:

3g