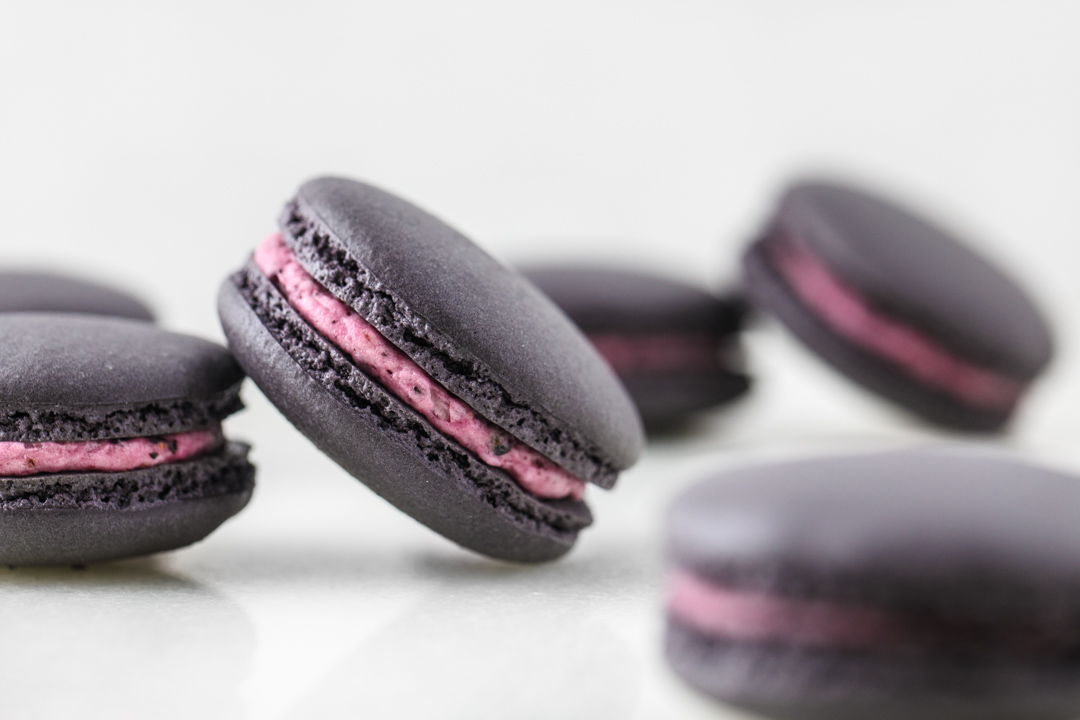 As a food photographer, I am constantly filling up hard drives with photos. Most of them sorta just disappear into the deep, dark folders of my computer to never again be seen. The select few get edited and used for blog posts, client advertising, some magazine articles. Every so often, I'll be browsing around for Instagram pictures to post to find a folder full of pictures from a recipe that I fully intended to post, but completely forgot about. It happens way more often than I'd like, but is a bit of a nice surprise. — "Hey! Look. I can post that and actually have a couple hours for brunch this weekend!"
These macarons were a nice treasure chest surprise that I found this past week. I made them for some friend's wedding shower a few months ago. I think I actually made hundreds of macarons that week. Some for a blogger party (Yes. That's a thing.), these for a wedding shower, and the Cookies and Cream Macarons that actually made it to their debut.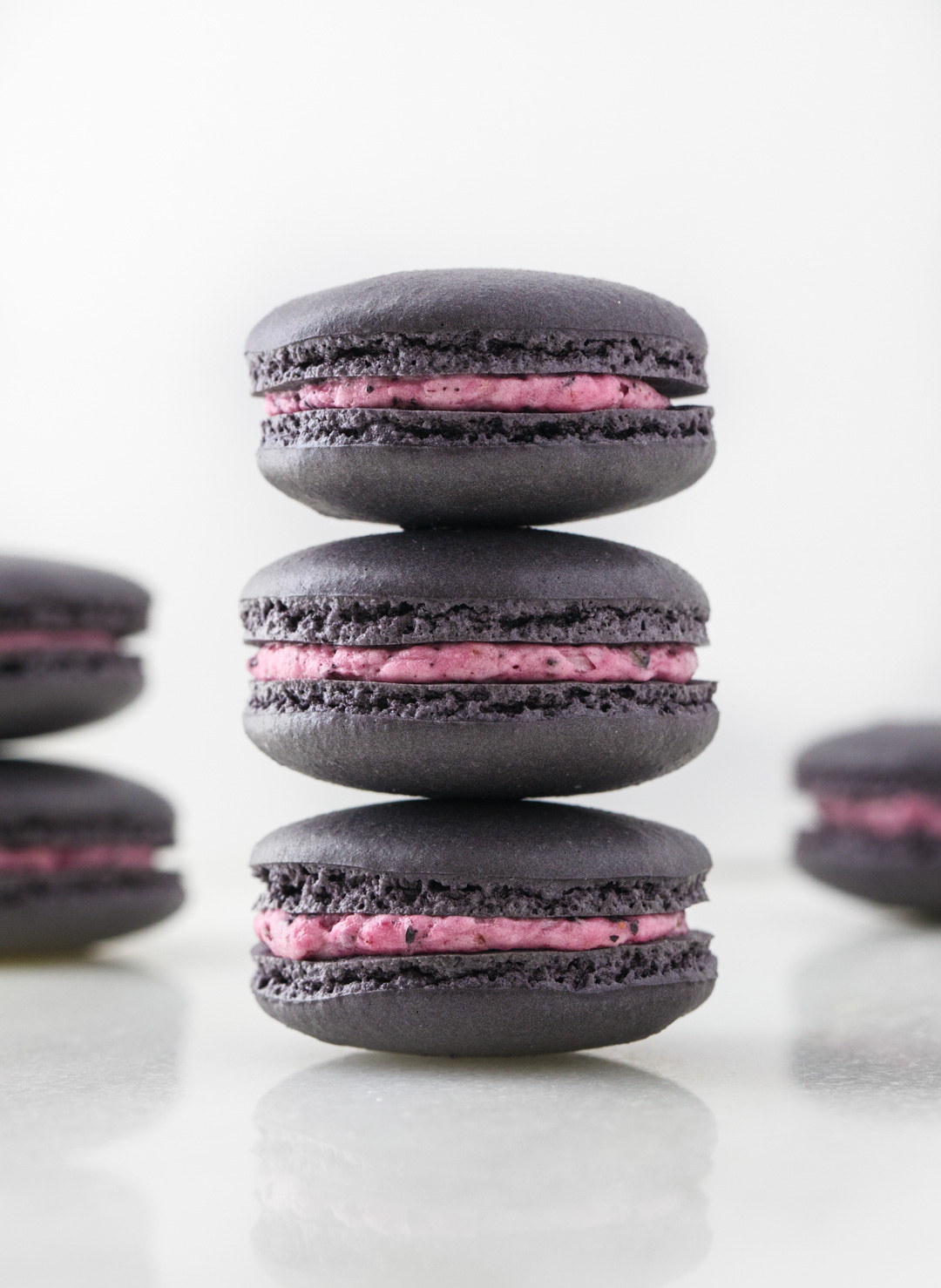 My Macarons 101: A Beginner's Guide post is one of the top 3 most visited posts on the blog (in good company with the Mirror Glazed Cake Tutorial). I can remember when macarons totally blew up and were the it thing to try to learn to make. Lots of people tried, some succeeded, many cried. It's a daunting task without the right set of instructions, but I'm pretty proud of our track record. Browse through the Macarons 101 comments a bit and you'll see that most of the readers that have given it their best go have had great results. A few angry emails and profanity-ladened comments cursing my name, but that's part of the fun in blogging. One day I'll put out a book with all of the hate mail over macarons that I've received….
All-in-all, macarons aren't that tough to master. Don't believe all of the hype about needing to pray three times over the almond flour, or sprinkle the shells with holy water. It's all in the technique and proper folding. The way that I look at it is that you really have to just enjoy the process of baking before you decide to jump into the mac attack. Sure. You may break a couple flower vases, throw a bag of flour at your children, or catch your oven on fire (I can personally attest to the last one. Been there. Spent the weekend cleaning.). If you go into it with a desire to learn how to become a better baker, you'll be just fine.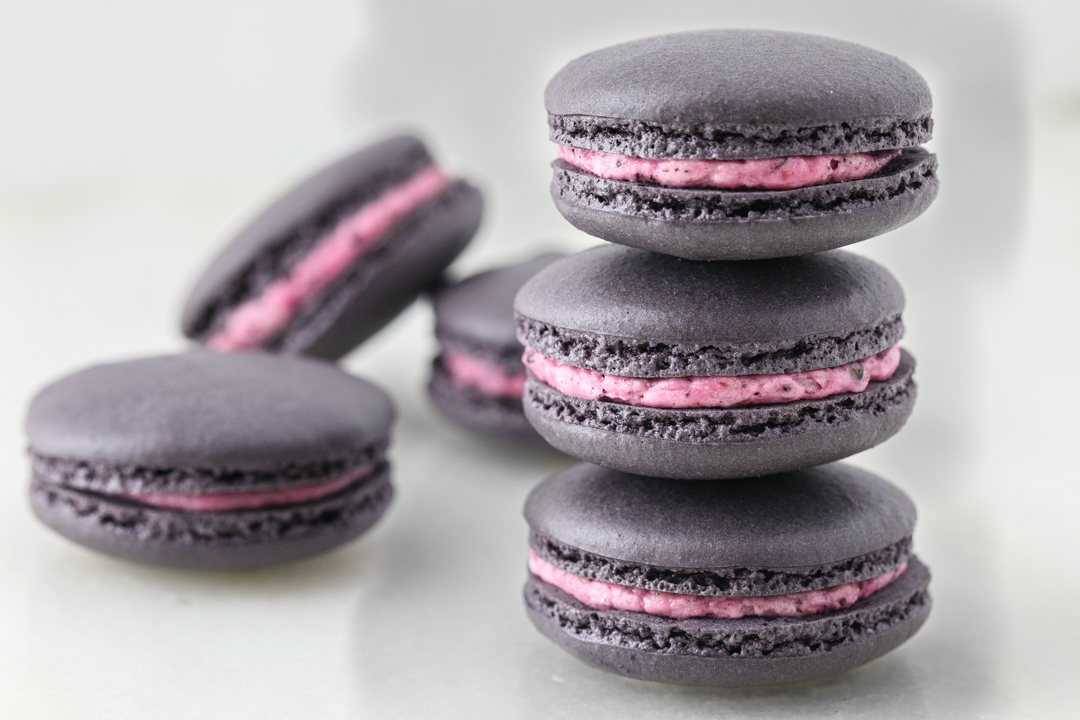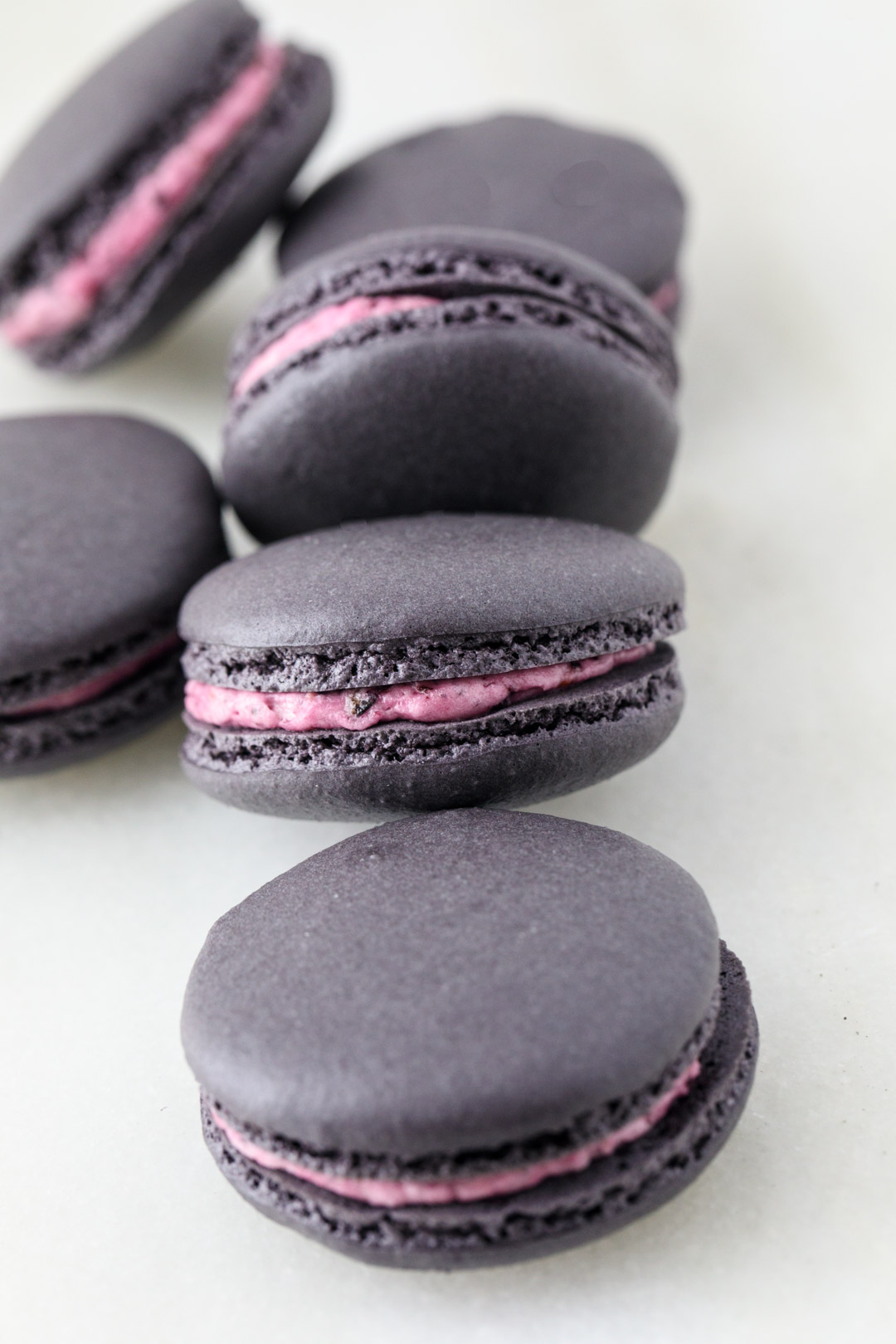 These macarons are chic and fancy looking, but really some of the most simple to make. Great starter recipe before trying to infuse flavors into the shells AND the filling. The shells are left to the traditional almond base, with the addition of a bit of coloring to get the dark finish. Filled with blueberry buttercream (aammmmmazing, y'all) made from flavor-punching freeze-dried blueberries, and that's it! The blueberry flavor is a match made in heaven for the almond exterior.
Blueberry Buttercream Macarons
Classic almond flour shell French macarons with a fresh blueberry buttercream filling. From SouthernFatty.com.
Author:
Phillip Fryman | SouthernFATTY.com
Ingredients
Macaron Shells
90 grams egg whites (3 large egg whites), room temperature
55 grams (~ ¼ cup) superfine sugar (granulated sugar in food processor until fine)
200 grams (~ 1 and ⅔ cup) confectioner's sugar
110 grams (~ 1 cup) almond flour
¼ teaspoon cream of tartar
pinch salt
food coloring, optional
Blueberry Buttercream
170 grams (12 tablespoons) butter, unsalted, softened
4 cups confectioner's sugar
1 tablespoon heavy cream
1 teaspoon vanilla bean paste
1 cup freeze-dried blueberries
Instructions
Macaron Shells
I would highly recommend you begin by reading our Macarons 101 postfor basic technique, tips, and tricks to successful macarons.
Place room temperature egg whites in mixer bowl.
With whisk attachment, whisk at medium-low speed until foamy, about a minute.
Add superfine granulated sugar and cream of tartar. Mix until stiff peaks form. You should be able to reverse the whisk and have the peak stands very tall without falling.
Add food coloring here if desired. Add a bit more than you think you need, as it will fade slightly when baking.
For these shells, I used Lorann Black Powder Coloring. I used powder food coloring to get a deeper color, while not diluting the sometimes finicky macaron batter.
In different bowl, sift together almond flour and confectioner's sugar. Repeat and sift a total of 4-5 times, removing any large pieces left behind after each sift.
Add almond flour mix to stiffened egg whites.
Using proper folding technique (see blog post for explanation of this!), fold until you can ribbon an "8" that holds into the batter. THIS is the most important step in proper macarons.
Visit the blog post for full instructions.
Pipe macaron circles onto paper-lined baking sheets using the FREE printable macaron template and instructions available on our Macarons 101 post.
Let the shells rest for 30 minutes to form hardened tops.
Bake at 300 F for about 16 minutes. Be sure your oven temperature is exact.
Set aside to cool completely.
Blueberry Buttercream
Place freeze dried blueberries and confectioner's sugar into a food processor.
Blitz 5-6 times until fine. Some small blueberry pieces are fine.
Cream butter in mixer until light and fluffy, about 2 minute on medium speed.
In 2-3 batches, add sugar/blueberry mixture to the butter, incorporating completely between each.
Add vanilla and cream. Mix well.
Additional heavy cream may be used to thin the buttercream, but do so cautiously. You want to be able to pipe it, but it stay stiff between the cookies.
Finishing
Pipe buttercream between cookies and enjoy!
May be refrigerated or frozen in an airtight container.
Find more macaron recipes on SouthernFatty.com!
Looking for more macaron recipes? Try these!