Blueberry Buttercream Macarons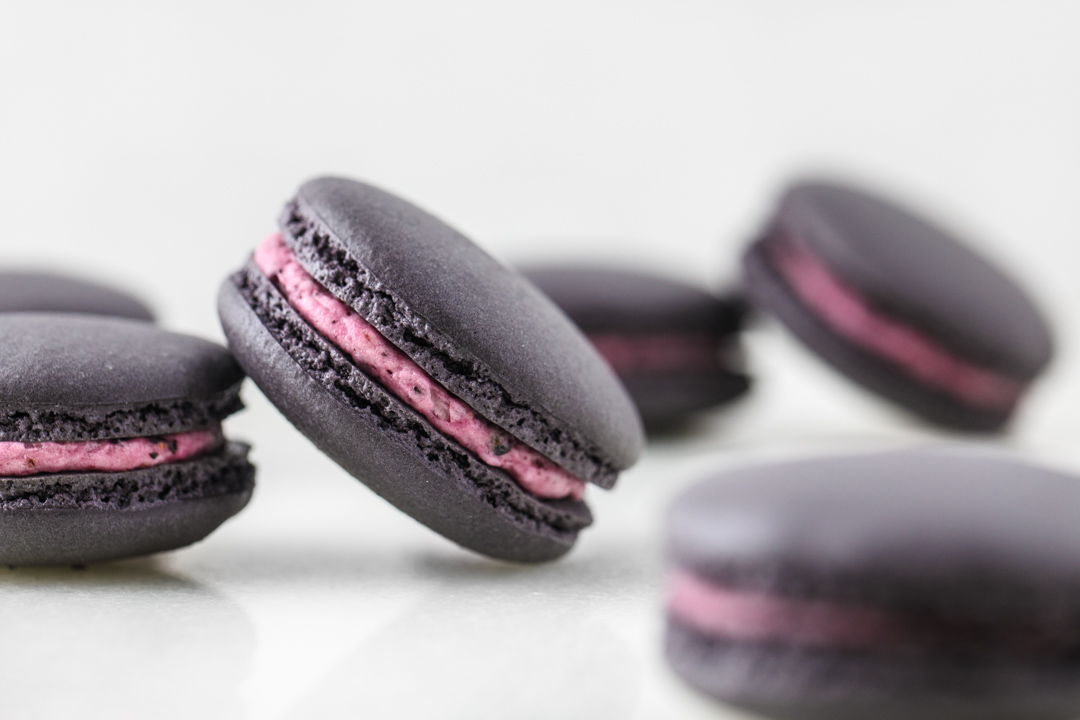 Author:
Phillip Fryman | SouthernFATTY.com
90 grams egg whites (3 large egg whites), room temperature
55 grams (~ ¼ cup) superfine sugar (granulated sugar in food processor until fine)
200 grams (~ 1 and ⅔ cup) confectioner's sugar
110 grams (~ 1 cup) almond flour
¼ teaspoon cream of tartar
pinch salt
food coloring, optional
170 grams (12 tablespoons) butter, unsalted, softened
4 cups confectioner's sugar
1 tablespoon heavy cream
1 teaspoon vanilla bean paste
1 cup freeze-dried blueberries
I would highly recommend you begin by reading our Macarons 101 postfor basic technique, tips, and tricks to successful macarons.
Place room temperature egg whites in mixer bowl.
With whisk attachment, whisk at medium-low speed until foamy, about a minute.
Add superfine granulated sugar and cream of tartar. Mix until stiff peaks form. You should be able to reverse the whisk and have the peak stands very tall without falling.
Add food coloring here if desired. Add a bit more than you think you need, as it will fade slightly when baking.
For these shells, I used Lorann Black Powder Coloring. I used powder food coloring to get a deeper color, while not diluting the sometimes finicky macaron batter.
In different bowl, sift together almond flour and confectioner's sugar. Repeat and sift a total of 4-5 times, removing any large pieces left behind after each sift.
Add almond flour mix to stiffened egg whites.
Using proper folding technique (see blog post for explanation of this!), fold until you can ribbon an "8" that holds into the batter. THIS is the most important step in proper macarons.
Visit the blog post for full instructions.
Pipe macaron circles onto paper-lined baking sheets using the FREE printable macaron template and instructions available on our Macarons 101 post.
Let the shells rest for 30 minutes to form hardened tops.
Bake at 300 F for about 16 minutes. Be sure your oven temperature is exact.
Set aside to cool completely.
Place freeze dried blueberries and confectioner's sugar into a food processor.
Blitz 5-6 times until fine. Some small blueberry pieces are fine.
Cream butter in mixer until light and fluffy, about 2 minute on medium speed.
In 2-3 batches, add sugar/blueberry mixture to the butter, incorporating completely between each.
Add vanilla and cream. Mix well.
Additional heavy cream may be used to thin the buttercream, but do so cautiously. You want to be able to pipe it, but it stay stiff between the cookies.
Pipe buttercream between cookies and enjoy!
May be refrigerated or frozen in an airtight container.
Find more macaron recipes on SouthernFatty.com!
Recipe by
Southern FATTY
at https://www.southernfatty.com/blueberry-buttercream-macarons/