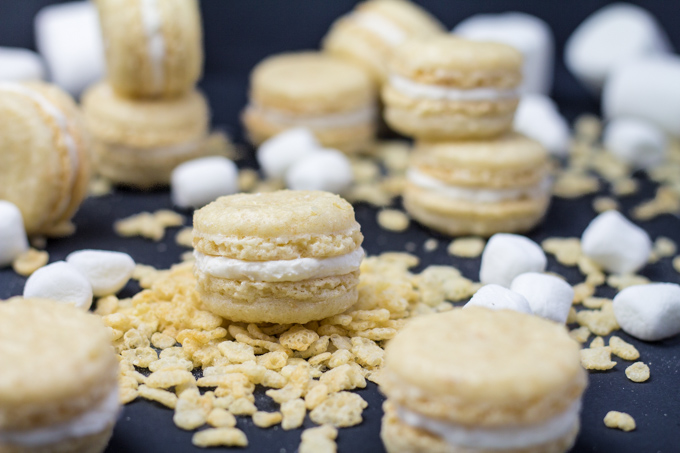 Instant flashback. You know you love a good Rice Krispies Treat (or ten). One of those classic snacks that you can't stop eating, and will never stop loving, I decided to try to squish it into the ever-so-popular, slightly more delicate, macaron.
Rustic and absolutely delicious– Rice Krispies Treat Macarons have arrived.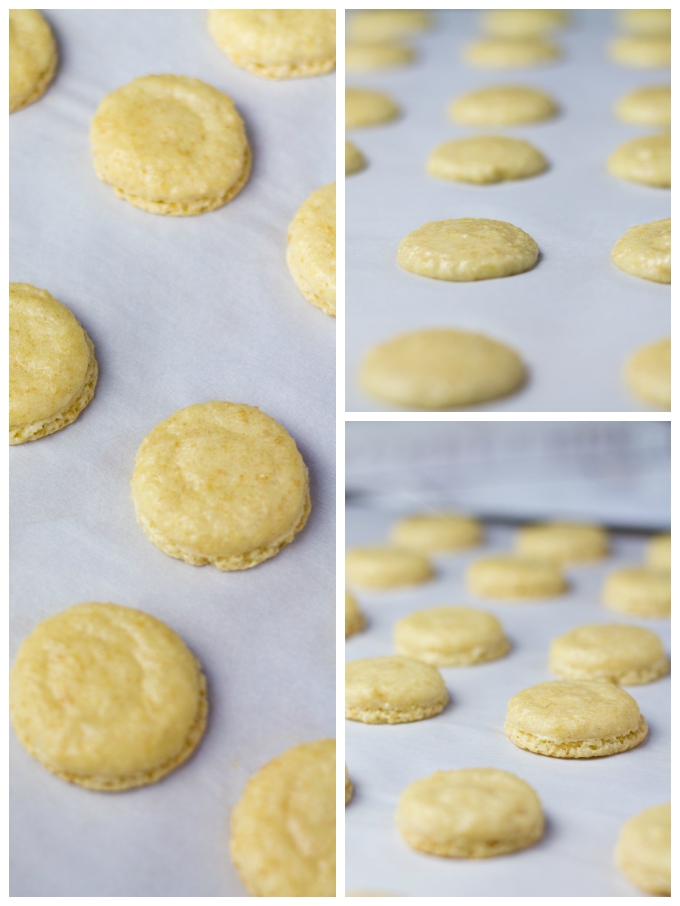 Macarons are one of those super-intimidating sweets that everyone loves to enjoy, but nobody really wants to make. They have this sort of aura surrounding them of doom and gloom for bakers.
BUT, wait! There's more! *fancy wave in front of pastries*
I put together a pretty extensive guide to macs a while back on our Macarons 101: The Beginner's Guide. Go check that out if you are serious (or even just don't want to burn the house down – likely out of rage) about mastering these pups.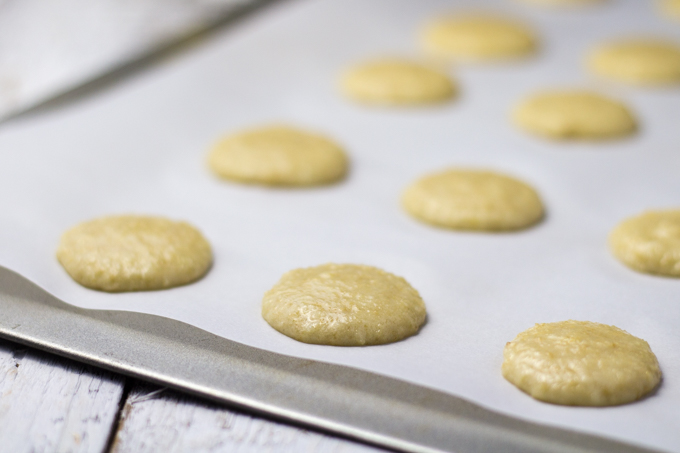 These macs won't be super-smooth like your normal Pâtisserie E. Ladurée pipe. We're going to go all 8-bit elementary school, grinding some serious Rice Krispies into the shells. Gimme that crunch, or give me death. That's how it goes, right?
An added bonus of these shells being rustic is that you can be a bit more lenient with your technique. These are a great macaron recipe to start with for that exact reason (read: because they are DELICIOUS).
I've taken a bit of time to create a FREE downloadable macaron piping template that you can print out and slide straight under your parchment paper for perfectly uniform cookies every time. You can download that from the Macarons 101: A Beginner's Guide post. You're probably gonna want to save that classic mac with raspberry buttercream recipe while you're there.
If you are a total nerd, check out this read about finding the perfect macaron shell recipe ratio. I've tried to experiment with different proportions, and this one is still the best.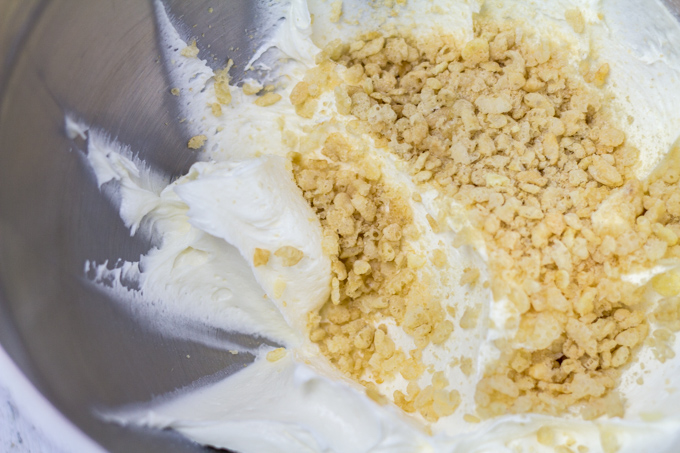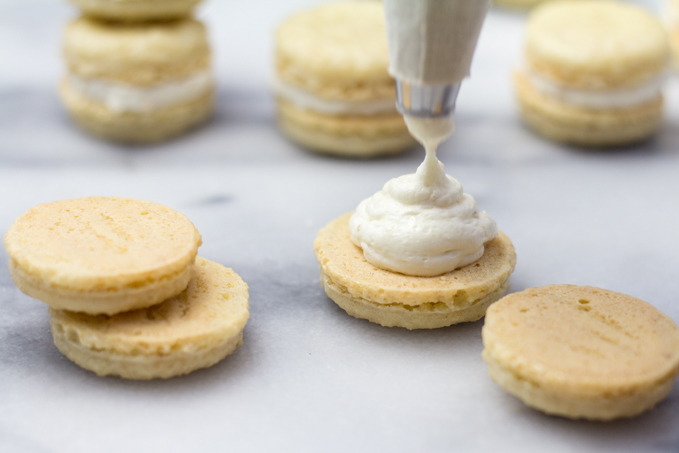 Between the Krispies shells, we are going to use good ol' marshmallow fluff as a base for the buttercream. I don't really won't to admit how much of this was eaten before the macs were filled. Let's just say that I can attest that it goes well on graham crackers, on top of Oreo's (what? they were Thins. Don't judge.). and certainly straight out of a (large) spoon.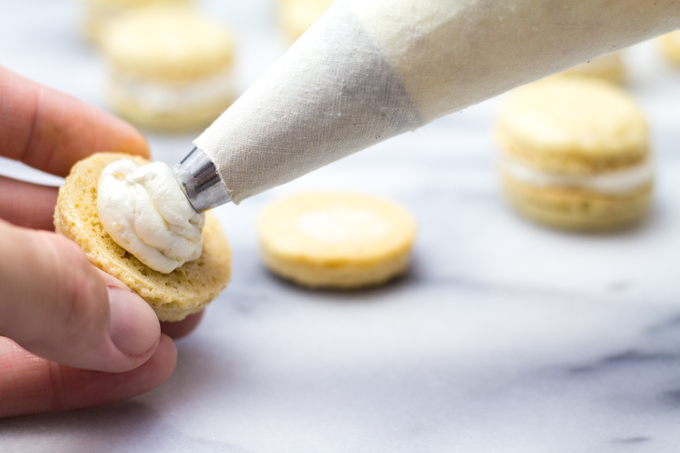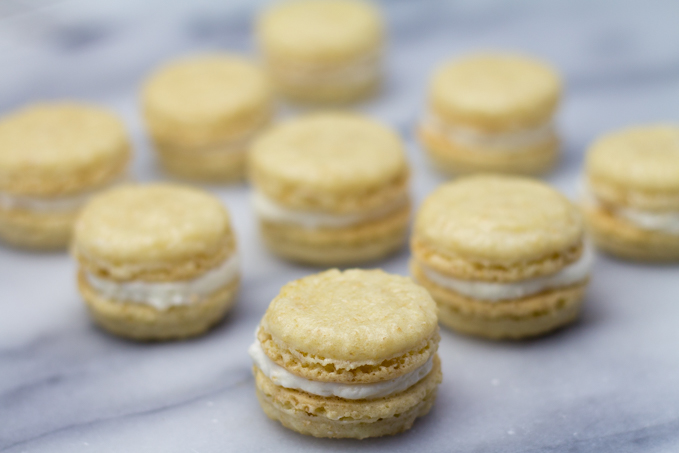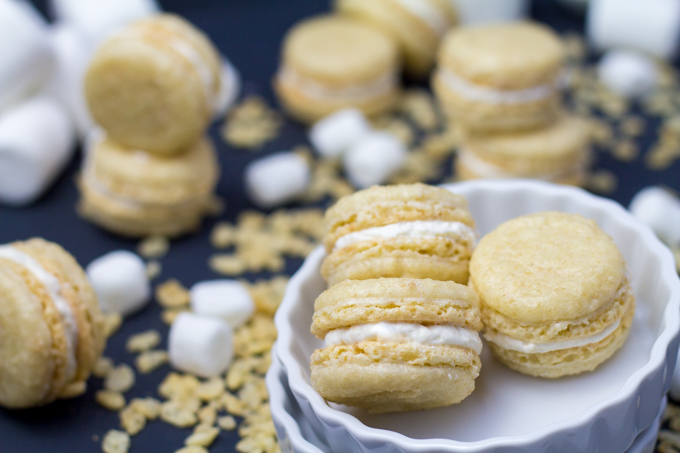 With the classic recognizable macaron textured feet and classic taste of a perfect made RKT (rice krispies treat for y'all out of the fatty loop), these are officially 1st place winners in my book. I would even probably go as far as saying the flavor and texture would be in my top 3 macs of all time list. Last year's Parisian tastes included.
You'll probably need to compare these to the world's best RKTs ever (recipe HERE). You know… just to be sure.
These just totally opened up a whole new world of macarons for me. You very well may see your fav childhood cereals pop up again in this sweet, sweet handheld love form.
Suggestions for cereal requests are perfectly acceptable reasons to send us a quick comment or email.
Be sure to follow along on our e-mail list to get first dibs on the nibs!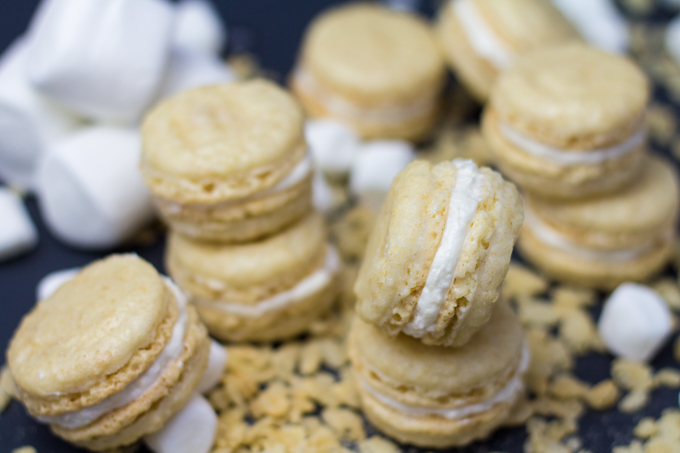 Lightly toasted Rice Krispies ground into the vanilla-almond based shells, filled with a light and fluffy marshmallow fluff buttercream. These are what dreams are made of, y'all.
Enjoy, y'all!
Rice Krispies Treat Macarons
Flashback to your favorite Rice Krispies Treats with a bit of a delicate twist-- Rice Krispies Treat Macarons with a Marshmallow Buttercream Filling by SouthernFATTY.com
Serves:
12 assembled macarons
Ingredients
Rice Krispies Macaron Cookies
50 grams egg whites (2-3 eggs worth), room temperature
15 grams sugar, white granulated
pinch of cream of tartar (optional - helps stability of cookies)
60 grams almond flour
105 grams sugar, powdered
20 grams Rice Krispies cereal
¼ teaspoon pure vanilla extract
Marshmallow Buttercream
56 grams butter (4 tablespoons), unsalted (I prefer European butter for its richness)
56 grams marshmallow fluff/cream
32 grams powdered sugar, sifted well
½ teaspoon vanilla bean extract
5-10 grams (2-3 tablespoons) Rice Krispies, roughly crushed
Instructions
_Review our Macarons 101: A Beginner's Guide post if you want more details on the how and why's of macaron making.
Rice Krispies Treat Macaron Cookies
In a food processor, combine almond flour, powdered sugar and Rice Krispies cereal.
In a very clean mixing bowl with whisk attached, add egg whites and optional cream of tartar.
Mix on medium speed until foamy. Slowly add granulated sugar and continue mixing until stiff peaks form.
Add vanilla extract.
In three batches, fold carefully in almond meal/powdered sugar/Krispies mixture. It is important that you FOLD and NOT MIX. Please visit our Macarons 101: A Beginner's Guide post for detailed instructions on folding, etc.
Fold until a ribbon lays on itself and disappears after about 30 seconds.
Line a sheet pan with parchment paper.
Using our FREE printable macaron piping template from our Macarons 101 post, pipe 1-1.5" macaron shells. Using this template, you can pipe uniformly. That post will also explain exactly how to pipe, if you need some guidance.
Drop the sheet pan on a hard surface a few inches above several times to eliminate any possible bubbles in the piped pastry.
Allow the cookies to rest at room temperate for 30-45 minutes. This step is critical to forming the pieds, or feet, of the macarons.
Pre-heat oven to 285 F.
When oven is ready, transfer baking sheet (be sure you have removed the piping template) to oven to bake.
Bake for 18 minutes. The macarons should not be golden at all. You want them to remain chewy and sot in the center. This time may vary very slightly with various ovens.
Remove and cool completely on sheet pan.
Making the Marshmallow Buttercream
Cream butter in mixer. I prefer to use a BeaterBlade attachment, which scraps the bowl while mixing.
Add marshmallow and continue to beat on medium speed.
Add in powdered sugar in batches and mix well until smooth.
Mix in vanilla and crushed Krispies.
Transfer to piping bag. I prefer to use no tip for this filling. My bag has a ½" opening.
Finishing Rice Krispies Treat Macarons
Very carefully remove shells from baking tray, lifting from one side and pulling paper away.
Pipe filling between two shells and enjoy!
Find more recipes on SouthernFATTY.com.
Comment below and let us know what retro
cereal flashback mac attack that you
would love to see next.