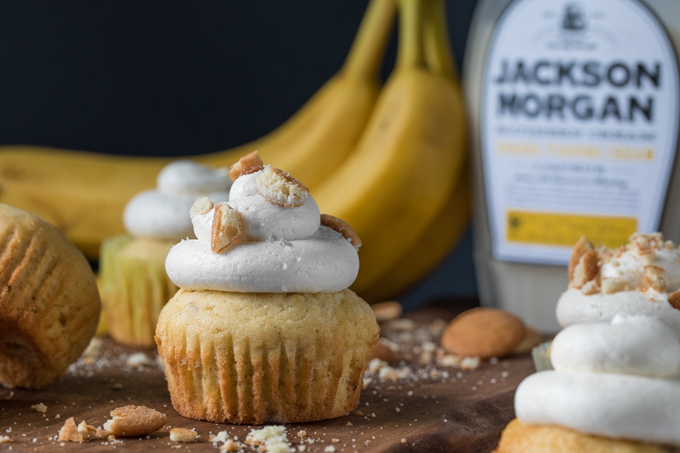 Here in the South, banana puddin' (or pudding, if you're fancy) is the nectar of the gods. If you go to any legit meat and three, it is expected that this will one of your 3 veggies. It totally counts, and you'd be a fool to not follow the tradition. Since I sometime don't feel like leaving the comfort of my sweatpants at home, I decided to incorporate banana pudding into my own kitchen creation. It's like dessert inception, I guess. A dessert in a dessert. I ain't mad about it.
Instead of whipping up a full on pudding, I also raised the bar… with the bar itself. Banana Pudding Whiskey Cream was the latest addition to my watering hole and it is perfect for this recipe.
By now, y'all know how much of a fan of baking with booze I am. I'm considering making my first Southern Fatty cookbook all about it. — (PS – Thoughts on a SF cookbook??) — A sip for the baker, a splash for the batter. Whiskey cream has been one of my all-time favs for blending. You can almost always swap out the milk for the whiskey 1:1. That's probably true in life in general, I think. Morning cereal? Add some whiskey cream. Monkey bread a little dry? A bit o' boozy cream will fix that right up.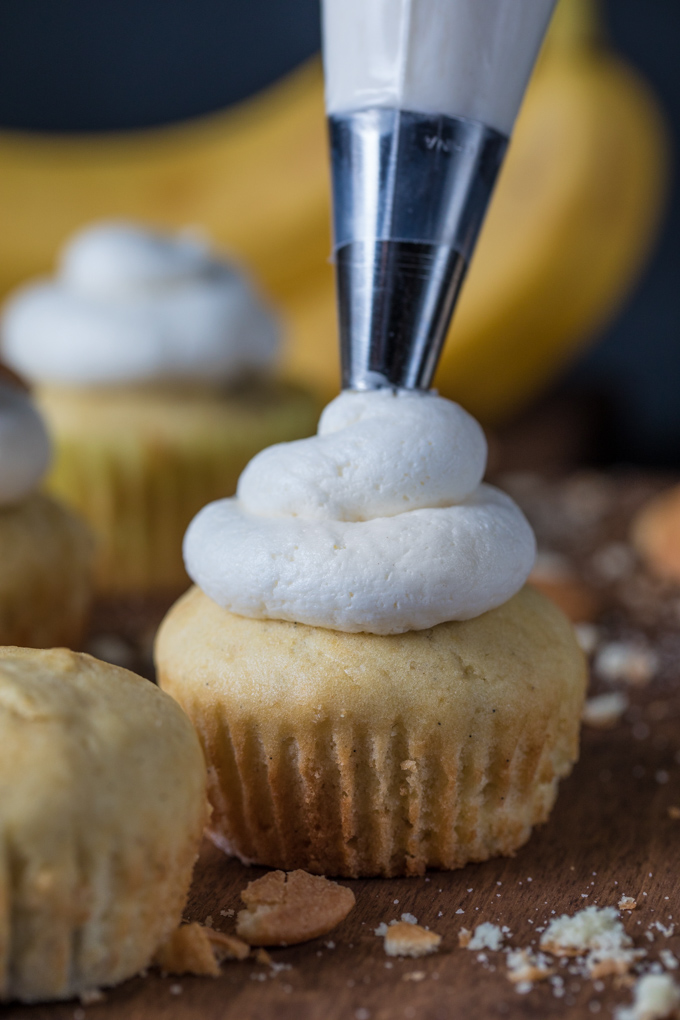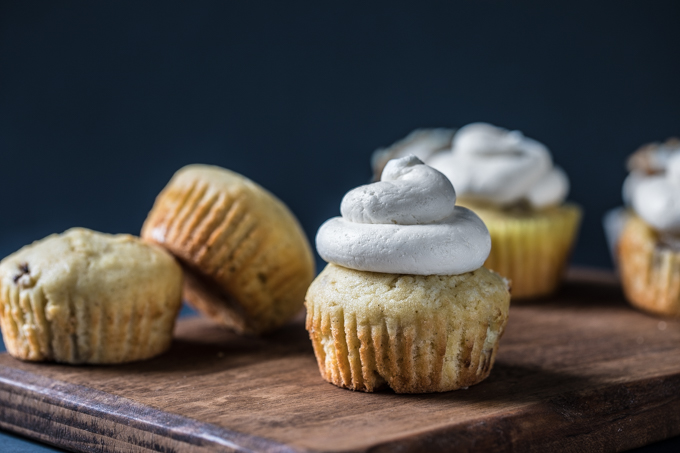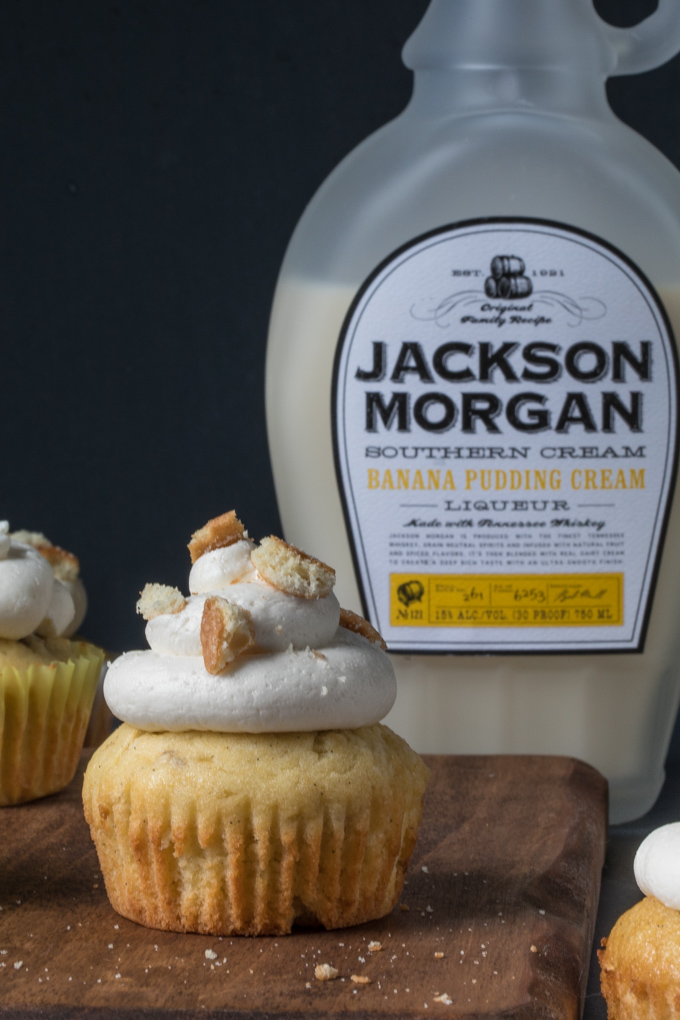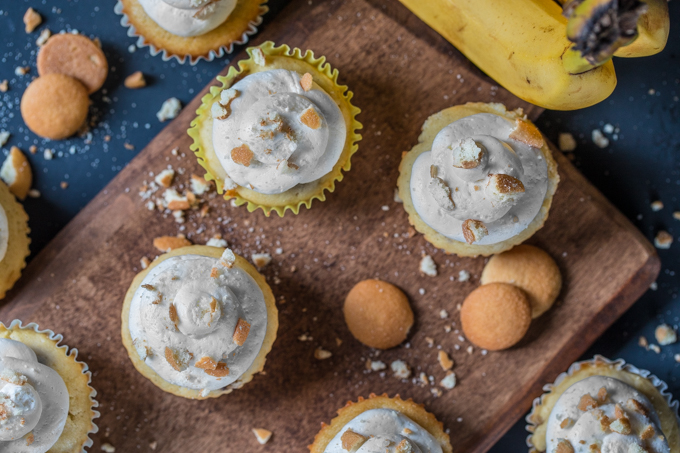 This Jackson Morgan Banana Pudding Southern Cream has become my best baking buddy in the new year for sure. I've made several different recipes using their products, and they are some of the best Nashville folks around. Be sure to check out the Whiskey Cream Caramel Popcorn, Boozy Root Beer Whiskey Float, and the Brown Sugar Cinnamon Whiskey Eclairs recipes while you're browsin'.

These whiskey creams are uniquely flavored (they offer the Banana Pudding I used here, Bread Pudding – SO good, Whipped Orange, Peaches and Cream, Salted Caramel and Peppermint Mocha) and are the perfect coffee companion. Peppermint Mocha is seriously one of the best remedies for those colder nights that have been lingering around lately. You can find retailers on the Jackson Morgan website. If you aren't lucky enough to have it at your local store, you can now order the bottles through several online vendors listed on the product locator page. Order a few, cause they wont last long. I'm ashamed to even admit how many bottles of this I go through each month…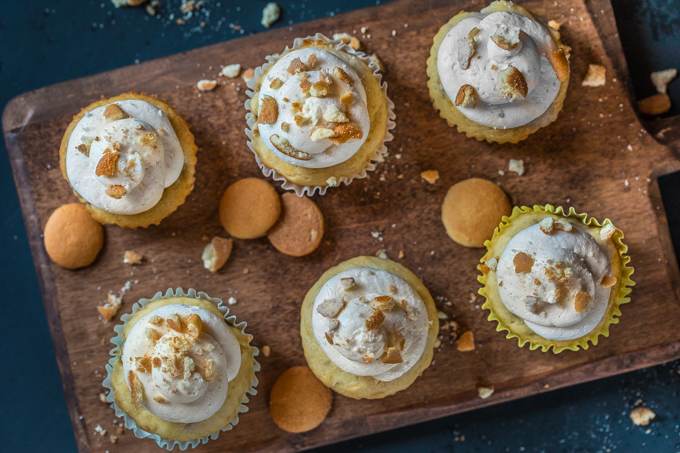 I'm doing the South proud with this one. This banana pudding is definitely meat and three worthy. — I developed this recipe using a favorite, super-moist vanilla cupcake base that everyone should know by heart. Added some chopped banana for texture, replaced the milk with whiskey cream (because, duh), and topped it all with my absolute favorite frosting recipe ever. It's an Ermine buttercream. This is the same recipe for frosting that I used on one of our most popular blog recipe to date, Blackberry Bourbon Cupcakes. It sounds kinda odd, but it uses a baker's roux as the base. Ermine, sometimes called boiled-milk frosting, was actually the original frosting for the infamous southern red velvet cake. Flour is cooked with whipped into a creamed butter mix. It creates a frosting that is absolutely memorizing in texture. It's the softest, lightest buttercream while still holding the richness from a great butter base. Trust me, y'all. You want to try this. You'll never turn back.
Bottoms up. Banana pudding with a lil booze for the win.

Banana Pudding Whiskey Cupcakes
Super-moist banana cupcake made with banana pudding whiskey cream, topped with Ermine whipped buttercream with another splash of whiskey cream. From SouthernFATTY.com.
Author:
Phillip Fryman | SouthernFATTY.com
Ingredients
Cupcakes
1 cup plus 1 tablespoon flour, AP
3 tablespoons cornstarch
½ teaspoon baking powder
½ teaspoon salt
2 eggs
½ cup sugar
1 teaspoon vanilla bean paste or extract
½ cup vegetable oil
1 banana, chopped (a little under ripe works best)
Banana Pudding Buttercream
6 tablespoons flour
1 cup milk
1 cup confectioner's sugar
1 cup butter, room temp.
1 teaspoon vanilla extract (clear works best to keep white frosting)
2 tablespoons Jackson Morgan Banana Pudding Cream Cream
vanilla wafer cookies, to finish
Instructions
Cupcakes
Sift together dry ingredients into a bowl.Set aside.
Preheat oven to 350 F.
Place eggs in mixer. Mix on medium speed until well broken up.
Add sugar and mix. Add vanilla and oil.
Add half of dry mixture and combine.
Add whiskey cream and mix completely.
Add remaining dry flour mix until mixed. Do not over-mix.
Fold in chopped banana pieces.
Fill cupcakes halfway.
Bake until golden, about 15 minutes.
Allow to cool completely before frosting.
Banana Pudding Buttercream
Combine flour and milk in saucepan over medium heat.
Whisk constantly until reduced and thick. Look for a paste-like consistency. Stop when you can see the bottom of the pan remain when stirring through mixture.
Remove and cool (ok to refrigerate with plastic wrap on top to speed up).
Cream butter and sugar 2-3 minutes until creamed and fluffy.
Add flour mixture in small batches and mix at medium-high speed until mixed thoroughly. (Highly recommend the Beater Blade. It does an amazing job incorporating and making fluffy frosting.)
Mix in vanilla extract.
Add whiskey cream and mix only until completely combined. Do not over-mix of frosting may break.
Pipe frosting on cupcakes, decorate with crushed vanilla wafers.
Enjoy! Visit SouthernFATTY.com to tell us how much you enjoyed them.
What whiskey-infused boozy baking recipes would you love to see on the blog?
Let me know in the comments below!
Disclosure: I teamed up with Jackson Morgan to create this recipe. I appreciate your support of our partnerships with the brands we love.