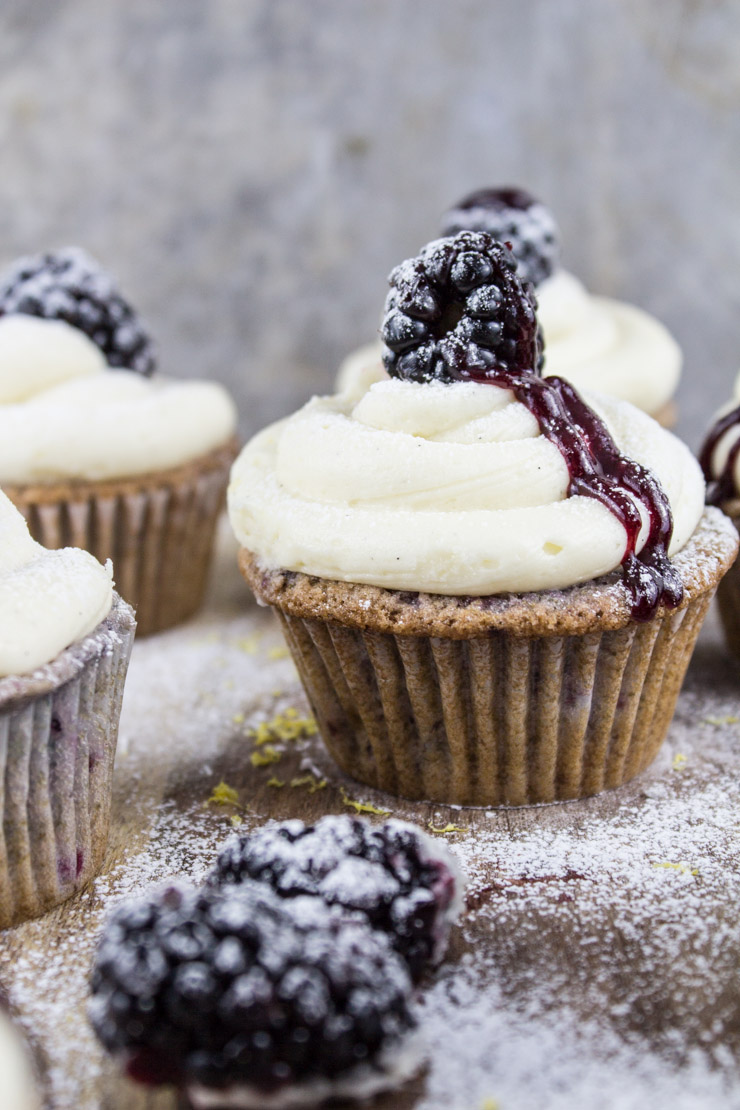 First thing first… Technically, I sorta already lied to you in the title. I feel terrible about it, of course. But, Blackberry Whiskey Cupcakes doesn't have the same glorious ring to it that Blackberry Bourbon Cupcakes does! I apologize to my fellow Nashvillian, Tennessee whiskey fanatics. BUT, these will taste just as delicious with bourbon or whiskey!  Promise. So… Now that that is out of the way– Cupcakes. Cupcakes, cupcakes
Having been a Kentucky raised, now Tennessee resident, I am all too familiar with the entire subculture that is whiskey/bourbon. I recently visited the Jack Daniel's Distillery in Lynchburg, TN. The grounds are just beautiful (definitely add to your road trip bucket list!), and only a little over an hour away from my home in Nashville. After picking up some blackberries, I had originally planned on making some simple blackberry muffins.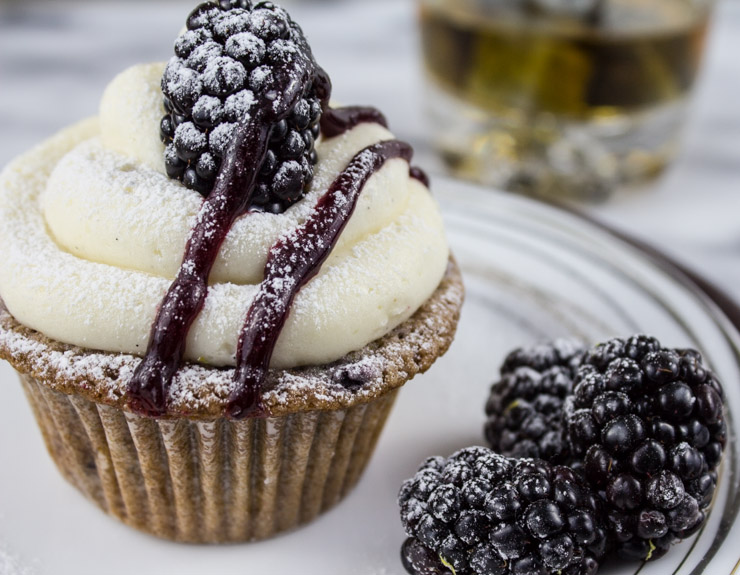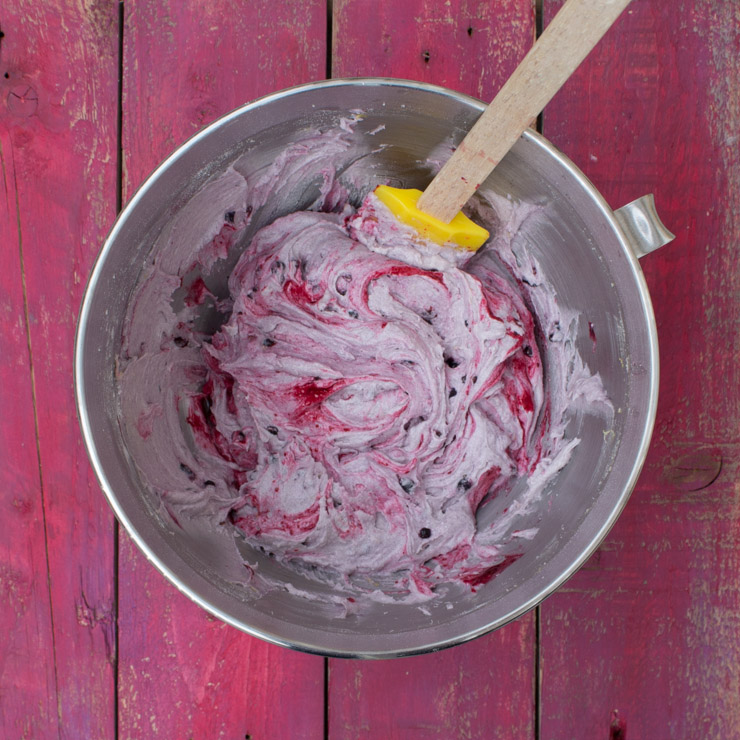 After deciding that I obviously didn't have enough sugar in my weekend, this warped into blackberry cupcakes… After which turned into blackberry bourbon cupcakes, remembering that I had a lovely bottle of Jack Daniel's Silver Select Tennessee Whiskey on my shelf that we had picked up on the way back from our last vacation. Ahhh… Vacation. Warm, sunny vacation. Perhaps adding some of this whiskey would give back a glimmer of summer heat into this miserable, freezing winter weather. Worth a try, right?!
I started with a basic cupcake base: cake flour (check out the recipe to make your own!), sugar, butter, eggs, etc. I cooked some blackberries, sugar and lemon juice/zest down to use as an addition to the cupcake base, as well as for a sweet finishing glaze. I could have just eaten a bowl of the glaze and been perfectly content! The mixture of the sweetened berries with the tart lemon to balance is the perfect combination.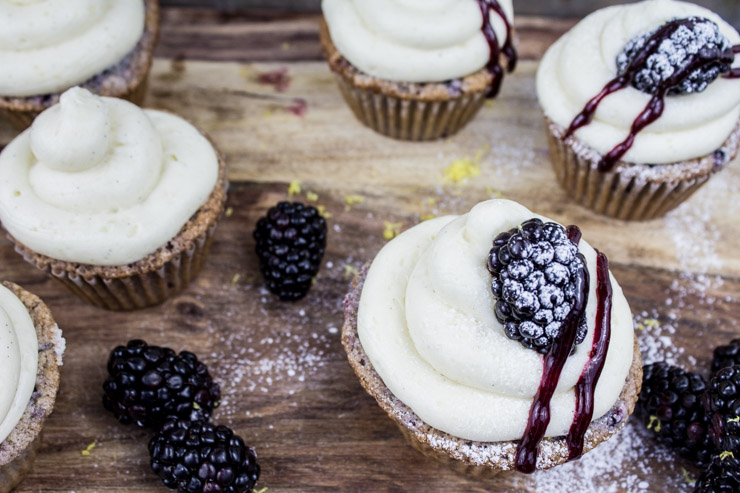 I decided that I didn't want to do an insanely sweet cupcake for these. The blackberries had such a great, deep flavor, that I didn't want to mask it all by adding a ton of overpowering sugar.
While the cupcakes were baking, I started on my frosting. Now… I am about to tell you to do something that may make you want to run away and never return to my blog again. For someone that hasn't tried this method of making frosting, it will sounds completely off-base. That said, this is probably my favorite way to make a smooth, light and fluffy frosting for confections. The end result is so velvety smooth, not too sweet, with just the right about of fluff. The road to this magical goodness is a cooked flour-based frosting. Cooked. You didn't read that incorrectly. You are going to put some flour and milk in a pan and make something that resembles a pile of that glue that you used to put on your fingers and peel off in elementary school. Ya… I know you did it.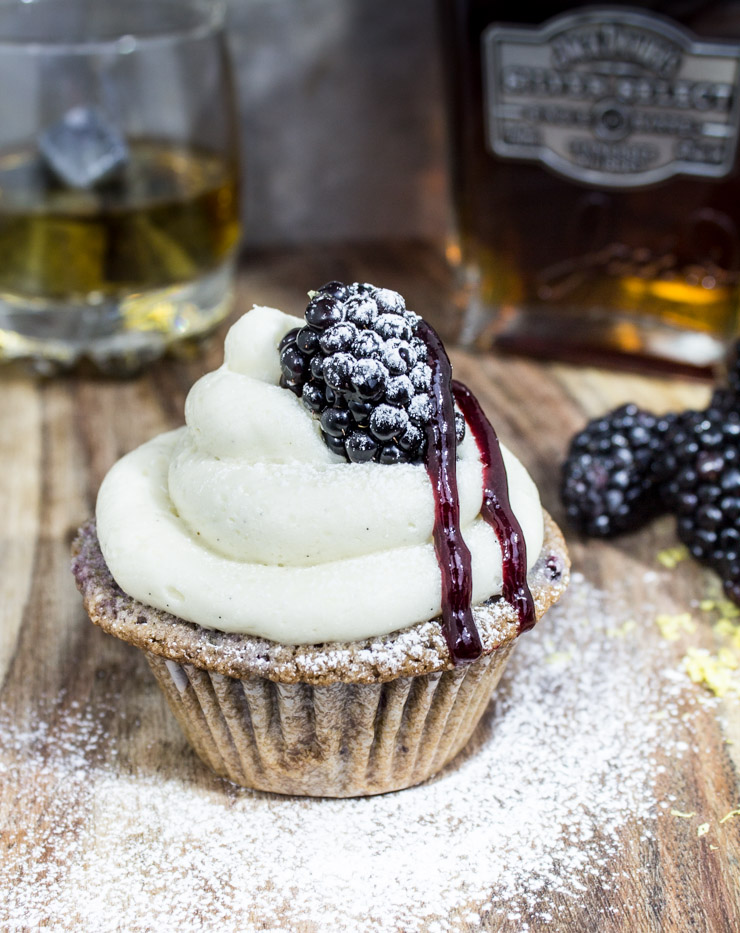 This roux, a baker's roux we'll call it, will give the frosting the perfect texture for these cupcakes. Cook the roux to a paste or thick pudding viscosity, until you see the bottom of your saucepan after stirring. Be sure you let it cool completely like the recipe instructions state. Take out your cupcakes when they are finished backing (toothpick test!) and let them cool.
Now– Since everything is cooling off, you need to test the remainder of your frosting ingredients for quality assurance. Pour a small glass or three of the bourbon (or whiskey, in my case) that you have chosen and give it a go. I'd just hate to go to all of this trouble and end up ruining it all with an untested bourbon pour! When the roux has cooled completely (stir it a bit while cooling to speed this up), make the frosting per the recipe instructions.
I opted to use our Vanilla Sugar in place of regular granulated sugar in the frosting. I also recommend a good quality vanilla extract. If you bake often, I really recommend the Beater Blade instead of a typical whisk attachment. They scrape the bowl and incorporate more air all at once. Definitely one of my kitchen essentials. It was a perfect choice! Once everything is finished, assemble and decorate your cupcakes to your little bourbon infused heart's desire!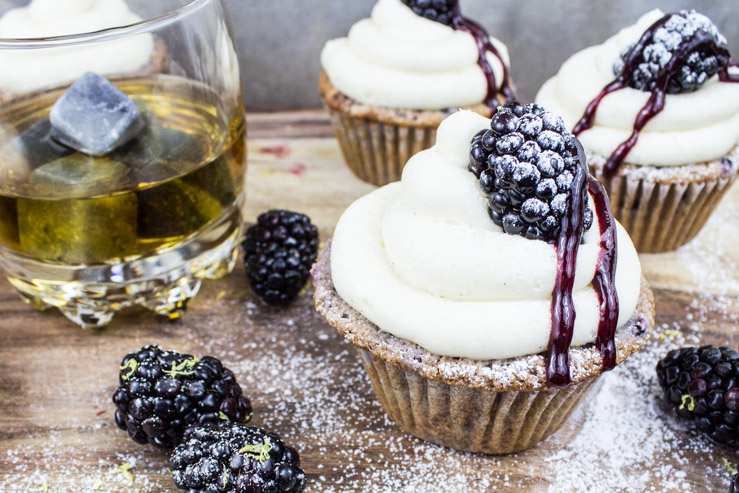 Blackberry Bourbon Cupcakes
Blackberry Bourbon Cupcakes | SouthernFATTY.com
Ingredients
Cupcake Base
2½ cups cake flour (Easily make by replacing 1 tablespoon per cup of AP flour with cornstarch, sift together several times)
1½ tablespoons baking powder
1 teaspoon salt
1 and ⅓ cups sugar
⅓ cup milk (or buttermilk)
6 eggs, whites only
12 tablespoons butter, unsalted - room temp.
Blackberry Glaze/Puree
blackberries, 12 ounces
½ to 1 cup sugar, adjust by personal taste
½ lemon, juice and zest
Vanilla Bean Bourbon Frosting (Frosts 24 cupcakes, lightly)
6 tablespoons flour
1 cup milk
1 cup vanilla sugar, fine/caster (granulated sugar in food processor until more fine)_
1 cup butter
1 teaspoon vanilla extract (clear works best) (Use good brand. Like Rodelle)
1 vanilla bean (alternatively add additional 1 teaspoon vanilla extract if omitting bean pulp)
2 tablespoons bourbon or whiskey
Instructions
Cupcakes
If you do not have cake flour, make it! For every 1 cup all-purpose flour, remove one tablespoon flour and replace with one tablespoon cornstarch. Sift together very well, several times.
Preheat oven to 375 F.
Combine dry ingredients: cake flour, salt, baking powder. Sift well and set aside.
Place butter and sugar in mixer. Mix on medium speed for 2-3 minutes until combined and smooth, fluffy.
Mix egg whites and milk in bowl. Whisk until combined. Set aside.
Slowly mixing butter/sugar combination in mixer, add ⅓ of the dry ingredients that were sifted together.
Slowly add milk/egg mixture in 2-3 batches. Ensure mixed well before adding more.
Add remaining dry ingredients and mix until combined. Scrape bowl sides and mix for a few more seconds.
Fold in part of the blackberry glaze (below). I prefer to not mix this very well, leaving patches of puree in mix.
Fill cupcake liners with mixture (halfway).
Bake 15-20 minutes. Check for toothpick to come out clean.
Remove and let cool completely.
Blackberry Glaze / Puree
Mix blackberries, sugar and lemon juice and zest in small saucepan. Heat over medium heat until berries start to burst. Remove from heat and cool.
Push mixture through strainer/sieve with spatula to remove seeds.
Vanilla Bean Frosting
Combine flour and milk in saucepan over medium heat.
Stir constantly until reduced and thick. Look for a paste-like consistency. Stop when you can see the bottom of the pan remain when stirring through mixture.
Remove and cool (ok to refrigerate and stir to speed up).
Cream butter and vanilla sugar 2-3 minutes until creamed and fluffy.
Add flour mixture and mix at medium/medium-high speed until mixed thoroughly. _(Highly recommend the beater blade. It does an amazing job incorporating air and making fluffy frosting.)
Mix in vanilla extract and bourbon/whiskey.
Pipe frosting on cupcakes, decorate with additional blackberry glaze and whole blackberry.
Enjoy! Visit SouthernFATTY.com to tell us how you made them your own!
Notes
Blackberry Bourbon Cupcakes | SouthernFATTY.com
Did you make these and just have to tell the world how amazing they were? Leave a note below!