Banana Pudding Whiskey Cupcakes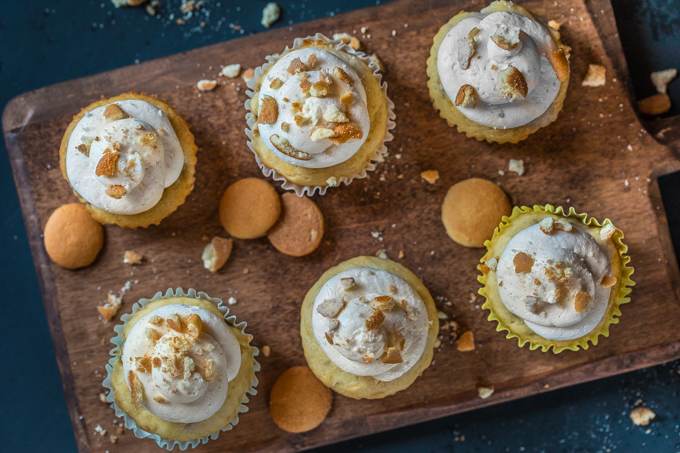 Author:
Phillip Fryman | SouthernFATTY.com
1 cup plus 1 tablespoon flour, AP
3 tablespoons cornstarch
½ teaspoon baking powder
½ teaspoon salt
2 eggs
½ cup sugar
1 teaspoon vanilla bean paste or extract
½ cup vegetable oil
1 banana, chopped (a little under ripe works best)
6 tablespoons flour
1 cup milk
1 cup confectioner's sugar
1 cup butter, room temp.
1 teaspoon vanilla extract (clear works best to keep white frosting)
2 tablespoons Jackson Morgan Banana Pudding Cream Cream
vanilla wafer cookies, to finish
Sift together dry ingredients into a bowl.Set aside.
Preheat oven to 350 F.
Place eggs in mixer. Mix on medium speed until well broken up.
Add sugar and mix. Add vanilla and oil.
Add half of dry mixture and combine.
Add whiskey cream and mix completely.
Add remaining dry flour mix until mixed. Do not over-mix.
Fold in chopped banana pieces.
Fill cupcakes halfway.
Bake until golden, about 15 minutes.
Allow to cool completely before frosting.
Combine flour and milk in saucepan over medium heat.
Whisk constantly until reduced and thick. Look for a paste-like consistency. Stop when you can see the bottom of the pan remain when stirring through mixture.
Remove and cool (ok to refrigerate with plastic wrap on top to speed up).
Cream butter and sugar 2-3 minutes until creamed and fluffy.
Add flour mixture in small batches and mix at medium-high speed until mixed thoroughly. (Highly recommend the Beater Blade. It does an amazing job incorporating and making fluffy frosting.)
Mix in vanilla extract.
Add whiskey cream and mix only until completely combined. Do not over-mix of frosting may break.
Pipe frosting on cupcakes, decorate with crushed vanilla wafers.
Enjoy! Visit SouthernFATTY.com to tell us how much you enjoyed them.
Recipe by
Southern FATTY
at https://www.southernfatty.com/banana-pudding-whiskey-cupcakes/