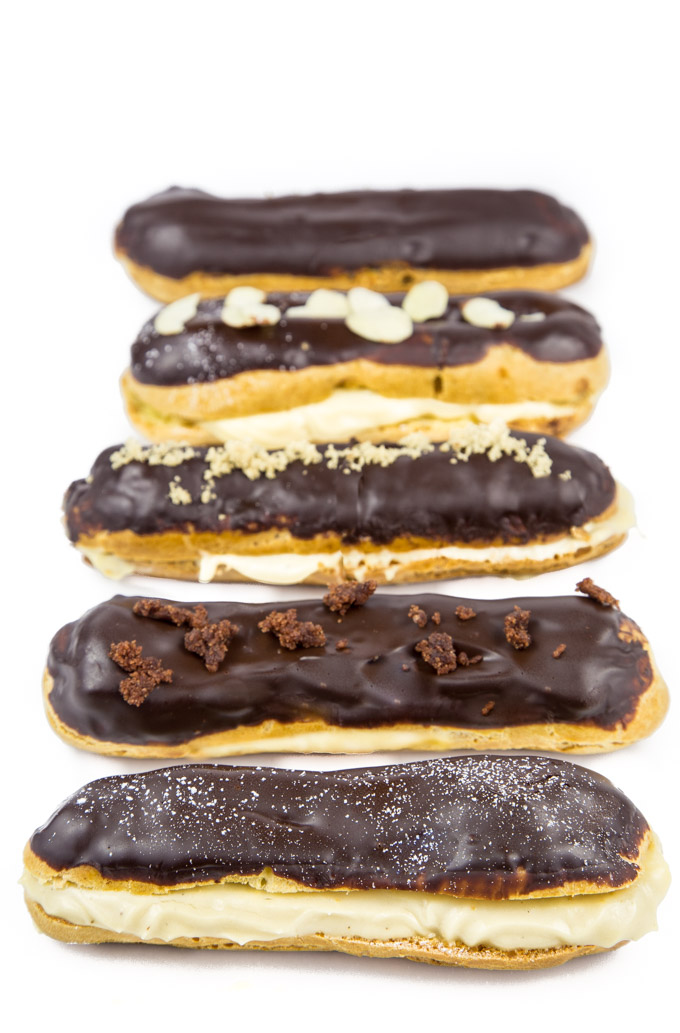 Chocolate and eclairs go together like…. well… whiskey and Nashville. Luckily, you aren't going to have to choose one or the other for this treat. You can have your eclair and drink a little bit, too! *happy dance*
We're teaming up with a Southern favorite of mine, Jackson Morgan Southern Cream, to infuse a little bit o' Southern charm into a deliciously simple pastry cream filling for a chocolate dipped, crisp éclair.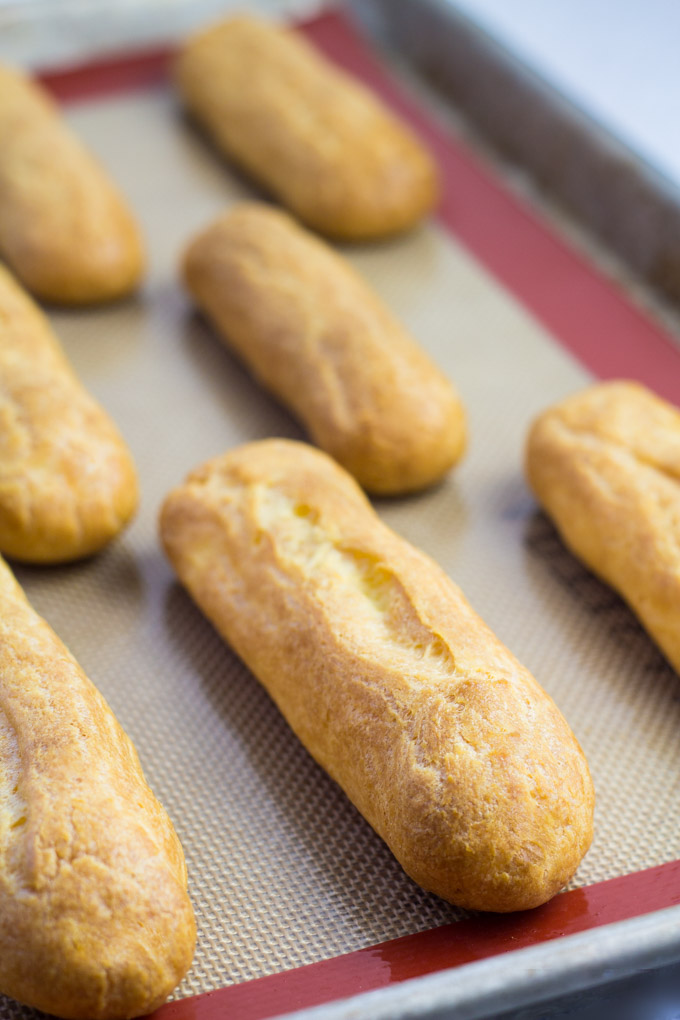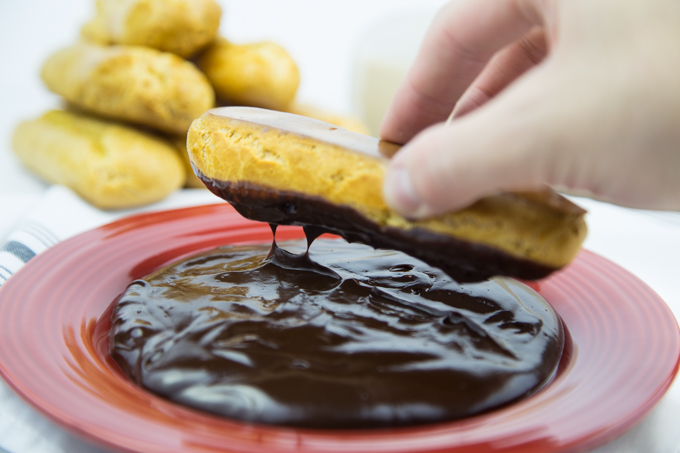 A good éclair is something that every home cook should master. Pâte à choux is back for another glorious visit (pronounced paht-ah-shoe — Bless you). We've discussed the technique before choux-based pastry a bit before. Making this twice-cooked dough for the base of these popular desserts opens up a whole world of possibilities. Cream puffs, beignets, crullers, savory gougères, croquembouche, and now éclairs. All from the same base recipe.
As an added bonus, the dough recipe is a simple 1:1:1:1 ratio. You don't even need a recipe (or blog) to look at, really. BUT…. don't run off just yet. You're gonna need to fill these babies.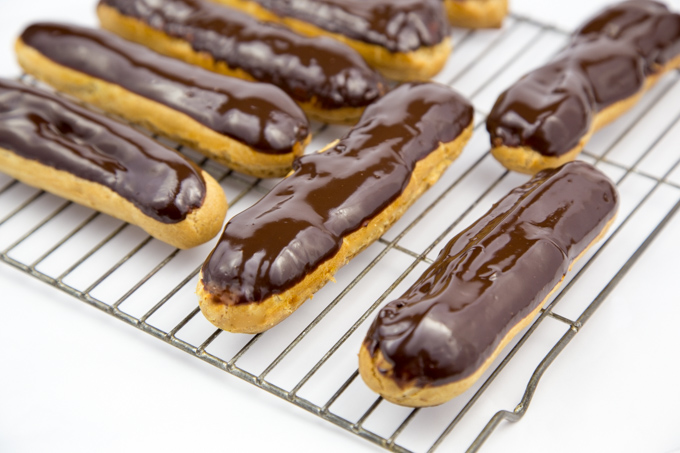 A serious éclair should be quite crisp on the outside, dark golden in color, and totally and completely hollow. The perfect vehicle for our boozy patisserie filling.
A traditional pastry cream is a custard-like filling thats amazingly versatile. You can add a splash of vanilla, maybe some caramel, chocolate.. if you are one of those types, or… if you are Southern, whiskey. Y'all heard me. Whiskey pastry cream.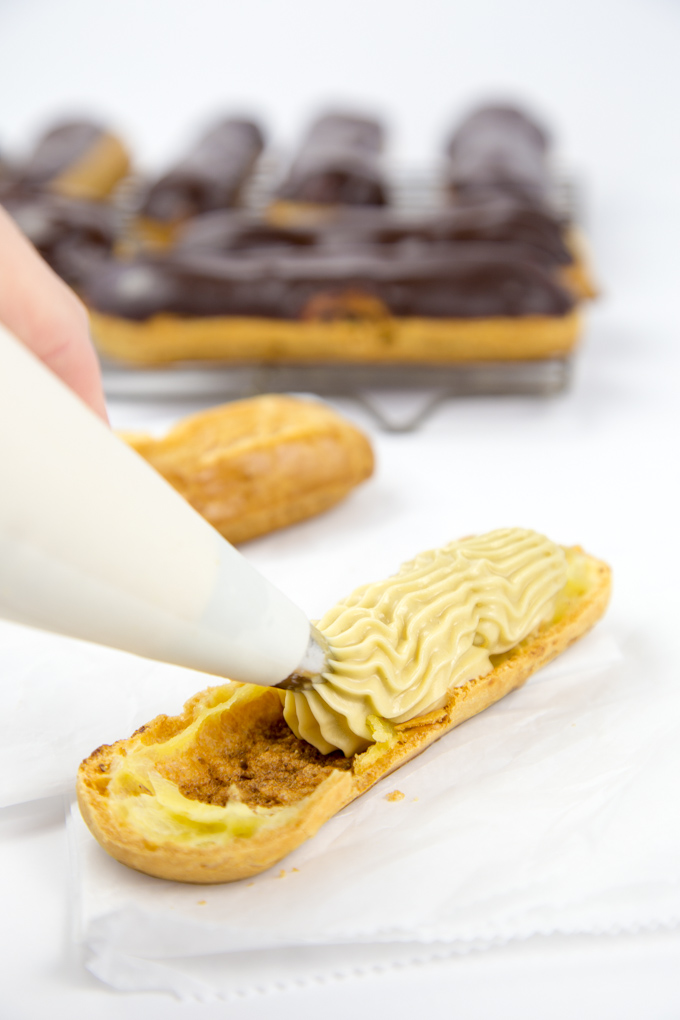 Since it's holiday time and you can't just get away with any old thang, we are going to use a Brown Sugar Cinnamon whiskey cream. YUUUP! I'll just go ahead and give you a moment to soak that in (while I may go eat one or two of these pastries…brb).
Jackson Morgan is a Tennessee-based company with their home in the countryside just between Nashville and Chattanooga. They specialize in local Southern Cream whiskey blends with flavors like Brown Sugar Cinnamon, Salted Caramel, Peppermint Mocha (Helllloooo, Christmas cocktails!), Peaches & Cream, Whipped Orange Cream, and (get ready for it…) Southern. Bread. Pudding. *faints since life is now complete*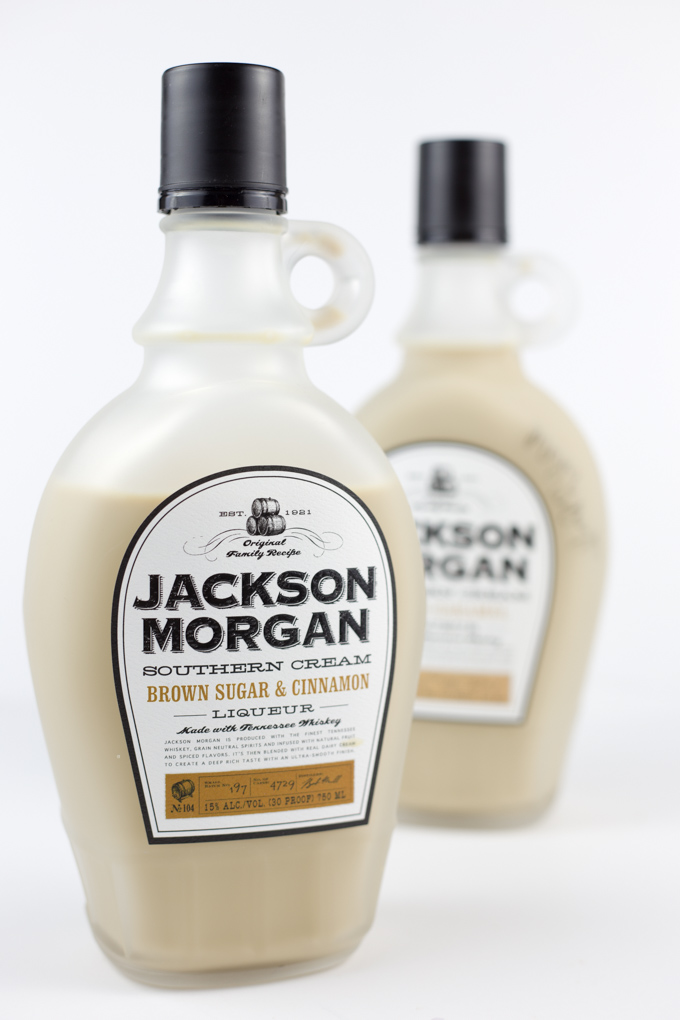 These unique flavors have been a blast to bake with. I've heard baking is even better with a splash of chilled cream on the side. Not that I would know anything about all that…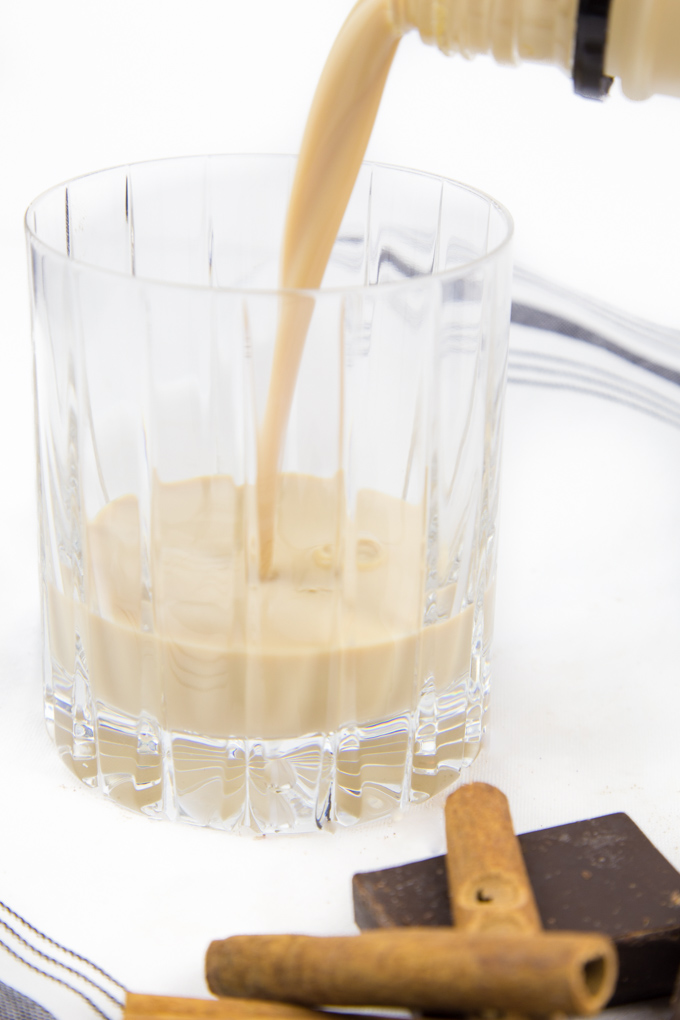 These liqueurs are incredibly smooth, with the perfect punch of pure flavor. They don't taste like flavored syrups, but taste like quality cream with a splash of that backwoods 'shine and bit of sweetness. Probably my favorite boozy baking addition that I have worked with this year. Seriously. (And there have been a couple few ton of those.)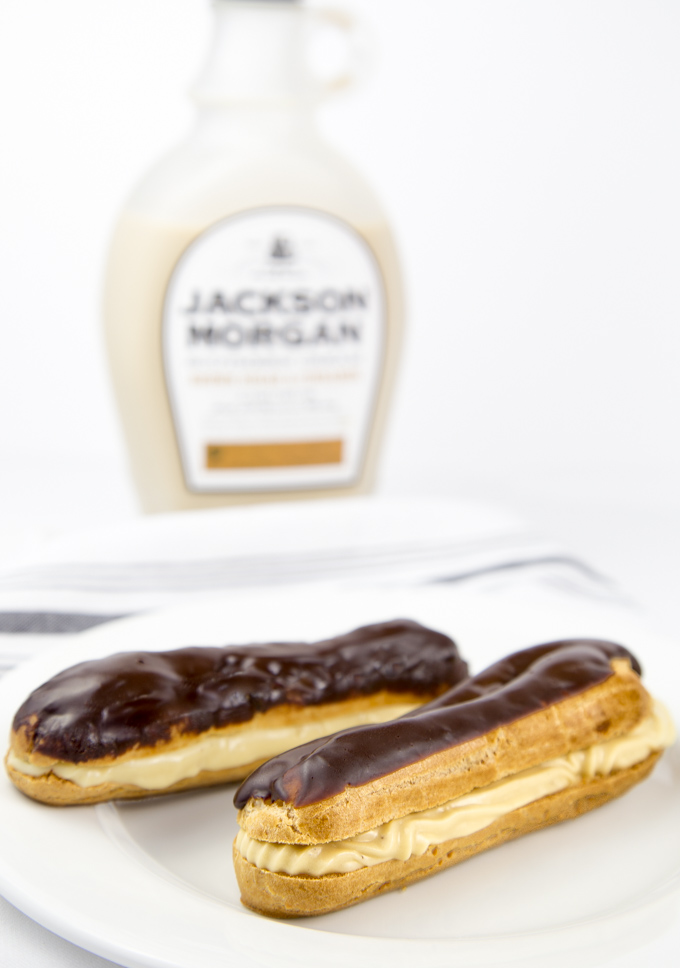 Breakfast? Éclair. Snack before dinner? Éclair. Dessert after dinner? Éclair. Dessert after dessert? Éclair. An excuse to eat your whiskey? Éclair. See where I'm going here? I thought so.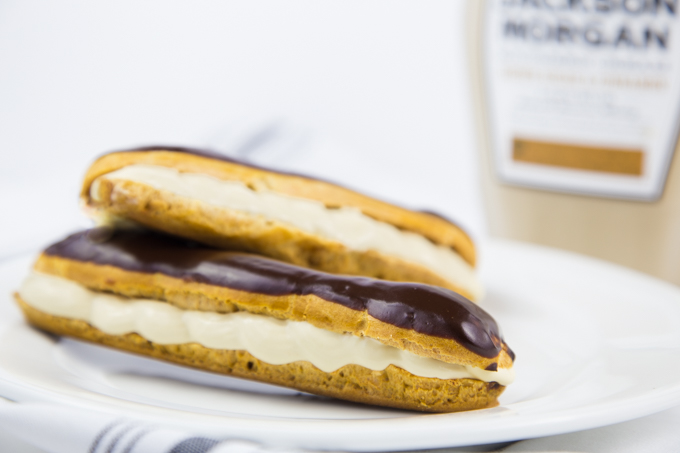 Top these lovelies with just about anything you feel like. Some of our cinnamon chips, extra brown sugar, toasted almond slices, or just a glass of chilled cream on the side. All totally acceptable for a delicious delight.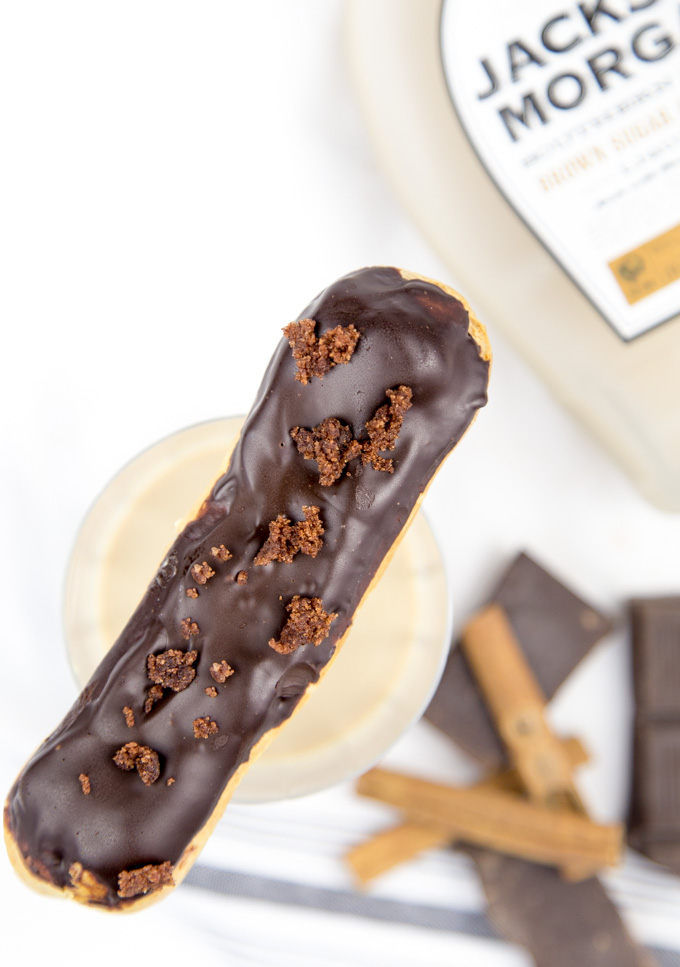 I accept thank you notes (filled with cash money and cookies). You are going to LOVE these, y'all. Go sip and be social!
Brown Sugar Cinnamon Whiskey Cream Eclairs
A boozy twist on the classic chocolate dipped éclair. Brown Sugar Cinnamon Whiskey Pastry Cream, using Jackson Morgan Southern Cream, for a perfect party favorite or solo dessert. -- From SouthernFATTY.com
Author:
Phillip | SouthernFATTY.com
Ingredients
Choux Pastry (Éclair Base)
1 cup water
1 stick butter (113g or 8 tablespoons) butter, unsalted
1 pinch salt
1 cup flour (AP works, or mix 50/50 bread/AP)
1 cup eggs (about 4 large)
1-2 eggs with a splash of milk, for egg wash
Whiskey Pastry Cream
½ cup milk, whole
3 egg (54g) yolks
¼ cup (50g) sugar, white granulated
3 tablespoons (23g) flour
Chocolate Ganache Glaze
8 ounces good chocolate (I prefer 60% cacao for this, but choose by personal preference), chopped
¾ cup heavy cream
pinch salt
Instructions
Éclairs
Pre-heat oven to 375 F / 190 C.
In a medium heavy-bottomed saucepan (for best results, don't use a non-stick coated), heat water, butter and salt over medium heat.
While heating, measure out flour and eggs.
Once the water/butter mix reaches a slight boil, remove from the heat (leave the burner on) and dump all of the flour into the mix at once.
Stir quickly with a wooden spoon.
Return to the heat and stir CONTINUOUSLY. You will start to see the dough pull away from the pan after a few minutes. Keep stirring vigorously, cooking for 2 minutes.
You should be left with a slight film on the bottom of the pan. Remove the pan from the heat.
Transfer the dough to a mixer with a paddle attachment. I prefer a Beater Blade type paddle for this.
With the mixer on low-medium speed (about a 4 on a KitchenAid), add one egg at a time from the cup o' eggs that you have ready.
Do not add another egg until the one you have just added is completely incorporated.
Continue to mix until eggs are mixed well and dough is glossy and smooth. It will remain somewhat thick for piping. The dough should ribbon when it falls back on itself when finished.
Transfer to a piping bag with an open or large tip. Alternatively, you can use a large star tip to cut down on possibly cracks, which allows the dough to expand easily.
Prepare a baking sheet with parchment or a silicone baking mat (my top choice).
Pipe long, thin éclairs on the baking sheet. Press down any points on the end with a damp finger.
Beat egg wash together well and brush on top carefully with a pastry brush. Try to avoid egg on the baking sheet.
Optionally, mist the tops of the eclairs with water. This will help with ensuring they puff well.
Bake for about 25 minutes, or until golden brown. Do NOT open the oven until you are sure they are golden and set in shape.
When golden, prop oven door very slightly with a wooden spoon and lower temperature to 325.
Cook for an additional 20-25 minutes to dry the puffs out. You can also just turn the oven off after about 20 minutes and allow the éclairs to finish and cool in the oven before removing. This is my preferred method if time permits.
While cooling, prepare the pastry cream filling:
Whiskey Pastry Cream
Combine egg yolks and sugar in a bowl and whisk until light, fluffy, smooth.
Add flour to egg mixture and whisk well to combine. Set aside.
In a clean medium saucepan, combine milk and Jackson Morgan Southern Cream.
Bring milk and cream to a boil and remove from heat.
Whisking while adding, stream about ¼ cup of the hot milk/cream mixture into the egg mix.
Place milk/cream back on medium heat and slowly add all of the tempered egg mix, continuing to mix throughout.
Bring mixture to a slow boil, stirring and cooking for an additional 2-3 minutes to thicken.
Remove to a bowl and cover with wrap, pressing down directly on top of the cream to prevent a film from forming. Chill well before using (preferably a couple hours).
Finishing
When ready to serve éclairs, fill shell with piping bag or cut in half and pipe directly inside.
Heat ganache cream in a small saucepan until simmering.
Pour cream over chocolate and allow to sit for 2 minutes. Stir after 2 minutes until very smooth and glossy.
Dip the tops of the éclairs and let rest to harden ganache slightly.
Top with anything you want! I used cinnamon chips from our strawberry scones and extra raw brown sugar. Almonds are great as well.
Serve with a chilled glass of Jackson Morgan Southern Cream! #SipAndBeSocial, y'all.
Enjoy-- More recipes on SouthernFATTY.com
Notes
2015 - SouthernFATTY.com
Be sure to check out Jackson Morgan Southern Cream for the full fill on the delicious flavors and places to pick it up to try for yourself!
Disclosure: Jackson Morgan has partnered with us to make this post possible. Everything I've said here is absolutely my own opinion. Thanks for supporting the brands that we find to be a good fit for our wonderful community!