Buttery rich French madeleines dipped in white chocolate with a sprinkle of festive peppermint candy cane pieces. Perfect morning or afternoon bite-sized perks with coffee or tea. Made simply with butter, flour, sugar, and eggs.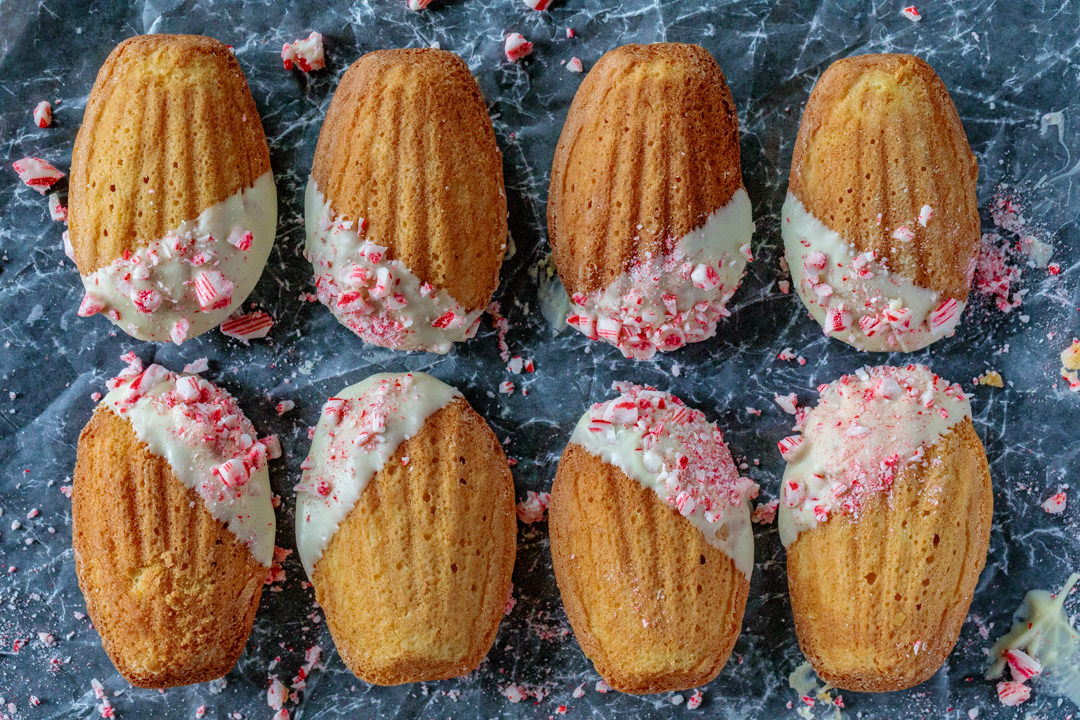 One of my favorite memories from visiting Paris was picking a random arrondissement in the morning and walking around. You could pop into just about any café and get a coffee and small bite. Obviously, with the sweet tooth that I have, I opted for pastry instead of something savory. One of my favorites were the petites madeleines. These small butter-based cakes are baked in a shell-like mold with a traditional hump on the back.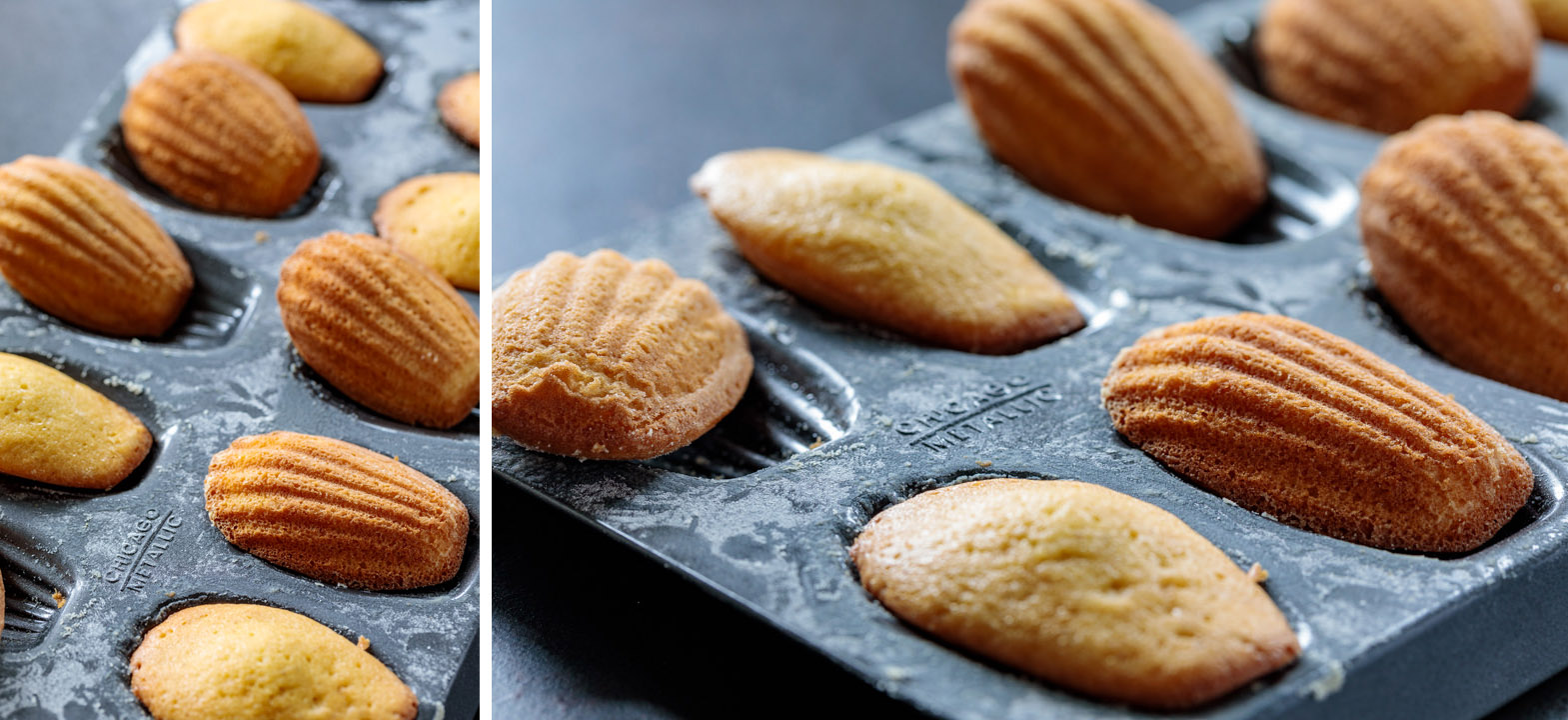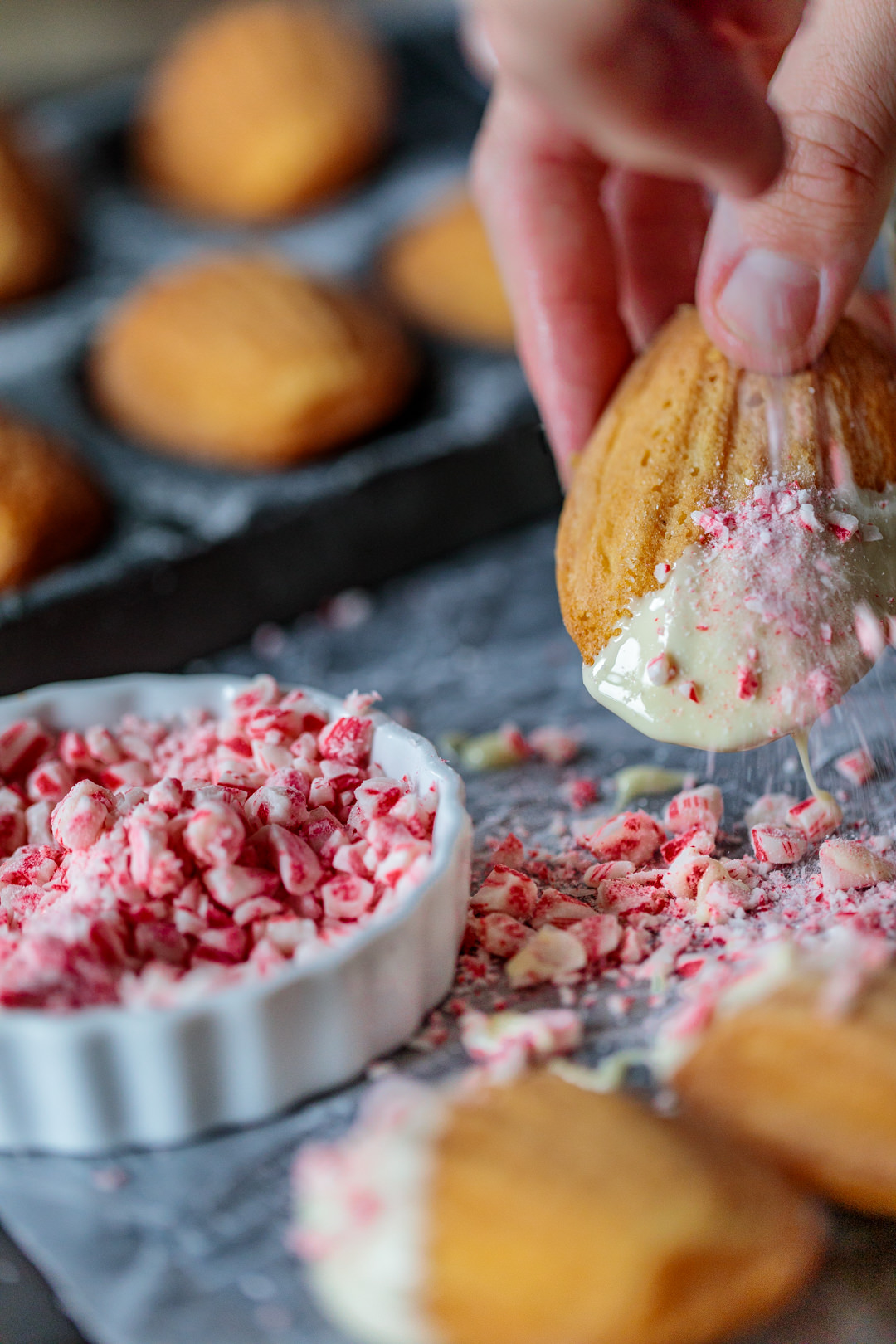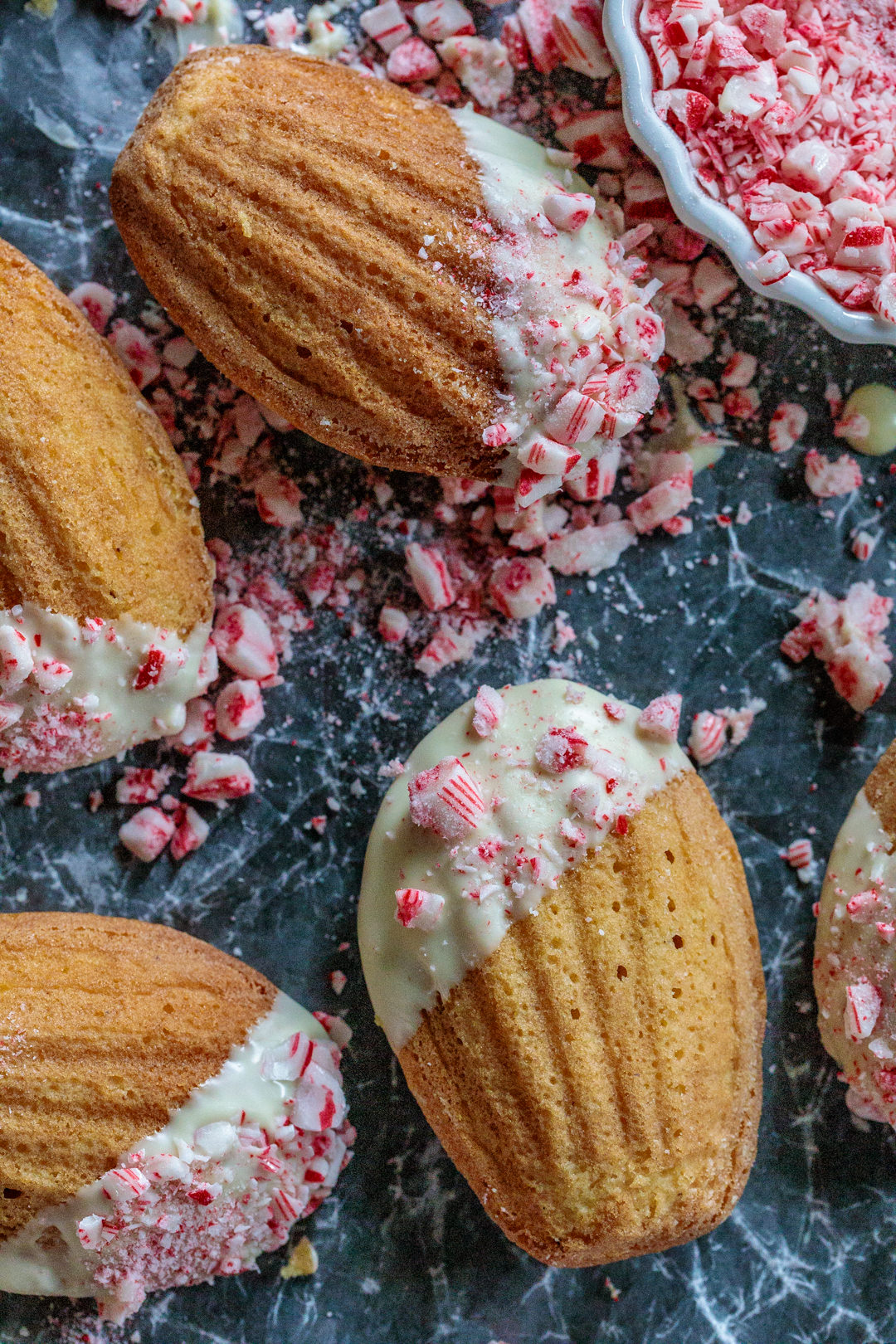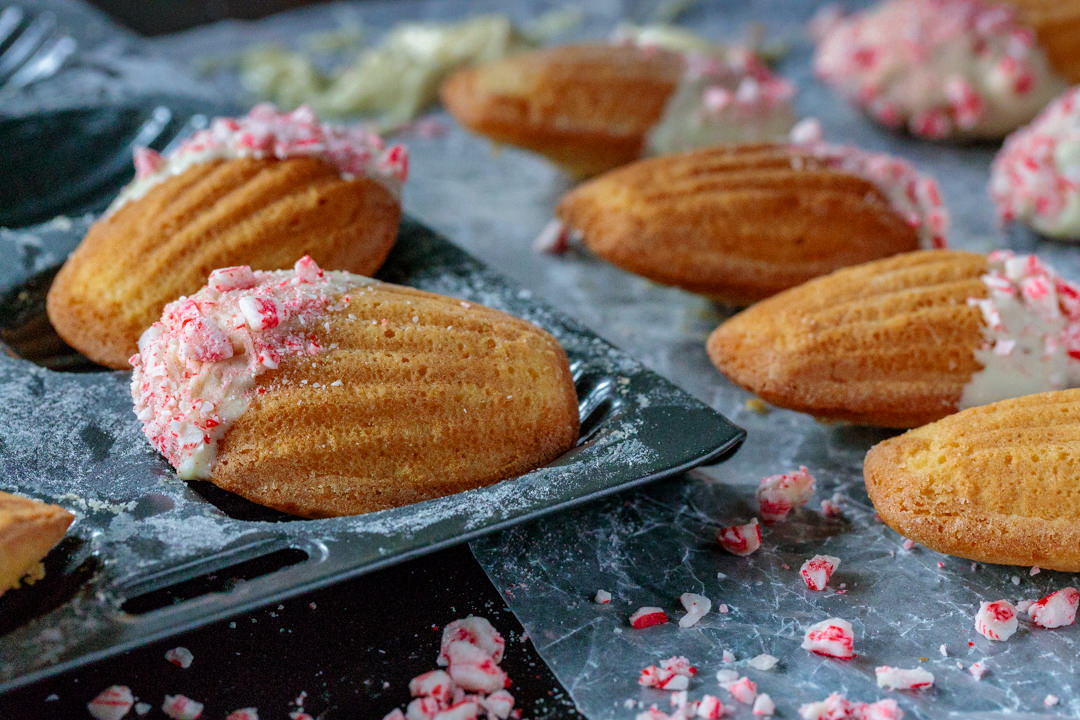 Often served with afternoon tea, these tiny cakes have been around for ages and are argued to be France's national dessert. Making madeleines is quite simple. A few of the basics, a pinch of lemon zest (don't trust a madeleine recipe that doesn't have it), and you're on your way. They are a wonderful palate for plenty of creative choices.
There are a few tricks that I have learned to give you the best traditional madeleine cakes. You'll find some steps in the recipe that require some resting and specific cooling for the pan, etc. They are somewhat optional, as you will get a wonderful result without them. If you have the time and patience, I would recommend giving those extra steps a try. They take the simple sweet over the top to end with a beautiful finish.
Happy holidays, y'all!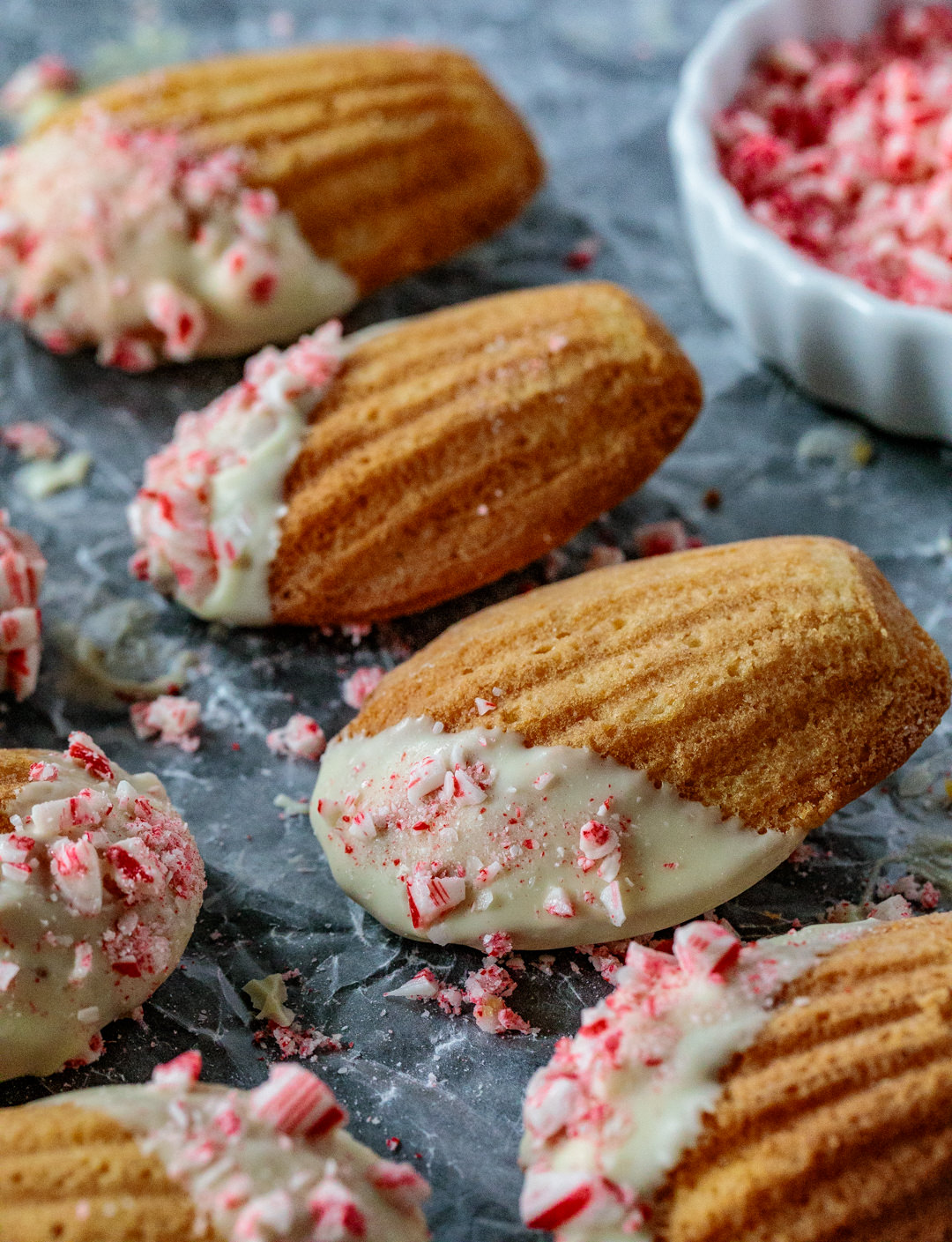 Find the French Madeleine baking sheet pan that I used on Amazon here.
White Chocolate Peppermint Madeleines
Buttery rich French madeleines dipped in white chocolate with a sprinkle of festive peppermint candy cane pieces. Perfect morning or afternoon bite-sized perks with coffee or tea. -- From SouthernFatyt.com.
Author:
Phillip Fryman | SouthernFATTY.com
Ingredients
Cakes
7 tablespoons (100g) butter, unsalted
2 ea (100g) eggs
2 teaspoons honey
100 g sugar
1 teaspoon (5g) lemon zest
¼ tsp (2g) salt
1 cup (100g) flour, all-purpose
½ tsp (2g) baking powder
Finishing
½ cup (125g) white chocolate
¼ cup (50g) peppermint pieces, crushed
Other
1 tablespoon (14g) butter, melted
¼ cup (25g) flour, all-purpose
Instructions
Prepare pan
For the classic madeleines, you will need the correct baking sheet. I use THIS one and have had great results.
Brush melted butter (from Other section) into the creases of the shell molds of the baking sheet molds.
Sprinkle the flour (from Other section) over the molds. I prefer to do this with a small sifter to coat completely.
Turn pan on its side over a sink and tap gently to rid the pan of excess flour. You should be left with an even coating of flour in the molds.
Place floured pan in the freezer until ready to bake.
Cakes
In a small saucepan, place the butter over medium to slightly higher heat.
Heat while stirring until butter starts to 'spit'. Continue to heat.
Once boiling, reduce heat to below medium. Do not remove your attention from the butter, as it will burn quickly.
Heat and stir until you have a golden color, slightly dark golden.
Remove immediately and pour the browned butter into a heat-safe bowl to cool.
In a separate bowl, quickly whisk the eggs, sugar, honey, and lemon zest until light and slightly fluffy, about 2-3 minutes.
Whisk dry flour, salt, and baking powder in separate bowl.
Add the egg mixture to the butter and whisk until combined completely.
Add the dry ingredients to the mix and fold it in gently. Do not over-mix, but combine fully.
Transfer mixture to a container. Seal with lid or plastic wrap. Chill mixture for at least 30 minutes, ideally several hours for best result.
When ready to bake, heat oven to 350 F.
Remove mold from freezer. Place tablespoons of batter into each. Do not overfill and don't worry about the batter shape. It will melt into the mold fully.
Do this quickly and immediately place in the center rack of the oven.
Bake for 15 minutes until the edges are dark golden and the tops are slightly lighter golden.
Remove and tap the pan to slide the cakes from the molds.
When fully cooled, dip cakes in melted chocolate and sprinkle peppermint pieces.
Enjoy!
Find more recipes on SouthernFatty.com.