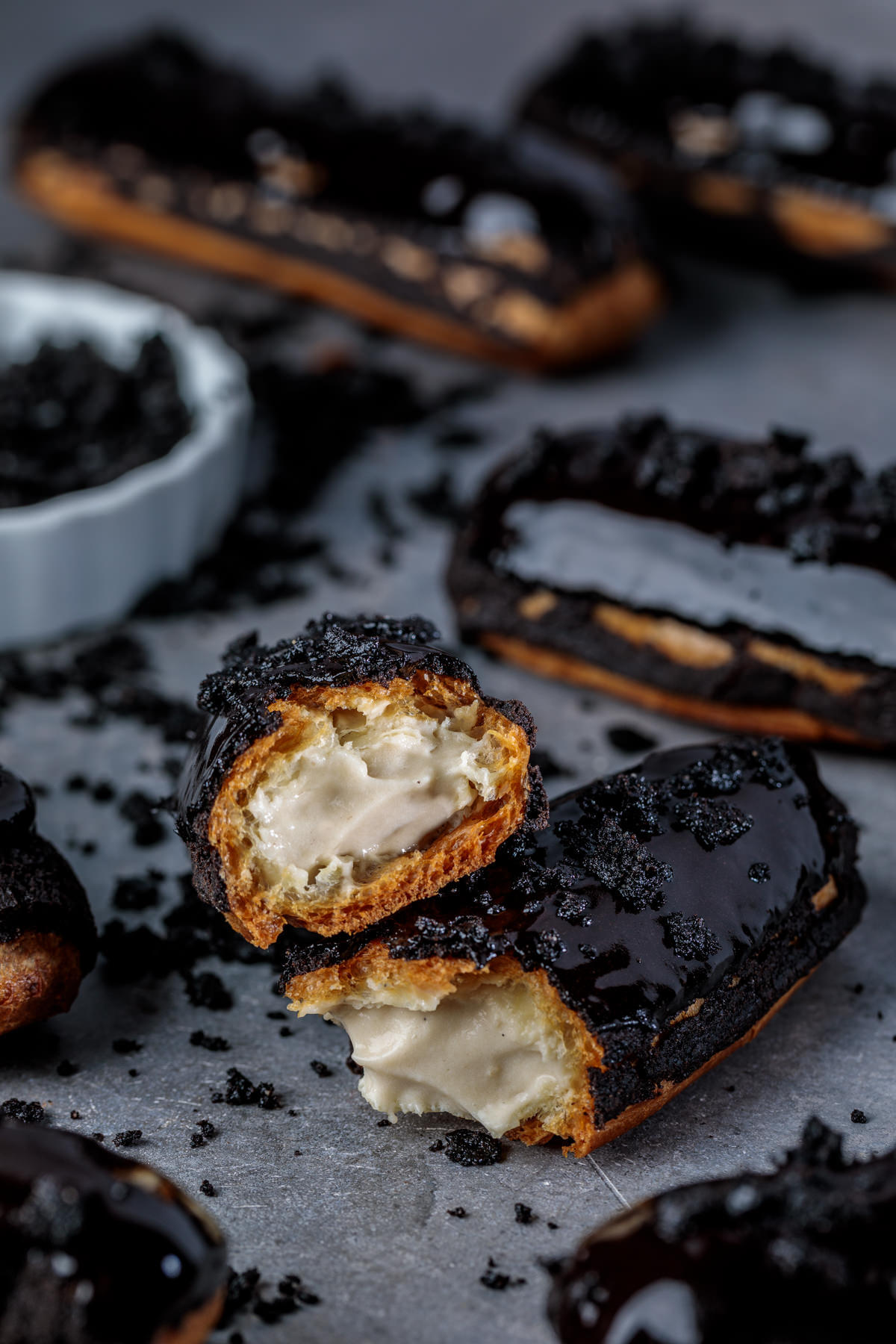 Happy New Year, y'all!  (I can still say that, right? Ehhh…. Maybe pushing it a bit.) — I took a bit of a much-needed blog breather during the holidays this season. December is usually blog-central, with more traffic coming in for one month than a few regular months combined. I am usually trying to post plenty of new content to keep things fresh, but just decided to let it all roll this time. It was a great time to see friends and focus on some upcoming projects that I've been procrastinating on.
With that said, 2019 is going to be a year of pastry for me. Oh, wait. That's pretty much every year, isn't it? I'm not mad about it. These triple chocolate éclair threats are stuffed with a roasted chestnut pastry cream that has all of the winter feels in every bite.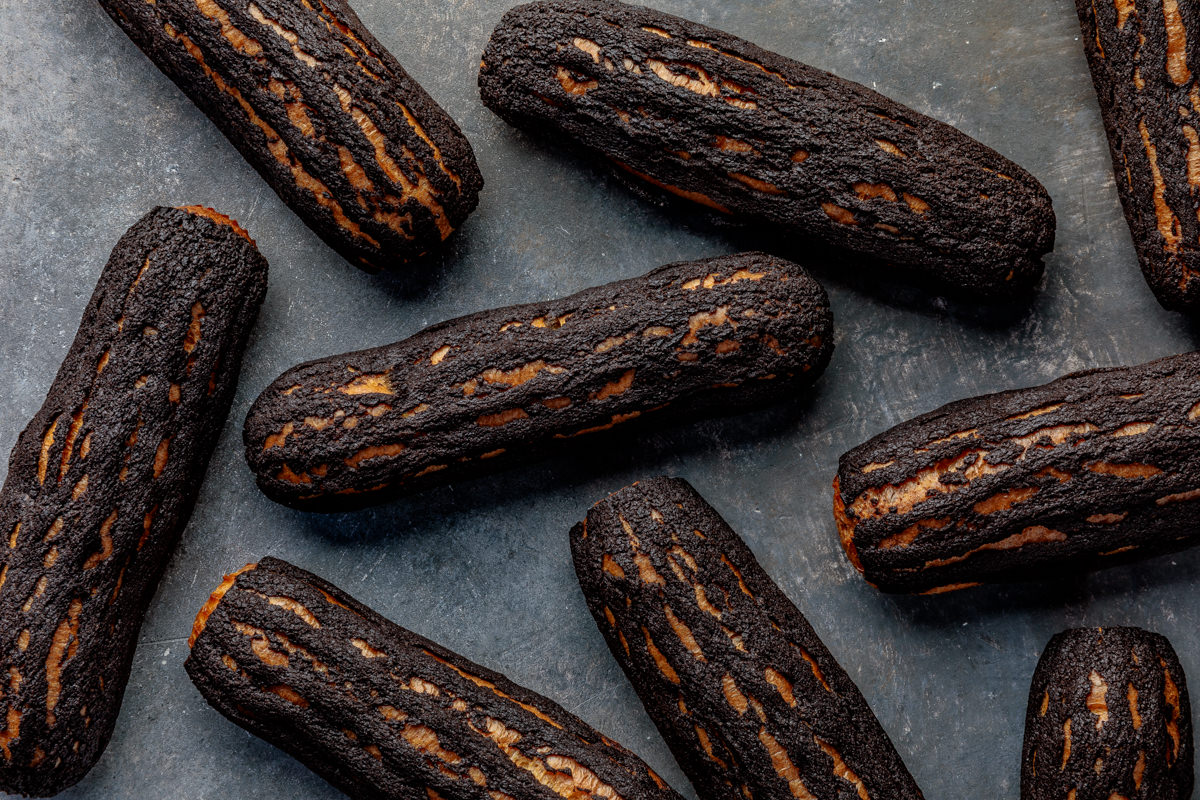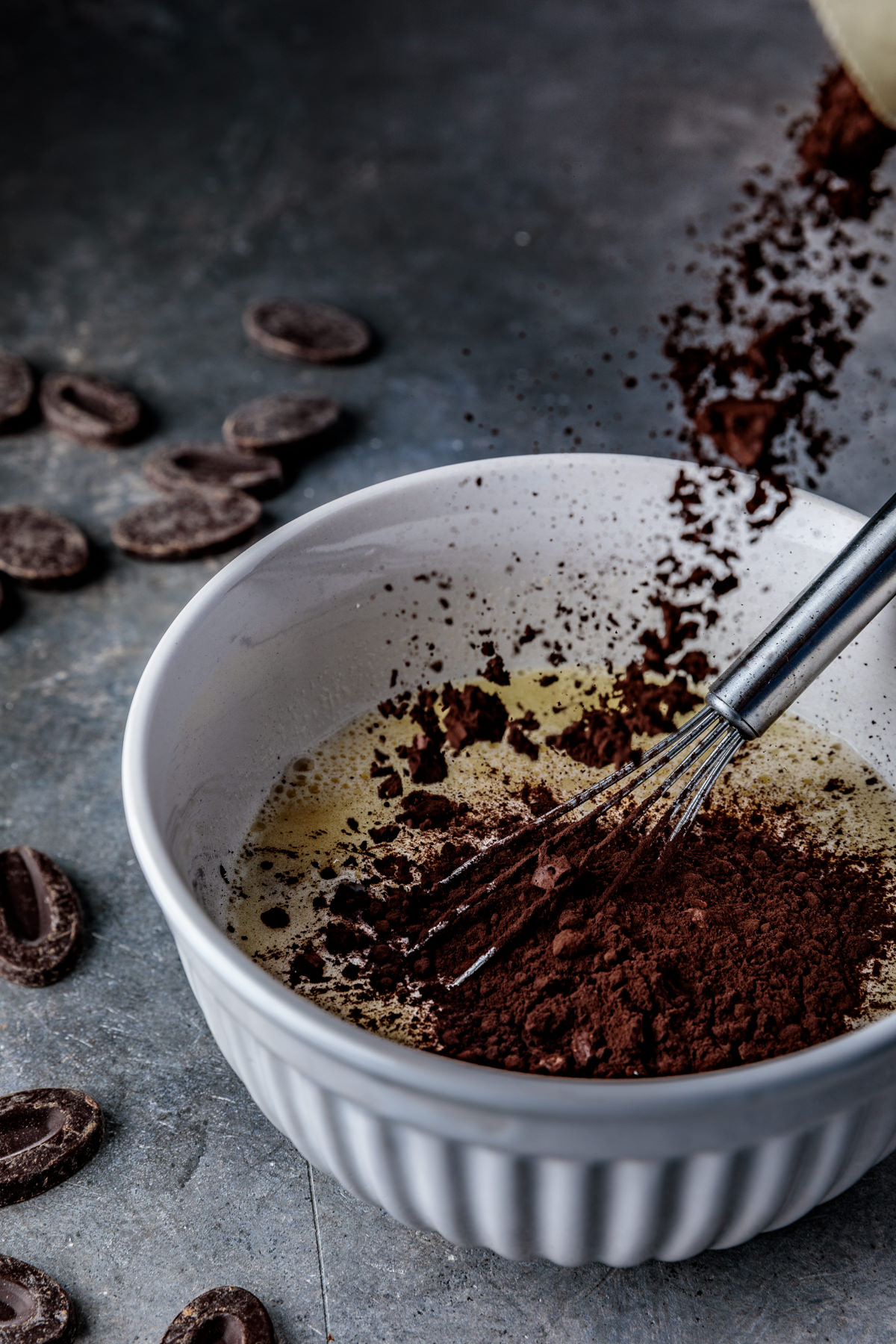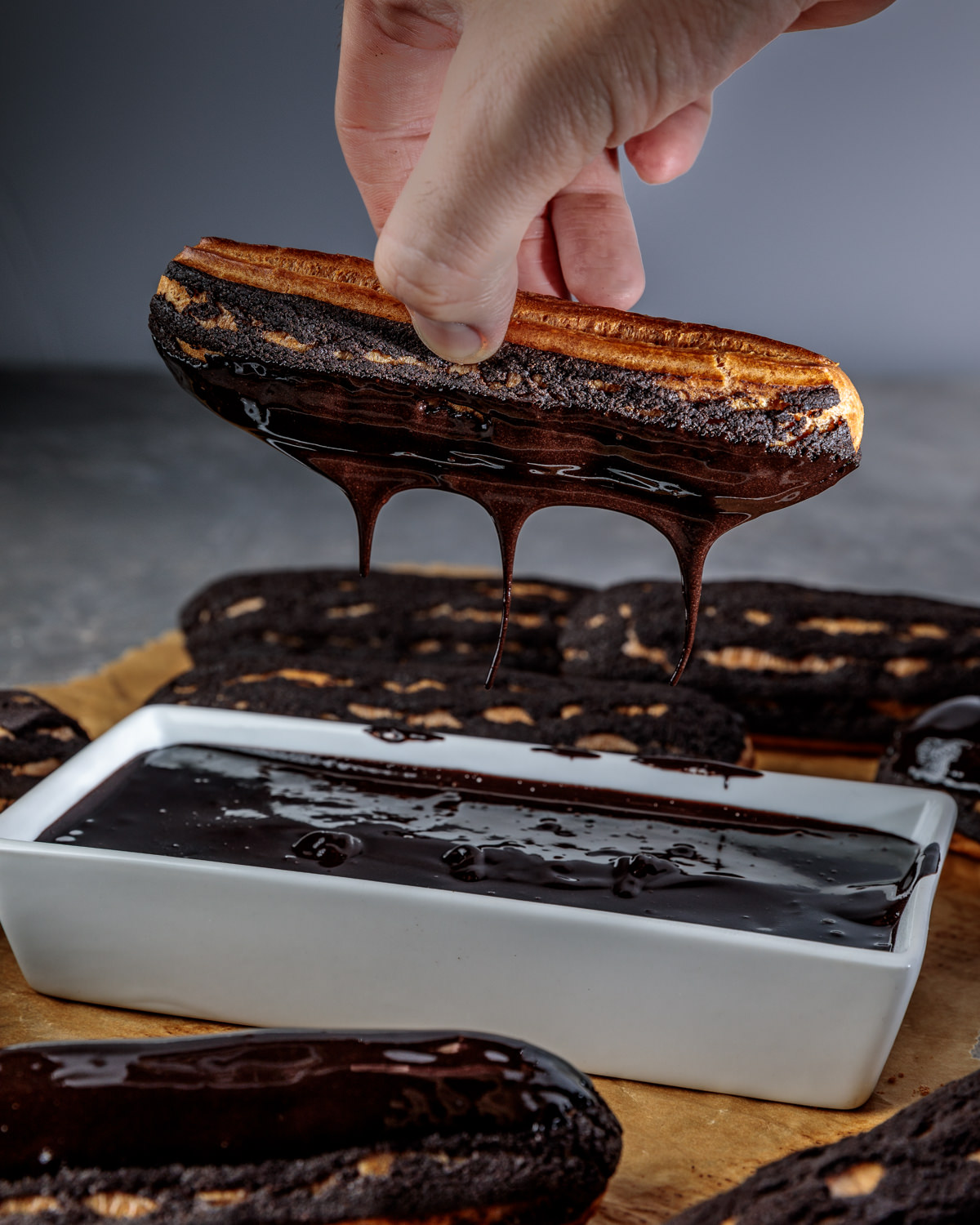 Over the break, I found myself blowing through cookbooks. I've always had a bit of a… problem, you could say, with collecting cookbooks but it was in full swing over the break. One of my favorite books that is new to my shelves is The Tivoli Road Baker by Australian chef and baker Michael James. The book has a recipe for wattleseed eclairs that had me totally intrigued. Wattleseed isn't common here in the States, but their light bitterness and earthy flavor profile nudged me towards trying a version with chestnut. Chestnut is a flavor that is quite popular in a lot of European sweets, but is unfortunately not found in many bakes here. The warm nutty flavor pairs perfectly with chocolate, and even better with triple chocolate (what isn't better with more, right?).
Craquelin Cookie Top for Eclairs
Chestnut Pastry Cream
Sweetened Chestnut Cream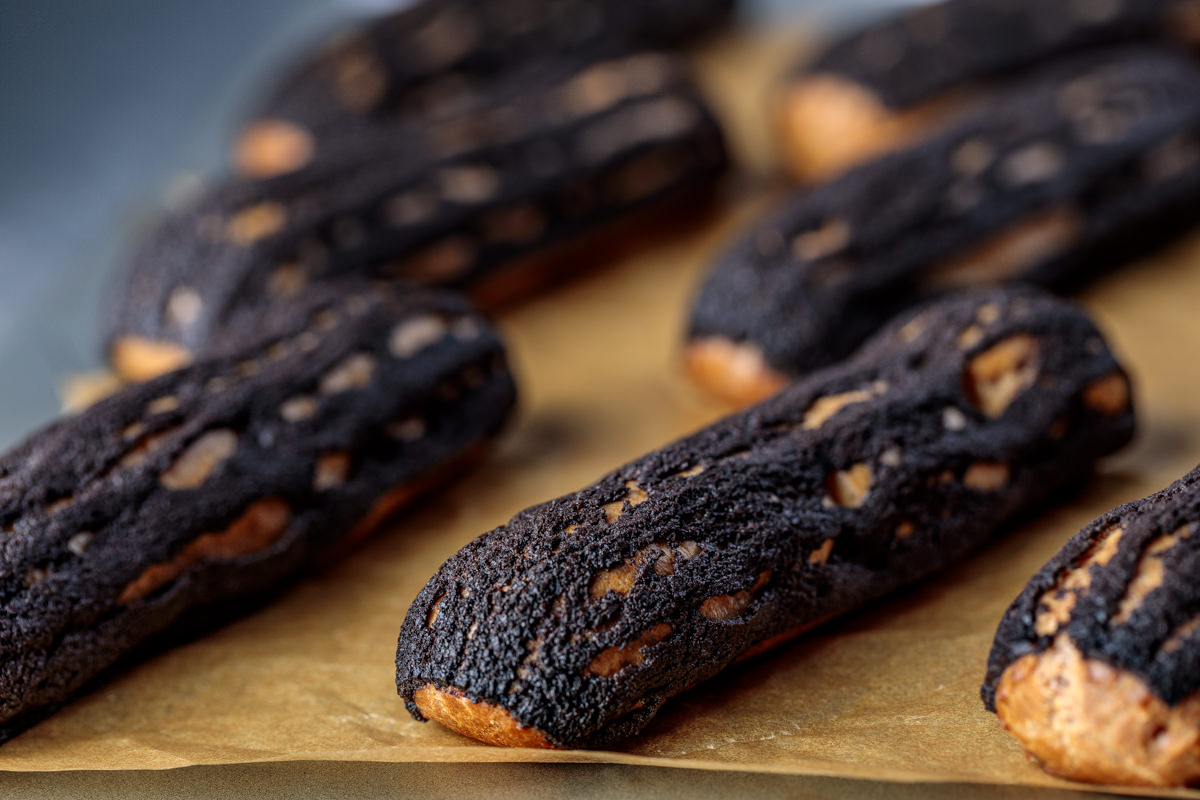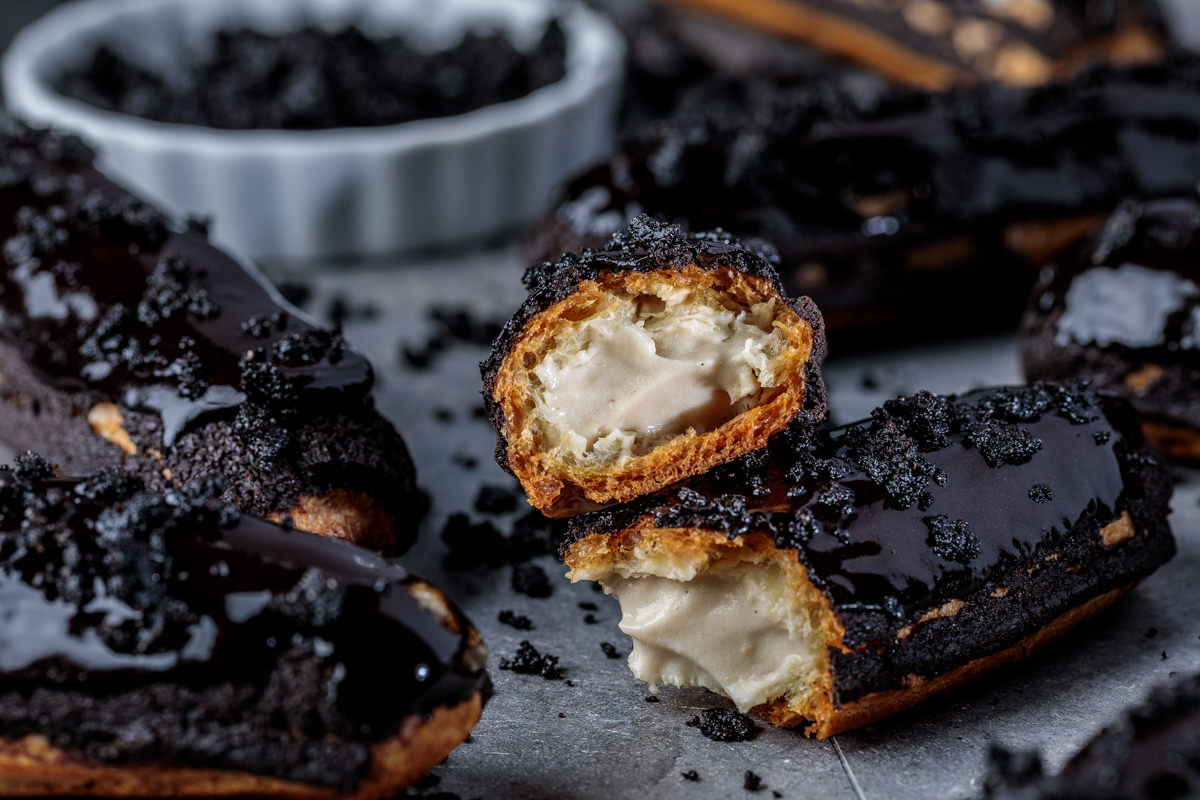 Luckily, you don't need to sit and roast chestnuts over an open fire to whip up the base pastry cream for this recipe. I used this chestnut cream that is pretty easy to grab on Amazon. It's sweetened and already super smooth. After trying the recipe out with homemade chestnut puree, this ended up being a big bonus. Getting it perfectly smooth was more of a process than it was worth, I think.
I won't say that these will be the quickest pastry to whip up, but the elements can all be split up and made on your own schedule before tossing it all together to impress your besties with the final bites.
After a good refresh, I have a lot of exciting recipes coming to the blog soon. Plenty of pastries and hopefully more savory bites are all in the works for this year. Let me know what you'd like to see!
— Cheers, y'all.

Chestnut Chocolate Eclairs
Triple chocolate eclairs with chestnut pastry cream filling. Chocolate craquelin cookie, Dutch chocolate glaze, chocolate cookie crumble on top. From SouthernFatty.com.
Author:
Phillip Fryman | SouthernFATTY.com
Ingredients
Eclair Pastry
1 recipe choux pastry dough from THIS blog post
Chestnut Pastry Cream
500 g milk, whole
50 g chestnut cream (find it here)
3 eggs, whole
70 g sugar, granulated
50 g flour, all-purpose
300 g heavy cream
1 teaspoon vanilla bean paste
¼ teaspoon salt, fine
Chocolate Cookie Craquelin
75 g butter, unsalted, softened
80 g brown sugar, light
80 g flour, all-purpose
20 g Dutch double processed cocoa powder (find it here)
Chocolate Cookie Crumble
50 g butter unsalted, softened
100 g sugar, granulated
20 g Dutch double processed cocoa powder (find it here)
20 g almond flour
20 g flour, all-purpose
40 g yuzu juice (find it here) (or substitute orange juice)
Chocolate Glaze
Instructions
This recipe may take some time. You can reads ahead and make most of the elements individually before baking the pastry and assembling. -- This recipe requires precision. A kitchen scale will become your best friend. Find one here.
Chocolate Cookie Craquelin
Cream butter and sugar in mixer, about 3-4 minutes.
Add cocoa powder and flour, mixing slowly until fully incorporated.
Wrap as a disc and chill for at least 30 minutes.
Roll out cookie dough between parchment paper to a thin rectangle, about 2mm.
Freeze rolled dough for 15 minutes to aid in cleaner cuts.
Cut 5" x 1½" rectangles from dough. Return cut rectangles to the freezer until ready to bake eclairs.
Eclair Pastry
Mix choux pastry dough from THIS blog post.
Pro tip: If you pipe dough using star tip into long strands you can freeze and then cut them into identically sized 5 inch length pastry. You can make ahead and bake directly from frozen pieces.
Place one 5 inch chocolate cookie craquelin on top of a 5 inch pastry eclair section.
Bake until golden per choux pastry pastry recipe instructions from THIS blog post.
Chestnut Pastry Cream
Combine milk and chestnut cream in saucepan over medium heat.
Whisk eggs, sugar, flour in bowl until well-combined.
When milk mixture comes to a boil, remove from heat and add the vanilla bean paste.
Slowly add milk mixture to the egg and flour mix, whisking well.
Return this combined mixture to the saucepan over medium heat to return to boil.
Whisk constantly and cook for 3 minutes once it reaches a gently boil.
Remove from heat and transfer to bowl. Cover and chill.
Using hand mixer or stand mixer, whip whipping cream until stiff peaks.
Fold into cooled pastry cream and return to chill until ready to fill.
Chocolate Cookie Crumble
Cream butter and sugar in mixer, about 3 minutes.
Add cocoa powder, almond flour, flour. Mix well.
Slowly add the yuzu juice while mixing. Chill the crumb for an hour.
Heat oven to 350 F.
When ready to bake, drop the crunch batter onto a parchment-lined sheet pan in teaspoons, leaving some space around each.
Bake for 10 minutes. The mixture will spread.
Cool completely.
Crush mixture to leave chocolate crunch.
Chocolate Glaze
If using leaf gelatin (it is preferred, but powder will also work), soak leaves in cold water for 5 minutes. Squeeze out water. If using powder gelatin, mix in 2-3 tablespoons of cold water.
In saucepan, heat cream and sugar on medium low heat to steaming simmer.
Off of the heat, whisk in cocoa powder and add gelatin, mixing well.
Add chopped chocolate and stir to completely combine.
Ideally, using an immersion blender, blend to smooth. If not, strain well.
Set aside until use. If made ahead, simply chill and then gently rewarm to use.
Finishing
Fill cooled eclair shells with chestnut cream. I like to use these piping tips.
Dip eclair in chocolate glaze.
Sprinkle chocolate crumble on top before glaze sets.
Enjoy with friends and family!
Find more recipes on SouthernFatty.com.
Tag your bakes with @southernfatty / #southernfatty.