White Chocolate Peppermint Madeleines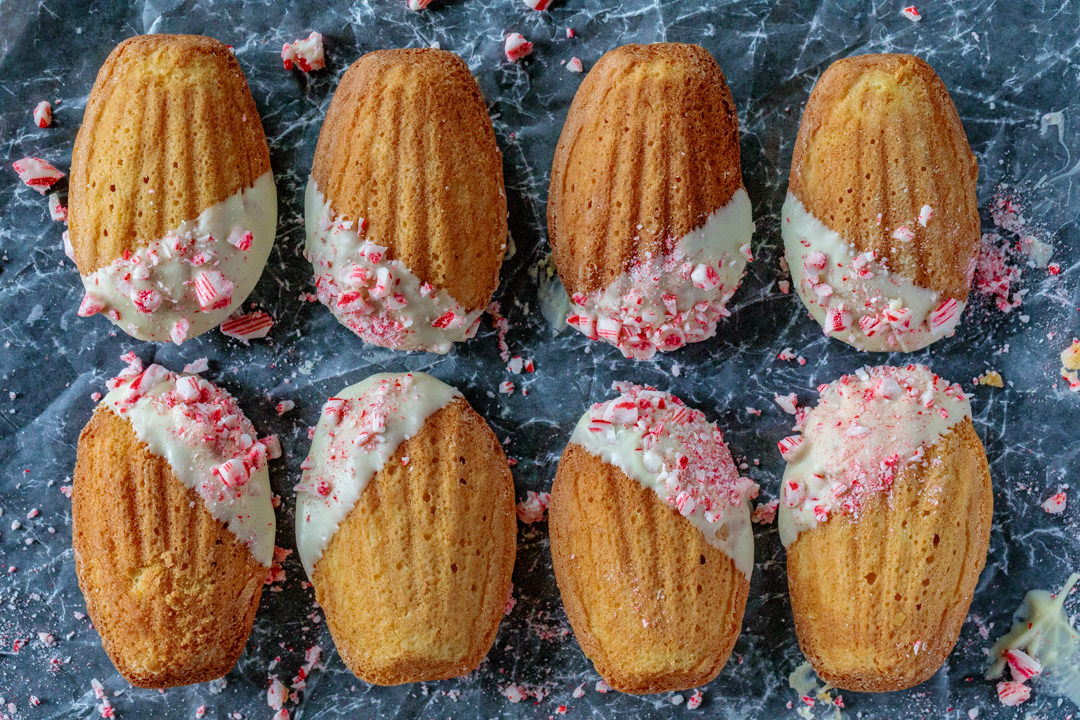 Author:
Phillip Fryman | SouthernFATTY.com
7 tablespoons (100g) butter, unsalted
2 ea (100g) eggs
2 teaspoons honey
100 g sugar
1 teaspoon (5g) lemon zest
¼ tsp (2g) salt
1 cup (100g) flour, all-purpose
½ tsp (2g) baking powder
½ cup (125g) white chocolate
¼ cup (50g) peppermint pieces, crushed
1 tablespoon (14g) butter, melted
¼ cup (25g) flour, all-purpose
For the classic madeleines, you will need the correct baking sheet. I use THIS one and have had great results.
Brush melted butter (from Other section) into the creases of the shell molds of the baking sheet molds.
Sprinkle the flour (from Other section) over the molds. I prefer to do this with a small sifter to coat completely.
Turn pan on its side over a sink and tap gently to rid the pan of excess flour. You should be left with an even coating of flour in the molds.
Place floured pan in the freezer until ready to bake.
In a small saucepan, place the butter over medium to slightly higher heat.
Heat while stirring until butter starts to 'spit'. Continue to heat.
Once boiling, reduce heat to below medium. Do not remove your attention from the butter, as it will burn quickly.
Heat and stir until you have a golden color, slightly dark golden.
Remove immediately and pour the browned butter into a heat-safe bowl to cool.
In a separate bowl, quickly whisk the eggs, sugar, honey, and lemon zest until light and slightly fluffy, about 2-3 minutes.
Whisk dry flour, salt, and baking powder in separate bowl.
Add the egg mixture to the butter and whisk until combined completely.
Add the dry ingredients to the mix and fold it in gently. Do not over-mix, but combine fully.
Transfer mixture to a container. Seal with lid or plastic wrap. Chill mixture for at least 30 minutes, ideally several hours for best result.
When ready to bake, heat oven to 350 F.
Remove mold from freezer. Place tablespoons of batter into each. Do not overfill and don't worry about the batter shape. It will melt into the mold fully.
Do this quickly and immediately place in the center rack of the oven.
Bake for 15 minutes until the edges are dark golden and the tops are slightly lighter golden.
Remove and tap the pan to slide the cakes from the molds.
When fully cooled, dip cakes in melted chocolate and sprinkle peppermint pieces.
Enjoy!
Find more recipes on SouthernFatty.com.
Recipe by
Southern FATTY
at https://www.southernfatty.com/white-chocolate-peppermint-madeleines/