Your favorite grab-and-go breakfast pastry gets a sweet southern makeover with these homemade peach-filled, whiskey-glazed pop tarts recipe with my partners at Jackson Morgan Southern Cream.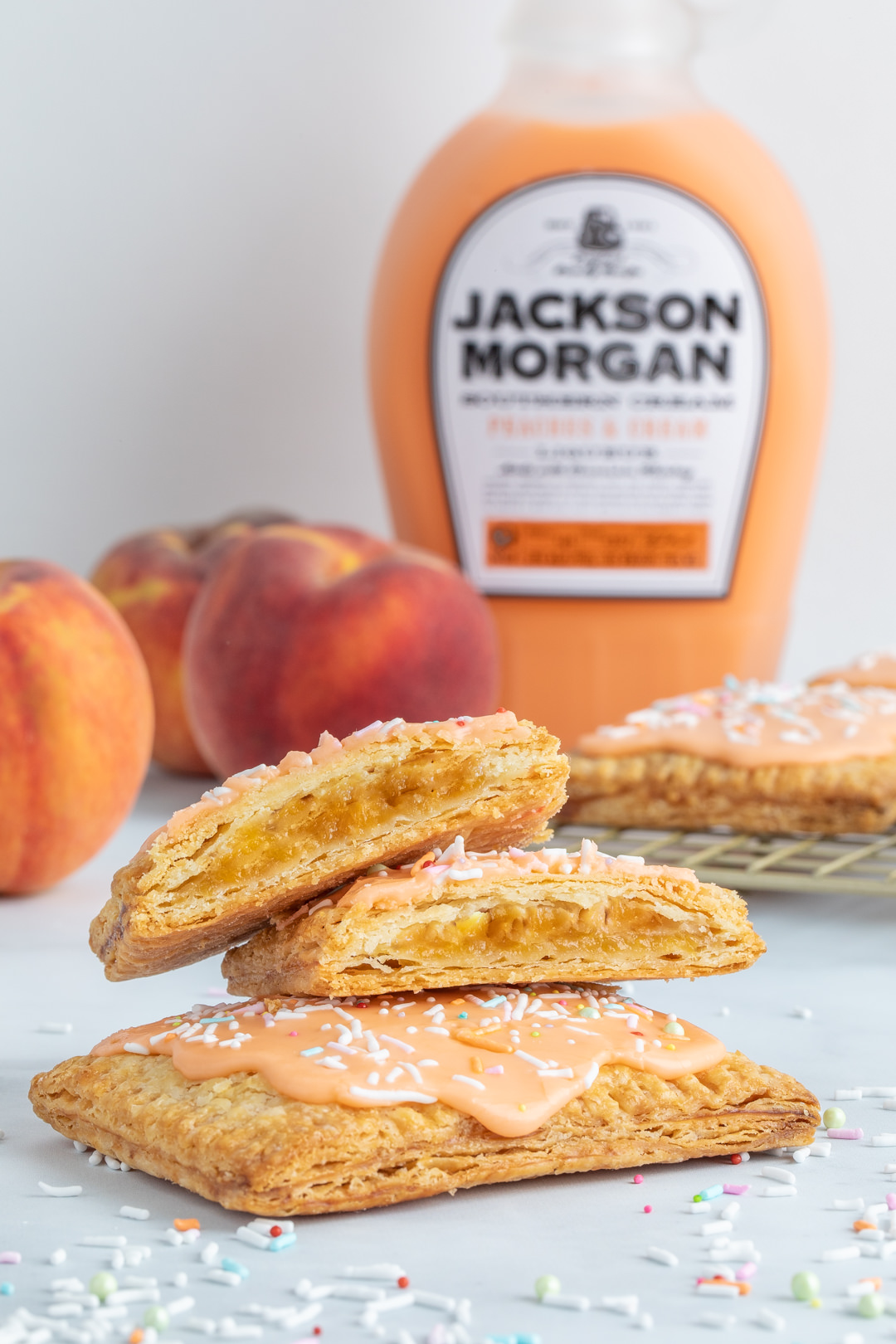 I can remember coming home from school hoping to sneak a snack before dinner. The first bite I would try to grab would be a pop tart. Frosted strawberry was my vice. If it wasn't frosted, you might as well use it as a placeholder in the pantry. With peaches (and whiskey) in season here in the south, I decided to create my own spiked sweet — Peach Pop Tarts with Peaches & Cream Whiskey Frosting.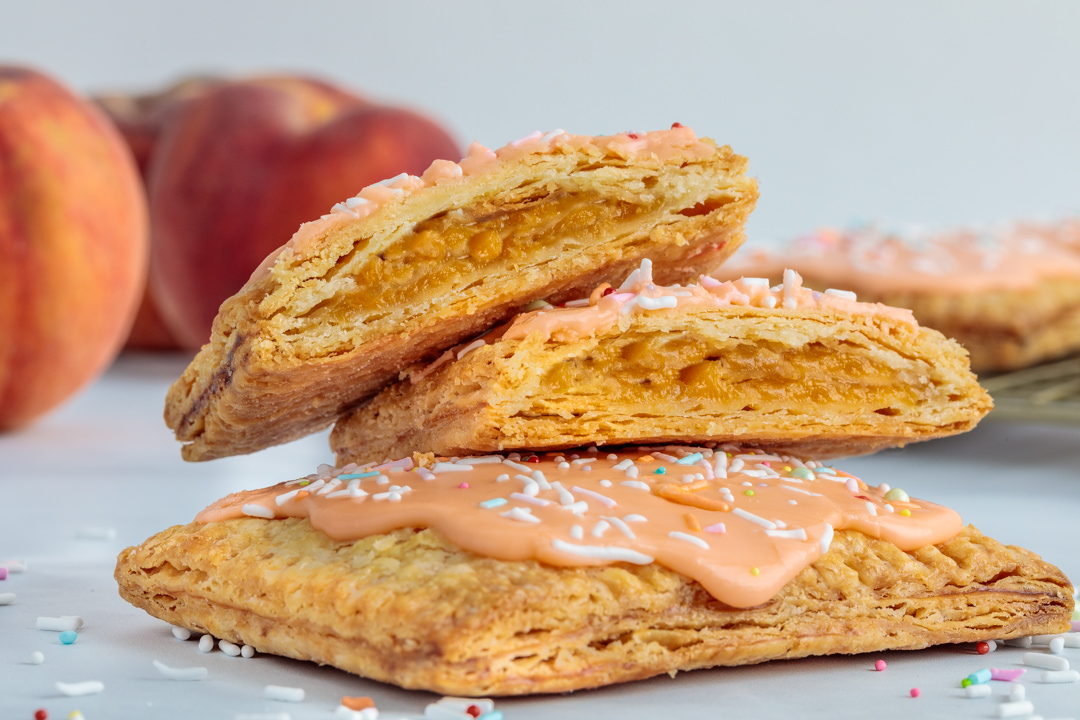 I do have to say that while I honestly like every recipe that I post on the blog, these really hit the spot. I don't even want to admit how many of them I managed to eat in the day that they were made. The crème de la crème is the Peaches & Cream whiskey frosting on top, made with Jackson Morgan Southern Cream. If you follow the blog (you are subscribed, right???) you'll recognize this one.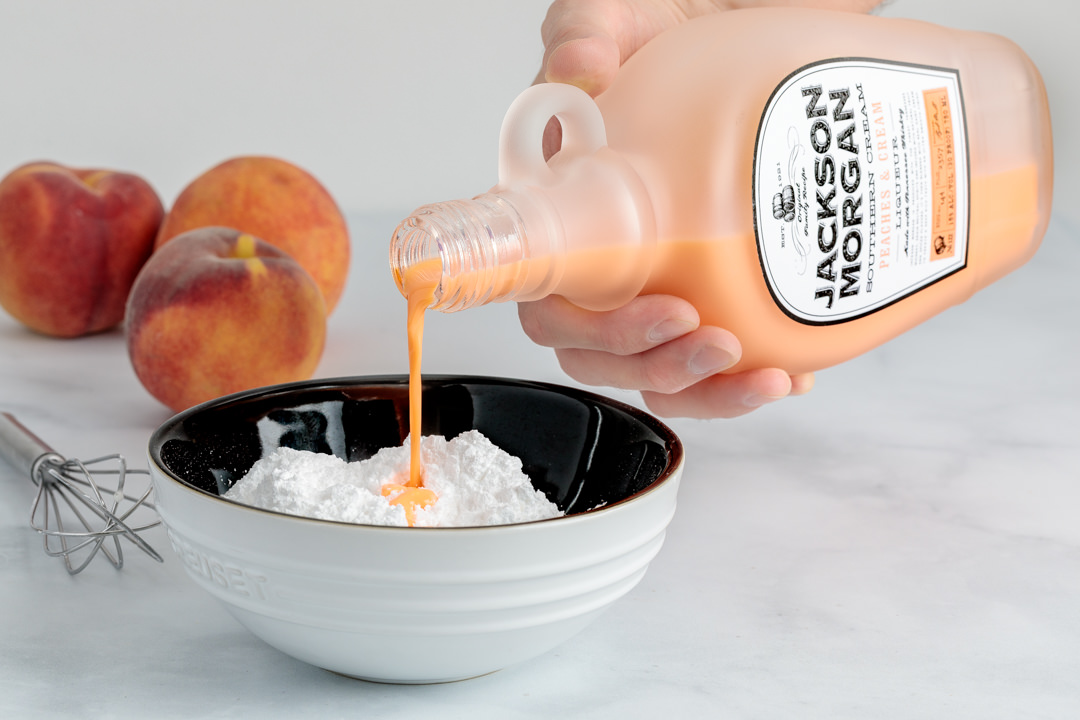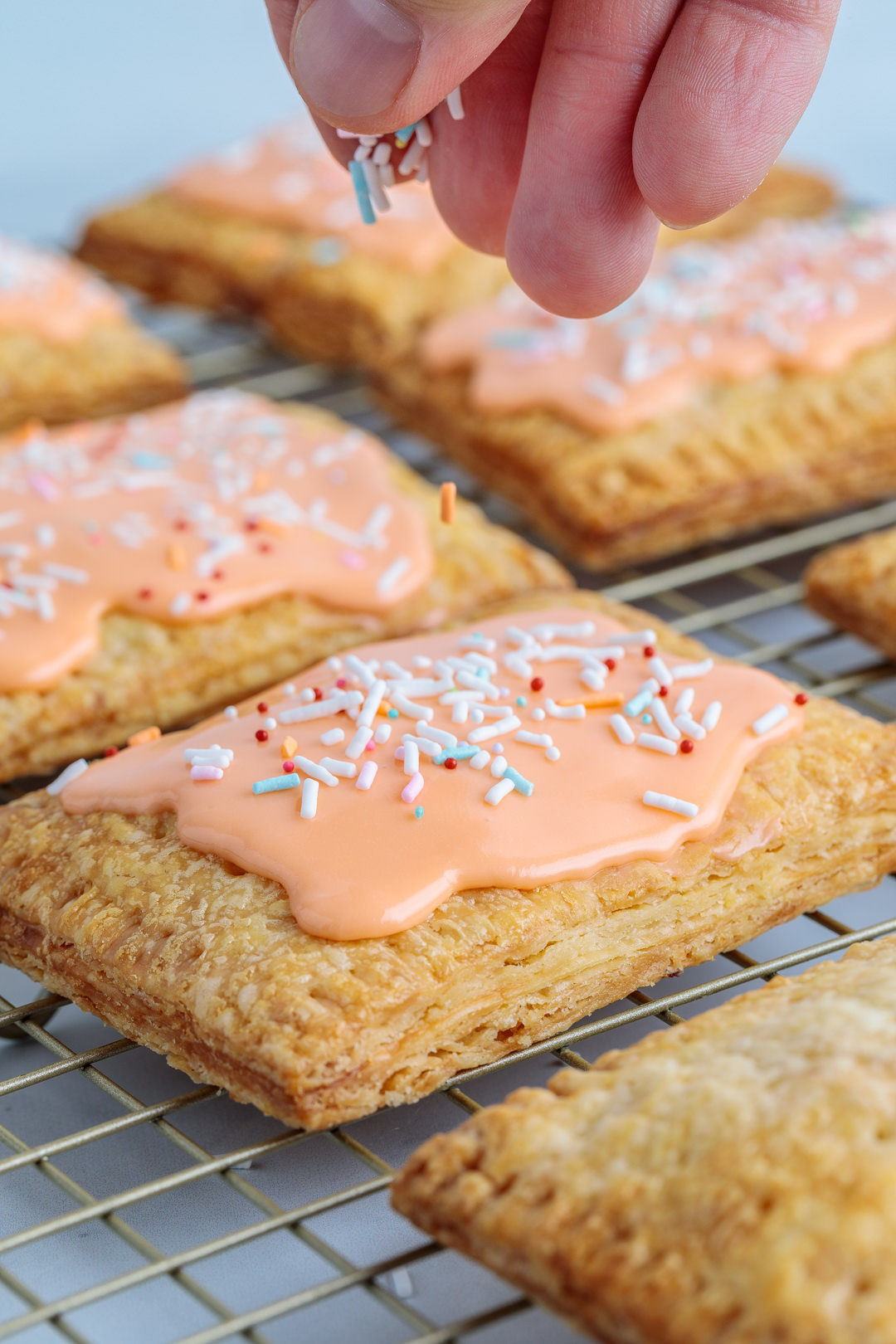 Jackson Morgan Southern Cream is a local family-owned and operated Tennessee spirit brand (located just down the road from Nashville) which makes playful, balanced southern whiskey cream flavors that are perfect over ice or in your own bakes. I can personally attest to their perfect pairing in a morning coffee.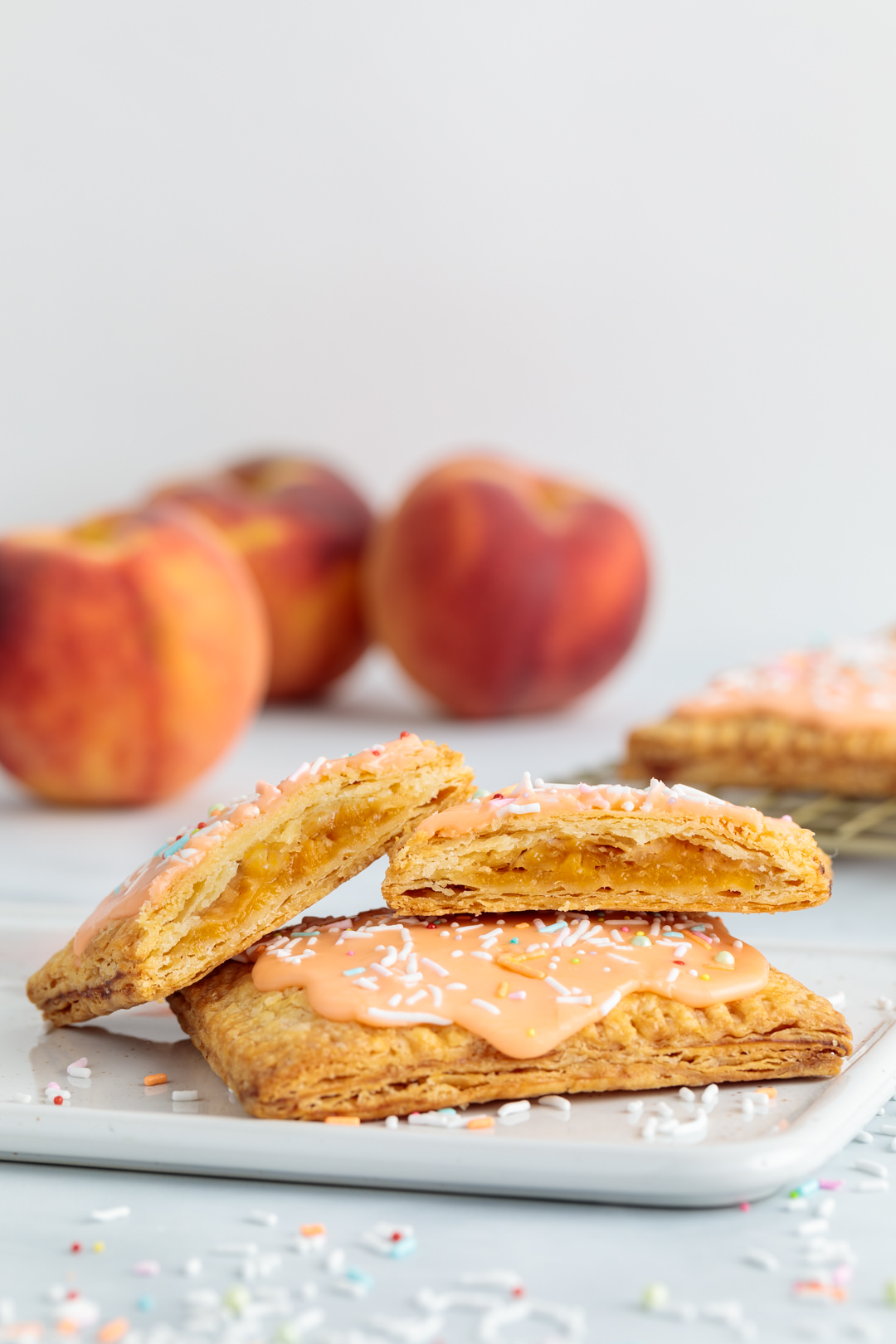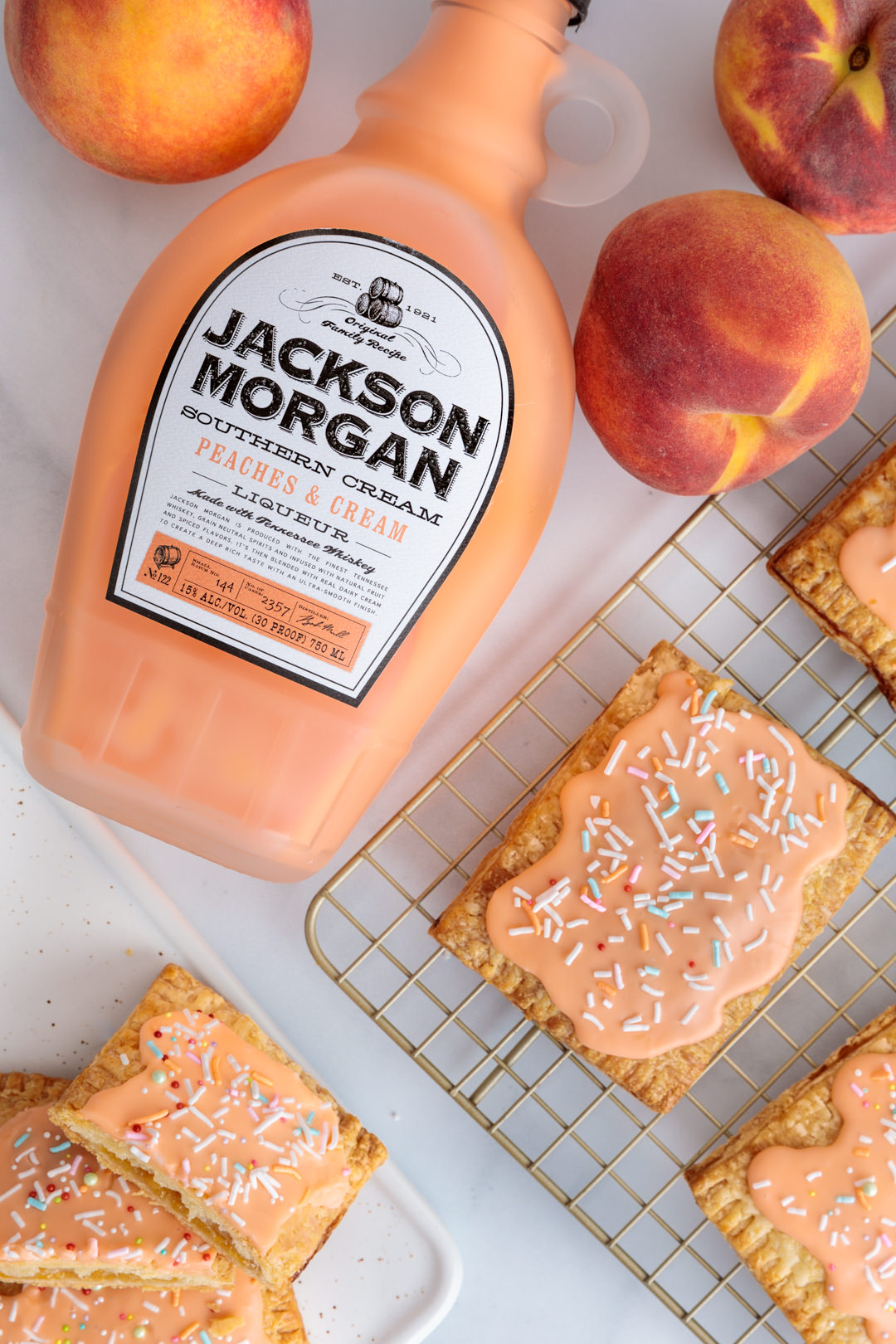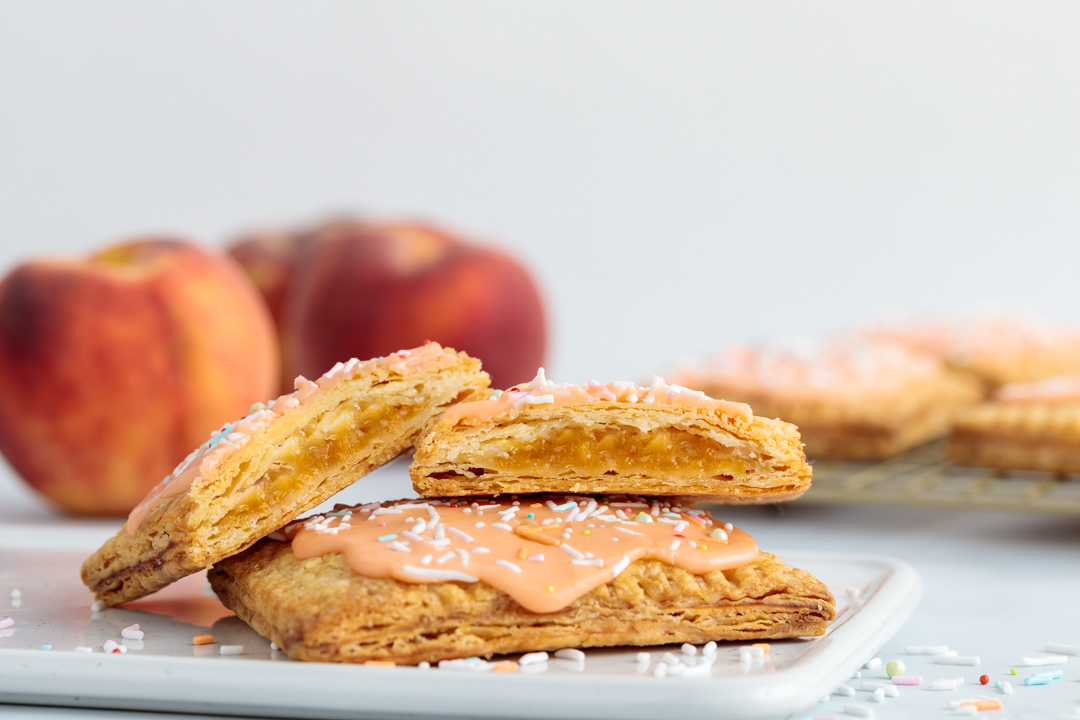 I've made just about everything you can think of with Jackson Morgan Southern Cream. It's my go-to gift for friends when they are visiting Nashville and want to take home a bit for themselves (if there is any left, obviously). The flavors (hello, Banana Cream Pudding!) are soooo easy to swap out the milk or cream in most recipes.
Point and case — Look at all of these bakes that I've whipped up with Jackson Morgan…
Needless to say, I am a strong believer that adding a splash of whiskey cream to your bakes and to the baker is a great way to spike up your week. The crust on these pop tarts is like layers of sweet butter, with a pop from the fresh peach filling. The Peaches & Cream frosting on top is what we are all here for, to be honest. Cheers!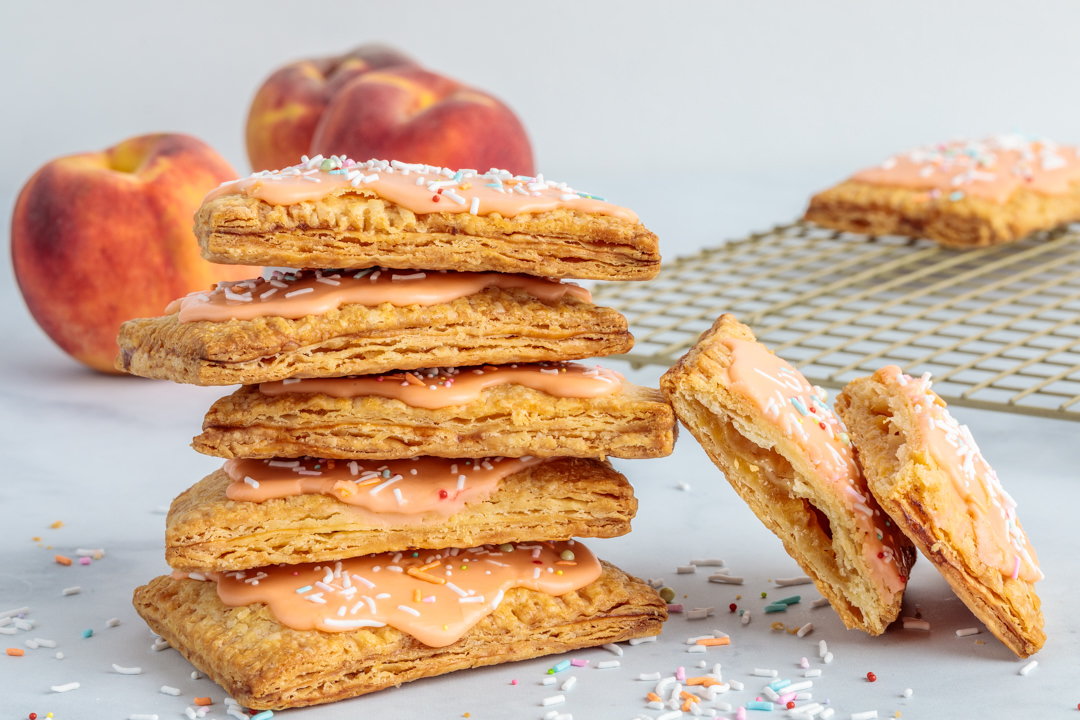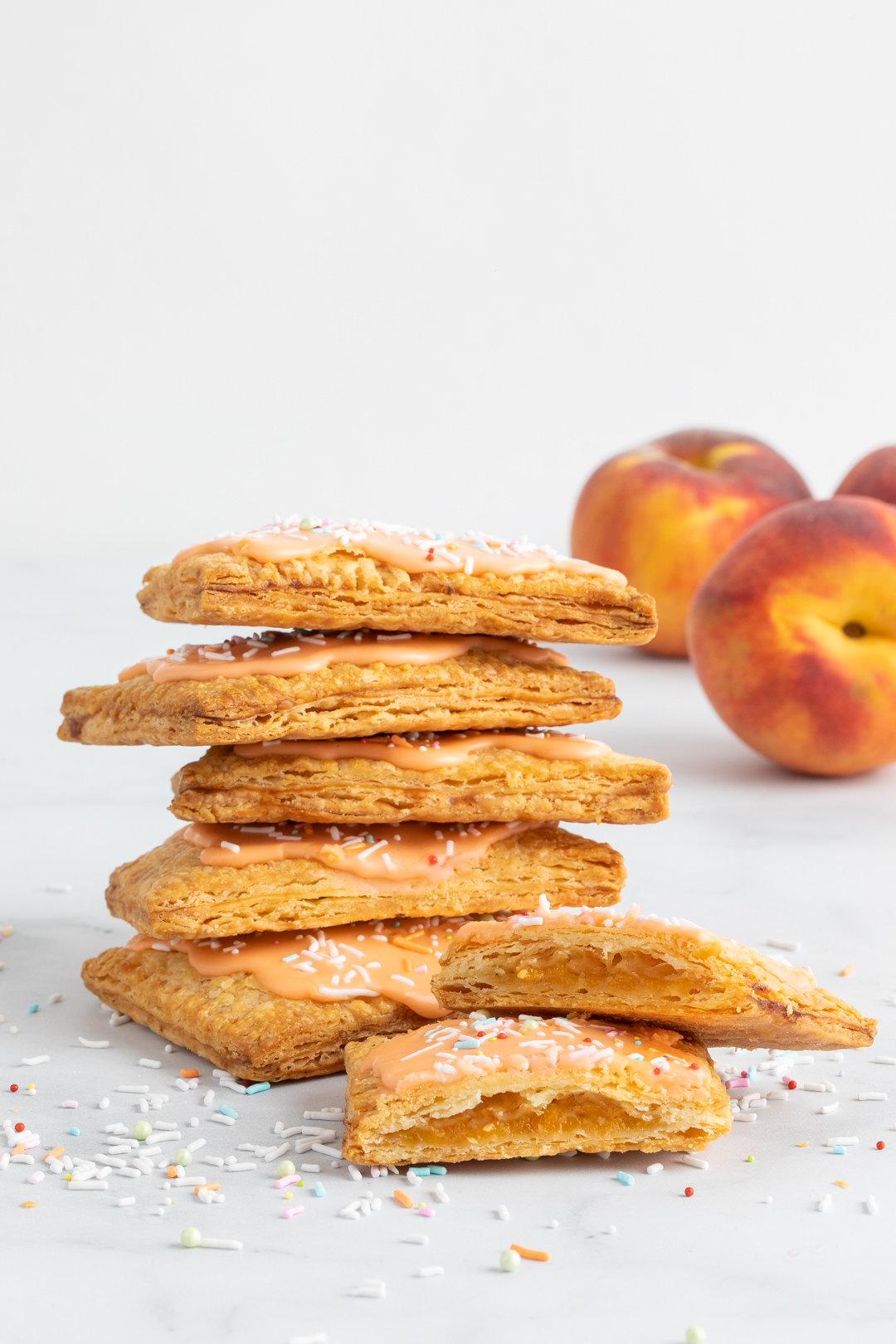 As always, pop tart and sip responsibly, y'all. Sip and be social! — Share your creations with us on social media by tagging #southernfatty and #sipandbesocial.
Find where to grab Jackson Morgan Southern Cream here.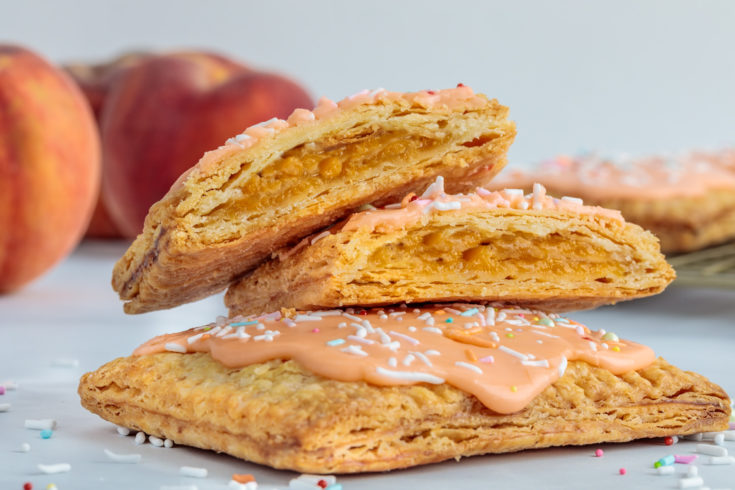 Yield:

9
Whiskey Peach Pop Tarts
Total Time:
1 hour
40 minutes
Flaky butter crust homemade pop tart pastries filled with fresh peaches, topped with whiskey cream peach frosting and sprinkles. From SouthernFatty.com.
Ingredients
Pop Tart Pastry
2 cups flour, AP
1 tablespoon brown sugar
1 teaspoon salt
1 cup butter, unsalted, cold
2 1/2 tablespoons milk, cold
1 egg, yolk only
Peach Filling
2 cups peaches, peeled and diced
2 tablespoons butter, unsalted
1/4 cup sugar, preferably raw sugar
1/4 teaspoon salt
1/2 teaspoon cornstarch
2 teaspoons water
Peaches & Cream Whiskey Frosting
1 cup powdered sugar
2 tablespoons Jackson Morgan Peaches & Cream
Finishing
1 egg, to seal
1 tablespoon heavy cream, to seal
2-3 tablespoons heavy cream, to brush
1/2 cup sprinkles, to finish
Instructions
Pop Tart Pastry
Whisk together flour, brown sugar, salt.
Dice cold butter into small cubes.
Add butter to flour mixture and with your hands, quickly combine the flour and butter. Squeeze the butter cubes into the flour until the entire mixture contains pea-sized / flattened butter pieces. Some larger pieces are fine.
Mix together the egg yolk and cold milk. Add to the flour and combine with a fork until a dough has formed.
Split dough into two equal pieces, wrap in plastic wrap, and chill for at least 30 minutes.
Peach Filling
Combine peaches, butter, sugar, salt in a saucepan over mediu- low heat.
Heat and stir until peaches have softened and the mixture has thickened slightly, about 15-20 minutes.
Mix water and cornstarch together and then add the slurry to the peach mixture. Stir well.
Allow to cook for an additional 5 minutes to thicken.
Remove from heat and cool completely.
Peaches & Cream Whiskey Frosting
Whisk together sugar and whiskey cream just before use. The mixture should be quite thick.
Finishing
Roll each dough out one sheet at a time to a trimmed 9x12 rectangle.
Cut (pizza cutter works best) into nine 3x4 rectangles.
Place a tablespoon of peach filling into the center of a rectangle.
Whisk together the finishing egg with the tablespoon of cream. This will be used to better seal the pastry pocket.
Brush around the edges of the bottom and the top rectangle pieces with the egg/cream wash. Place the top piece and line up with the bottom that has the filling.
Using a fork, press the two pieces together to make a pocket.
With a toothpick, punch a few holes in the top pastry to allow steam to release during baking.
Place the assembled pastries into the fridge to chill whuile preheating the oven to 400 F.
Just before baking, brush tops lightly with heavy cream.
Bake, turning halfway thorugh, until golden, 20-25 minutes.
Cool completely before frosting.
Frost with freshly prepared frosting, add sprinkles, and let sit for 15+ minutes for frosting to set.
Enjoy! -- Find more at SouthernFatty.com.
Notes
This post has been sponsored by my friends at Jackson Morgan Southern Cream.
Nutrition Information:
Yield:
9
Serving Size:
1
Amount Per Serving:
Calories:

312
Total Fat:

22g
Saturated Fat:

11g
Trans Fat:

0g
Unsaturated Fat:

7g
Cholesterol:

60mg
Sodium:

24mg
Carbohydrates:

40g
Fiber:

1g
Sugar:

17g
Protein:

4g