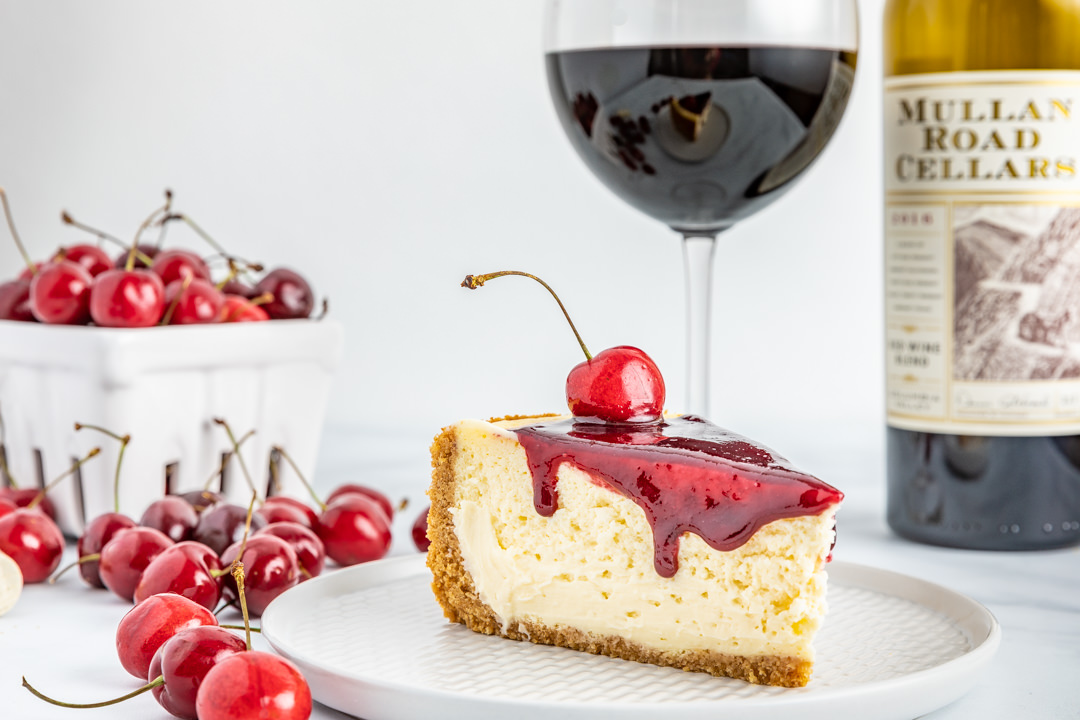 Ahhhhh, cheesecake. Quite possibly my favorite dessert, there is just something marvelous about the tangy, creamy base with a graham crust. If that weren't enough, I decided to pair a favorite wine with the mix. Since I already had a glass out, I decided to throw in just a splash of this beautiful red blend for a cherry glaze. This Mullan Road Cellars red wine cherry glazed cheesecake is a dessert that would be worthy of a midnight bite in Miami with the Golden Girls or to share with friends as a weekend bonus.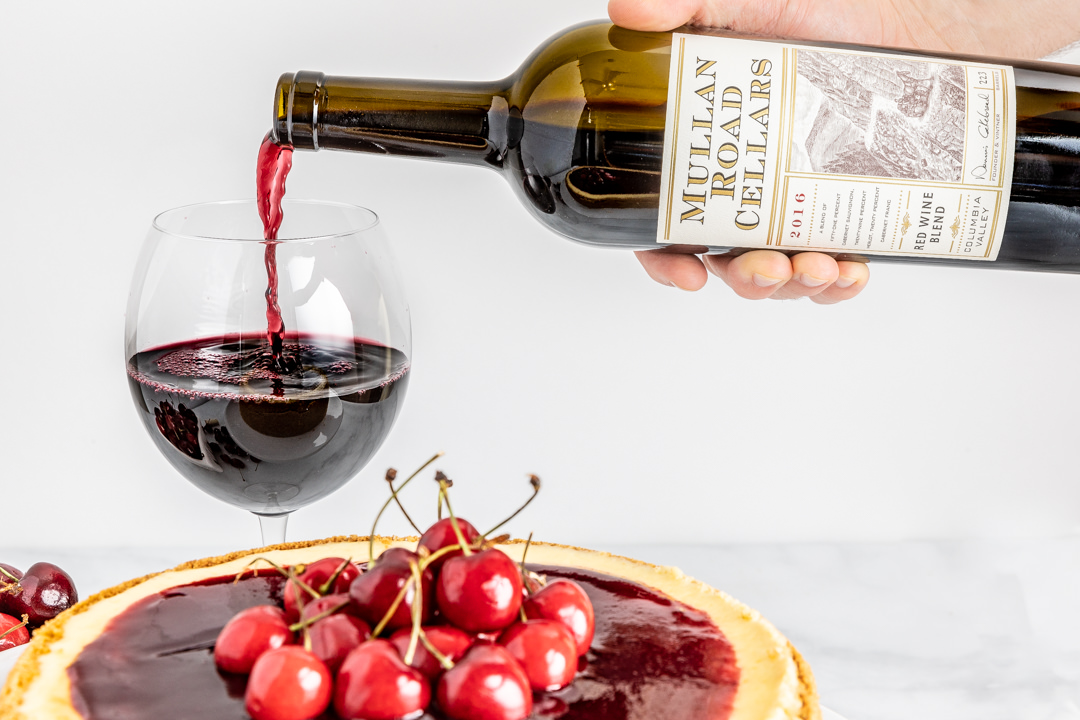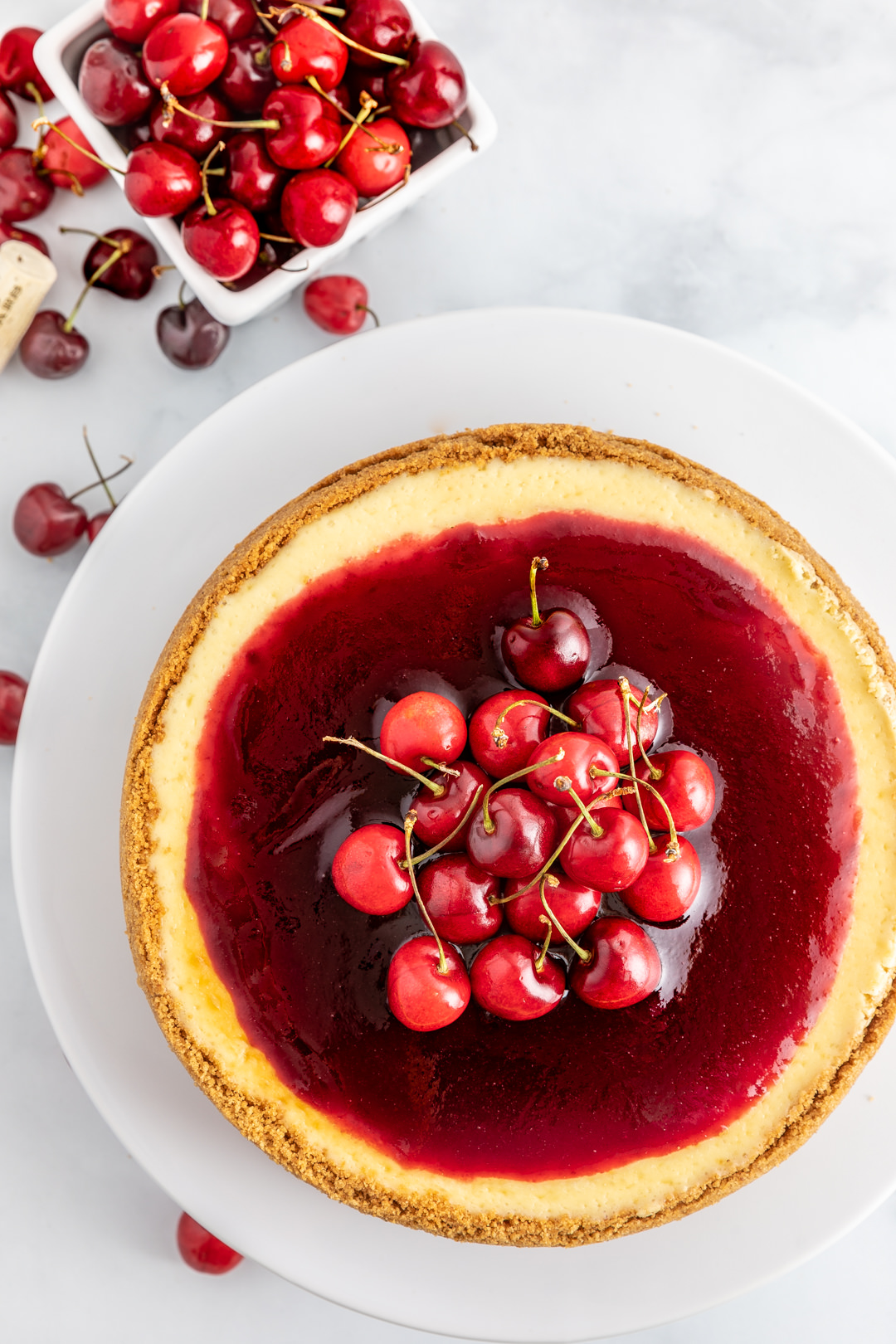 This cheesecake base recipe is my absolute go-to. I am most certainly #TeamBaked when it comes to this dessert. The no-bake options just don't have that richness that you get from adding a few eggs and giving it a slow, perfect toast in the oven. I think a lot of people are a bit scared of baking cheesecake, worried about huge quake-sized cracks or being unsure as to when it is even finished baking. I've got y'all covered!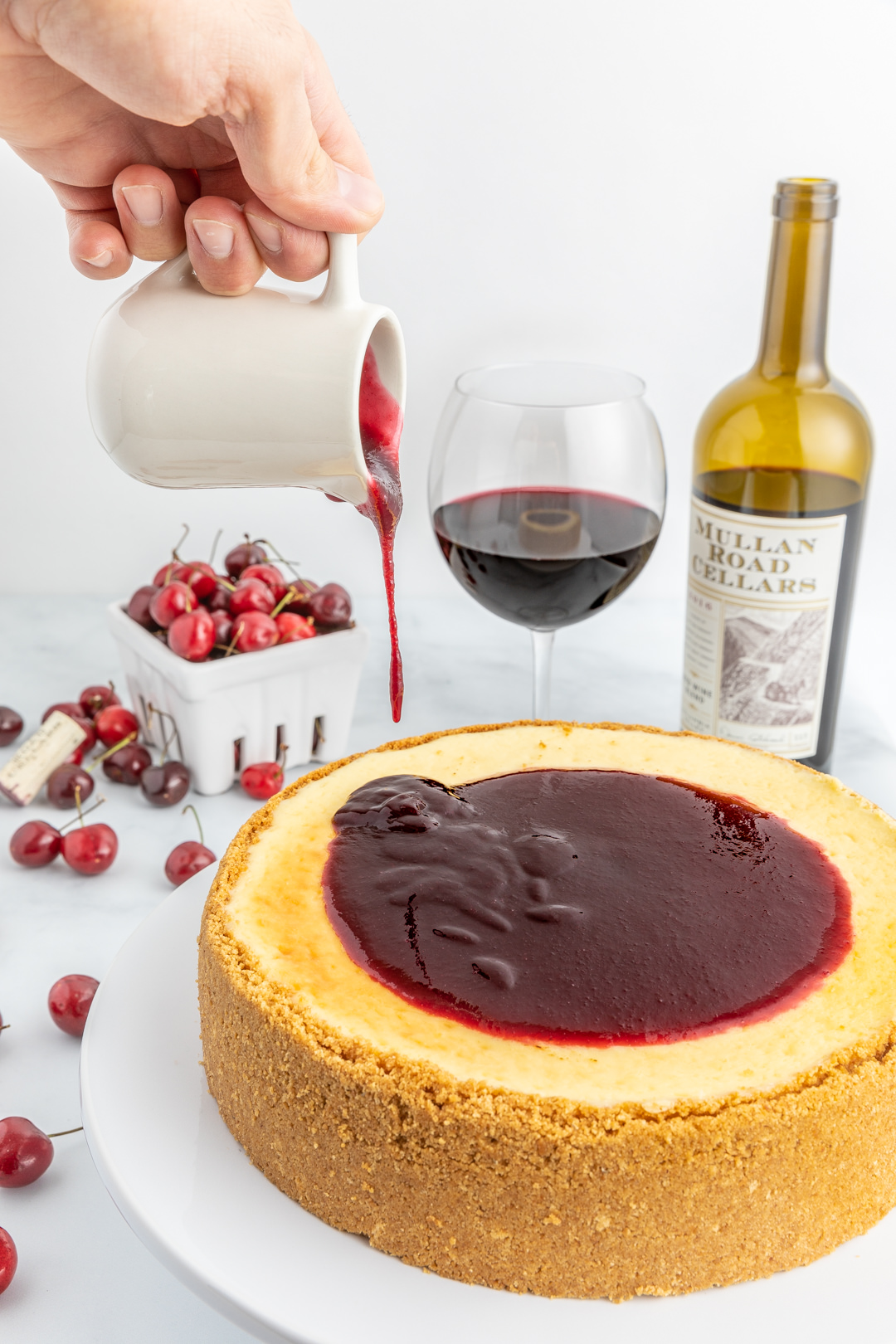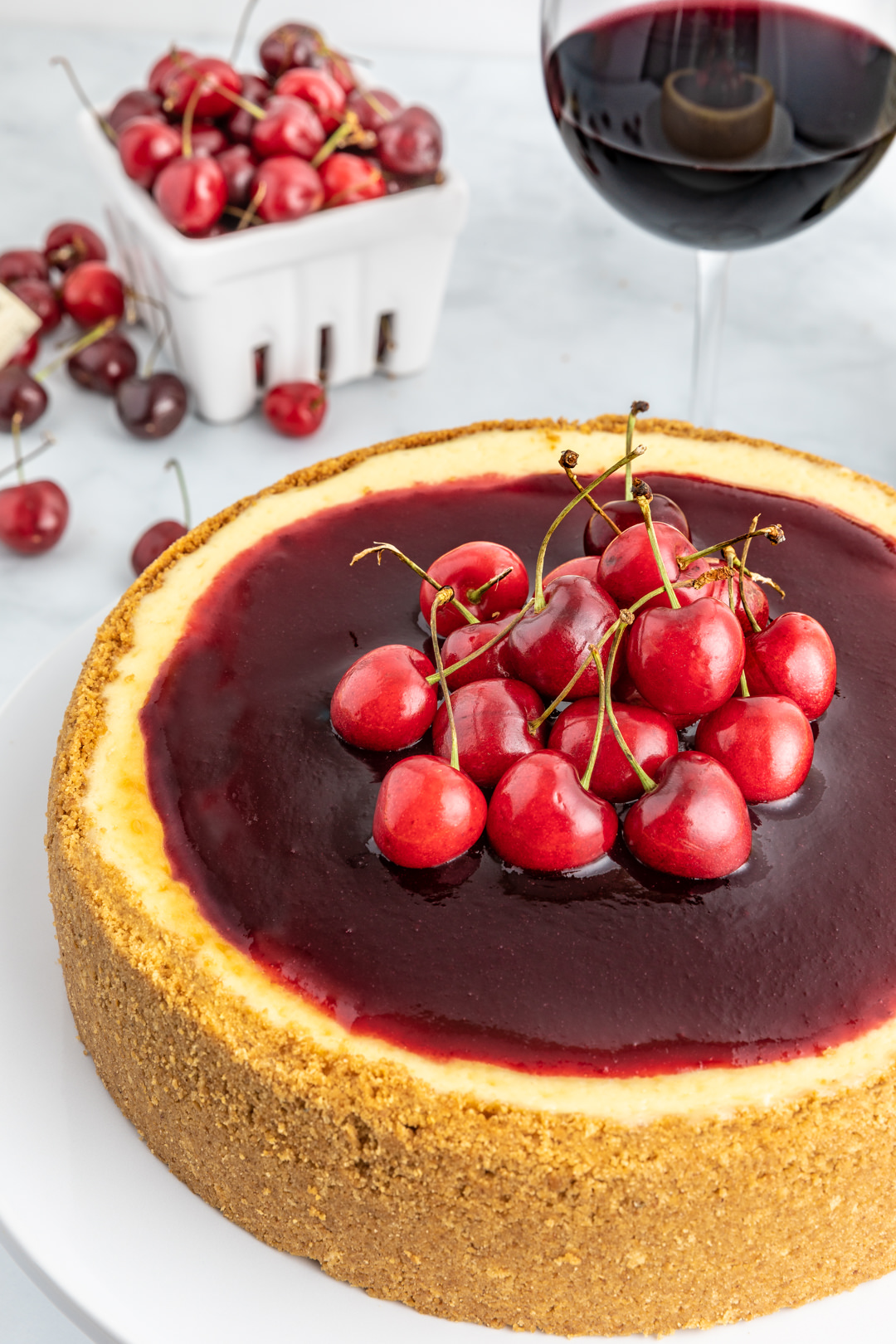 Baking the perfect cheesecake isn't difficult, but it does require a few simple steps that you may not think of off the bat.
I always bake my cheesecakes in a water bath. That sounds complicated, but it just means I am covering my pan with single, wide-enough layers of foil and placing it in a larger oven-safe roasting pan with an inch or so of water. This tempers the bake and allows the cake to bake more evenly before overbaking the outer portion.
I use a thermometer. Just like you would any other temperature sensitive bake, I wait until the cheesecake is somewhat set (20-30 minutes) and then place a thermometer that is stabilized with some foil or a clip (so it doesn't mess up the top more than a single hole). Watch for 150 and that's it!
Wine. I drink a glass of wine, because it makes all baking better!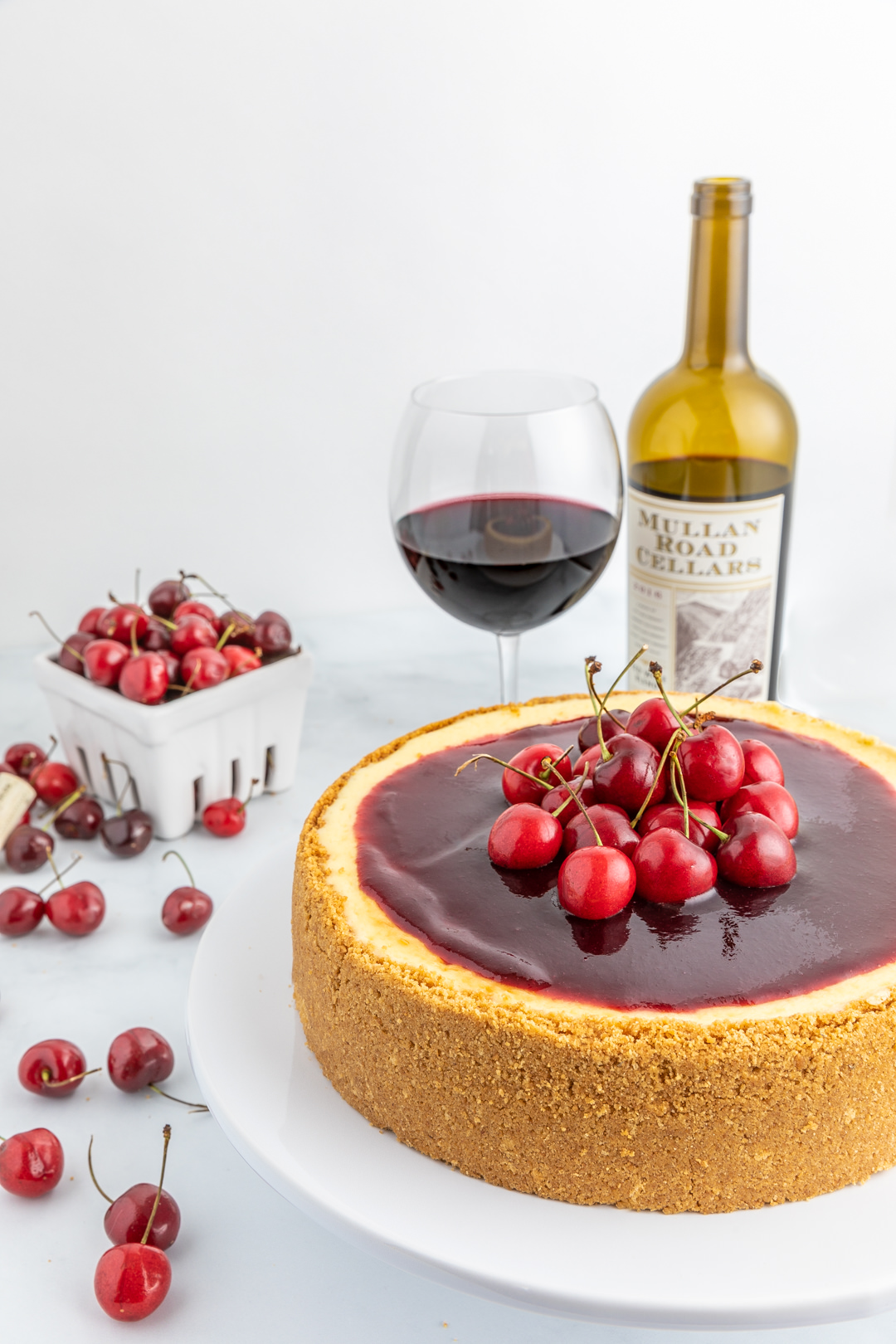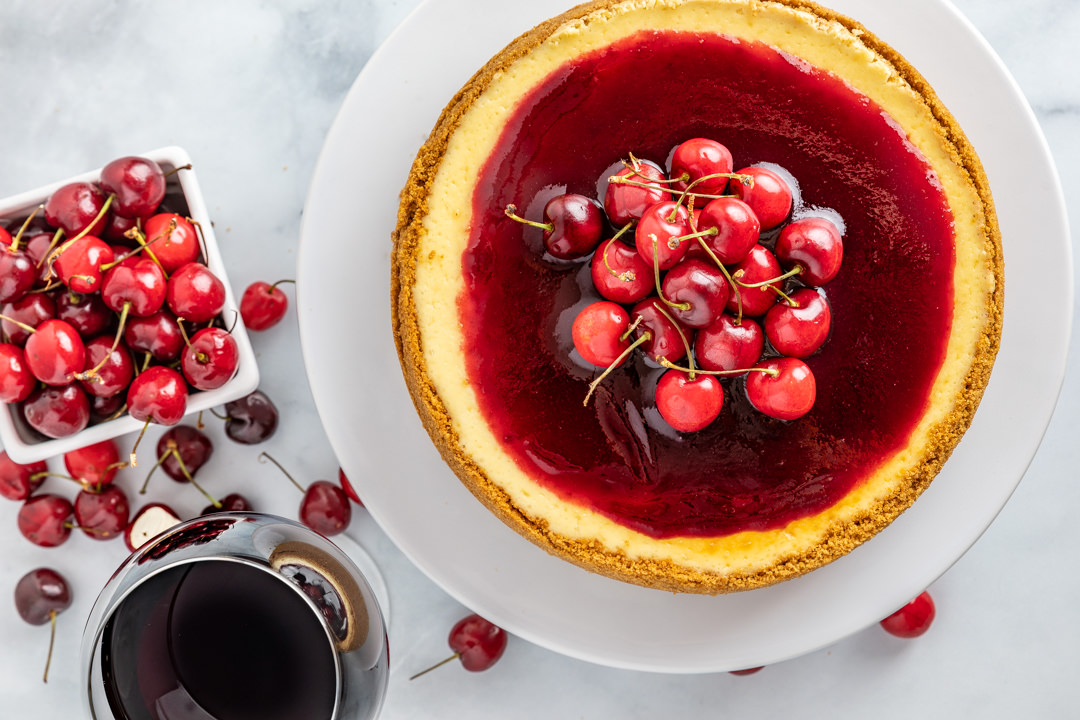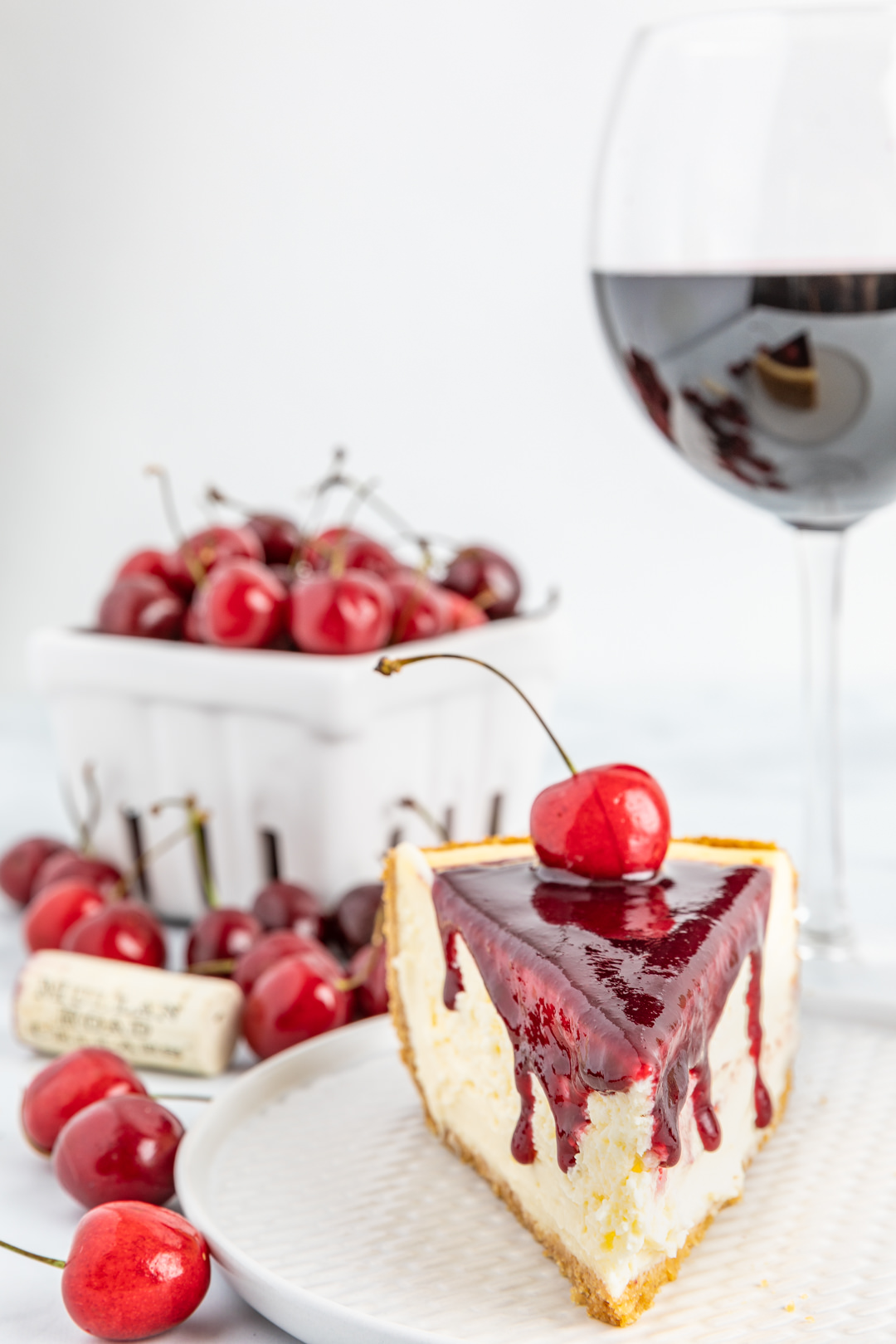 The idea for this cheesecake popped into my head when I was trying to decide what to pair my Mullan Road Cellars Red Blend with for dinner last week. I usually pair it with a nice filet from the grill or maybe a cheese plate while I'm grilling vegetables.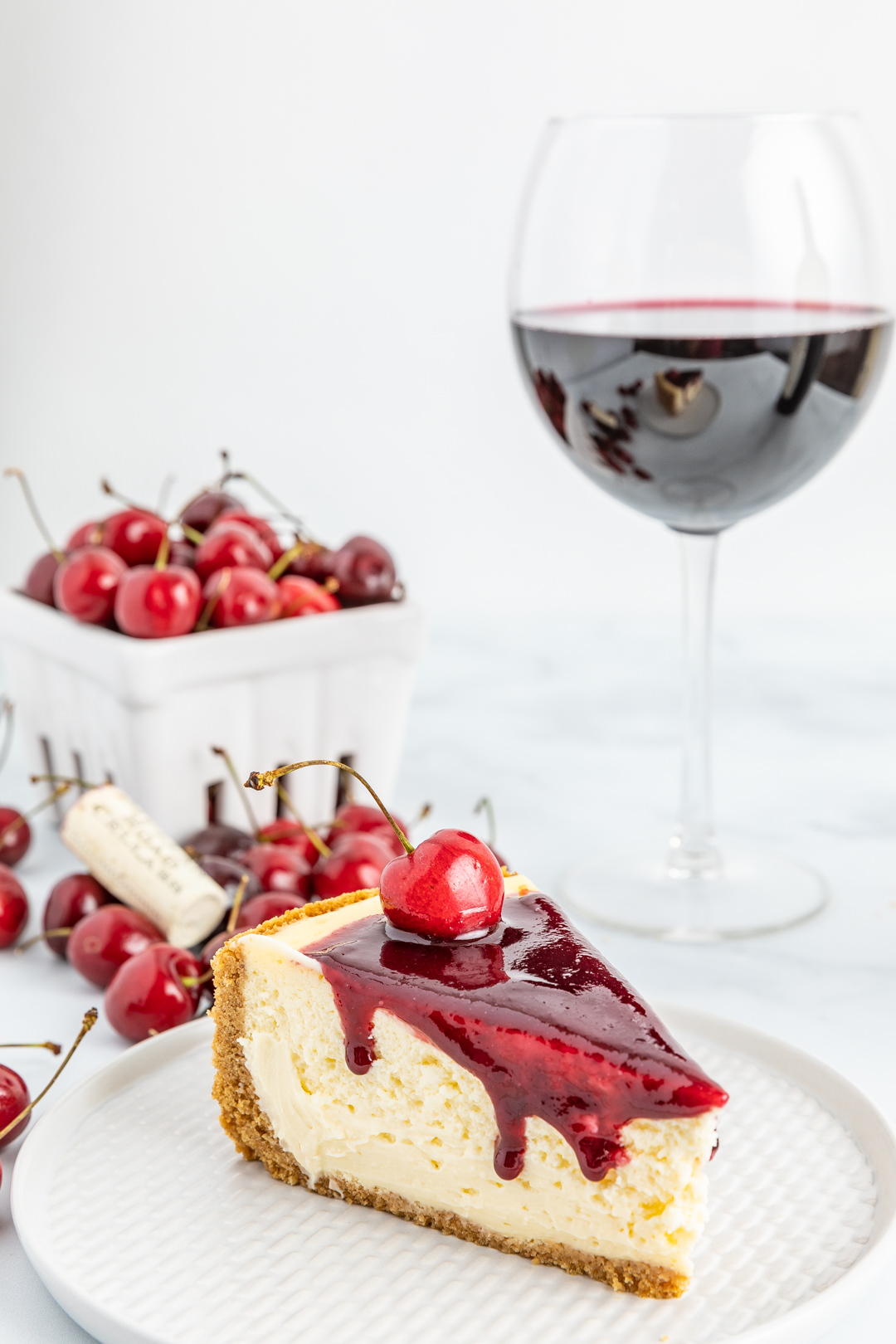 This Mullan Road Cellars Red Blend, from Dennis Cakebread of the acclaimed Cakebread Cellars, has a beautifully vibrant dark cherry flavor. With a silky but bold cassis finish, it just clicked that it would be perfect to pair a glass with a favorite dessert. As I often do, I ended up pouring a glass for myself and kept a bit for the bake. A splash of the Cabernet Sauvignon, Merlot, and Cabernet Franc Red Blend to perfectly accent the fresh cherries and sugar for a not-too-sweet glaze that balances the tanginess of the cheesecake is just what it needed.
Save the rest for the chef's glass. Cheers!
This post was sponsored by Mullan Road Cellars. All opinions stated are my own.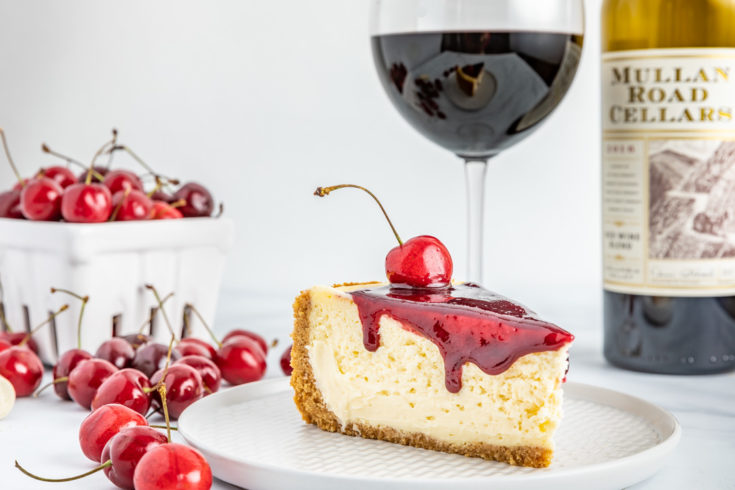 Yield:

12
Red Wine Cherry Glazed Cheesecake
Total Time:
1 hour
15 minutes
My favorite classic cheesecake with graham cracker crust recipe topped with a delicious red wine and fresh cherry glaze. From SouthernFatty.com.
Ingredients
Cherry​ Red Wine Glaze
1 pound cherries, stems & pits removed
1/2 cup sugar
1/2 cup Mullan Road Cellars Red Blend wine
1/2 tablespoon corn starch
Cheesecake Crust
2 cups graham crackers, crushed
1 tablespoon sugar
1/4 teaspoon nutmeg​, freshly ground, optional
4 tablespoons butter, melted
Cheesecake Base
4 (8 oz.) packages cream cheese, room temperature
1 cup sugar
1/2 cup sour cream
5 eggs
1 teaspoon​ vanilla bean paste or extract
Instructions
Cherry​ Red Wine Glaze
In a saucepan, heat cherries and sugar over medium-low heat until falling apart, about 15 minutes.
Mix Mullan Road Cellars Red Blend wine with cornstarch and add to mixture.
Cook until thickened over low heat, stirring often, about 15 minutes more.
Smash or immersion blend for higher yield. Strain if desired.
Remove to cool.
Cheesecake
Preheat oven to 350 F.
In a food processor, blend graham cracker and sugar until fine.
Add butter and blend until mixture is combined.
Press tightly into desired pan (I used a springform pan).
Place a couple sheets of foil under and up the sides of the pan. This will be used for the water bath shortly. Do not have any seams on the bottom or sides that water could enter the pan from.
Bake for 15 minutes and remove to cool while preparing the filling.
Place crust in the freezer for 15 minutes or more. This can be prepared ahead of time, if desired.
In a mixing bowl, combine cream cheese, sugar, sour cream until smooth. Beat in eggs and vanilla just until completely mixed.
Optionally, let this batter rest in fridge for an hour or two to reduce air bubbles in cheesecake.
Preheat oven to 450 F.
Pour filling into prepared crust.
Place in larger roasting pan with an inch of hot water. The water should NOT be able to enter to pan through any ends of foil. Be sure the foil is not broken anywhere close to the water.
Carefully place in oven in center rack.
Bake for 10 minutes and reduce oven temperature to 325 F.
Bake for an additional 45-60 minutes until cheesecake center reaches 150 F. for best results and to prevent cracking, use a thermometer. I use this one as a leave-in thermometer with a temperature alarm.
The cheesecake with be somewhat wobbly, but trust the temperature. Remove to cool at room temperature. After 30 minutes or so, you can remove from the pan with water to cool completely.
Top with red wine cherry glaze.
Enjoy! Find more recipes on SouthernFatty.com.
Notes
Find Mullan Road Cellars Red Blend here.
Recommended Products
As an Amazon Associate and member of other affiliate programs, I earn from qualifying purchases.
Nutrition Information:
Yield:
12
Serving Size:
1
Amount Per Serving:
Calories:

385
Total Fat:

19g
Saturated Fat:

10g
Trans Fat:

0g
Unsaturated Fat:

7g
Cholesterol:

122mg
Sodium:

217mg
Carbohydrates:

46g
Fiber:

1g
Sugar:

36g
Protein:

6g