Hey there, 90s. Southern Fatty called and wants his push pops back! — These homemade Whiskey Orange Cream Push Pops will bring you back in the best way possible. I've turned a simple no-churn ice cream recipe with vanilla, cream, and sugar into an adult popsicle that will have you singing Céline on your Discman in no time.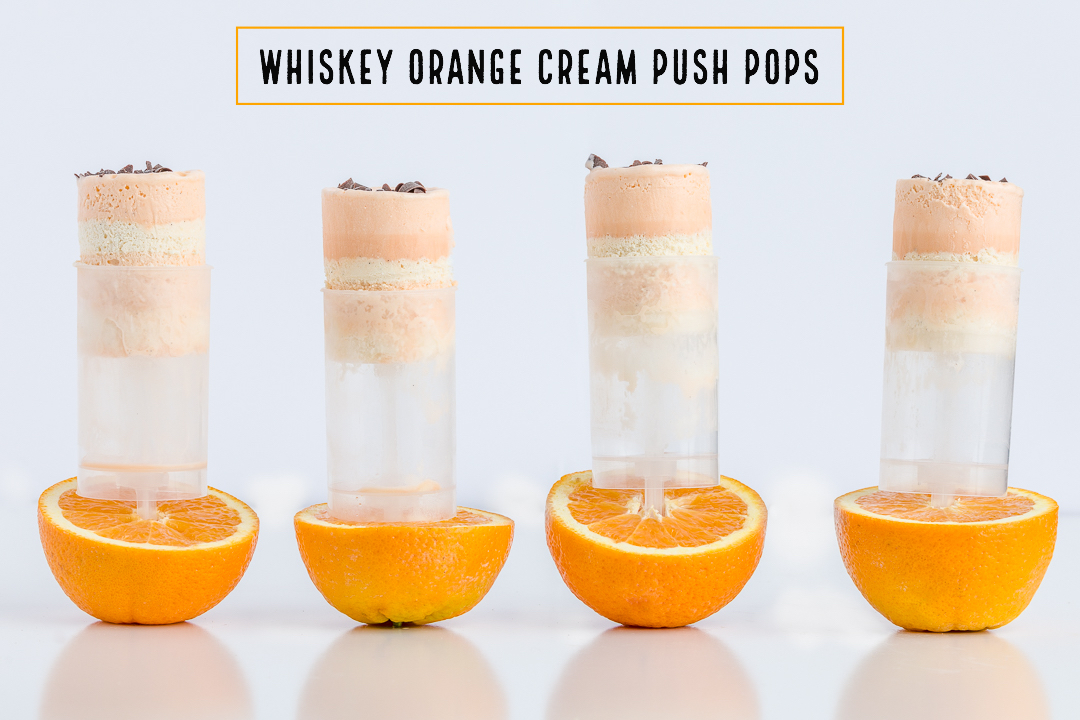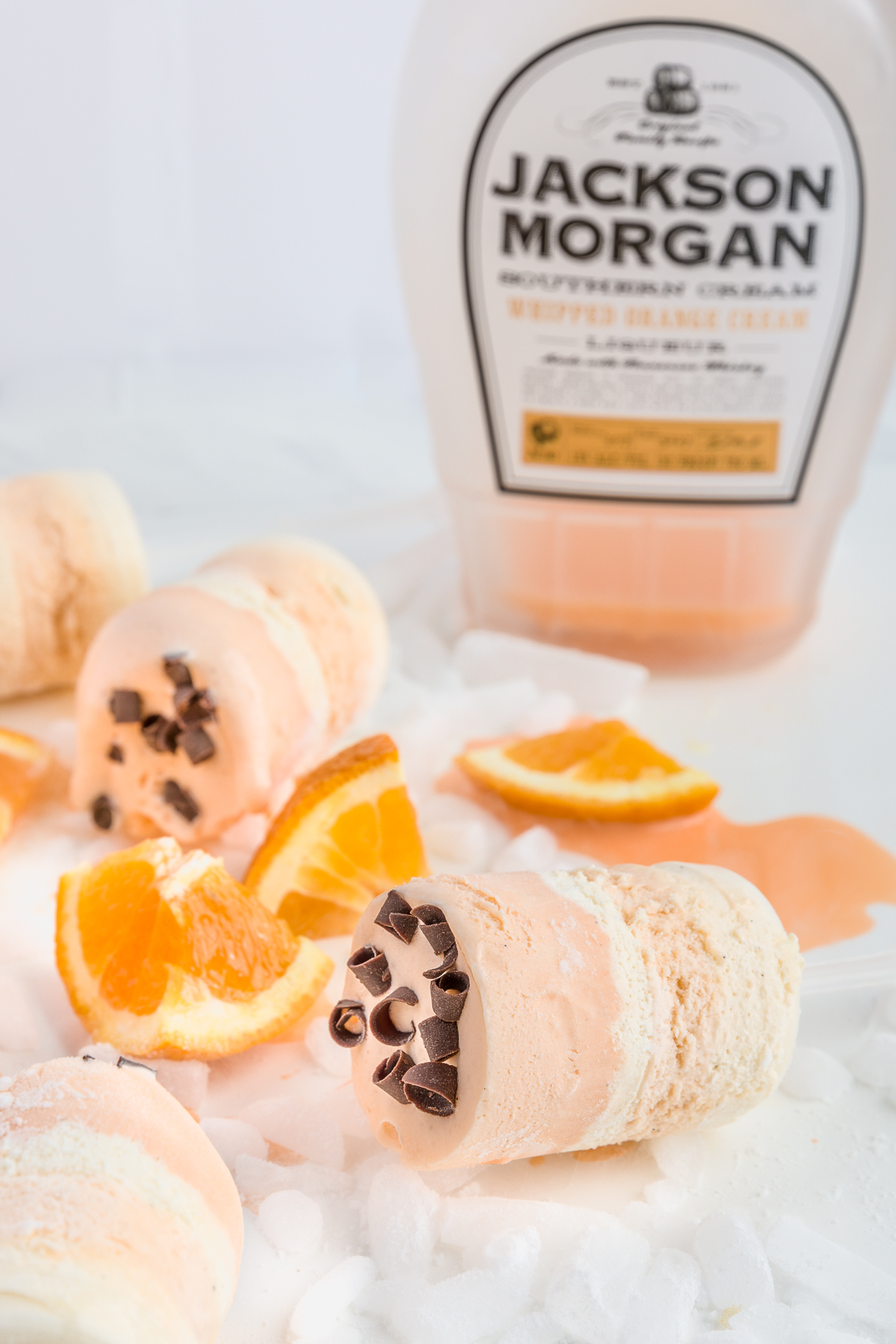 If there was one vivid memory of being a wild child kid in the summers of the 90s, excluding the obvious never-ending playlist of Céline Dion and Eiffel 65 songs that I would fall asleep listening to on my Discman (that's a portable thing that plays CDs, kids), it would have to be the sheer amount of orange-flavored push pops that I put away. Y'all know the ones. They came in a box with good ol' Fred Flintstone on the front, a bit tart, sweet, and you would have to eat them pretty quickly or the paper wrapper that helped hold everything together would completely dissolve and leave you with your entire hands covered in the sticky mess. Good times, good times.
Move over Fred, the new and improved push pops are in town. — When I first tasted the Jackson Morgan Whipped Orange Cream that is made with Tennessee whiskey, I immediately knew that I had to make a recipe with it. I tested a few different options… creamsicle macarons (ahhhhmazing – want the recipe later on??), meringues, and even a whipped orange pound cake recipe. These were great, but I couldn't get my mind off of the instant flashbacks to these childhood pops. I had to do it.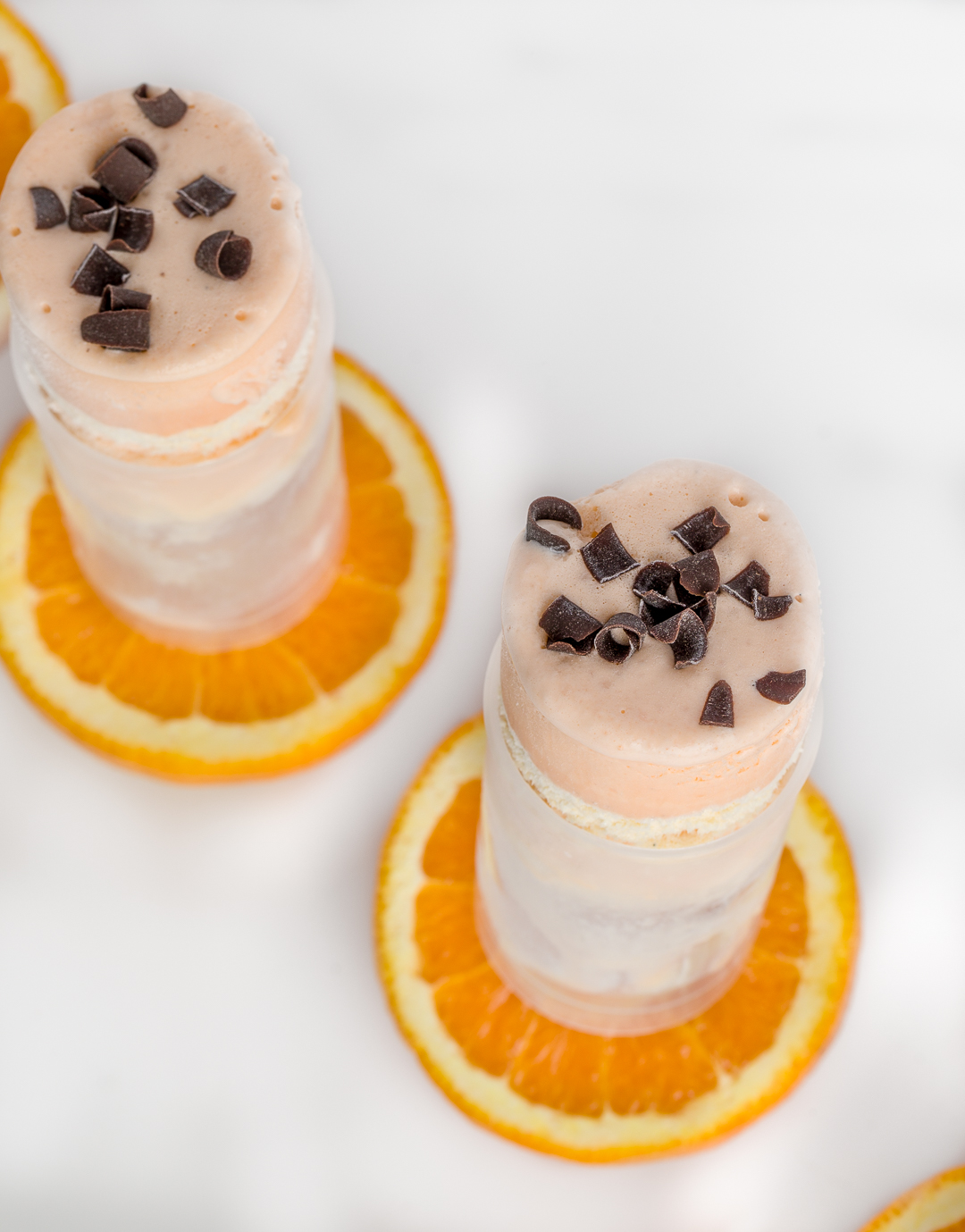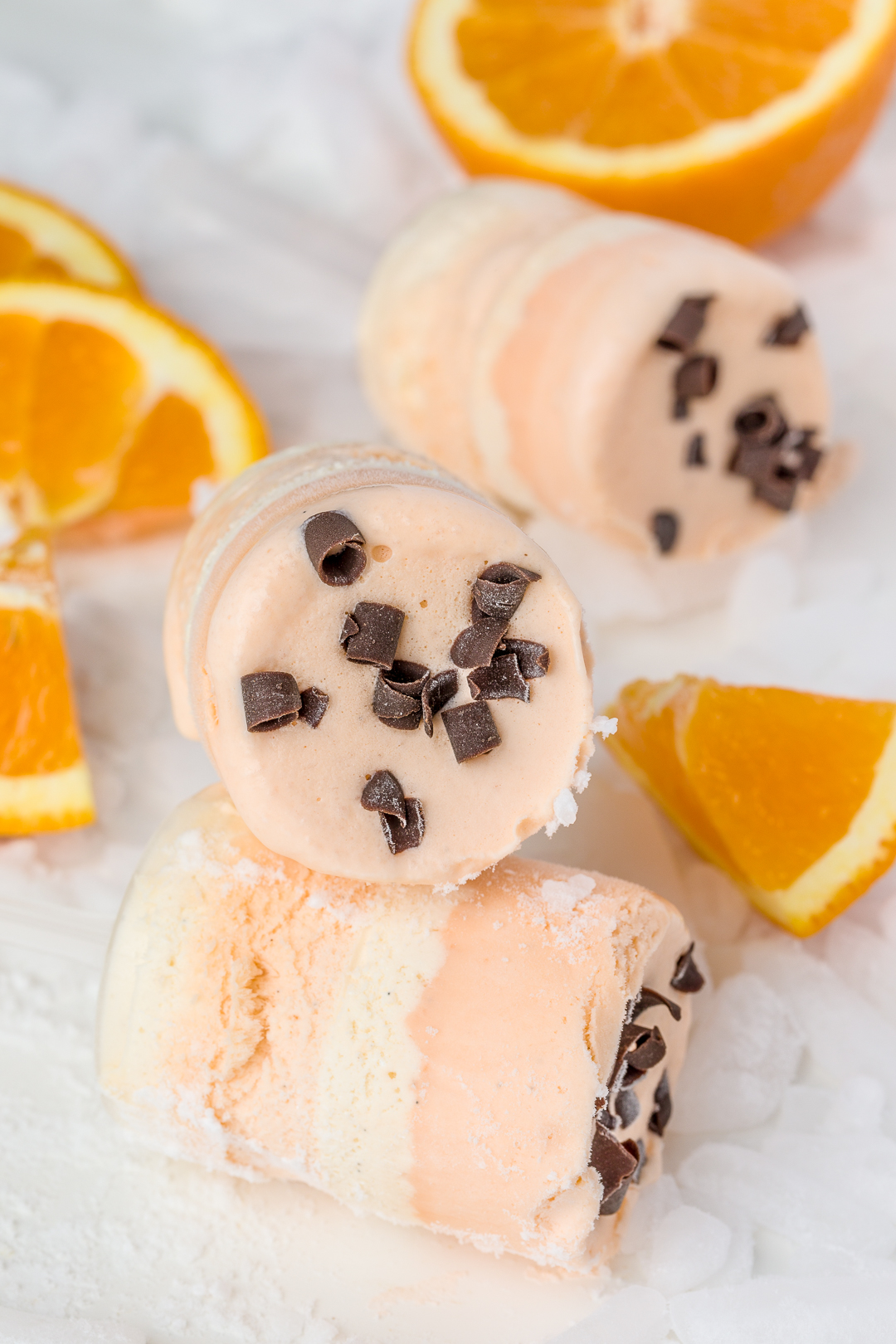 Maybe it's the 4 pops I just finished off before writing this, but this recipe is just killer. I can't explain how excited I was to be able to find something that I could bake and create with that would give me such a strong instant connection to those memories. I usually shy away from orange-flavored products, because we all know that they can go really wrong, but the folks at Jackson Morgan nailed this one. It's creamy, smooth, and has the perfect nostalgic orange flavor that you would hope for.
Jackson Morgan Southern Creams is a brand that I have used countless times on the blog to create recipes with. They are a family-run business in the mountains of Tennessee, just down the road from Nashville, that launched to continuing the legacy of their grandfather, who had a whiskey still in North Carolina in the 20s, with the creation of some seriously fantastic cream-based flavored whiskey blends. The Whipped Orange Cream is so smooth and well-balanced with that expected orange flare. I've tasted every flavor and can honestly say that they are incredible on their own, in coffee, or probably my favorite — in bakes and kitchen creations. It's so simple to swap out the milk or cream in nearly any recipe with these. In fact, that's exactly what I did to create these.
Find the links to all of the other whickey cream recipes at the bottom of the post!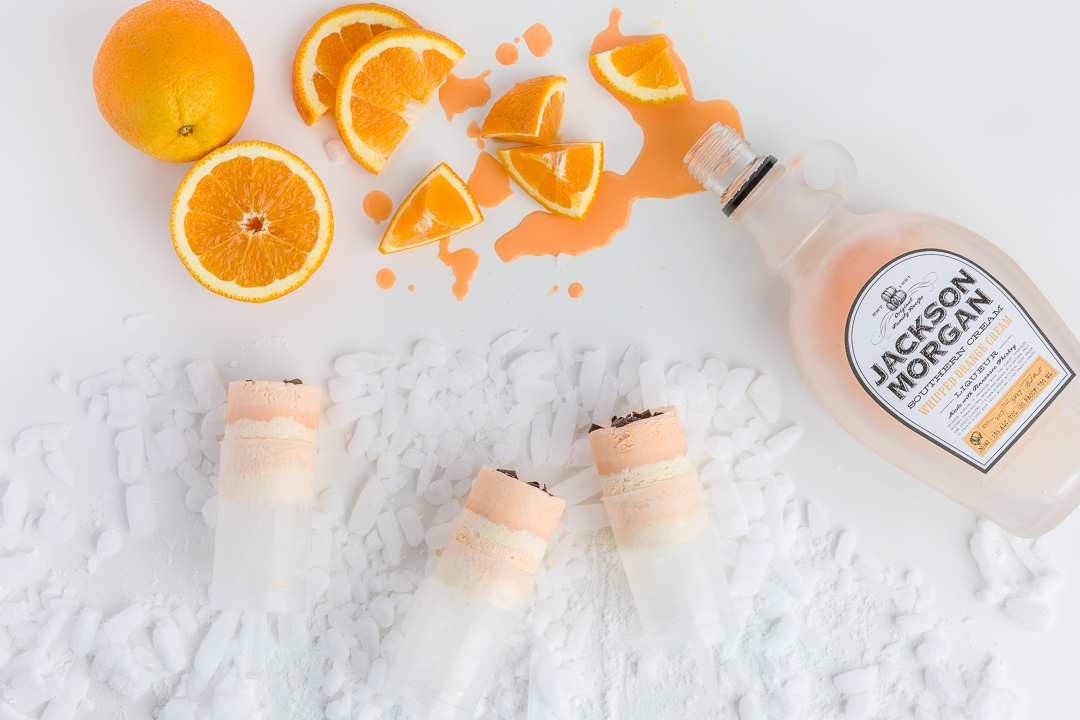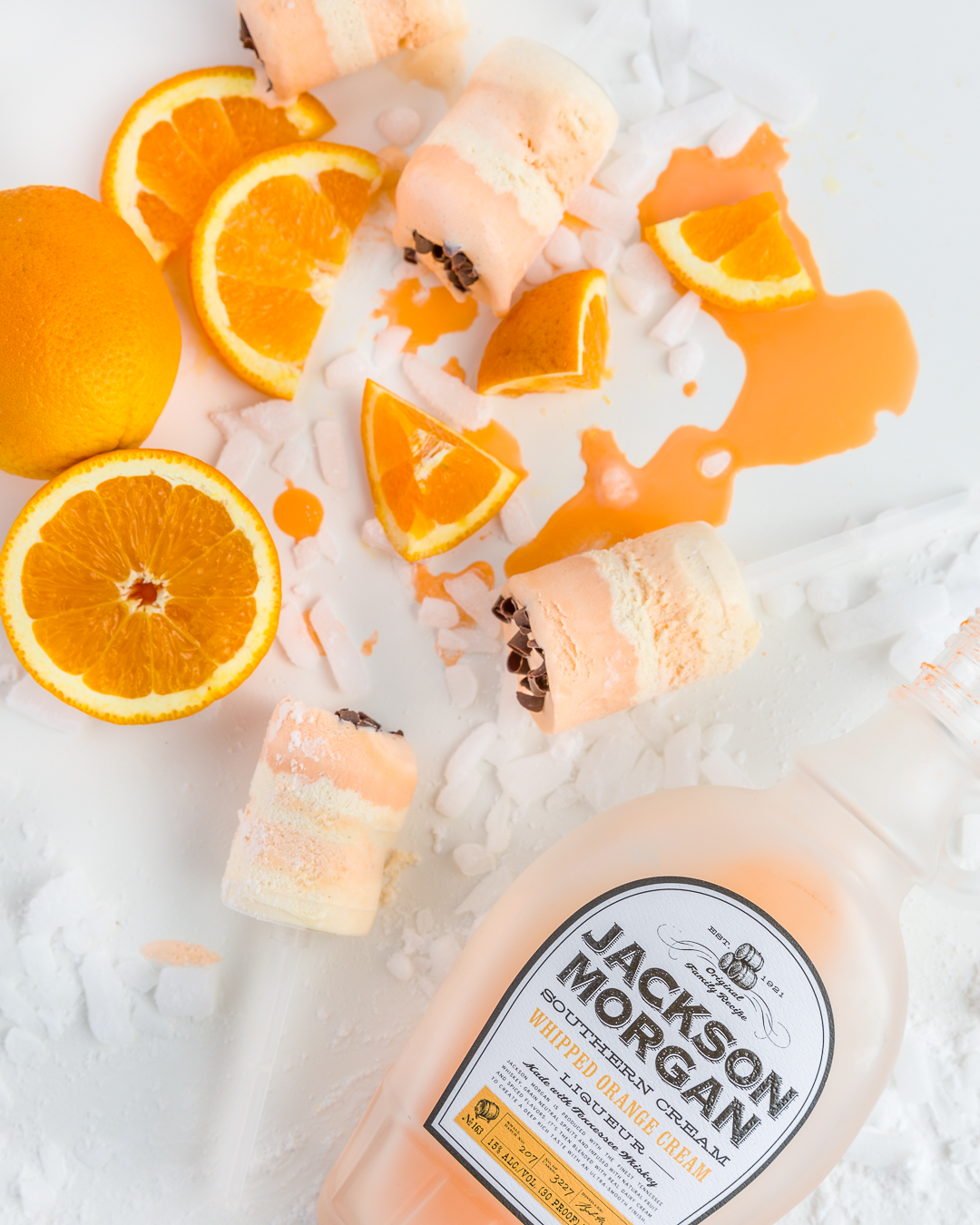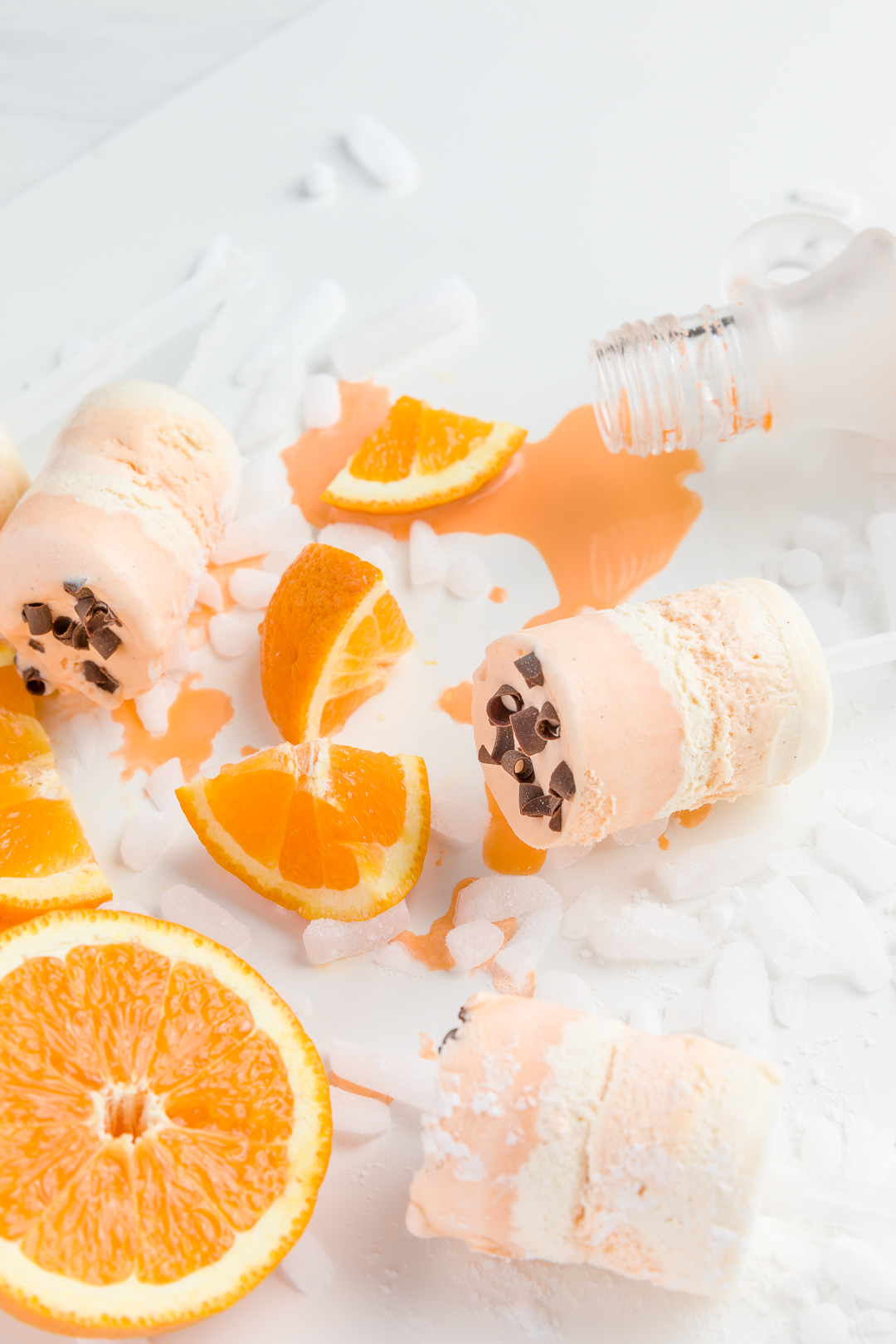 No-churn ice cream was my starting point. I love a wonderful ice cream recipe, but sometimes you just don't want or don't have the ice cream maker to whip it up in your own kitchen. In my instance, I was lazy and tired and just wanted to mix something up and wake up the next day with pops that were ready to push into my mouth.
Since we are already boozing this up a bit, I figured we could get the slightest bit fancy and layer two flavors into the treats. All I did for that was start with a solid vanilla bean ice cream and then whip some of the orange whiskey cream into half of the mix. Layer it in these super handy push pop reusable containers that won't melt all over your hands or force you into a brain freeze, top it with some chocolate curls (because we are adults and can do what we want!), and throw it in the freezer. — Put on your Discman and when you wake up, you will have the most delicious ice cream push pops evahhh! — Yabba, dabba, booze, y'all!
Find Jackson Morgan products using their locator HERE.
Orange Cream Whiskey Push Pops
These homemade Whiskey Orange Cream Push Pops will bring you back in the best way possible. Simple no-churn ice cream recipe with vanilla, cream, sugar, and orange cream whiskey will have you singing Céline on your Walkman in no time. Recipe from SouthernFatty.com.
Author:
Phillip Fryman | SouthernFATTY.com
Ingredients
Orange Whipped Cream
Whipped Cream
¾ cup (170g) heavy cream, cold
No-Churn Custard Ice Cream Base
6 (300g) eggs, whole
1 cup (200g) sugar, granulated
½ tablespoon vanilla bean paste (or extract)
¼ teaspoon (2g) salt
Finishing
Instructions
Orange Whipped Cream
With a stand mixer or hand mixer, place cold cream and whip to just stiff peaks.
Slowly add the orange whiskey cream and mix until just combined. If the mixture deflates some, don't worry about it.
Transfer to a bowl, cover, and chill.
Whipped Cream
Repeat the same process for the plain whipped cream -- Whip to stiff peaks and transfer to bowl, cover, and chill.
No-Churn Custard Ice Cream Base
You will need two pots for this. One medium saucepan and one large mixer bowl (I use my KitchenAid bowl) that will sit on top of the saucepan.
If the mixer bowl touches the bottom of the saucepan, place some foil in the bottom of the saucepan to elevate it slightly.
Place an inch or two of water in the saucepan over medium heat.
While the water is heating, whisk the eggs, sugar, and salt until well-combined.
When water is steaming well, place mixer bowl on top.
You do not want the bowl to touch the water directly. The steam will gently warm the mixture. Adjust accordingly.
Stirring constantly with a spatula to scrape the entire bowl bottom the entire time, heat the egg mixture until it reaches 165 F (I prefer to use this thermometer). This will take about 5-7 minutes.
Remove from the heat and place on the mixer with a whisk attachment (or handheld is fine).
Whip on high speed until lightened and increased in volume. This will take about 6-8 minutes on most mixers at high speed.
Divide this custard mix in half into each of the two whipped cream bowls.
Carefully fold the mixtures.
Fill the molds as desired.
Top with chocolate curls.
Freeze upright (I used a roasting pan with a cooling rack on top to prop them upright) for several hours, preferably overnight.
Yabba, dabba, booze! Enjoy.
Find more recipes on SouthernFatty.com.
Notes
Recipe adapted from
Serious Eats
No-Churn Vanilla Ice Cream, Stella Parks.
DISCLOSURE: This post was created with support from my partners at Jackson Morgan. I am happy to partner with the brands that I truly enjoy, and appreciate your continued support of their products.
---
---
Check out the other recipes using Jackson Morgan products on the blog.
---
---