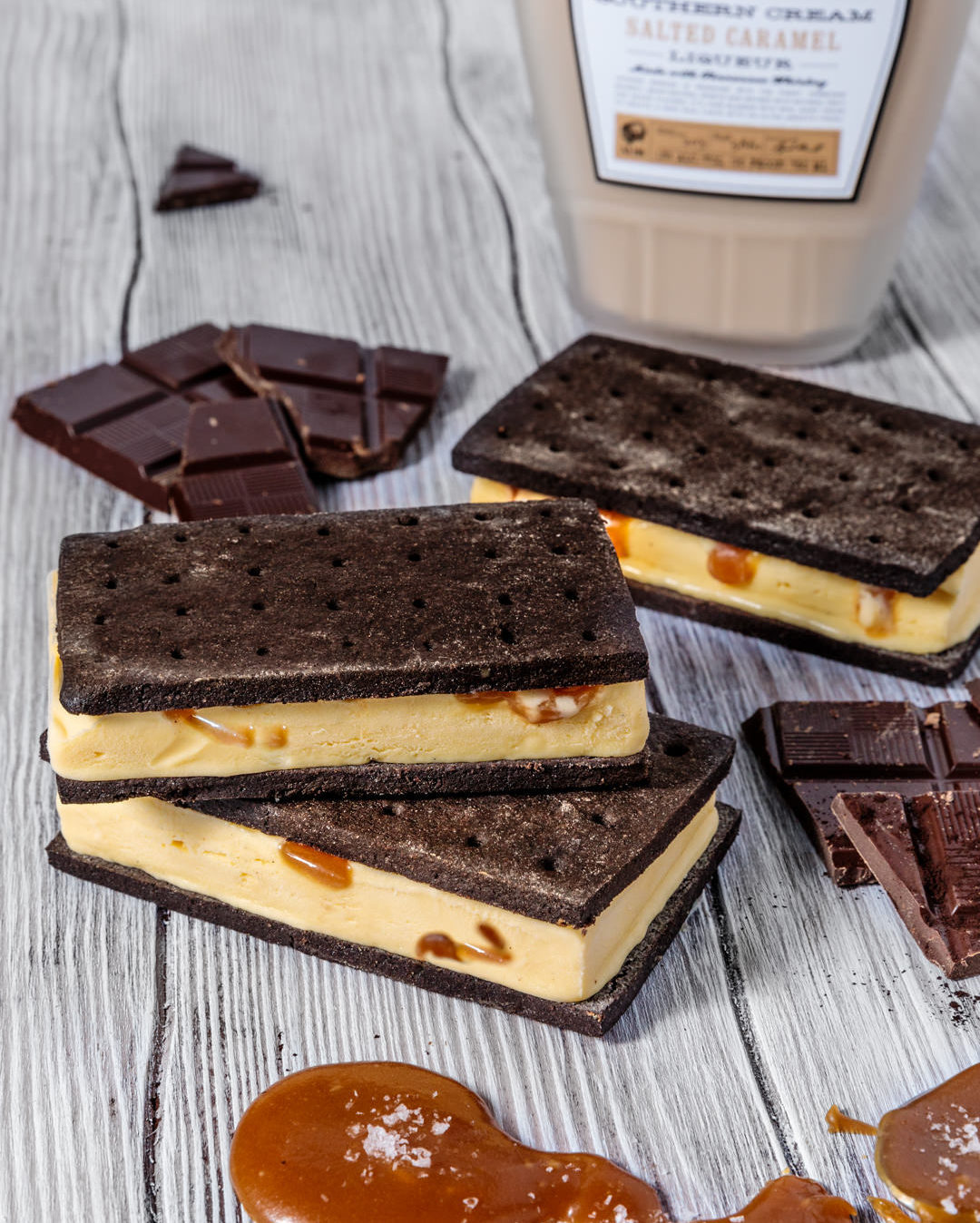 This past weekend, I drove back to my home state of Kentucky for the first of many warmer weather lake weekends. It was finally warm enough to feel like that dreadful winter blaaaah had left us for good. It seems only appropriate to celebrate spring and summer finally showing it's pretty little face with a twist on one of my absolute favorites, ice cream sandwiches. Not just any ol' frozen bars, but the we-aren't-working-today-so-lets-get-tipsy kind. Whiskey, y'all. You know how I roll.
I've partnered up with my pals at Jackson Morgan to share what I may already be ready to name the best dessert of the 2018 spring and summer season as with these Whiskey Salted Caramel Ice Cream Sandwiches.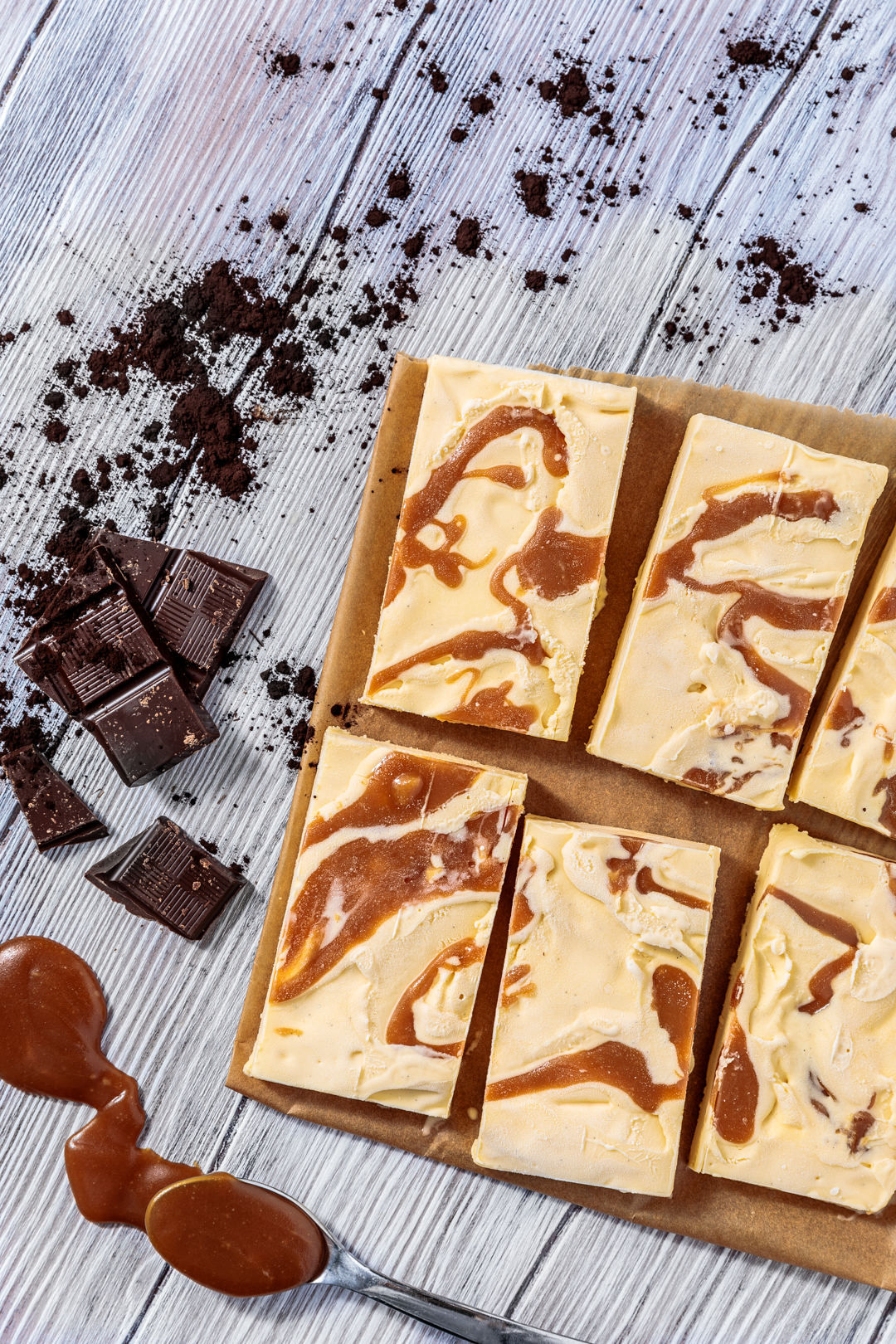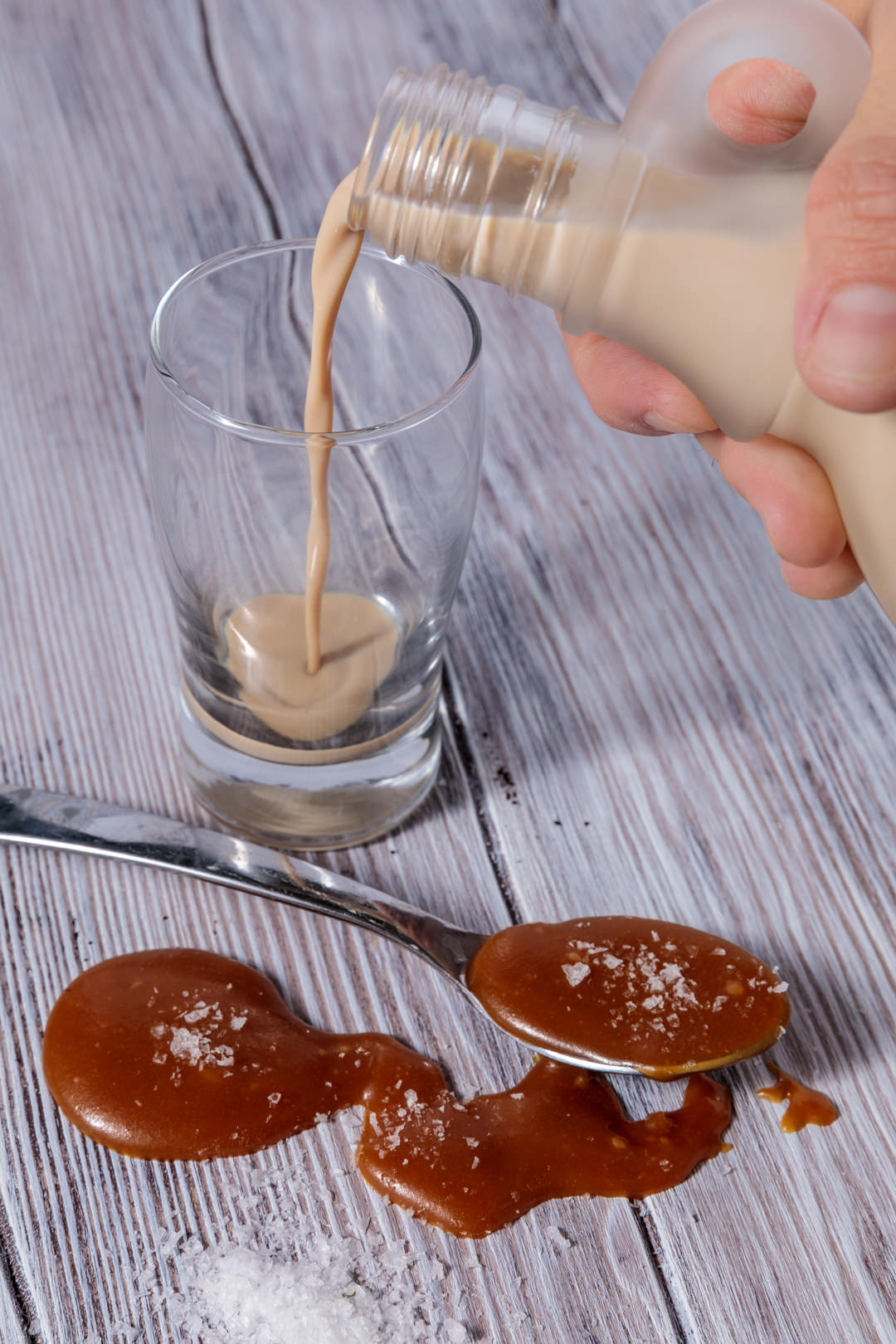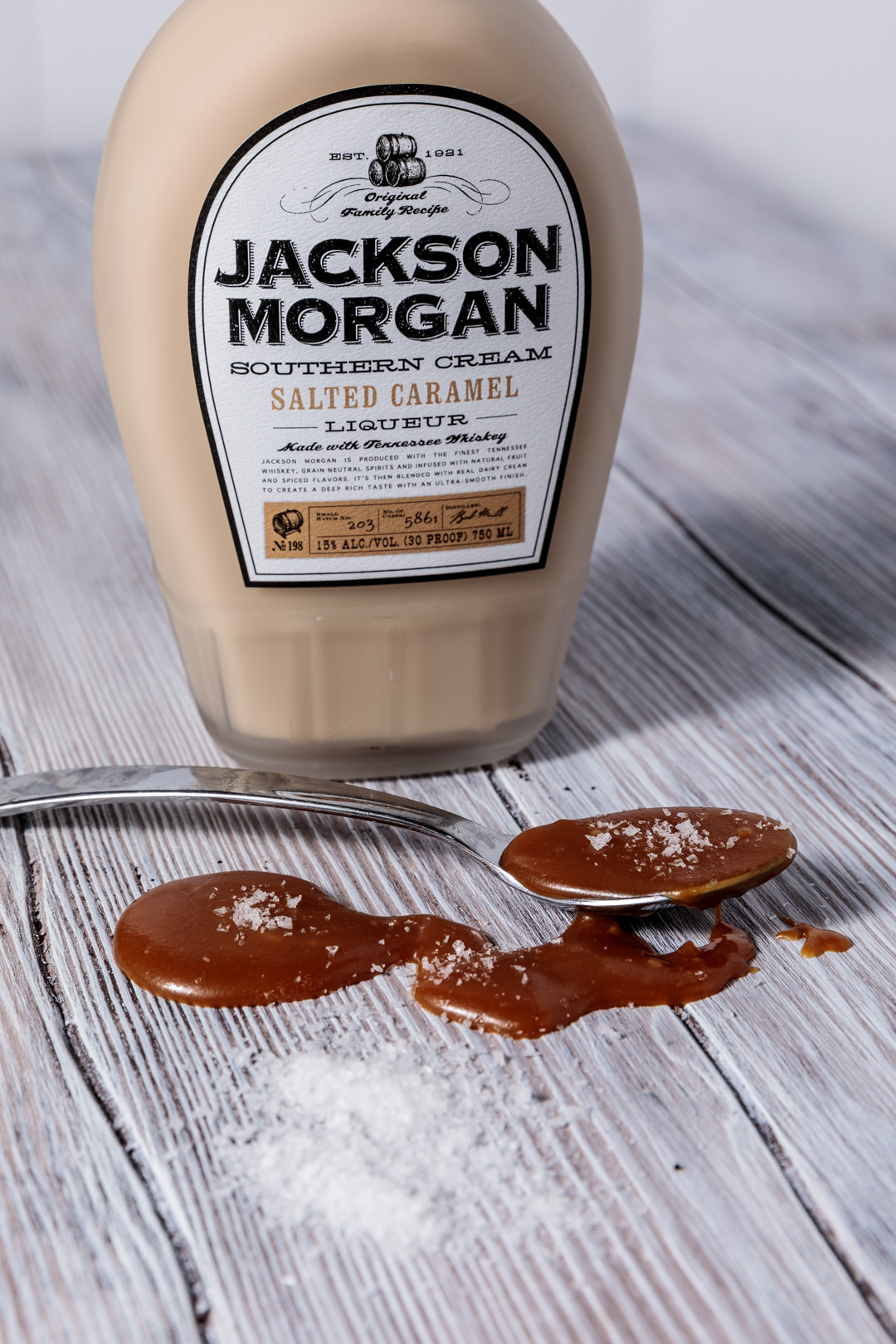 As a kid, I can remember pulling ice cream sandwiches out of the freezer, having the hardest time unwrapping them so I would end up just ripping the paper away (to only be frustrated having to find the little pieces that were left behind), and then constantly dealing with the cookie warming up a bit and sticking to absolutely everything. Well, folks. This is not going to be much different. The only thing that might help here is that these are packed full of booze, so you won't even care when the cookies make your hands sticky! Sounds like a win for adulting to me.
I certainly love ice cream, and who doesn't love a good cookie? Whatever person was the mad genius that decided to throw them together is officially my hero. Everyone loves the combination. Apparently, in Australia, they are given the name Giant Sandwich. In Scotland and Ireland, sliders. None of these have what we have here… WHISKEY! Jackson Morgan Southern Cream Whiskey, to be exact.
Making your own ice cream really isn't hard, you guys. For this recipe, I went with a sort of custard base, using some eggs. Don't let this scare you away from the boozy beauties. All you are going to do is warm up some eggs and then whiskey, have a sip of the cream for the chef, and whisk everything together. Chill a bit, and then chill the ice cream, and you are pretty much good to go.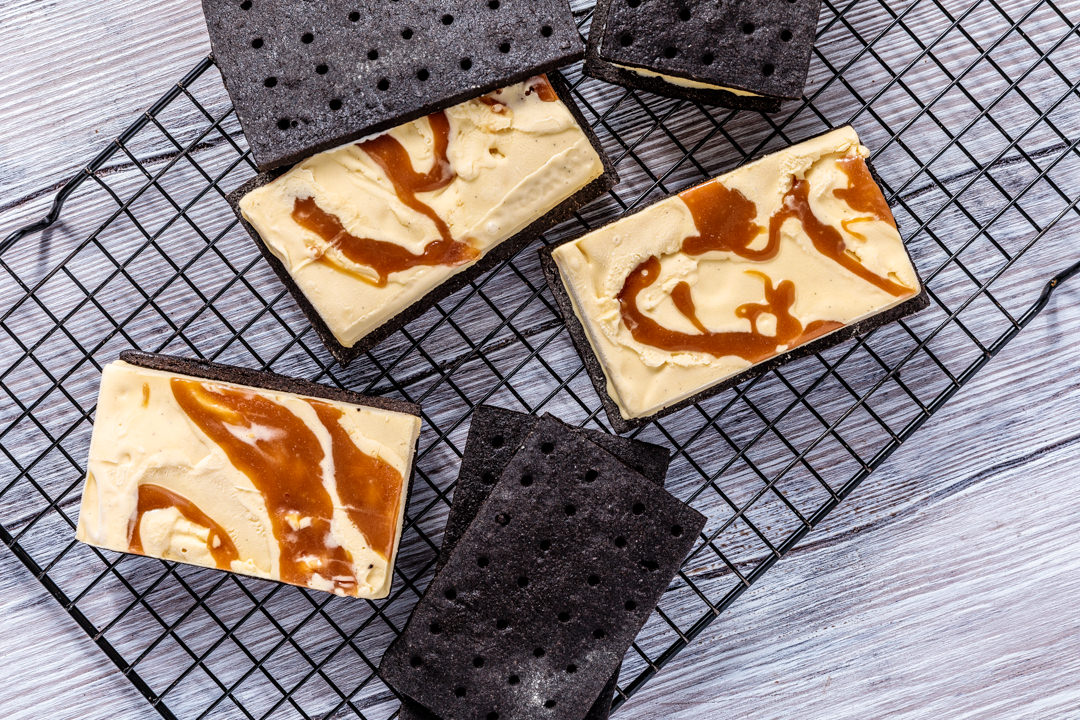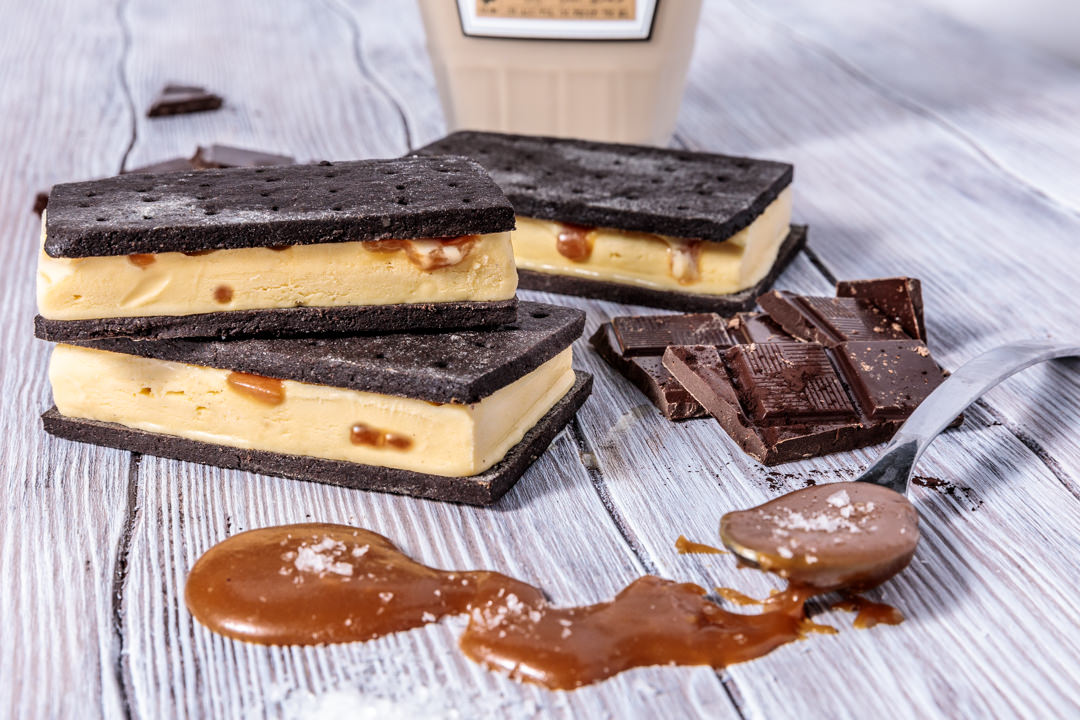 Ice cream recipes can be a bit tricky when you try to incorporate alcohol into it. You have to balance the booze, or you run the risk of it having a bit of a tough time freezing. I think that the whiskey cream in this base actually really plays to our benefit for that exact reason.
The already mixed Jackson Morgan Salted Caramel Southern Cream plays both sides with it being part of our dairy and the alcohol all in one pour. The Salted Caramel from Jackson Morgan (you can even order online) that I used is one of their most popular flavors. It's amazing to me how much this Tenneesse-made sipper tastes true to its name. You can enjoy it by itself, in coffee (one of my favorites), or in something as fun as these treats. I've had amazing success with swapping the dairy in a recipe out to the exact same measurements with all of the Jackson Morgan products that I've used (and I've tried them all… several times… for research sake, ya know).
Enjoy, y'all!

Whiskey Salted Caramel Ice Cream Sandwich
Author:
Phillip Fryman | SouthernFATTY.com
Serves:
6 to 8 ice cream sandwiches
Ingredients
Ice Cream
1 cup whole milk
½ cup granulated sugar
1 cup heavy cream
¼ cup Jackson Morgan Salted Caramel
5 egg yolks
1 teaspoon vanilla bean paste or extract
½ teaspoon sea salt
Cookies
1 cup granulated sugar
½ cup (8 tablespoons or 1 stick) unsalted butter, softened
½ cup all-purpose flour
½ cup cocoa powder (I used half of THIS dark cocoa and half of THIS cocoa powder, but you can use any)
½ teaspoon salt
1 teaspoons vanilla bean paste or extract
1 egg yolk
Assembly
Instructions
Ice Cream
Keep ice cream maker bowl frozen (be sure this is done the night before using). I used this one by Kitchen-Aid.
In a saucepan, heat milk and sugar over medium heat until sugar is fully dissolved, about 5 minutes.
Remove from heat and set aside.
In a large bowl, whisk the egg yolks, salt, and vanilla well.
While continuing to whisk, slowly stream in warm milk into the yolks. Be sure to mix well.
Pour this back into the saucepan and return to medium heat.
You will heat this mixture until it has thickened slightly. Be sure to constantly stir this. I prefer to use a spatula to be sure nothing on the bottom burns.
Heat and mix until this just starts to bubble. Do not let it boil. It should coat a spoon well when finished. Expect to heat and stir for about 5 minutes or so.
Remove from heat and whisk in Jackson Morgan Salted Caramel Cream and heavy cream. Be sure it is fully mixed.
Chill this mixture completely before transferring to ice cream maker.
Freeze per ice cream maker instructions.
Transfer to a 9-inch square dish, swirling caramel into semi-frozen ice cream.
Freeze completely, preferably overnight, until very hard.
Cookies
Cream softened butter and sugar until light, 1-2 minutes on medium speed in mixer.
Sift all of the dry ingredients together.
Add half of the dry mix slowly to the creamed butter and sugar. Mix well.
Mix vanilla and egg yolk.
Finish with the remaining dry mix.
Remove and roll dough on a lightly floured surface into a rectangle, 8" x 12".
Optionally, but for more clean cookies, freeze dough before cutting into desired size cookies.
For the ice cream mix above, the cookies will need to be 2" x 4".
Remember that you will need two cookies for each ice cream section. The cookies should be slightly larger than the ice cream.
Poke holes/indentations in cookies.
Bake cookies at 350 F for 10 minutes. Remove and (optionally) use a flat surface (ruler or spatula) to press sides in slightly to straighten.
Cool completely.
Assembly
Cut ice cream into 2" x 4" rectangles.
Sandwich between cookies.
Keep frozen and enjoy!
Find more recipes on SouthernFatty.com.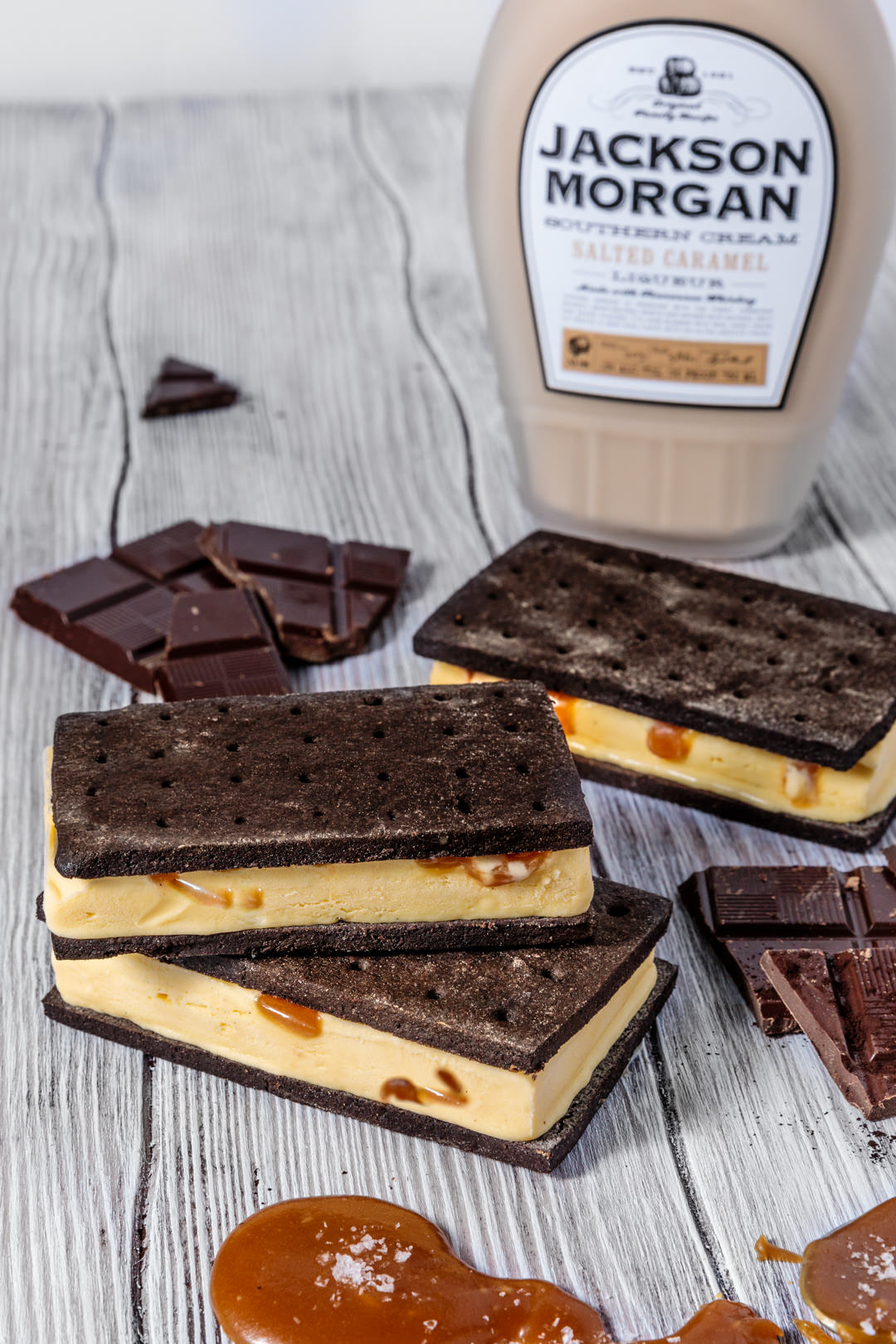 This post was made in partnership with Jackson Morgan Southern Cream.