I know that fall is just hours away, but it's still blazing hot and the tomatoes are still beautiful here in Tennessee. I'm giving summer one last hoorah in this tomato tart filled with goat cheese custard and a hint of fall with a toasted walnut wheat pastry crust.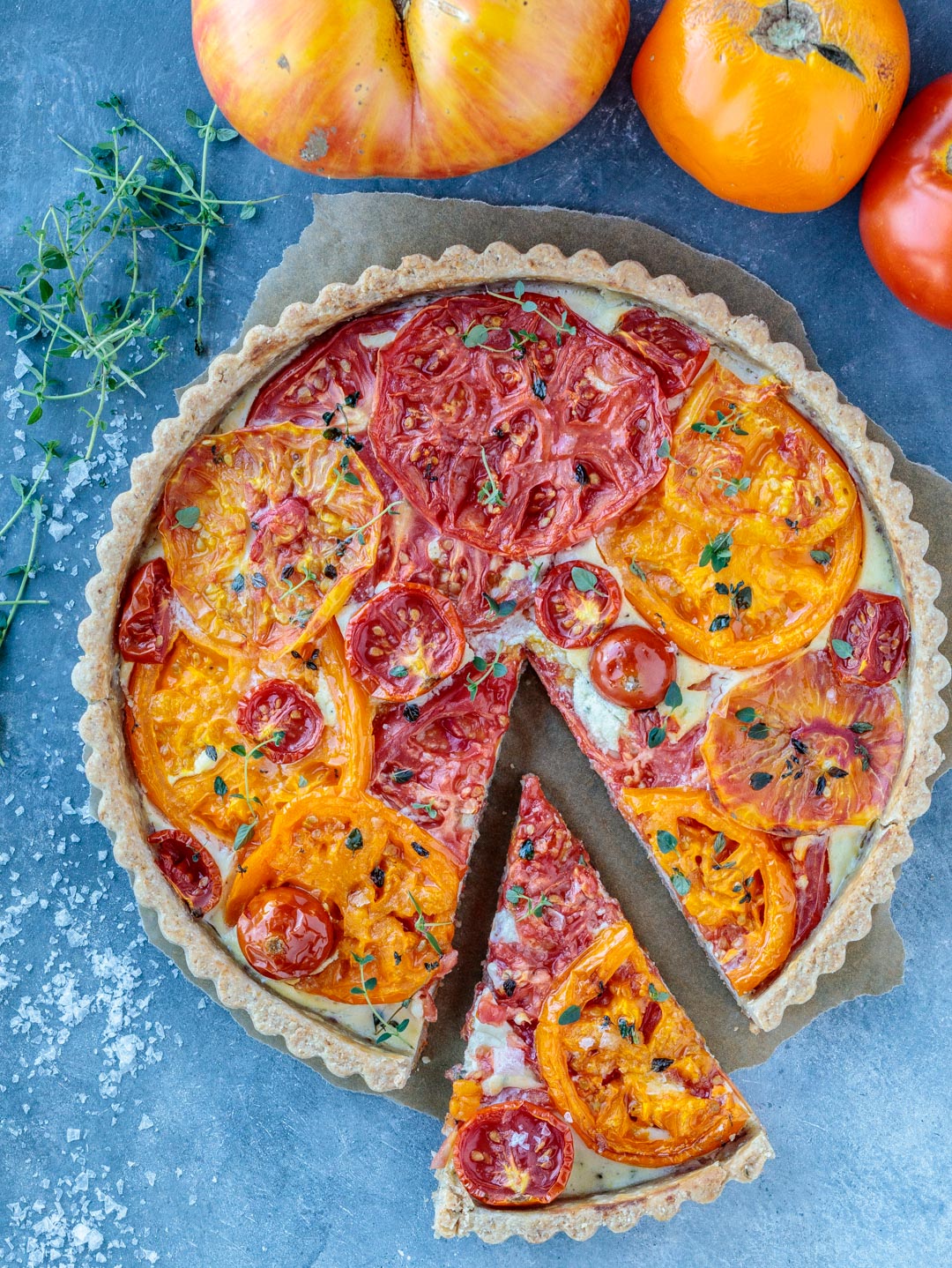 Tomatoes are one of those summer perks that I can't ever get enough of, and morn the loss of every fall when they start to disappear. Growing up in the south meant that you were certain to enjoy plenty of tomato sandwiches, tomato jam, fried green tomatoes, and tarts. There is something magical that happens in a perfectly ripe, in-season tomato. Those watery, weak in flavor tomatoes that you might find throughout the year at big box groceries are just not even close to being in the same category of amazingness that a proper tomato is in.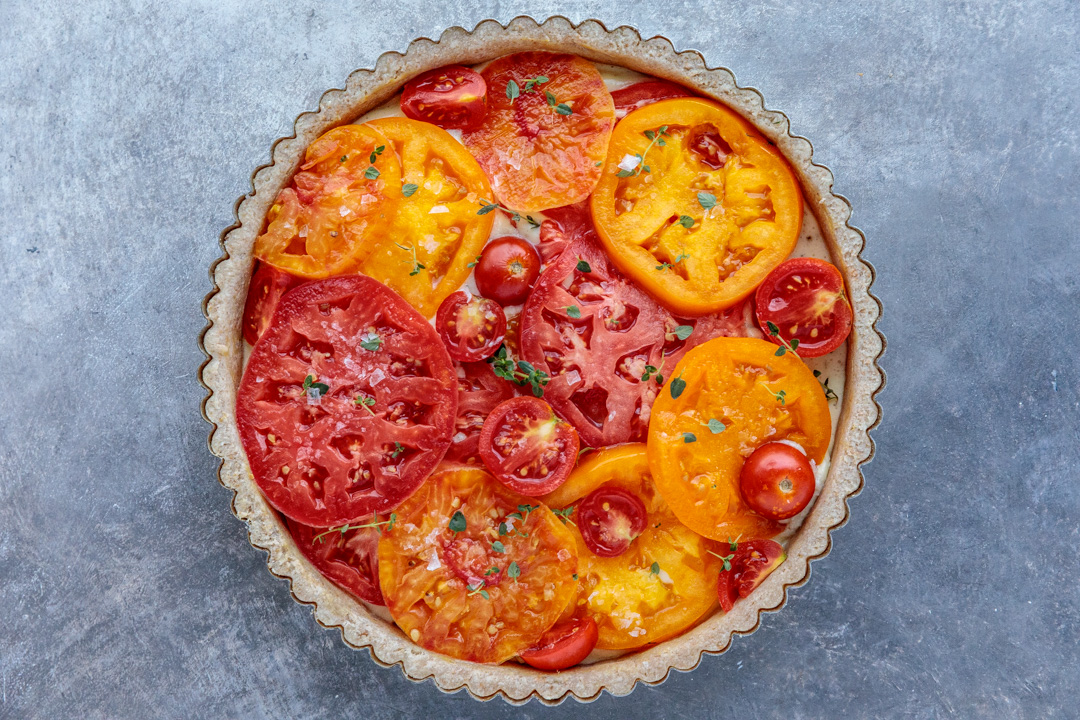 Determined to squeeze out every last cherry, heirloom, red, green tomato from my CSA box into the recipes in my kitchen, I wanted to share this favorite with you all. As much as these 90-degree September days drive me mad here in Nashville, we still have gorgeous tomatoes. For that reason alone, I can't let myself complain too much while I enjoy the fruits of the heat for now.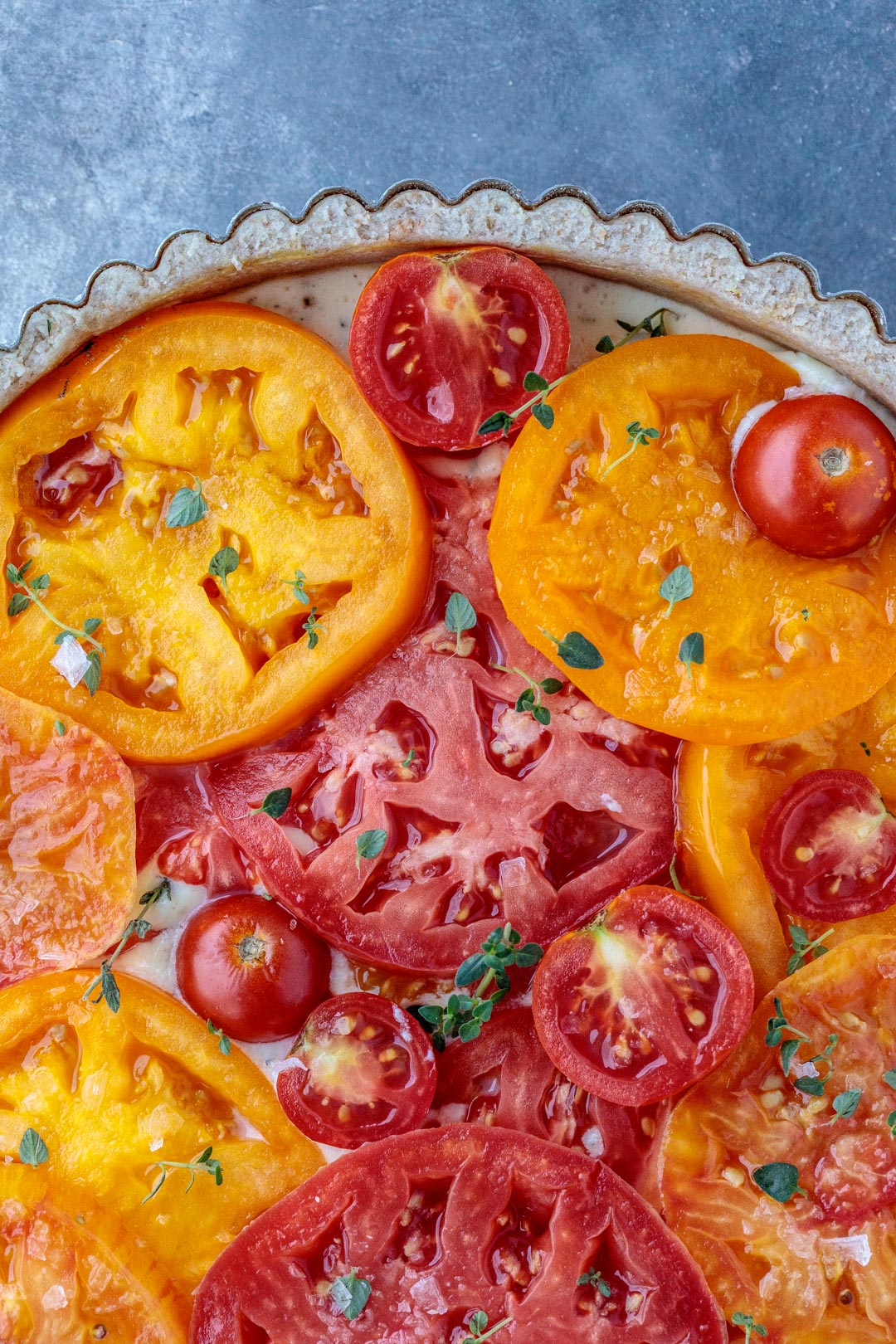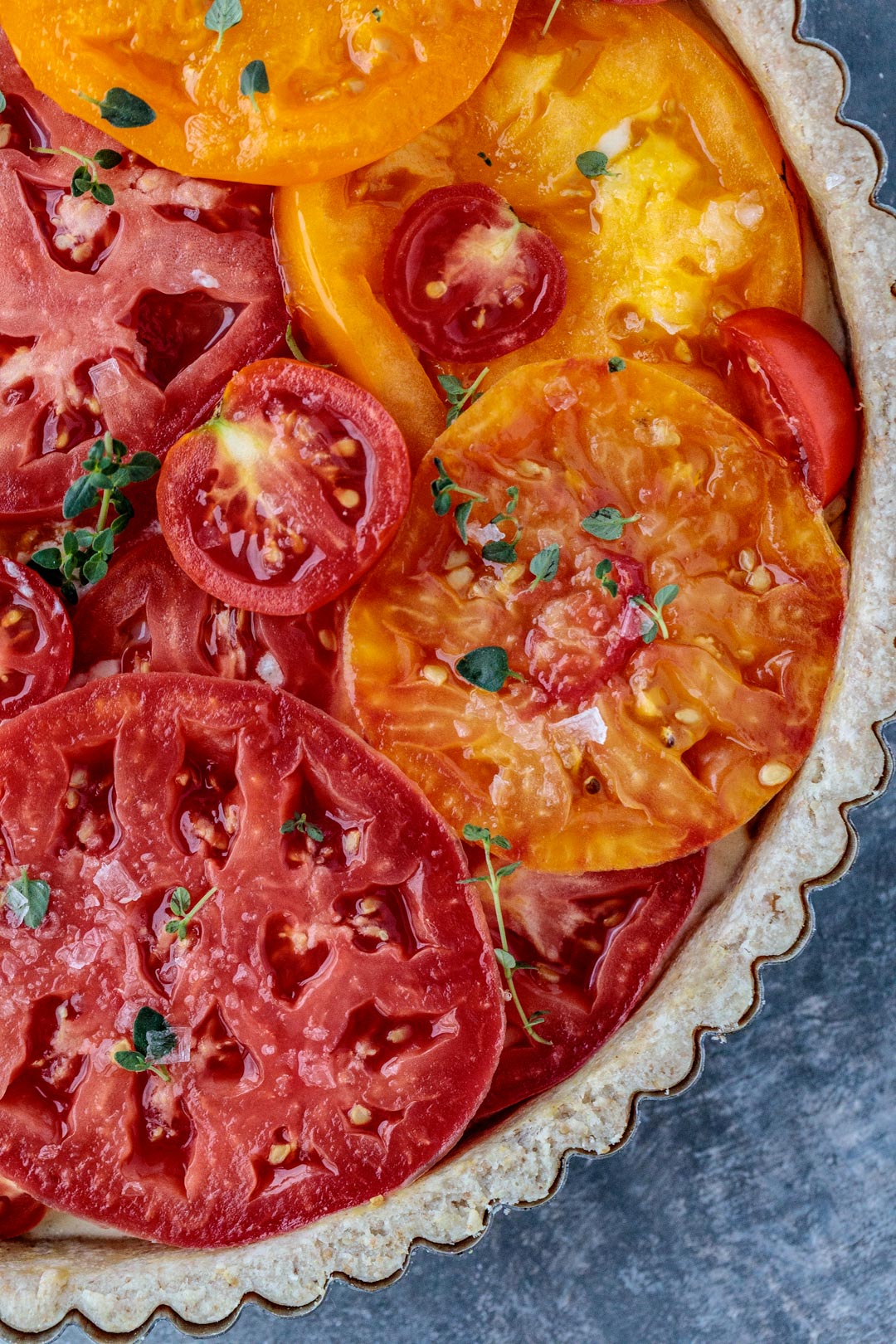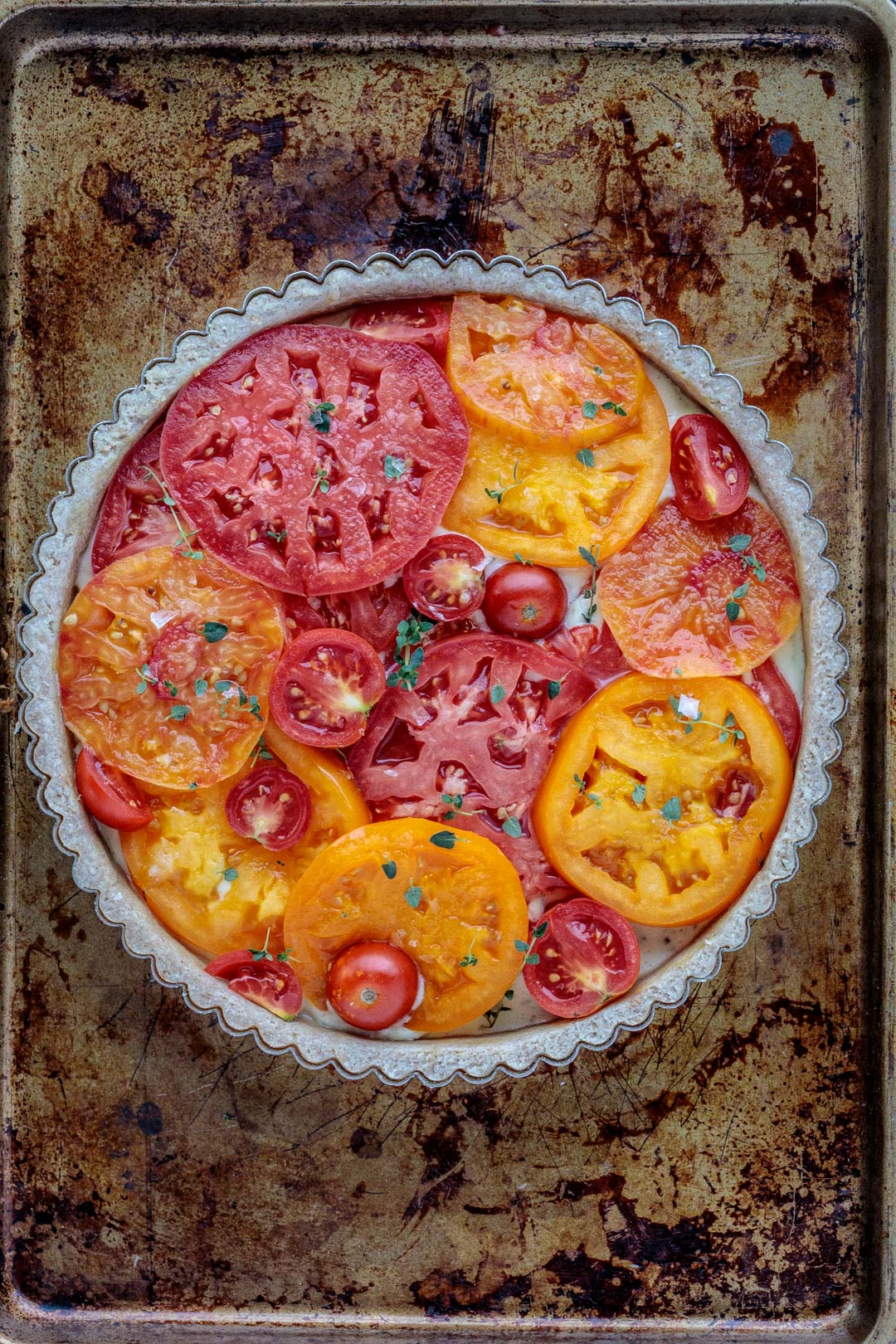 A good tomato tart has to start with a perfect crust. Typically, I would make a simple all-butter pastry crust. A pâte brisée style shortcrust that I reserve for savory tarts and pastry. This time, I decided to mix things up a bit with a twist of fall in the form of a toasted walnut crust. I used wheat flour that gives a warmth that white flour just doesn't carry. Combined with the sharp tomatoes and rich goat cheese herb filling, it ended up being a great choice.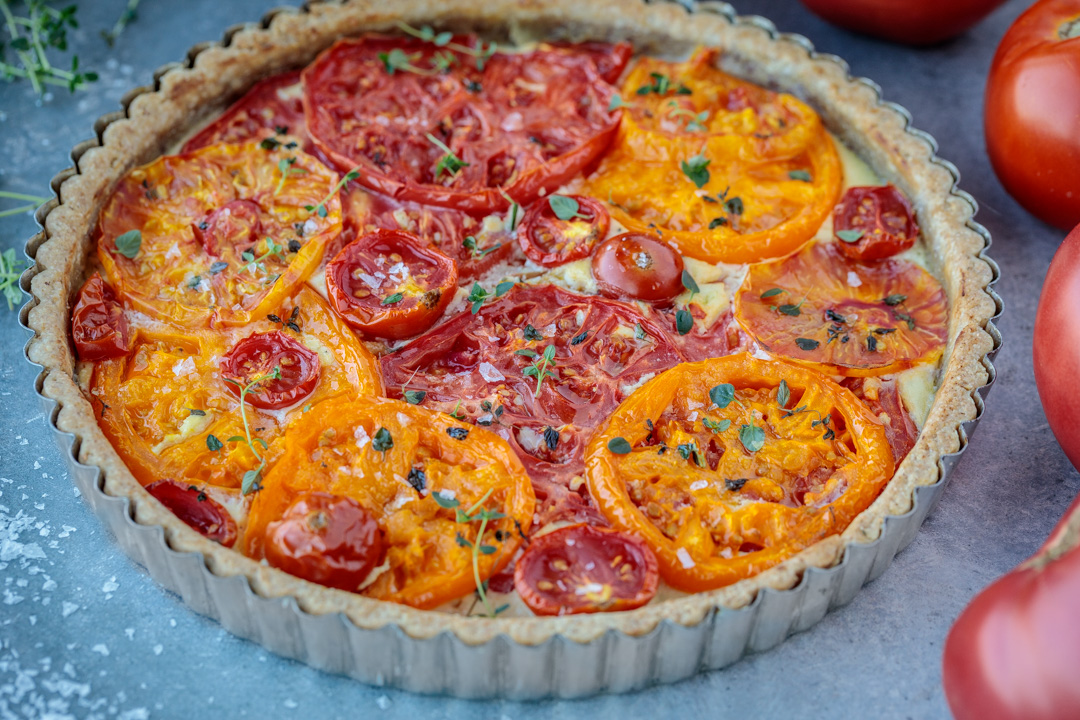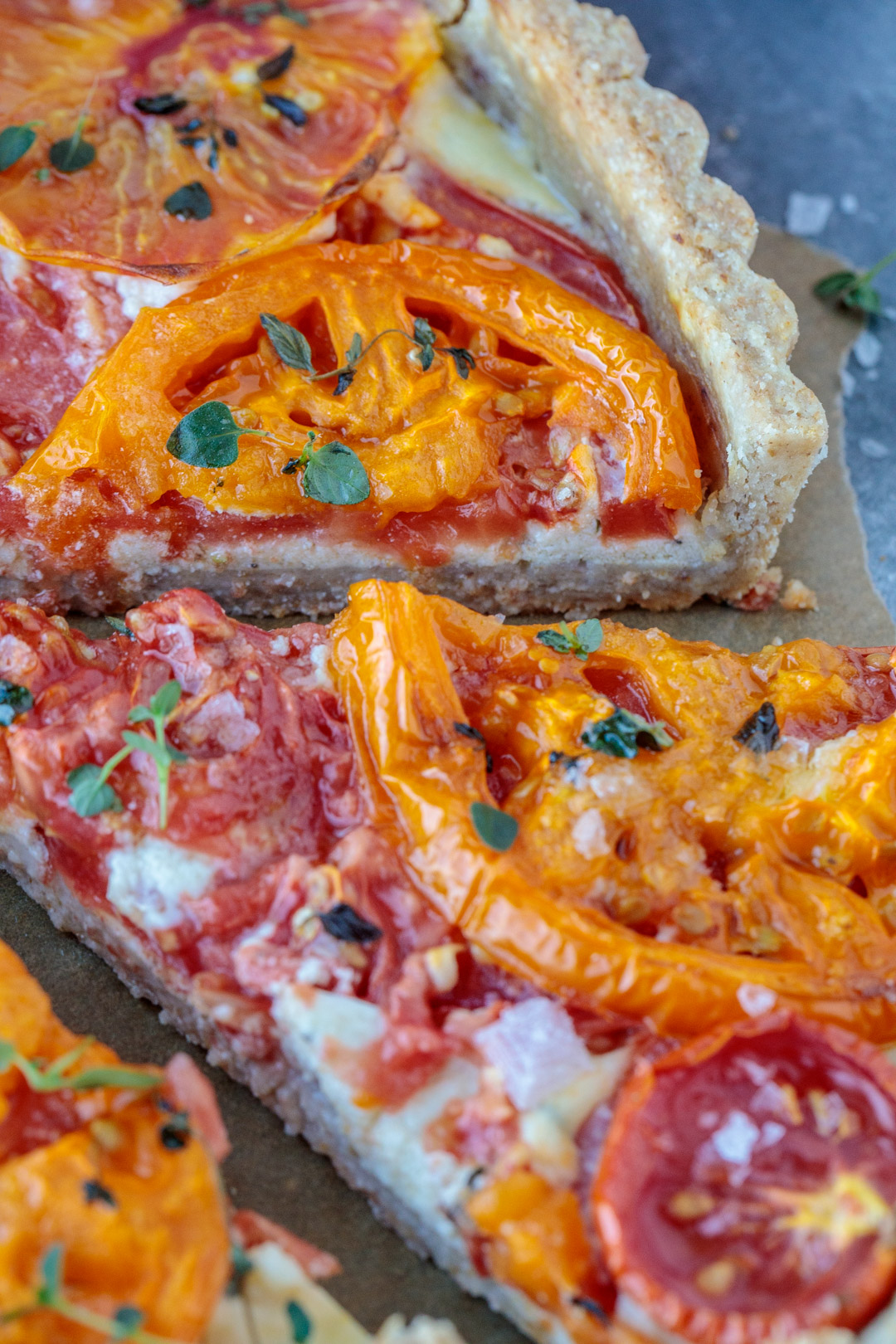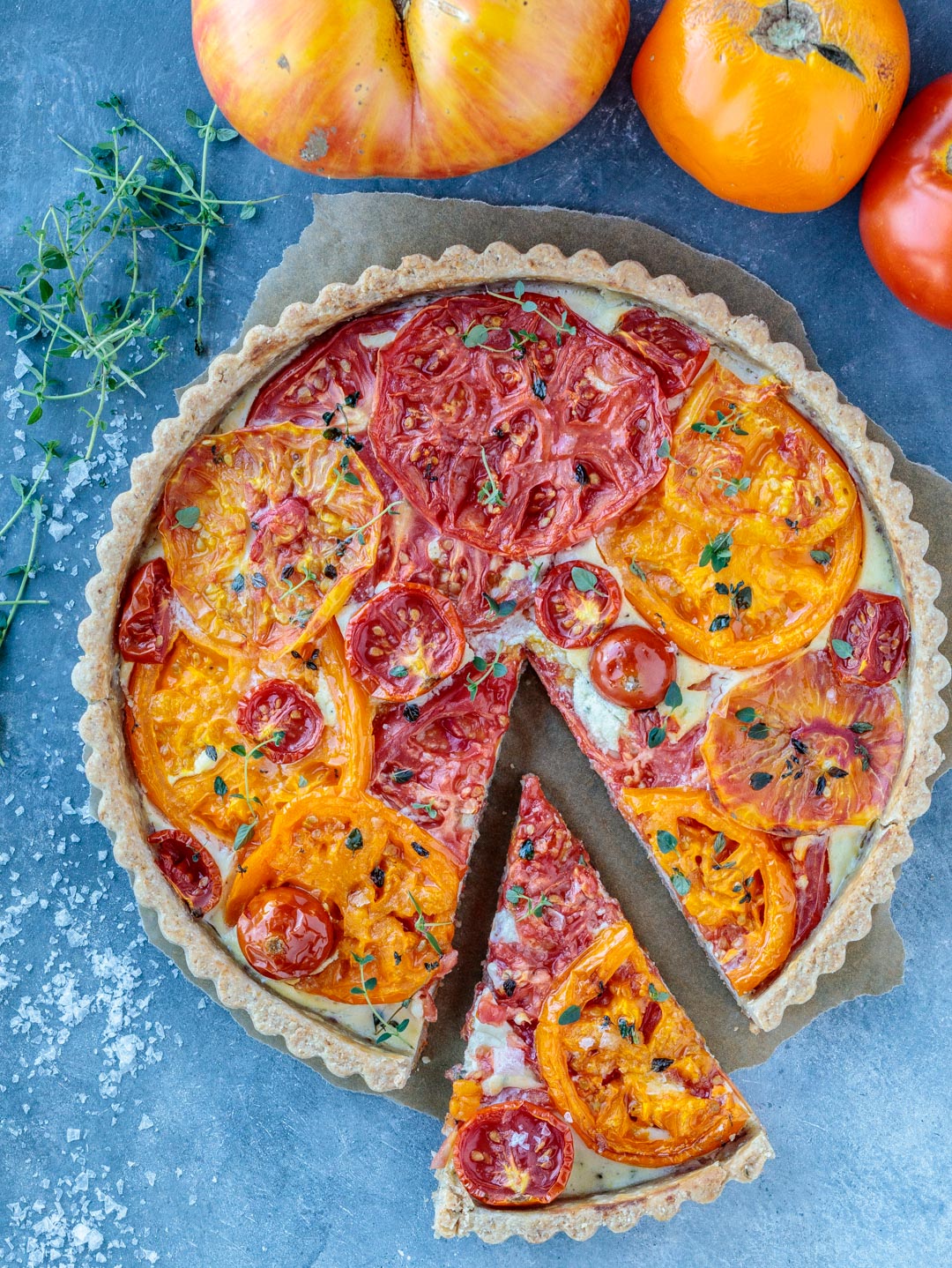 The smell that baking this crust will fill the house with is just incredible. It sort of teases you into thinking that you are ready to throw on your fall sweaters, load up Hocus Pocus, and start roasting marshmallows. BUT wait a second. Top it with the goat cheese and tomatoes and you get this really fun transition between seasons on your plate.
Here's to the last day of summer and for the hope that my tomatoes keep pushing through until the very last moment. Enjoy, y'all!

Tomato Goat Cheese Tart + Walnut Crust
Summer meets fall with this goat cheese and herb tomato tart with a toasted walnut wheat pastry butter crust. Recipe from SouthernFatty.com.
Author:
Phillip Fryman | SouthernFATTY.com
Ingredients
Walnut Wheat Crust
1 cup wheat flour
½ cup walnuts, toasted, ground
¼ teaspoon salt
½ cup butter, cold and cubed
1 tablespoon water, cold
Goat Cheese Herb Filling
4 ounces goat cheese, room temp.
2 eggs, room temp.
1 teaspoon thyme, chopped
½ teaspoon oregano, chopped
½ teaspoon salt
¼ teaspoon black pepper, ground
Finishing
1 tablespoon dijon mustard
tomatoes, various types, sliced
2 tablespoons salt
olive oil
coarse flake salt to finish
Instructions
Walnut Wheat Crust
Pre-heat oven to 300 F.
Toast whole walnuts on sheet pan until aromatic, about 10 minutes.
Remove and cool. Place in a closed container and shake vigorously to remove most of the skins.
Place flour, salt, cooled walnuts into a food processor.
Pulse until walnuts are very well incorporated and fine.
Add cold cubed butter and pulse 4-5 times until mixture is sandy. Do not over-mix.
Add cold water until dough just comes together.
Press together gently and wrap in plastic wrap.
Chill dough for at least 30 minutes.
Tomatoes
Preheat oven to 400 F.
In the meantime, place sliced tomatoes on a sheet pan with paper towels.
Gently salt the tomatoes on both sides.
Let the tomatoes rest for 10-15 minutes. This step removes excess water and is important to the final consistency of the tart.
Rinse the tomatoes under cold water and pat dry.
Dough, continued.
Roll dough to about ¼ inch thickness on lightly floured surface.
Transfer to tart pan (I love this one for it's removable bottom) and press into corners evenly.
Whisk, by hand or with mixer, the goat cheese and eggs.
Mix in the herbs and salt and pepper.
Brush pastry with dijon mustard.
Smooth goat cheese mixture over tart pastry.
Bake for 10 minutes and remove.
Finishing the tart
Top with tomato slices, a drizzle of olive oil.
Bake at 400 F until tomatoes have cooked and crust slightly golden, about 25-30 minutes.
Enjoy!
Find more recipes on SouthernFatty.com.