Tomato Goat Cheese Tart + Walnut Crust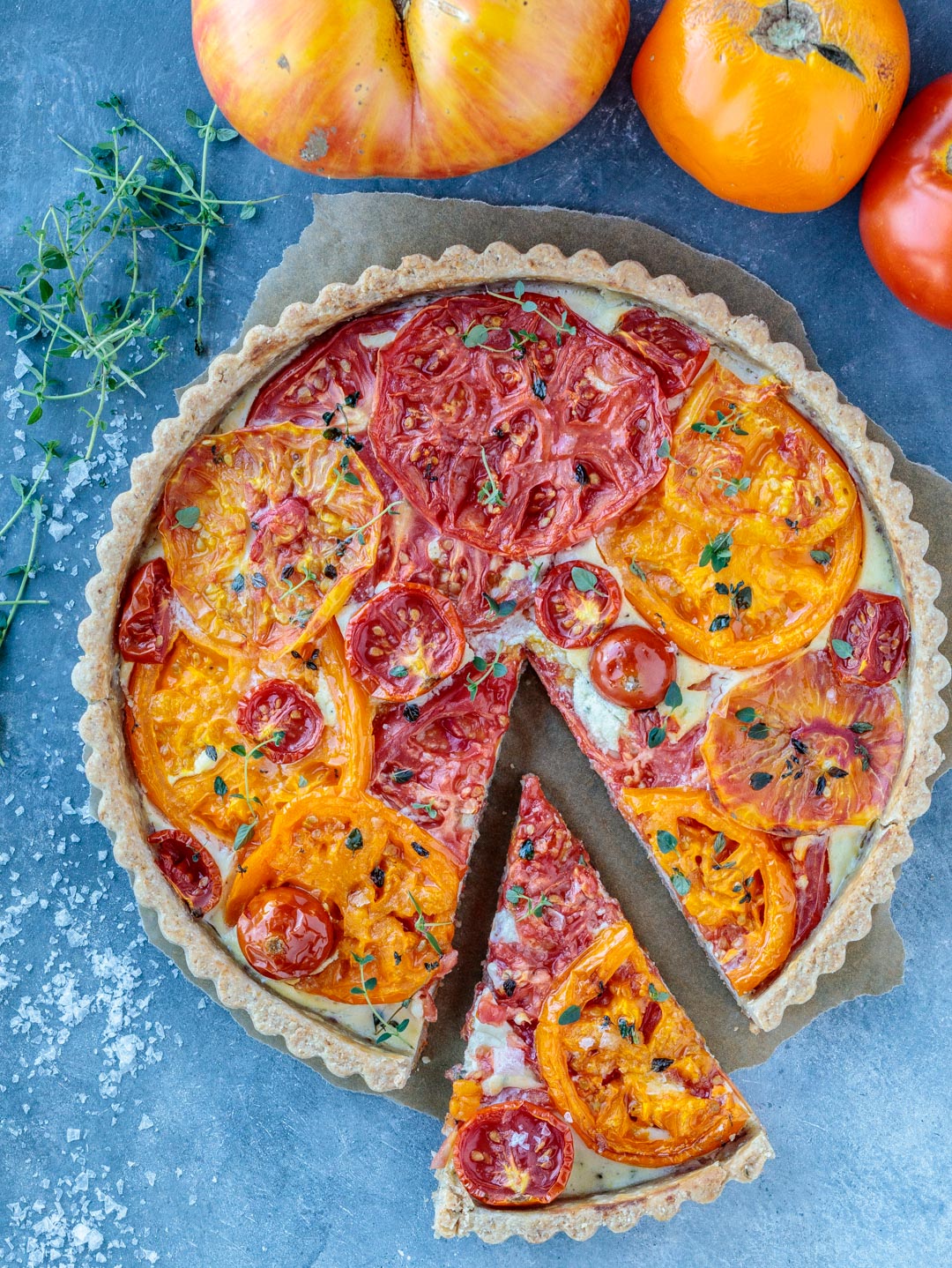 Author:
Phillip Fryman | SouthernFATTY.com
1 cup wheat flour
½ cup walnuts, toasted, ground
¼ teaspoon salt
½ cup butter, cold and cubed
1 tablespoon water, cold
4 ounces goat cheese, room temp.
2 eggs, room temp.
1 teaspoon thyme, chopped
½ teaspoon oregano, chopped
½ teaspoon salt
¼ teaspoon black pepper, ground
1 tablespoon dijon mustard
tomatoes, various types, sliced
2 tablespoons salt
olive oil
coarse flake salt to finish
Pre-heat oven to 300 F.
Toast whole walnuts on sheet pan until aromatic, about 10 minutes.
Remove and cool. Place in a closed container and shake vigorously to remove most of the skins.
Place flour, salt, cooled walnuts into a food processor.
Pulse until walnuts are very well incorporated and fine.
Add cold cubed butter and pulse 4-5 times until mixture is sandy. Do not over-mix.
Add cold water until dough just comes together.
Press together gently and wrap in plastic wrap.
Chill dough for at least 30 minutes.
Preheat oven to 400 F.
In the meantime, place sliced tomatoes on a sheet pan with paper towels.
Gently salt the tomatoes on both sides.
Let the tomatoes rest for 10-15 minutes. This step removes excess water and is important to the final consistency of the tart.
Rinse the tomatoes under cold water and pat dry.
Roll dough to about ¼ inch thickness on lightly floured surface.
Transfer to tart pan (I love this one for it's removable bottom) and press into corners evenly.
Whisk, by hand or with mixer, the goat cheese and eggs.
Mix in the herbs and salt and pepper.
Brush pastry with dijon mustard.
Smooth goat cheese mixture over tart pastry.
Bake for 10 minutes and remove.
Top with tomato slices, a drizzle of olive oil.
Bake at 400 F until tomatoes have cooked and crust slightly golden, about 25-30 minutes.
Enjoy!
Find more recipes on SouthernFatty.com.
Recipe by
Southern FATTY
at https://www.southernfatty.com/tomato-goat-cheese-walnut-tart/