After finding a bakery within walking distance from my house, I quickly because hooked on kolache. This recipe is for a sweet yeast roll kolache with fresh blueberry filling, topped with streusel crumbles and pearl sugar. Perfect for brunch or a sweet tooth snack.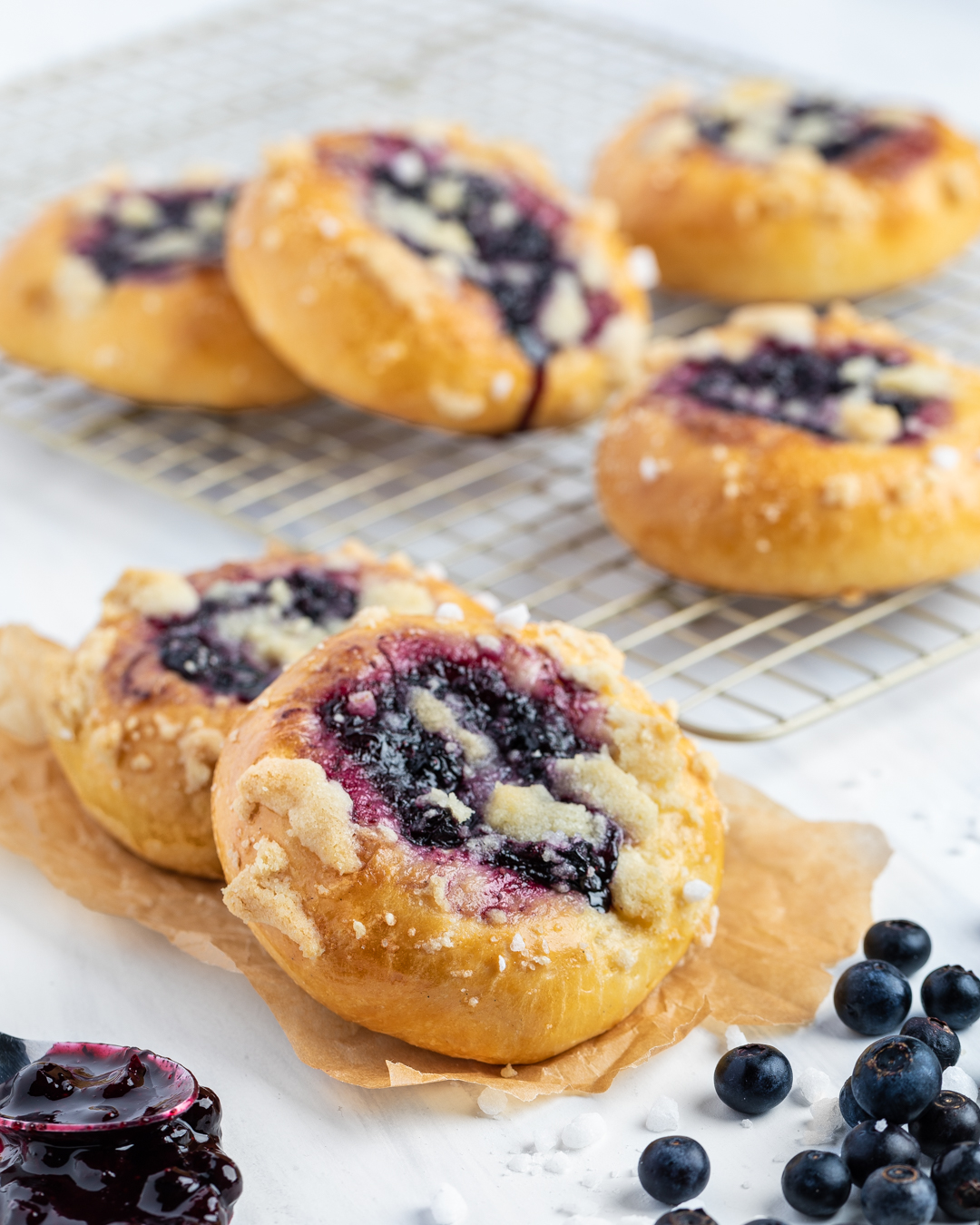 Kolache aren't something that I have grown up with, or probably even knew anything about until I was a bit older and stuffing my face with at every bakery that I walked past. If you've never had a kolache, you are missing out. There are a few different types coming from their Bohemian roots, with Czech, Polish,. Texan takes, and more. Each is its own drool-worthy creation, but I'm focusing here on making a thicker, sweet, yeast-risen roll that is filled with fruit. This recipe is closer to the Czech sweet variety, with a more brioche-like richness and density to the dough than a lighter danish.
Kolache are one of these pastries that is starting to take off, I think. Every city that I have visited recently has their own kolache place that the locals have found and try to keep as their own little secret. This is certainly true in Nashville. Yeast is a bakery that is just down the street from my house in East Nashville. I think it was the first kolache I had, and is probably to blame for the insane amount that I have since consumed.
https://www.instagram.com/p/9Ojp59gX7G/?taken-by=southernfatty
Now…. I'm not even going to attempt to get into the battle of what a kolache technically might be, comparing fluffy sweet bread varieties to the cookie type or try to figure out how I can make my southern accent spit out the proper pronunciation  ("kuh – lahhh – chee"? My best effort. If anyone here has a Czech Babi, let me know what she says!). I'm just going to say that these are incredible and you should try them out. It's like a danish on crack.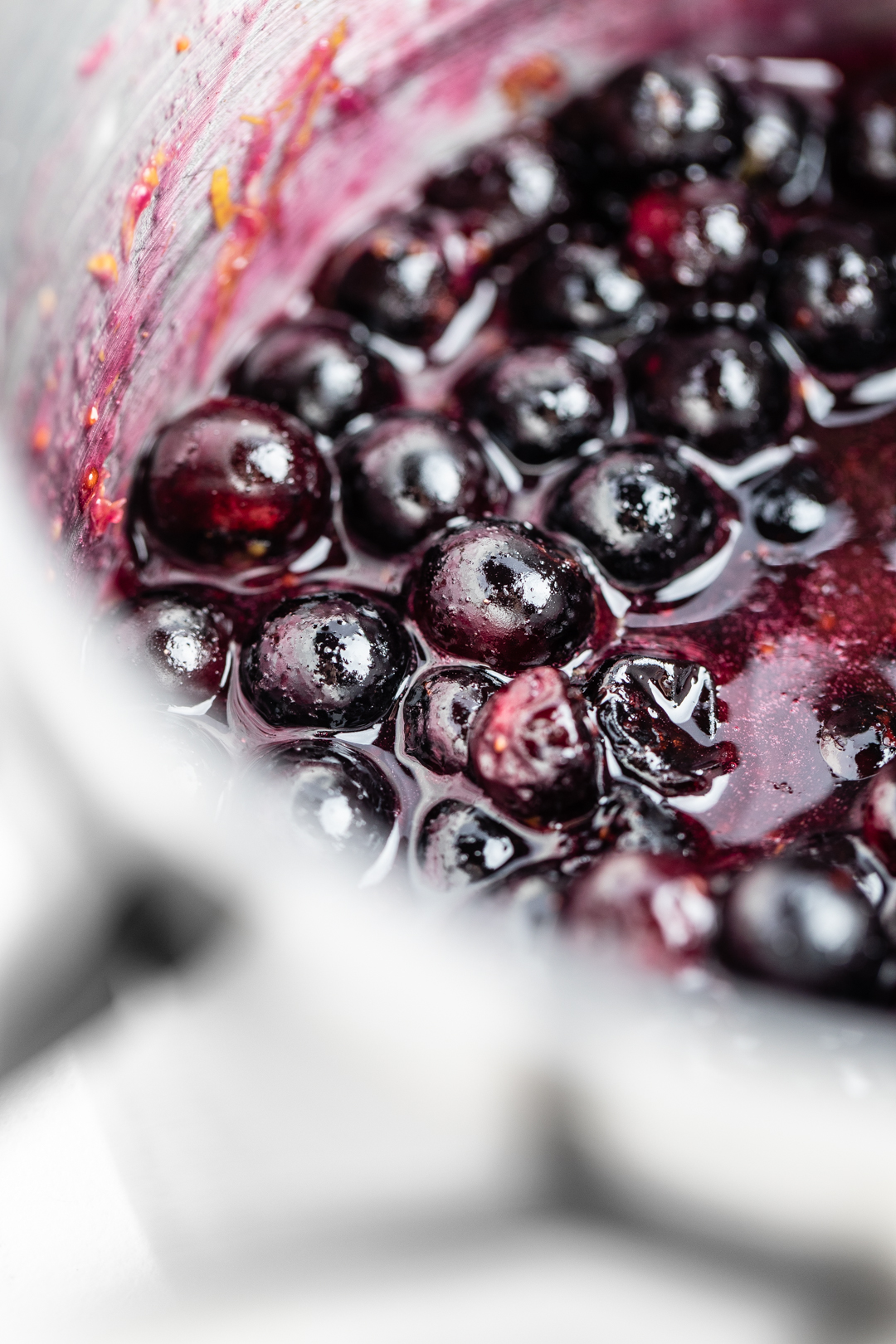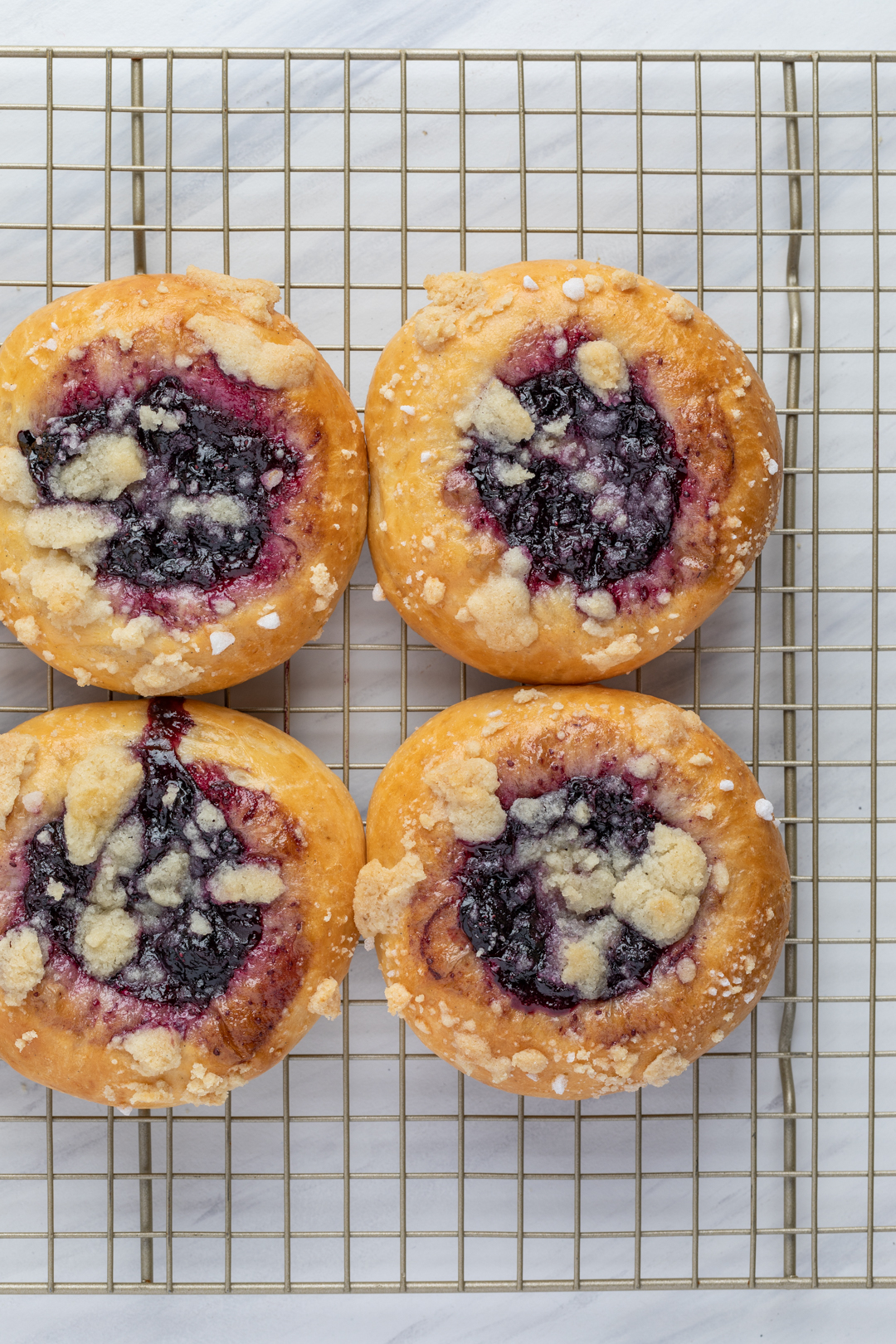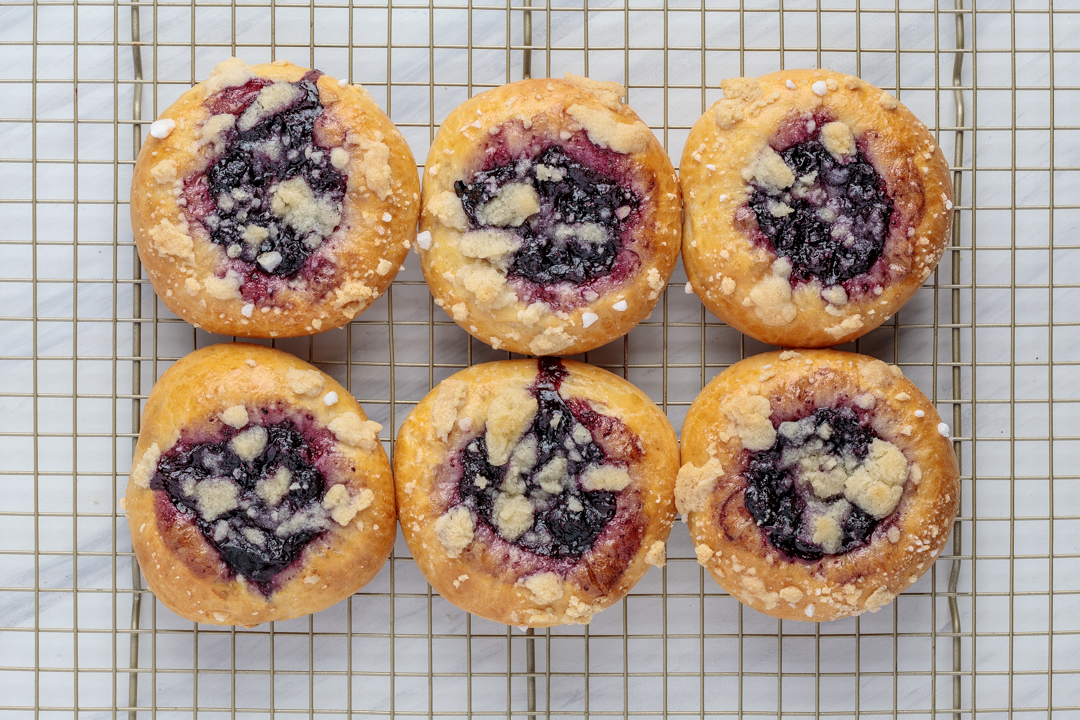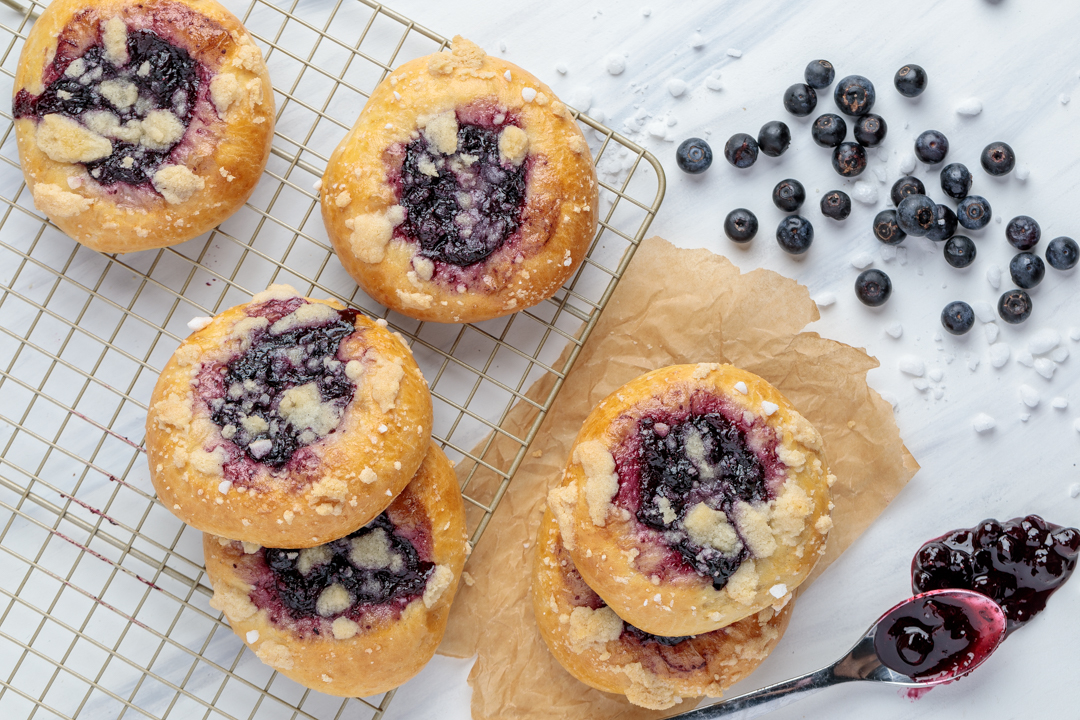 You can fill these beauts with nearly anything that you might have on hand. I made blueberry for my first batch because I had one little bag of fresh local blueberries that I picked with my very own hands left over that were just screaming for pastry. Frozen fruit will cook down into a great option too.
Cream cheese is probably my other favorite. Savory, often sausage and cheese filled, (apparently technically called klobasniky) are also pretty amazing if you ant to split up the dough and make a few difference options for the house. — Make sure you are subscribed to see when that recipe rolls out. Perhaps a fall pumpkin-inspired twist?

Blueberry Streusel Kolache
This recipe is for a sweet yeast Czech roll kolache with fresh blueberry filling, topped with streusel crumbles and pearl sugar. From Phillip Fryman of SouthernFatty.com.
Author:
Phillip Fryman | SouthernFATTY.com
Ingredients
Kolache Dough
1 cup (240 g) milk, whole
8 tablespoons (114 g) butter, unsalted, melted
1 (50 g) egg, whole
2 (40 g) eggs, yolks only
4 cups (480 g) flour, all-purpose
½ cup (100 g) sugar
2¼ teaspoon yeast, instant dried
1½ teaspoons salt
Blueberry Filling
1 cup(200 g) blueberries
2 tablespoons (25 g) sugar
1 tablespoon (15 g) lemon juice, fresh
½ tablespoon lemon zest
1 teaspoon (3 g) cornstarch
Streusel Topping
⅔ cup(80 g) flour
3 tablespoons (45 g) butter, room temperature
3 tablespoons (38 g) sugar
1/34 teaspoons cinnamon, ground, optional
1 pinch salt
Finishing
1 (20 g) egg, yolk only
1 teaspoon milk
¼ cup pearl sugar, optional
Instructions
Kolache Dough
Warm milk and butter in small saucepan or by microwaving shortly (30 seconds or so) until it is at a temperature of 105-110 F.
In a mixer bowl, combine the flour, instant yeast, sugar, and salt. Whisk together well.
Whisk the eggs lightly and add to the dry mixture.
Add the warmed milk. Mix on low speed to combine.
With a dough hook attachment, mix on medium speed until just smooth, about 3-5 minutes.
Transfer to a clean, lightly greased boil, cover with plastic wrap.
Allow dough to double in size, generally 1-2 hours.
Punch down dough.
At this point. you have two options. You can let it rise again at room temperature until doubled, or refrigerate overnight for superior flavor. This is dependent on the amount of time you have to prepare the recipe.
Punch down dough after it has doubled (whether at room temperature for an hour or chilled overnight).
Blueberry Filling
Combine all ingredients in saucepan over medium heat until thickened. Cool completely.
Streusel Topping
Mix streusel together, pressing with fingers to create chunky topping.
Kolache Dough (continued...)
Split dough into 10-12 even portions. Roll dough into balls and place well-separated on a baking sheet lined with parchment. Allow several inches between.
Press greased tablespoon into center of rounds to form an indentation.
Lightly grease dough (spray works best for this). Cover gently with plastic wrap.
Proof at room temperature until puffed and soft, about 45 minutes.
Preheat oven to 375 F.
Re-indent as needed gently.
Whisk egg yolk and milk from finishing, brush dough lightly.
Spoon a tablespoon of filling into indentation.
Sprinkle with streusel and pearl sugar.
Bake until golden, about 20-25 minutes.
Cool and enjoy!
Find more recipes on SouthernFatty.com.