Simple, Quick Pizza Dough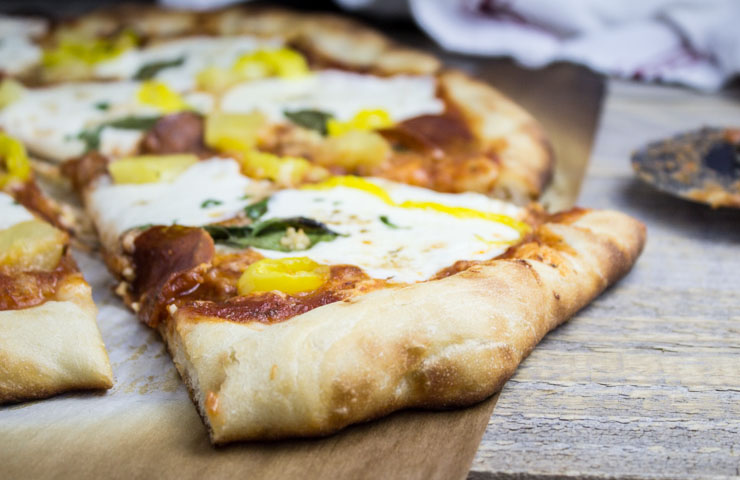 1 cup hot water
1 plus ½ teaspoons yeast, active dry
1 tablespoon honey
1 teaspoon sugar
2 plus ¼ cups flour
½ teaspoon garlic powder
¼ teaspoon garlic salt
3-4 tablespoons olive oil
¼ teaspoon onion powder
Place hot water in mixer bowl with dough hook.
Add yeast, honey and sugar. Let sit for 4-5 minutes.
Add all other ingredients with the exception of the oil.
Mix slowly until combined. When combined mix on medium-high speed for 6 minutes. Dough will form a ball on hook.
With a wet hand, lift ball and pour in oil into bowl. Place dough ball back on top and rotate to cover ball well with oil.
Cover with plastic wrap and place in warm location to rise for about 40 minutes.
Pre-heat oven to 500 F (with pizza stone in oven, if using).
Tear parchment paper to the size of the pizza stone (or large sheet pan, whatever you are cooking the pizza on).
After the dough has risen, dump it onto the parchment paper.
Very lightly, using a few fingers, spread the dough into the shape of your pizza. Push lightly from center to the outside and shape.
Top with toppings. Cook for 8-10 minutes until crust is golden.
Enjoy! Visit SouthernFATTY.com for more.
Recipe by
Southern FATTY
at https://www.southernfatty.com/simple-pizza-dough/