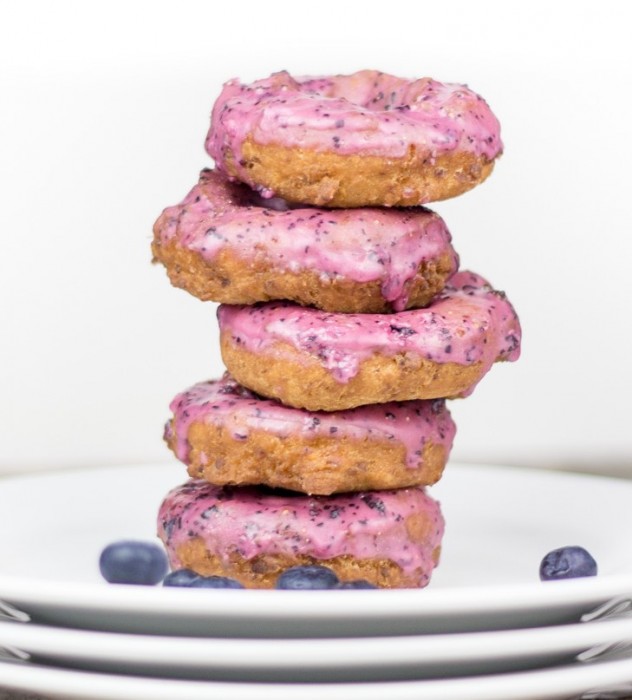 Black pepper is always a welcomed addition to most of the savory dishes that I make at home. This time, I decided to incorporate a bit of savory into my sweet.
Blueberry Glazed Peppered Corn Doughnuts were the result — Fresh bits of black peppercorns bursting through a blueberry glazed sweet corn cake doughnut for something a bit different, but delicious!
Sweet combined with savory is always inviting to me. While I love the sugar on top of sugar approach, there is something so welcoming about having an unexpected savory ingredient taking center stage in what would be a normally expected sweet base.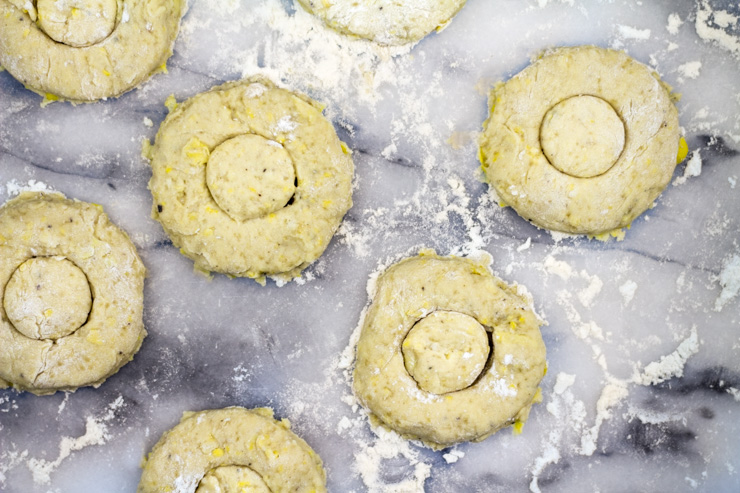 Black pepper is that center stage star in this recipe. While this would take the spotlight, I would have to say that the savory corn buttermilk doughnut would be the eager understudy, ready to jump right in.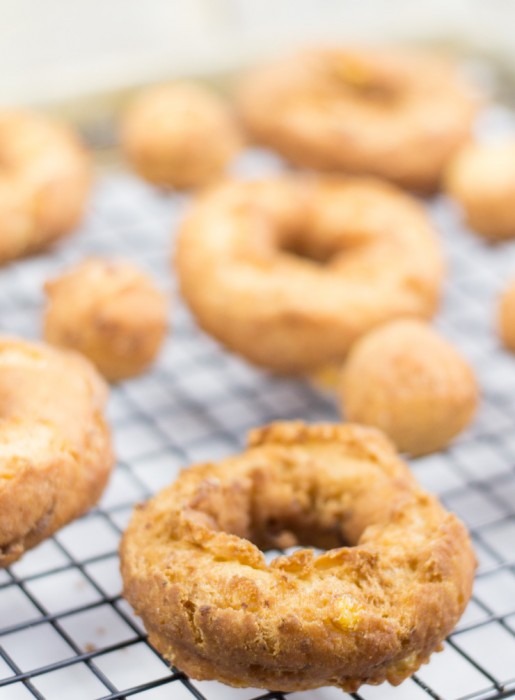 I combined sweet white and yellow corn with a basic go-to buttermilk doughnut recipe to end up with a perfectly risen, fluffy doughnut that kept its cake-like characteristics. The roughly ground black peppercorns accent the sweet corn beautifully, giving the doughnut a bit of a bite.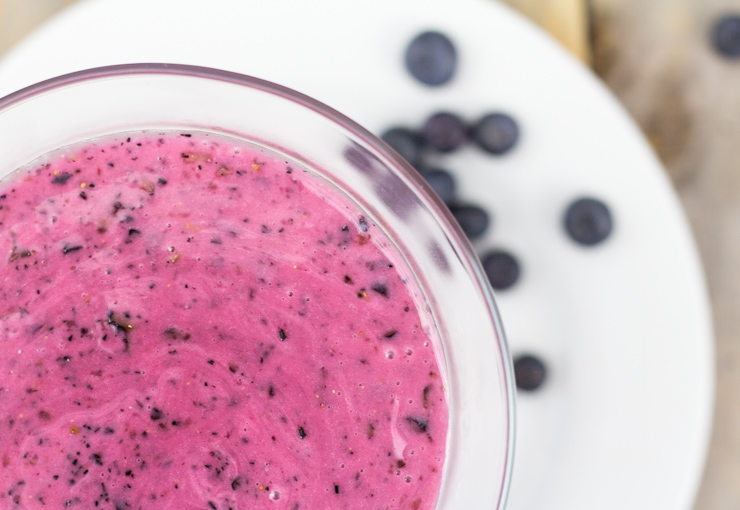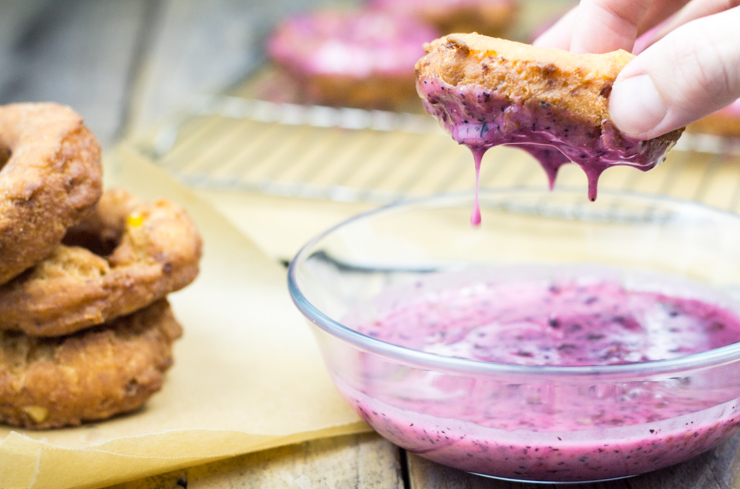 Let's talk about this glaze. This sweet, sweet blueberry glaze. I mean, come on. Everyone knows that the glaze is what makes the doughnut. Fresh blueberries, a splash of vanilla, and a bit of confectioners sugar make for the absolute best blend to top these beauties.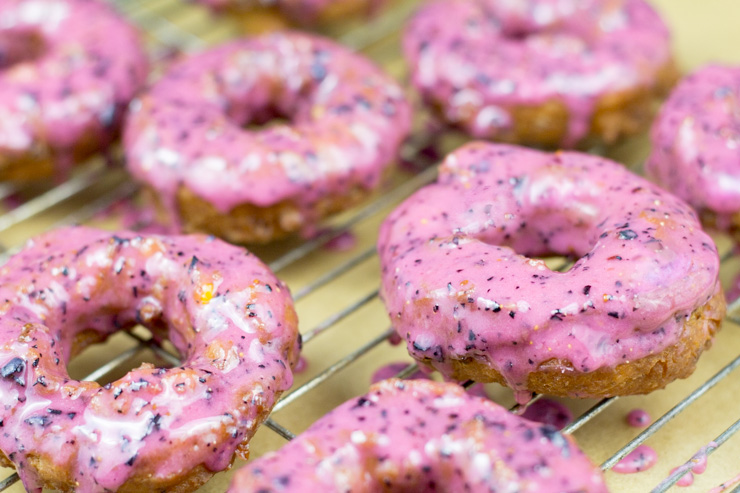 Hot damn. Do you see that?! Bodacious blueberry bits atop of the buttermilk corn doughnuts. *faints*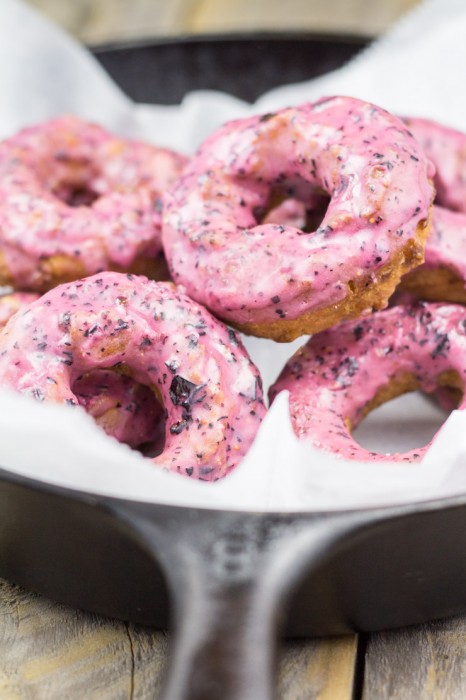 Since these seemed so incredibly Southern to me, y'all know I just had to put them a skillet. Everything that is delicious and Southern comes in a skillet. How perfect would this be for a brunch party treat, after all? Everyone likes doughnuts. Everyone loves doughnuts in a skillet!
Think sweet, sweet cornbread. Now think about a deliciously soft cake. Doughnuts. Fritter-like doughnuts. Combine all of these delectable delights and you have these unique sweets.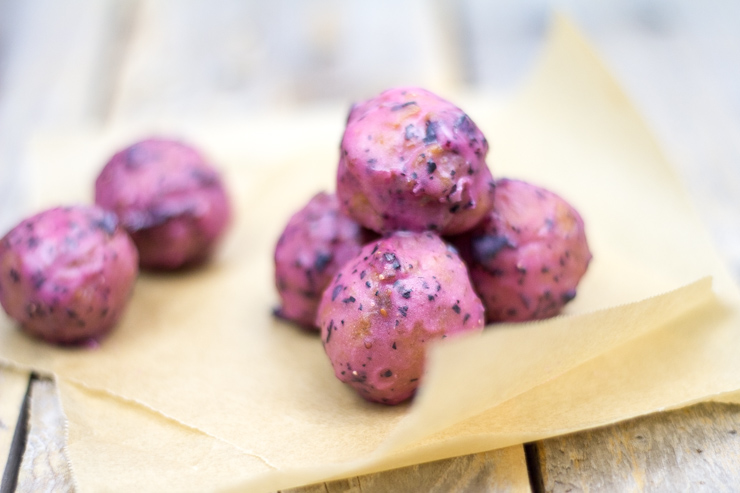 Hold. Up. I almost forgot about the best afterthought dessert ever– The doughnut hole! These bitty bites willl probably be gone by the time you are finished dunking the rest of the doughnuts if you kitchen is anything like mine. A nod to the chef, right? 😉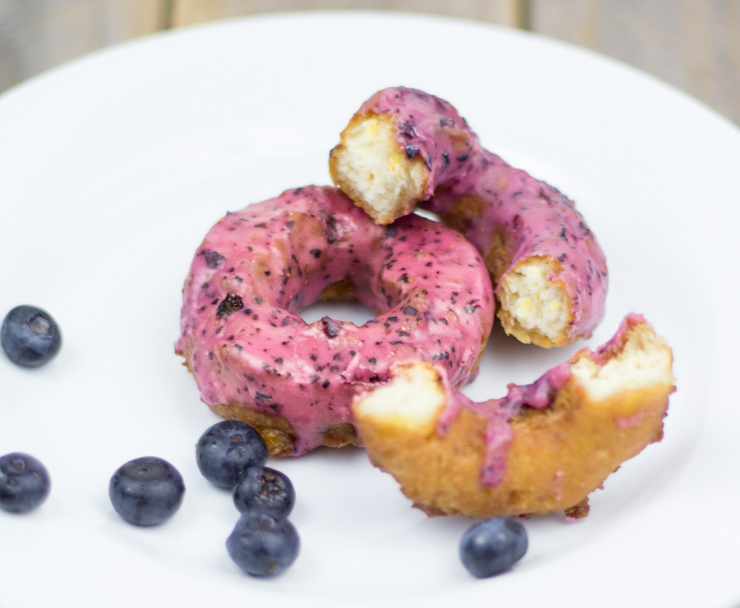 Check it. Look deep into the center of these fluffy, soft cake doughnuts. You can still see the bits of sweet corn and flecks of freshly ground pepper. I'm not even sure how to explain how amazing the flavor combination in this recipe really is. You've gotta try it for yourself. It's seriously a Southern party in your mouth.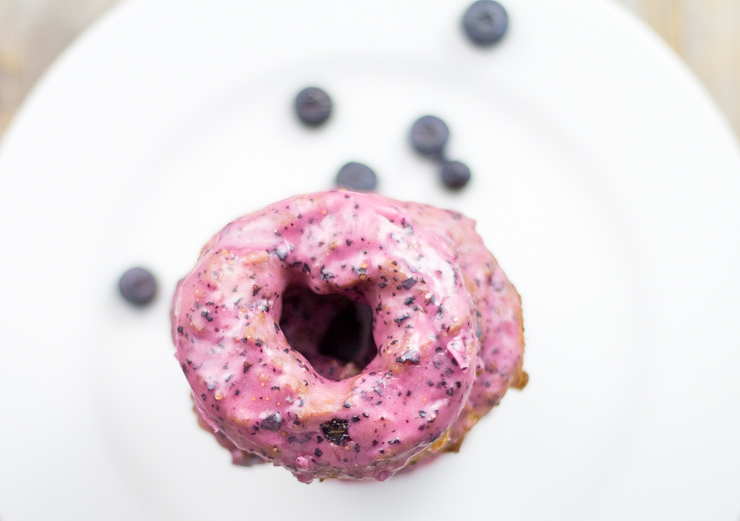 This is sure to be a hit for a unique new taste that your friends and family haven't combined before. It doesn't hurt that they end up with such a pretty color on top from the blueberry glaze.
Give these a go and let me know what you think. — Enjoy, y'all!
Blueberry Glazed Peppered Corn Doughnuts
A Southern sweet treat twist by Southern FATTY-- Blueberry glazed sweet corn cake doughnuts with freshly ground black peppercorns. Delicious recipe!
Ingredients
Doughnuts
1 cup white/yellow sweet corn
2 cups flour, AP
½ cup cornmeal
½ cup sugar (I prefer turbinado/raw sugar, pulsed in processor until super-fine)
1 tablespoon baking powder
½-1 teaspoon black pepper, freshly ground (I like a lot.. some may not)
½ teaspoon salt
5 tablespoons butter, melted
½ cup buttermilk
2 teaspoons vanilla
1 egg, beaten
oil, for frying
Blueberry Glaze
Instructions
Doughnuts:
Combine sifted dry doughnut ingredients in mixer bowl. Mix well.
In another bowl, combine wet doughnut ingredients (including the egg) and whisk well. Do NOT add the corn to his mixture yet.
Add the wet mixture to the dry flour mixing bowl on low speed. Mix until combined well.
Pulse the corn in a food processor a few times to break it up. Leave obvious corn kernels visible.
Fold in the corn to the batter/dough to combine.
Heat oil to 365 F.
While oil is heating, form a ball with the doughnut base.
On a lightly floured surface, press/roll out into ½" thick rectangle.
Using a floured biscuit cutter or doughnut cutter, punch out the doughnuts.
Be very careful to handle these at little as possible. You don't want them to lose their shape.
When oil is heated, carefully fry by sliding doughnuts into oil. Flip once when golden and finish the other side. Be sure to only fry a couple doughnuts at once, as more will cool and crowd the oil.
Remove carefully to cool on rack.
Make the Glaze:
Combine glaze ingredients in blender/processor and mix until smooth. Pour into dish deep enough to dip doughnuts (see blog post picture).
Dip and Enjoy!
Dip the doughnuts into the glaze. Allow to rest for glaze to harden.
Enjoy! -- [More at SouthernFATTY.com]
Notes
2014 - SouthernFATTY.com
Be sure to check out our other doughnut posts while you are here!