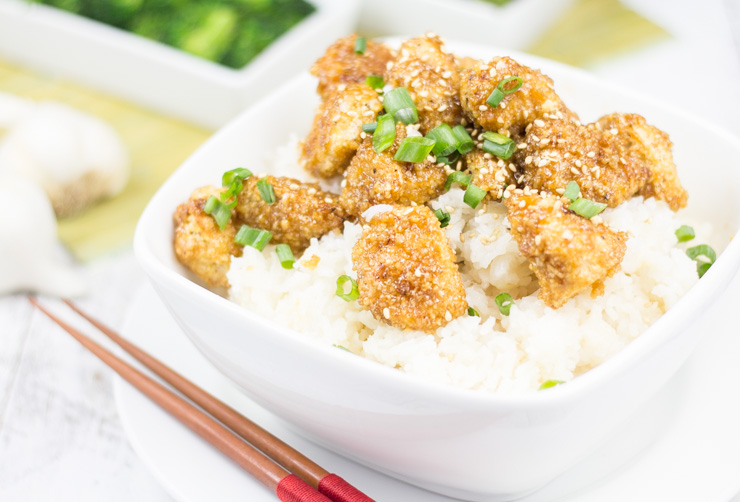 Everyone loves some good Chinese takeout, right? Rice with crispy, sweet & spicy chicken on top. It's the best. Here is my twist —
General Fatty's Spicy Honey Garlic Chicken.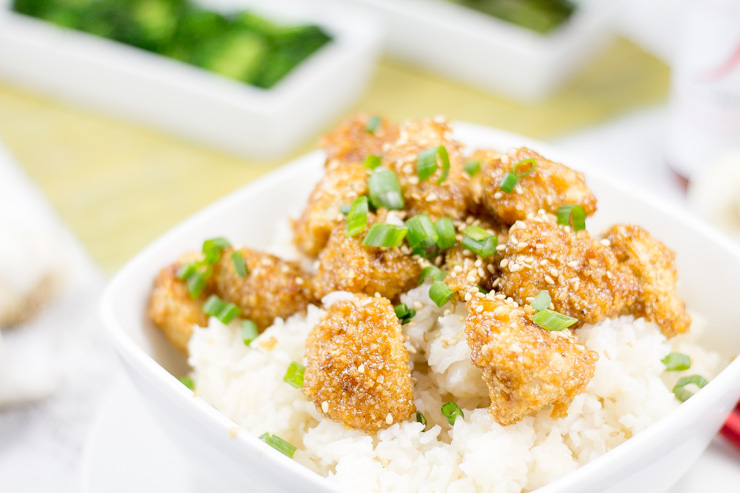 I'm certainly a fan of those crunchy chicken Chinese recipes that are tossed on a sugary sauce. I mean, what's better than fried with sweet on top of a bed of fluffy carbs? Nothing. That's what. Maybe cake… or pastries. Anyway– This stuff is fantastic!
I can't help but feel a tiny bit guilty after destroying a box of takeout gold. Making your own at home will help to ease the pain a bit. If you make it in your own kitchen, it's basically considered diet food, right? Right.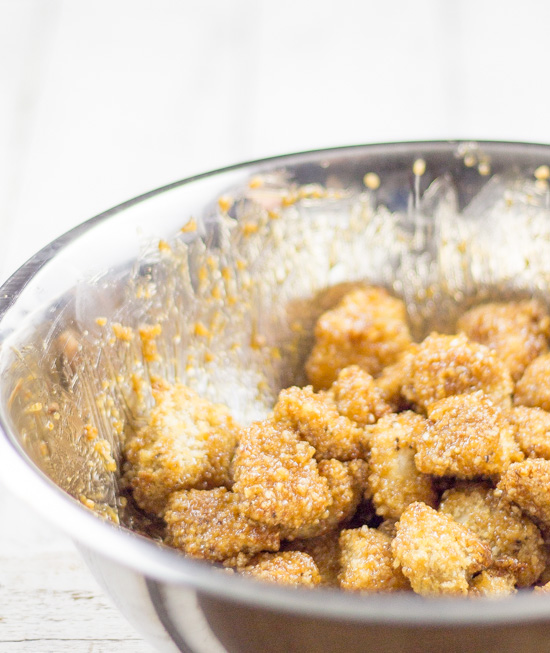 You'll be surprised at how crunchy you can get this chicken by baking it. Woooooaaaah. Hold up (Sisco). That's right. This is baked. Using a simple egg and panko mix, you'll get a crispy, textured chicken that is absolutely glorious for holding onto this sweet and spankin' spicy sauce.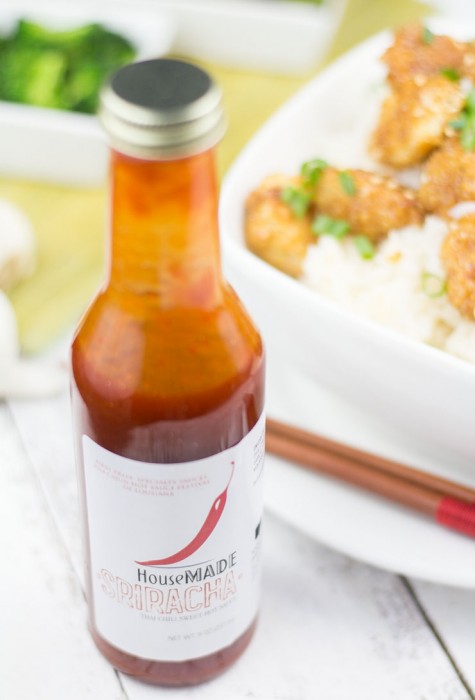 Speaking of spicy– I decided to toss in a bit of sriracha to the glaze. This really allows the sweetness of the sauce to shine through without being overbearing. The bit of a bite from the sriracha helps even the playing field. I opted for my favorite blend that a fellow food-loving friend makes.
This sriracha is a bit sweeter and a bit spicier than your typical Eastern Thailand blend. I can't say enough how delicious this stuff is. You can grab some here. She recently won first place at the prestigious 2014 Cajun Hot Sauce Festival of Louisiana. You knoooow this girl means business.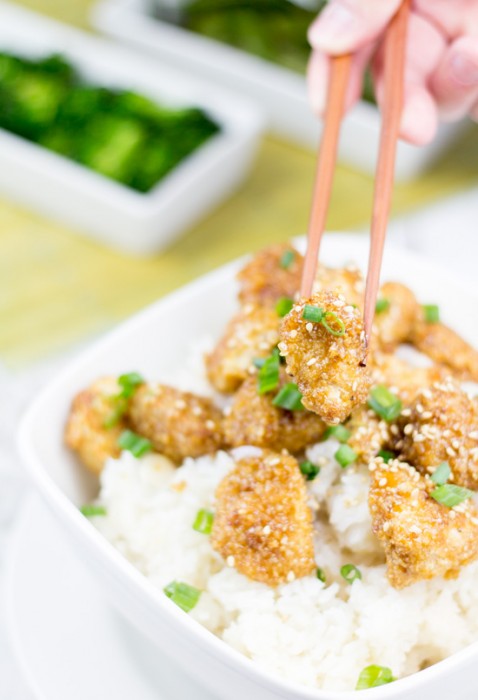 This would be amazing with a good, classic fried rice. Keeping with the theme, I decided to serve this with a simple steamed rice. A bit of garlic and onion (and a few plops of butter if we are honest) made it just perfect. The honey-based spicy sauce leaves a great accompaniment for the rice.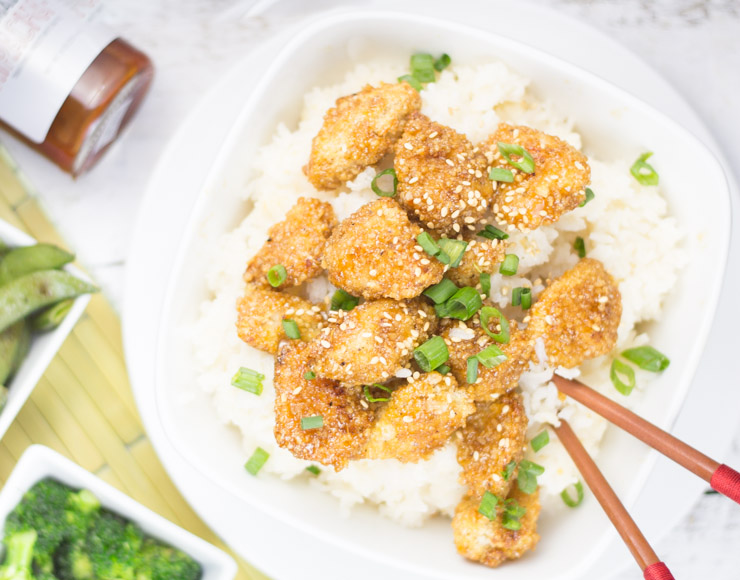 Overall, this is an incredibly simple meal to prep and put out. Start the rice. Bake the chicken. And while that is all doing it's own thang, simmer the sauce. Toss the crunchy chicken in the sauce immediately before you serve. (Seconds will still taste great. Or so I've heard…)
Enjoy!
General Fatty's Spicy Honey Chicken
General FATTY's Spicy Honey Garlic Chicken -- Perfect alternative to take-out Chinese. Server with rice and enjoy!
Ingredients
Crunchy Chicken
1 pound chicken, cut into 1" pieces
salt and pepper, to taste
1 egg
1 and ½ cups Panko crumbs
Spicy Honey Garlic Sauce
½ cup honey
2 tablespoons soy sauce
1 tablespoon sriracha
1 tablespoons garlic, minced
1 teaspoon apple cider vinegar
1 and ½ tablespoons cornstarch
½ cup water
Finishing
green onion, to taste
sesame seeds, to taste
red pepper flakes, optional
Instructions
Crispy Chicken
Pre-heat oven to 400 F.
Season chopped chicken. Add to beaten egg in bowl.
Take each piece of chicken and toss into Panko. Press crumbs into chicken for thick coating.
Place on lined baking sheet and bake until golden, about 25 minutes.
Spicy Honey Garlic Sauce
Mix sauce ingredients, except cornstarch and water in saucepan. Heat over medium heat until hot.
Combine cornstarch and water. Add to sauce to thicken.
Finishing
Toss crispy chicken with sauce.
Serve over rice with optional finishings and enjoy!
White or fried rice? Comment below!