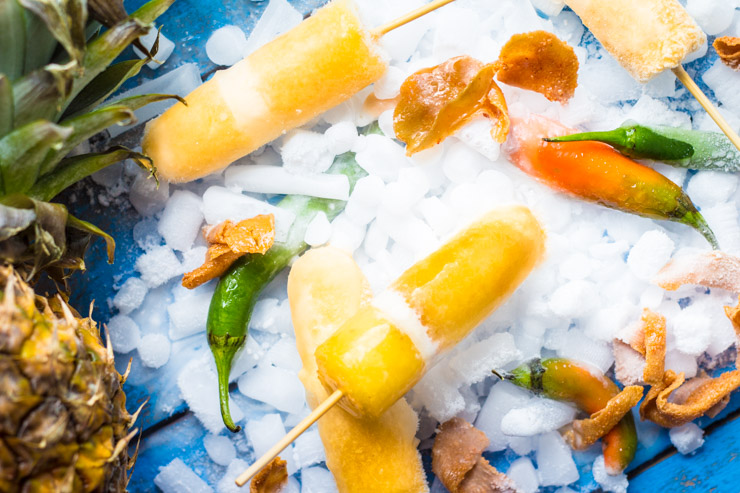 Summer loving', had me a blaaaaast. Summer lovin', happened so faaaaast. Made some 'sicles, cute as can be!
Summer. Popsicles. 'Nough said! — Pineapple Chili'd Ginger Pops for a summer chill and twist. These ain't yo' momma's pops.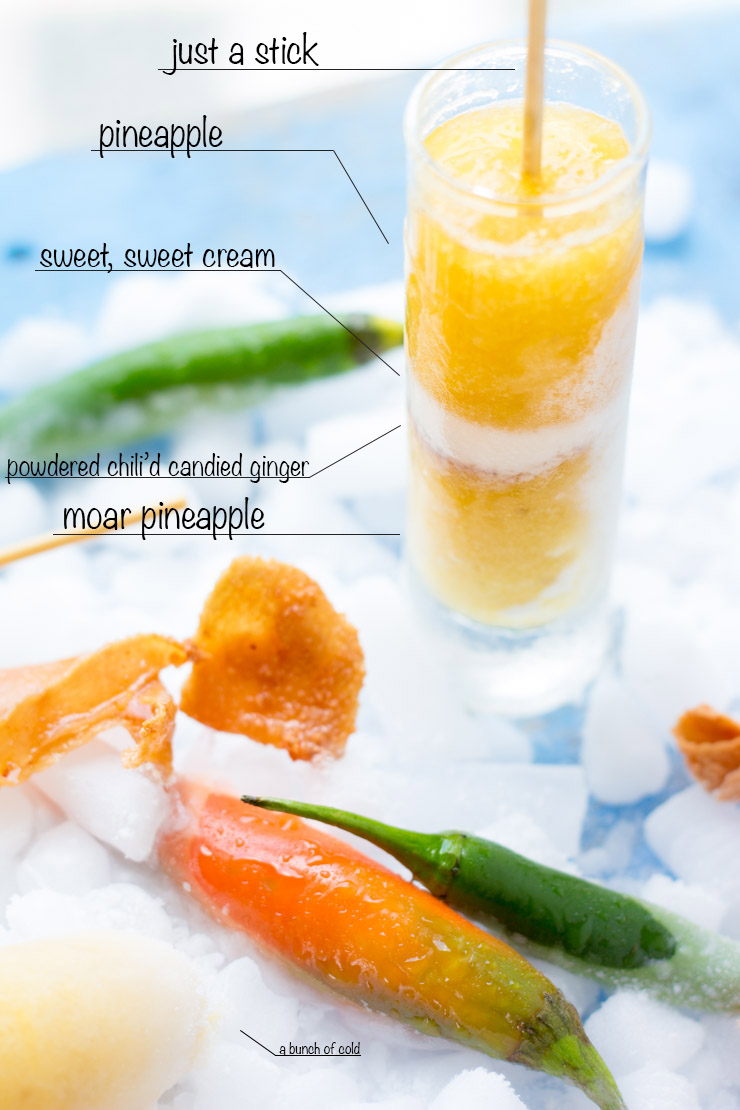 I was recently asked by Billy over at Wit and Vinegar to take a dip in the public popsicle pool for the sweetest event of summer — 2015 Popsicle Week! He curates this synchronized show each year. Head over there to see all of the other sultry sweets of the week. Plus, read everything that he has ever posted. You're welcome.
When I think of popsicles, I immediately have a childhood flashback of the long tube ones that you would buy in a box of 100 and throw into the freezer for what seemed like an everlasting eternity before they were ready. You would be soon damn excited about convincing your mom to grab the high-dollar $5 box of basically cheap Kool-Aid to freeze into pure summertime happiness. And then, you'd cut your mouth on the cheap plastic trying to get it open without scissors.
Since I'm all old now, and old people are suppose to be more…. refined *Mrs USA hand wave*, I decided to try for something a bit more complex. Sorry grape pops that brought upon glorious Dimetapp dreams (I still crave that stuff), you have to take a seat for this summer. It's all about the kick now. Chili'd (which keeps getting flagging like it isn't a real word… pfft. ridiculous.) candied ginger powder is my new summer fling.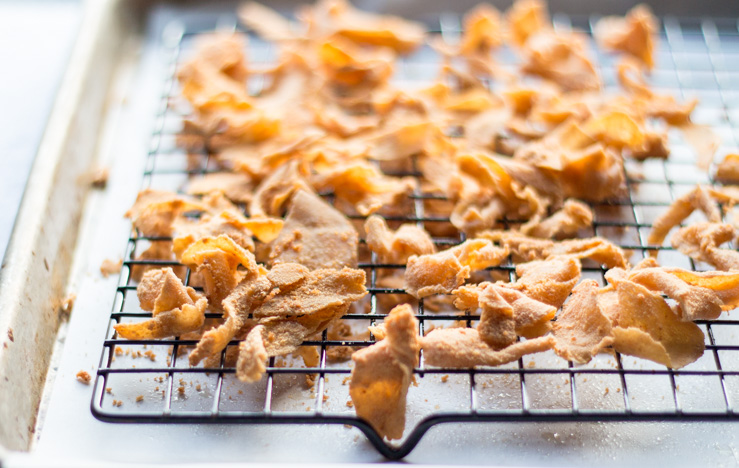 Just like that "…waaaaaaalkin' on sunshine" gal on Intervention, ginger was already something I happen to be completely addicted to. Ginger beer, ginger beer cupcakes, ginger snaps, ginger ale, thai ginger errryrthing. You get my drift. It's sorta weird, though. I am a total baby when it comes to spicy, but I want my ginger hot, hot, hawt. None of that sugar water ginger beer junk. It needs to burn a little when it's going down.
I think I've pretty well accomplished that here. I made candied ginger (which is insanely easy) with a splash of chili powder and cayenne. Once you candy ginger, the heat isn't nearly as obvious. This takes care of that. We'll just blitz it to oblivion before we sprinkles the pops for a nice added surprise. Spice babies, don't fret. It's not all that hot in the grand scheme. We are just giving it a pinch to balance the tart pineapple and sweet cream layers.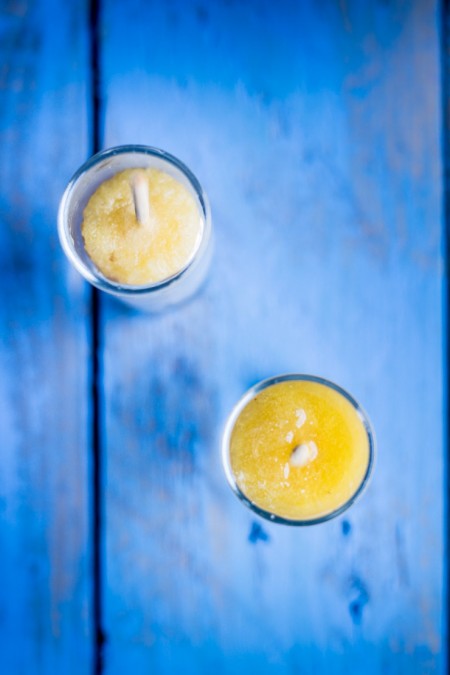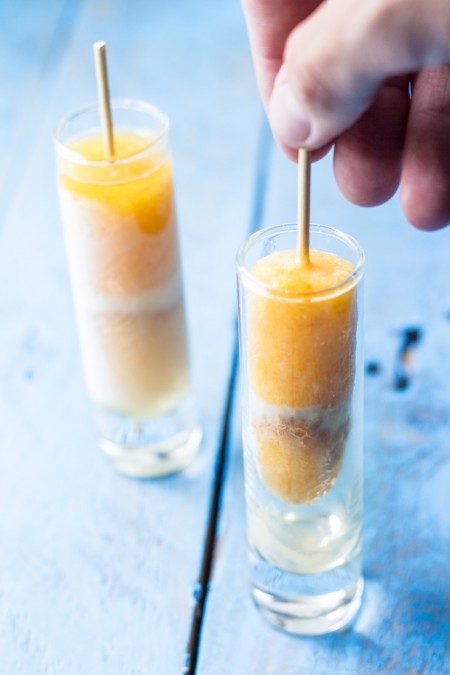 I used some tall shot glasses as the molds. They had a nice rounded bottom and require you to sterilize each with a pour of your favorite liquor before using. Alternatively, you can find tons of cheap options HERE on Amazon. Really just about anything freezer-safe should work.
It was a bit of a task to get these out properly since I didn't use the traditional popsicle stick. The flat surface on those elementary building blocks helps to give you some grip. Kabob skewers were my choice. A bit of warm water over the glasses and they came out pretty well.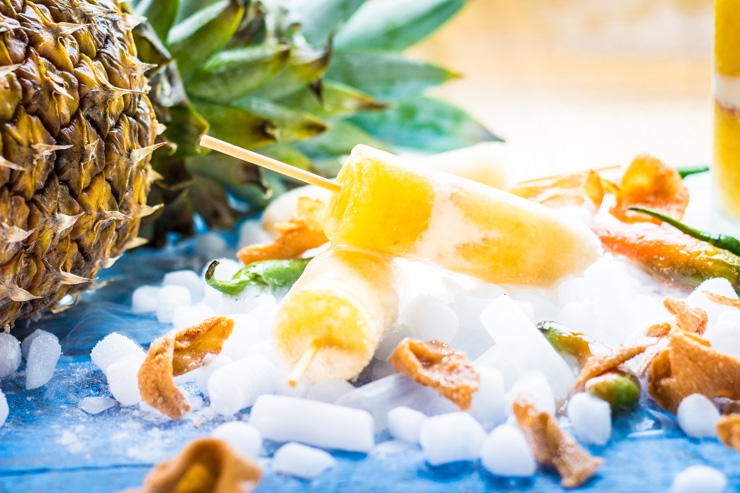 Pineapple, sweet cream, bits of chili'd candied ginger(!). These layers seriously have everything that make anything amazing.
Dive in, summer. This one's for you.
Pineapple Chili'd Ginger Cream Pops
Diving into summer with Pineapple Chili Ginger Cream Pops. Layers of fresh pineapple, candied chili ginger, sweet cream frozen all in a perky popsicle. -- From SouthernFATTY.com
Serves:
Varies with mold size.
Ingredients
Chili'd Candied Ginger
8 ounces ginger, fresh, peeled, thinly sliced
5 cups water
1 cup sugar
1 tablespoon chili powder, ground
½ teaspoon cayenne pepper, ground
Pineapple Layer
Cream Layer
1 cup heavy cream
2 tablespoons powdered sugar
½ teaspoon vanilla extract
Finishing
Instructions
Chili'd Candied Ginger
Place water in medium saucepan and heat to boil over medium/medium-high heat.
Place sliced ginger (I used a food processor to finely slice it all quickly).
Stirring occasionally, cook for 30-40 minutes covered to soften ginger.
Drain ginger. Keep the drained liquid and reserve for other use (boil sugar with it for a great ginger syrup!).
Place ginger and ½ cup of the reserved drained liquid back in the saucepan.
Add sugar combined with chili powder and cayenne. Stir continuously and bring to a boil.
Cook over medium heat and monitor/stir as needed. When all liquid starts to evaporate, keep a very close eye on the pot and stir constantly.
The syrup will evaporate and the sugar will crystalize. Keep stirring to prevent any burning.
Remove to a parchment-lined sheet pan with a rack to completely cool.
When totally cooled, blitz some of ginger in food processor to powder. Keep remaining in container for other uses.
Pineapple Layers
Puree pineapple (fresh, preferably) with syrup. Set aside.
Cream Layers
Whisk cream, powdered sugar and vanilla. Set aside.
Finishing
To complete, layer pineapple, a sprinkle of powdered chili ginger, cream, repeat as desired. Freeze between each layer to prevent mixing (about 20-30 minutes).
Enjoy!
More recipes on SouthernFATTY.com
Notes
2015 - SouthernFATTY.com