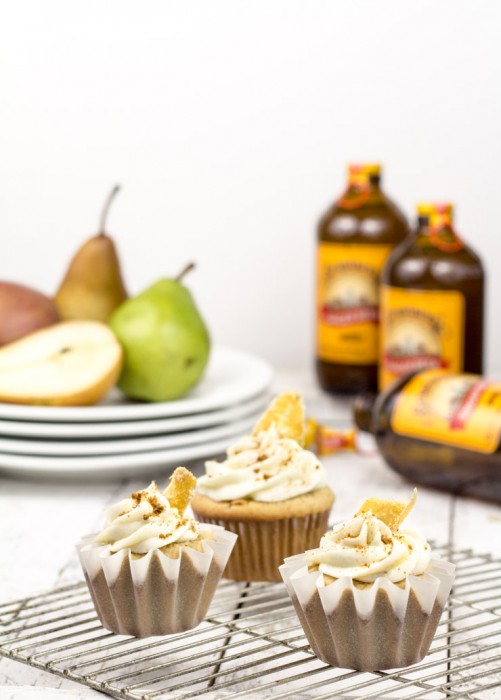 Sometimes, I find myself daydreaming of new confections that Wonka would put out of his tiny-people ran factory. Maybe a snozzberry gumdrop, strawberry pie lollipops that are the size of your head, miniature chocolate Oompas for Loompa Easter. During my last daydreaming deluge, I came back to earth to decide on something almost as magical: Ginger Beer Cupcakes.
Spicy, but sweet, ginger based cupcakes topped with a super-smooth roasted pear mascarpone frosting. All topped with crumbled ginger snaps and candied golden ticket ginger pieces. GOOD DAY, SIR! But, seriously. It will make for an amazing day.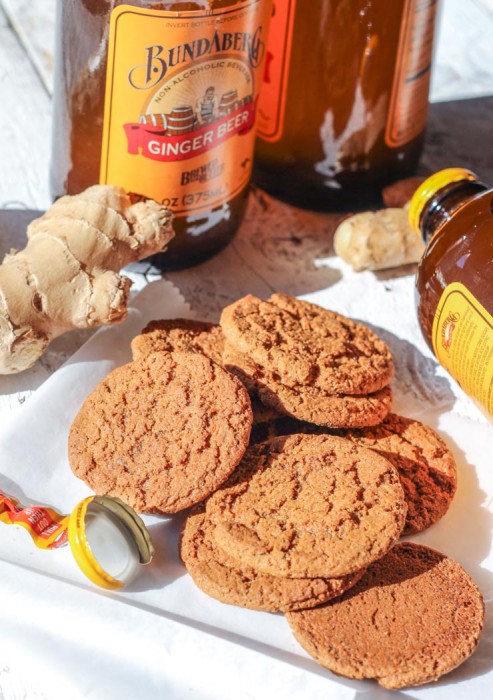 Ginger beer is a magical thing. The name itself is a bit deceiving, as it really isn't beer. Sorta like how ginger ale isn't (commonly) ale. Ginger beer is called beer because it is made in nearly the exact same way that beer is made. It's brewed. Simply some ginger, sugar, and a bit of time results in one of the most fresh-tasting, effervescent drinks of all time. It rings in at less than 0.5% booze, so it qualifies as non-alcoholic for you teetotalers out there.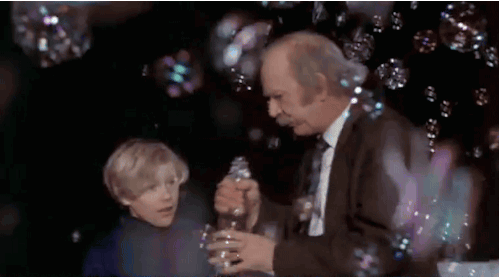 Willie Wonka, 1971 | GIF from BuzzFeed
This stuff has actually been around for hundreds of years, but seems to be spiking back up in popularity. I'll drink to that!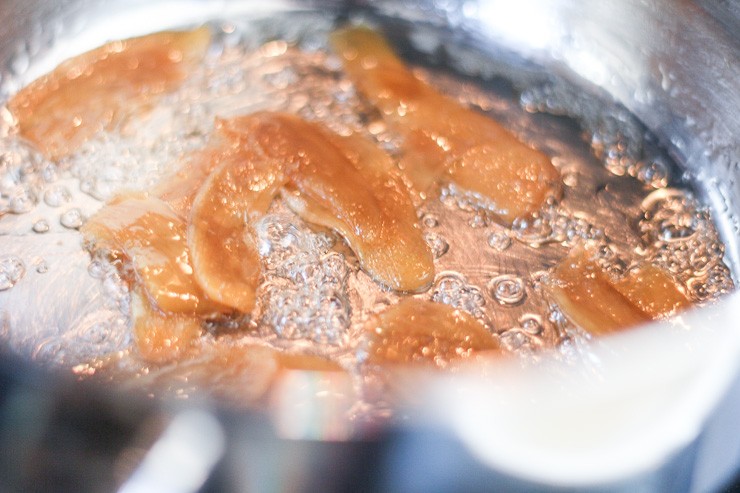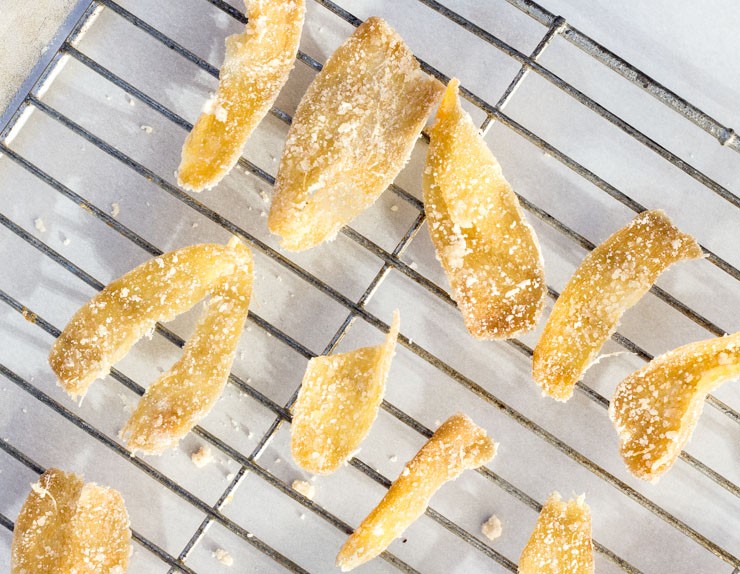 If you've never tried a quality ginger beer, you are in for a rainbow boat ride from candyland kinda treat. This stuff is sweet, plesantly spicy, and is one of the most pure tasting soda-like drinks on the market. It isn't packed full of junk like a normal soda. A good ginger beer is incredibly simple. Ginger, water, sugar. After that, a small orange-faced man carries it off to a magical room where a golden goose monitors it until perfection. Voila!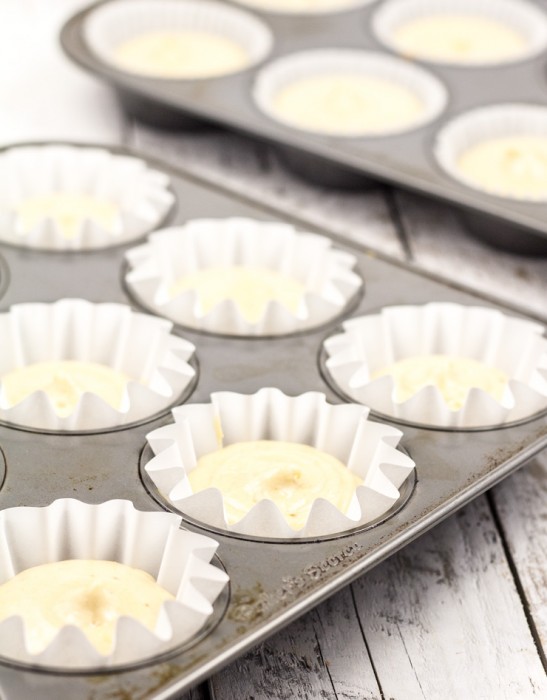 For this confection creation, I went with one of my favorites, Bundaberg. Bundaberg is the perfect ginger beer for baking, in my opinion. It is spicy, a bit sweet, but not over-powering in either aspect. After I drank a couple few bottles, I reserved some for the baking.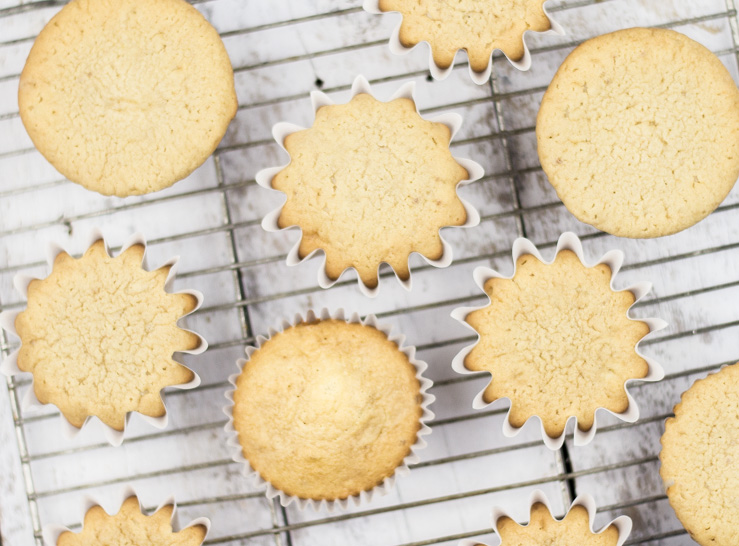 The gamut of brands and styles, just like between beers, varies greatly. Some are crazy spicy [I enjoy this, as the tingle is a great unique surprise in a drink that you don't often find.] and some just crazy sweet that taste like a bad ginger ale. Check out my friend and fellow Nashvillian blogger Lindsay's post from Love & Olive Oil on the 11 Best Ginger Beers to catch up on some great tips and recommendations to fit your taste buds. Seriously. Do not pass go. Go straight to this site and read it. Leave her a nice note and thank her for forcing all of those delicious drinks down her throat for us all.
As if the world's greatest fizzy lifting drink isn't enough on its own, I figured– Why not put it in a cupcake?! Everyone loves a cupcake. I had a Nashville Food Bloggers event to go to the next day. Sounded like a perfect match to me. Who better to taste a quirky, spicy & sweet experimental cupcake on than some frantic friends?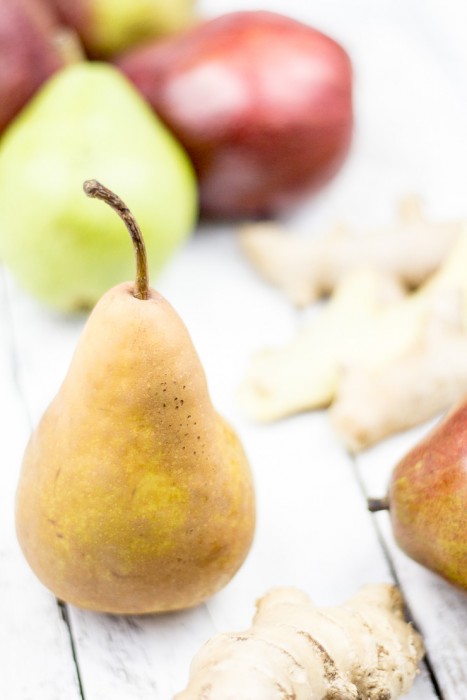 I needed something to balance the bit of kick that the intense, but delicious, ginger base would give. A typical buttercream was going to be too sweet, I think. My alternative go-to frosting is a mascarpone-based topper. Basically Italian cream cheese with a bit of sugar. Right? I know.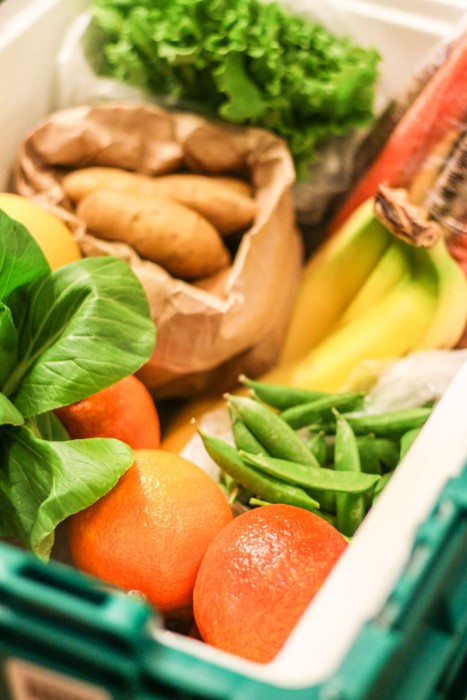 I had some freshly delivered (whaaaaat?! read on.) organic Anjou pears in the kitchen. I didn't want anything too overpowering for the frosting. Pears are a puurrrrfect match. Light, crisp, subtle. Pan roasted in a bit of ginger beer, cinnamon, nutmeg. Yes ma'am!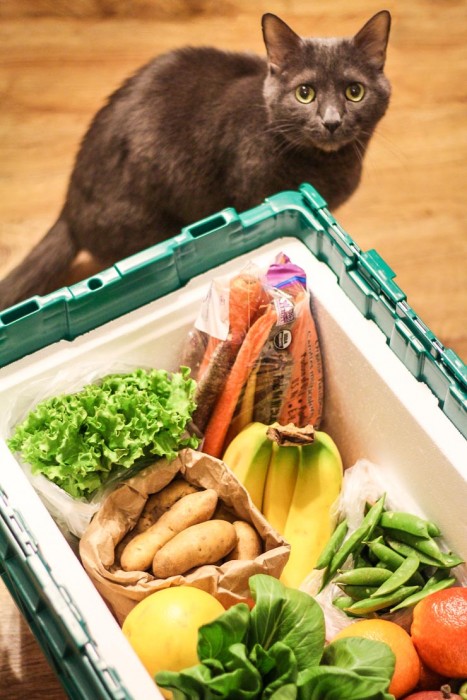 You heard me. Delivered. Fendi was as shocked as I was… I recently signed up for Green BEAN Delivery. I could probably write a big ol' post all on its own about how happy I am with this service. You get online, browse the online grocery store packed full of just about anything you can think of. Seriously, y'all. Not only do they have fresh produce (local and imported alike for variety), but they stock and supple goods from local vendors as well. I can order a loaf of my favorite local bakery bread or even bacon from a local butcher and have it dropped off directly on my doorstep in an insulated container. For this post, Green BEAN Delivery dropped off some fresh organic ginger and pears. You'll certainly see more ingredients from these green boxes in upcoming posts.
The service is priced on par for the organic produce that you would buy anywhere else. It has always been fresh and on time for me. This is something that I have started using to plan out meals for the next week in advance. I fill my box up online with goodies, it arrives Friday, and in the meantime, I plan out what all I will make with the haul. Win, win. It looks to be available in a lot of East Coast-ish major cities. Go check it out and see if it is there for you to try!
Psst– If you register and put the code bc6sofa in the promo code section under the payment info during registration, you will get $15 off of your bin! This is a great way to give it a try and see if you like it. 
Thanks to Green BEAN Delivery for providing Southern FATTY readers with this offer!  (Expires May 2015)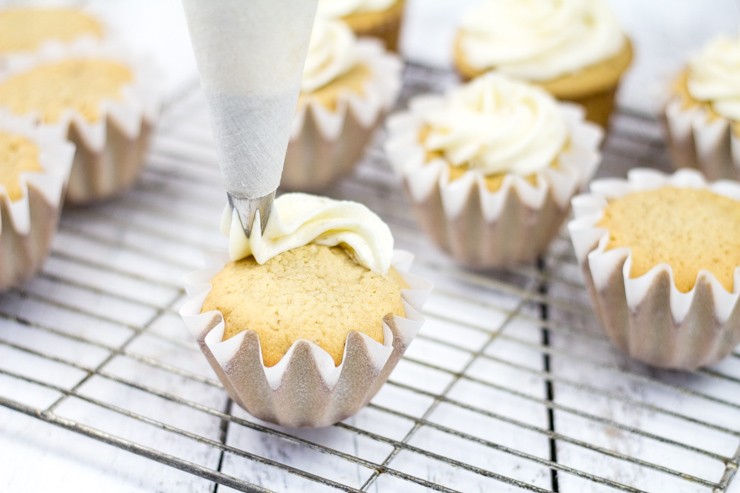 The pear mascarpone frosting ended up being a beautiful match for the cupcakes. It really helped to balance the bite of the ginger and give it a smooth finish. I'll definitely be using this frosting on some other treats. It would be delicious on a citrus cake, I bet.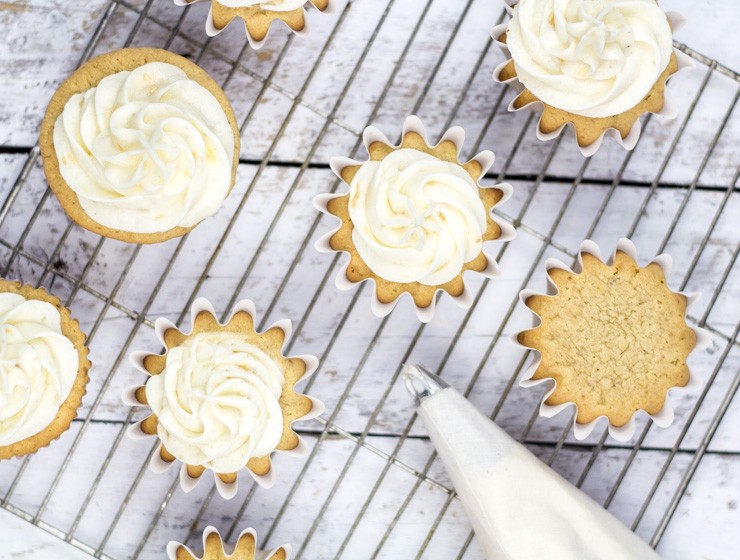 It's a bit hard to see, but if you look closely you can see the small pieces pear pieces in the frosting. The pear taste is very subtle, but is the first thing you taste. After you hit the cake, you are left with the refreshing ting of the fresh ginger and ginger beer reduction. Now… we just need to finish it off.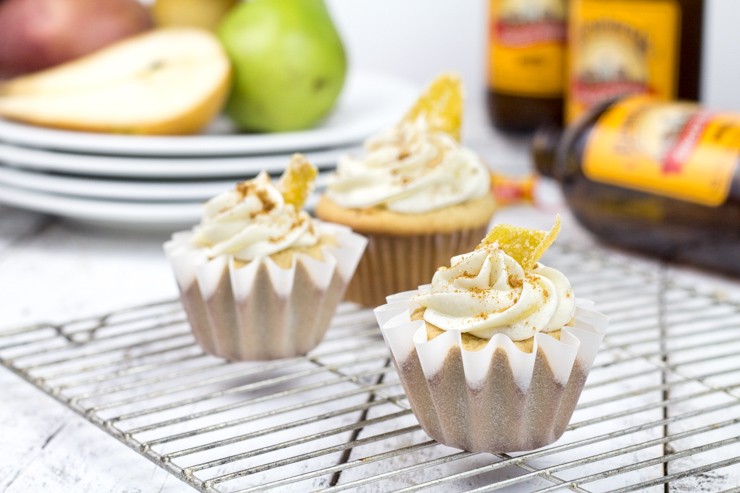 Exit the creepy boat, stop licking the flavored wallpaper. It has arrived! A bit of blitzed ginger snap cookies and that candied ginger (if you haven't eaten it all already) give these cupcakes the attitude that they deserve.
Who knew something so delicious would come from a daydreaming session about my favorite movie?  Push fat little Augustus to the side, this one is all for you.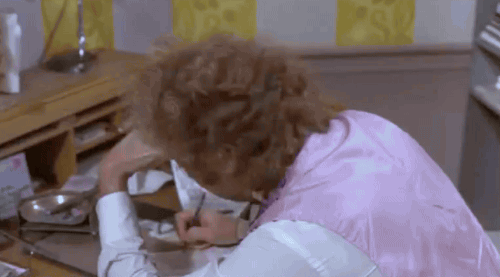 Willie Wonka, 1971 | GIF from BuzzFeed
–GOOD DAY, Y'ALL

Be sure to check out Green BEAN Delivery and use our promo code bc6sofa at registration for $15 off of your box!

Ginger Beer Cupcakes with Roasted Pear Mascarpone Frosting
Spicy and sweet homemade ginger beer cupcakes topped with a creamy, smooth roasted pear mascarpone frosting. Finished with candied ginger and crushed ginger snap cookies. -- From SouthernFATTY.com
Ingredients
Ginger Beer Cupcakes
2 cups ginger beer (one 16 oz bottle) (I prefer Bundaberg for this)
9 tablespoons butter, unsalted & softened
¾ cup brown sugar
¼ cup sugar, white granulated
2 eggs
2 cups flour, AP
1 teaspoon baking powder
¼ teaspoon baking soda
1 teaspoon ginger, ground (dry bottled spice kind)
2 tablespoons sour cream
¾ cup ginger beer (additional to above)
2 teaspoons freshly ground ginger
Pear Mascarpone Frosting
1 large (or 2 smaller) pear, peeled and diced
¼ cup ginger beer
1 tablespoon honey
¼ teaspoon cinnamon, ground
⅛ teaspoon nutmeg, ground
½ cup butter, unsalted & softened
8 oz mascarpone cheese
12-16 oz powdered sugar, sifted (more or less by sweetness desired)
1-2 tablespoons heavy cream (for desired thickness)
pear cordial/syrup, OPTIONAL (see instructions)
pinch salt
Finishing
candied ginger (recipe coming soon on SouthernFATTY.com!)
ginger snap cookies, pulsed in food processor
Instructions
Cupcakes
Begin by making the ginger beer reduction-- In saucepan over medium-low heat, reduce 2 cups ginger beer, stirring often, until thickened and golden. Take care to not allow this to burn. Set aside to cool.
Pre-heat oven to 350 F.
In mixer bowl with beater (Beater Blade is by far my choice for this), cream butter and both sugars until smooth, a minute or two.
Add one egg at a time and combine well.
Mix in ginger beer reduction.
Sift all dry ingredients together well.
Add ⅓ of dry mix and combine in mixer. Add ½ of the ginger beer and sour cream. Mix. Add ⅓ of dry mix. Mix. Add remaining ginger beer/sour cream. Mix. Finish by adding the last of the dry mix and fresh ginger and mix until just combined.
Pour/pipe batter into cupcake molds (3/4 of the way up).
Bake until golden, about 15-20 minutes. Check with toothpick and remove immediately. Do not over-bake.
Allow to cool on rack completely.
Pear Mascarpone Frosting
In saucepan over medium heat (same as the ginger beer reduction if fine), add diced pear, cinnamon, nutmeg, honey and ¼ cup of ginger beer.
Cook over medium heat until pear softens a bit. Reduce to low.
Cook until golden sauce, stirring as needed to prevent burning.
Remove from heat and cool.
In mixer (Beater Blade is a life-saver for this again!, cream butter and mix until pale, about a minute..
Add mascarpone cheese and combine.
Stir in pear mixture. Optionally, you can puree part of it to distribute pear flavor a bit more, if desired. I did this with half.
Add softened powdered sugar in batches, combining on low speed to prevent a sugar cloud. Mix in pinch of salt.
If you want a more intense pear flavor, consider adding some pear cordial syrup. I didn't this time, but will try next time to see how it goes!
Use heavy cream to achieve the thickness you desire for piping.
Finishing
Pipe frosting on cooled cupcakes with piping bag.
Top with crushed ginger snaps and candied ginger pieces.
Enjoy!
--More recipes and photos on SouthernFATTY.com--
Notes
2015 - SouthernFATTY.com
Have you tried ginger beer? What's your favorite variety?
Green BEAN Delivery did not sponsor this post. I was given the opportunity to try the service at a discounted rate (just like you can with the promo code above!) and enjoyed it. I have included these remarks and opportunity at my own decision. Links in this and other posts may contain affiliate referral links, as stated in our Terms & Conditions policy.