Pineapple Chili'd Ginger Cream Pops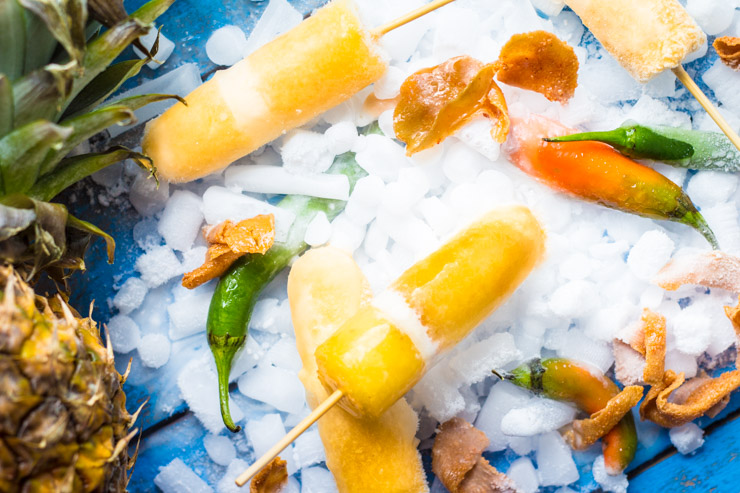 Serves:
Varies with mold size.
8 ounces ginger, fresh, peeled, thinly sliced
5 cups water
1 cup sugar
1 tablespoon chili powder, ground
½ teaspoon cayenne pepper, ground
1 cup heavy cream
2 tablespoons powdered sugar
½ teaspoon vanilla extract
Place water in medium saucepan and heat to boil over medium/medium-high heat.
Place sliced ginger (I used a food processor to finely slice it all quickly).
Stirring occasionally, cook for 30-40 minutes covered to soften ginger.
Drain ginger. Keep the drained liquid and reserve for other use (boil sugar with it for a great ginger syrup!).
Place ginger and ½ cup of the reserved drained liquid back in the saucepan.
Add sugar combined with chili powder and cayenne. Stir continuously and bring to a boil.
Cook over medium heat and monitor/stir as needed. When all liquid starts to evaporate, keep a very close eye on the pot and stir constantly.
The syrup will evaporate and the sugar will crystalize. Keep stirring to prevent any burning.
Remove to a parchment-lined sheet pan with a rack to completely cool.
When totally cooled, blitz some of ginger in food processor to powder. Keep remaining in container for other uses.
Puree pineapple (fresh, preferably) with syrup. Set aside.
Whisk cream, powdered sugar and vanilla. Set aside.
To complete, layer pineapple, a sprinkle of powdered chili ginger, cream, repeat as desired. Freeze between each layer to prevent mixing (about 20-30 minutes).
Enjoy!
More recipes on SouthernFATTY.com
Recipe by
Southern FATTY
at https://www.southernfatty.com/pineapple-chilid-ginger-cream-pops/