Peanut butter waffles made with a simple soft whipped egg white meringue and peanut butter swirls. The most crispy Belgian-style waffles with an incredibly light and fluffy finish. Topped with maple caramel sauce and bananas.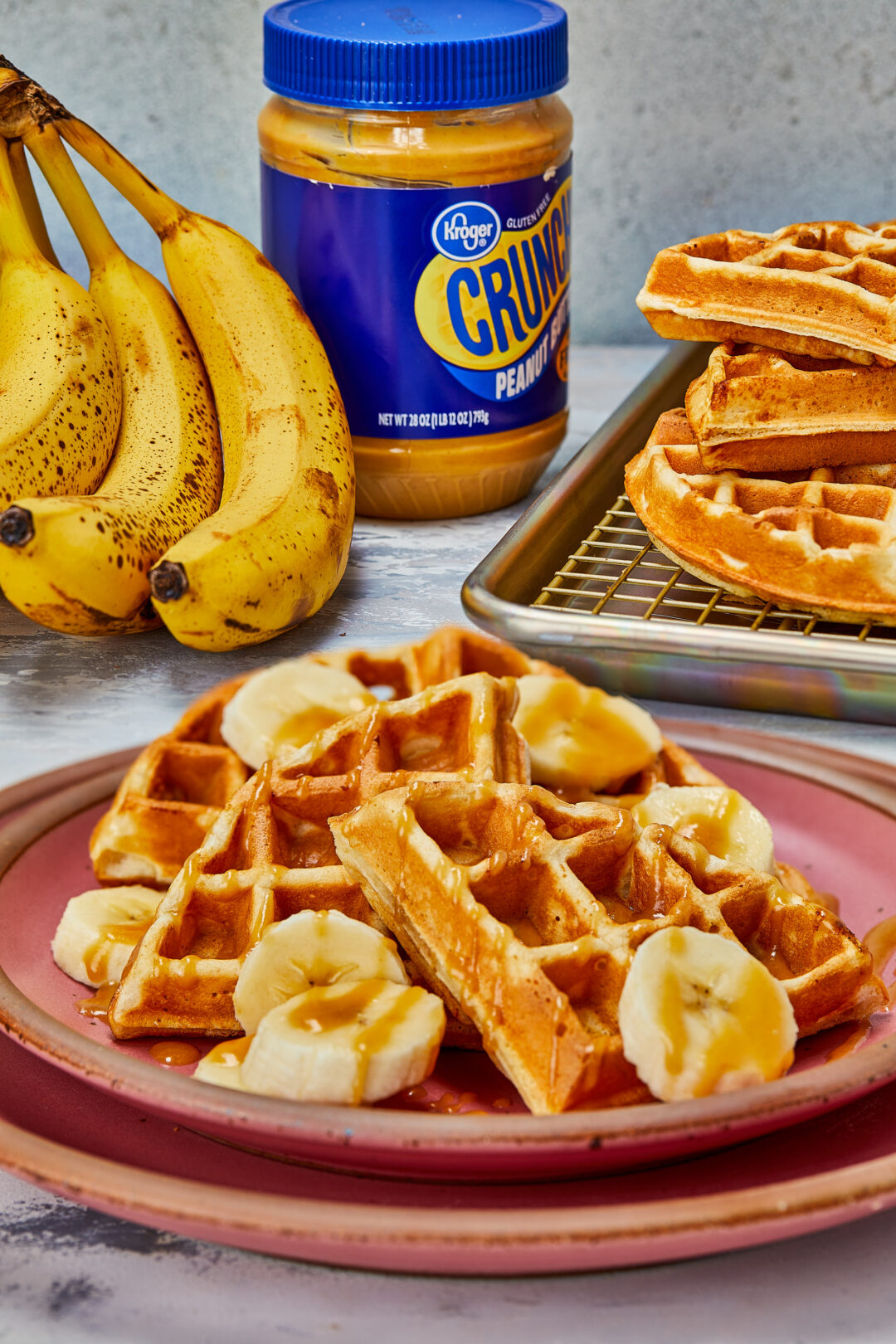 Peanut butter waffles with maple caramel bananas. Move over, Elvis! What else do I need to say? This recipe is made with a favorite waffle recipe base recipe. Egg are separated, and the whites are whisked into a soft meringue. This adds amazing crunch to the waffles while leaving them as light and fluffy as clouds. Peanut butter swirls and maple caramel drizzle over banana from my local Kroger make for the most a-peel-ing brekky bite.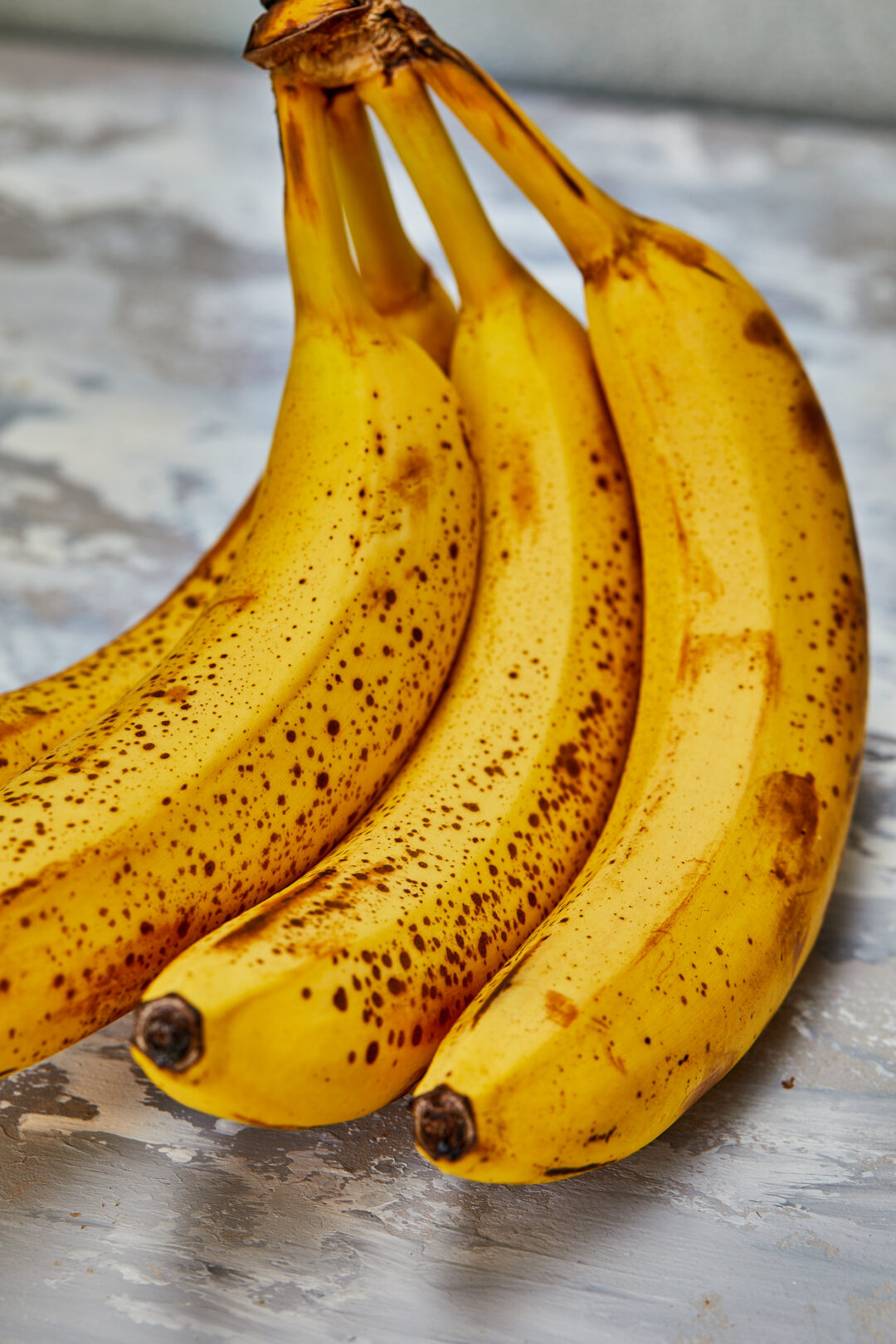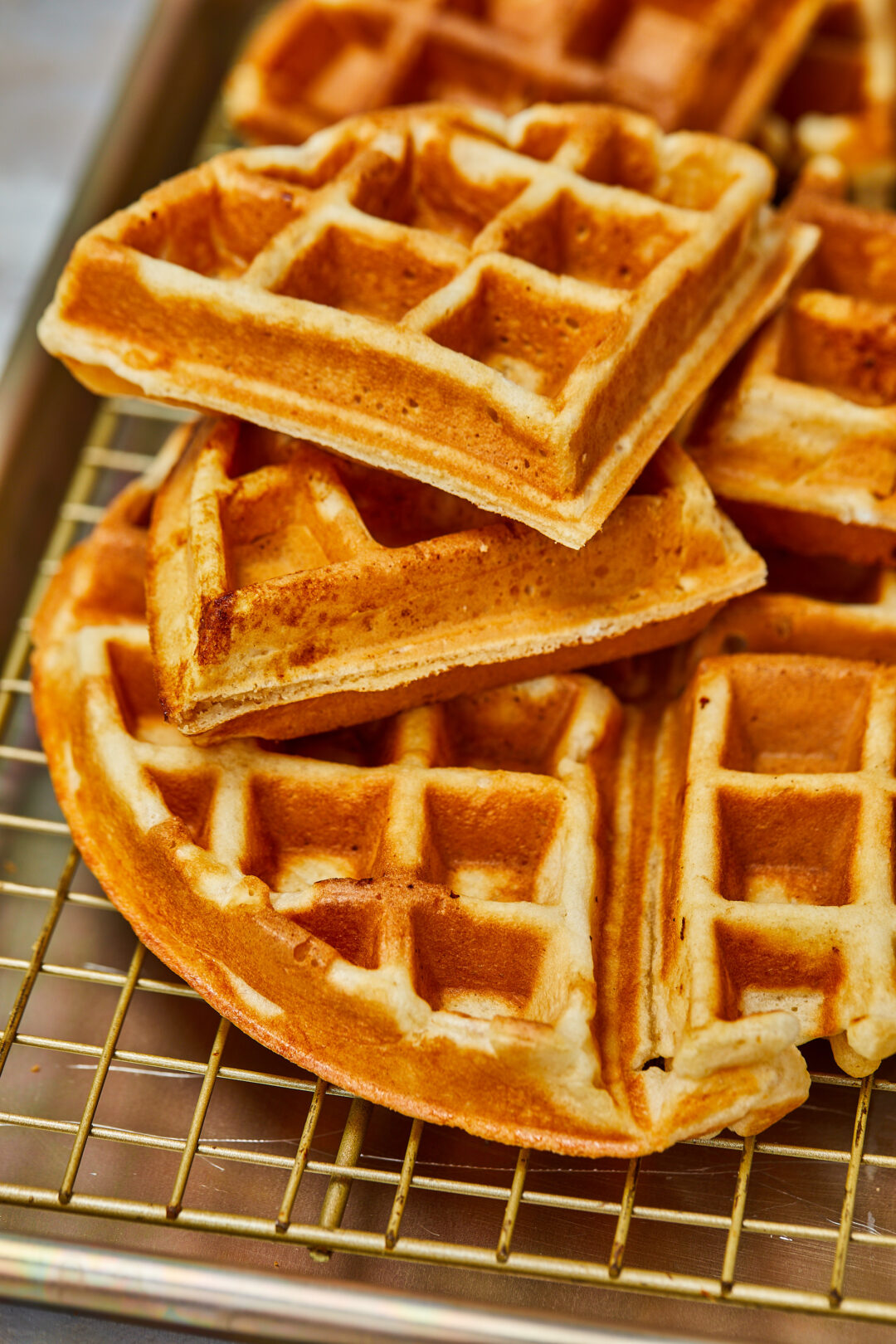 Saturday morning cartoons with waffles covered in peanut butter (I like to use crunchy, but you do you) seemed like a special treat when I was a kid. Why not whip up a homemade version now? Fresh bananas are one my my absolute favs when it comes to filling my cart from the produce section of Kroger. Fruit, nuts. Love them all! Luckily, most of these are even better enjoyed on waffles. What isn't, right?
Since I had already set my mind on making peanut butter swirled waffles and topping them with bananas, I thought I would try to make the waffles less dense and more on the fluffy, light side. Since I would normally add whole eggs to the waffle batter, I made one simple swap that changed the game. Splitting the whites and yolks, you can give the whites a quick spin with the mixer until they are fluffy and have soft (not super stiff, but hold a shape) peaks. Mix the rest of the batter like usual, and then fold in the meringue whites.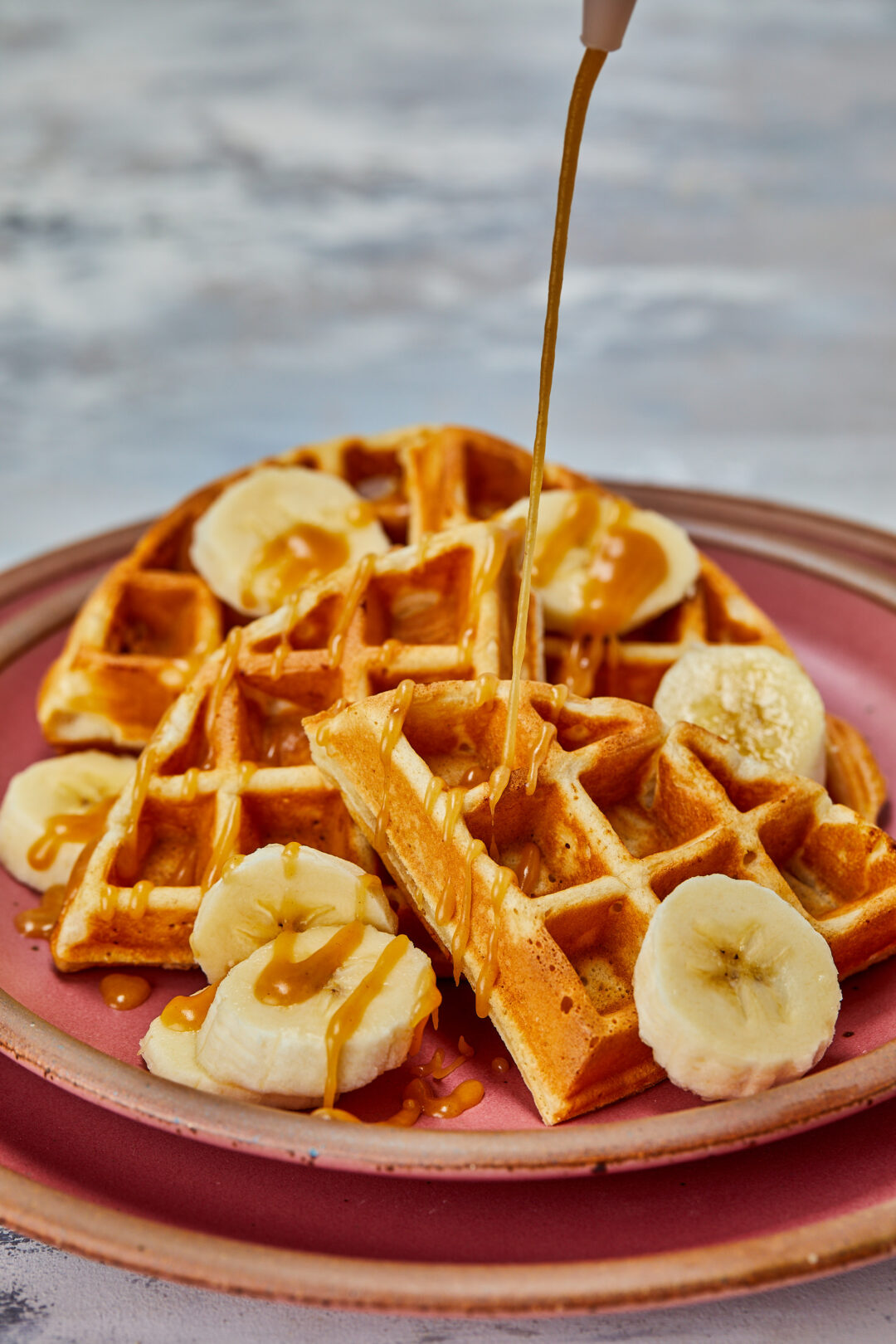 It's crazy how adding only air to something can really transform how it finishes. These waffles have a thin, super crisp shell while still keeping a fluffy, gently cake-like interior. The best of both worlds.
Last but not least (although still pretty sweet!) is the drizzle. The way I see it, if you don't have a good drizzle on a waffle, why even bother?! I don't wanna get all sappy, but seriously good maple syrup simply whisked with peanut butter and a bit of caramel made for the most incredible waffle topper. (Have some whipped cream? Treat 'yo self.) — Enjoy, y'all!
.
.
.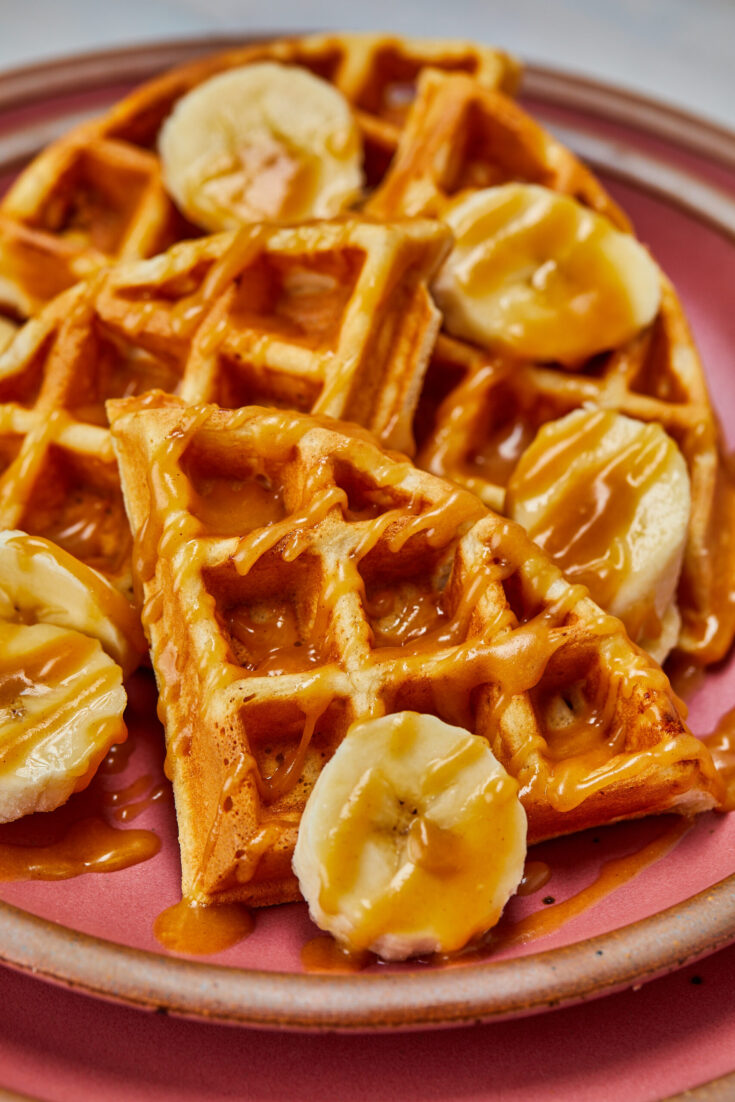 Yield:

4 servings
Peanut Butter Waffles + Maple Caramel Bananas
Peanut butter waffles with whipped meringue. Swirled with peanut butter. Crispy Belgian-style waffles, light and fluffy, with maple caramel sauce and bananas. From SouthernFatty.com.
Ingredients
3 cups flour, all-purpose
1/2 cup granulated white sugar
1/3 cup cornstarch
1/2 teaspoon baking powder
1/4 teaspoon baking soda
1/2 teaspoon salt
1 cup milk
2 teaspoons vanilla bean paste or extract
1/2 cup butter, unsalted, melted
2 eggs, separated to yolks and whites
2 cups bananas, sliced
1 cup peanut butter
1 cup maple syrup
2 tablespoons caramel sauce
Instructions
Whisk together peanut butter and 2 tablespoons of the maple syrup. Set aside.
Mix the remaining maple syrup with the caramel. Set aside.
Combine dry waffle ingredients (flour, sugar, cornstarch, baking powder and soda, salt) and whisk well.
In a different bowl, mix together milk, vanilla, butter and egg yolks.
Place the egg whites into their own clean bowl.
Using a mixer with whisk attachment (hand mixer works best for this one), beat the egg whites until stiff peaks (point should stay when turned upside down).
Add the milk mixture to the dry bowl and whisk until just mixed. Do not beat or mix for too long.
Add the stiff beaten whites. Fold with a spatula until fully incorporated.
Heat waffle maker.
Cook waffles with swirls of the peanut butter mix per maker instructions until golden.
Top with sliced bananas and maple caramel.
Find more recipes on SouthernFatty.com --- Tag us on social @southernfatty!
Recommended Products
As an Amazon Associate and member of other affiliate programs, I earn from qualifying purchases.
Nutrition Information:
Yield:
12
Serving Size:
1
Amount Per Serving:
Calories:

488
Total Fat:

20g
Saturated Fat:

8g
Trans Fat:

0g
Unsaturated Fat:

10g
Cholesterol:

68mg
Sodium:

276mg
Carbohydrates:

69g
Fiber:

3g
Sugar:

33g
Protein:

10g