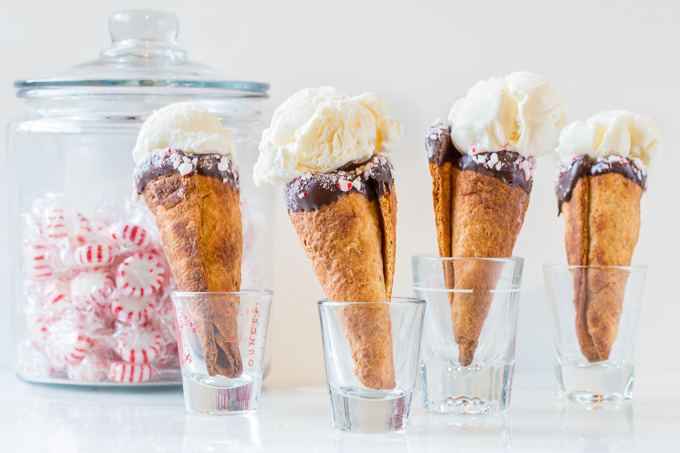 December is here and I'm officially in holiday mode. Fa la la la laaaaa! — Bring on the flashing lights, excessive eating, the road rage when there is a bit of snow in the air and people forget how to drive, the ice cream! Wait… what? Ya. You heard me. The ice cream!
One of my favorite memories from my childhood is going to my grandmother's house in Kentucky. When you piled into the station wagon, you had two things on your mind. Presents (because what kid isn't antsy about that?) and the once-a-year Christmas ice cream before bed. Peppermint ice cream, to be specific. I've spent a large chunk of my adult life trying to find the exact blend of this magical sweet to mimic those moments, with little luck. Forget those blends with the soft pieces in it. I want the plain and simple vanilla base with peppermint hard candy pieces that blend a bit into the base when you pop it on top of the cone. It creates this magical moment that just screams winter holiday to me.
Not only have I figured out that you can just mix up crushed candy pieces to get that perfect blend, but I found a new carrier for it all that rivals the classic cone — Naan Baked Ice Cream Cones.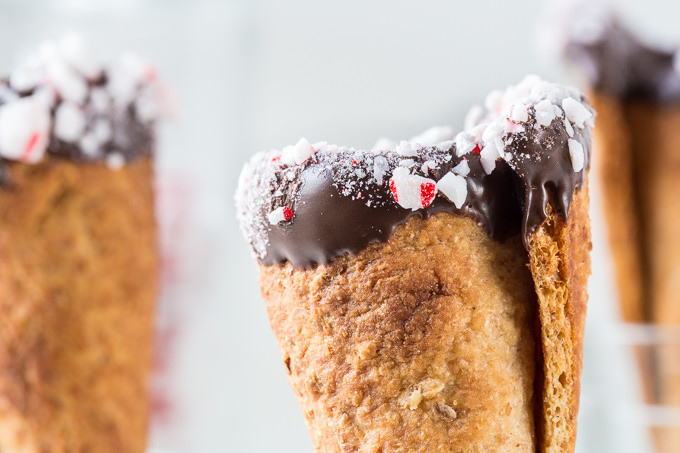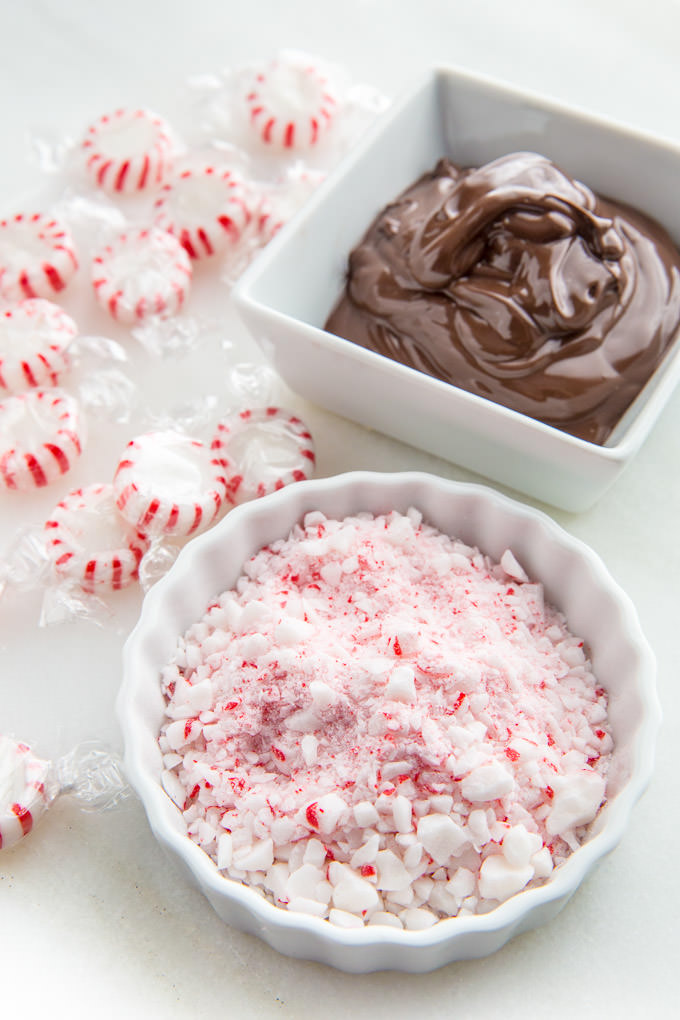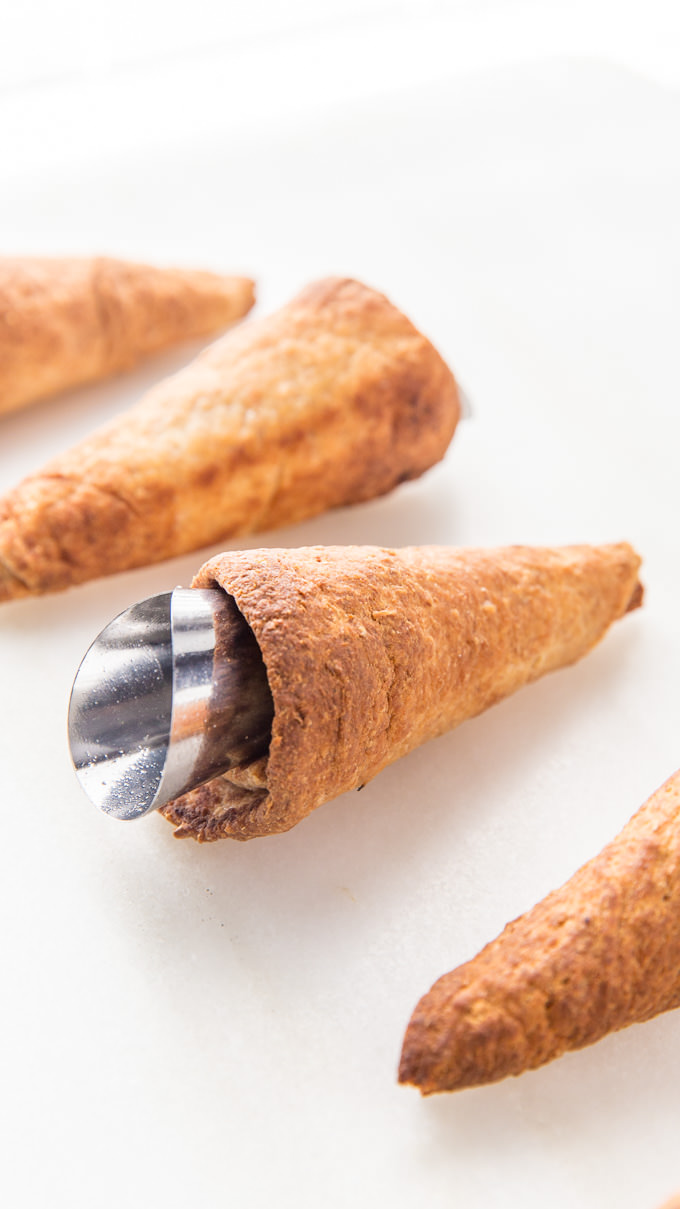 You've seen my previous Chicken Caesar Naan Tacos and even Naan S'mores. I have a blast taking something that people typically think has only a few applications. Naan is certainly one of these products, and I'm here to change that. If you think about it, it's incredibly versatile. Super-soft Stonefire Naan Flatbread has been my go-to, prepared with clarified butter (ghee), buttermilk, no artificial preservatives, and a very hot oven. It's one of my favorite bread items for very good reason.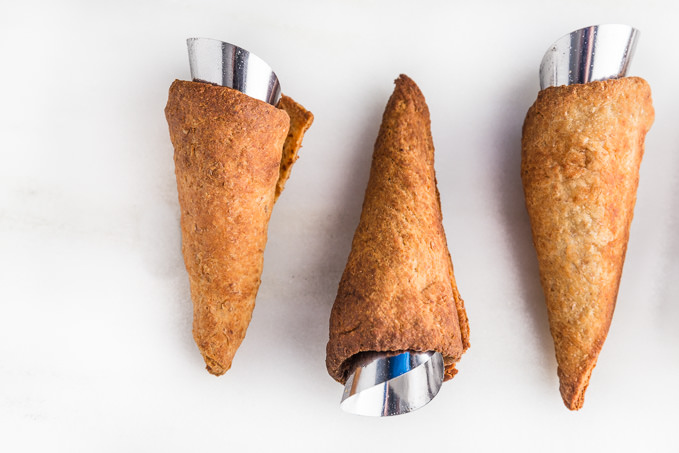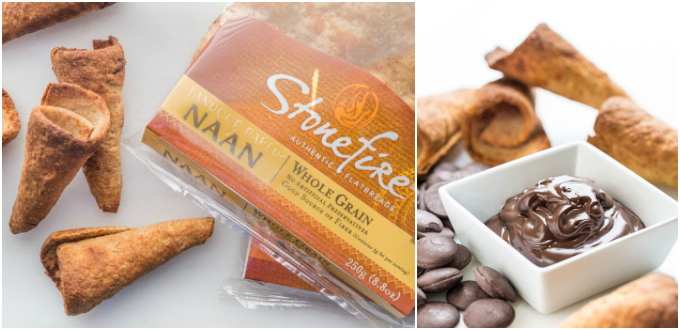 Since I had taken advantage of the cloud-like softness of the naan for my previous recipe collaborations with Stonefire, I decided that I wanted to try to push the boundaries a bit more for this one. If naan can make amazingly soft flatbread recipes, could I turn it into something crispy? Turns out, you sure can. I use Stonefire Whole Grain Naan for these, but have tested the original out and it works beautifully as well. The whole grain just gives me an excuse to eat two (or three… four…) and gives a beautiful golden color to the end result. The thick flatbread ends up creating this layered, buttery shell with the simple step of baking it for a bit longer at a lower temperature. We're halfway there for our holiday ice cream throne already.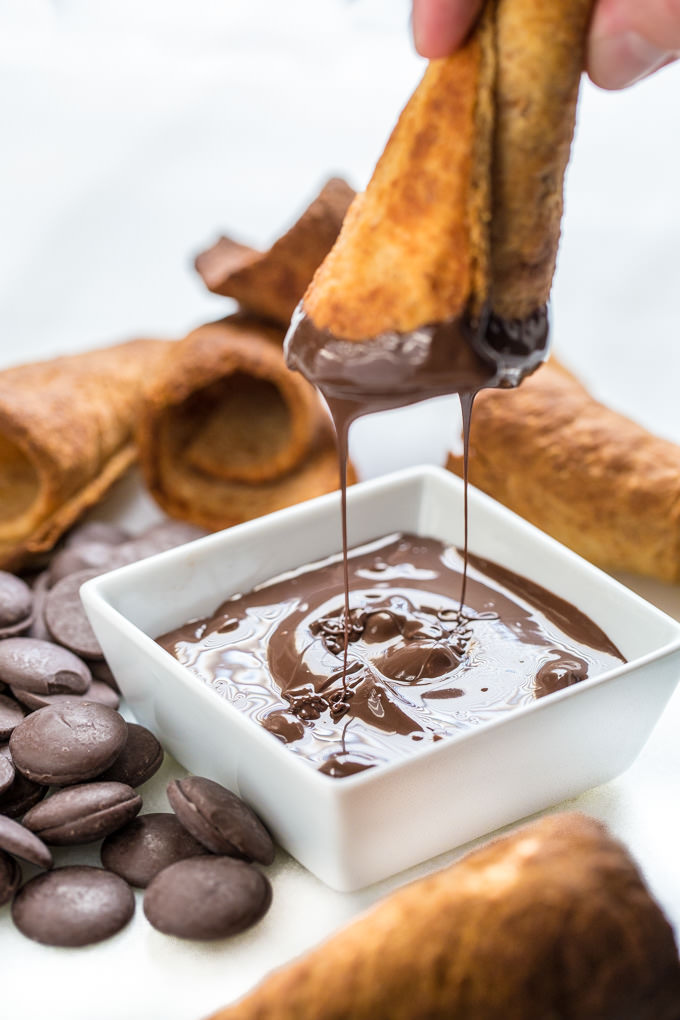 Speaking of cones, I'm absolutely usually in club waffle. I'm not a fan of those styrofoam whatever-they-are cones. Why would anyone want that over a crispy cone?! Compared to the waffle, this cone definitely takes to cake cream in the crispness department. The layers of the baked cone are the perfect result of the masterfully-crafted butter and air pockets that are built into the naan. Bonus? The cone stays crispy for soooo much longer than a traditional cone because of these layers. What is there not to like about this, y'all? Seriously.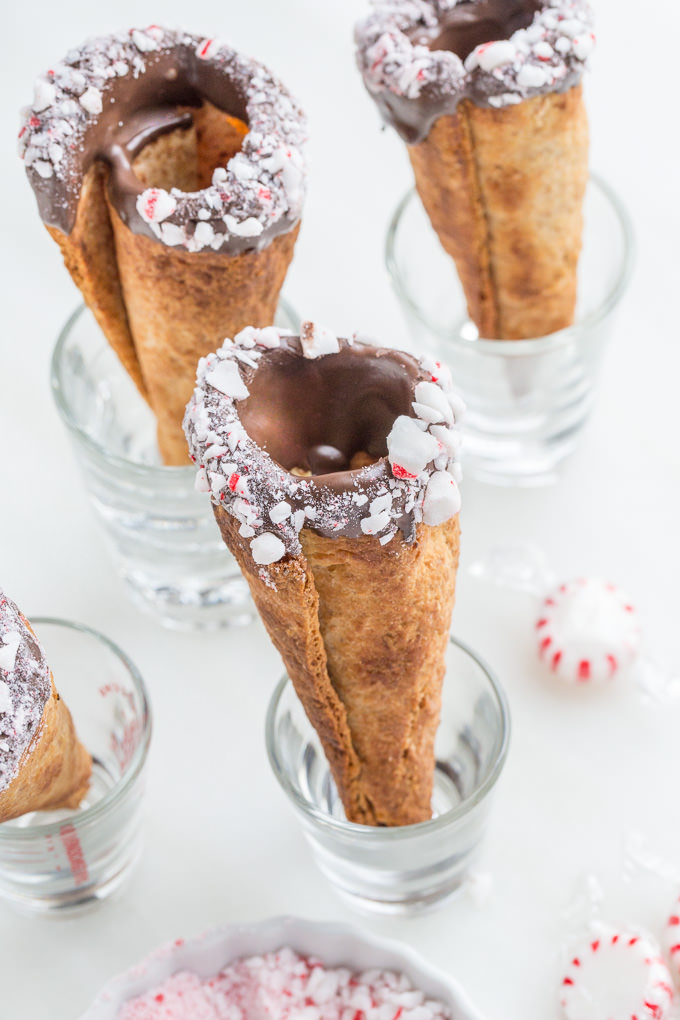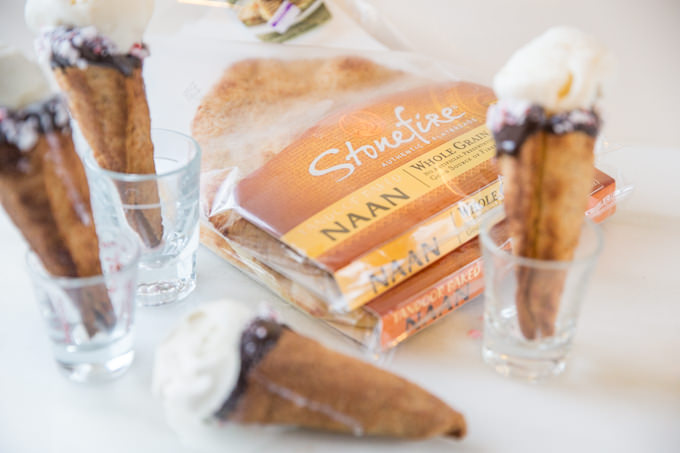 I have big, big plans for this base recipe. I started with a chocolate/peppermint combo for the holidays, but have a growing list of other additions to match whatever event, mood, or season that I'm in. There are as many possibilities to this as there are crushed candy pieces in my kitchen. If you only knew how much candy I had in my house. It's almost embarrassing. This is the perfect excuse to keep them all.
For now, I'm sticking to the mint. Maybe some edible glitter for my New Year's Party? Duh. This is going to make your holiday parties better than ever. Forgot the boring fruitcake, and go for these.
Happy Holidays, y'all.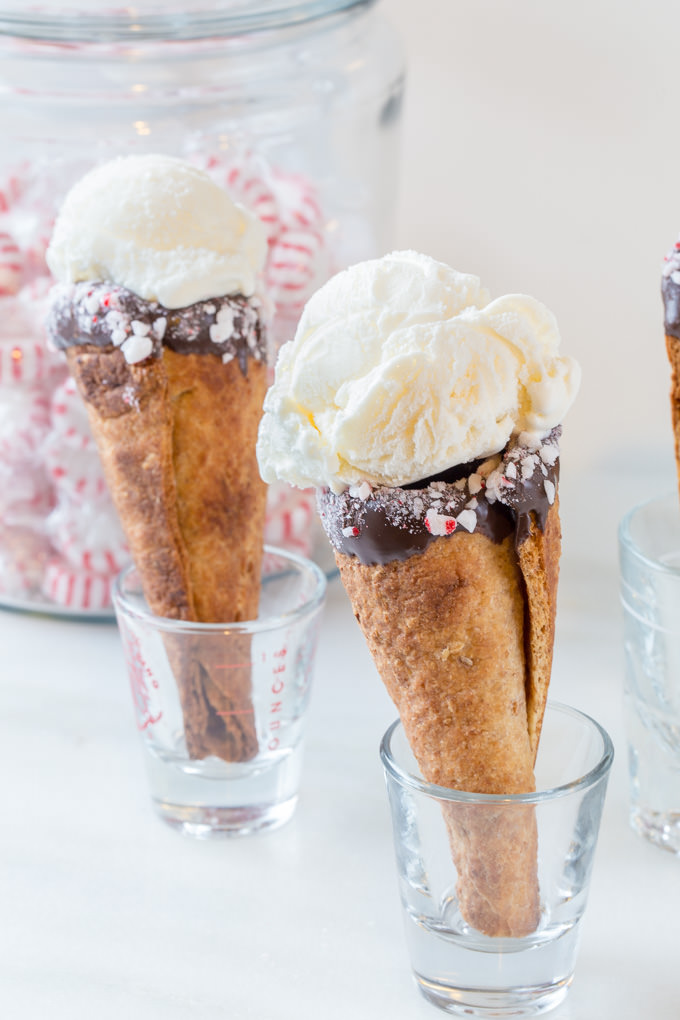 Naan Baked Ice Cream Cones
Chocolate Dipped Naan Ice Cream Cones with Peppermint Ice Cream by SouthernFATTY.com
Author:
Phillip Fryman | SouthernFATTY.com
Serves:
4-6 ice cream cones
Ingredients
2 packages Stonefire Whole Grain Naan Flatbread
cooking spray (vegetable oil or olive oil)
½ cup chocolate, chopped, type by preference
½ tablespoon shortening, optional
¼ cup peppermint candies
2 cups vanilla ice cream
cream horn molds, optional (can mold foil alternatively)
Instructions
Preheat oven to 350 F.
Line baking sheet with parchment or baking mat.
Place Stonefire Naan in microwave covered with a damp paper towel. Heat for 15 seconds to soften.
Wrap naan around the molds (or foil molded in the shape of an ice cream cone) to determine size needed. It should overlap about an inch. Trim naan as needed.
Lightly spray naan on both sides with cooking spray.
Wrap around molds again. Place seam side down on baking sheet.
Bake until dark and crispy, about 15 minutes.
Remove and cool completely.
Place peppermint candy in food processor and pulse until broken into small pieces. Transfer to a shallow dish.
Place chocolate in microwave safe bowl (wider than cone tops) and heat for 30 seconds. Stir well.
Add shortening (optional, but adds a nice shine and easier to dip). Stir. Heat 15 second increments as needed until completely melted.
Dip cones in chocolate. Follow by a dip in the candy pieces.
Allow to harden completely.
Top with vanilla ice cream and enjoy immediately.
Find more recipes on SouthernFATTY.com!
What are your favorite holiday dessert memories? Share below!
This post was made in partnership with Stonefire Naan. I work with brands that I enjoy and trust. We appreciate the support to keep things running.