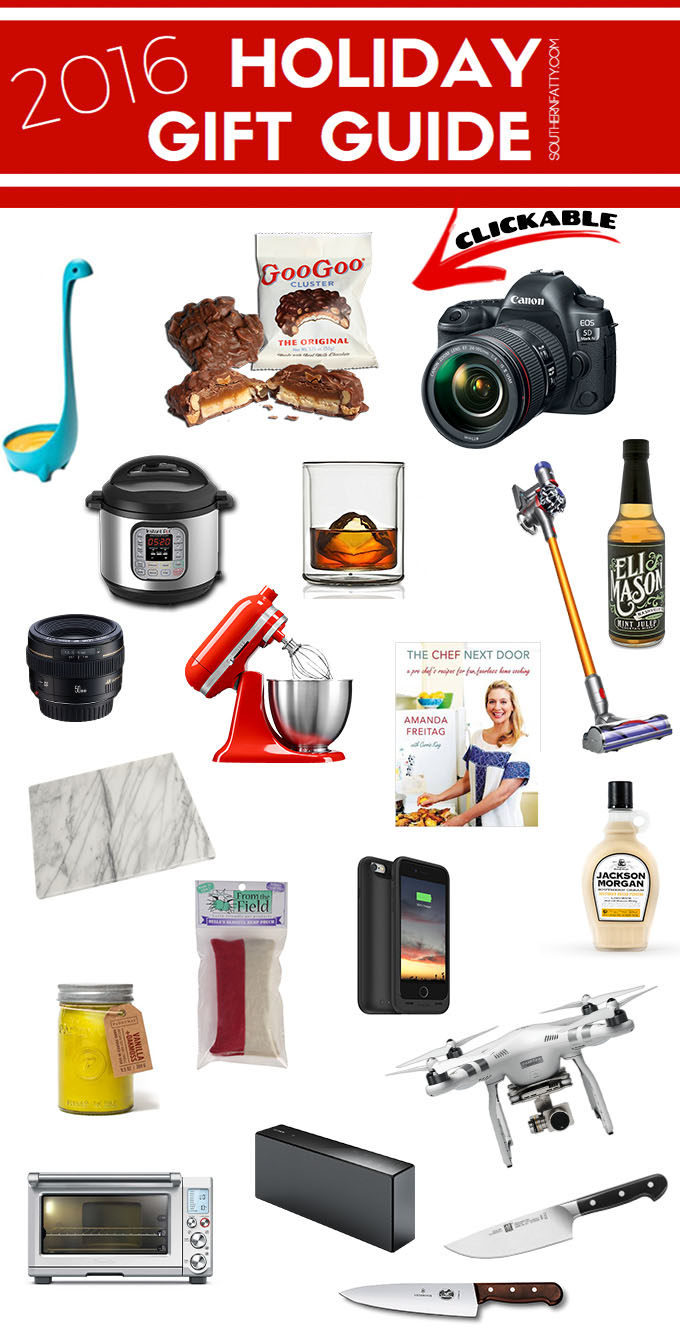 Ho….. Ho…. Hooooooo. *kicks kid down slide* — It's that time, y'all! In true Southern Fatty style, a bit late to the game, I am sharing some of my favorite picks for your holiday gifts. If you all are anything like myself, you probably haven't shopping anyway, right? Thank you, Amazon Prime.
Here are some of my favorite things, along with where you can grab them last minute.
Click on any of the items in the picture
above to find out more about each product.
---
PS — None of these suggestions are paid endorsements or sponsored content. Some items are from brands that I have partnered with in the past, but all of my suggested gift items are on this list purely because I truly enjoy and positively recommend.
For the home cook/baker.
For the photographer.
Aside from the blog here, I work as a food photographer based in the Nashville area. One of the most common emails I get from readers is for photography equipment suggestions. There are plenty of great gifts to share with new photographers, pros, and even for that person that just wants to step up their Instagram game a bit.
The best thing I ever did for my photography learning experience was upgrade the lens on my dSLR camera. I started, like most, with an entry level Canon camera that was fantastic to learn the basics on with great results. The lenses that come with those kits are fine, but certainly restrict the quality of photos and box you in a bit with what you are learning to shoot. For someone that has an interchangeable lens camera, a quality 50mm lens is the best thing you can have for them under the tree. For $100, you can put a Canon 50mm 1.8 lens in their stocking. For a bit more, you can upgrade to the Canon 50mm 1.4 lens. It will have a better build (less plastic) and amazing image quality. This is the best lens to learn photography with. 50mm is basically what the human eye defaults to, so it gives you a chance to focus on framing, settings, etc. when learning to shoot.
Another question I often get is, "What camera did you use to shoot this?". I've had several camera models in the past few years. Starting with a Canon XT, and now a shiny new 5D Mark IV. If you are looking for a great entry level camera, I would strongly suggest getting a Canon Rebel Series camera. Look at the T5i or T6i models. These are relatively inexpensive, but will provide a fantastic base to learn from. The features and abilities are perfectly suited for 99% of hobby photographers. You can often find these as Refurbs through Canon. I've never had a bad experience with their refurbished items. They arrive looking brand new with a full warranty. I would strongly suggest buying these as "body only" and adding on that 50mm 1.8 $100 lens that I talked about above instead of wasting the extra money on a "kit" with a much less effective 18-55mm lens.
If you are feeling really generous, the more seasoned photographer has probably mentioned this camera several times. The Canon 5D Mark IV is the latest in the Pro series of Canon dSLR full-frame models. Prior to this, I kept using my Canon 6D because it had basically the same image resolution as the previous 5D Mark III body, with WiFi, GPS, and some of the best low light focusing and image results out there. NOW… The 5D Mark IV is my primary pick. I kept my old 6D as a backup camera, but this Mark IV unit is just amazing. What it also is, is expensive as hell. It's truly an investment, but one I've not regretted a single time. This isn't a hobby buy, but if you are serious about looking into a top-notch camera suggestion, this has my full endorsement.
Care for a drink?
It wouldn't feel right unless I included some of my favorite cocktail gadgets and mixes in the list. Here are a few of my favs. I'll drink to that!
Eli Mason Cocktail Mixers are made right here in Nashville. They're received National acclaim and praise from some major outlets for very good reason. I originally worked with Eli Mason to develop a recipe a long, long time ago. It ended up being one of the most viewed on the site. Go ahead and order some of this stuff for yourself, too. That Amaretto Southern is going to change your life.
I love unique glassware. One of my secrets to finding good photo props for work and the blog posts here is to force myself to get up on a weekend and go venture into the world of estate sales in the Nashville area. It's fun to see different parts of town and maybe find some unique antiques to feature. It's also fun to be nosey in other peoples houses… But, still. These Double Walled Cocktail Glasses have awarded me so many compliments form friends visiting my place. They are fun and make for a pretty sweet Old Fashioned cup.
Since one mixer obviously isn't enough, I thought I would include one of my favorite winter mixes as well. I'm a coffee-all-day-every-day kinda guy, and if you aren't putting a little bit of grandma's juice in it, you are doing it all wrong. Jackson Morgan Southern Whiskey Cream is a brand that I have worked with (also local TN based!) and can't sing enough praises about. They are great people that make a great product. It's great on ice, in coffee, or tossed with caramel popcorn like I made here.
Whosits and whatsits galore.
If you read through all of this, I should go ahead and buy you one of each. Unfortunately, I'll be outside eating cookies lowered into my mouth by drone, so I can't spare the time for that. — Happy Holidays!
Did I miss something that you think everyone should have under their tree?
Let us all know in the comments below.
—
None of these suggestions are paid endorsements or sponsored content. Some items are from brands that I have partnered with in the past, but all of my suggested gift items are on this list purely because I truly enjoy and positively recommend. This post contains affiliate links. Thank you for considering purchasing using these links, as that helps keep the Fatty running. Bills, I mean. Not physically. I don't run anywhere.