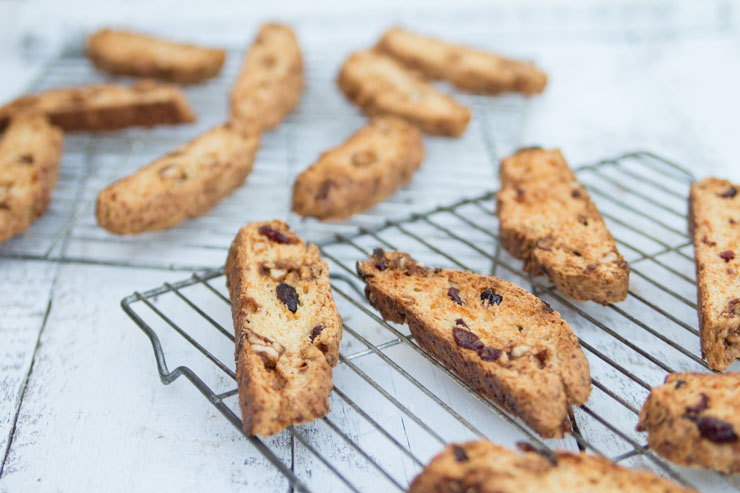 There are moments when I catch myself daydreaming that I have a little old Italian grandmother (I would call her Nonna, obviously) that sits in her tiny house baking delicious treats for me to pick up. What? Y'all don't think of things like that? Anyway…
The first thing on my imaginary Italian grandmother's table would be a crispy biscotti for me to enjoy with my morning coffee. Everything is better with coffee, after all. I'll show you my take with a Monterey Hazelnut Biscotti. A few sweetened cherries & candied hazelnuts balance the unique savory flavor from the monterey jack cheese base.
[ Read to the end to enter to win 5 free blocks of Rumiano cheese! ]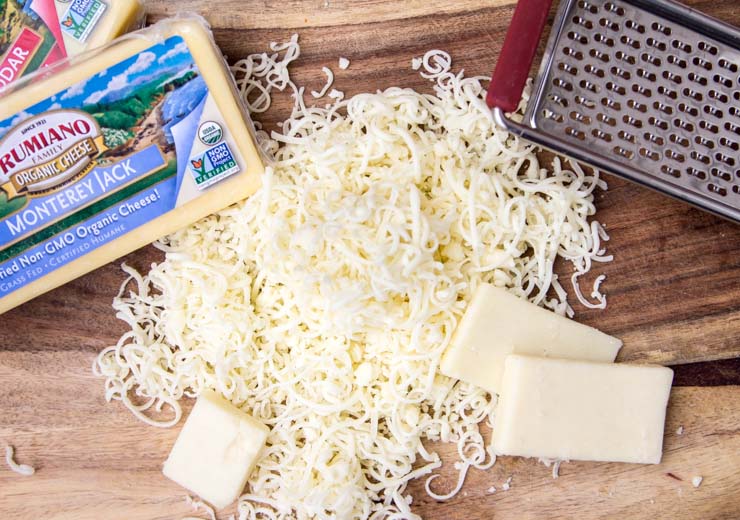 Nonna will be making this biscotti a bit more unique than your typical run-of-the-mill crispy coffee companion. Monterey Jack cheese provides a perfectly smooth, buttery flavor to balance the sweetened, candied hazelnuts and tart cherries. Cheese may be quite the unexpected partner in a sweet and savory biscotti, but will really shine through in the end.
Speaking of cheese… I am using Nonna prefers a good quality cheese, since this will be the feature ingredient. Rumiano is the oldest family-owned and operated cheese producer in California. Their products are completely Non-GMO and organic, with the dairy cows grazing in their backyard. On grass. Like, in a real field and everything. The way it should be. This production ideology is sustainable and natural. It results in some of the best quality and tasting cheeses that you'll ever have. Be sure to enter our giveaway to win 5 free blocks of cheese from Rumiano to celebrate Non-GMO month in October!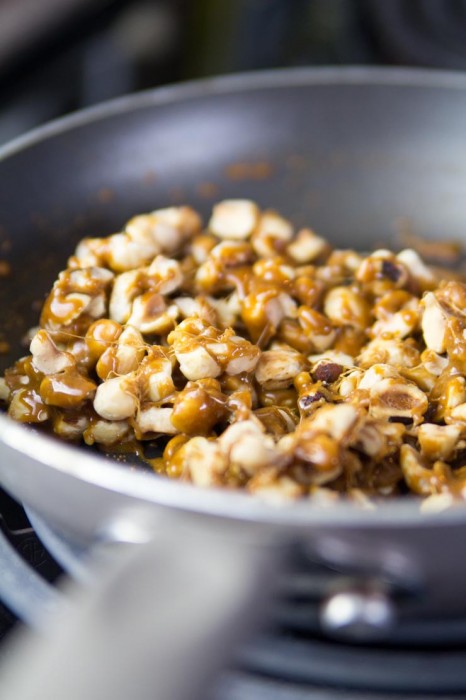 Hazelnuts are a perfect fall baking nut. The deep, warm taste adds a great complexity of depth of flavor to baked goods. After eating the entire first batch of these, and then having to make another, I will be using them in lots more recipes to come.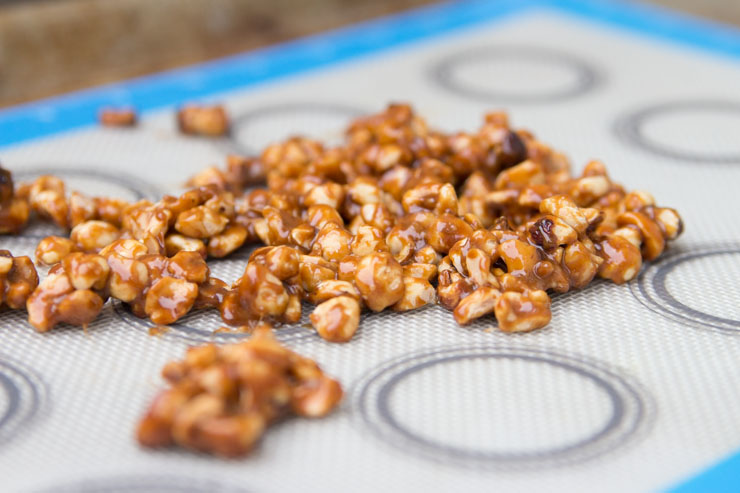 As if hazelnuts aren't good enough by themselves, Nonna and I agree that everything is a bit better with a touch of sugar on it. Candying these nuts is a super quick process and will be the best decision you'll make all week. That sugar coating will bake beautifully into the surrounding bread, leaving little sweet bites along the way.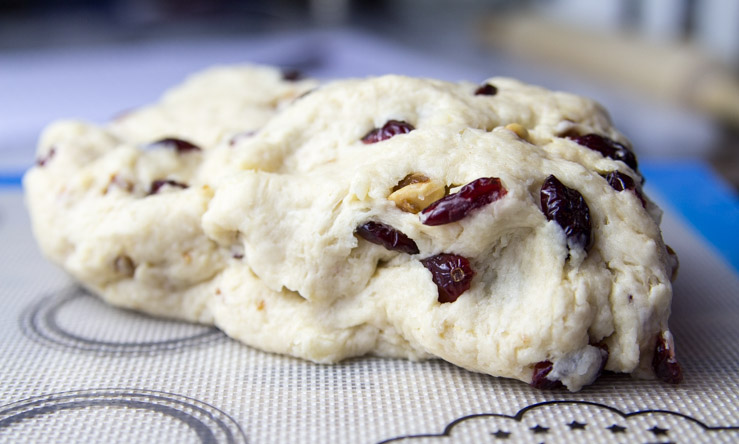 Biscotti, done properly, is a bit of a long process. Luckily, the majority of the time is just spent waiting on the yeast to do its job. Now… You can certainly make biscotti without yeast. I really, really recommend that you just take the time and use it, though. Those air pockets that are created by a properly risen dough will make a world of difference for the second bake to crisp everything up. You'll thank me later.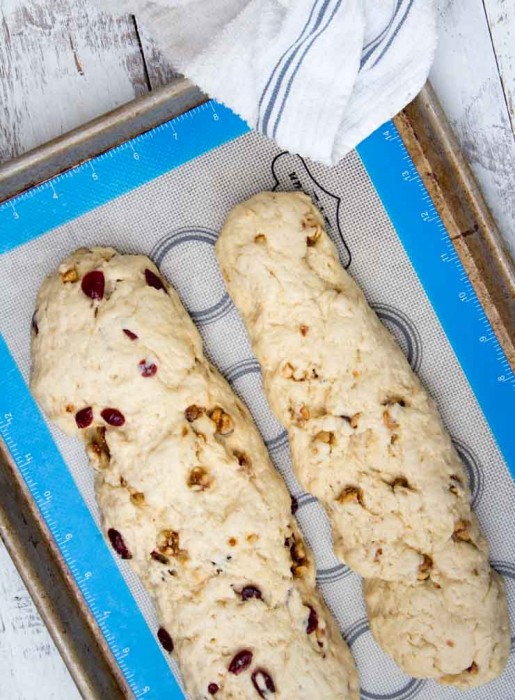 I wasn't quite sure if the cherries would be a good addition or not to this recipe, so I ended up splitting (unevenly, obviously) it into two smaller batches to try both. Turns out, both are delicious. I prefer the cherries since it provides for more sweetness and a bit of tartness. Add whatever you want. I found that the cherry flavor really accented the hazelnut warmth extremely well.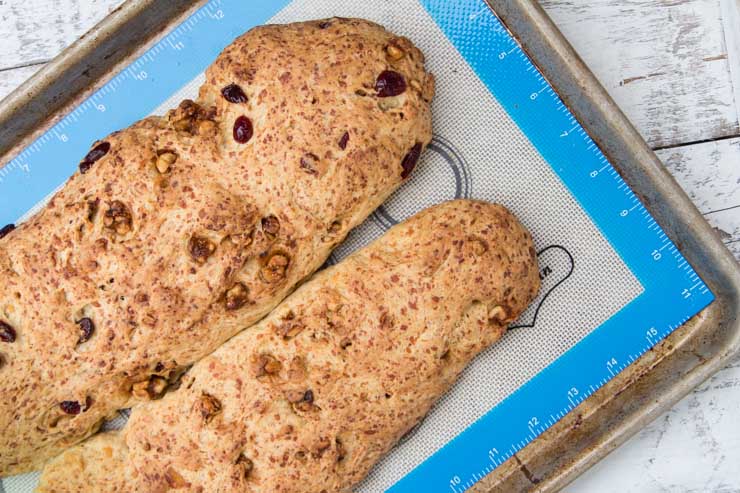 Nonna just pulled the loaves out of the oven after their first bake. Yup. First bake. Biscotti is a twice-baked process. Once to bake the loaves, and again to make the sticks perfectly crispy.
After the first bake, you'll just cool and then cut it all up to bake again. Simple. I mean… That's what Nonna told me, at least.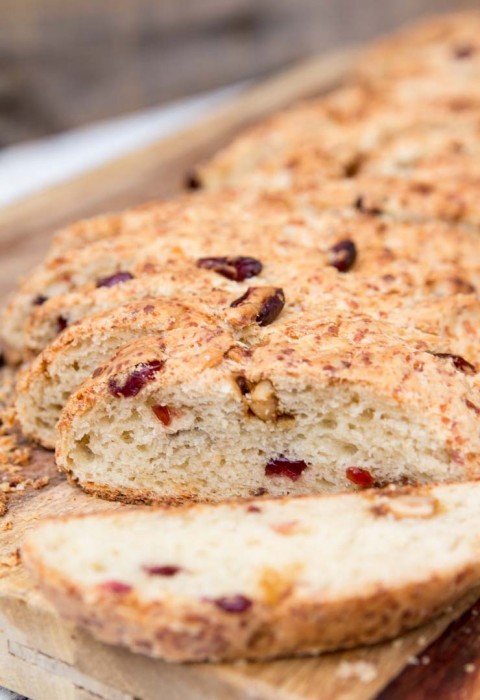 I have to say– I tried (a few) of the pieces of this bread after the first bake. WOAH. This still was delicious and soooo soft and fluffy. That time that you gave the yeast to do its magic really pays off. You really could just stop right here and serve it like a sweet bread. I'll probably do that the next time I make it. One to eat after the first bake, the other to crisp up for proper biscotti.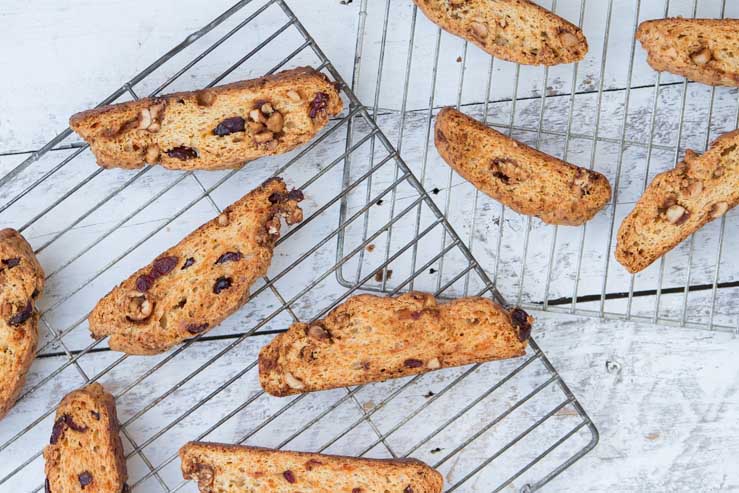 Bake, bake, cool. Do you seeeeee all of those sugar-kissed hazelnuts and little cherry bombs?! Delicious. Biscotti is probably what I would consider to be one of the most versatile treats you can keep in your toolbox. These can be made well in advance of any company, and can be tucked away until you want them with coffee in the morning, a quick grab-n-go snack for a drive, or to go deliciously after dinner.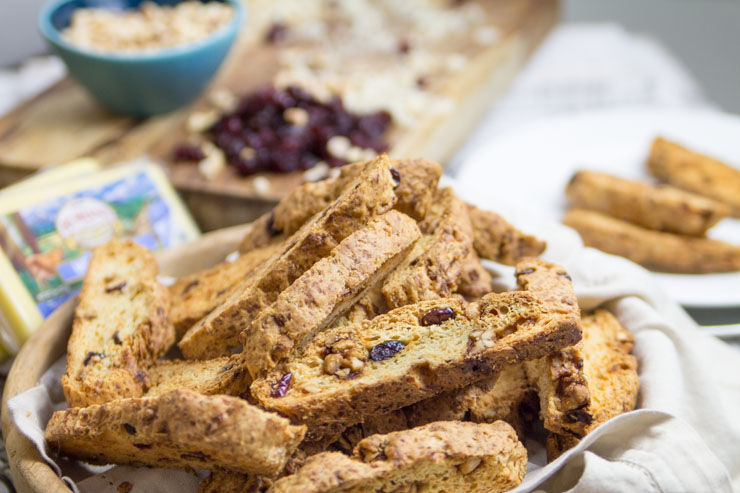 These aren't your typical biscotti. You'll notice the cheese flavor as a mild back note in the biscotti. It isn't like eating a cheese bread at all. The flavor comes out even more after the second bake to crispy the bread. It may not sound like a cheese-based biscotti would be good with coffee, but it's really delicious. Pairs well with coffee, soup, or by itself as a sweet snack.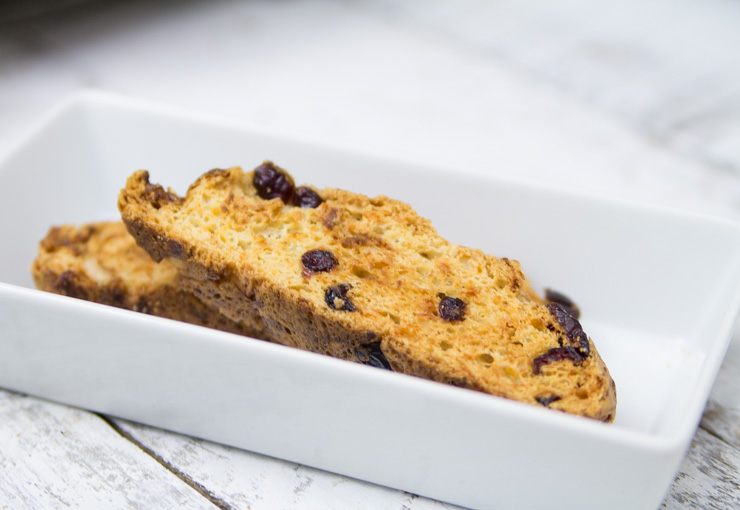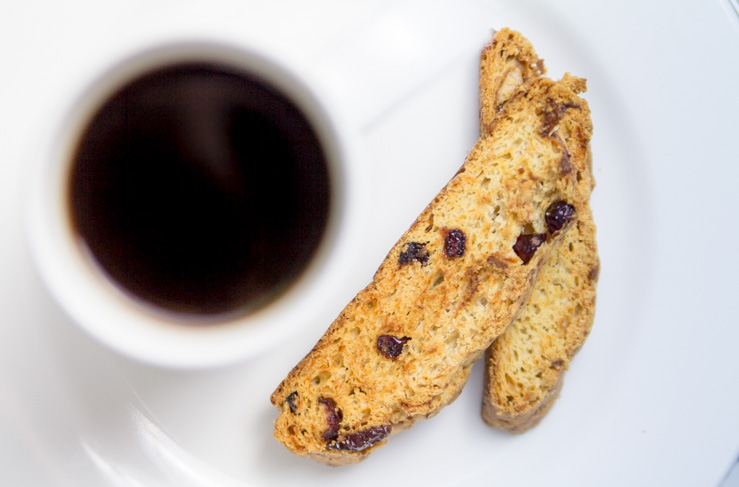 Nonna really hit it out of the park with these. I can't wait to try it out with a few different variations. Enjoy!
 Use the giveaway app below to enter to
win 5 free blocks of Rumiano cheese!
Monterey Hazelnut Biscotti
Monterey Jack Biscotti with Candied Hazelnuts and Sweet Cherries
Ingredients
2 and ¼ teaspoons (1 pouch) yeast, active dry
½ cup + ⅓ cup warm water
¼ cup turbinado sugar
½ cup hazelnuts, chopped
1 and ½ tablespoons sugar
3 cups flour
scant 2 cups (7 ounces) freshly shredded Monterey Jack cheese
6 tablespoons butter, room temp
1 teaspoon salt
½ cup dried cherries
Instructions
Heat turbinado sugar and hazelnuts over medium heat in small pan.
Heat until sugar is dissolved completely and hot, covering all of the nuts.
Pour out onto baking mat to cool completely.
Break apart well into bowl.
Mix ½ cup warm water and yeast in mixer bowl.
Let sit for 5 minutes to dissolve.
Add flour, cheese, butter, salt to yeast mixture in mixer bowl.
Mix just until dough formed.
Add cherries and stir until combined.
On a lightly floured surface (or baking mat is what I prefer), form dough into two logs, diving dough in half.
Place on paper-lined or mat covered baking sheet. Cover loosely.
Let sit for 45 minutes to allow yeast to rise dough.
Heat oven to 350 F.
Uncover and bake for 30 minutes. They should be golden.
Remove and cool completely.
Heat oven to 300 F.
Slice loaves into ½" thick slices.
Place slices cut side down on baking sheet.
Bake for about 1 hour, flipping halfway through.
Bake until golden. Be cautious to not burn!
Cool and enjoy!
Visit SouthernFATTY.com for more.
Notes
2014 - SouthernFATTY.com
Enter below to win 5 blocks of Rumiano cheese!
Be sure to click +2 after commenting and follow the apps instructions.