Monterey Hazelnut Biscotti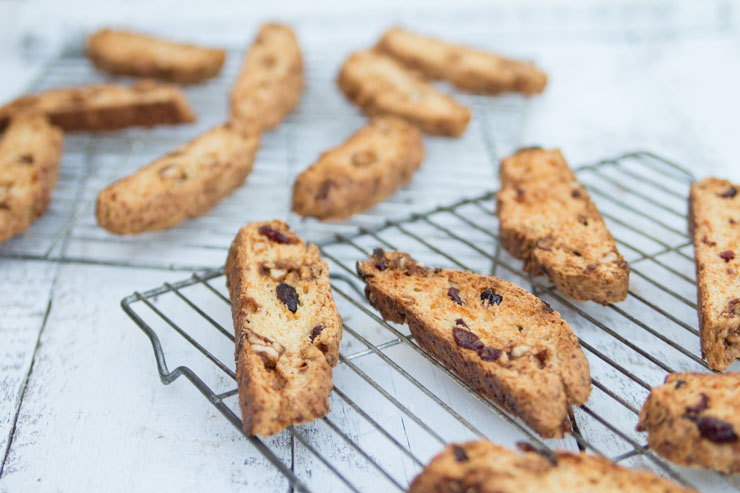 2 and ¼ teaspoons (1 pouch) yeast, active dry
½ cup + ⅓ cup warm water
¼ cup turbinado sugar
½ cup hazelnuts, chopped
1 and ½ tablespoons sugar
3 cups flour
scant 2 cups (7 ounces) freshly shredded Monterey Jack cheese
6 tablespoons butter, room temp
1 teaspoon salt
½ cup dried cherries
Heat turbinado sugar and hazelnuts over medium heat in small pan.
Heat until sugar is dissolved completely and hot, covering all of the nuts.
Pour out onto baking mat to cool completely.
Break apart well into bowl.
Mix ½ cup warm water and yeast in mixer bowl.
Let sit for 5 minutes to dissolve.
Add flour, cheese, butter, salt to yeast mixture in mixer bowl.
Mix just until dough formed.
Add cherries and stir until combined.
On a lightly floured surface (or baking mat is what I prefer), form dough into two logs, diving dough in half.
Place on paper-lined or mat covered baking sheet. Cover loosely.
Let sit for 45 minutes to allow yeast to rise dough.
Heat oven to 350 F.
Uncover and bake for 30 minutes. They should be golden.
Remove and cool completely.
Heat oven to 300 F.
Slice loaves into ½" thick slices.
Place slices cut side down on baking sheet.
Bake for about 1 hour, flipping halfway through.
Bake until golden. Be cautious to not burn!
Cool and enjoy!
Visit SouthernFATTY.com for more.
Recipe by
Southern FATTY
at https://www.southernfatty.com/monterey-hazelnut-biscotti/