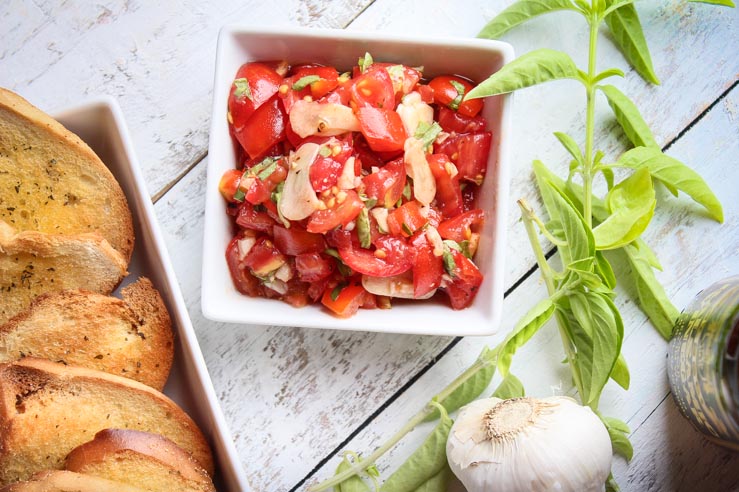 While summer may totally be sooo last month, I can't help but to pull back & peek through the kitchen blinds and see what I assume may be the last of the homegrown tomatoes creeping through the brown, dried-up leaves, just begging to be used. I am completely fine with saying goodbye to the 100 degree summer heat in exchange for the cool breeze and blanket-warming colors of fall, but I certainly will miss the fruits of the summer-time garden that is in my back yard. Fresh tomatoes, herbs, and even a few insanely spicy peppers that grew by means of some sorta of freak accident.
For a final hurrah to summer, I am using some of the last tiny tomatoes and herbs for a delicious Homemade Bruschetta.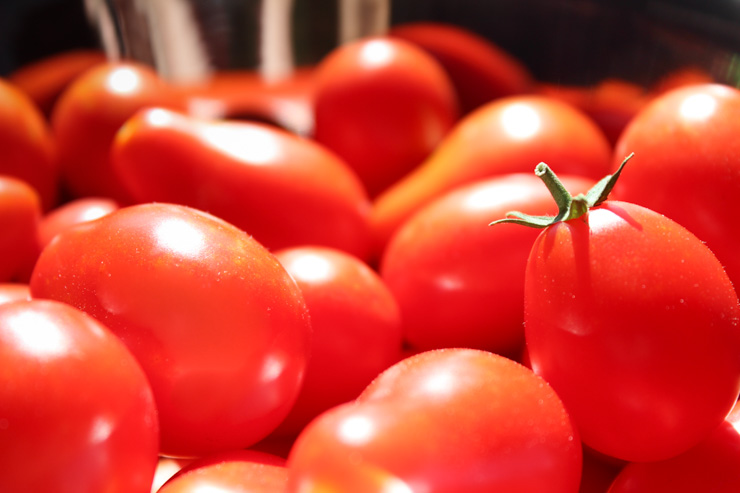 Even with my ever-so-slightly green thumbs in the picture, I somehow managed to have some decent homegrown tomatoes growing out of the 5 gallon food grade buckets on my back porch area. While I did expect that they would be larger Roma tomatoes, they ended up being either a much smaller version (or possibly even something completely different.. nobody knows, really). I'm really just happy that I was able to grow something myself. It's a bonus that they managed to taste good.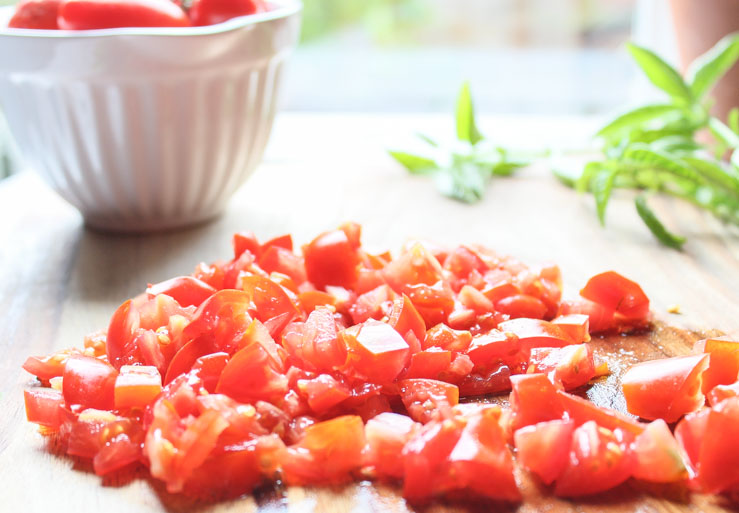 There is something special about growing what you are eating. I find this to be especially true since I am generally one of those people that does well to keep anything alive. I have managed to feed my cats, but anything green in my house is a toss up.
I gathered a bowl full of these itty bitty tomato pretties and some fresh basil. Sorta like I was on the Oregon Trail; foraging for food in my very own back yard.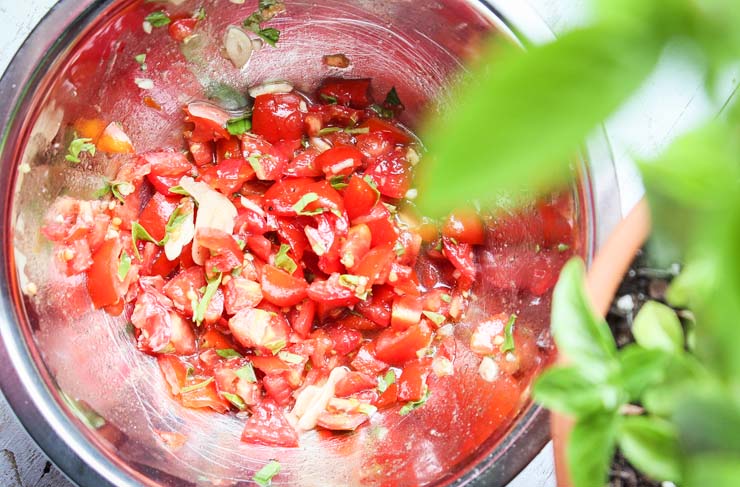 Bruschetta is my go-to recipe to serve with just about any meal or occasion. I always have some bread around that I can slice into points and toast. I can mix everything for this together in a matter of minutes. While I do think it tastes better after it has been sitting to let the ingredients mingle a bit, it still tastes fresh and delicious right after it is made. Perfect for a random, uninvited guest that pops in, or a meticulously-planned dinner with friends.
Fresh ingredients obviously becomes the key to a good dish such as this one. With few mix-ins, you are really forced to focus on what you are putting it the bowl. Thinly shaven garlic pieces are my secret weapon in this recipe. They sorta look like almond slivers, but pack much more of a pleasant punch. A nice take on the typical minced garlic that people seem to overlook. A good balsamic and freshly-grated cheese finish this to perfection.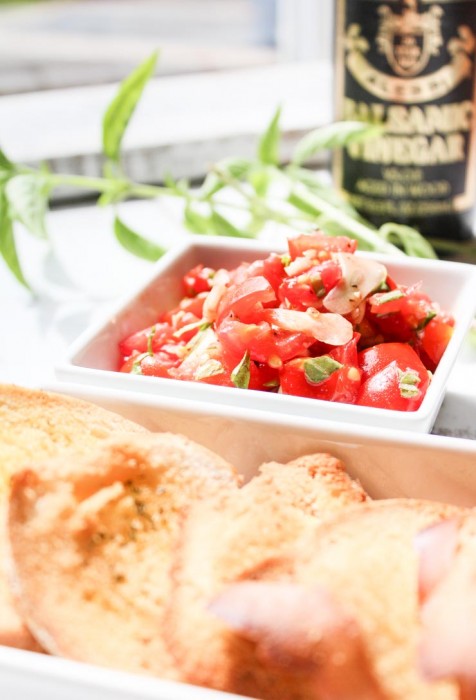 Speaking of– bruschetta, or bruschetta? You know, bru-SHET-ah or bru-SKET-a? I ask because I was out at a new Italian restaurant in Nashville several years ago and can't forget the waiter's insistence on emphasizing that he knew the correct Italian pronunciation of bru-SKET-ahhh. He was quite impressed with himself. (Although it was later apparent that he should have spent more time on encouraging better food preparation than on Rosetta Stone…) Just something that I sadly remember every single time I make this….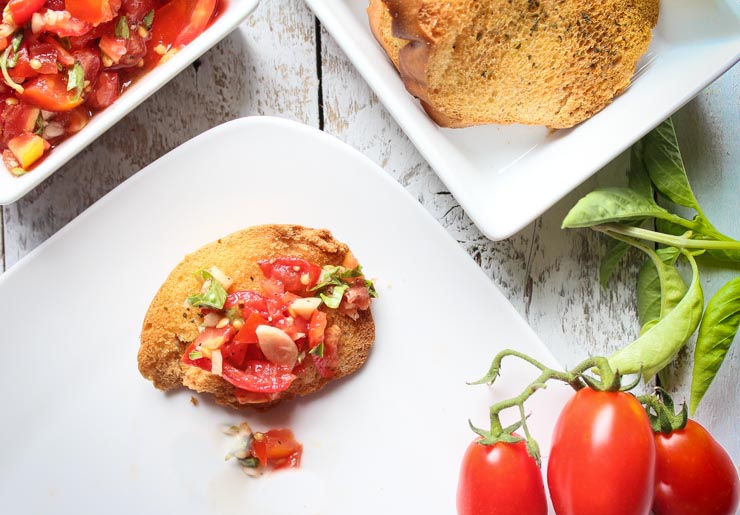 There you have it! This is what I consider to be one of the best simple sides to have in your arsenal. Goes perfectly with a pasta entrée, by itself as a snack, or on a table to grab-and-go for a party. Simple to prepare, and absolutely delicious to enjoy.
[Click HERE to see some of our other tomato posts!]
Homemade Bruschetta
Homemade Bruschetta with Homegrown Tomatoes and Basil
Ingredients
6-7 medium roma tomatoes, seeded & diced
½ cup basil, chopped
¼ cup Pecorino Romano, grated (alternative parmesan)
2-3 cloves garlic, shaved (alternatively minced)
1 tablespoon olive oil
2 teaspoons balsamic vinegar
½ teaspoon salt
¼ teaspoon black pepper
Instructions
Dice and remove seeds from tomatoes. Place in bowl.
Add cheese & basil.
CAREFULLY shave garlic as thinly as possible.
Combine garlic and remaining ingredients in bowl.
Best served after sits for several hours or even in refrigerator overnight.
Still great when served immediately.
Enjoy with friends and family!
From SouthernFATTY.com
Notes
2014 - SouthernFATTY.com
Did you grow your own backyard veggies?
What's your favorite homemade recipe?