Maple Peach Whiskey Fritters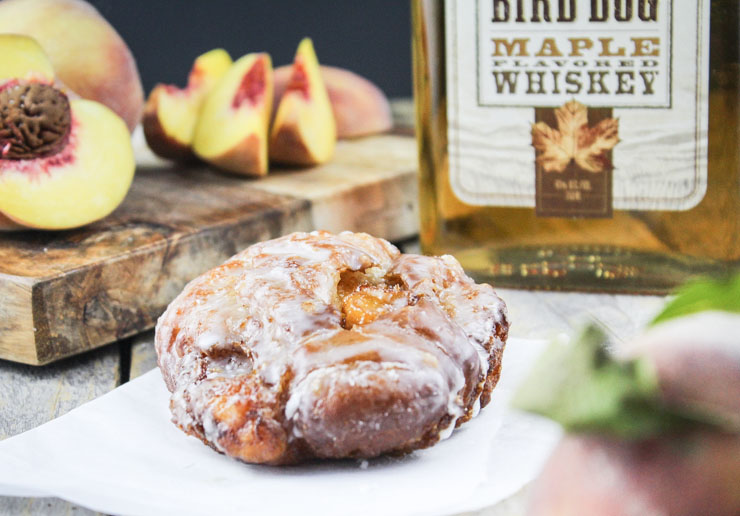 Serves:
8-10 large fritters
2 peaches, peeled and cut into bite-sized pieces (little over 2 cups)
⅓ cup (66 g) sugar
2 teaspoons (6 g) cinnamon, ground
1 teaspoon lemon juice
2 tablespoons (17 g) active yeast
⅓ cup (80 ml) hot water
2 cups (254 g) bread flour
¼ cup (50 g) sugar
1 teaspoon salt
¼ teaspoon baking powder
¼ teaspoon cinnamon, ground
⅛ teaspoon nutmeg
1 egg
3 tablespoons shortening
½ teaspoon vanilla paste, I prefer Nielsen-Massey (extract, alternatively)
oil, for frying
2 tablespoons sugar, granulated white
¼ cup water
2 cups (200 g) powdered sugar
½ tablespoon corn syrup, light
½ teaspoon vanilla paste, I prefer Nielsen-Massey (extract, alternatively)
¼ teaspoon salt
1 tablespoon Maple Whiskey
In a mixer, add yeast and warm water. Allow to sit and dissolve for about 5 minutes.
While dissolving, sift the dough dry ingredients into a bowl.
With a mixing blade (Beater Blade is the best!), add the remaining wet ingredients (egg, shortening, vanilla) to the yeast and mix well.
Add dry ingredient mix a bit at a time, mixing well at a low setting.
After all of the dry ingredients have been added, knead with a dough hook until smooth. This will take about 3-4 minutes at medium speed. Resist adding more flour unless dough is extremely sticky.
Remove bowl and cover with plastic wrap, dough ball in bottom.
Let dough double. This will take about an hour in a warm environment.
Place filling ingredients in saucepan over medium heat.
Bring to boil and reduce to simmer for about 6-8 minutes.
Remove to cool completely.
After the dough has doubled, roll out on a floured board to a 12"x12" square.
Place the cooled peach filling (not too much liquid works best) on half of the dough.
Fold over dough to cover peaches. Press sides together.
With a pizza or pastry cutter, cut dough into small squares (see picture).
The dough may be sticky and somewhat wet, but pick up the squares individually and form them into smaller balls.
Place dough balls together into small patties, each about the size of 2.5 inches wide.
Use a light amount of flour as needed to prevent sticking.
Place on a lined baking sheet.
Cover with greased plastic wrap and let rise for 45 minutes.
Heat oil to 350 F. Fry each fritter (don't crowd in oil!) until golden, about 4-5 minutes total.
Remove to drain and cool to handle.
In small saucepan, heat sugar and water to boil. Dissolve all sugar.
Once boiling and dissolved, remove from heat and add remaining glaze ingredients and whisk to smooth texture.
Dip the fritter in glaze. Remove to baking rack to cool. Repeat glaze dip as desired.
Enjoy! These are even better the next morning at room temperature.
SouthernFATTY.com for more delicious treats!
Recipe by
Southern FATTY
at https://www.southernfatty.com/maple-whiskey-peach-fritters/