Honeycrisp Cider Caramels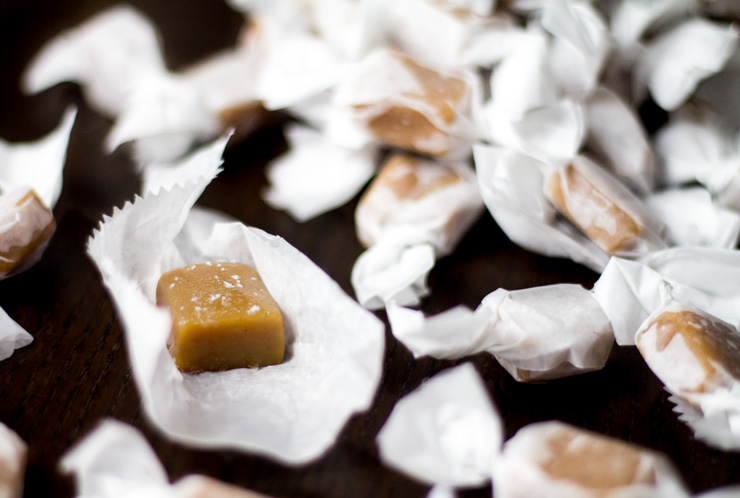 3 cups honeycrisp cider (Trader Joe's is where I went for this)
¼ teaspoon cinnamon, ground
⅛ teaspoon nutmeg, ground
2 teaspoons salt, flake-style is best!
1 stick butter, unsalted
1 cup sugar, white granulated
¼ cup brown sugar, dark
¼ cup brown sugar, light
½ cup heavy cream
2 tablespoons corn syrup
Heat cider in saucepan over medium-high heat. Cook, stirring frequently, until reduced. This will take about an hour-ish. Watch carefully to avoid burning.
During this time, prepare all ingredients to assemble caramels when ready. (cut up butter into pieces, measure all other ingredients and have them ready to mix in)
Line pan with parchment paper (see post picture).
Set the salt aside and add the cinnamon and nutmeg.
Once cider is reduced to about ½ cup or so (very thick), start adding the rest of the ingredients: butter, sugars, corn syrup, cream.
Heat and boil until it reaches exactly 250 F (hard ball phase) and immediately remove from heat.
Stir in the salt/cinnamon mixture.
Pour caramel into prepared pan to cool.
Sprinkle extra salt on top after a few minutes.
Allow to rest for several hours for best result.
Use a buttered/oiled knife to cut into squares. Wrap in waxed paper or these wrap sheets.
Enjoy with friends and family.
Visit SouthernFATTY.com for more!
Recipe by
Southern FATTY
at https://www.southernfatty.com/honeycrisp-cider-caramels/