I teased y'all a bit yesterday with some beautifully delicious nutmeg meringues. Since I decided that you'd probably judge me if I said that I made a sheet full of meringues just to stand in the kitchen and eat them one by one…. that I would make something else to put them on.
Thanksgiving dessert train to the rescue. I've got a gingersnap crusted pumpkin tart packed full of warm fall flavors.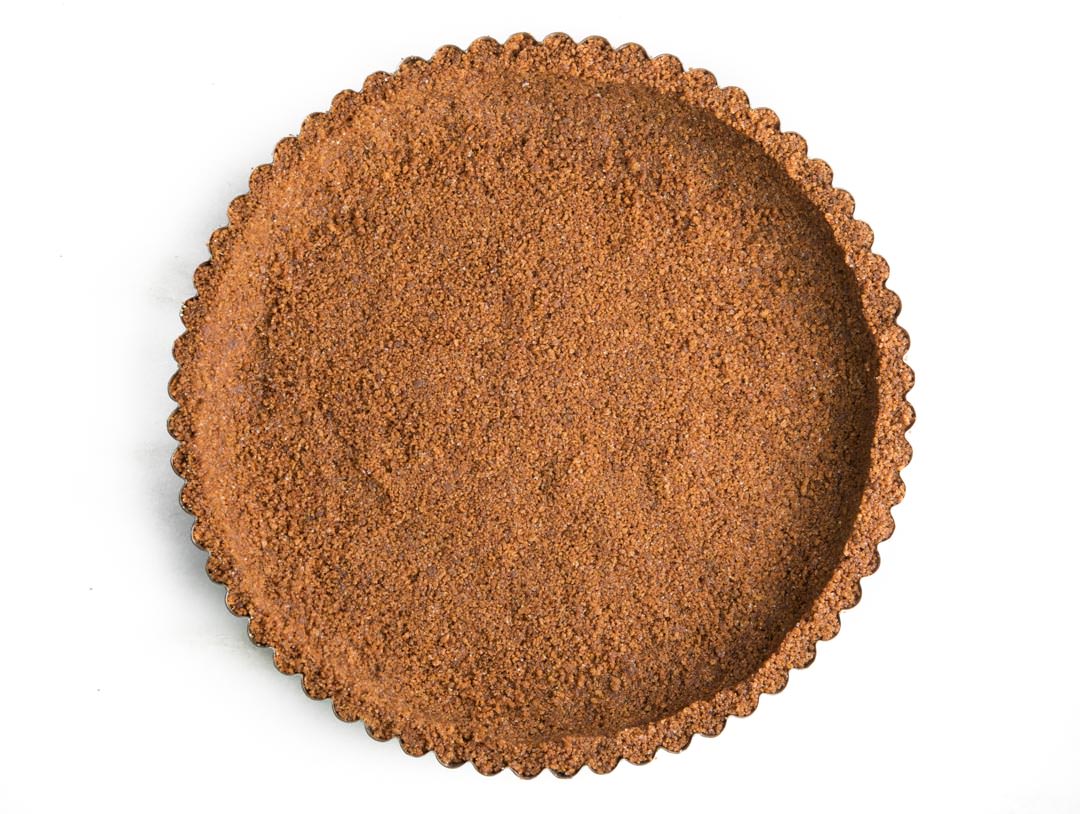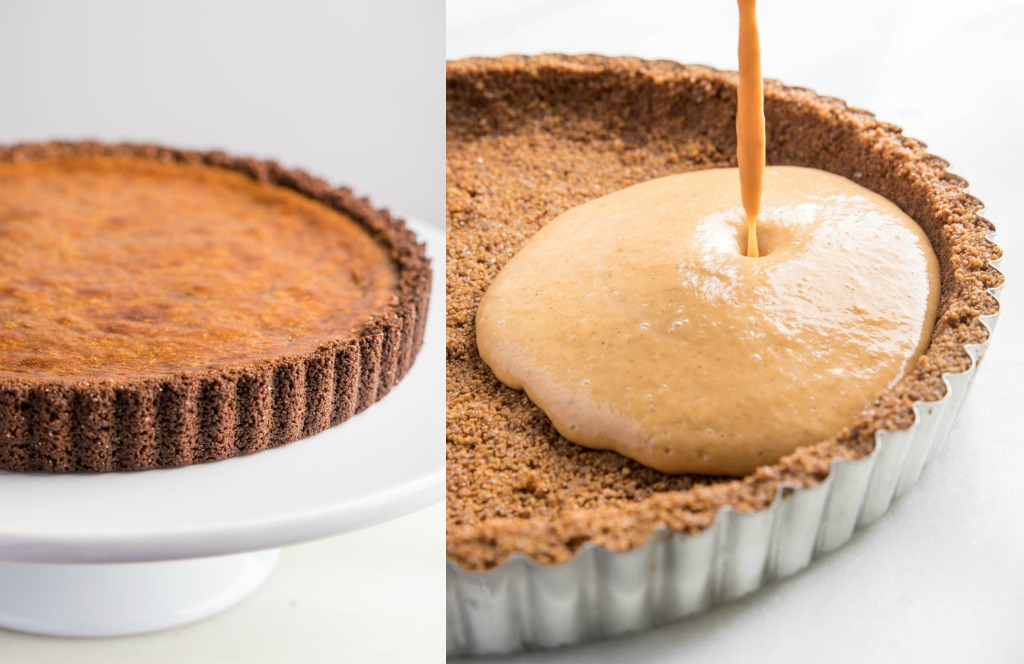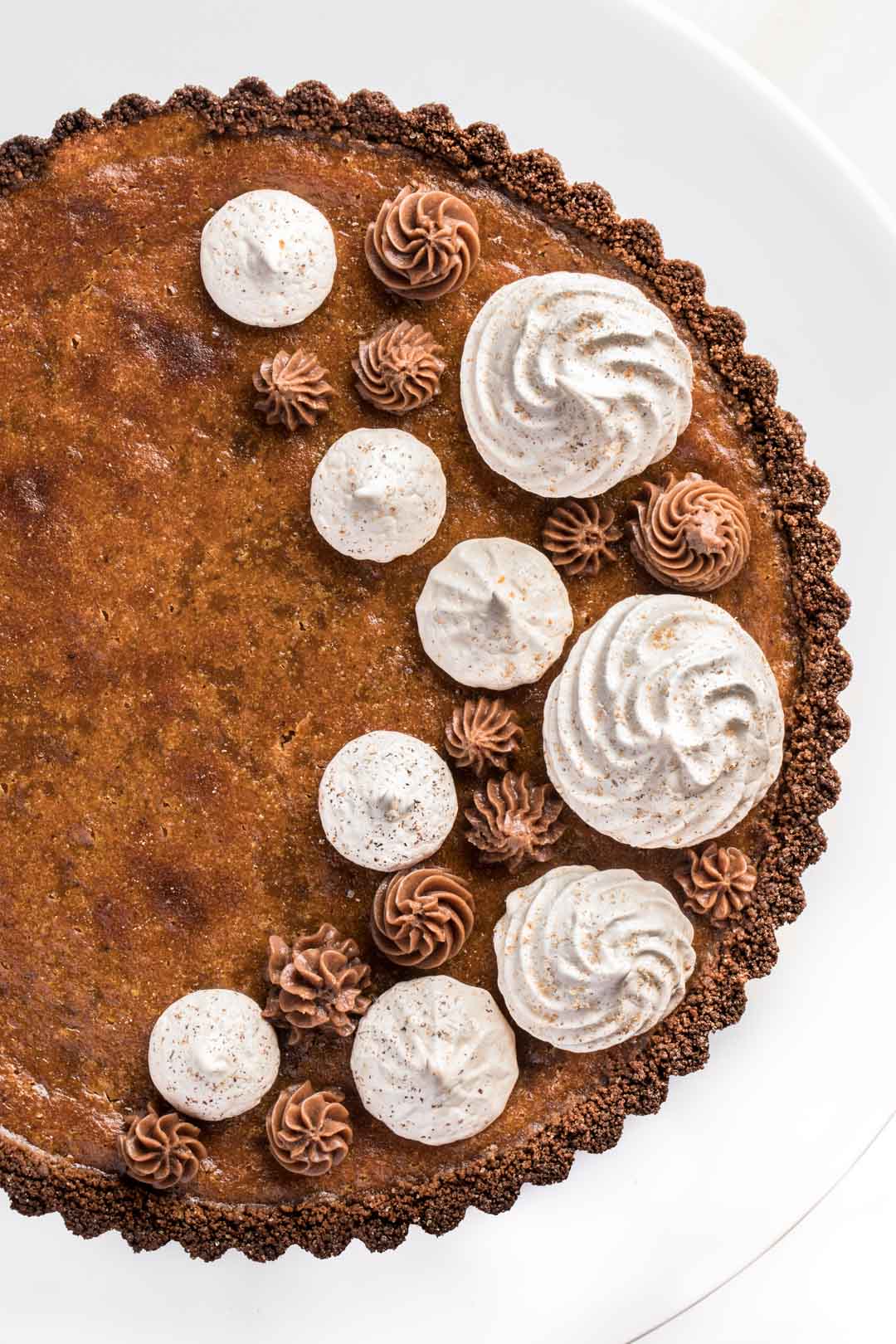 Without a doubt, Thanksgiving meals to me are all. about. the. desserts.
Desserts after a Mission Impossible style goal of stuffing as many carbs into my face as possible. Potato salad, mashed potatoes, all of the casseroles that are more like desserts than anything resembling a vegetable. Y'all know where it's at.
I'm not normally crazy about pumpkin anything. THIS pie/tart has shown me the light. You probably wont find me in line at Starbucks grabbing a PSL anytime soon, but the combination of spicy gingersnap crust and a well-seasoned pumpkin filling totally hit home this time. I think I just usually find regular ol' pumpkin pies to be bland and booooring. Add some more spices, y'all! I'm partial to my pumpkin spice mix recipe myself.
This was the first Thanksgiving-esque recipe that I made this season, and will certainly be on my plate while I finish the others.
Happy holidays, y'all!

Gingersnap Pumpkin Tart with Nutmeg Meringues
Pumpkin pie tart with real flavor, surrounded by a gingersnap crust. Recipe from SouthernFATTY.com.
Author:
Phillip Fryman | SouthernFATTY.com
Ingredients
Gingersnap Crust
8 ounces gingersnaps
1 tablespoon sugar
4 tablespoons butter, melted
¼ teaspoon black pepper, ground
¼ teaspoon salt
¼ teaspoon ground ginger
Pumpkin Filling
1 can (15oz) pumpkin
2 eggs, lightly beaten
¾ cup evaporated milk
½ cup granulated sugar
½ cup brown sugar
1½ tablespoons flour
½ teaspoon salt
1 teaspoon ground ginger
1 teaspoon vanilla bean powder
1 teaspoon ground cinnamon
½ teaspoon nutmeg
⅛ teaspoon ground cloves
⅛ teaspoon black pepper, ground
Alternatively, replace all spices with 1 tablespoon or two of our Pumpkin Spice Mix
Instructions
Crust
Preheat oven to 350 F.
Combine gingersnaps, sugar, pepper, salt, ginger in food processor.
Pulse until fine.
Mix in melted butter until combined.
Press crust into tart tin or pie pan. I used a 9" removable bottom tart pan.
Bake for 10 minutes. Remove to cool completely.
Filling
Increase the oven to 400 F.
For the filling, combine pumpkin, eggs, milk, sugars in mixer bowl and combine well.
Combine all dry ingredients in another bowl and whisk well.
Mix wet and dry bowls and add to cooled crust.
You may not use all of the mix, depending on the tart pan size. Reserve leftover in the fridge to use for other small desserts, etc.
Fill the tart just under the top of the crust. The tart will puff but level off after cooling.
Bake until center just barely wiggles, about 30-35 minutes. If the crust begins to darken too much, cover the outer portion with foil or a pie crust shield.
If you bake this until the center stops moving completely, you've cooked it too long and it may crack.
Allow the pie to cool and enjoy!
Top with our NUTMEG MERINGUES.
Find more recipes on SouthernFATTY.com.
What's your favorite holiday dessert?
Let us know in the comments below!