Ginger Beer Cupcakes with Roasted Pear Mascarpone Frosting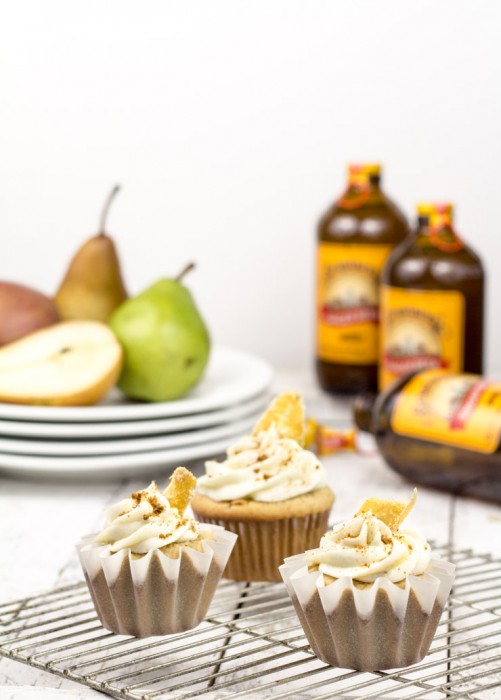 2 cups ginger beer (one 16 oz bottle) (I prefer Bundaberg for this)
9 tablespoons butter, unsalted & softened
¾ cup brown sugar
¼ cup sugar, white granulated
2 eggs
2 cups flour, AP
1 teaspoon baking powder
¼ teaspoon baking soda
1 teaspoon ginger, ground (dry bottled spice kind)
2 tablespoons sour cream
¾ cup ginger beer (additional to above)
2 teaspoons freshly ground ginger
1 large (or 2 smaller) pear, peeled and diced
¼ cup ginger beer
1 tablespoon honey
¼ teaspoon cinnamon, ground
⅛ teaspoon nutmeg, ground
½ cup butter, unsalted & softened
8 oz mascarpone cheese
12-16 oz powdered sugar, sifted (more or less by sweetness desired)
1-2 tablespoons heavy cream (for desired thickness)
pear cordial/syrup, OPTIONAL (see instructions)
pinch salt
candied ginger (recipe coming soon on SouthernFATTY.com!)
ginger snap cookies, pulsed in food processor
Begin by making the ginger beer reduction-- In saucepan over medium-low heat, reduce 2 cups ginger beer, stirring often, until thickened and golden. Take care to not allow this to burn. Set aside to cool.
Pre-heat oven to 350 F.
In mixer bowl with beater (Beater Blade is by far my choice for this), cream butter and both sugars until smooth, a minute or two.
Add one egg at a time and combine well.
Mix in ginger beer reduction.
Sift all dry ingredients together well.
Add ⅓ of dry mix and combine in mixer. Add ½ of the ginger beer and sour cream. Mix. Add ⅓ of dry mix. Mix. Add remaining ginger beer/sour cream. Mix. Finish by adding the last of the dry mix and fresh ginger and mix until just combined.
Pour/pipe batter into cupcake molds (3/4 of the way up).
Bake until golden, about 15-20 minutes. Check with toothpick and remove immediately. Do not over-bake.
Allow to cool on rack completely.
In saucepan over medium heat (same as the ginger beer reduction if fine), add diced pear, cinnamon, nutmeg, honey and ¼ cup of ginger beer.
Cook over medium heat until pear softens a bit. Reduce to low.
Cook until golden sauce, stirring as needed to prevent burning.
Remove from heat and cool.
In mixer (Beater Blade is a life-saver for this again!, cream butter and mix until pale, about a minute..
Add mascarpone cheese and combine.
Stir in pear mixture. Optionally, you can puree part of it to distribute pear flavor a bit more, if desired. I did this with half.
Add softened powdered sugar in batches, combining on low speed to prevent a sugar cloud. Mix in pinch of salt.
If you want a more intense pear flavor, consider adding some pear cordial syrup. I didn't this time, but will try next time to see how it goes!
Use heavy cream to achieve the thickness you desire for piping.
Pipe frosting on cooled cupcakes with piping bag.
Top with crushed ginger snaps and candied ginger pieces.
Enjoy!
--More recipes and photos on SouthernFATTY.com--
Recipe by
Southern FATTY
at https://www.southernfatty.com/ginger-beer-cupcakes-pear-frosting/