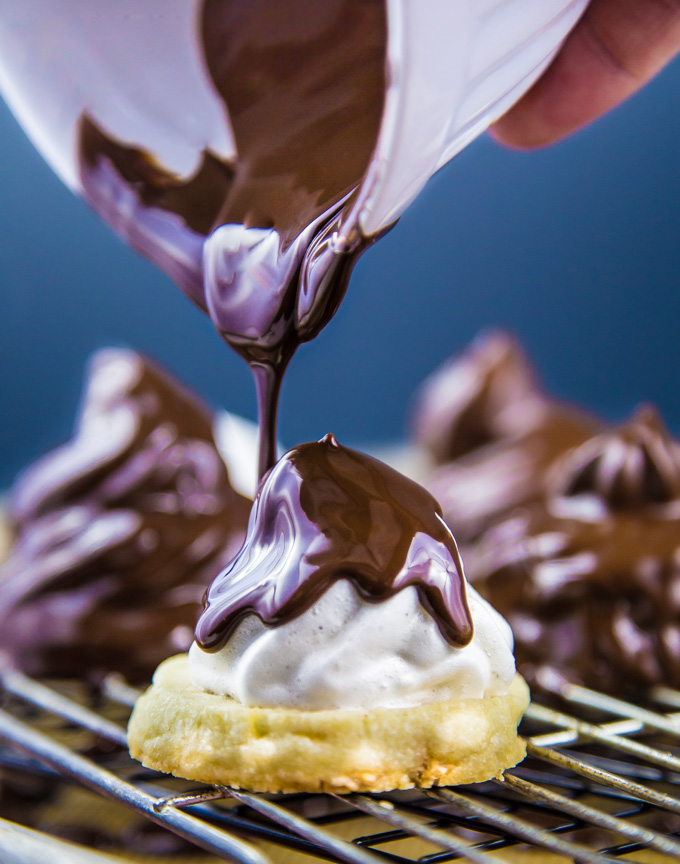 Holy chocolate, Batman! It's that time of the year when everyone pulls out their favorite cookies recipes, forcing you to completely lose sight of the everything rational, eating every single one. That's all fine and dandy, but we're gonna kick thing up a bit. You've all seen plenty of cookie recipes, since this whole internet thing is pretty popular nowadays.
An amazing white chocolate chunk shortbread cookie, topped with a homemade vanilla bean marshmallow swirl, completely surrounded in a rich, crisp dark chocolate shell. Move over fruitcake(s). A new and improved kid is in town.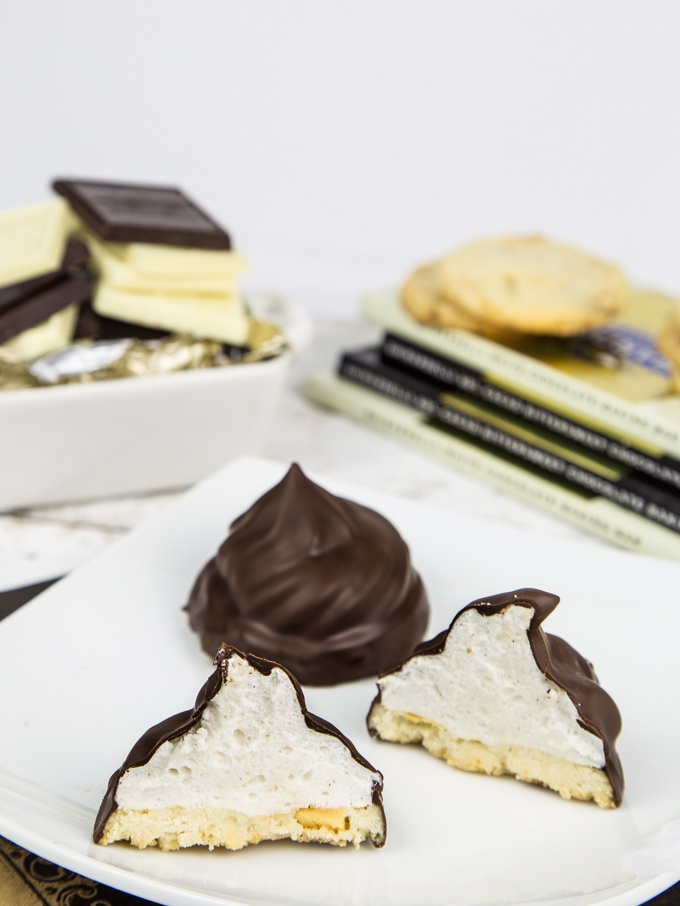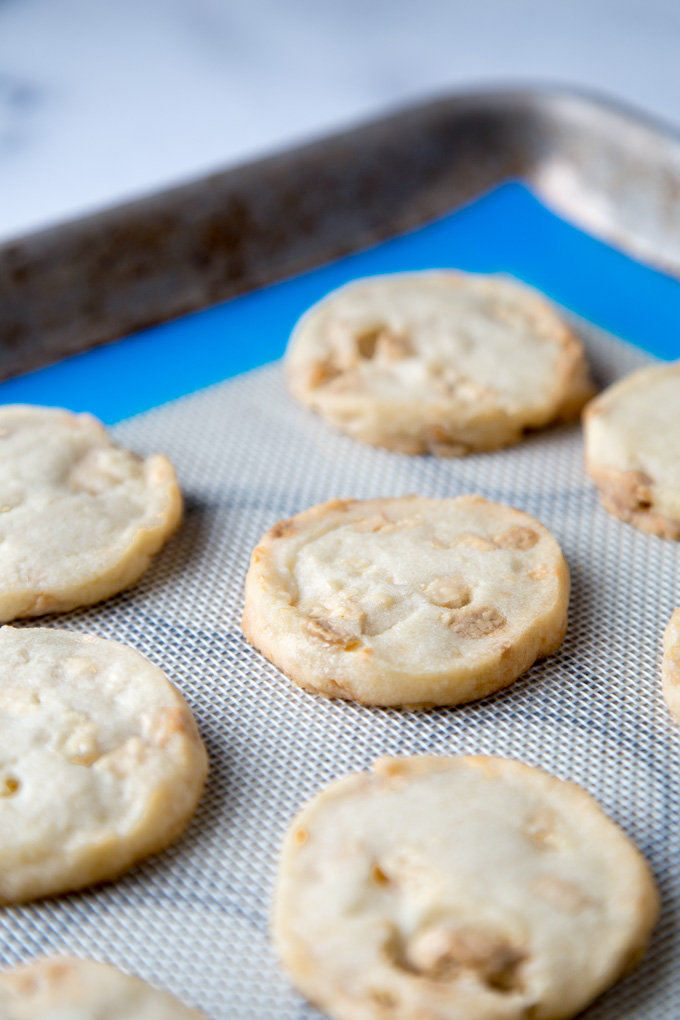 If you're going to try to improve upon a basic cookie, you had better have a kick-ass cookie to start with. I'm a huge fan of a classic butter-based shortbread. (Pretty sure anything butter-based is guaranteed to be good, but still.)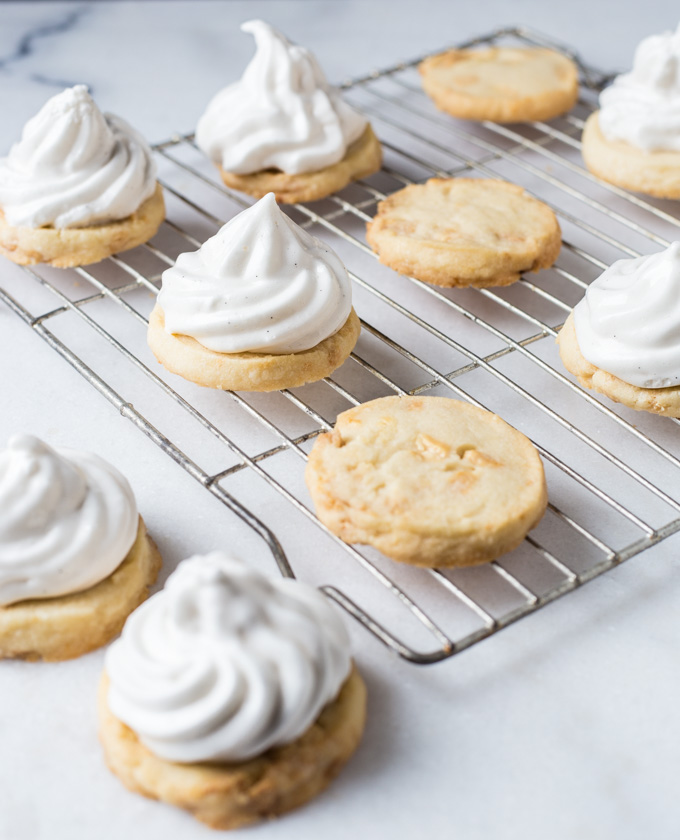 A simple, but absolutely perfect shortbread cookie is a pretty simple thing to complete. Add a bit of great quality, true white chocolate chunks, and you are golden. I usually make a few recipes worth of the cookie dough and just freeze it. Since we are all friends here, I'll admit that most of the dough doesn't make it to the oven. That's how you know they are good cookies. When you eat them all before they actually become cookies.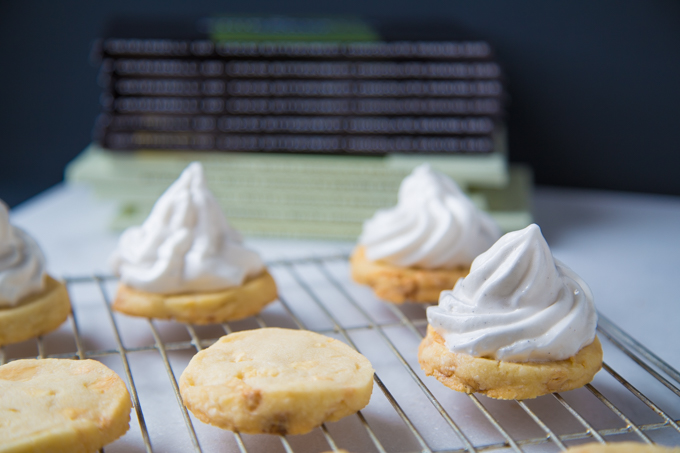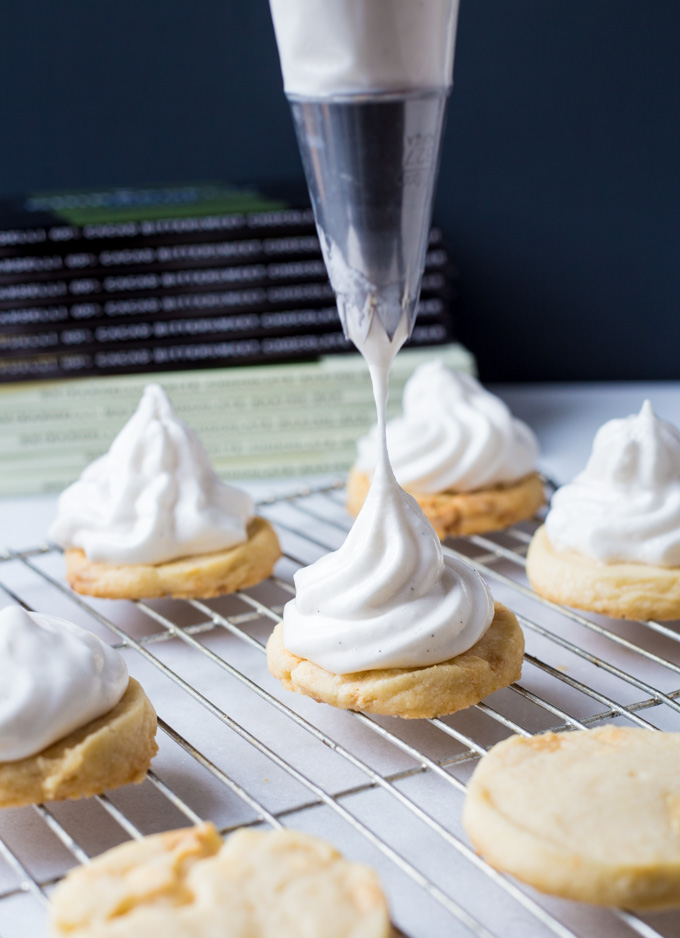 The next addition of a masterpiece marshmallow theater is something that I think people assume is way too difficult or messy to fool with making at home. Those people would be absolutely, totally correct. It is a total mess and can be a bit intimidating. BUT, with all of that said, is absolutely worth the effort. It's pretty much like that middle school science class that you should have paid attention in. — As long as you can read a thermometer, you've got this. Once you have the process down one time, you'll never be scared of the scary sugar monster again.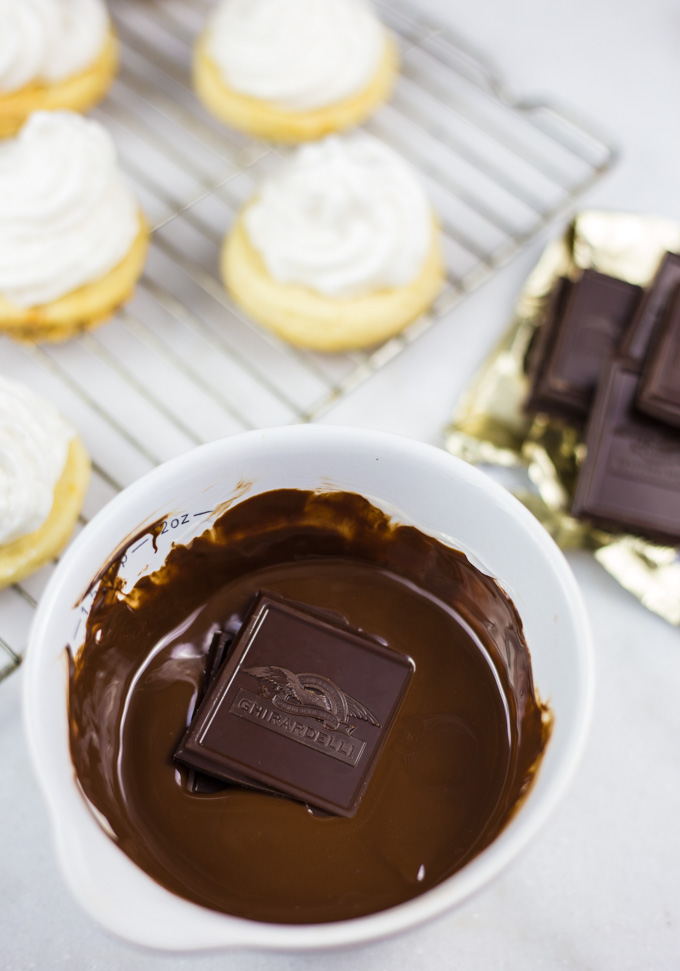 Since a white chocolate chunk cookie and marshmallow obviously isn't enough, we are going to completely cover these things in chocolate. Not just any ol' chocolate. The real deal. Ghirardelli 60% Cacao Premium Chocolate. I tried a few different amounts of cacao content for the chocolate shell, but nothing beats a solid dip in a less sweet dark chocolate for this since we already have a tiny bit of sweetness in the mountain of marshmallow (cannnnndy mountain!) on the buttery cookie. The 60% bar give the perfect slight bitterness with a great smoothness for the shell.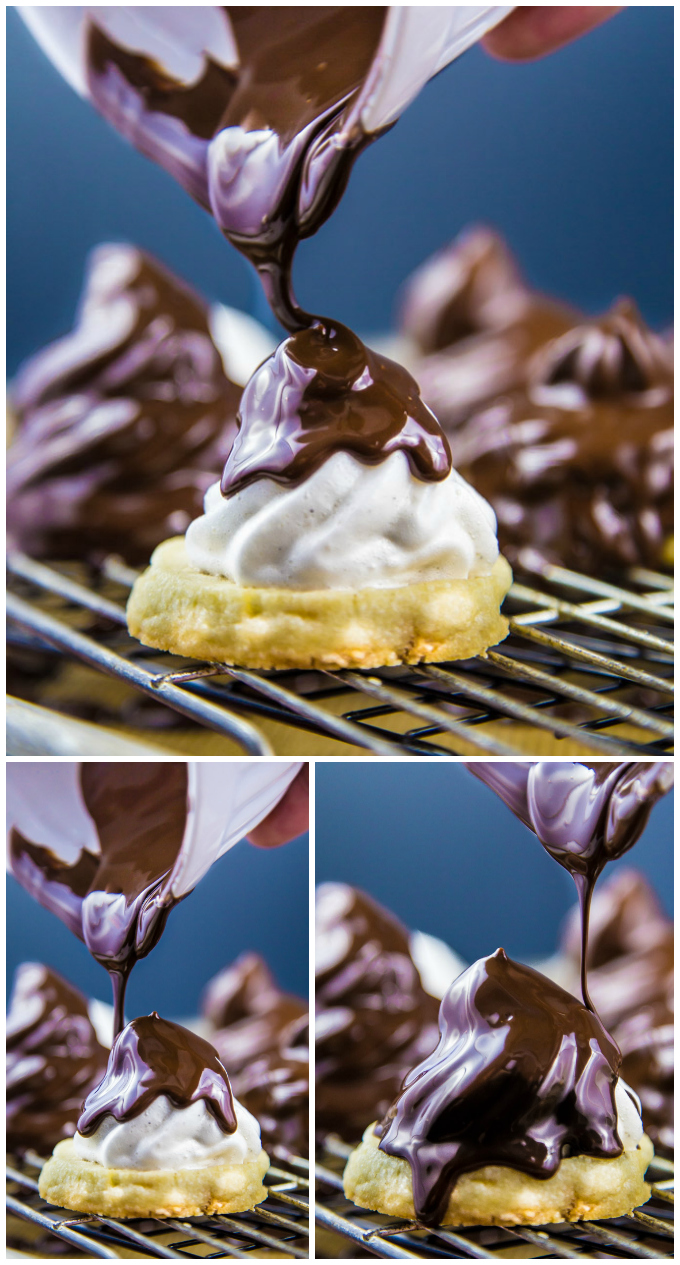 If there is anything in the world that deserves a zoom shot sequence, it's this. Dip it, drizzle it, or do what all the cool kids do and just put those pillow-topped (not to be confused with muffin top) cookies on a rack over a sheet pan and just pour your little chocolate-levin' hearts out.
If you are all innovative and stuff, you can toss a silicone baking mat under it all and transfer the leftover chocolate back into the bowl to heat slightly and keep pourin' like you're browsing the bars on downtown Broadway in Nashville. Alternatively, I'm pretty sure you could let the chocolate cool on the pan and chop it up for ice cream later. We all know that some chocolate chunk ice cream is a great after-cookie snack to cut the sweetness.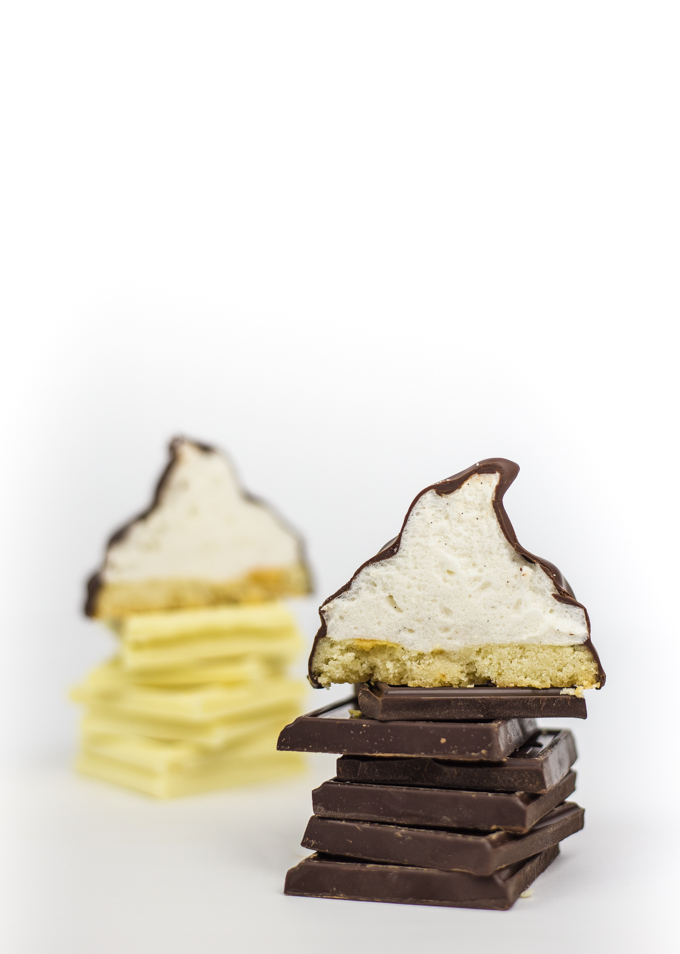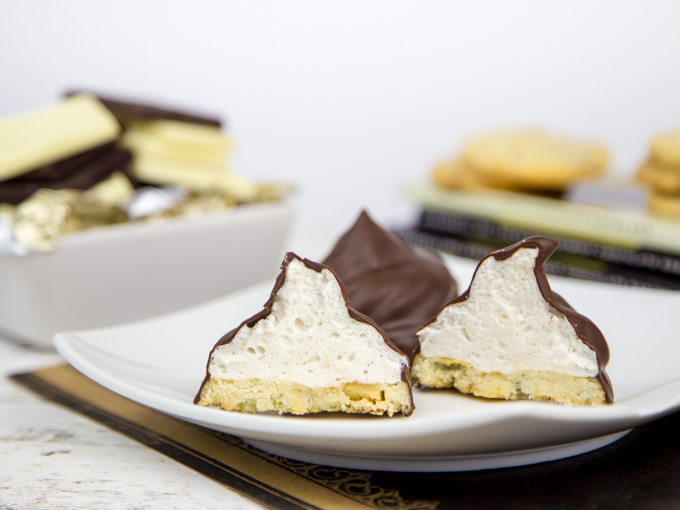 The crispy chocolate shell holds together the perfect combo of soft, vanilla-bean marshmallow with a buttery, white chocolate chunk shortbread cookie. Take that, boring internet cookies! Now… Get to baking', y'all!
Dipped Marshmallow White Chocolate Chunk Cookies
White chocolate chunk shortbread cookies topped with a fluffy marshmallow swirl, dipped for a crisp dark chocolate candy shell. From SouthernFATTY.com
Ingredients
White Chocolate Chunk Shortbread Cookies
Marshmallow for Swirl
2 envelopes (0.5 ounces) powdered gelatin
½ cup cold water + another ½ cup water
1 cup sugar, white granulated
½ cup light corn syrup
½ cup egg whites, room temp
1 plus ½ teaspoons vanilla paste or extract
⅛ teaspoon salt
Finishing Glaze
Instructions
White Chocolate Chunk Shortbread Cookies
Cream butter and sugar in mixer until light and smooth, about 3 minutes.
Sift salt & flour. Add slowly to creamed butter and combine.
Add in vanilla. Mix until dough has fully come together.
Carefully blend in Ghirardelli White Chocolate pieces until incorporated.
Wrap dough in plastic wrap in log shape. Chill for at least one hour, preferably overnight.
Cut into ½" cookies and bake at 350 for 10-12 minutes, until lightly golden.
Cool completely.
Marshmallow Swirl
Sprinkle gelatin over ½ cup cold water in a microwavable bowl. Let sit for 5 minutes.
In a saucepan over medium heat, add sugar, corn syrup and second ½ cup water. Stir to combine.
Let sugar mixture heat with a candy thermometer attached.
While waiting, place egg whites in mixer with whisk attached.
Whisk whites until very stiff.
Be sure to watch sugar mix carefully. Do not stir. Let this mixture reach 250 F and immediately remove from heat.
Microwave gelatin for 30 seconds on high power.
Turn mixer to a high speed. Pour hot sugar mix into the mixing whites where they meet the side of the bowl. Do this carefully and slowly until all is added.
Add in the heated gelatin in the same manner.
Add vanilla and salt. Combine.
Finishing
Lay out cookies on rack over baking sheet.
When marshmallow has cooled slightly, transfer to a piping bag with desired tip. It is best to test piping this to see if it has cooled enough to pipe.
Quickly pipe tops onto cookies. The marshmallow will cool and become difficult to pipe if it sits too long. You can slightly heat in microwave safe bowl and re-cool, if you find yourself with this problem.
After all swirls are piped, allow to rest at room temperature for 30 minutes to set.
Place chopped dark chocolate in microwave safe bowl. Add shortening.
Microwave for 30 seconds. Remove and stir lightly until completely melted and smooth.
Heat additional 10 seconds if necessary to melt any unmelted pieces.
Pour chocolate over marshmallow-topped cookies.
Rest under shell hardens and cools completely.
Enjoy! – Best served same day, but can be served the next. I prefer to store chilled before serving room-temp.
Find more recipes on SouthernFATTY.com
Notes
2015 - SouthernFATTY.com
This recipe is part of the Ghirardelli #SweetestSecret Instagram series in partnership with feedfeed.
My #SweetestSecret is baking something with a twist that people will remember. What's yours? Be sure to give both of these great brands a visit to share your own.
Disclosure: This post was made with a partnership between Ghirardelli and feedfeed, of which I am an Editor for. All thoughts and opinions posted are my own, and I agreed to participate in this partnership because I truly enjoy these brands and products.