Dipped Marshmallow White Chocolate Chunk Cookies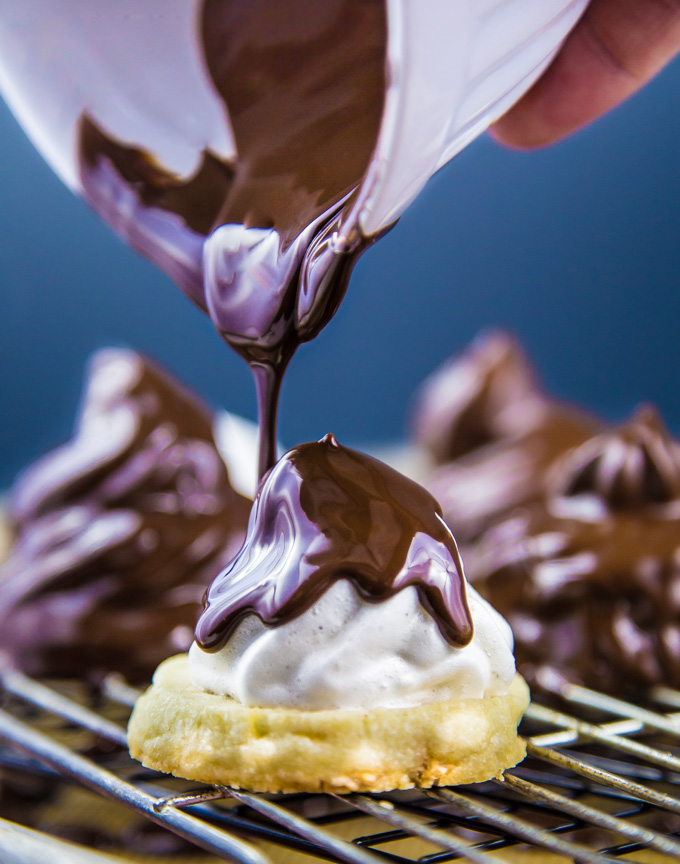 2 envelopes (0.5 ounces) powdered gelatin
½ cup cold water + another ½ cup water
1 cup sugar, white granulated
½ cup light corn syrup
½ cup egg whites, room temp
1 plus ½ teaspoons vanilla paste or extract
⅛ teaspoon salt
Cream butter and sugar in mixer until light and smooth, about 3 minutes.
Sift salt & flour. Add slowly to creamed butter and combine.
Add in vanilla. Mix until dough has fully come together.
Carefully blend in Ghirardelli White Chocolate pieces until incorporated.
Wrap dough in plastic wrap in log shape. Chill for at least one hour, preferably overnight.
Cut into ½" cookies and bake at 350 for 10-12 minutes, until lightly golden.
Cool completely.
Sprinkle gelatin over ½ cup cold water in a microwavable bowl. Let sit for 5 minutes.
In a saucepan over medium heat, add sugar, corn syrup and second ½ cup water. Stir to combine.
Let sugar mixture heat with a candy thermometer attached.
While waiting, place egg whites in mixer with whisk attached.
Whisk whites until very stiff.
Be sure to watch sugar mix carefully. Do not stir. Let this mixture reach 250 F and immediately remove from heat.
Microwave gelatin for 30 seconds on high power.
Turn mixer to a high speed. Pour hot sugar mix into the mixing whites where they meet the side of the bowl. Do this carefully and slowly until all is added.
Add in the heated gelatin in the same manner.
Add vanilla and salt. Combine.
Lay out cookies on rack over baking sheet.
When marshmallow has cooled slightly, transfer to a piping bag with desired tip. It is best to test piping this to see if it has cooled enough to pipe.
Quickly pipe tops onto cookies. The marshmallow will cool and become difficult to pipe if it sits too long. You can slightly heat in microwave safe bowl and re-cool, if you find yourself with this problem.
After all swirls are piped, allow to rest at room temperature for 30 minutes to set.
Place chopped dark chocolate in microwave safe bowl. Add shortening.
Microwave for 30 seconds. Remove and stir lightly until completely melted and smooth.
Heat additional 10 seconds if necessary to melt any unmelted pieces.
Pour chocolate over marshmallow-topped cookies.
Rest under shell hardens and cools completely.
Enjoy! – Best served same day, but can be served the next. I prefer to store chilled before serving room-temp.
Find more recipes on SouthernFATTY.com
Recipe by
Southern FATTY
at https://www.southernfatty.com/dipped-marshmallow-white-chocolate-chunk-cookies/