It's Christmas time, y'all! Time to bake more cookies than you know what to do with, mix a few batches of eggnog, throw some killer parties in hopes that your friends will bring you alllll of the gifts!
Some of the best memories of the entire year are made right at the end during the holiday season. One of my favorite holiday memories are those iconic Coca-Cola Christmas ads. You know the ones. — Decorated trucks with that traditional Santa smile, driving through the snow. Polar bears that may have had you asking for a new holiday pet on your gift list (that's normal, right?). Coca-Cola and Christmas just go together.
I'm going to show you how I threw a Coke-inspired holiday party, complete with Coca-Cola Cinnamon Sugar Donuts, decorations, and plenty of bottles for a winter party to ring in the season.
As a little bonus, I'm throwing on my crafting apron to show you how to turn this recipe into a great little DIY Donut Mix Bottle gift to surprise your favorites with.
If you're going to throw a party, the first thing you need to think about are the drinks. We aren't going to just include the usual suspects, but will throw in plenty of nostalgic glass bottle Cokes. Not only will these classic-style bottles bring tasty smiles from your friends, but they have the perfect Christmas colors already on the bottles. This makes decorating the party tables easier. I don't claim to be the most crafty person in the world, so this is a huge bonus.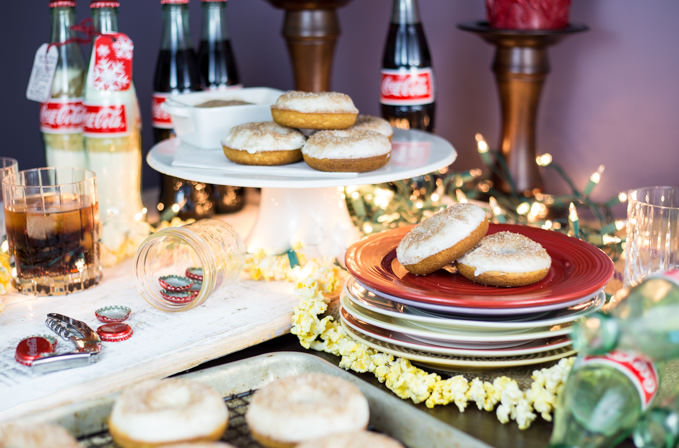 I picked up my bottles as one big case of 24 glass bottles from my local Sam's Club. Now… I looooove Coke, y'all. So much so, that I pretty much did a little dance when I saw that Sam's was selling my all-time favorite– Coke de Mexico. I'm sure this won't be the last time you see me use this for parties and recipes on the blog.
This all stems from a vacation a few years back. I went to Mexico and realized that there was just something different about the drinks. I finally figured out that the Coke was the key. Coke de Mexico is made with real, legit cane sugar instead of corn syrup. To top it all off, it's in a classic-style glass bottle. I'm pretty sure that everything just tastes sooooo much better from a chilled glass bottle. Move over milk and eggs, Coke de Mexico needs some room in the fridge. I grabbed a couple 4-packs of 2-liters ($3.98 for 4) that were next door to the display with some Diet Coke, my day-to-day drink of choice.
Once I got home, I started planning what I would do for the party setup. I put up the Christmas tree (because you can't throw a holiday party without the tree being up, and I'm not one of those people that puts up their tree on Halloween…) and grabbed the box full of extra lights. I don't think you need a lot to decorate for a great party. A few additions, a nice drink station, plenty of food, and some great friends always do the trick.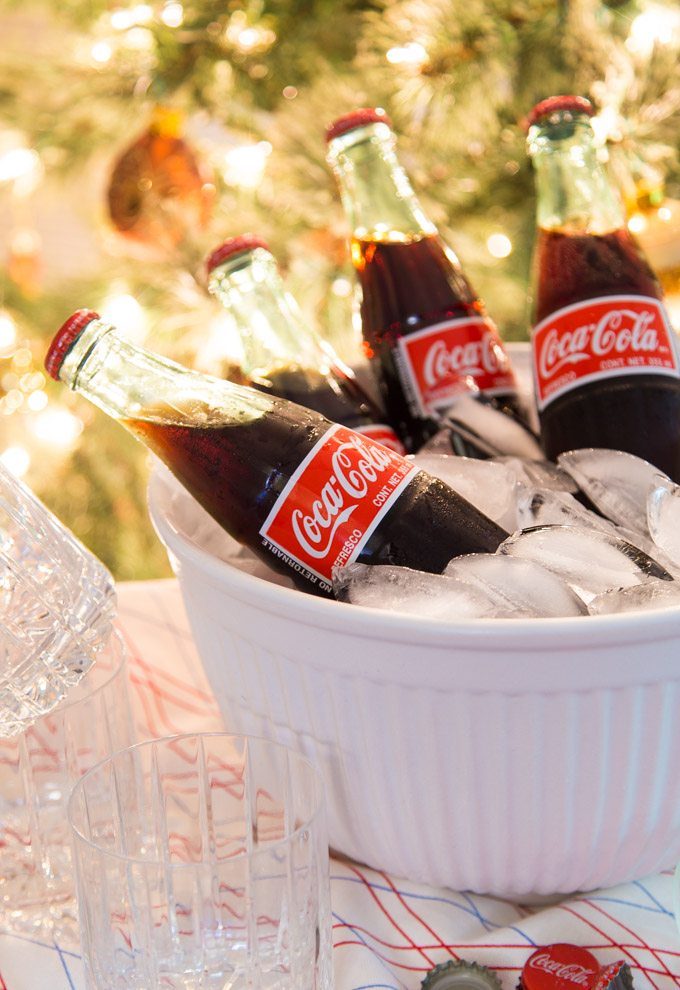 Christmas lights never get old to me. Dim the overhead lights and toss some holiday lights around. It gives such a warm, fuzzy, comforting feeling. This comes from childhood (and current) memories of laying underneath the Christmas tree, starring up at the lights, until I was forced to go to bed. The only thing that has changed, is that I just fall asleep there instead now. I put a few small strands into clean Coke bottles and placed those around for some additional lighting.
For the main tablescape, I really wanted focused on the Coke-infused donuts. As a food blogger, every single one of my friends knows that the food is my focus at just about everything, especially parties. Welcome to the South, y'all.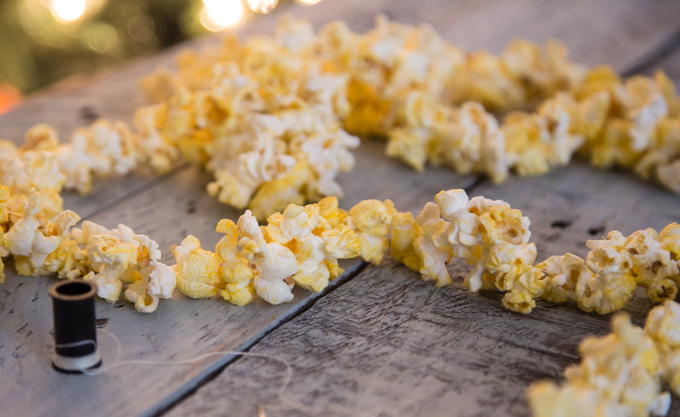 Some more Christmas lights wrapped around plenty of the glass bottles, some holiday candles, plates, bottle openers (maybe the most important table item!), and some old-school popcorn garland. Do y'all see that popcorn-on-a-string thingy?! I'm so crafty! It may have taken me over an hour to make that, but I have to say that it was almost therapeutic to sit and string it all out. You instantly recognize the focus on the holidays when you see these. Many of you probably collect classic Coke memorabilia and decorations that would also be great to include around. Don't forget to find something to chill those Coke de Mexico bottles in. Go ahead and keep backups in the fridge. You'll need those, too.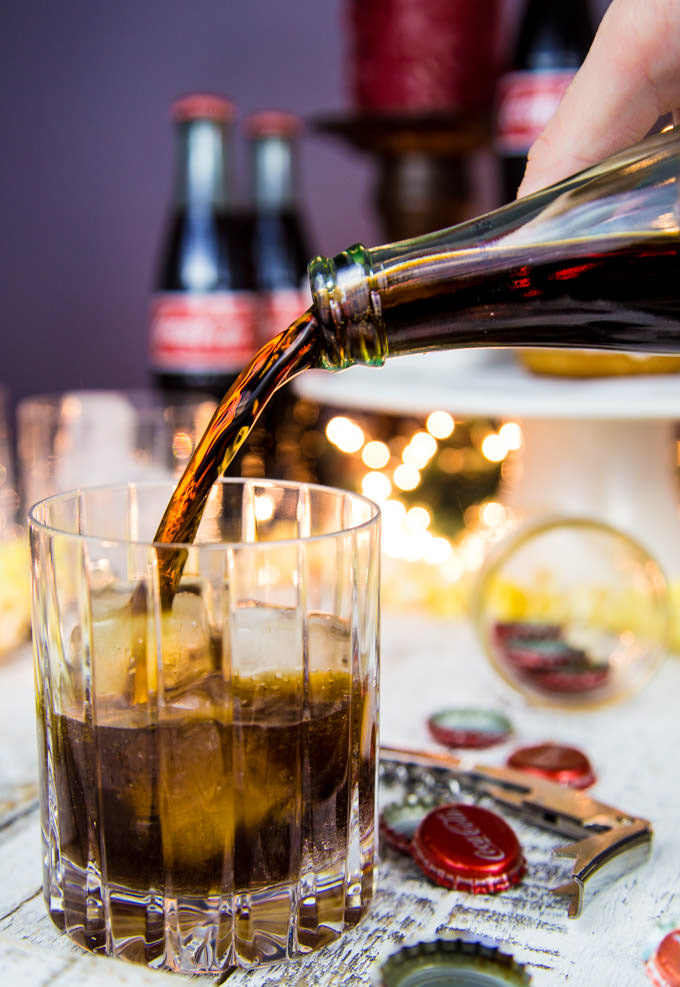 One of the decorations that I used will end up going home with the party-goers– DIY Coca-Cola Bottle Donut Mix! I made an extra batch of the very donut mix that I had just used to bake the sweet treats and layered it into the classic Coke bottles with a little recipe tag to send back some edible love. Everyone I know will be getting a couple of these in their stockings this year. Keep reading for instructions on just exactly how to make them.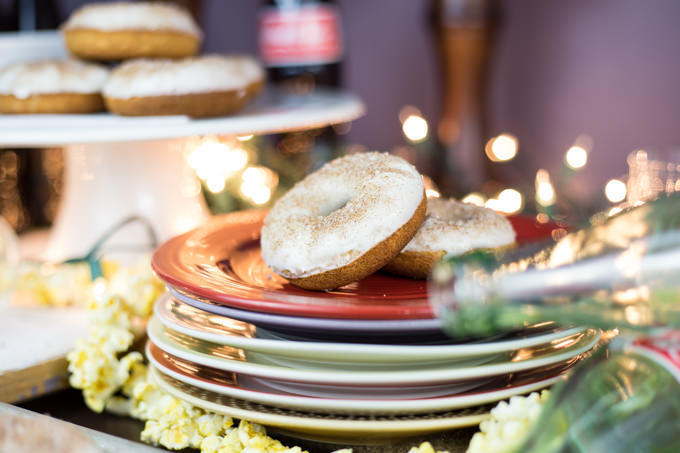 The table is set, drinks chilled, lights are on. I'm all about the serve yourself whenever you feel like it style of party. It's a perfect setup for mingling, hungry and thirsty guests. We're ready for a party, y'all.
---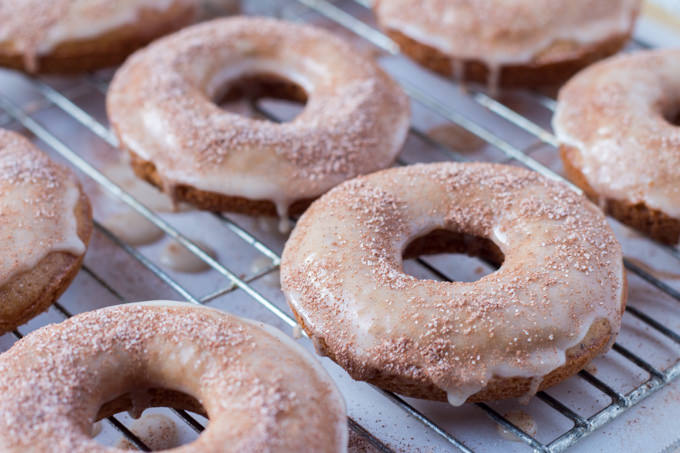 Now… About those donuts. 
Classic cake-like donuts are one of my favorite indulgences. You can make so many great flavors shine with a good donut recipe as the base. For this party sweet, I decided to incorporate, you guessed it, Coke de Mexico into the donuts. This adds a perfect sweetness and a bit of fizzy bubbles to help lighten the rings.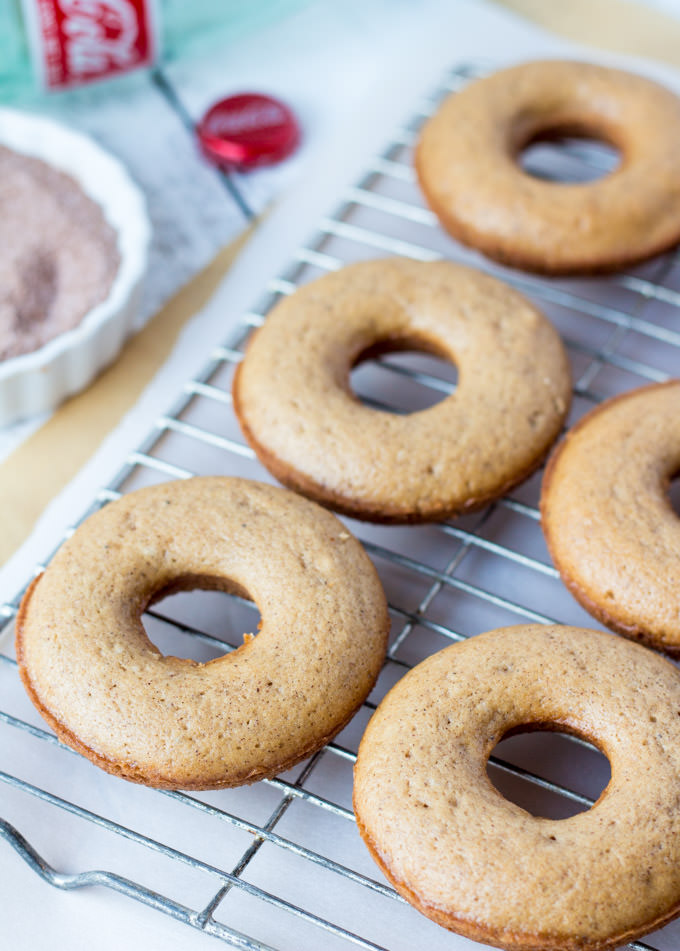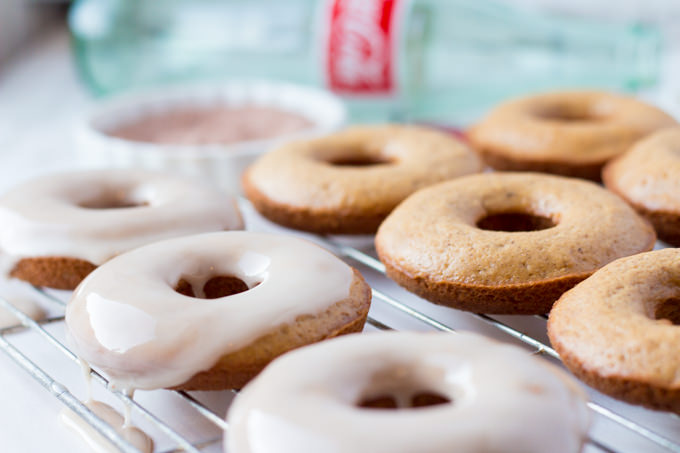 A bit of holiday spice (nutmeg, cinnamon, ginger, and even a pinch of white pepper) perfectly balance the cane sugar sweetness of the Coke. We're going to bake these to make everything that much simpler. Nobody wants to be spending hours and hours preparing before a party, or you'll just be worn out too much to enjoy the company. Go for the easy route, and I guarantee things will be just as fun once the party starts.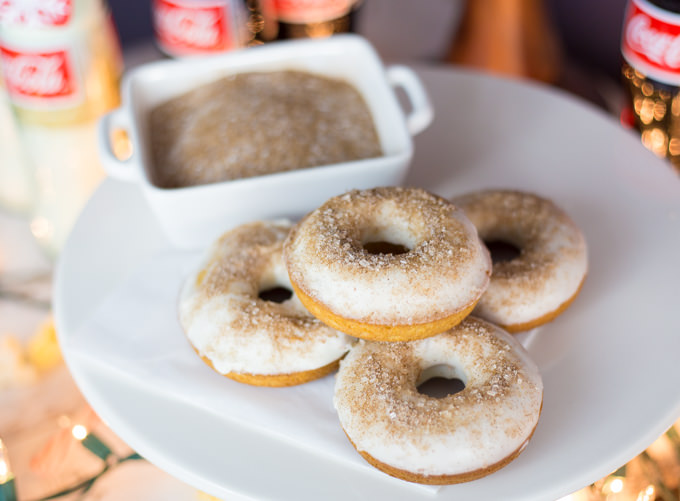 To finish the donuts off, a simple dip in classic glaze and a holiday sprinkle of cinnamon sugar. I used finishing sugar mixed with cinnamon to give a nice little crunch. Makes all the difference in the world.
Baked Coca-Cola Cinnamon Sugar Donuts
Coca-Cola Cinnamon Sugar Donuts Recipe form SouthernFATTY.com
Ingredients
Coca-Cola Cinnamon Sugar Donuts
2 cups flour, AP
2 teaspoons baking powder
½ cup sugar, white granulated
½ brown sugar
1 teaspoon vanilla bean powder
1 teaspoon cinnamon, ground
½ teaspoon nutmeg
½ teaspoon salt
4 tablespoons butter, melted and slightly cooled
⅔ cup evaporated milk
¾ cup Coca Cola
1 egg plus 1 additional egg yolk
Glaze and Finishing
1 and ½ cups powdered sugar
3-4 tablespoons milk (or water)
cinnamon/sugar mixture (I use finishing sugar for a nice crunchy topping)
Instructions
Preheat oven to 400 F.
Grease and prepare a donut pan.
Sift together flour, baking powder.
Whisk in remaining dry ingredients.
Combine egg plus additional yolk with milk. Whisk lightly.
Add butter and combine.
Add milk and egg mixture to dry ingredients and stir until combined.
Add Coke and combine just until mixed.
Pipe or pour into prepared donut pan.
Bake until lightly golden on top, about 10 minutes.
Cool in pan for a few minutes. Remove to a rack.
Combine powdered sugar and milk until smooth.
Dip donuts and sprinkle immediately with cinnamon/sugar mixture.
Let rest to dry icing and enjoy.
Find more on SouthernFATTY.com
Notes
2015 - SouthernFATTY.com
As an added bonus, these donuts (get ready for this) fit on the Coke bottles. This has to be perfect holiday party planning fate, y'all! You can carry your drink and donut around with one hand while you (obviously) use the other one for dancing with friends. Perfection.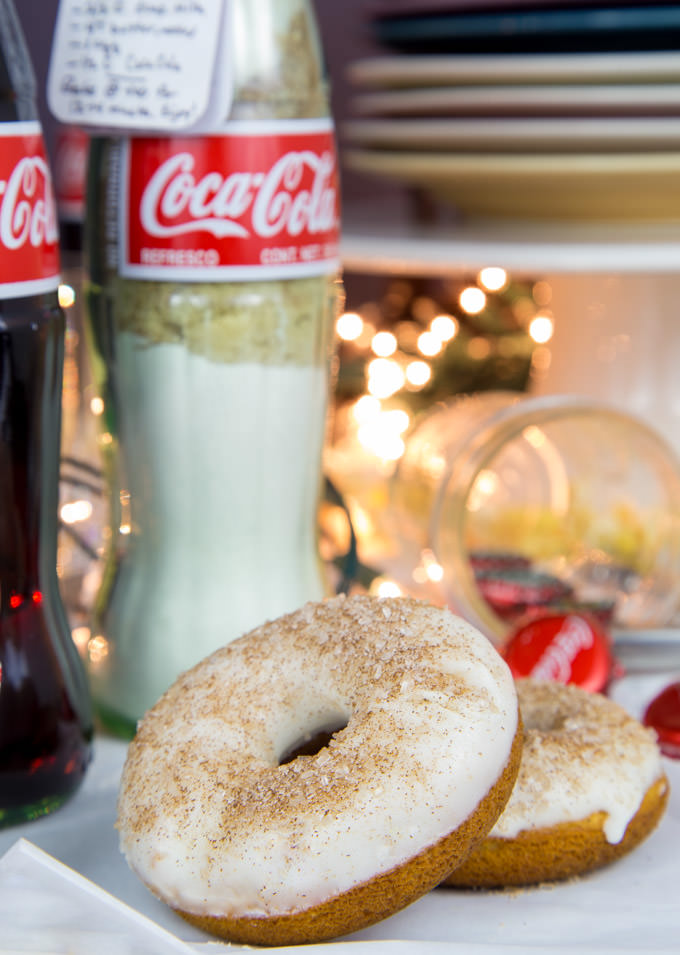 ---
I told y'all that I got a little bit crafty with this one. Not only did I make my own popcorn garland, but I decided to put together a crafty gift for my friends to take home.
Obviously, I had to do quite a bit of *cough* recipe testing with the first case of Cokes that I bought. This left me with lots of empty glass bottle. They're too pretty to toss, so I decided to use those to hold my DIY presents.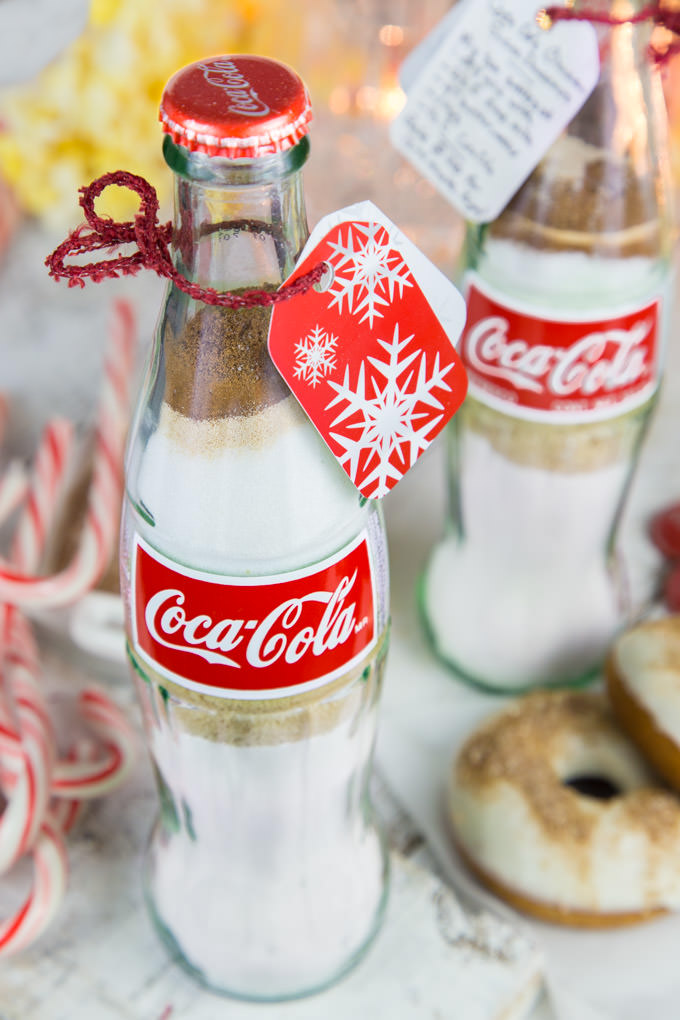 Layering the dry ingredients in the donut recipe ended up being the perfect way to send home a bit of the party memories with my friends. Thank goodness I did make these, because I ended up with more requests for the recipe than I cared to repeat. Instead, I just handed everyone a couple bottle of the dry mix, complete with a recipe tag with instructions on how to make their own batch of Coke donuts at home. This was really just my way of making sure everyone was still talking about my party the next day (or week for that matter). Making sure those memories stick like the donut icing does!
Making the Coca-Cola Donut Mix Gift Bottles
The first thing you want to do when making these gifts is buy a case (or two) of Coke de Mexico. With the empty bottles from testing a few for yourself, wash and dry them well.
Pull up the recipe above for the delicious donuts and start by splitting the ingredients up. Combine the flour, baking powder and salt in a dish together. Split the sugars into their own bowls. The cinnamon, nutmeg , and vanilla bean powder all on their own.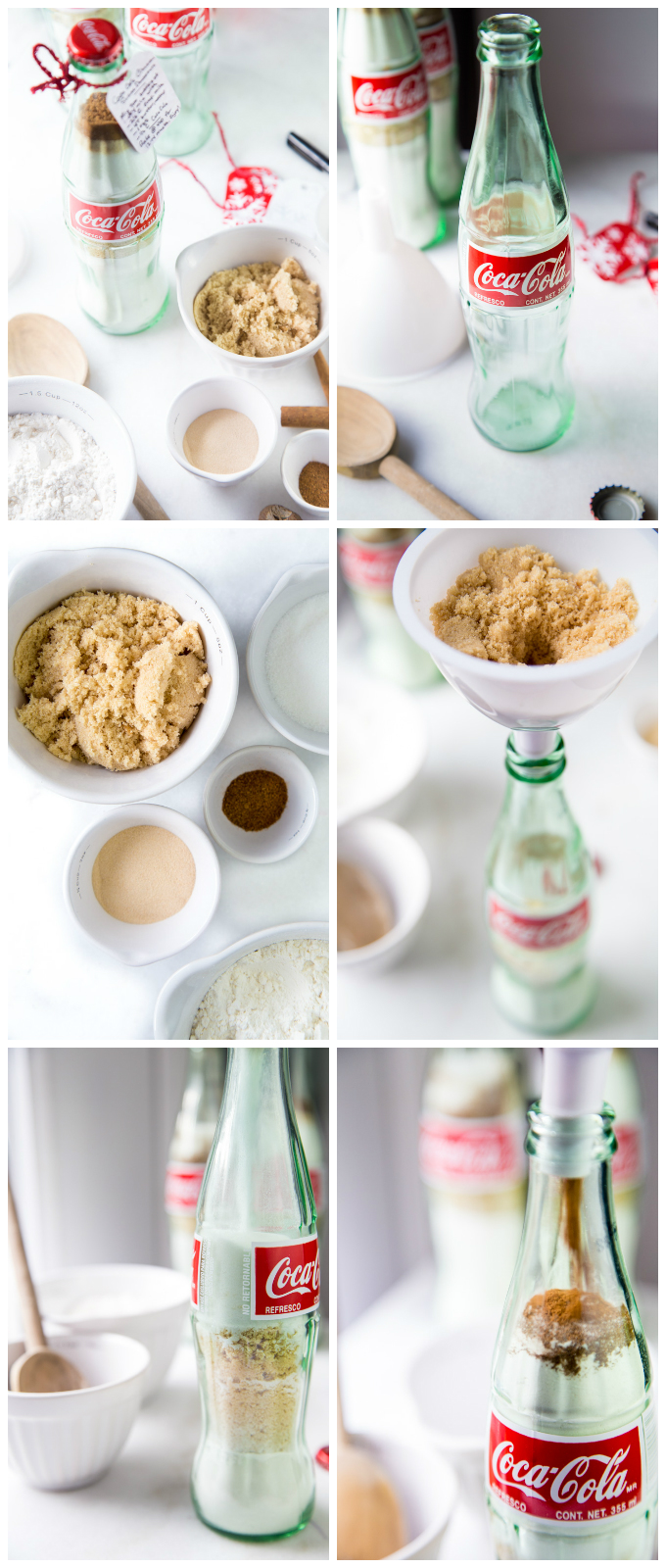 Layer the ingredients in whatever order you think looks best. I went with: flour, brown sugar, white sugar, cinnamon, vanilla powder, nutmeg.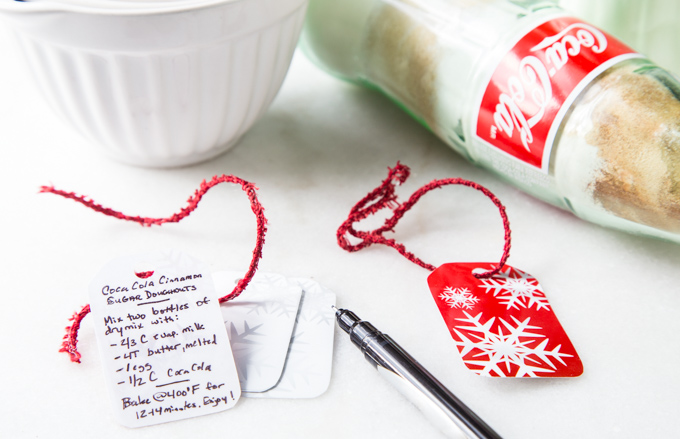 For the recipe instructions, you can pull out any of the old gift tags you have laying around. A few simple instructions, and you're good to go!
Your lucky recipients will need to add the following to your donut mix: 2/3 C evaporated milk, 4T melted butter, 1 egg, 1/2 cup Code de Mexico (they'll have that since you will give them one with your mix bottles!). Simple enough!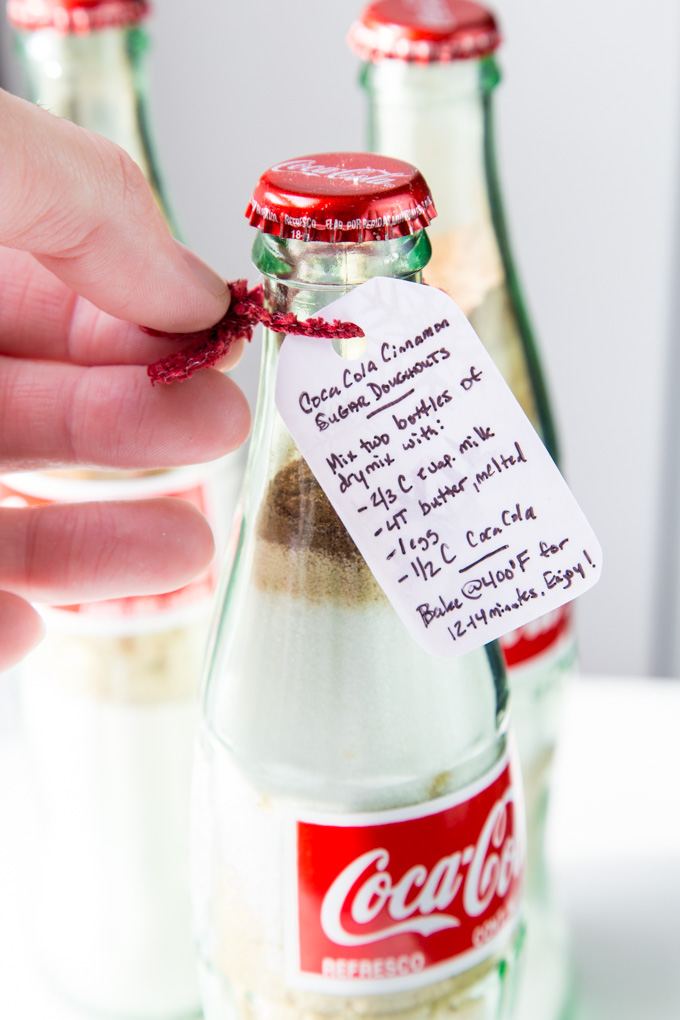 Tie the tags onto the bottles with ribbon or use red textured ties like I did here. Not a complicated project or gift, but ties in perfectly with the party you threw. They'll take the bottles home and then pop them out a bit later, remembering the fun times they had during the holidays with you while they enjoy their own donuts. Ta daaaaa!
All in all, this is a pretty great party setup, if I do say so myself. Coca-Cola brings the best out in everyone during the holiday season. Sweet memories, good food, great laughs.
Now that I've baked the donuts, crafted the gifts, set the table, I'm ready for my favorites to come visit. Stack up the donuts, set the table, and enjoy with friends and family, y'all!
Be sure to share your best Coca-Cola holiday party ideas with us on social media using #ShareHolidayJoy!