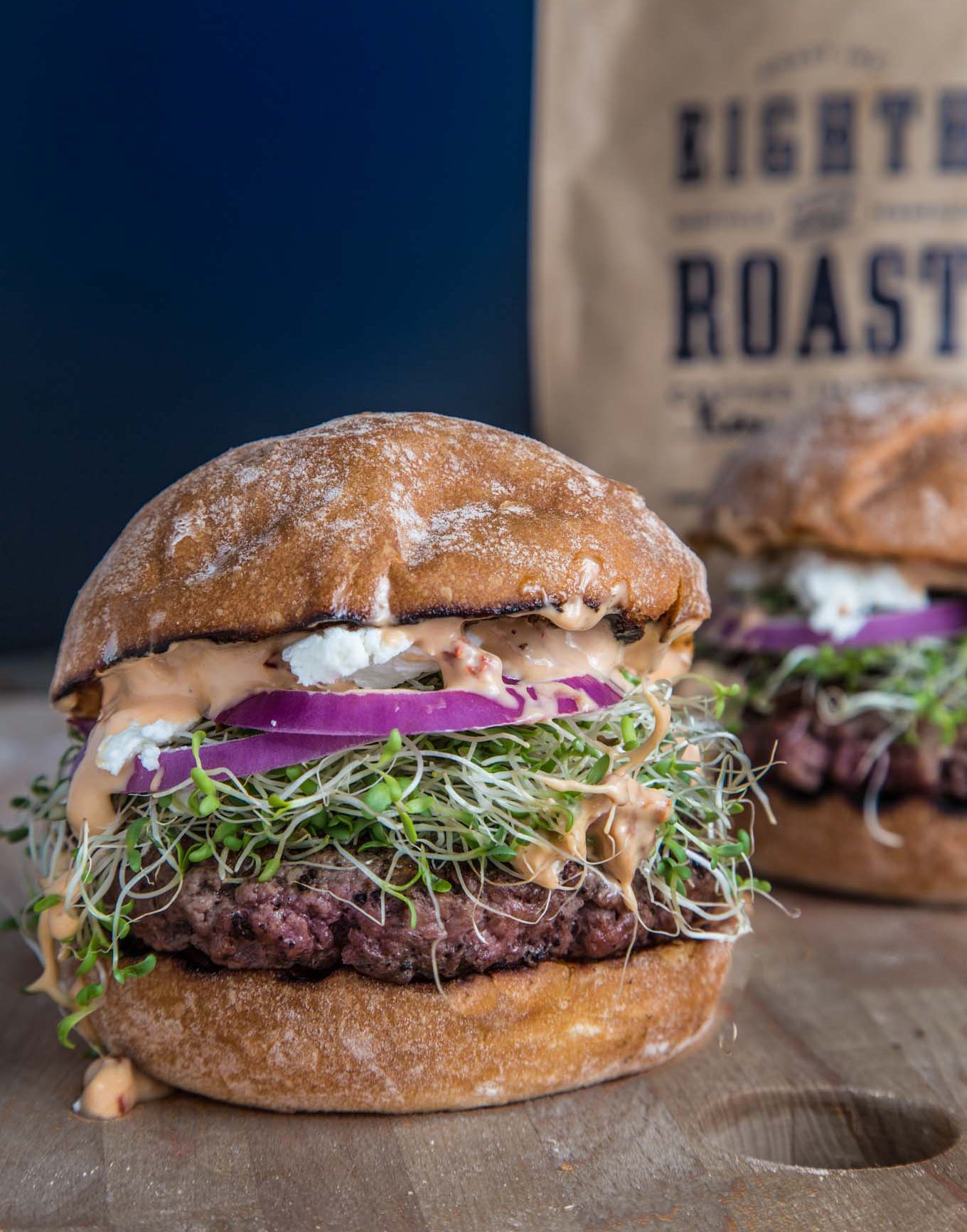 I know… I know. This may sounds a bit weird. BUT think about it. Coffee shares a lot of great features with a great grilled burger. The depth of flavor, the richness. For a unique twist on the regular ol' BBQ'd burger, I'm going to show you my secret summer recipe.
If y'all are anything like me… 1) I'm sorry. 2) You crave burgers nearly every single day of your life. — A great burger is such a comforting thing. Juiiiiicy and such a good canvas to create whatever flavors you may be feeling that day.
I started to think about what kind of burger to make for dinner after making my (first) morning coffee. I made it through one cup with a disappointing list of things I had already had. I wanted something new. Back to the brewer.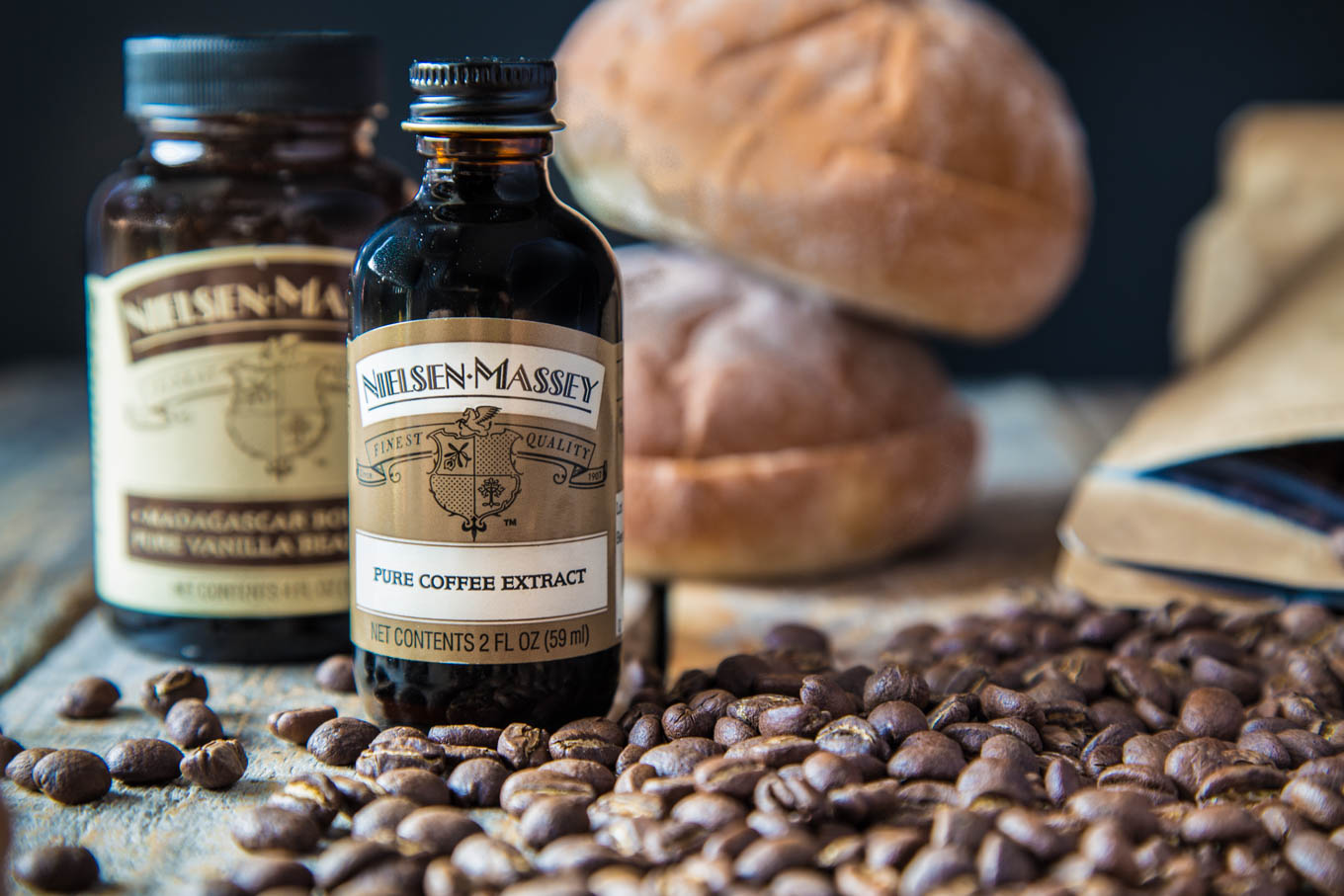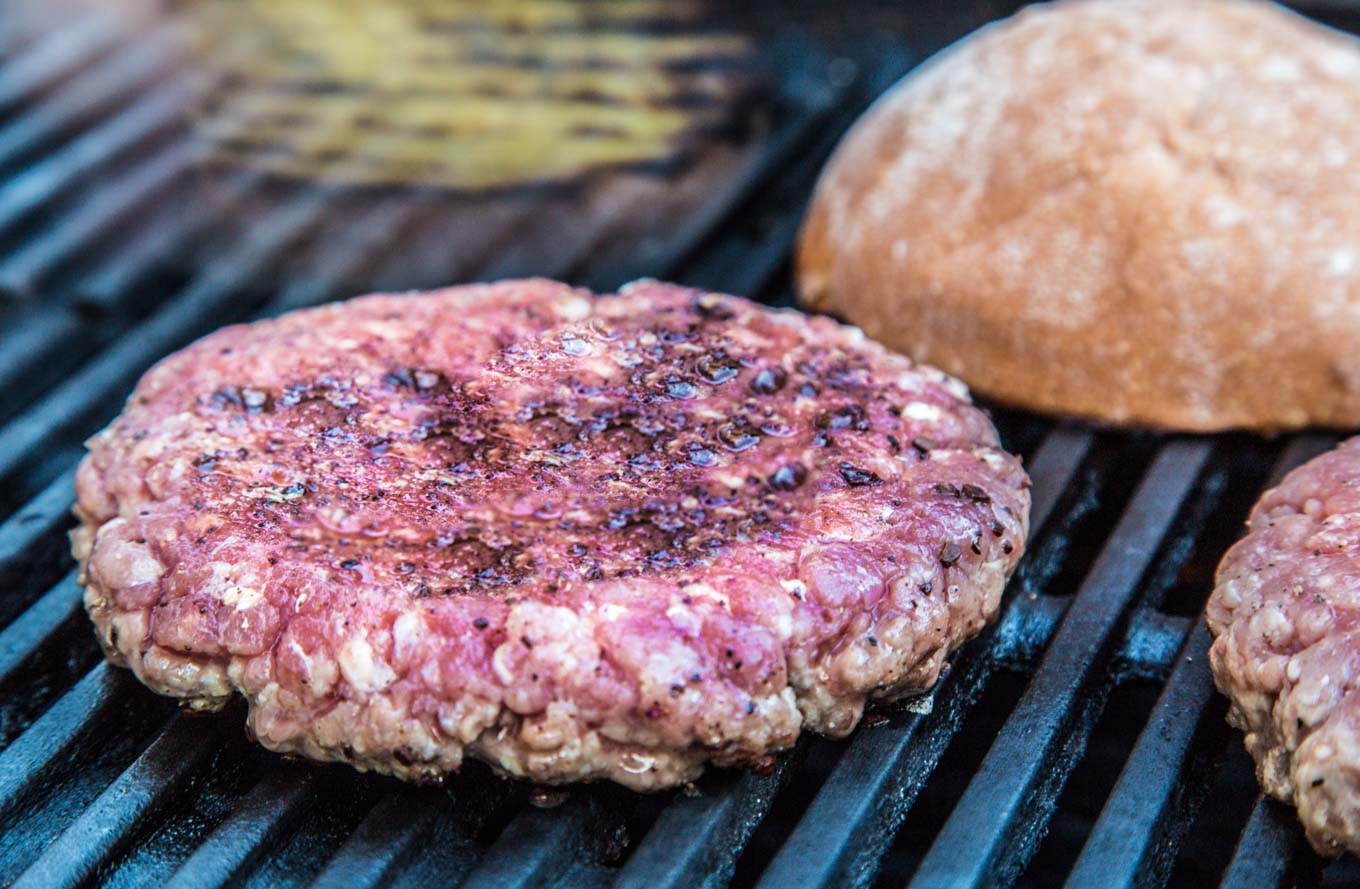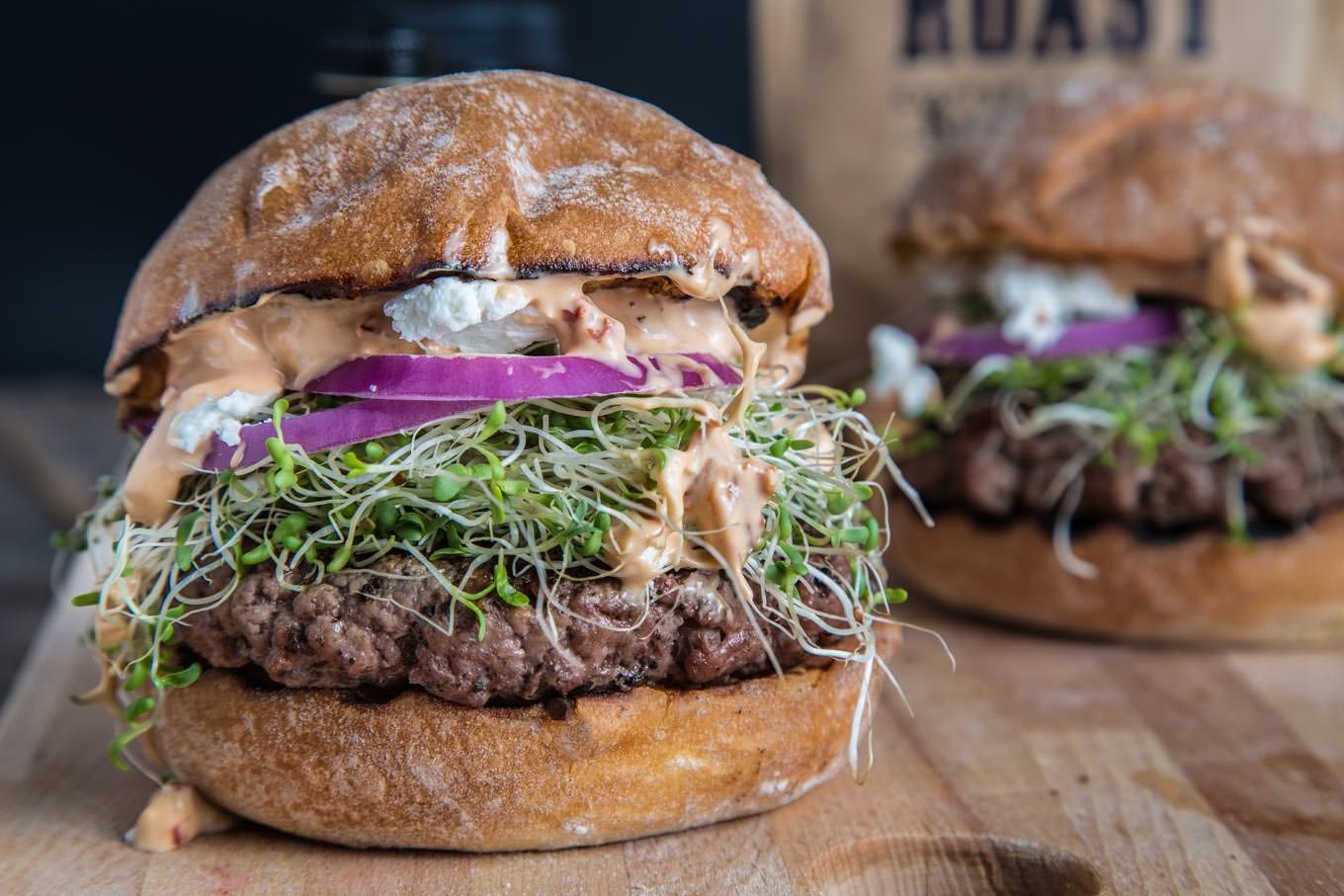 COFFEE! I've cooked and baked with coffee plenty of times, but have never tossed it over the flames in a burger. Coffee tenderloin and steaks are something I've made before with great success. Why not a burger?
I picked up some chuck steak on my way home to chop up and chill; ready for the grinder.
PS- If you haven't ever ground your own beef for burgers, you are missing out. I use a handy attachment for my KitchenAid and will probably never buy ground beef again.
Now for the coffee… I wanted to find a way to infuse the rich coffee flavor into the burger while maintaining the same great texture form the meat itself. Extract to the rescue! Y'all know that I have a long history using Nielsen-Massey products. They make the best vanillas, but also make other flavorings, including almond, coffee, orange, lemon. All of their products are absolutely legit, y'all. The coffee extract packs a punch, with 1 teaspoon being equivalent to an entire teaspoon of strong finely ground espresso. I try to stay away from extracts and flavorings that are artificial, because they usually taste exactly that– fake. It's one of those kitchen essentials in which you absolutely have to use products that are of the best quality.
Nielsen-Massey products are genuinely distilled from the highest quality coffee beans, concentrating the flavors into the small bottle. It's fantastic for baking and cocktails, as it really allows you to create food that holds the coffee flavor. Why not toss it into our burgers?!
Coffee has a rich, earthy flavor, very similar to that craved BBQ smoke infusion that makes a burger wonderful. The slight acidity plays perfectly with the fats of the burger. I added a bit of fine coffee grounds to the outside of the burger that that when you take your first bite, you get a hint of bitterness that is immediately followed by the burger itself. I couldn't believe how well it all balanced.
Forget your morning coffee being the only cup you'll have. The coffee is on the summer grill now.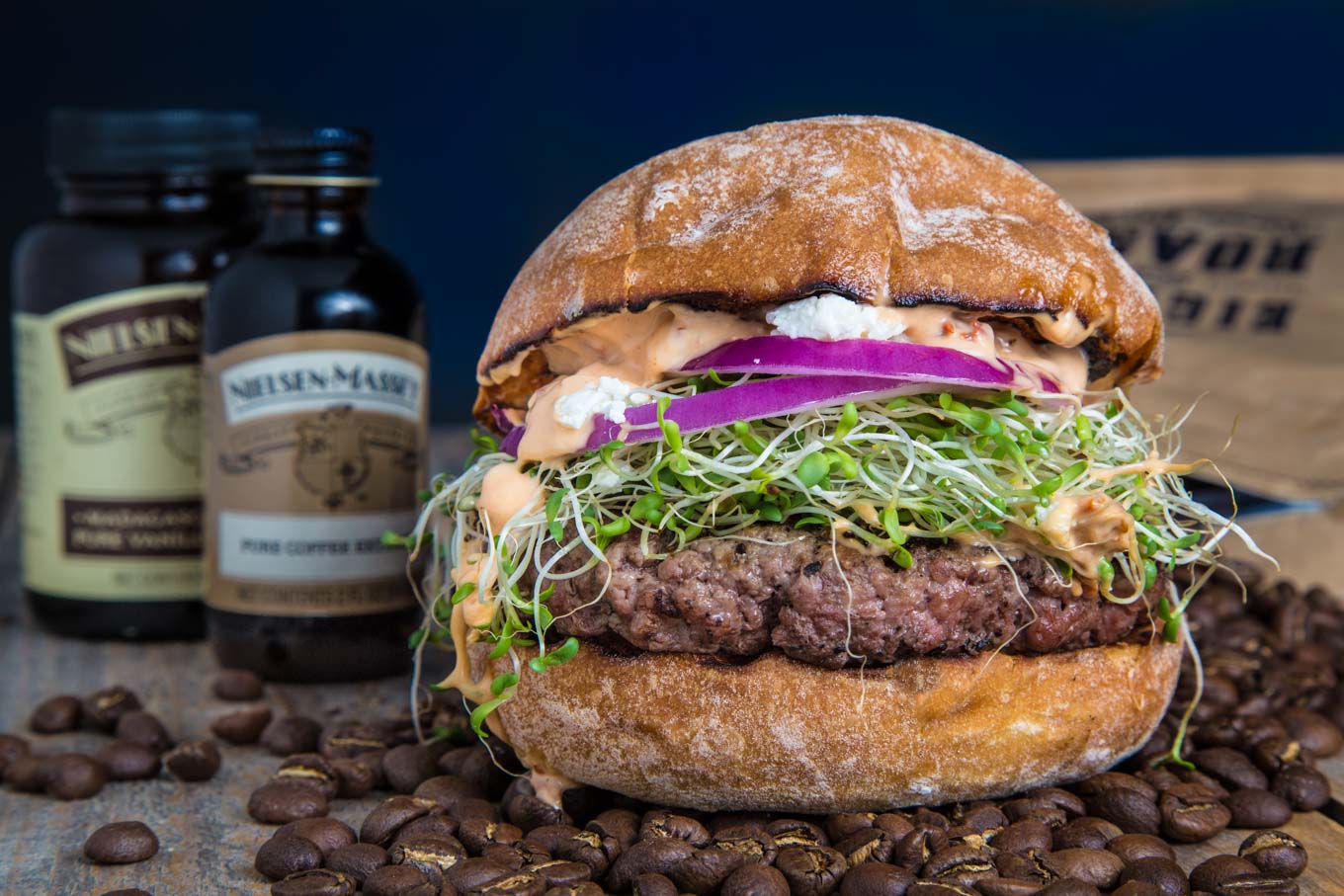 Coffee Crusted Burger
Coffee crusted burger with a splash of coffee extract. Perfectly cuts the fattiness of a burger, for the most amazing balance you'll ever have. From SouthernFATTY.com.
Author:
Phillip Fryman | SouthernFATTY.com
Ingredients
1½ lbs (18 oz) ground beef (I prefer to grind chuck steak for this, but store-bought ground beef 80/20 will work)
½ teaspoon Nielsen-Massey Coffee Extract
1 tablespoon coffee, finely ground
salt & pepper
Chipotle Mayo
1 canned chipotle pepper in adobo sauce
2-3 tablespoons mayonnaise
¼ teaspoon lemon juice
pinch salt
Finishing
hamburger buns
alfalfa sprouts
red onion
goat cheese, crumbled
Instructions
Pre-heat grill.
Prepare burgers by lightly mixing Nielsen-Massey coffee extract into ground beef.
Split into four 6-ounce patties.
Generously salt and pepper patties on both sides.
Sprinkle coffee grounds on both sides of burger. Press in gently.
Lightly oil grill grates or burger sides.
Grill to preferred temperature. Best served medium with freshly ground beef.
Remove to rest for about 5 minutes.
Toast buns. Stack burger with sprouts, red onion, goat cheese.
Enjoy! Find more great burger recipes on SouthernFATTY.com.
Jump over to our Instagram to say hello and let us know what your favorite burger is!
This post made in partnership with Nielsen-Massey. All opinions are my own.