Cinnamon and sugar swirled bread with pull-apart layers and a warm, whiskey cream glaze recipe. Basically a hand-held bread pudding by the bite. This sticky, sweet recipe is a splendidly indulgent brunch or dessert bake.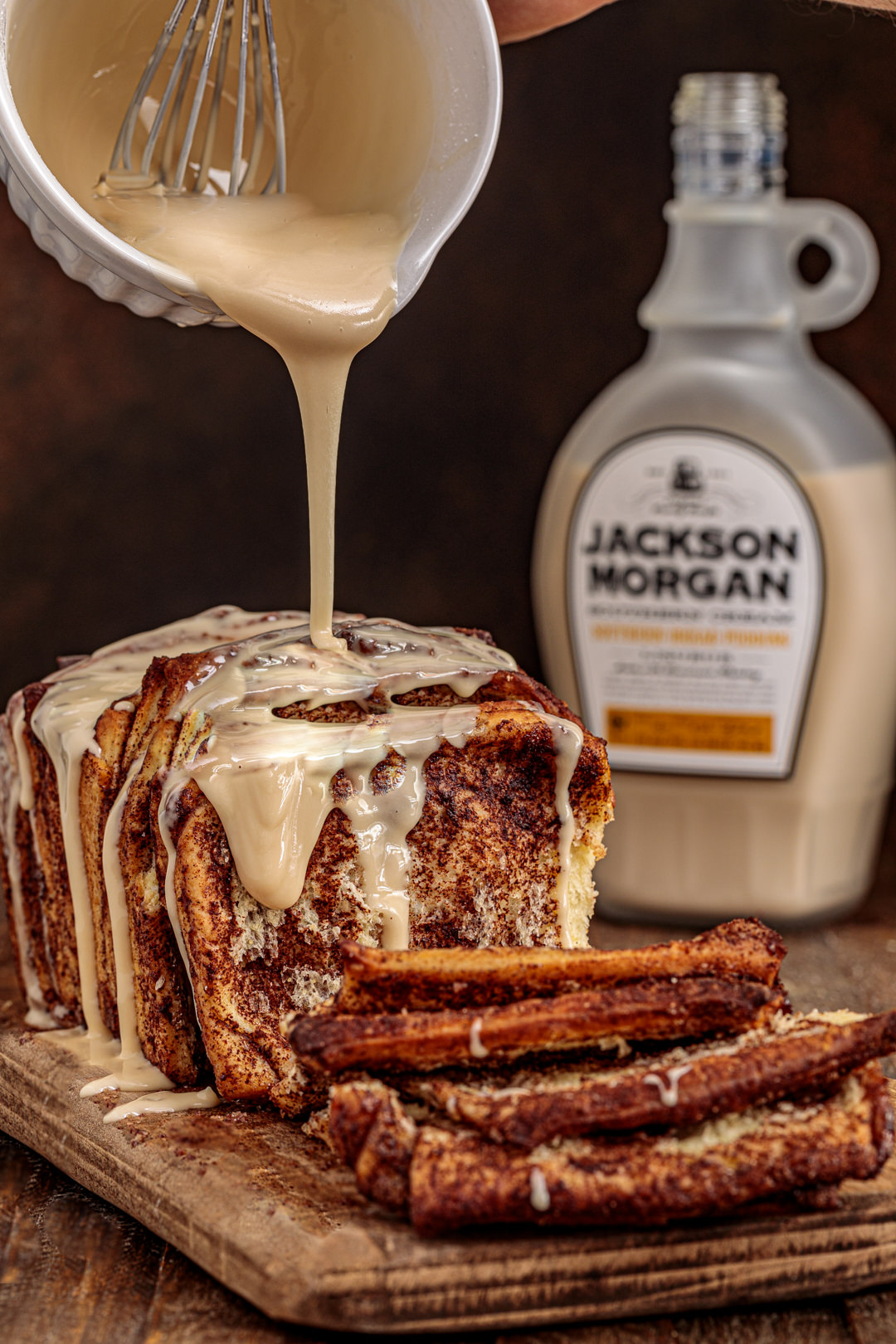 Do y'all remember those little cinnamon swirl twirl wheel cake pastry things from when you were younger? I can vividly remember trying to grab one after school and then spending a ridiculous amount of time pulling it apart to then eat inch by inch. There was something about pulling the layers of cinnamon apart that I was just convinced made it taste that much better. — What could be better than that? A homemade cinnamon and sugar layered sweet bread covered in a Jackson Morgan Bread Pudding Southern Cream whiskey glaze. That's what.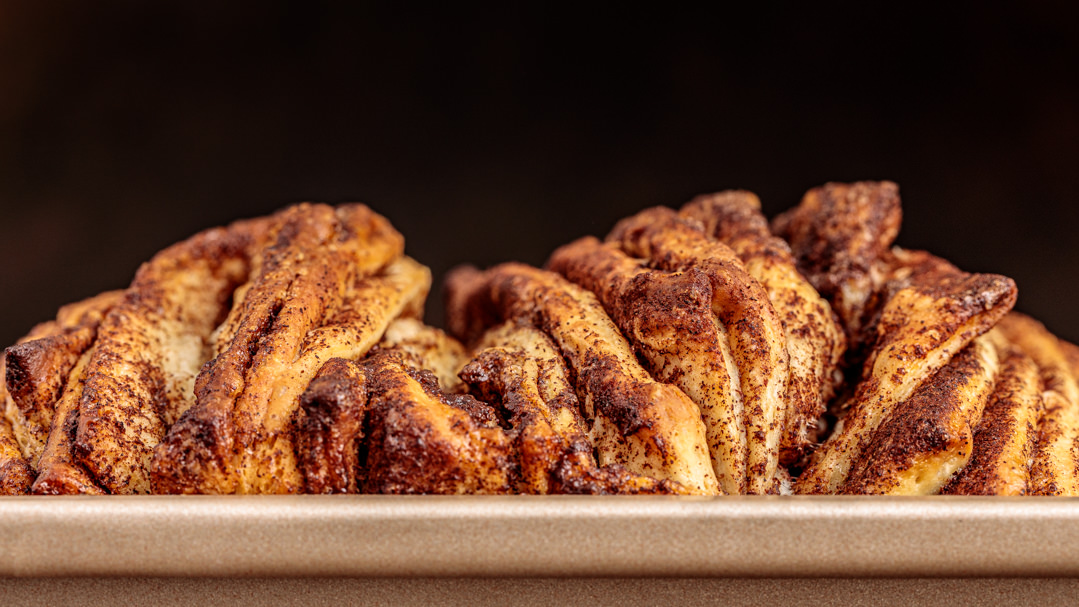 By now, everyone knows how much I love to bake with whiskey creams. Any ingredient that you can simple swap for the normal milk in the recipe 1 to 1 and still have a bit on the side for yourself is a win-win in my book. Jackson Morgan Southern Creams are a line of Tennessee whiskey cream that you can bake with, sip on, and has become one of my favorite local gifts for friends to take home when they visit Nashville.
Luckily for you all, Jackson Morgan is has been expanding and is even available to have shipped to most states through their locator website.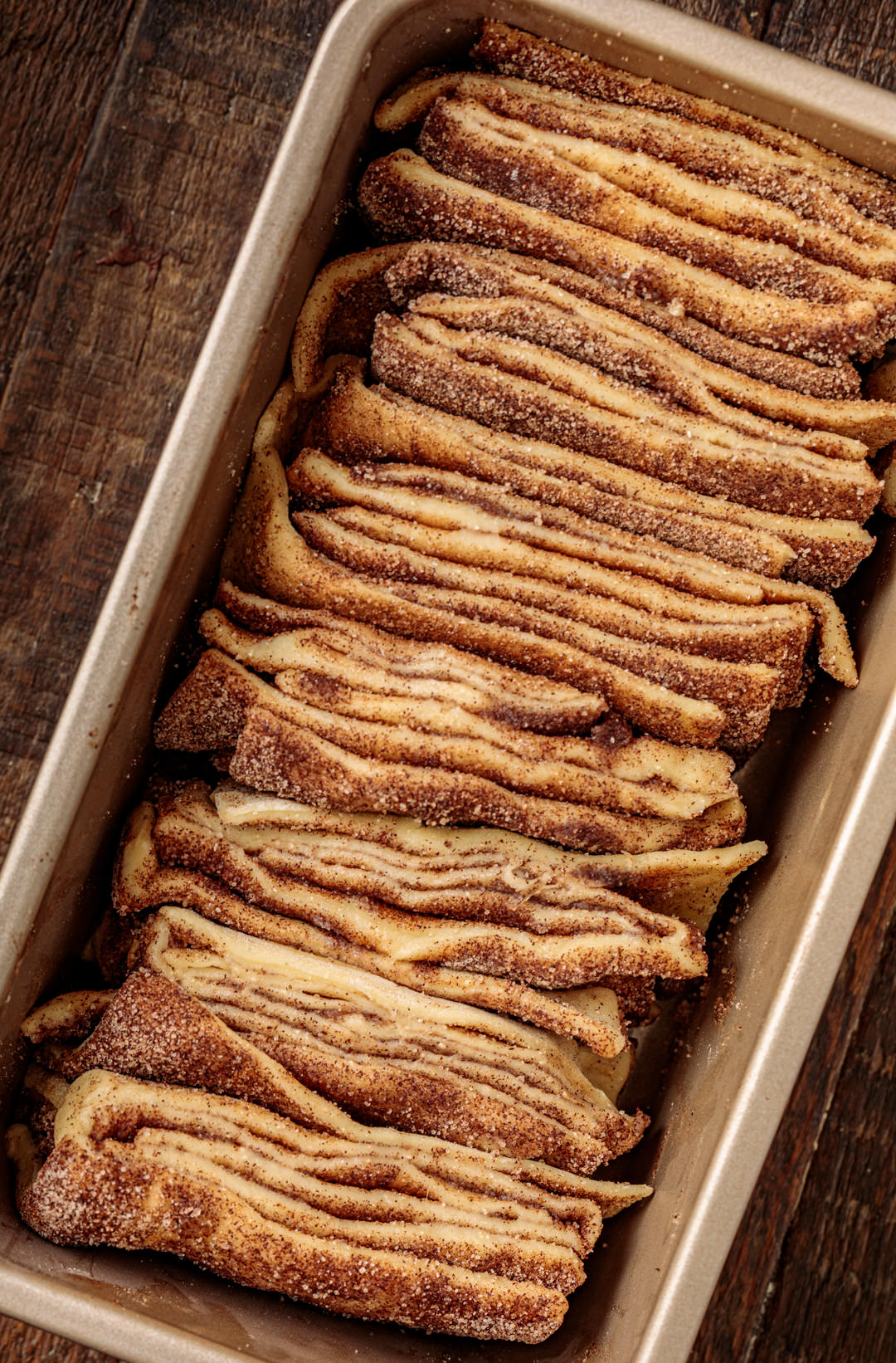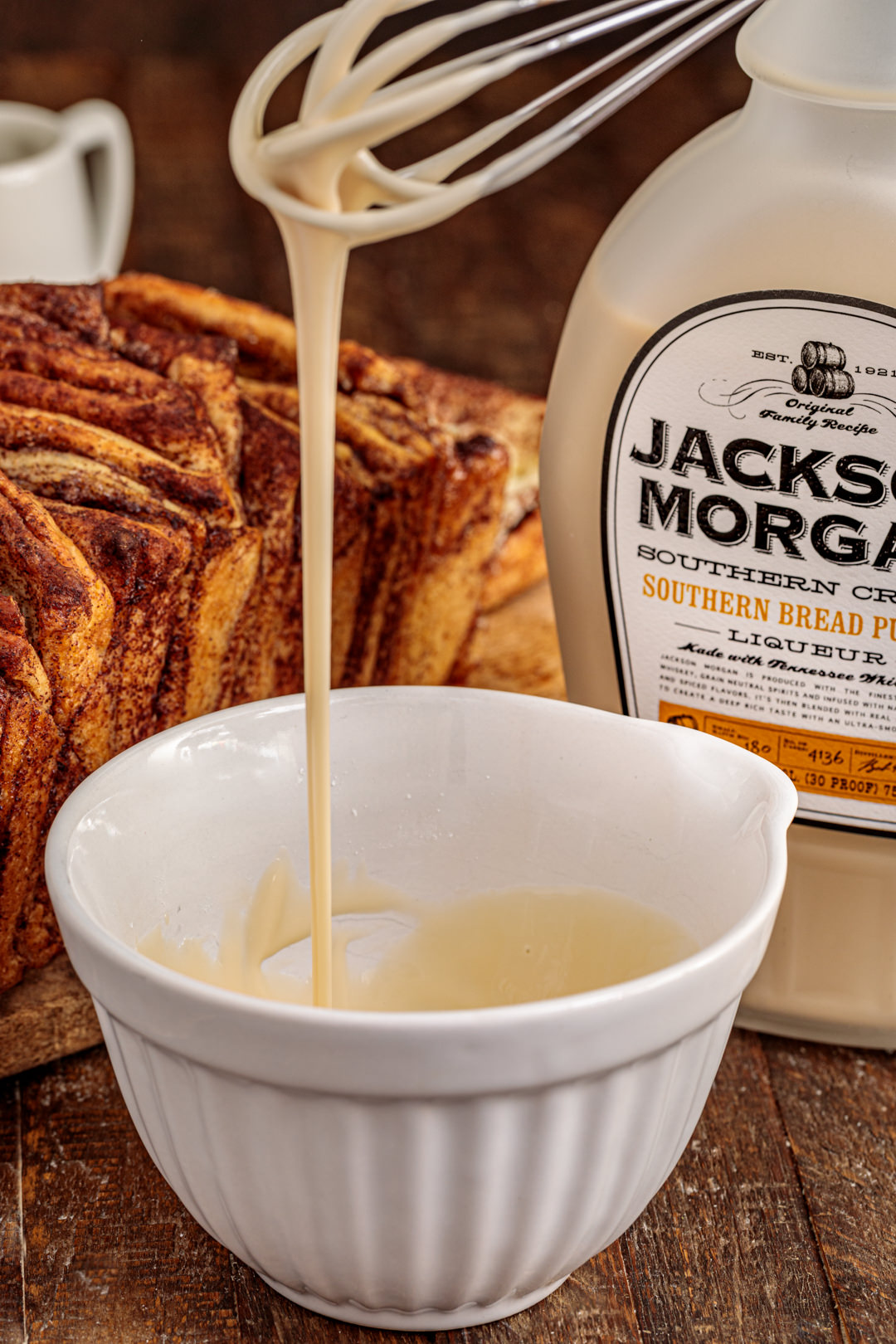 Cinnamon rolls have been a favorite winter warmer in my kitchen for years and year. I considered making some classic cinnamon rolls and topping them with Jackson Morgan Southern Bread Pudding frosting when it clicked for me. Growing up, a favorite morning treat was simple but soooo good. Why not combine a favorite nostalgic bake with a bit of southern charm?!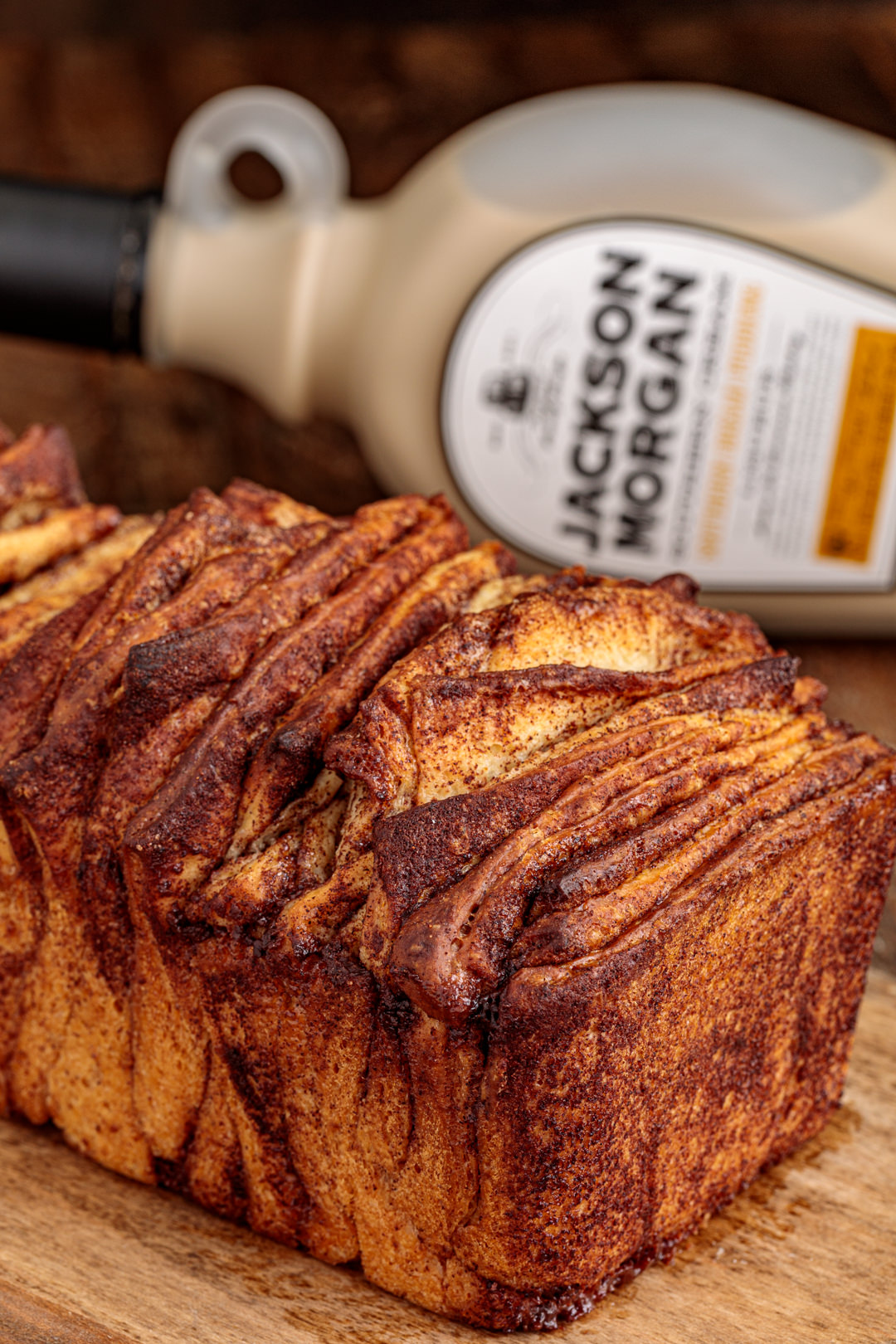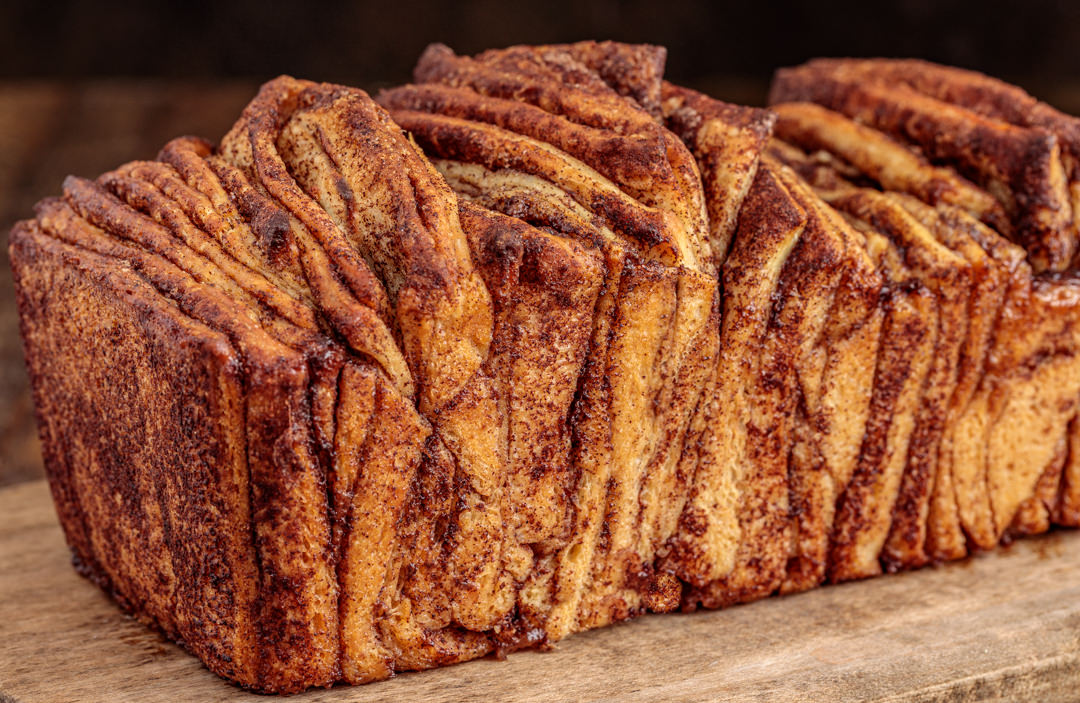 Toast with a bit of butter, finished with cinnamon and sugar. The toasted sweet bread was perfect. I would search for the little patches of butter that were covered in toasted sugar. I can taste it still when I just think about how much I enjoyed it. I suppose this recipe is my slightly more adult version of that favorite.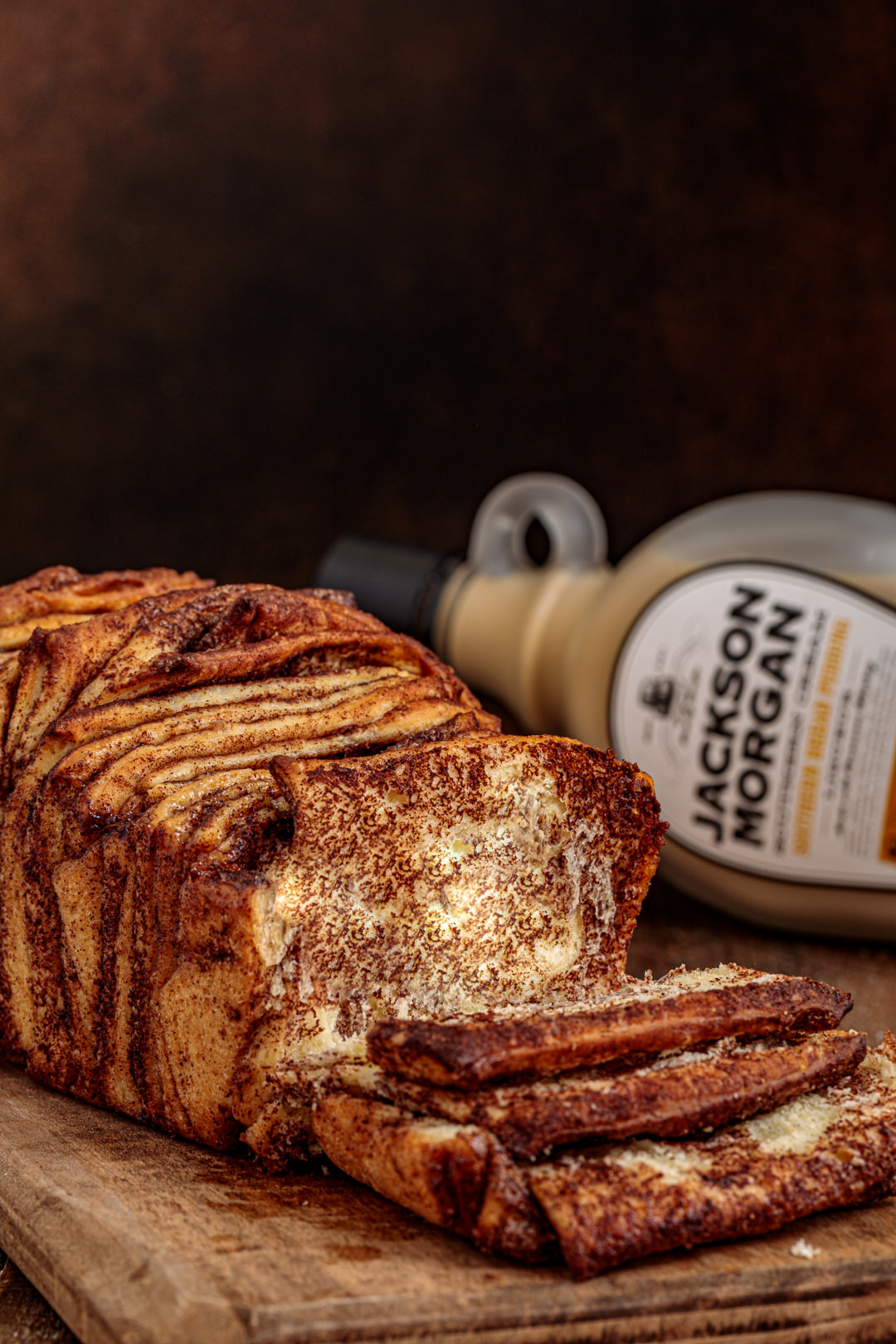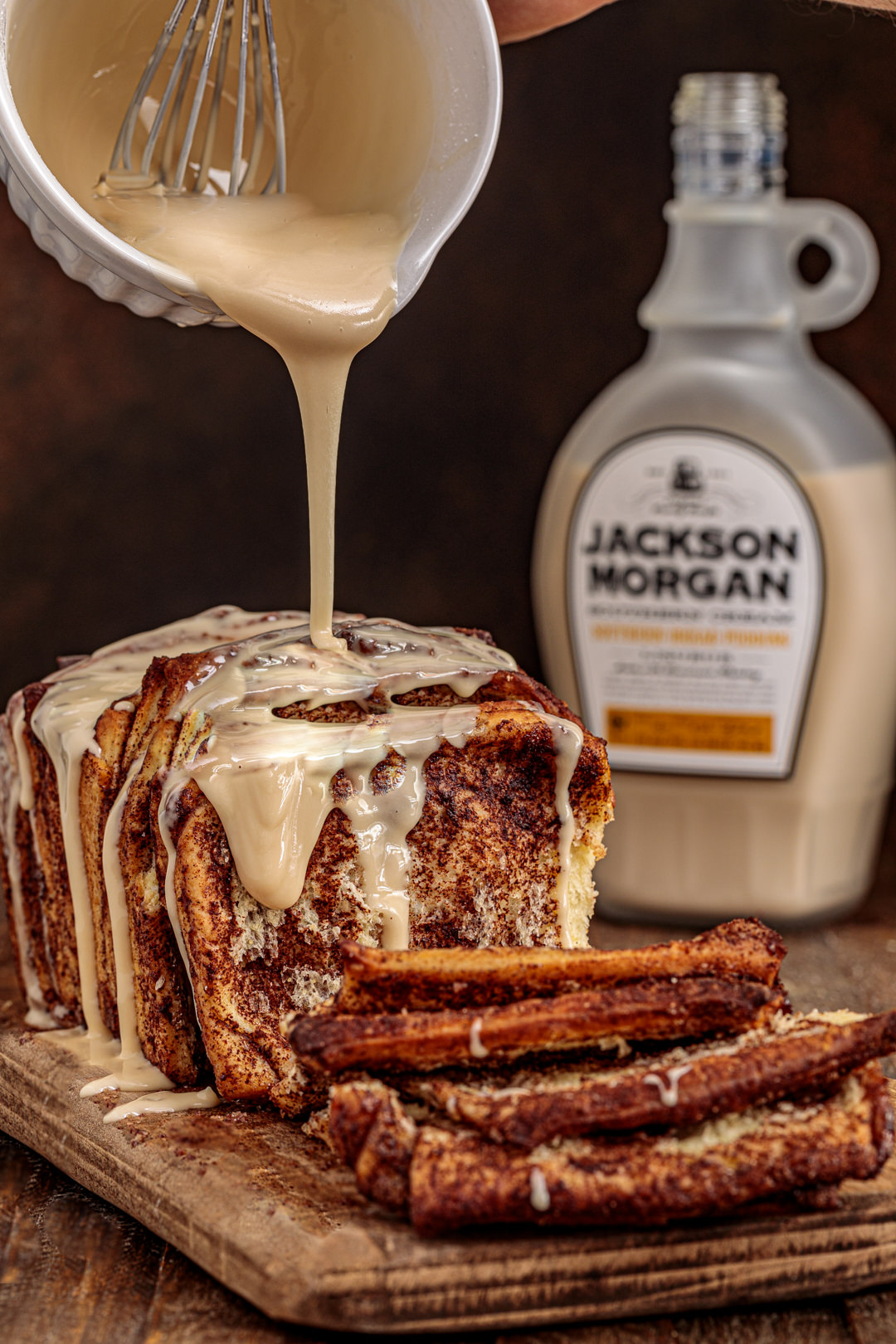 Back to the cinnamon swirls, pulling apart your dessert seriously does make it taste better. Try it. I promise it's true. This sweet bread recipe is made by covering the dough with cinnamon sugar and then simply stacking layers and cutting them into squares to place cut side up into a tin. Proofed and baked, it adds a seriously splendid crispiness in all of the added ridges under the warm Jackson Morgan whiskey cream icing.
Sip and be social! — Cheers, y'all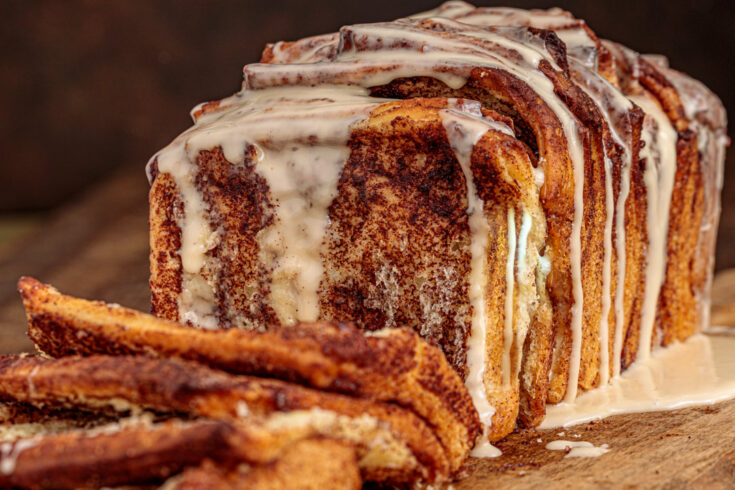 Yield:

8 servings
Cinnamon Sugar Whiskey Glazed Pull-Apart Bread
Total Time:
2 hours
45 minutes
Delicious, warm cimmamon and sugar sweet bread recipe with a whiskey cream icing. Recipe from SouthernFatty.com.
Ingredients
Sweet Bread Dough
 2 cups flour, all-purpose
1/2 cup sugar
1/2 teaspoon salt
2 teaspoons yeast, instant (2 1/2 teaspoons if using active dry yeast)
2 tablespoons water, at 110 F.
4 tablespoons butter, unsalted, melted
2 eggs
1/4 cup Jackson Morgan Bread Pudding Southern Cream (linked below)
Cinnamon Sugar Filling
1 cup sugar
3 tablespoons cinnamon, ground (I used Vietnamese cinnamon - linked below)
4 tablespoons butter, melted
Whiskey Cream Glaze
1 cup powdered sugar
3 tablespoons Jackson Morgan Bread Pudding Southern Cream (linked below)
Instructions
Warm the water to 110 F. Ideally, use a thermometer, but if you do not have one it should feel lukewarm to touch.
Sprinkle the yeast over the water and allow to sit for 5-10 minutes. I recommend doing this with both instant or active yeast.
While this is resting, whisk together the flour, sugar, salt in a large bowl.
Combine the whiskey cream and melted butter.
Whisk the eggs into the cream mixture.
Transfer the yeast and cream/butter to a mixer bowl with dough hook.
Add the dry ingredients and mix for 2-3 minutes. The dough will be somewhat sticky.
Oil a large bowl (I used the one I mixed flour in) lightly and transfer the dough. Cover with plastic wrap and set aside to rise for an hour (at typical room temperature) until doubled.
Roll out dough to a large rectangle on a floured surface. The size needed will depend on the loaf pan size. For the pan I have recommended below, I rolled to 12 inches by 16 inches.
Cover the dough with the melted butter, followed by the cinnamon and sugar mixed together.
Use a pizza cutter to cut the dough evenly into 5-6 large strips. Cut in the direction of the 12 inch side.
Lay each strip on top of each other, leaving you with a stack of cinnamon sugar dough slices.
Cut the stacked strips again to the width of your pan.
Place the square cut stacks with, cut side up, into a buttered loaf pan.
Cover with lightly greased plastic wrap or in a proofing bag and let rise for another hour.
Pre-heat oven to 325 F.
Bake for 30-40 minutes. It may be hard to tell if it is cooked through with the cinnamon sugar filling, but you should be able to note any raw dough on a knife in the center to ensure it is properly baked.
Remove to cool.
Combine frosting ingredients and whisk well.
Cover top with frosting. Best enjoyed warm!
Find more recipes on SouthernFatty.com.
Share your bake with us by tagging @southernfatty / #southernfatty.
Recommended Products
As an Amazon Associate and member of other affiliate programs, I earn from qualifying purchases.
Nutrition Information:
Yield:
8
Serving Size:
1
Amount Per Serving:
Calories:

408
Total Fat:

11g
Saturated Fat:

8g
Trans Fat:

0g
Unsaturated Fat:

4g
Cholesterol:

40mg
Sodium:

90mg
Carbohydrates:

45g
Fiber:

2g
Sugar:

45g
Protein:

5g