Classic yeast, fluffy brioche donut recipe with a vibrant cotton candy white chocolate glaze. Finished with sprinkles, because that's just what we all need right now.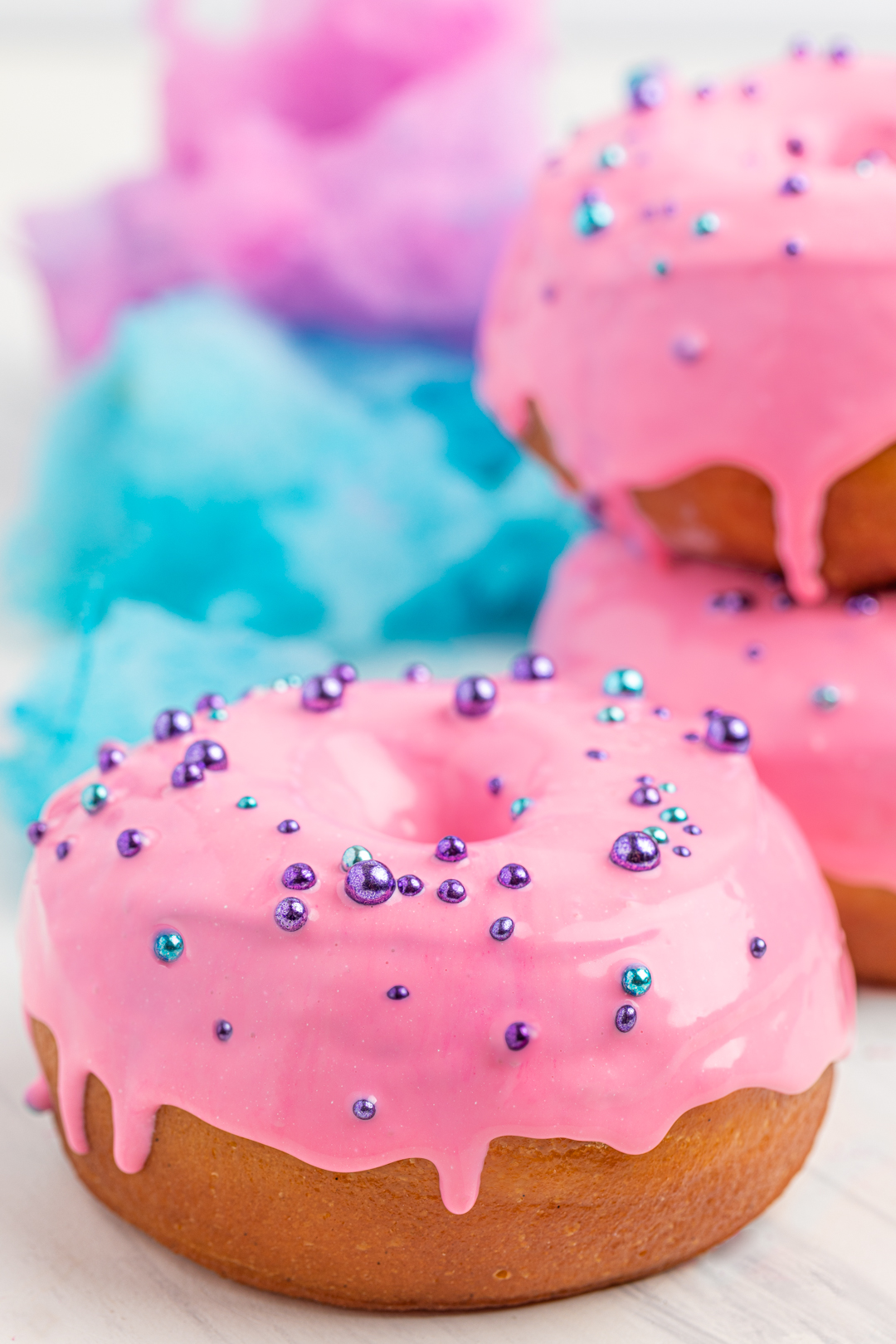 Let's just get straight to the point with this one, y'all. We all know the past month has been stressful and frustrating. I'm going to try to not talk about being locked in my house (which we should all be doing right now…), not getting to see friends unless its via a Zoom meetup, and the massive amount of carbs that I've inhaled over the past few weeks. Ok — Never mind that last one because some of these carb creations have been wonderful!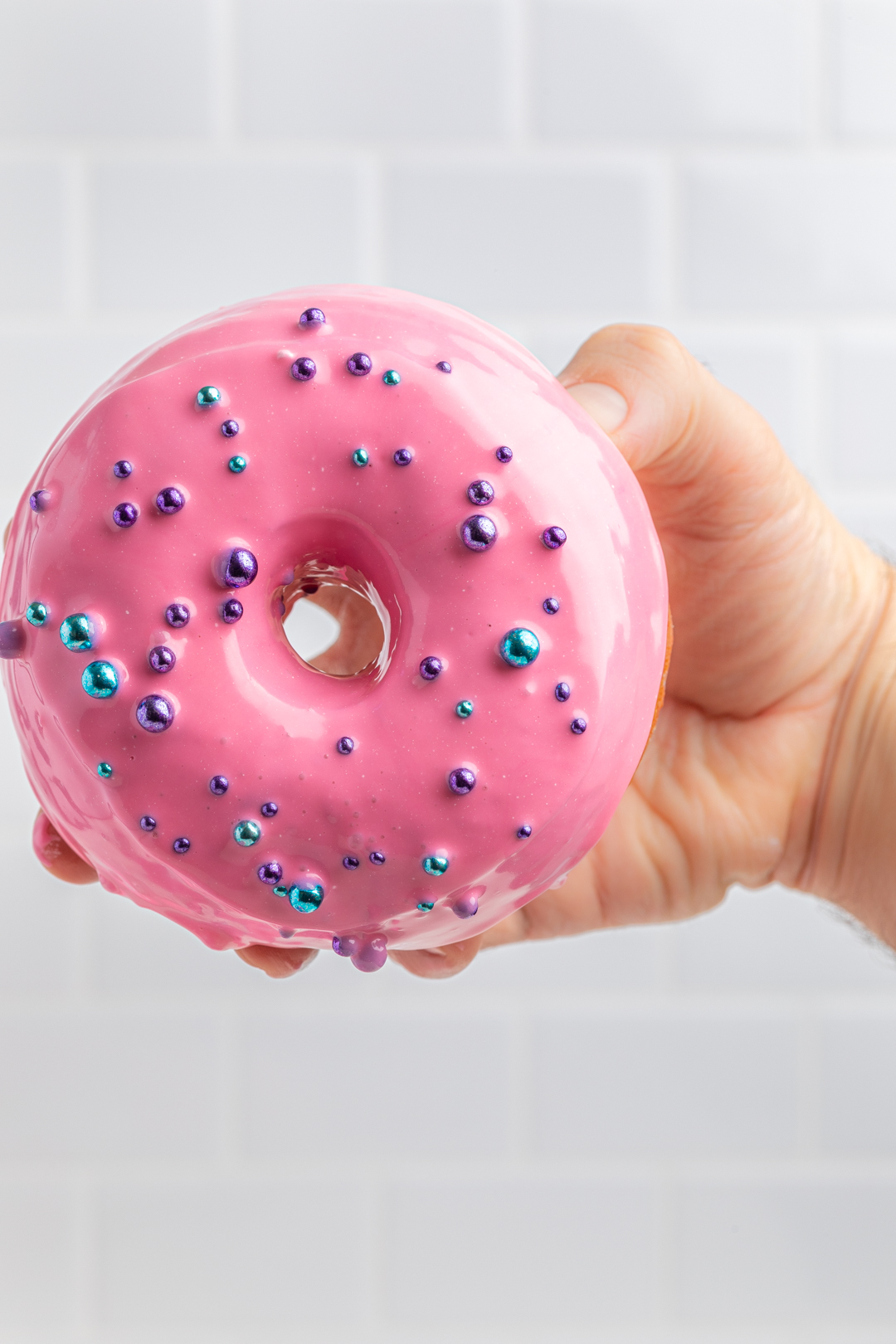 I thought that I would dig a bit into some neon-colored memories from when I was a kid with this one. King's Island is an amusement park in Ohio, just a couple hours from where I grew up in Kentucky. This was the park to visit. I think we ended up going at least once every year. I can remember two things from those adventures.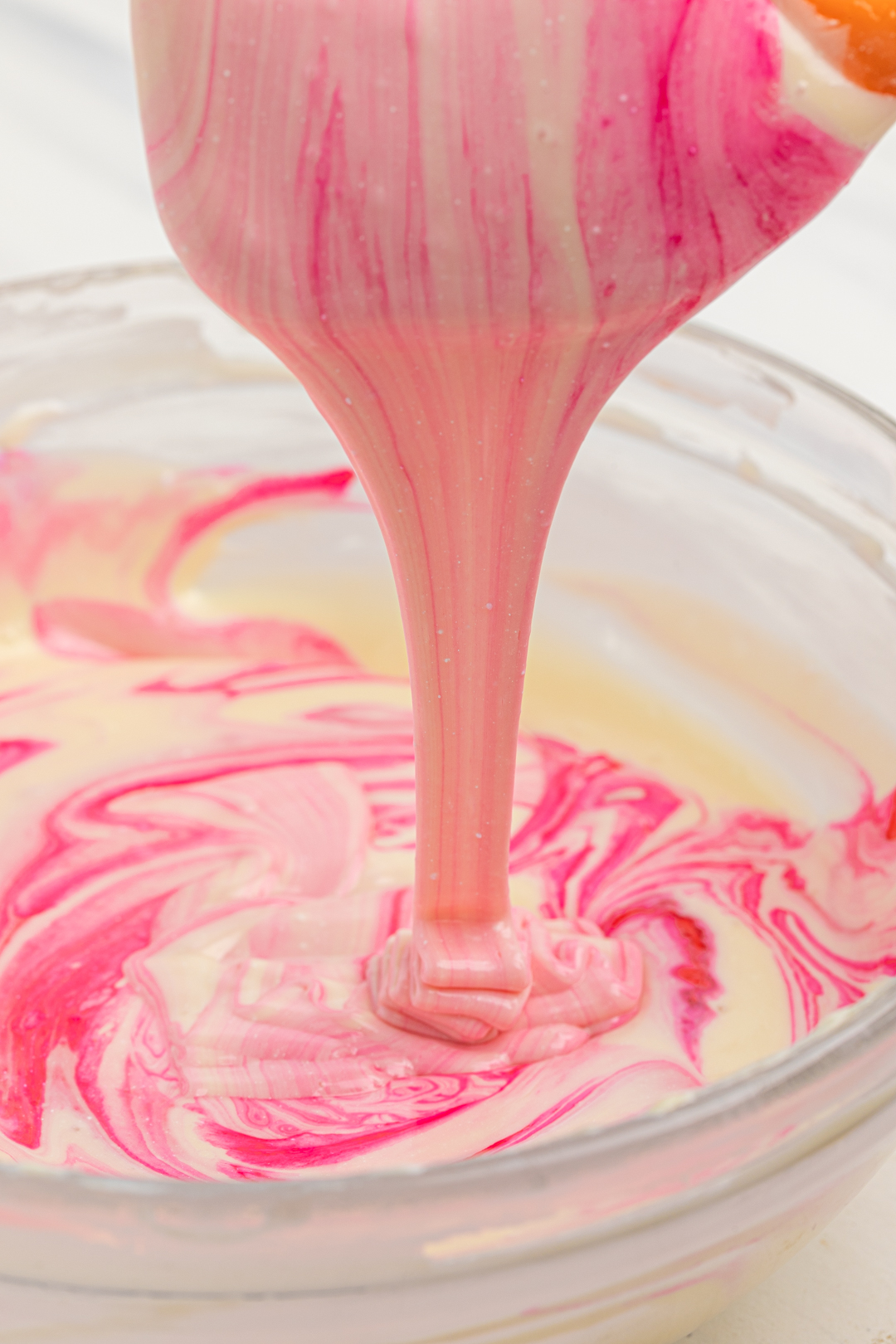 1) That I absolutely hate (and still do) wooden roller coasters. If I wanted to have my head tossed around like that, I would go buy one of those big inflatable balls and roll myself down a hill. Hard pass, thanks.
2) Cotton candy may very well be the original source of my insanely persistent sweet tooth. In the park, I would get those frozen bananas that were dipped in chocolate and nuts. Those were fine (maybe I'll try to do a twist on that one soon), but the highlight of the overpriced sweets was the cotton candy. I would always get a bag (pink, or mixed if forced, but never blue — although, I'm fairly certain that they didn't have a difference in flavor) as we were leaving.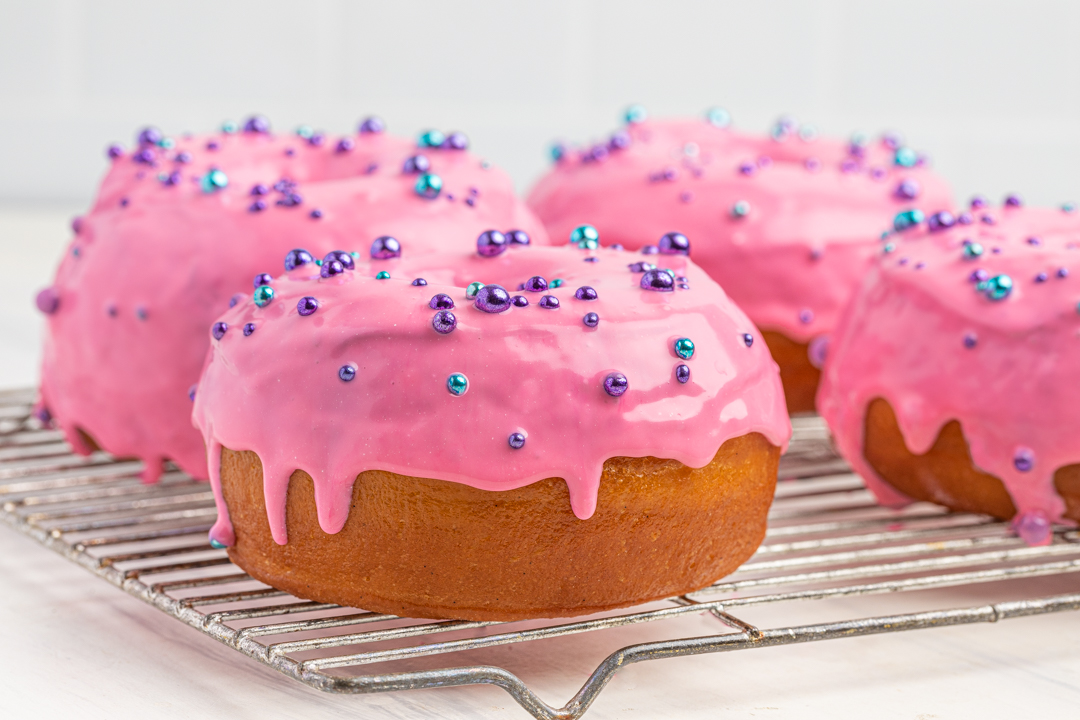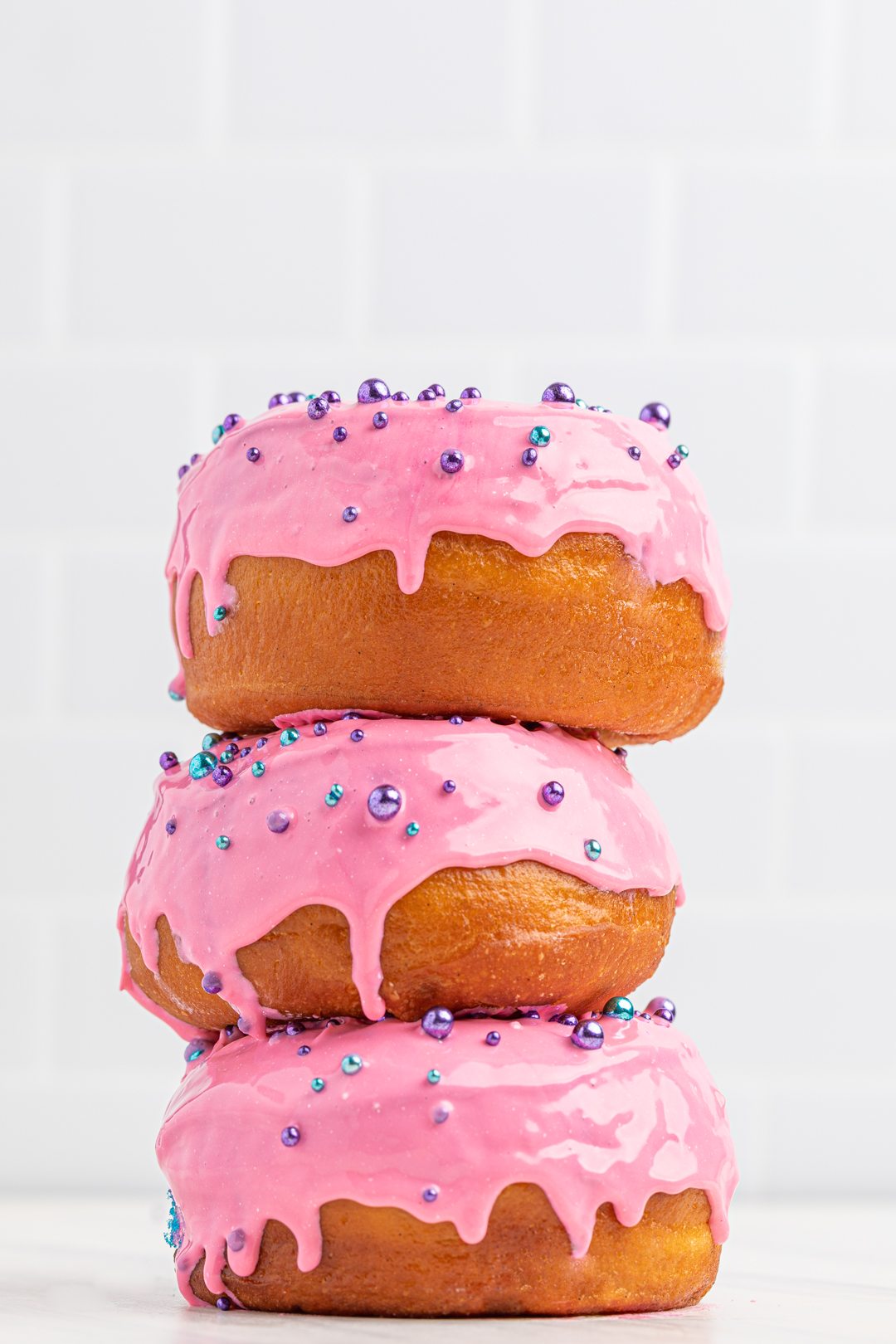 Exhausted, with a hell of a sunburn and sore feet, I always managed to find a way of swindling a big bag for myself. I'd be elbow deep in that awful sticky sugar situation, but that didn't slow me down. I'd destroy the entire bag on the drive home. I'm pretty sure that I can blame my immunity to sugar having any effect on my sleep cycle to all of the this day.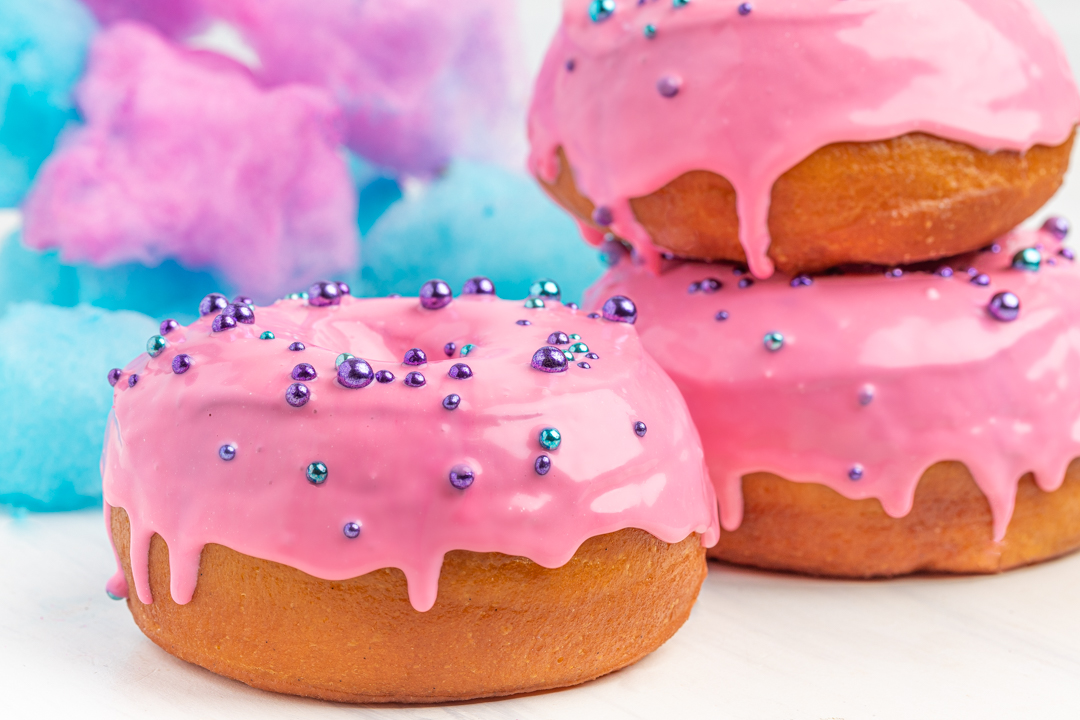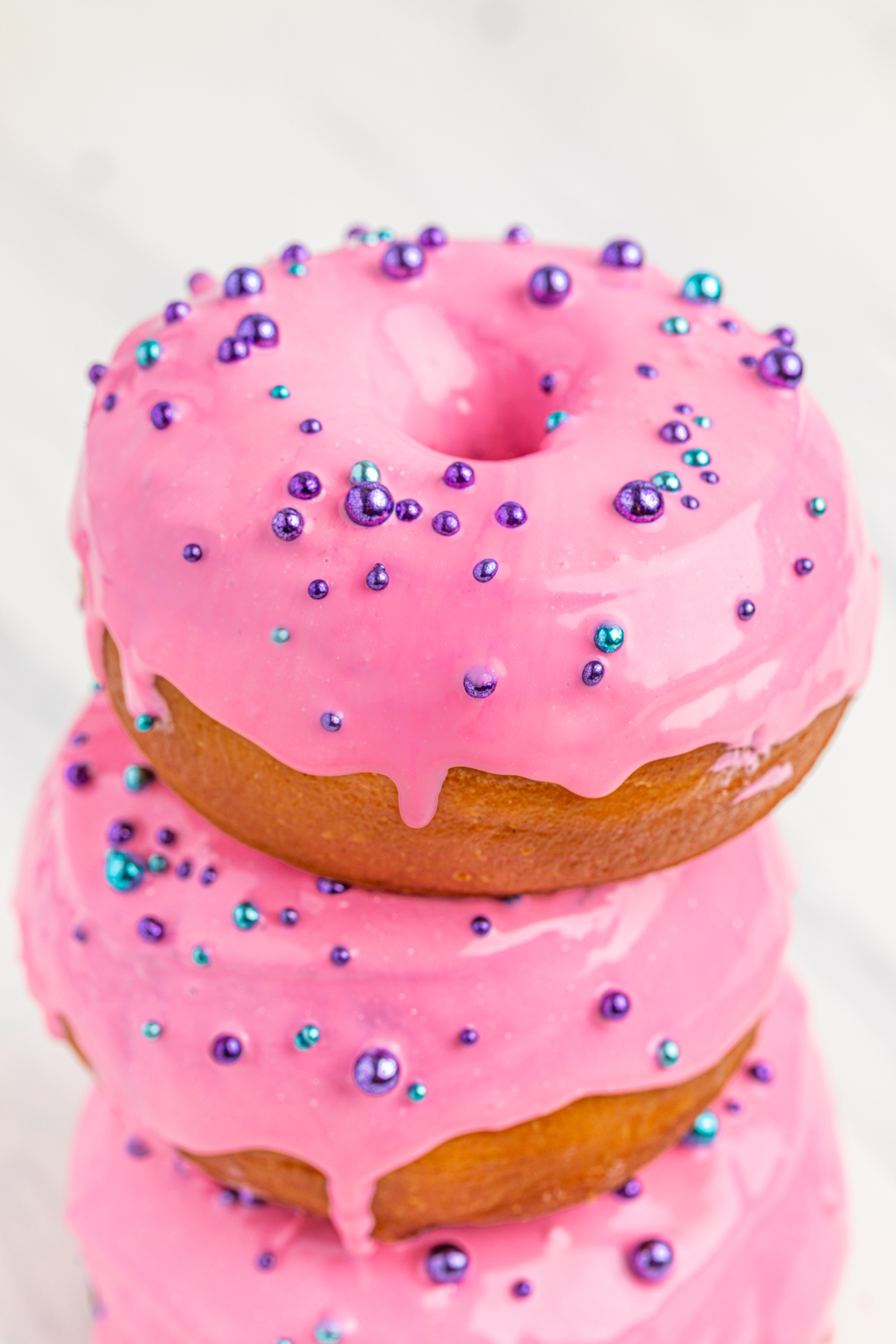 On a side note, I bought a children's cotton candy machine for these pictures. Not gonna lie… this was possibly the best online purchase made during this house arrest. Highly recommended. No shame in how many nights I've buzzed up some cotton candy in the kitchen.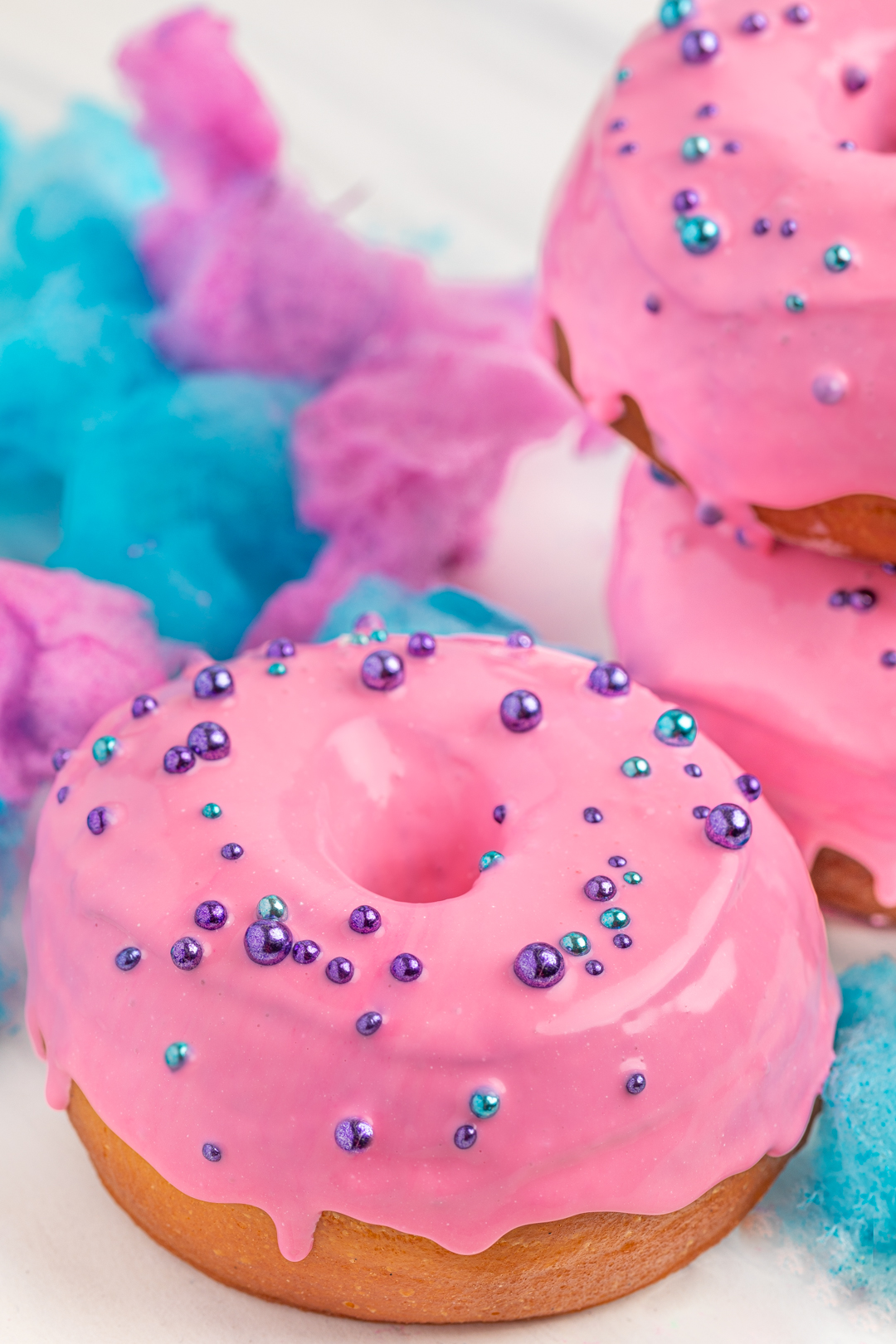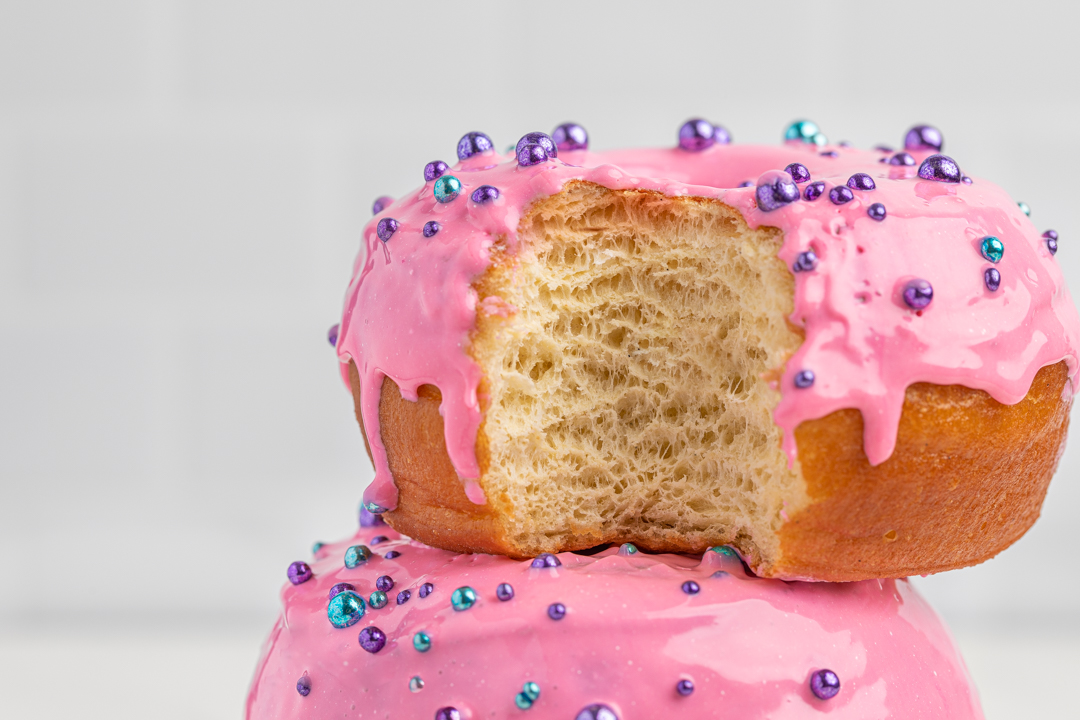 I'm pretty sure that the world needs more sprinkles and cotton candy these days. If anything makes these weird times better, it's gonna be donuts. Keep an eye out. You may see a bunch of more of these fried bites coming soon!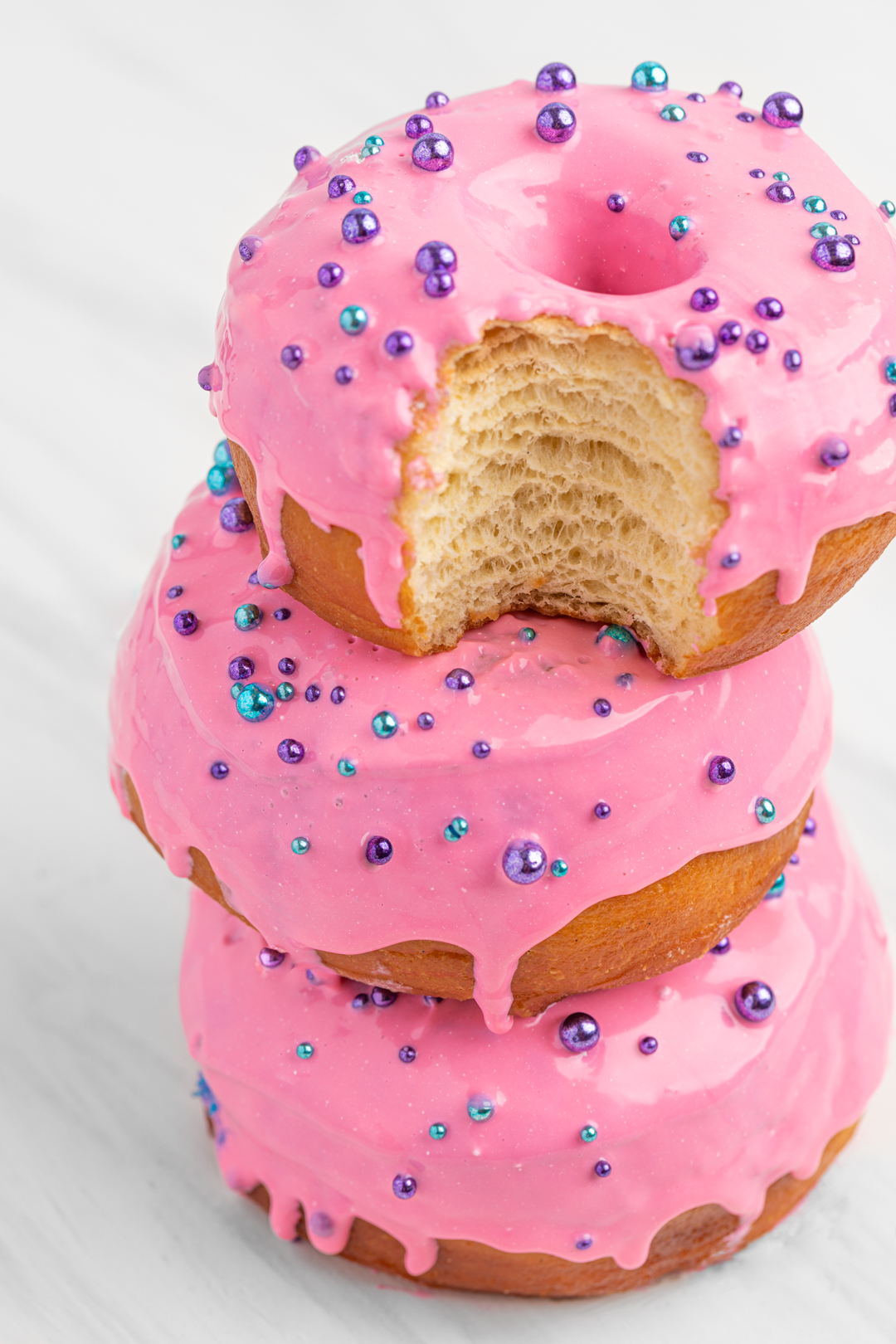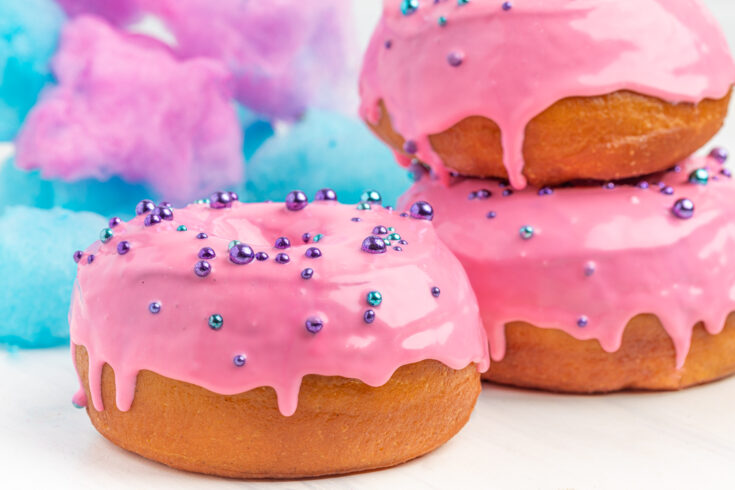 Yield:

12
Cotton Candy Glazed Donuts
Additional Time:
12 hours
Total Time:
12 hours
35 minutes
Classic yeast, fluffy donut recipe with a vibrant cotton candy white chocolate glaze. Finished with sprinkles, because that's just what we all need right now. From SouthernFatty.com.
Ingredients
Brioche Donut Dough
500 g flour, all-purpose, (3 1/2 cups)
10 g yeast, instant, (1 tablespoon)
70 grams sugar, granulated, (1/4 cup)
8 grams salt, (1 tablespoon)
200 grams milk, whole, (3/4 cup)
110 grams eggs, whole, room temp, (2 large eggs)
10 grams vanilla bean paste, or extract, (2 teaspoons)
55 grams butter, unsalted, cubed, room temp, (4 tablespoons)
Cotton Candy White Chocolate Glaze
175 grams white chocolate, chopped or chips, (1 cup)
60 grams heavy cream, (1/4 cup)
15 grams butter, unsalted, room temperature, (1 tablespoon)
1/8 teaspoon cotton candy oil flavoring (product linked below)
1/4 teaspoon salt, fine
3-4 drops pink candy coloring
40 grams sprinkles, to finish, (1/4 cup)
Instructions
Brioche Donut Dough
Combine flour, yeast, sugar, salt in mixer bowl. Whisk together until well-combined.
Note: If using instant yeast, you do not need to bloom (combine yeast with warm water) before adding it to the flour. You may use active dry yeast, but keep the yeast aside and follow additional instructions below. This is a long recipe, but not difficult! Lots of down time and waiting.
Warm the milk gently to 100 F. You can microwave the milk for about 15-30 seconds. It is best to check the temperature with a thermometer, as too high of a temperature can kill the yeast.
Note: If using active dry yeast, combine the yeast with the warm milk and let it sit for 5-10 minutes until foamy.
Gently whisk eggs into milk, add vanilla, and combine with dry ingredients.
With dough hook attachment, mix and knead at low to medium speed (3-4 on KitchenAid) for 30 minutes. This very long kneading time is needed to allow gluten formation and strength addition prior to adding the butter. This is key for a good brioche dough.
After 30 minutes of mixing, continue to mix while adding cubes of the room temperature butter, a cube or two at a time. Allow the butter to incorporate into the dough before adding additional butter. Scrape the dough from the bowl as needed. Continue until all of the butter has been incorporated.
After all butter has been added and mixed into dough, allow to mix for an additional 10 minutes.
Remove dough from bowl and with a very light dusting of flour on a clean counter, gently pull one corner of the dough over the dough. Repeat with the four corners, overlapping slightly to form a slightly tightened ball of dough.
Place seam side down into a lightly oiled bowl (lightly grease the entire inside of the bowl, all the way to the rim). Cover with a damp kitchen towel and allow to rest for an hour to proof.
The dough should be smooth and expanded after proofing.
Punch the dough down and fold once again as you did in step 9.
Return seam side down to greased bowl, cover with plastic wrap, place dough in refrigerator overnight (or ~6 hours). This is important to developing a great flavor and texture of the dough.
The next day, or after at least 6 hours chilling, remove dough to a lightly floured surface. Gently roll dough into a 12 inch round. This will deflate the dough somewhat. That is fine, but be gently.
Return this round to your refrigerator for 20 minutes to firm the dough before cutting.
Using a lightly floured donut cutter, press stright down to cut donuts. Do not twist the cutter as you punch the donuts for the best result.
Transfer the cut donuts to parchment paper on a baking sheet. Be sure to brush off excess flour.
Move the sheet to an empty oven with the light on (no heat). For best result, place some steaming water in a pan on the bottom of the oven and close. This will allow the dough to have its final proof with the best environment and is worth the extra effort.
After proofing for an hour (maybe slightly longer if proofing at room temeprature without any added moisture/steam, heat deep fat fryer or Dutch oven with a neutral oil (vegetable, peanut, canola) to 325 F. Be sure there is enough oil for the donuts to float and be able to flip easily when frying, about 3-4 inches.
For the best donuts, simply cut the parchment around the proofed dough so you don't disturb it much. Carefully lower the donuts, parchment paper and all, into the oil and slide the parchment paper out. It will easily leave the dough in the oil without any risk of deflating the dough. This is my secret to the perfect donut texture.
Fry until golden, flip, and remove to drain and cool.
Cotton Candy White Chocolate Donut Glaze
Place white chocolate, butter, and pinch of salt in a mixing bowl.
Heat cream for 30 seconds in microwave or stovetop until steaming. Don't boil or overheat.
Pour hot cream over chocolate. Allow to sit for 5 minutes before adding the cotton candy oil and mixing well with a spatula until smooth. Add candy coloring, if desired.
Dip donuts into glaze and finish with sprinkles. Homemade cotton candy is optional, but never a bad idea.
Enjoy! Find more recipes on SouthernFatty.com.
Notes
Recipe adapted from Sugared Doughnuts, Bouchon Bakery.
Recommended Products
As an Amazon Associate and member of other affiliate programs, I earn from qualifying purchases.
Nutrition Information:
Yield:
12
Serving Size:
1
Amount Per Serving:
Calories:

388
Total Fat:

16g
Saturated Fat:

8g
Trans Fat:

0g
Unsaturated Fat:

7g
Cholesterol:

57mg
Sodium:

352mg
Carbohydrates:

53g
Fiber:

1g
Sugar:

19g
Protein:

8g